I remember very well the 1996 Melbourne Grand Prix, when Formula 1 first moved from the oldy-worldy streets of Adelaide to this new-world metropolis, as I was involved in the huge crash with my BBC commentary box partner Martin Brundle when he went rolling his Jordan into oblivion.
I won there a year later, and in 2003, so I've got very fond memories of the place. It's not like a normal street circuit, it's more of an established track in its own right and has some really challenging fast corners with some very big stops. It's not necessarily the easiest venue to overtake on, but we've got the KERS and the moveable wings to help with that.
The decision to make the wing deploy only on the start/finish straight confuses me. I would agree with Sam Michael in last week's AUTOSPORT: it would have made more sense to have it open between Turns 2/3 because that's a more opportune place. You can run in dirty air through Turn 2, which you can't at the final corner or you'll end up understeering in the wall spectacularly like Michael Schumacher did a few years ago.
Turn 1 also has a very shallow apex, which makes it easier to defend; Turn 3 has a much later apex with a far-wider turn-in¬ I know as I've crashed trying to overtake at both!
Scope for first corner chaos
The nature of the track tends to promote these unpredictable races we often get at Melbourne. As I've said, that first corner has an early apex that funnels the cars in, and is relatively close to the startline.
Melbourne often sees chaos at the first corner © LAT
There's a massive blindspot on an F1 car, the mirrors are a fraction of the size that you have on your road car. There's an assumption in a racing driver's brain that if you don't see someone, they're not there, so you turn-in. So, knowing that, if you go lunging into that space in their blindspot, you do so by the grace of God. If you walk into that open door just as he closes it, that's racing.
That is why you get so many incidents at the first turn here.
di Resta's debut
What will surprise Paul the most, and this won't just happen in Melbourne, is just how hard a grand prix distance is. It's not like a full day of testing; it's fine doing 100 laps in 10-lap bursts, but teams rarely do a full race grand prix simulation at a test.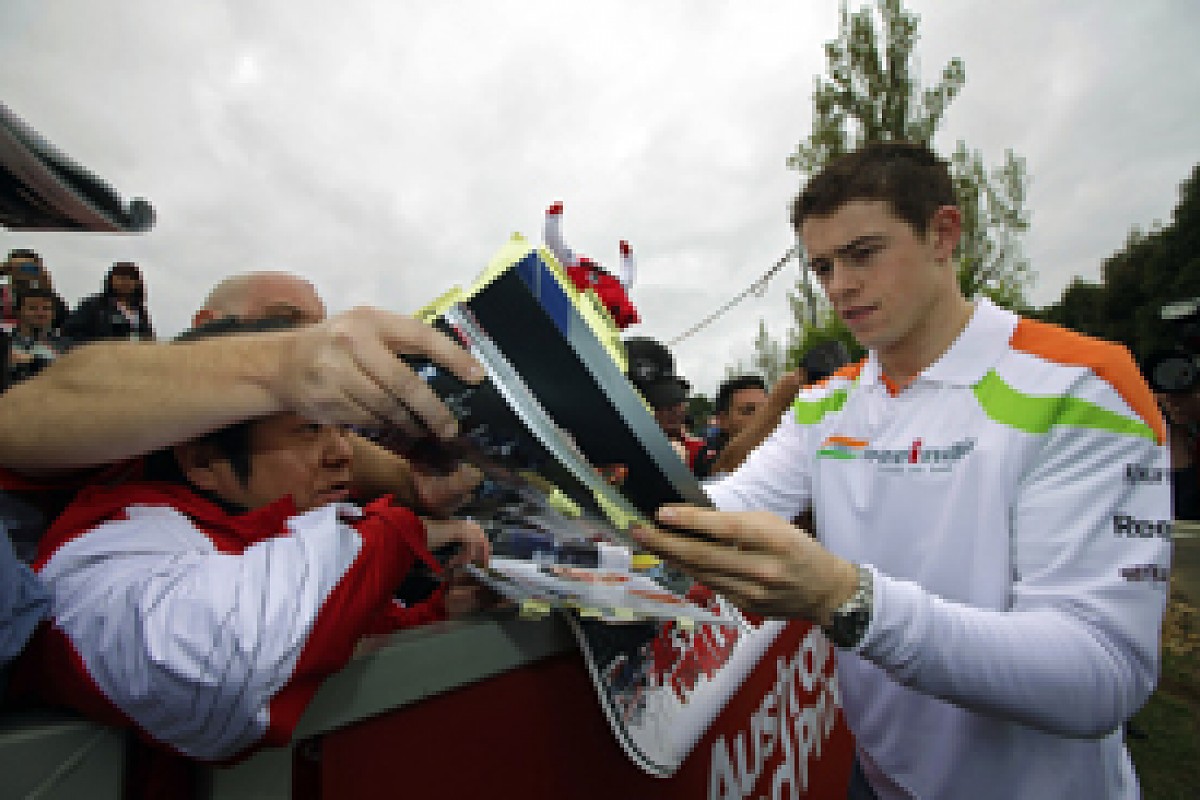 It's a big weekend for Paul di Resta © LAT
The physical and mental stress involved in a 60-odd lap race has to be experienced to be believed. I've looked at a pitboard five laps into a race feeling I've done 35 already! I have a clear picture of my first F1 victory for Williams Estoril in '95, when I was leading the grand prix, thinking if Michael didn't slow down, and kept catching me, I was going to crash at any minute. I just couldn't keep that relentless pace going.
I know from personal experience that there's a big difference from being on the limit in an F1 car than a DTM car. That's going to be his biggest anxiety, but Paul has got to F1 on merit, and Britain can be proud that we've put another driver on the grid. He's absolutely got the talent to succeed in F1.
Like Paul, I'm nervously excited about my own debut in the commentary box on the BBC this weekend. As well as being a former driver, I'm a long-term fan of motor racing. I fall into the category of excitedly waiting for my weekly copy of AUTOSPORT to drop through my letterbox today (sadly I get it a day late in Monaco), just as when I was a young boy I couldn't wait to watch the half-hour highlights of each grand prix on BBC2 with my father.
Now I've got the chance to complete the circle. I hope I can influence and enthuse the next generation of young racers.