So the winter testing is over, and now we have to wait until Australia to see what it all means - and how the 2011 rules will play out over the course of a race weekend.
The testing has at least given everyone, not least the drivers, a chance to get a feel for what impact the Pirelli tyres, KERS and the moveable wing might have. Indeed last Wednesday the Grand Prix Drivers' Association (GPDA) met with the FIA's Charlie Whiting in Barcelona to express their concerns, and suggest ways that things could be improved.
Although he's no longer an officer of the organisation, Jarno Trulli remains one of its most vocal members.
"I let the young drivers take it over," he jokes. "I've been doing it for a long time. I'm still active, but I don't want to always be there. That's why the younger drivers need to be responsible, they're the future!"
Trulli says that last week's meeting was a positive one, and the drivers were pleased to be able to get their views across.
"It was an extremely good meeting. It was very relaxed. We only exchanged our point of view according to our experience in the cockpit, nothing else than that, with the new rules about the rear wing and the tyres and KERS and all these things. It was very positive. We feel that, let's say, we have been taken into consideration.
"Eventually it's not up to us to decide, it's down to FIA and down to the teams whether we should stick with the regulations, or just change them a little bit."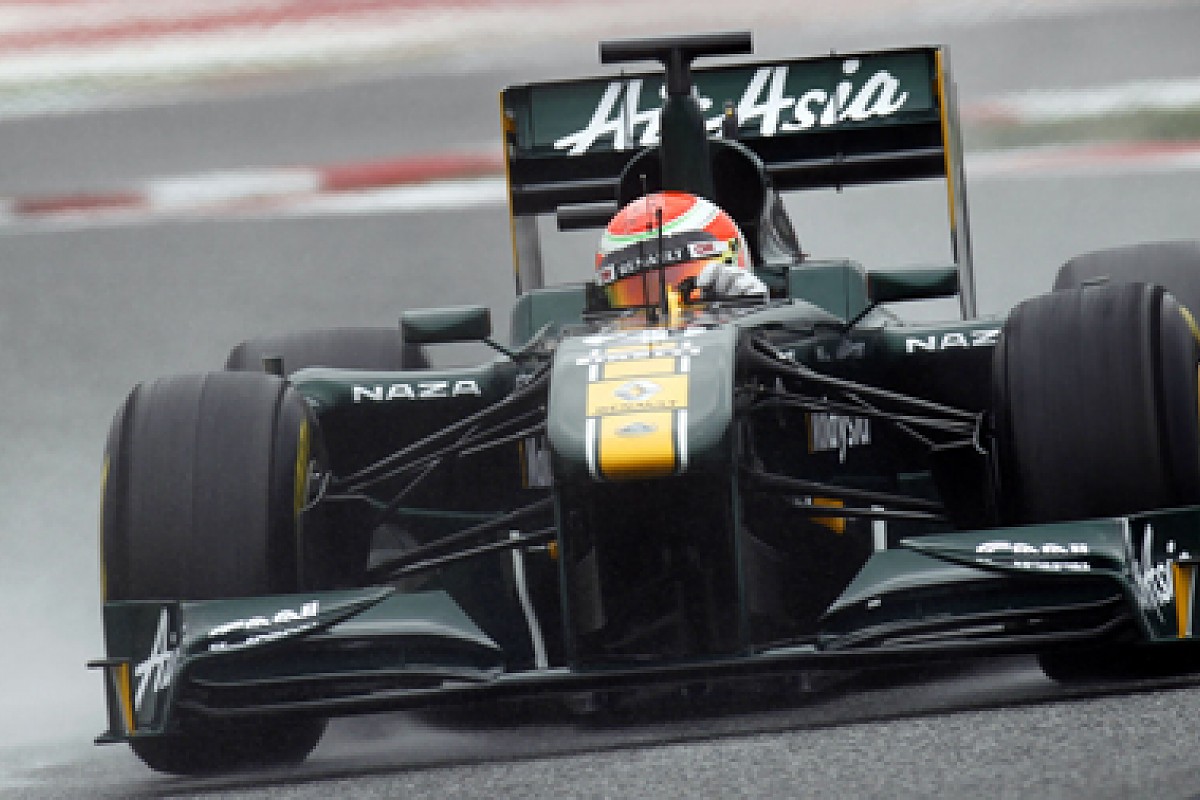 Tyres will no doubt be the major talking point before, during and after the Australian GP weekend. Some drivers have made it clear that they're not happy, although others have been more guarded in public.
"It's going to be at least three pitstops, unless things change," says Trulli. "We feel it's a bit too much, and we would like to have slightly better tyres. It's also hard to do set-up work, because after five or six laps they go off massively. So if you want to do a back-to-back set-up change, you need two sets of tyres. And there is very little you can do to look after the tyres."
There's also been some talk about the effectiveness of Pirelli's wets, although Trulli isn't too concerned: "It's difficult to say, still we haven't had enough experience so far. The ones I tested in Barcelona were okay. The intermediates were too stiff, but it depends a lot also on the temperature. If we have a slightly higher temperature, maybe they might be working better."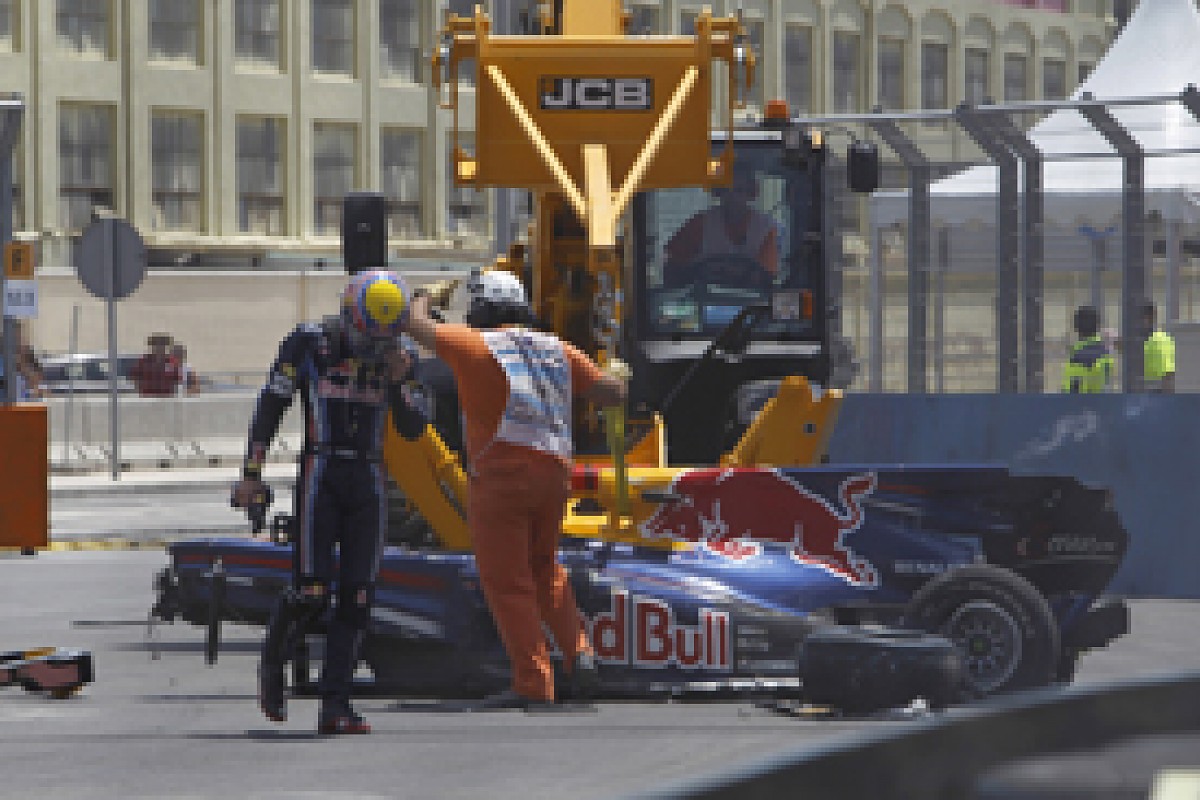 There are fears that the wing rules could lead to more crashes © LAT
The other big point of discussion among the drivers is the moveable rear wing. Early worries about it sticking in the up position have been forgotten, but no one really knows how it's going to work in racing conditions. There are certainly concerns about closing speeds triggering accidents like the one that befell Mark Webber and Heikki Kovalainen in Valencia last year.
"You want to be careful in the way that use it," says Trulli. "You don't want to get into the corner and have it up! And you have to be extremely smart in the way that you use it. What the outcome will be, I don't know at the moment. Everyone expects to have better overtaking, and if we do, I'm happy. Eventually after a few races we'll understand more, but at the moment there are a few grey points on whether it works, how it works, or whether it's safe or not.
"To be honest I'm pretty relaxed with the rear wing situation, because the safety seems okay. It's the same for everybody, but I don't understand why they decided to use it everywhere except for in the race. In practice you should be allowed to use it only on the main straight, where you're normally going to use it, and the rest of the track not.
"At the moment the complaint of most of the drivers, especially those with KERS, is that we keep pressing buttons at the exit of every corner in order to maximise the advantage of KERS and the rear wing. So maybe if we can trim a little bit the rear wing rule it can only be better for everyone. But I don't mind, because I don't have KERS..."
As far as Trulli's own prospects for 2011 are concerned, that absence of KERS is the one thing that could prove costly as the season goes on. The rest of the Team Lotus package is a major improvement over last year, but then it couldn't really fail to be.
"The 2010 car had a lot of problems which I already pointed out from the first day. We were missing, and this was pretty clear, a lot of downforce. But also stiffness, installation, suspension, there were plenty of things which meant the car wasn't quick. And even if you started working on it, it was a waste of time. You had to re-project it, re-design it completely.
"I told them early in the season, don't go any further on development than June or July, because it's a waste of money and a waste of time. Forget it. So I was really happy when they said they would stop developing it. We knew we were not going anywhere with last year's car. It was a miracle that we were on the grid, given the time they had to prepare and build up the team. There was nothing, no structure, so can you imagine? I think they've done a good job."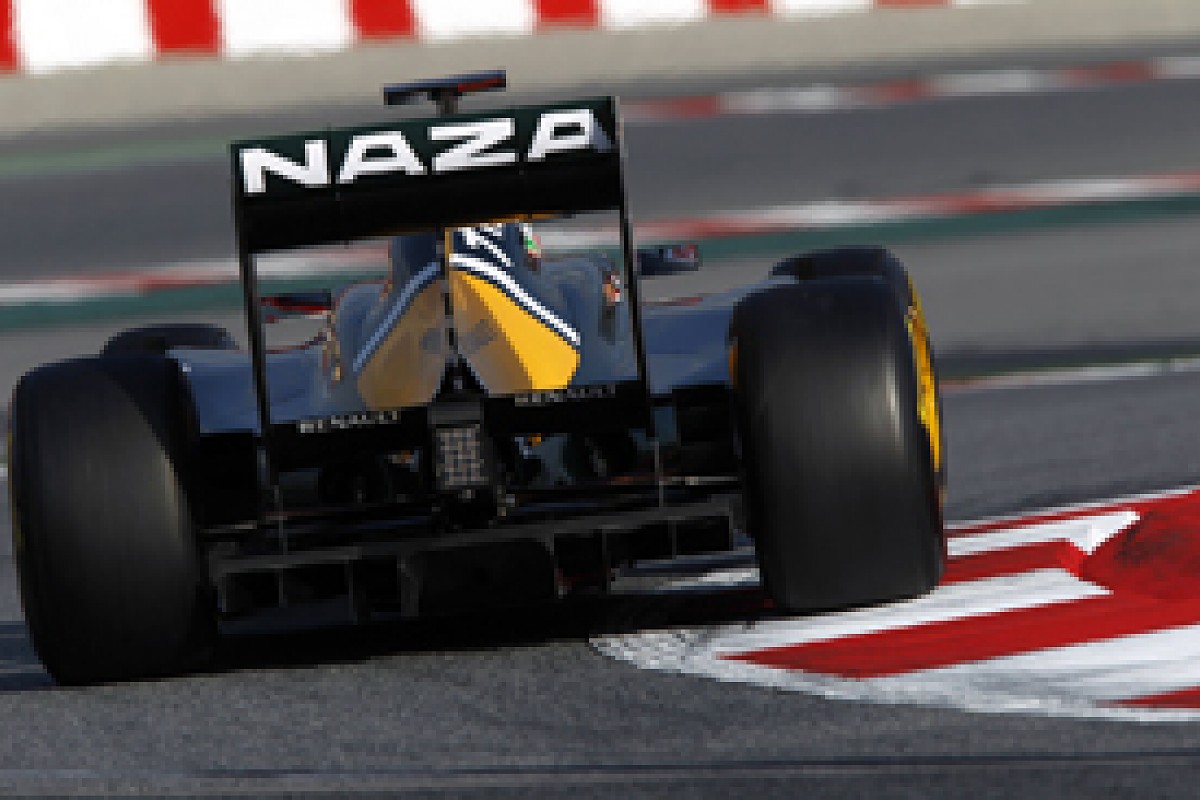 Lotus has a significantly different package for 2011 © LAT
That early switch to the T128 will hopefully pay dividends, along with the costly trio of decisions to end the Cosworth contract, go with Renault, and acquire the 2009 Red Bull gearbox.
"We have one of the best rear ends you can have in the paddock, because the gearbox is amazing, as well as the engine. Everything fits perfectly. The car looks good, and it looks quick as well. If I have to compare to last year, it's day and night. It's a huge step forward, and everybody has been working really hard.
"Mike [Gascoyne] has been putting things together, and Tony [Fernandes] has managed to give us a really good rear end that will solve our troubles in terms of reliability and performance, everything. The team has to think and concentrate about is getting it right on the suspension side, on the stiffness side, and on the aero side. I think they've done great things over the winter time, catching up with all the new rules, and with all the new bits. Also putting Pirelli tyres on has made a big impact as well. So with all these things, the team has managed to catch up.
"The truth is that we were never upset or unhappy about the engine. But our biggest problem was that unfortunately if we were sticking with the Cosworth engine, we had a problem with the gearbox, and we were not happy about it. We had no time to develop and build our own gearbox and hydraulics. Having switched to a Renault engine it gave us the chance really to forget about the rear end of the car, and focus only on the aero and the rest, so it's a huge step for us."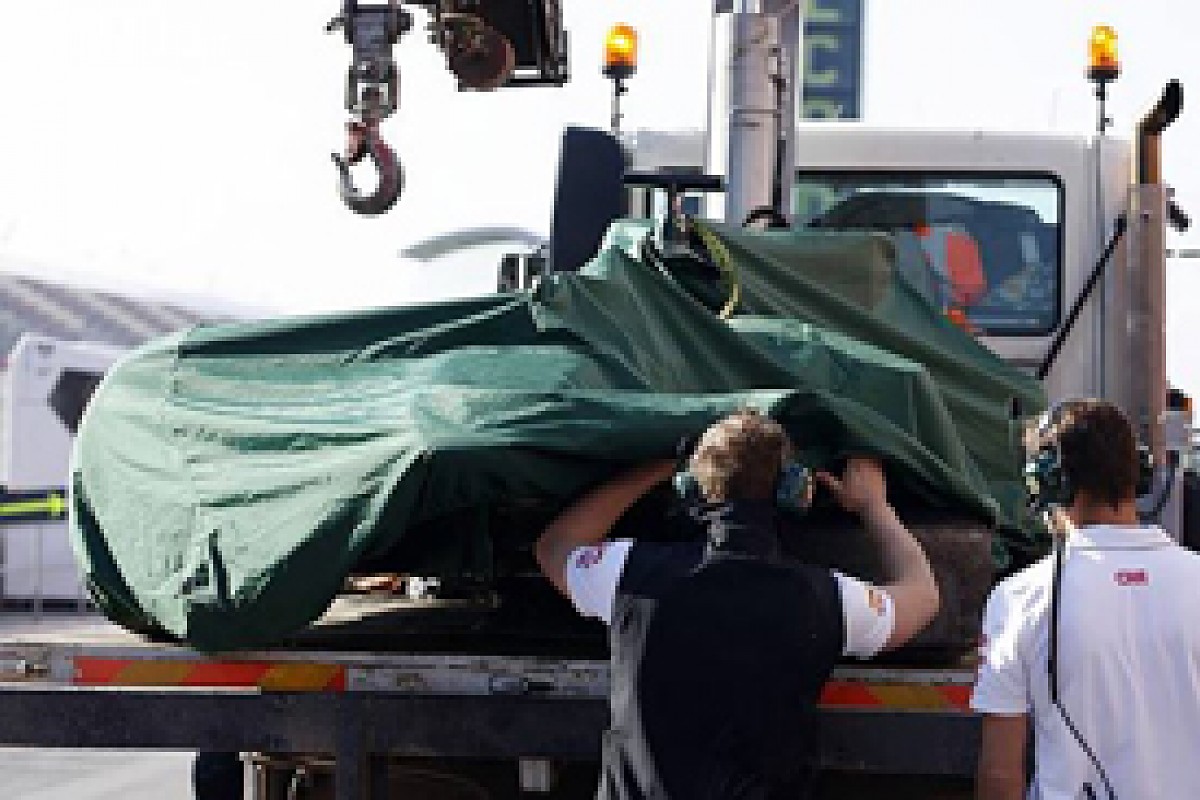 Testing hasn't gone totally smoothly for Trulli © sutton-images.com
Testing hasn't been without its problems, and many of them seem to have occurred on days when Trulli was driving, as his traditional bad luck struck once again. However after the Italian headed home from Barcelona team-mate Kovalainen managed an encouraging 138 laps on Friday, and the team seems to be making some progress.
"I think that the car has got some potential. At the moment I feel that we're probably not getting the best out of the car, as we're getting a lot of reliability issues. Some gremlins, like oil filter, radiators, power steering, these sorts of things prevented us from running more.
"On Thursday basically I didn't run at all, that was another bad day for me! The day before, we struggled with power steering and some other things. When you test like this you struggle to develop the car, but it's part of the business for the moment.
"So it might be difficult at the beginning, but maybe then we can get on top. Looking at the lap times it's difficult to get a clear idea, but we can probably chase Force India and maybe Sauber. Obviously we are ahead of Virgin and HRT. This at the moment is the picture that we have."
The big weakness is that lack of KERS, which could see the Lotuses passed at the start by cars they've managed to outqualify on pace.
"This unfortunately is my only concern. It's a concern because I've been racing without KERS against a KERS car in 2009. I had a very competitive car in terms of chassis, but I was very weak on the engine side and had no KERS. I remember the worst thing was not the ultimate lap time, but it was in races, starts and overtaking. At the start I remember I had no chance against them. Certain circumstances, like the restart after a safety car, were the weakest point for a non-KERS car.
"The problem of KERS I believe is the cost. I'm not aware of exactly how expensive it is, but as far as I remember from the 2009 data we had [at Toyota], it was very expensive, and at that time it was not very reliable. Obviously now two years have passed, so probably things have got better.
"We don't have it and I don't know what's going to happen. I'll find out only during the races if it's bad. But for example at the moment for Williams KERS is a problem, so not having it might help us in some way."
Trulli has a clear idea of where the team needs to be in 2011: "Midfield, this is our aim. I would be happy to fight in the midfield, and from time to time, see if we can score points. To do that, you cannot be two seconds off. Once you are in the midfield, everything changes, because you are in a different situation.
"When you have to fight for one or two tenths, then you can understand where you can get it. When you are two seconds off, you don't think about the odd tenth, you just try to qualify the car. I think it's very important for me and the team this year to be right there in the midfield. Obviously I'm not expecting to score points every race, but I expect to fight.
"With strategy, anything can happen, because when you have to do three stops, basically you don't know where you're going to end up! There might be a problem for you as well as everybody else. In my opinion it will be a very, very busy race, and until the last 10 laps, we won't get an idea on who is leading, and who is not."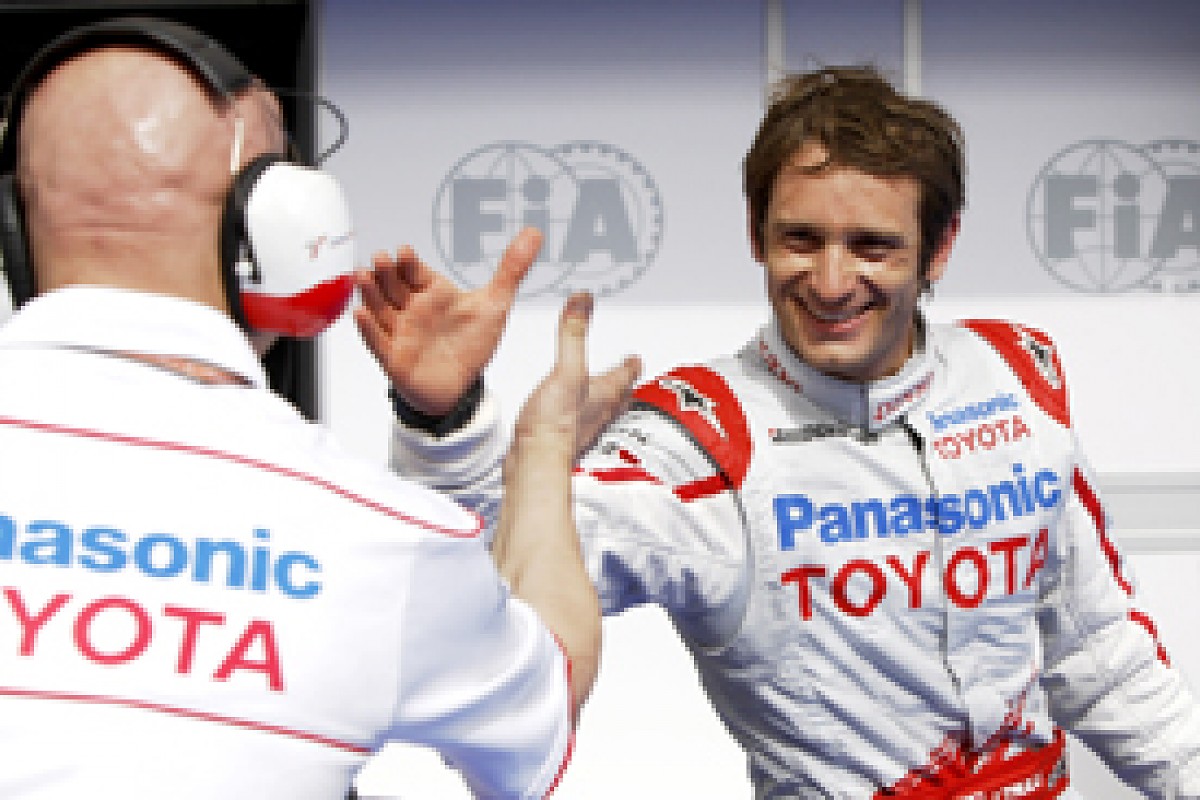 Trulli was fighting for poles with Toyota just two years ago © LAT
Just scraping into the points seems like a modest target for a man who just 18 months ago was qualifying the Toyota on the front row and was a regular contender for podiums.
"It is hard, it's frustrating, when you think 'I was on the pole here' or 'I was on the front row here.' But things change unfortunately, and F1 has changed a lot. The good thing is that I am still enjoying what I'm doing, I'm still motivated, I still want to go out and beat everyone.
"This team came in from scratch and we had to build things up. If this year we can start scoring points, it will be great, especially for me, because I've participated from day one to help build up this team. So it will be satisfactory for me to give the team a first taste of a point score - the real deal.
"Last year it was all about building up. There was not much to do, and I had to be patient. I knew I had to go through it. Now it's a different work, it's a real F1 team, professional, with a lot of experienced people. I think we can do it, or at least we have the package to do it. Whether we do it or not, we'll find out."
He's hoping that last year's struggles will be rewarded.
"Sometimes there are very hard times, which eventually make you stronger. I'm lucky because I come from this atmosphere or experience before, so I can deal with it. I'm not the kind of guy who has always been racing for top teams. My real top teams were Toyota and maybe Renault, but the rest were smaller teams, so at the end of the day, I can adapt myself. Obviously it's frustrating, especially after four or five years of Toyota, when I was always fighting for a top-five spot, and now I can forget it. But in life sometimes you have to have a step back, and you have to accept it.
"Now I am fired up, I am really fired up to get back into a fighting position, because last year there was no chance to fight. This year I can see the light at the end of the tunnel. I hope I can catch the light and be again in the midfield. In the last few years I've also been more on the top, and in the next few years I'd like to push this team on top again."