Early testing has suggested that Scuderia Toro Rosso could be one of the wildcards of the 2011 season, and while testing doesn't always give the full story, rivals are keeping a close eye on the cars from Faenza.
The real proof will surely come in Australia, but any upswing in form will be a boost for Sebastien Buemi and Jaime Alguersuari. Both men were fast-tracked into Formula 1 by Red Bull on the basis that they might as well learn their trade at the top level as anywhere else, and both have enjoyed a honeymoon period as they gained experience. Now they have to make an impact and get some results, and if they don't, reserve driver Daniel Ricciardo is there to take advantage of any slip.
Buemi is heading into his third season with the team, and given the turnover of drivers at STR over the past few years, that's an achievement in itself. He also gives the team some useful continuity.
"It's pretty difficult if you change the driver all the time," says the Swiss. "You lose time getting up to speed with them. Obviously the driver has to be good - you don't want to spend one or two years with a slow driver."
Buemi's first challenge in 2011 is to extend that deal into a fourth year, and then if possible put himself in a position where he can make a step up.
"It's definitely a very important season for me, because I want to show a big improvement," he concedes. "I want to show that I am able to bring the team forward. I want to be successful, and like you say the future is depending on this season as well. So I'm really looking forward to having a strong season.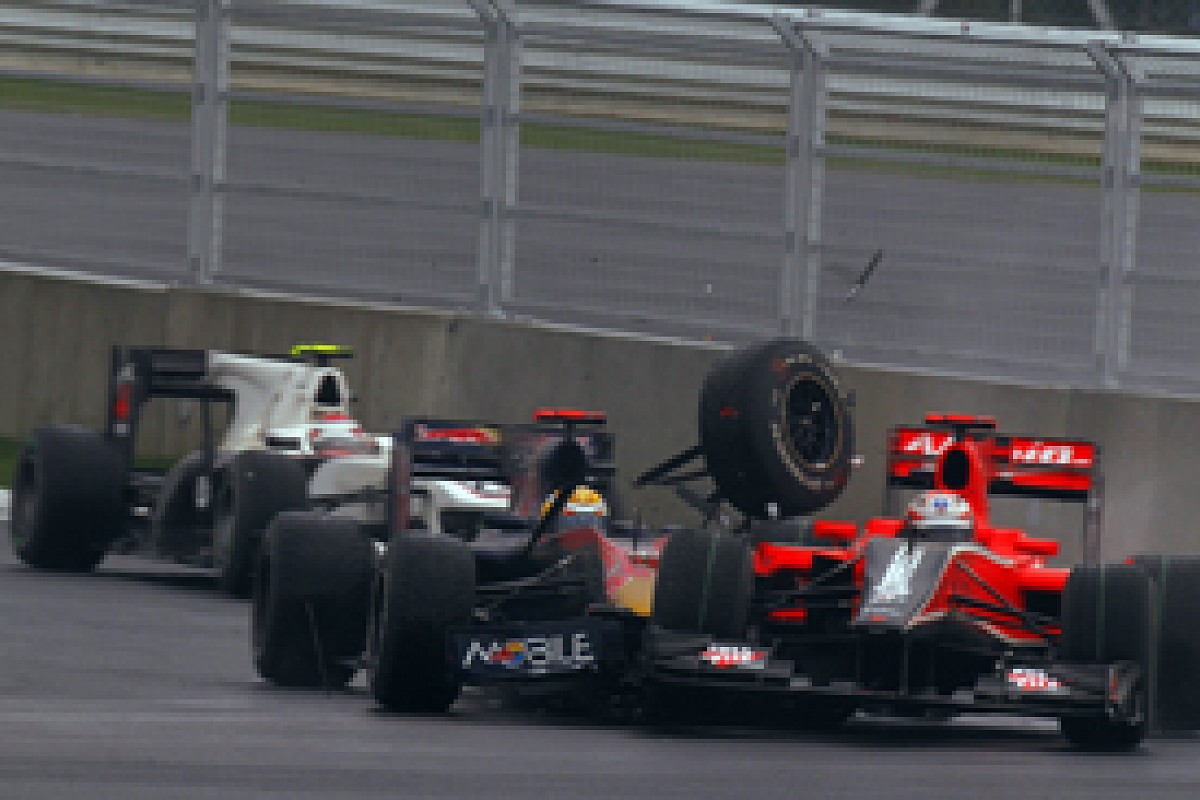 Buemi's 2010 season did not end strongly © LAT
"You always want to get better, obviously, and I think this is the philosophy of the team, they don't want to stay there. It's pretty clear if you are competing in F1 and you are not quick enough, then you'll not stay there. I think Red Bull is also really good because they can try to understand what went right and what went wrong, and they can take the right decision. In the end I'm pretty confident that it can work in the right way."
Last year Buemi seemed to lose a bit of a momentum, but that was more because the team faced a steep learning curve in its first year on its own. In 2009 Toro Rosso was still closely allied to RBR, and developments eventually trickled down, although not always as fast as might have been hoped.
"We would get things, but quite a lot later. We could not make everything. RBR could produce parts really quickly, and we were not able to. For example a floor would take us seven weeks, and they could make it in one week. So it was pretty difficult for us to follow them.
"Sometimes we were not doing three improvements, and then we'd do the fourth one. So we were not very good for a few races, and then we were putting a lot on the car at one time, and this was putting us back into points finishes."
Everything changed last year when the team had to design and develop its own car, which meant setting up its own wind-tunnel and CFD programmes, among other things. Inevitably there was a bit of a drop-off in performance, and it wasn't easy to keep up with development. Most damningly the team never quite managed to run the F-duct in a race, which gave it a clear handicap.
"To be honest it was an interesting season because it was the first one for the team to be on its own and trying to build up the car. We knew it was going to be quite difficult, because it was in a way a kind of transition year. I was expecting a bit more, considering the end of the first season. So I was not really happy with the final results that we had.
"I want to see progress, and we have to be aiming for points all the time. Obviously it is not only the driver, it is not only the car, it's a mix of many things. I scored eight points last year, Jaime scored five points. It was not enough, we wanted more. Obviously we knew it was going to be difficult. After Montreal I think we were seventh in the championship, in front of Williams and Sauber, and then we dropped back.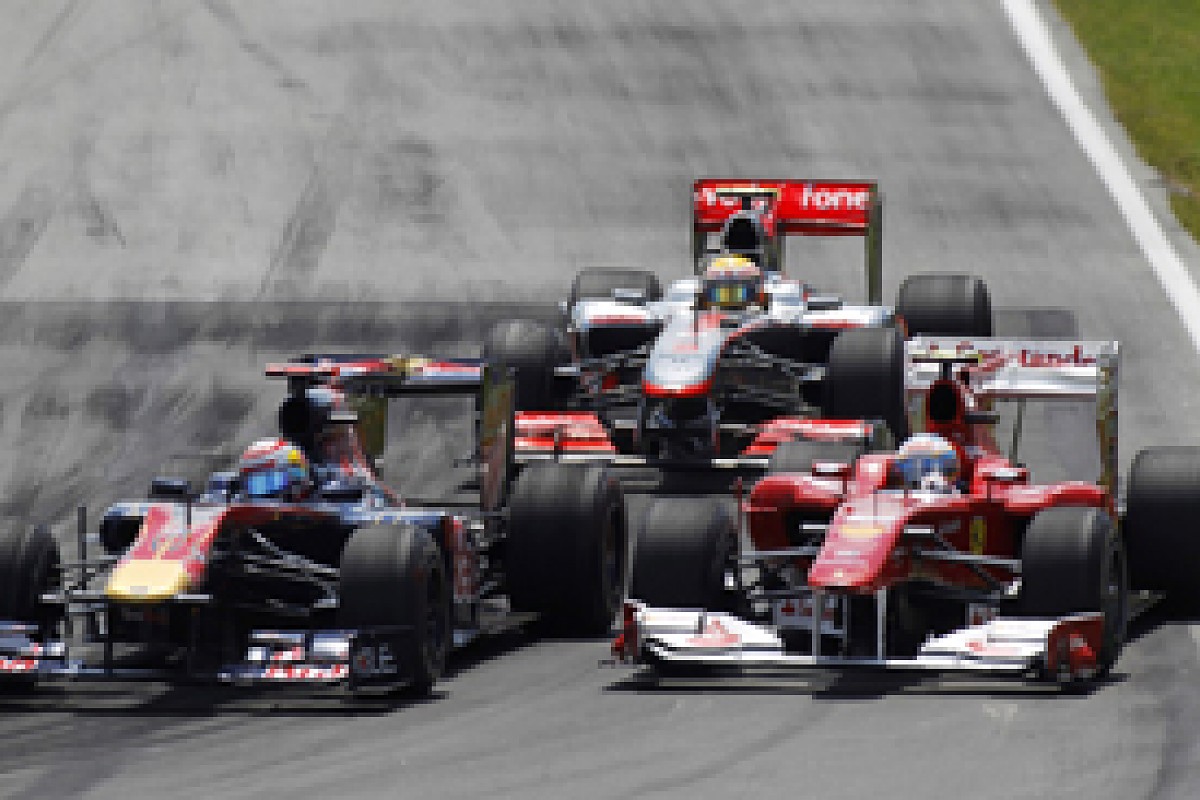 Buemi was able to race with the title contenders in Montreal © LAT
"But this is racing, and sometimes it does not go the way we you want. We learned and we really went into details to understand what could have gone better and be more competitive, and we made a few changes for this year, and now it's a new year starting and everything was new, and we are hoping for a strong season."
He is convinced that things have now started to gel under veteran technical director Giorgio Ascanelli.
"I think Toro Rosso now has a good infrastructure and has good people. Everybody knows how to work together. When you have to build up a team in six months - from where you just make the parts to where you do everything with a design office and wind-tunnel - to get people to work together and to get good results out of it takes a bit of time.
"Last year's car was more or less the same car as 2009, but we made some improvements on it and just made it to the rules of 2010. This year it's completely different, and the team had the time to actually think about 2011. We went into the details. We worked really hard, especially in the factory. We should have everything that we need to be quick, unless someone is inventing something new!
"I was quite happy to see a big improvement. It does not mean that we are going to have the best car, but it seems really to be going on the way up, and this is important, this is what we want. We want to be competitive. It looks good at the moment, but we'll have to wait and see what our car is delivering."
Toro Rosso still makes its own gearbox, but having a decent KERS system from Ferrari will be a big step.
"It is definitely good to know that we have the Ferrari KERS. We have a close relationship with Ferrari, we have had the engine for a few years, so we know them really well. We'll have two more engineers working with us for the KERS. These are all small things that if we get them to work properly, we will be more successful."
Having a competitive car will only be one part of the story in 2011. Where teams like Toro Rosso can really score is by thinking on their feet, taking advantage of every opportunity that the confusion over tyres might present.
"We need to be perfectly aware of the rules. We've seen last year that it did not turn the right way for Michael [Schumacher] in Monaco, but in a way what he did was quite clever. You need to take your chances, and if you know exactly what you can do and when and how I'm sure it will make a bit of a difference.
"And then if you know how your car is working, you understand the tyres and you know more or less the set-up you need to adapt, you can use the KERS and wing in the right way, when you get to the first race you will be good. But it's definitely not easy to get all those things to work properly before the first race!
"To be honest with the rules of last year, with just one change of tyres because that was the fastest way, it was not really nice. You had only one pitstop and the strategy options were reduced. I think if we have two or three pitstops it will be really interesting also for the strategy point of view."
It's worth remembering that last year's Canadian Grand Prix was something of a dress rehearsal for how the Pirellis will behave this year. On that occasion Buemi hung on to the leading group, led a lap before pitting, and eventually finished eighth.
"It was fun, it was good. I could pass and overtake Michael I think a few laps from the end, so it was just a fantastic race for us. I knew I was quick, I was always three or four tenths from the Red Bull car, they were telling me the lap-time. Leading was a nice moment!
"I think because of the circuit being so smooth and everyone having big problems with the tyres we were able to see less of a difference between the cars, and because of that, we were able to finish well."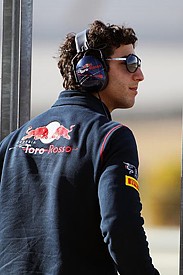 Daniel Ricciardo is waiting in the wings © sutton-images.com
Buemi will have to put in some more attention-grabbing performances in 2011. Alguersuari is no longer a rookie, and Ricciardo will be in action every Friday morning, keeping both men on their toes. But Buemi is not worried about handing his car over.
"Not driving on Friday morning every two grands prix... I have to be honest, you don't do too much, and the circuit is not clean. And we will have a kind of comparison, you know? Daniel has been really quick in a Red Bull car, and now we will see in a Toro Rosso. Obviously he will have the same car as us, so it's good for the team because they know that he has been doing a good job. I'm looking forward to it as well."
Buemi has no doubts that he is getting better, and has no fear of Alguersuari.
"I feel stronger in terms of being able to be good at the time I need to do the lap-time, and finding the way to set up the car I lose less time. The races are a lot easier for me; I understand a lot more the differences between the tyres. But I think the smaller tyre on the front didn't help me, I prefer a bigger tyre because you could push more on the corners, and you could carry more speed.
"In 2009 I was beaten only twice by [Sebastien] Bourdais, before he had to go, and I was always in front of Jaime. Last year towards the end of the season we suffered from small issues that didn't go in our direction, so he closed the gap, I would say. I want to be always quicker, this is the image that I want to show, that I'm a lot quicker than him."