In more than a few ways the period just past reminds of the turn of the last century: when car-maker after car-maker announced an entry/return/upscaled involvement in Formula 1.
Back then the list was certainly illustrious, what with Jaguar painting grandstands green after purchasing Stewart Grand Prix with Ford bucks, BMW making a return with Williams ahead of an entry in its own right (with Sauber), Honda partnering BAR in preparation for a takeover of the tobacco-backed outfit, Toyota entering as a turn-key operation producing its entire car under one roof, Renault purchasing Benetton, and Mercedes upgrading its involvement from engine supplier to 40 per cent shareholder in McLaren.
Heady days, indeed, and all concentrated within a few months of the turn of the millennium. However, all quickly learned the folly of a gold rush mentality which always meant at least six of seven would end as losers in any given season. Thus disillusion with their participation set in, with predictable results.
Jaguar's F1 programme was not hugely successful... © LAT
By end-2009 JagRac had sold out to Red Bull Racing, which restructured totally with spectacular results; Honda had handed over its outfit to management; Toyota departed without a backward glance; BMW cut a deal with Peter Sauber; and Mercedes exited McLaren, but bought a major slice of Brawn GP (nee Honda). Finally, Renault parted with three quarters of its team, the grateful recipient being Genii Capital, an investment fund.
Since then, though, it's all been slightly topsy-turvy: On the one side the 2013 engine regulations are believed to have piqued the interest of the Volkswagen Group (with Audi, particularly now VW's takeover bid of Porsche faces legal obstacles with the matter expected to be delayed by up to a year even if Porsche is cleared of share-price manipulation during its attempts to purchase VW).
(This matter is not to be confused with VW's acquisition this week for £3bn of Porsche Holdings Salzburg, the separate automotive sales giant established by the Porsche/Piech families.)
Then, Hyundai/KIA is also said be interested in entering F1 under the eco-friendly regulations, while at least one Japanese company - likely Honda; possibly Toyota - is wading through the regulatory framework as it considers a return to F1 as an engine supplier.
On the other hand Mercedes has this week effectively taken control of Mercedes Grand Prix, having bought out the management's 24.9 per cent share together with Mercedes (nine per cent) shareholder Aabar Investments. The new structure has Mercedes as 60 per cent owner, with Aabar owning the balance. Simultaneously with its initial investment in what was Brawn, Mercedes relinquished its interest in the McLaren Group - effectively the F1 team and associated motorsport satellites, but excluding McLaren Automotive, the road car company.
The Bahrain Mumtalakat Holding Company, to all intents and purposes Bahrain's sovereign wealth fund, holds a 42 per cent slice of the Group (and 50 per cent of Automotive), and sources within McLaren's 'Yin and Yang' Technology Centre do not deny that the two companies' executives are anxiously watching as political contagion spreads across the Gulf region.
While Bahraini asset freezes - as have already hit investments made internationally by former rulers of Egypt, Libya and Tunisia, and are expected to gain increasing traction - have not yet been pushed by Bahraini protesters, such action could spell absolute disaster for McLaren and particularly its MP4-12C road car, which was due to have been unveiled in the Middle East during the (postponed) Bahraini Grand Prix against a backdrop of historic McLaren race cars at a circuit owned by Mumtalakat.
Whether such a conspicuous flaunting of wealth would be a good idea if/when the grand prix returns is another question; indeed, one to be answered when peace reigns once more in the desert kingdom. In the meantime, though, McLaren's executives have bigger issues to concern themselves with than merely an underperforming MP4-26.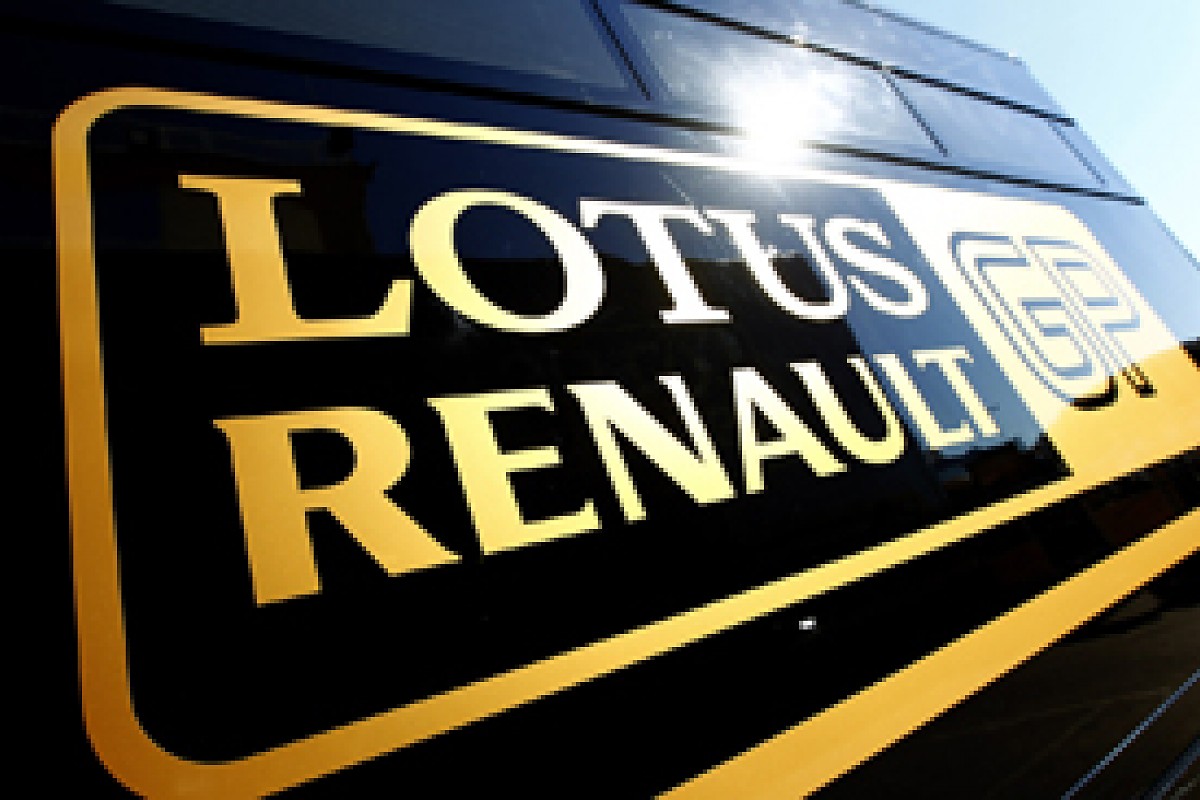 Lotus versus Lotus remains unresolved © LAT
Against this backdrop the legal battle facing the two teams entered under the same car company name - Lotus - seems almost insignificant, yet there is nothing trivial about the court case in which Lotus-Renault (the Malaysian-run operation) and Lotus Renault-Renault (the Genii-owned team) find themselves embroiled.
Much has already been written about the disagreement between Lotus (the Proton-owned car company which is title sponsor of the latter) and the former, effectively a Lotus licensee accused of being in breach of license conditions, so this column is content to await the High Court verdict after the next hearing on 21 March in London.
However, another Renault-powered team has also been in the news recently, namely reigning champion Red Bull Racing-Renault, which has agreed a sponsorship deal with Infiniti, Nissan's 'Lexus' luxury brand. Nissan is, of course, 44.3 per cent controlled by Renault, with Renault's president Carlos Ghosn having for many years simultaneously run both companies. Nissan, in turn owns 15 per cent of Renault through a bilateral share swap, but enjoys no Renault board representation.
Supreme cost-cutter Ghosn has long yearned for Renault's F1 programme to pay its own way, and at last he has achieved that: having hived off 100 per cent of Renault F1 Team to Genii, he retained control of Renault Sport F1, engine supplier to both operations known as Lotus Renault, plus RBR. The three entities are, of course, customers of Renault Sport F1, although individual deals are believed to be in place. With Infiniti now in the fold, RBR is able to off-set engine costs against sponsorship income - while Renault continues reaping title-winning 'powered by' kudos without conflict.
The deal is significant for various reasons, not least the fact that a Japanese manufacturer will again enjoy an F1 grid presence. Infiniti is aimed squarely at the premium car sector - i.e. Mercedes, BMW, Audi, Acura (Honda's North American upmarket badge) and Lexus, and of those only the first-named has a current F1 campaign. It always was baffling that Toyota elected to enter F1 under its own brand rather than Lexus, and here Infiniti is certainly on the right track, for Toyota/Nissan beating Mercedes/Ferrari on track counts for little in the real world.
Indeed, when Honda was active as engine supplier to McLaren in the late eighties/early nineties, the team's drivers displayed 'Acura' during F1's North American forays to reinforce the links between the two brands while benefiting from F1's premium image.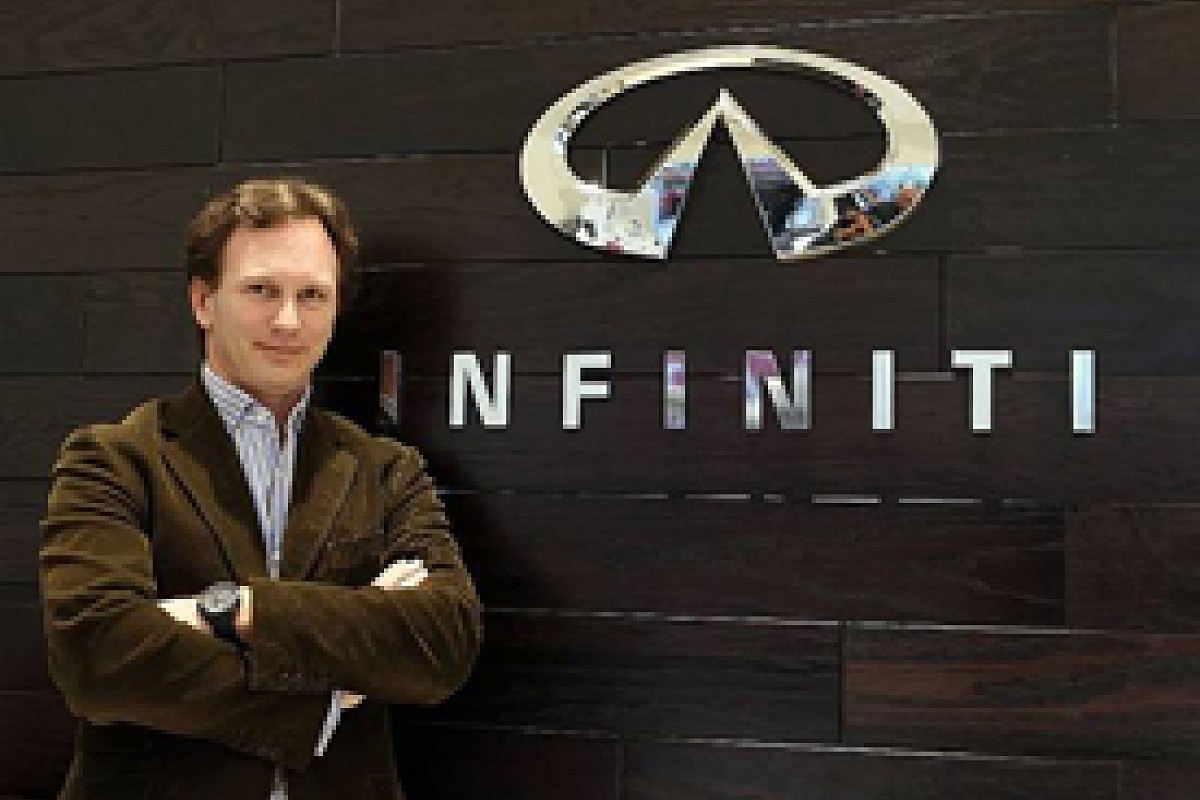 Christian Horner at the Red Bull/Infiniti announcement
In fact, if there is a wonder about Infiniti's entry into F1 it is that folk who should know better suggested the sponsorship arrangement extended to an engine badging deal - which would have been commercial suicide, whichever way it was structured.
Here Renault obviously took aboard lessons learned from Lada branding on last year's Renault F1 entries - repeated this year under full Genii ownership in recognition of the Russian brand's support of Vitaly Petrov. In Russia it is said Petrov could never beat his Renault-powered team-mate due to having mere 'Lada engines'. The opposite was equally damaging: last year, on those occasions when Petrov 'did' Robert Kubica, the word in Russia was the Pole's Renault was down on power...
Extend that to a notional Infiniti badging concept, and it is clear both Infiniti and Renault were in a lose/lose situation, so Renault power and Infiniti livery keeps it clean, all while filling Red Bull's coffers and ensuring the Renault Group has two brands on the grid - one aimed squarely as Mercedes, and other in bed with a 'Lotus' or even two...
Put differently, if Red Bull wins, both Renault and Infiniti gain kudos; if either of the 'Lotus' entries beats an RBR, there are negatives in it for Infiniti, while Renault still scores.
It can't have failed to escape the notice of Infiniti's management, either, that F1 is returning to the US next year (by far Infiniti's biggest market) and has a double presence in the Middle East (the brand's second largest market). Or, for that matter, that a long term deal is in place for the Japanese Grand Prix to be held at Honda's Suzuka circuit, where Red Bull's world champion Sebastian Vettel triumphed twice recently.
Talk about a tidy, thought-through deal - precisely the difference between Infiniti's entry into F1 and those of Jaguar, Toyota, BMW and Honda a decade ago...