"My Formula 1 career has been brought back to life quite a few times, but this time the way it has happened has been the most extreme, I have to say." - Nick Heidfeld
It was only outrageous fortune - good on his part and terrible on old team-mate Robert Kubica's - that triggered Nick Heidfeld's latest F1 resurrection. The 33-year-old German has been cast onto the grand prix scrapheap so many times, yet has managed to haul himself back into the game repeatedly. And this time, he's in a Renault that might just allow him to bring his win drought, which stretches back to the sixth round of the 1999 FIA F3000 championship, to an end.
Only those not paying attention would condemn him as a no-hoper. His flirtations with F1 oblivion have largely been a consequence of circumstances rather than a lack of ability, as most in the paddock regard Heidfeld as a good, consistent performer. Granted, not a Fernando Alonso, but certainly worthy of a place at the top table. That's what made him the obvious choice for Eric Boullier once the Renault team boss realised just how bad a way Kubica was in.
Heidfeld's repeated revivals also prove that he has the right mindset - and the skill set - to thrive in such a situation. And he's had to, for after adding the F3000 crown to titles in German F3 and Formula Ford, his F1 career has had more than its fair share of pressure points.
It could all have come to an end after a desultory maiden season in the desultory Prost AP03 in 2000,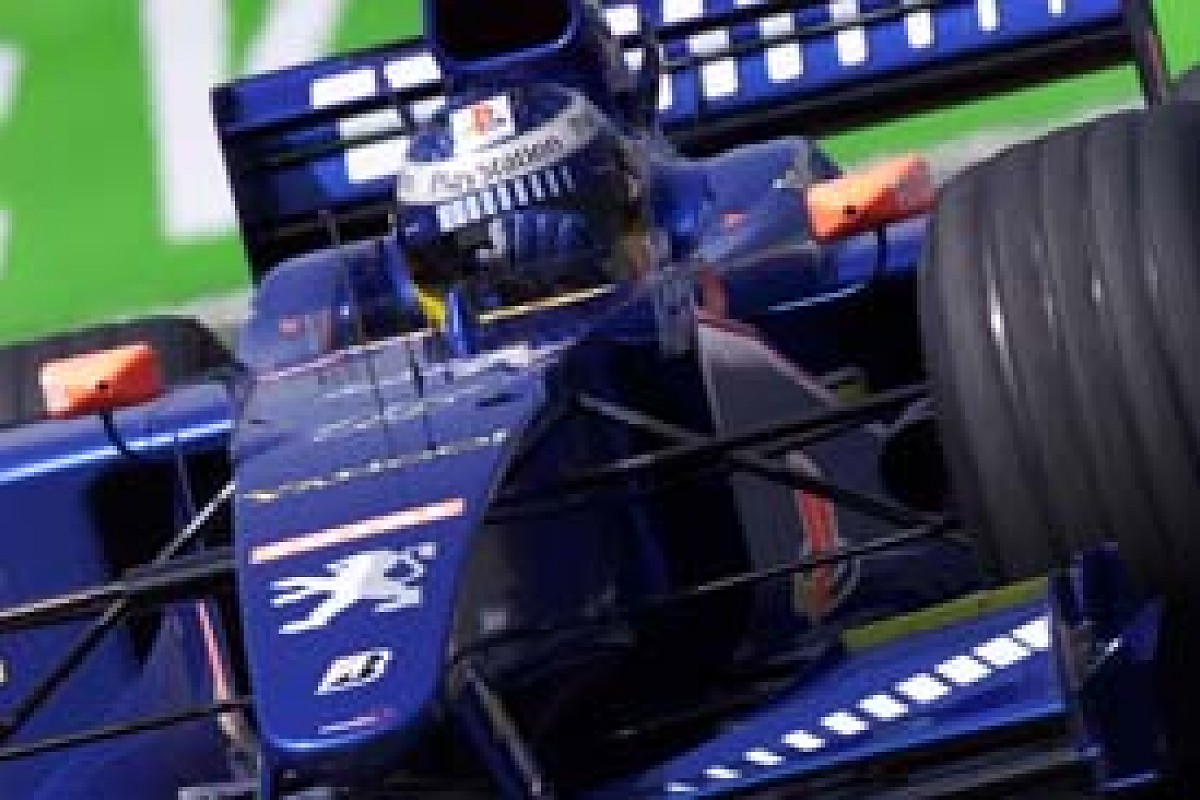 Nick Heidfeld, French GP 2000 © LAT
or after he left Sauber at the end of 2003. Or perhaps it would have been all over if Frank Williams hadn't signed him for 2005 at the eleventh hour. Then there was BMW's withdrawal, which left him on the sidelines for 2010 and, until Kubica's accident, the lack of a drive for this year.
But for all that, Heidfeld remains as ambitious as he was when he first stepped into F1 all those years ago.
"After F3000, I hoped, as I hope now, that in a few years I would be in a top car and fighting for the world championship," says Heidfeld. "Formula Ford, F3 and F3000 are not F1, but I won all of those titles and I thought, and think, that I can do the same in F1."
His first season was a rude awakening after serial success in the junior categories. The Prost-Peugeot was, frankly, a shed. The ex-Ligier team ended the season bottom of the Constructors' Championship and Heidfeld was never able to qualify beyond the seventh row. Finishes were rare, results were poor and points were non-existent. Only the presence of Jean Alesi in the other car allowed Heidfeld a frame of reference to show that he could do the job, ending the season ahead of the Frenchman in the standings (albeit only on countback).
"We were the last team that season," recalls Heidfeld. "Normally in those days, Minardi was at the back, but we were behind even them.
"It was particularly frustrating because all of the work that we put in changed nothing. Making no progress is always the worst situation. I have been with teams where the car was no good, but you worked hard, saw problems and made changed. But at Prost, nothing changed. It was very tough."
A couple of collisions with Alesi proved to be the only memorable moments of a dire F1 baptism. Heidfeld had made little impression and a move to Sauber for 2001 didn't give reason to expect anything more than midfield mediocrity.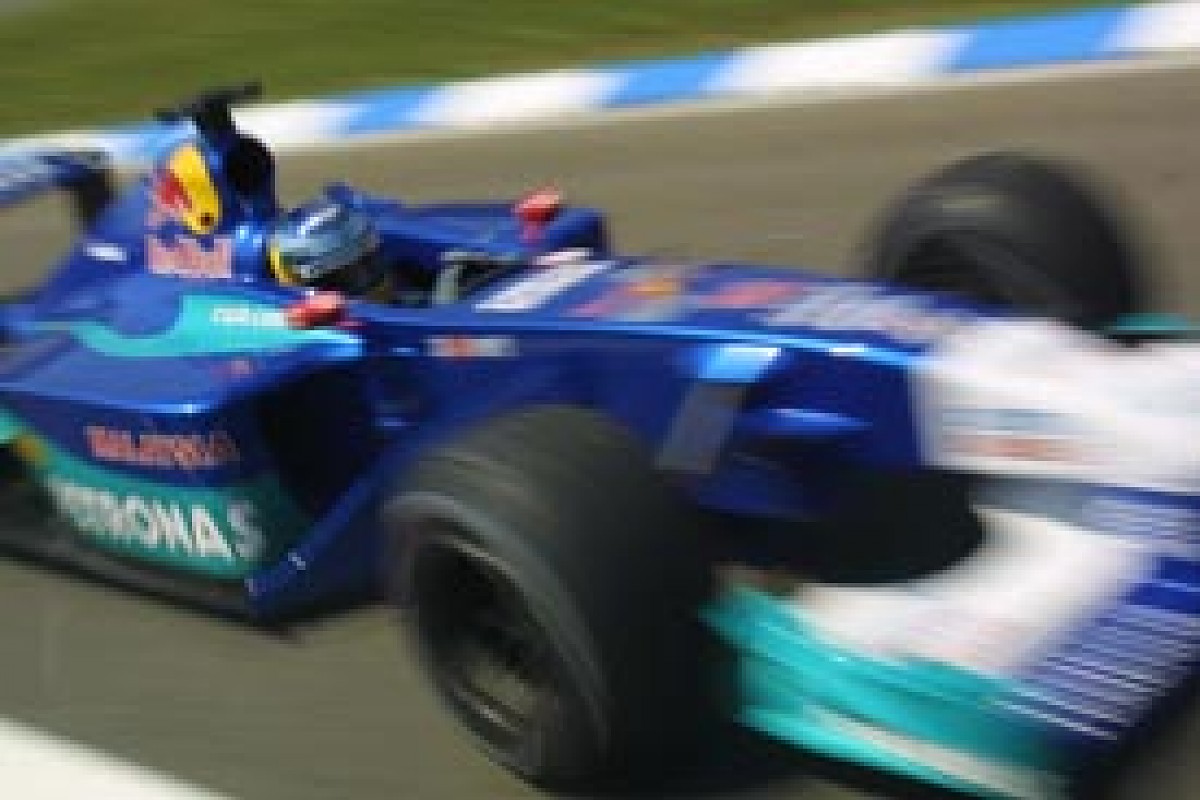 Nick Heidfeld, German GP 2001 © LAT
Fortunately, the Sauber C20 was a gem. Leading the team, with Kimi Raikkonen, who had astonishingly been promoted from Formula Renault to F1 in one leap, alongside him, Heidfeld had a superb season. He followed up fourth place in Australia with a maiden podium in Brazil, leading the team to an astonishing fourth in the constructors championship.
Then came his big chance. Heidfeld had been backed by McLaren-Mercedes since F3 days and Mika Hakkinen's sabbatical (which later turned into retirement) left one of the best teams in F1 needing a driver. Heidfeld was a McLaren test driver and the obvious choice, but it was Raikkonen who was catapulted into a frontrunning outfit.
It clearly rankles with Heidfeld, who is too smart to say anything negative about Ron Dennis's decision. For it seems that it was Dennis who was suspicious about Heidfeld from an organisational and presentation point of view - something that Nick himself refuse to be drawn on.
"It was my big chance because McLaren-Mercedes helped me from my second year in F3, when I drove a silver arrow liveried car," says Heidfeld. "Then, when I joined Prost I was still part of McLaren and I had a good chance to move there after the first year with Sauber. But they decided to take Kimi. Okay, he became world champion, but I could have had this chance.
"I have a lot of thoughts and theories on this, but I won't share them. But if you look at the image, I think Kimi was a guy who didn't fit this well."
So it was back to Sauber. After a second good year, helping the team to fifth in the Constructors' Championship alongside a wild Brazilian named Felipe Massa, Heidfeld's reputation was buoyant. Then came the inevitable downturn in 2003, with Sauber sliding again to sixth and the German managing only six points as the Swiss team struggled to match the frontrunners' aerodynamic development pace.
Of all of Heidfeld's regular team-mates, a list which also includes Alesi, Raikkonen, Massa, Giorgio Pantano, Timo Clock, Jacques Villeneuve and Robert Kubica, it was only Heinz-Harald Frentzen in 2003 who outdid him during their time together. That's not a bad record, but with Sauber running Giancarlo Fisichella and Massa, who was returning after a year testing for Ferrari, there was no space for him in 2004.
"I have a bad feeling," said Sauber at the time. "I like to work with him. He's very professional. He's very precise, especially on the technical side. It's easy for the engineers to work with him and his speed is very good. Nick is in a difficult situation right now and I hope that he can find a drive."
Heidfeld believes that Sauber's slide down the order devalued his stock, making it harder to stay on the grid in 2004.
"Expectation are very important," says Heidfeld. "It's about how the team is perceived. In 2001, it was great because nobody thought that we could finish fourth. That was a fantastic season for a small team.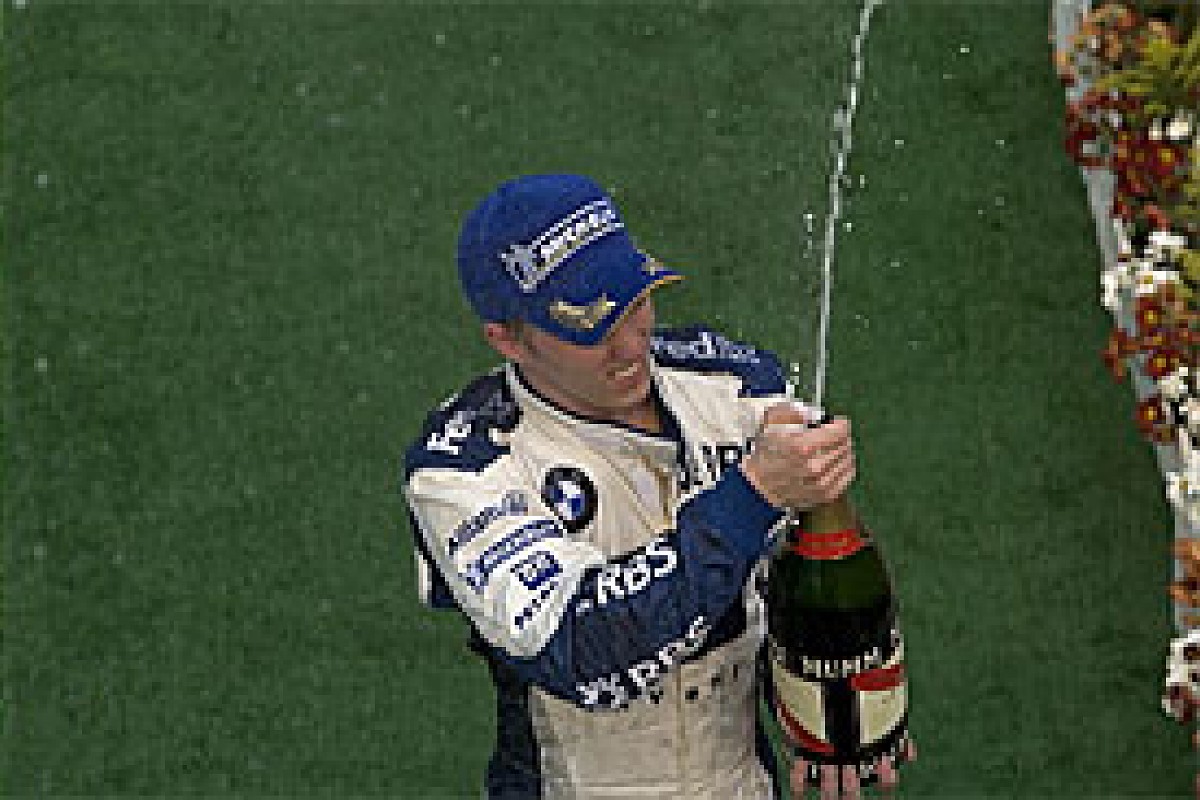 Heidfeld was on the podium with Williams in 2005 © LAT
"The improvement was big, but on the other side we fell back quite a bit two weeks later. Everybody was disappointed even though my performances were the same. That's the problem of perception."
Eventually, Heidfeld did find a seat, pipping Jos Verstappen for the second Jordan drive. The team was very much in decline and a seventh place in Monaco was as good as it got, but it kept him in the game. Then, Williams came calling, involving Heidfeld in a protracted driver shoot-out test programme up against former British F3 champion Antonio Pizzonia.
"That was crazy," recalls Heidfeld. "When the 2005 season finally started, mentally I felt like I had already done a year! This was not a one-test shoot out, it was done over months!
"The presentation of the car was in Valencia and Antonio and myself didn't know who would be driving. I had good feedback from the team, but Frank wouldn't tell anyone!
"Ten minutes before the launch, we were invited into a room where Frank was waiting. Antonio went in before me and I tried to read what had happened in his face when he came out! I couldn't tell.
"Then I went in, but I wasn't shouting about it and happy - it just felt like a big stone had fallen off my shoulders. It was a strange situation because of the intensity.
"Then, at the launch a few minutes later, Pizzonia had to sit next to me and say he was very happy to be test driver! Imagine having to do that!"
This was the start of a long relationship with BMW. The timing was bad, as Heidfeld's Williams year coincided with the start of its win-less drought that continues to this day. There were some good moments, but he knew that 2005 was going to be tough.
"The expectation was that it would not be a fantastic season because development had not been perfect the year before. But it was one of my best season. I had my first pole position and two second places in a week at the Nurburgring and Monaco, but you always want more with a team like Williams that has been at the front of the pack.
"It was a complicated situation with the relationship between BMW and Williams that was not the best, but they are real racers. I got the impressions that the Williams team did not give a shit about politics - they went for the driver that is quicker."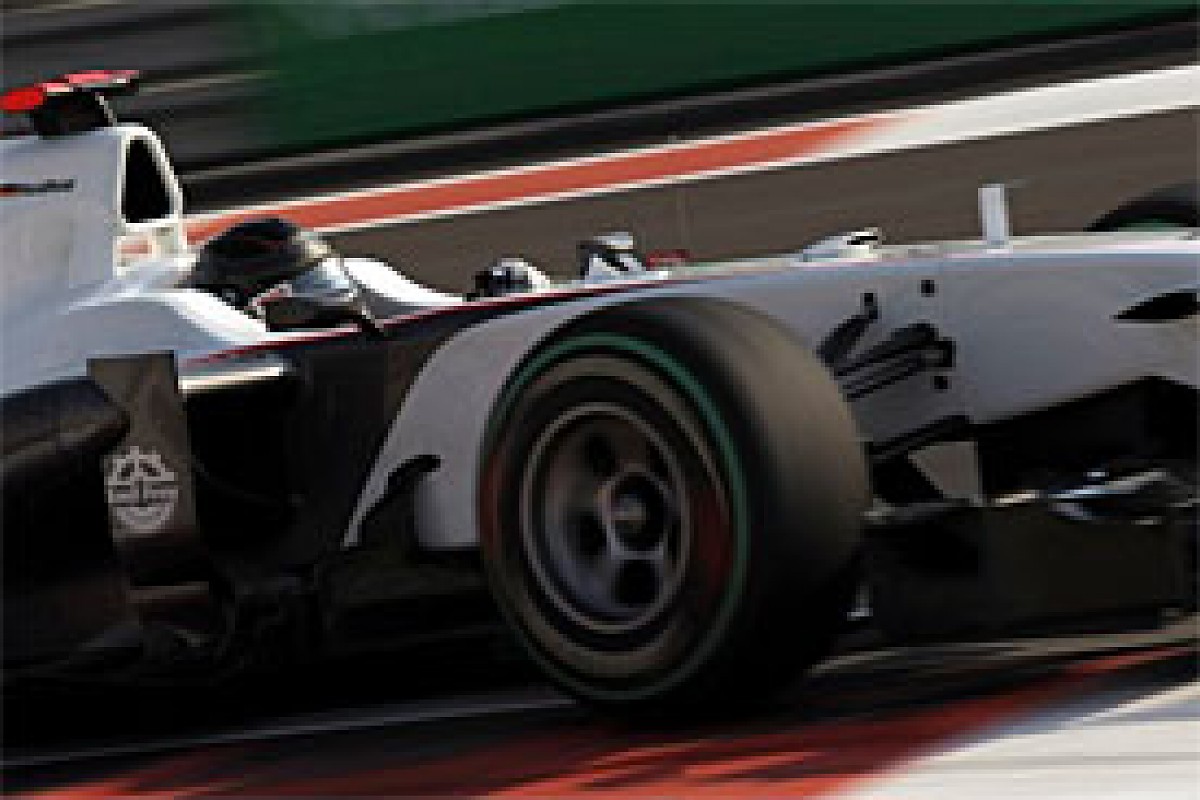 Heidfeld raced in the latter part of 2010 with Sauber © LAT
BMW took him back to familiar surroundings at Sauber for 2006, a programme that many expected would finally give Heidfeld his first win. After a solid start in 2006, the team edged towards the front in 2007 and 2008 and when Heidfeld, one a one-stopper, had to let two-stopping Robert Kubica past in Canada to make sure of a one-two, it seemed certain that he would soon have his chance to stand on the top step.
Then came the disaster of 2009 and the withdrawal of Sauber, which again left Heidfeld on the sidelines despite having outscored Kubica over their three-and-a-half seasons together.
From there, a stint as Mercedes reserve driver and then as Pirelli tester kept him in the paddock before a recall to Sauber for the final five races of the season. Just weeks into his return, Sauber completed a deal to take Sergio Perez for 2011, again leaving Heidfeld out in the cold.
Which brings us back to February 6 2011. When he got out of bed that morning, he had only a season on the sidelines to look forward to, thinking that "my chances of F1 were getting smaller and smaller". Perhaps this, after all those near misses, was it and a driver who is surely good enough to win at least a race or two would have seen the last of F1, left only with the unwanted record of most races (172) and most second places (eight) without a win.
Then, he saw early reports of Kubica's rally crash and realised that, just maybe, there might be a place for him in F1. Less than a week later, he was back behind the wheel in the Renault at Jerez and, a few days after that, he had a contract for the rest of the year.
Another year, another career resurrection. And well deserved it is too despite the awful circumstances.