Williams is taking some risks with its radical new FW33 in 2011. As the team's technical director Sam Michael points out, you have to if you want to differentiate yourself for the opposition in Formula 1 these days. In any case the team's radically small gearbox, angled driveshafts and tiny rear-end have drawn much discussion during the first three tests of the pre-season.
But has it worked? Speaking to AUTOSPORT at the livery launch of a Williams racer that must be targeted at returning the team to regular podium-chasing position, Sam Michael expressed his encouragement at the results so far.
But F1 being the cautious business it is, Michael admits that it is far too soon to read whether or not the concept will have given the team an advantage over some of its opposition.
With one final test to go at Barcelona, there is still more to learn both about the FW33, which will receive an update package that pretty much covers everything except the rear wing, and perhaps more about each car's potential.
But while mystery cloaks the form guide, Michael was happy to discuss the innovative features of the Williams, which set the pace at the second test at Jerez, as well as what the Bahrain withdrawal has meant for the team's development schedule, and just what we can expect from the first grand prix in Melbourne.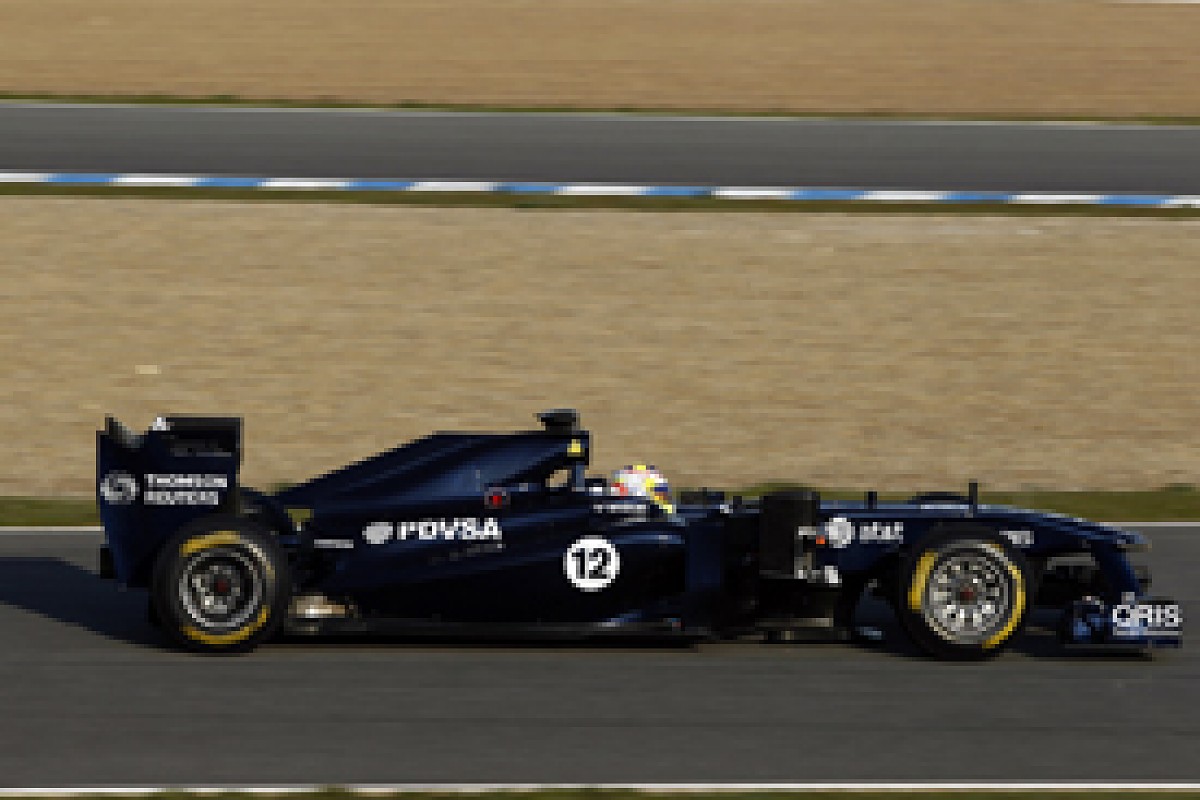 The Williams FW33 in testing © LAT
Q. The tiny rear end of the FW33 seems to have produced really strong results in terms of rear-end grip. What have your first impressions been from the feedback of the tests?
Sam Michael: To be honest with you with the front and the rear we are always trying to find more grip, but we don't have any specific balance problems with the car that no one else has. If anything all the cars are weaker on traction and that has probably come from the change in tyres. The Pirelli tyre has strengths in other areas. We are really just looking to find more grip overall.
Q. Have you seen the advantages you were looking for from the small gearbox concept in testing?
SM: Absolutely. I guess to be honest I was looking at it and thinking we could have pushed it a bit more. We are always trying to look for more gains. I think we expected that on the rear end... to be honest I thought more people would do it. I didn't think we would be the only ones. We had a similar situation with the double diffuser two years ago, when I thought there would be more would people do it. Clearly no one will [build a new gearbox] during the year, and some people might think it's not a good idea. There are differences.
Q. What has Rubens Barrichello made of the car so far, given that he has led the development from a driver's point of view?
SM: He is quite a critical person and wants to keep pushing the team so his view is that we need more performance, which is the right view to have.
Q. How has the testing process gone with KERS, are you confident it will be right for the start of the season?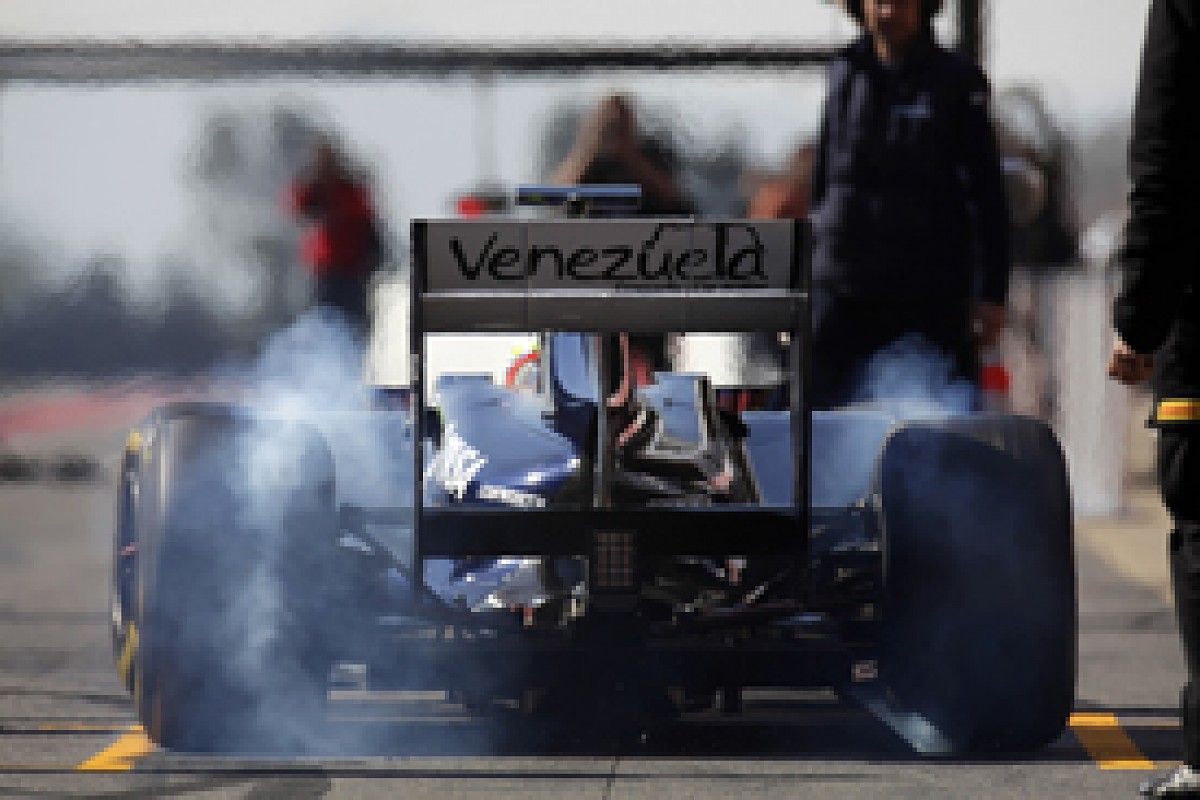 The Williams storms out of the pits © LAT
SM: We have had some problems with the cooling system and we are still working on it, but hopefully we will have that ready for the last test. We have no problems with the battery, the motor generator unit or the Cosworth drive to the KERS. The inverters and all the electronics have all been good, just have this cooling problem. It's really frustrating. We have to get it sorted or it won't run otherwise.
Q. Have you seen the expected power loss figures that you expected from the extreme angles of the driveshafts on the FW33?
SM: It's within what we expected. So we haven't seen any issues with that or any power loss past what we expected. The power loss is basically the same as it was on last year's driveshafts so there are no dramas at all. We know that we don't have any loss more than anyone else running a flatter driveshaft.
Q. Rival drivers following your car commented on the amount of vibration on the FW33's rear wing at Valencia. Are you concerned about how much it has been shaking about?
SM: Not really. We have done three tests on it and we have not had any problems. It's not because it's mounted on the suspension, as some people have suggested. It's because it is mounted on a single [central] pillar. The rear lower wing is fully-floating. The main structural mounting point is at one place. Actually for the last test we added two little stays to the rear wing endplates and that has stopped all that lateral shaking.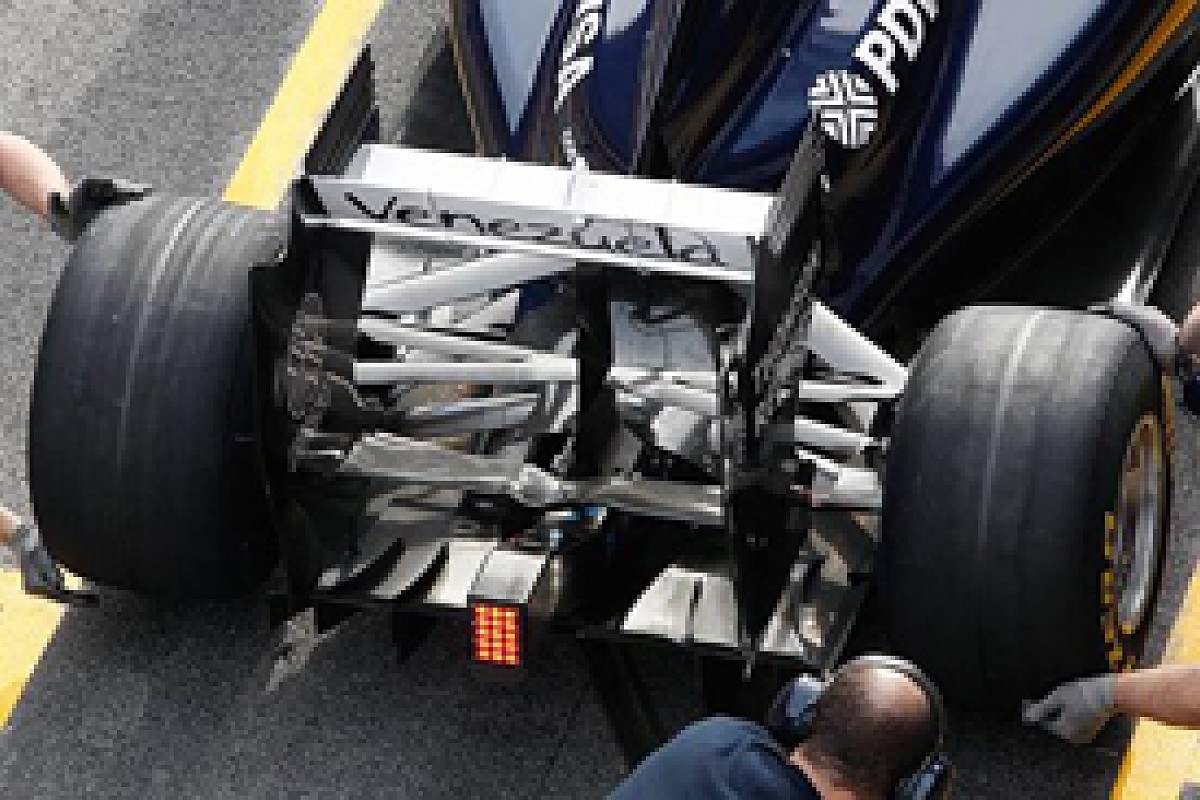 A closer view of the Williams's intriguing rear end © sutton-images.com
To be clear, it's not because it is mounted on the suspension pillar. The suspension pillar is not moving, it's just the fact that it is mounted on the central pillar and that's the only place we hold it. If we had a higher gearbox and we mounted our wing on a pillar, exactly the same thing would happen.
Q. Is there any drop-off in aerodynamic performance when the wing shakes like that?
SM: No, nothing. But as I said we added those two little stays either side of the endplates because while we haven't had any failures - and we've tested it at the worst track for that, which is Barcelona and we've seen no signs of failure at all, no problems, no cracks, nothing - it does look like it is moving physically too much to us. We weren't completely comfortable with it, so we have added the two little stays to stop it shaking.
Q. The whole rear package of the car was obviously the mainstay of the FW33 design. Some have suggested recently that the aero strength of the back of the car could have an emphasis on the performance of the front of the car.
SM: It's not really like that. I read an article about that. It suggested as well that the drivers said our car understeers because it has got too much rear downforce. But there is no such thing as too much rear downforce to be honest, because you can always use rear downforce. You can compromise the mechanical set-up, weight distribution, roll stiffness or even aero balance to solve that. Any car with more rear downforce goes faster, so I think we have got similar balance problems to everyone else.
Our car is changing completely for the last test anyway. We have a new diffuser, new front wing, new brake ducts, new bargeboards and new bodywork. The only thing that is not changing at the moment is the rear wing. The aero package on the car at the moment is very out of date. It's about four months old, because we made a conscious decision to reduce costs over the winter. We made two sets of it, and we made them a long time ago so we could get everything out early.
In the meantime, the aero team have worked away and actually found more downforce and because we only made two sets of spares, that's why when Pastor [Maldonado] had that shunt in Jerez we then did all of Barcelona with no spares.
So the drivers have also been very cautious throughout the Barcelona test. In terms of what we were saying about the front end needing development, we do have a new front wing coming for the next test - which is quite a big step.
Q. The package that you are bringing to the final test - would you say that it is a massive step forward?
SM: I think it's what's required to stay where you are. It's a good, healthy step but I don't think it's as big a step as what I hear Mercedes has got. It sounds like they are pretty encouraged by it, but we'll see.
Q. Pastor had a couple of offs in the test, but generally what has your opinion been of him so far?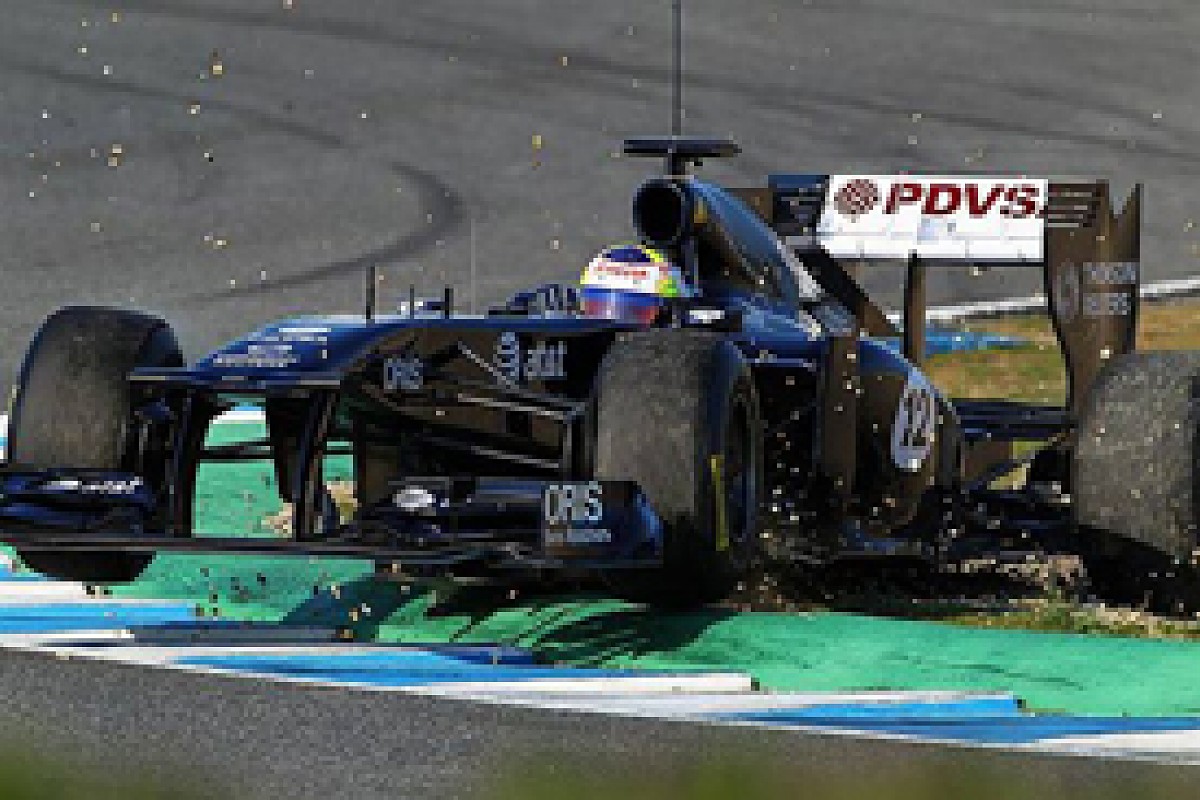 Maldonado finds the limits in testing © sutton-images.com
SM: He's had two offs. One was in a fast corner which did a lot of damage, then he had an off in the wet at Barcelona which didn't do any damage, we just needed to bring it back and clean the gravel off it. But apart from that he's been pretty good to be honest. The one in Jerez he had been down for a day and a half and he's in the car and he knows he's only got a certain amount of time and he has got a lot of pressure on him.
We had a lot of down time with silly little faults so we haven't really helped him in terms of the pressure on him. He's got to get on it, and get up there and he knows that and it was probably a bit too much for a rookie. Whereas Rubens has got so much more experience he can handle losing a day's running here and there.
[Maldonado] has got a spark of talent in him though and we saw it from the first test - which I was quite happy with because it can always go the wrong way on you, but it hasn't.
Q. Has Bahrain being cancelled done you a favour, or would you have been ready anyway?
SM: We would have been ready anyway. Really what has happened is that it has just enabled us to work more. We now have more parts coming to Melbourne now than we would have done. Everything is tight in F1, down to the last day so out of the 14 days that we gained, probably two and a half days were spent just catching up on things that were just going to make it - so doing a proper job on them and maybe tidying them up a bit. The extra 10 or 11 days goes into development and into bringing more bits to the car. But two weeks in our business is like three months in the real world. It's like someone launching a road car, and then saying let's put that back three months.
Q. Do you think Australia will be a bit of a lottery with so much to learn about the tyres, the new rules and the fact that Melbourne throws up some fairly random events anyway?
SM: It will take until we get back to Europe until we really work out where everyone is. Also what happens is that there are lots of designs on other cars that people have seen and sometimes you can get to the first race and some you won't. Especially exhaust systems. So people will be working on that now and it will take them three or four races to get that on the car. So I don't think it will be until Istanbul/Barcelona until we really start to see the order. The people who are most competitive in Melbourne might still be by then but other people will have come forward.