Monday at Barcelona
Just like last year's Chinese Grand Prix race day - when the volcano ash stranded F1 teams in Shanghai - the final day of the Barcelona test was a sideshow to goings on elsewhere. It had been clear for some days that the Bahrain Grand Prix would almost certainly be cancelled, but there was still intrigue surrounding the situation.
With teams starting the day with half an eye on whether they would have to pack up with the intention of heading east for the March 3 test or plan to return to action in Spain.
Felipe Massa, Ferrari, Barcelona testing © sutton-images.com
While waiting for the inevitable decision, there atmosphere was of winding down. With HRT already packed up, the car count dropped to 10 once Jarno Trulli put the Lotus in the wall early on (car, not driver error).
With teams running through their 10 sets of tyres, there weren't quite as many laps as the previous day, although Felipe Massa at least grabbed the attention - for the right reasons this time - by setting the only lap in the 1m22s bracket late on. It was a short stint, so perhaps we were seeing something approaching the potential of the car, although there remains the nagging feeling that dipping into the 21s might be possible not just for the Scuderia, but possibly Red Bull too.
There are several ways to infer the blurriest image of a competitive order from testing at this stage. One is the laptimes, another is the behaviour of the car on track and the other is the feeling inside the team. For those doing well, there's a kind of desperately cautious optimism. For several teams, things are progressing pretty well and that includes the likes of Renault, Williams and Sauber - with the Enstone team looking like it could have the potential to have a say in who is winning races.
The reality is that no one knows what the competitive order will be. There's not a car on the track that has run in exactly the trim that it will hit the track in come the season-opening Australian Grand Prix (now that sounds right) and despite reams of data being gathered and thousands of parts being tried between the teams, it still amounts to little more than a collection of early signs.
At the next Barcelona test and in Melbourne, there will be plenty of car changes - and those teams whose pre-season hasn't gone as smoothly as planned will all be determined to make them work and get in the came for a good result in Australia.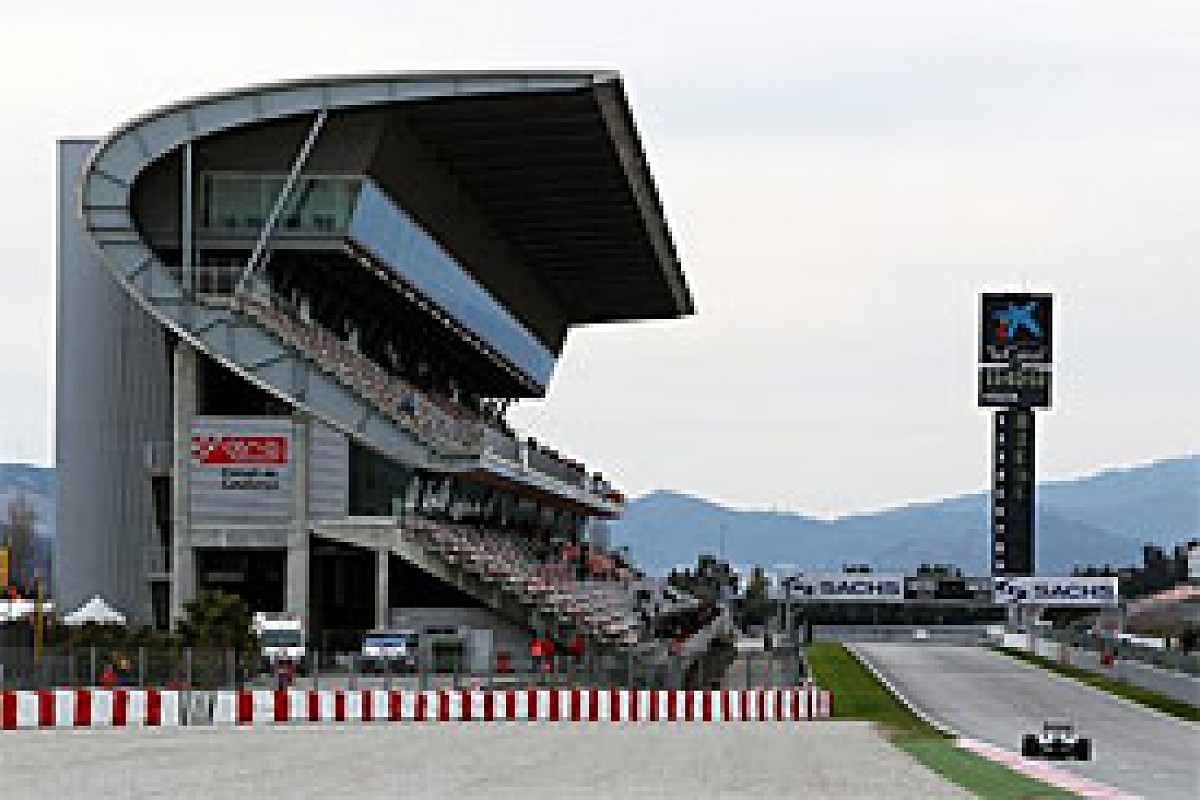 F1 will return to Barcelona for the final test © sutton-images.com
In the meantime, teams started packing up knowing that it would be back to Barcelona in a couple of weeks.
It's not a bad result for the teams, as Barcelona remains one of the best test tracks around, and one that shows up the aerodynamically strong like few others. In two weeks time, we will have a whole new set of early signs to absorb as the delayed start of the season approaches.
Sunday at Barcelona
With the wet conditions rendering this morning's testing pretty meaningless, it was a good chance to catch up with a few familiar faces in the paddock. Chief among them, F1's fastest beard, Nick Heidfeld.
It can't be easy to slide into a team in a "dead man's boots" situation - although thankfully, that phrase is thoroughly metaphorical in the case of Robert Kubica. But Heidfeld appears to be at home at Renault and speaks highly of the way the team works - a view shared by a lot of drivers who have been through Scuderia Enstone in its various forms over the years.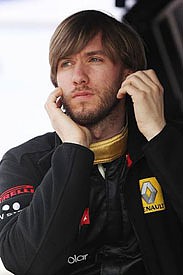 Nick Heidfeld © sutton-images.com
It's a big season both for Heidfeld and the team. After last year's renaissance, it's finally realistic to think of Renault as a team that could have a sniff of repeating its back-to-back drivers' and constructors' titles of 2005/6. Although it would be jumping the gun to declare the Renault R31 a potential race-winner, it could have race-winning potential.
With Heidfeld revelling in being back on the front line after finding himself on the outside looking in - and he's at pains to stress that he doesn't like the circumstances one bit - you can only imagine how it feels to have a car that might give him a sniff of a first win after more than 170 races. A few more winless seasons and he will end up surpassing Andrea de Cesaris's unwanted mark of 208 races without a victory, but providence has put him behind the wheel of what could prove to be the most competitive car of his career.
The loss of Robert Kubica is a blow for Renault, but Heidfeld's abilities will mitigate the losses. What's more, I'm told Kubica is taking a very active interest in progress chez Renault, and only two weeks after his accident is able to offer his own input into the direction of the car - doubtless helped by knowing well how Heidfeld operates after four years together at BMW Sauber.
Come the afternoon, the on-track action got a little more serious and did little to dissuade me from believing Red Bull and Ferrari are in the box seats right now. Granted, that's hardly a bold statement given last year's form, but it's an opinion that most in the paddock appear to subscribe to.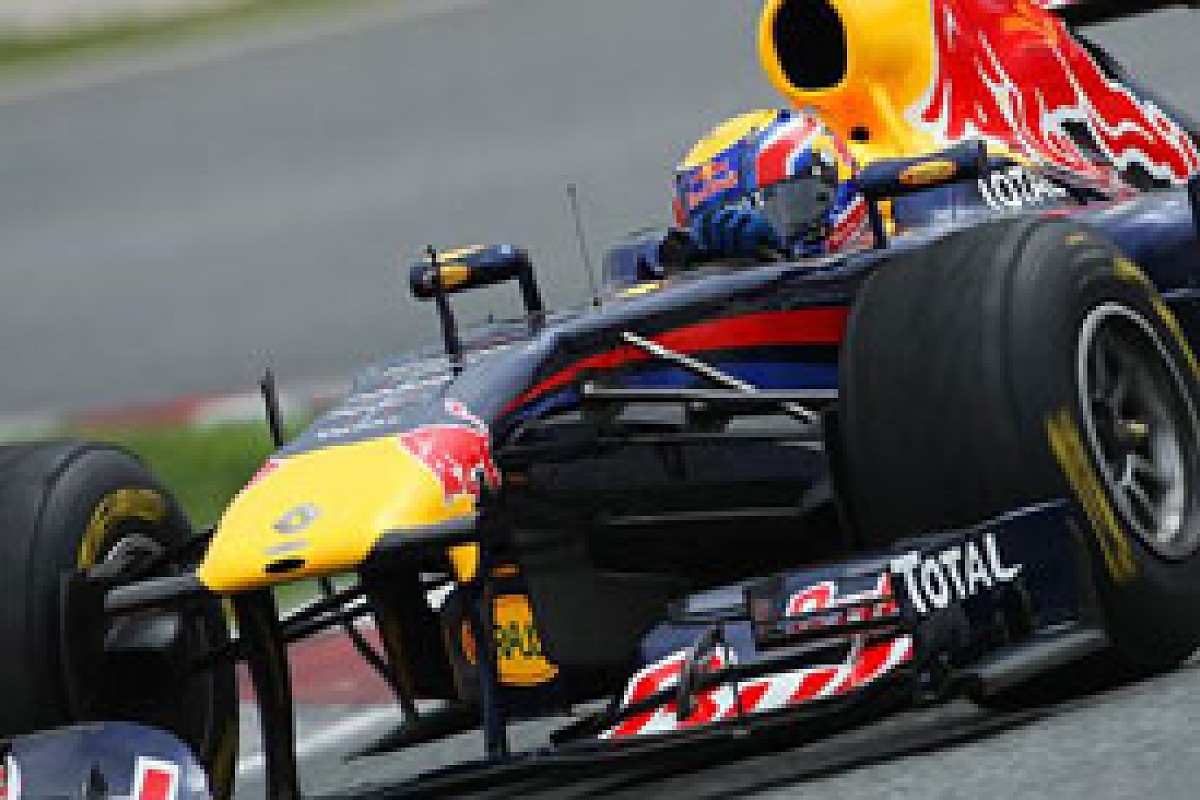 Mark Webber © sutton-images.com
I'm dubious about the outright pace of Mark Webber's afternoon race simulation. It seemed a little conservative based on what we've seen before. Talking about his run in the evening, he admitted there are some things they'd do different next time, which you could take to include the potential to push harder.
It's also positive for the team that he didn't suffer any serious car problems during his own personal grand prix, after Sebastian Vettel's troubles yesterday - although eased speed and absolute reliability might be related.
As for the rest, forget Mercedes' fastest time. For now, having established that the car is far from where it needs to be, we're going to have to reserve judgement until the major upgrade package - including a promised innovative exhaust system - to hit the track. It's fair to say a major stride is required to have any hope of getting back on terms with the front-runners.
Saturday at Barcelona
The question everyone is asking during pre-season testing is what is the competitive order? The fans want to know. The teams have an inkling, but still can't be sure about where they will be come the end of qualifying for whichever race opens the Formula 1 season. But with nine days of testing in the books, we're beginning to see some faint patterns emerging.
For this test, AUTOSPORT has a secret weapon in the form of our technical contributor, Gary Anderson. As a designer of grand prix-winning cars and with Formula 1 experience stretching back to the James Hunt days, a few hours spent wandering the pit lane and watching track side with him offers tremendous insight, not to mention a way to verify your own impressions.
You'll have read in Gary's blog some of his impressions from track side, and indeed it is from behind the tyre wall that you can learn an enormous amount. The Mercedes, for example, looks every bit as bad as you would expect from what became clear at the Jerez test.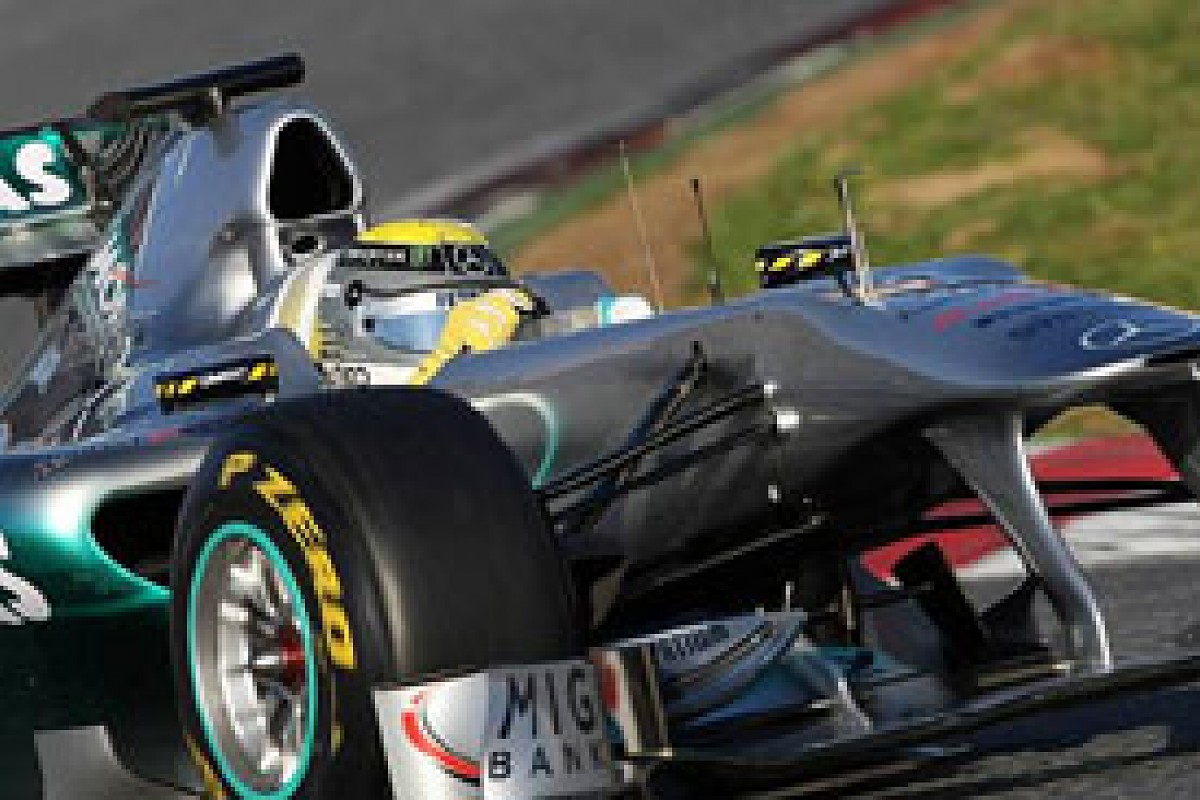 Nico Rosberg © Sutton
Nico Rosberg was having to work the car hard to get it to turn into the faster stuff - at Turns 1, 3 and 9 this is particularly obvious. He just can't get it to turn in as he would like and carry the speed into the corner. There's a big upgrade planned and it had better be huge, because this car doesn't even look like a Q3 contender on its performance so far.
The McLaren, as Gary pointed out, isn't much better, while some of the less-fancied cars also caught the attention. The Sauber, in the hands of Kamui Kobayashi, looks very well-planted on turn in and he can carry good speed through the corner, although is a little less eye-catching in the slow stuff. I'm a little more confident than Gary of Kobayashi's ability to keep it on the black stuff - he has an impressive ability to look like he's near an accident without getting involved in as many as his rookie status last year might suggest. The Williams also looked good and stable, while the Toro Rosso was, although not spectacular, consistent and seemed very driveable.
All of that is bad news for Mercedes, in particular. If it continues to struggle, there is a very competitive midfield pack ready to fill the spots ahead of it. Looking at the longer run times, the car is slow and chews its tyres whoever is at the wheel. But let's accentuate the positive and say at least it topped the mileage chart today, which at least suggests reliability has been ameliorated.
Teams have turned around pre-season struggles before, but it's incredibly difficult and extremely rare. Remember BMW Sauber in 2008? It was deep in the mire until the final test and only a rare Robert Kubica blunder during qualifying cost the team pole position.
Back in the pit lane, there's the opportunity to take a closer look at some of the cars. One of the prime spots is at the pit exit, where drivers sometimes stop to complete a practice start.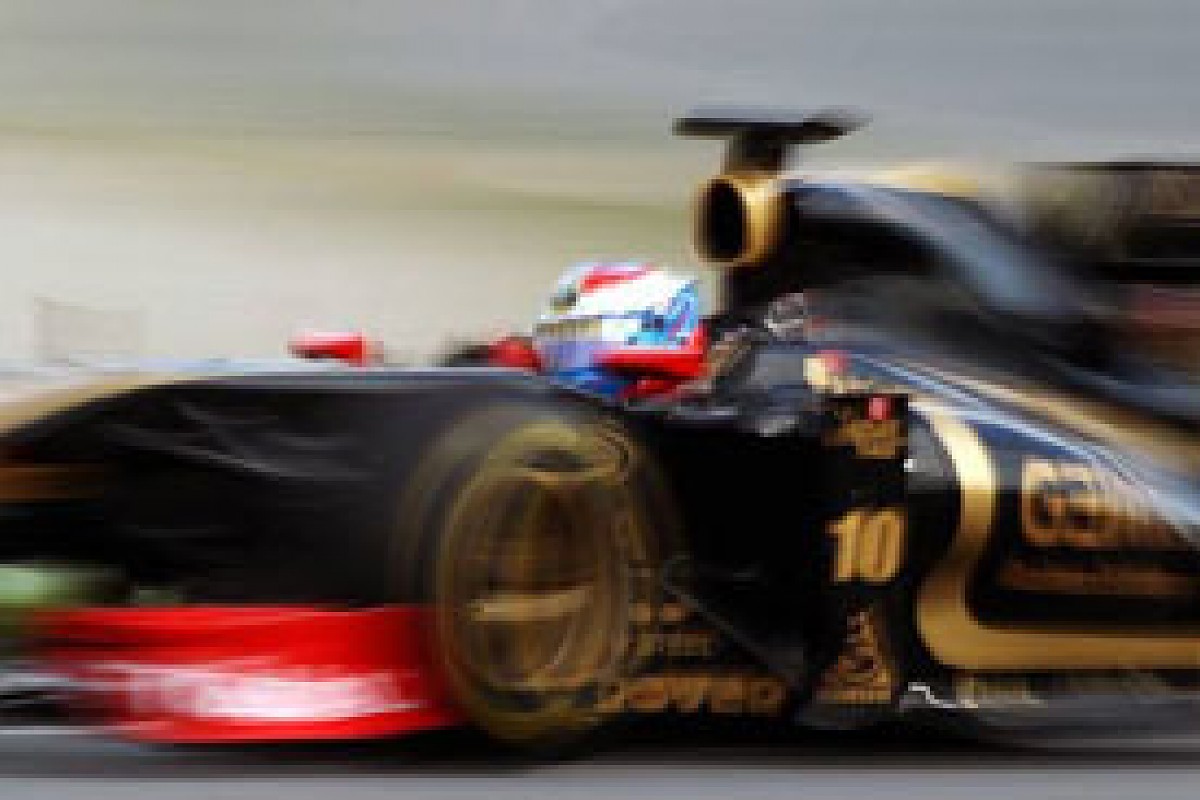 Vitaly Petrov © sutton-images.com
It's an ear-shattering experience to stand two metres from a grand prix car doing a full race start, but one car in particular stood out. While the rest were merely loud, the Renault was at a whole new level - rattling your rib cage and sending shockwaves through your eardrums that made you question whether you had forgotten to put your earplugs in.
The Renault certainly looks promising, and there were times on-track when it really looked the part. Standing on the outside of Turn 1, Nick Heidfeld came through one lap awesomely committed, turned in, got on the power early and the car stuck. The next, the car didn't take kindly to the application of the throttle in the same place and he had to feather a little, so perhaps the blown floor isn't yet quite as consistent as he would like. But the car certainly has potential that, just maybe, will take the bearded wonder to his first grand prix win.
So, colours to the mast. If a grand prix were to be held tomorrow, my money would be on Red Bull or Ferrari with a sneaky each-way on Renault. The first two cars look quick and good on their tyres, while there's enough about the Renault to get excited about.
That begs the inevitable question what of McLaren? Let's give them a couple more days, but I wager that if that car went into a qualifying session tomorrow it wouldn't set the world alight. Fortunately for me, there's not going to be a grand prix tomorrow, so that prediction will never be falsified.