Over the course of the winter Red Bull Racing's Christian Horner had the not unpleasant task of picking up plaudits and awards at various ceremonies. However, in this business, there's no time to rest, and all the silverware in the Milton Keynes trophy cabinet will mean little when qualifying gets under way in Bahrain.
Preparations for 2011 didn't start the day after Abu Dhabi, but way back in the spring, when Adrian Newey and his colleagues defined some of the fundamental parameters for what we now know as the Red Bull RB7.
RBR made a special effort to get the car running for the first test rather than starting out with the old model, as has been in the case in the past. The team insists that Newey signed off its design at the same date as before, so it was a question of getting the car together in a shorter span than usual.
The rush doesn't seem to have cost anything, and with ruthless efficiency Sebastian Vettel was fastest on the first day at Valencia last week. Later some track time was lost while the team spent longer than planned on changing the pedal set-up from Vettel's to Mark Webber, but on track the car has been logging plenty of laps ever since then, without too many apparent dramas.
But what of its true pace relative to the opposition? It's anyone's guess as to what sort of programmes the team has been running since that first day, and we shall have to wait until Bahrain to find out the true picture.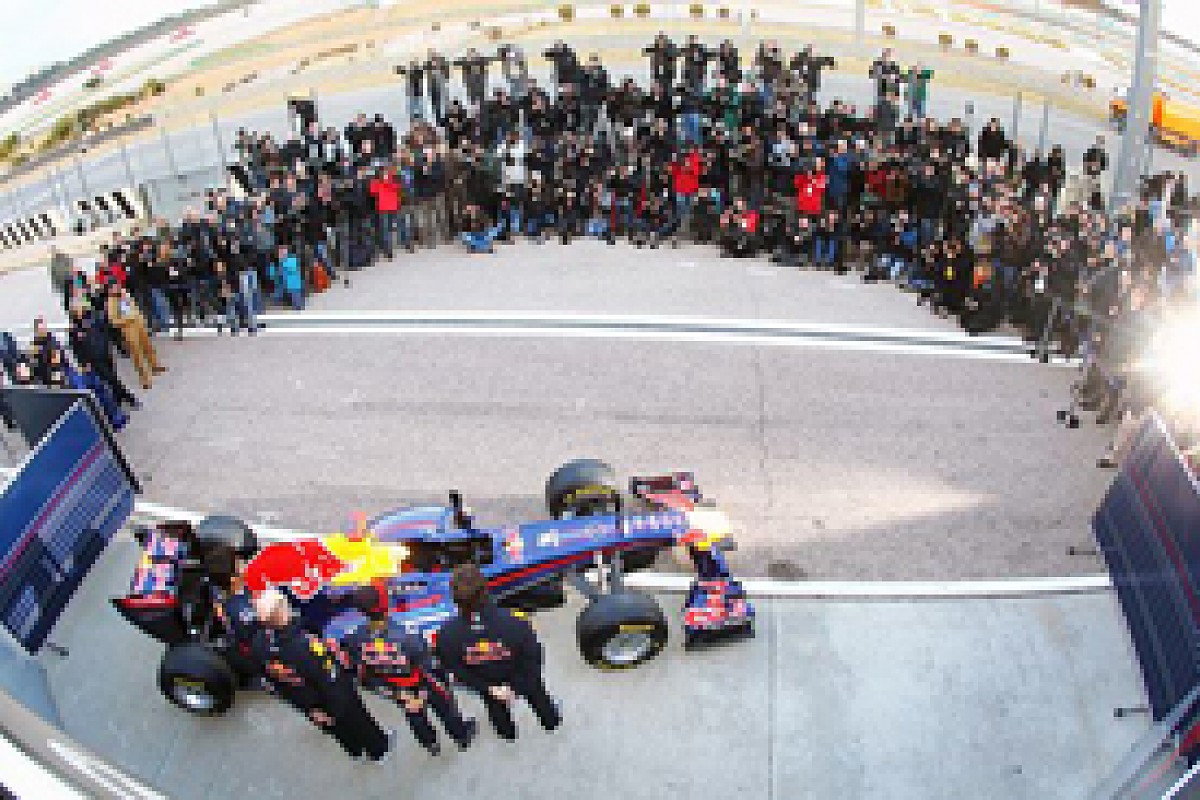 All eyes on the Red Bull RB7 © sutton-images.com
"So far so good," says Horner. "I think it's probably been the best roll-out that we've had, with our seventh car. Considering the hugely short production time what the guys have achieved is pretty remarkable, and for the car to so far have run problem-free has been a very, very positive start.
"Effectively we lost a week out of our production, which was a remarkable achievement, because it wasn't like there was a lot of fat in it last year. Planning is a crucial factor in F1 these days, understanding the resource that you have and the deadlines that you need to hit, and the team have worked tremendously hard to achieve that."
This year Red Bull is the team that everyone is shooting at. There's an awful lot of pressure to continue the winning momentum, something that isn't easy to do. It's not too simplistic to say that when you're fighting for a championship until the last race it's that much harder to put your full focus onto next year's car, although that applies equally to those who lost at the last hurdle.
"In many respects inevitably if we hadn't won last year people would be saying this is the year you've got to do it," says Horner. "Nobody can take away what we achieved in 2010, it's in the history books, us having done the double. Coming into 2011, as the reigning champions, it's a great feeling, but with that comes an added pressure.
"If you look at recent history and championship defences of teams that have won the title previously, they've tended to struggle, whether that be Brawn/Mercedes last year, or McLaren and effectively Ferrari going from 2008 into 2009. We're determined not to have a dip in form, and a huge amount of effort and commitment has gone into this car. Time will tell, but we believe that we've got a good basis from which to start the season."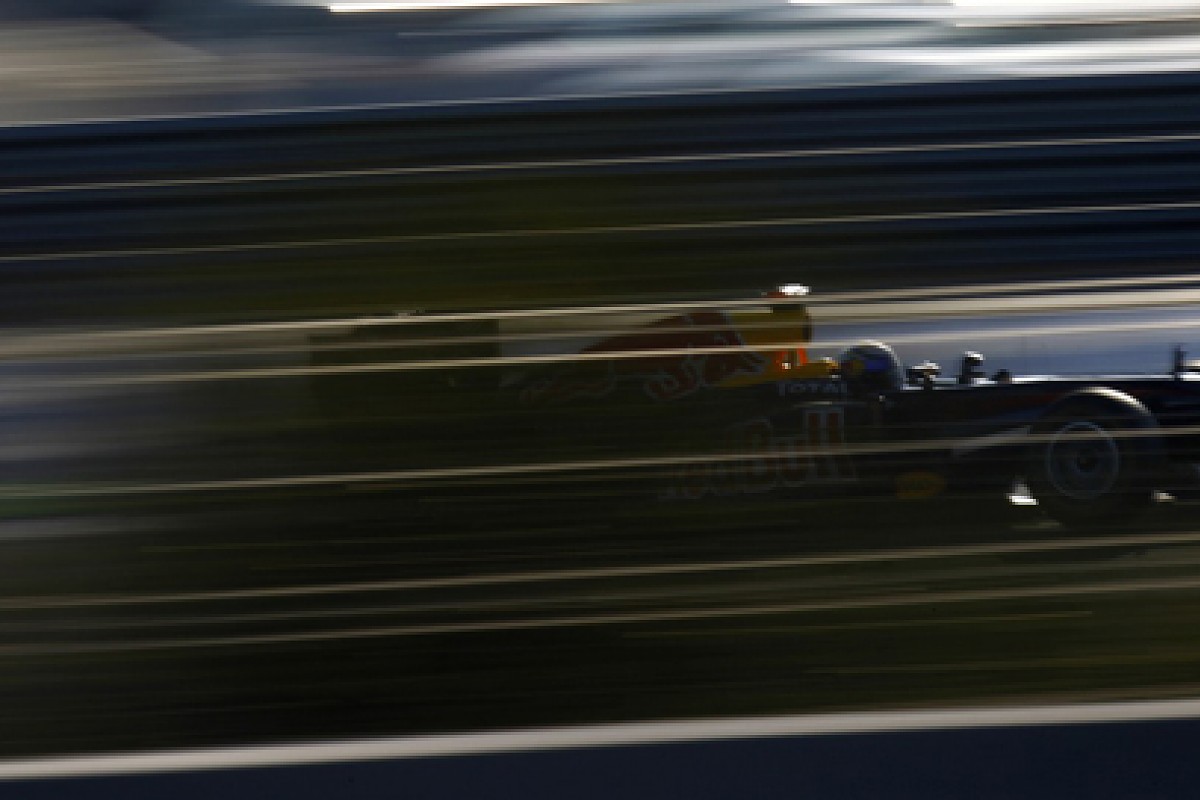 Horner agrees that last year it wasn't easy to split R&D resources between work on the new RB7 and ongoing development to keep the RB6 at the front.
"It's inevitable when you're pushing and developing. You've only got a finite amount of resource. Especially in our case as an independent team you don't have bottomless resources, or the ability to split your time from one project to the other.
"But I believe that we've handled it pretty well. There were lessons learned with RB6 and indeed RB5 that have evolved into RB7, and it's testimony to the hard work throughout the team that we managed to make the first test to learn more about the Pirellis and some of the new regulations."
They may be a lot of RB6 thinking in the car, but thanks to the raft of rule changes, there's also a lot of new stuff. Isn't it frustrating that Adrian Newey and his guys couldn't build more on what they had?
"Of course, it's a big regulation change this year, and a new tyre supplier. With that come challenges, and there's always a chance that someone might steal an advantage. But let's not forget that there was a significant change from 2009 into 2010 with the banning of refuelling, which shouldn't be underestimated, the impact that that had. So we can only do the best job that we can and apply the lessons that we've learned into the new car. But you never know what your opponents are up to."
Newey and RBR have justifiably earned plaudits for innovation and pursuing different paths. Is there pressure to keep that up?
"The pressure is to deliver the lap-time. I remember last year when the RB6 was released people said it's a bit boring, or it's only a subtle evolution from RB5. But it was a very dominant car last year. A huge amount of effort has gone into RB7, which will continue to evolve during the course of the season. Inevitably things will change, developments will be brought through, and we're just at the beginning of that process.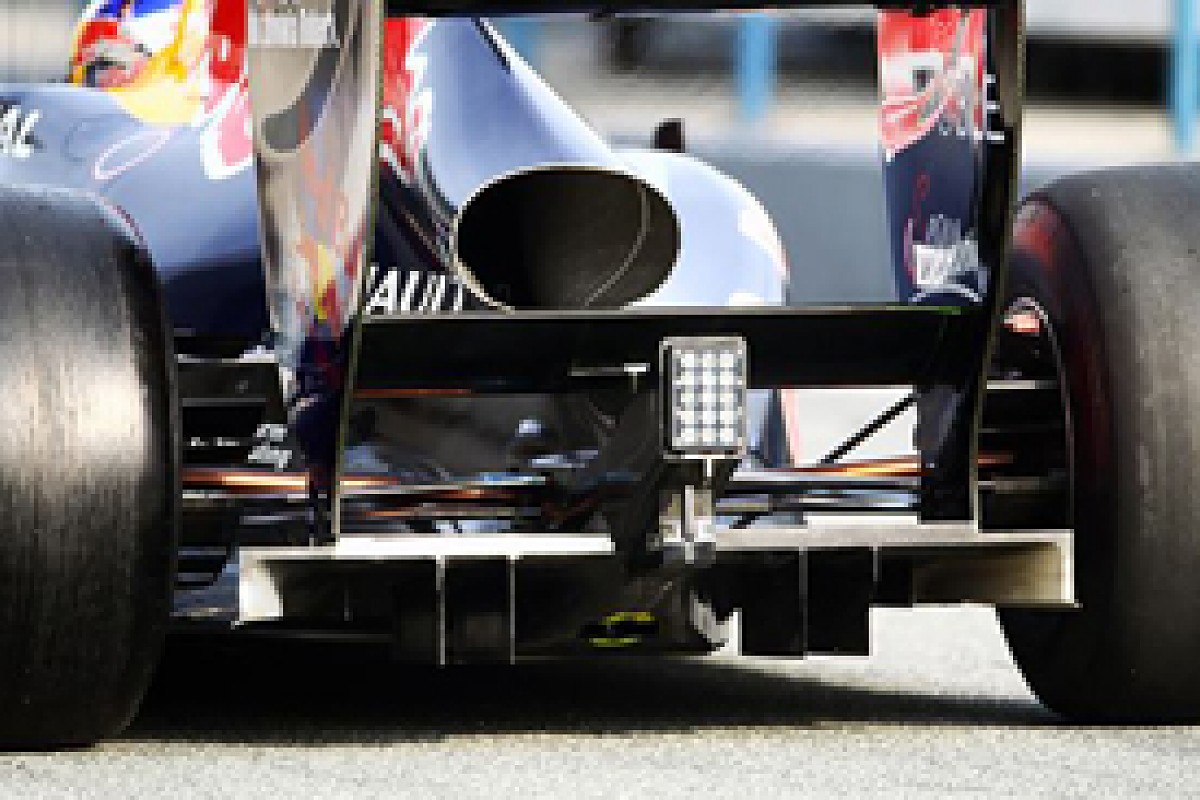 Lots of interests in teams' exhaust and rear end designs this year © sutton-images.com
"It's interesting to see the amount of effort that teams have placed into exhausts. There's suddenly all of a sudden some variance. It's an area that is quite interesting, and it's quite challenging as well. I think all teams are looking at different development programmes. Perhaps we're a little bit more conventional in our layout than some of the others."
It took a while for many of RB6's secrets to come to light, so RB7 may have yet have some surprises in store, whether they're already on the car and as yet undiscovered by the outside world, or waiting for the Bahrain race package.
Red Bull didn't race with KERS in 2009, but the team did dabble with it in testing, so it has more knowledge to draw on than some rivals. Nevertheless the team is still far behind the likes of McLaren and Ferrari in terms of experience.
"We ran KERS successfully in Valencia two years ago," said Horner. "It didn't earn its place on the car due to the weight limit at that point in time, and other factors. We learned from that initial R&D that we did, but we rely heavily on our partners, we're not specialists in producing KERS. So it's very much a collaboration with Renault with the system that we have. It's basically a standard system."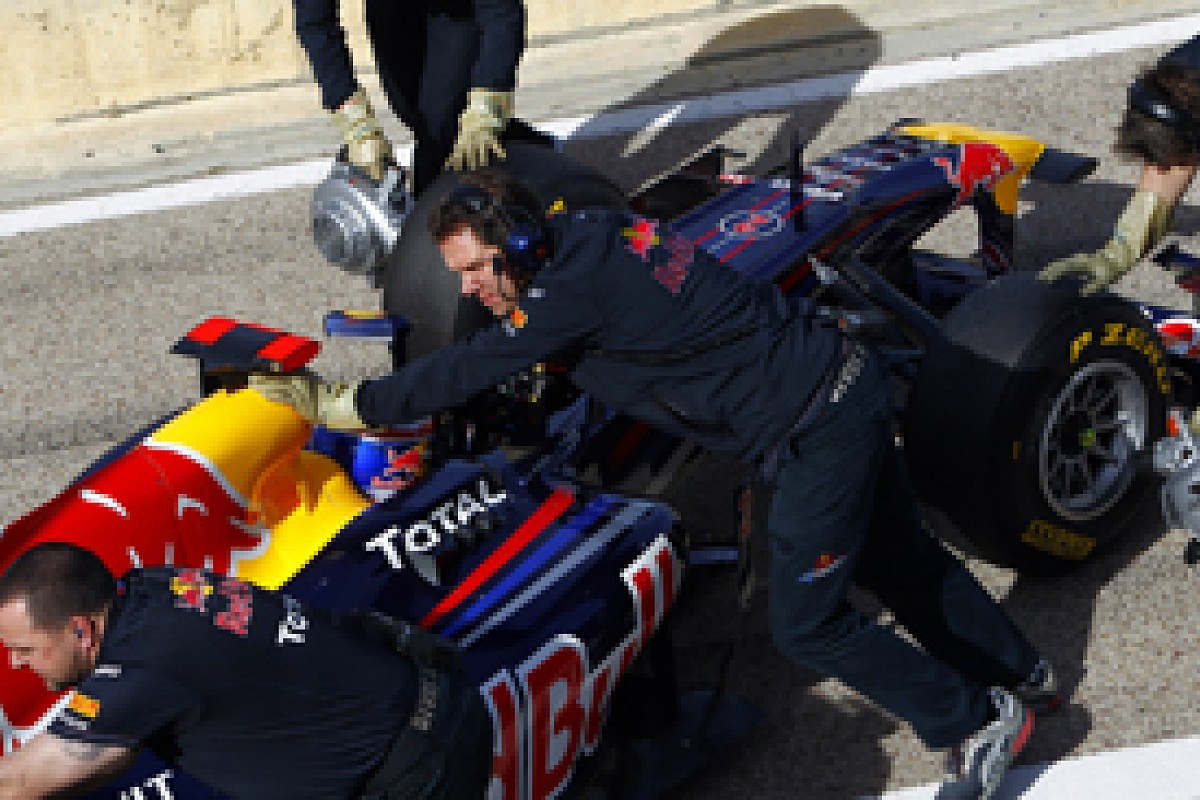 The return of KERS means the return of mechanics in safety gloves © LAT
You might ask whether a team that is always so keen to pursue new avenues is entirely comfortable with taking such a key piece of technology from outside. Horner isn't concerned.
"We have a great relationship with Renault, they've supported us tremendously well, and that relationship has only got closer during the winter. They have a limited amount of resources at their disposal, and for sure the system is probably heavier than the Mercedes equivalent.
"But the maximum any of them can deliver is 80bhp, so the only penalty thereafter is weight, and the packaging. We've worked very hard to accommodate the system fairly elegantly. Now its earned its place on the car for most if not all of the grands prix."
Like everyone else RBR has had to develop a moveable rear wing. Horner is not sure that it should be freely available to use in practice and qualifying, but he's happy with the principle of it.
"The teams together with the FIA have to work in harmony to achieve the best solution, the safest solution. It was introduced as an initiative from the teams to try and assist with overtaking, as long as it's not abused, it should achieve that.
"It's certainly powerful. You wouldn't want to be going into the last lap with only two car lengths between you and the guy behind! It's just another application that drivers have to get used to."
All the new stuff could potentially trip up the world champions, but there's no variable more random than the tyres. Given that RBR had everything 'just so' by the end of last year, the change of supplier and a reset for everyone must be frustrating.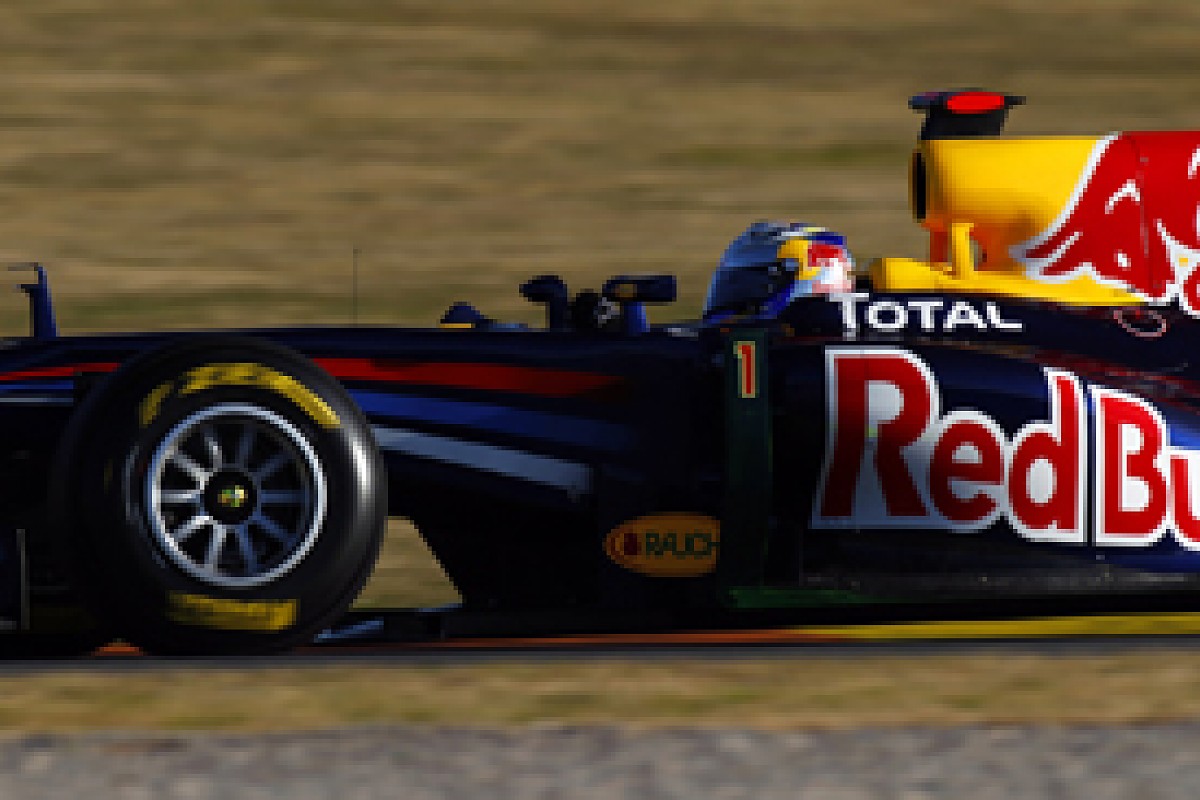 Red Bull gets used to Pirelli rubber © LAT
"We trust in the Pirelli people. They're a company with a lot of heritage in the sport. They're no strangers to F1, they've got some very capable people within the group, and I'm sure that they will provide us with a very good product this year. It's obviously very short notice for them to get up and running, but I think they've done an excellent job in the time that they've had available.
"It's ironic, really. We were pushing for two stops at the start of last year because we thought it would be better for the show, and everybody thought it was because we had very high degradation on the tyres. The way the regulations turned out suited us better!
"I think that F1 will put on a good show this year. Tyres are a critical element, and it's important to understand them. But in Pirelli we've got a good supplier and I'm sure they'll do a very good job. Obviously the tyres have an evolution to go through as they continue to develop them.
"Maybe a three-stopper might be quicker or a two-stopper looking after your tyres might be quicker. So I think it's going to add an interesting dimension. As long as the tyres are safe, it's the same for everybody."
To win you've got to get everything right, and last year at times RBR nearly threw it away as the internal politics got a little out of control. Keeping the drivers happy when there was so much at stake was never going to be easy.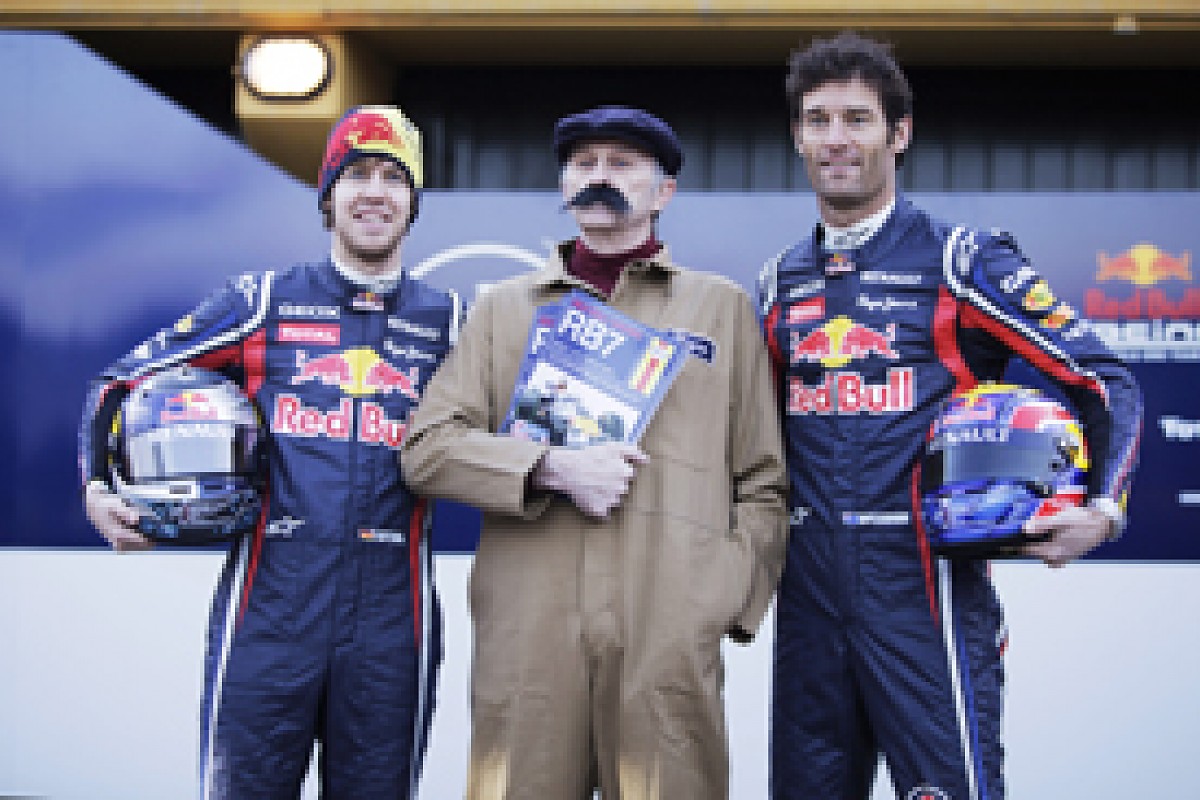 Vettel and Webber get some assistance with mastering the RB7 © LAT
"You can always learn," Horner admits. "But I think we supported both drivers very fairly last year. Obviously there was the wing issue in Silverstone where perhaps a bit more was made out of it than was warranted. You should look to avoid those scenarios and situations. You learn from mistakes, and you can learn from your success. That's the great thing about F1, it's always a voyage of discovery!"
Vettel performed superbly at the end of last year, under the most intense pressure. It's a bit of a cliche, but it's always said that the first world championship is the hardest one. After that you know how to do it and - more importantly - you know you can do it.
"At a very young age it's effectively a weight off his shoulders, that expectation and the pressure that goes with 'you need to be world champion.' He's achieved that, he's the youngest ever world champion, and I think his confidence will only develop.
"His development as a driver only continues as he gathers more experience, and I'm sure that we've still to see the best of him. He hit some stunning form at the end of 2010, and I'm sure he'll be looking to carry that form into this season."
What then of Mark Webber? The consensus last year was that this was Webber's chance. Everything had fallen into place for him, and with Vettel only likely to get better with age and experience, he might never get a better opportunity to beat his team-mate.
"You'd be very foolish to write-off Mark Webber. True, everything seemed to be lining up for him at different stages. He had a bit of luck, say for example Singapore with the bulge in the tyre following the contact with Lewis [Hamilton], and everything seemed to be panning out for him. Unfortunately the wheels came off his challenge in Korea. He'd worked very hard to get himself into that position and driven some tremendous races.
"He's gone away, he'd focused hard, he's come back very lean and very fit, and very focused on this year's campaign. His motivation is sky high. People view him as the underdog, and he seems to thrive off that perception."
But won't it be hard to have another year where he gets the breaks, and others have more trouble with technical problems and so on?
"We need to make sure that we give both drivers the best equipment that we can. The good thing about last year's championship is that it was decided by what they did on the circuit. That's the way that we'll look to support them this year. Mark has some stunning races - if you look at that period in May, Barcelona/Monaco time, he was stunning. If he can recapture that kind of form he will be very difficult to beat."
One thing is certain - Horner is hoping that he doesn't have to indulge in any more crisis management.
"It's been pretty relaxed between the two of them. But you know when they turn up in Bahrain and the visors come down in Q1 it'll be game on. They will push each other, they will bring the best out of each other. Obviously it went too far in Istanbul last year, but both the drivers and the team have learned from that, and we had some very good racing between them at the end of the year. It's going to be interesting, but it's a very healthy situation for the team to have two competitive drivers pushing at the front."