Jerez test: Sunday
When you're on the ground at a Formula 1 test, the most common question you receive - from friends, colleagues, and fans - is "what can you tell about the competitive order?"
There are so many variables in F1 these days that can skew performance to a huge degree. Last year, the return of fuel tanks capable of doing a full race distance made the 2010 pre-season much harder to judge than its predecessors. This year, we have four tyre compounds from Pirelli that are more spread out performance-wise than we ever had from Bridgestone.
Timesheets can be - sorry, are - a misleading source of information at tests. So with that in mind, I ventured out trackside today to see if there was anything to be learned from seeing the cars up close.
Sebastian Vettel © sutton-images.com
And how's this for a stat? The car that impressed the most in sector one at Jerez (that's Turns 1 to 4, so a good variety) was only eighth fastest today. For those that haven't memorised the times yet, that car was - surprise, surprise - Red Bull's RB7.
Once you've finished groaning with disappointment, we'll move on. Sebastian Vettel was mind-blowing on corner entry into Turns 1 and 2. In comparison to its rivals, the Red Bull looked like it was accelerating towards the corners in the braking zones.
With the outrageous entry speeds dealt with, the only word to describe the RB7 once it was thinking about leaving a corner is 'planted'. The cars from Renault and Ferrari didn't seem too far behind, but neither looked like it was glued to the road.
Vettel was even able to get the adjustable rear wing slot open almost as soon as he was on the power exiting Turn 2. It then stayed open throughout Turns 3 and 4; both quick left handers.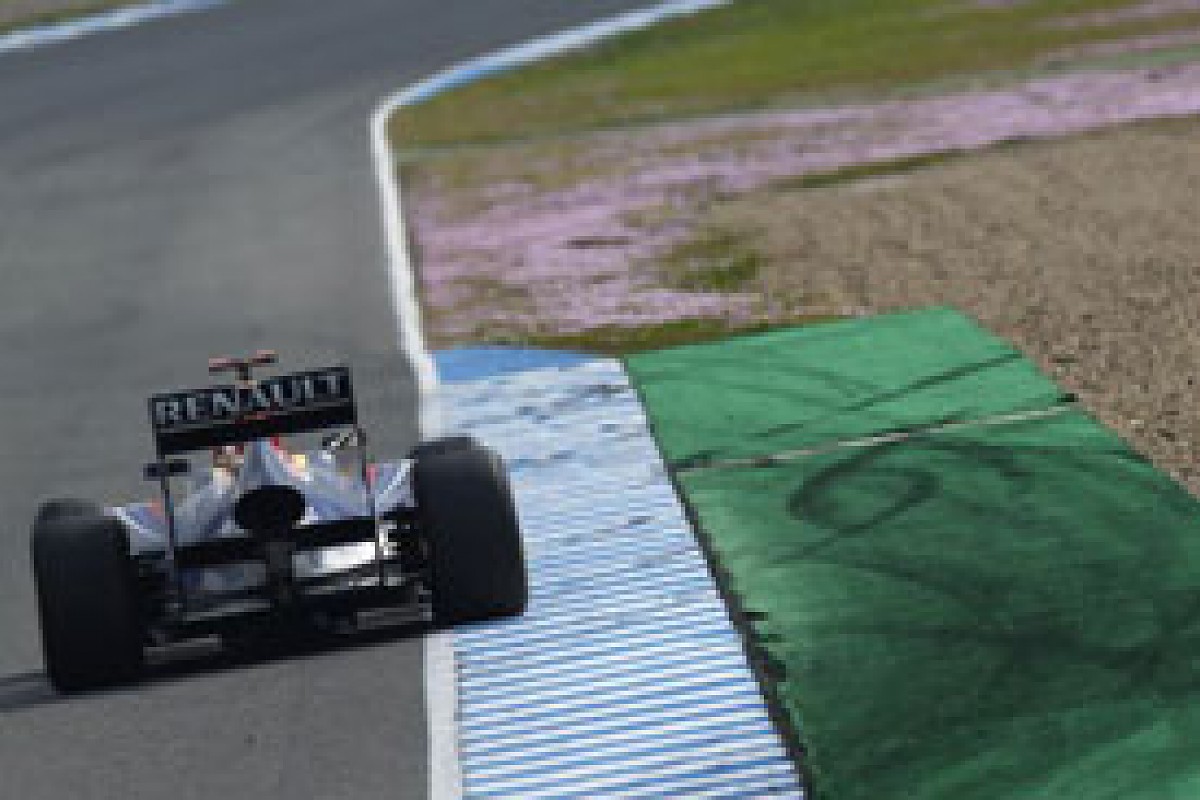 This could be a familiar sight again in 2011 © LAT
The Renault wasn't too far behind with the use of its new toy, whereas Fernando Alonso had to wait until he was on the straight between the two quick lefts to get his slot open, and then closed it to have a bit more downforce for Turn 4.
Vettel seemed to have more than enough grip in the quick stuff, even with the wing open the whole time, which tallied with some useful information on the timing screen. Sector one ends on the exit of Turn 4, meaning we've had figures all week revealing which cars are getting spat out of the fast stuff at the highest speeds.
Only the Red Bull and the Renault could consistently clear 270kph through this speed trap. The Ferrari wasn't far behind, but you could see Fernando Alonso forcing the car to do something it would have rather not.
Hardly conclusive, but still ominous for those hoping to dethrone Christian Horner's troops.
• Jerez testing: Image gallery.
Jerez test: Saturday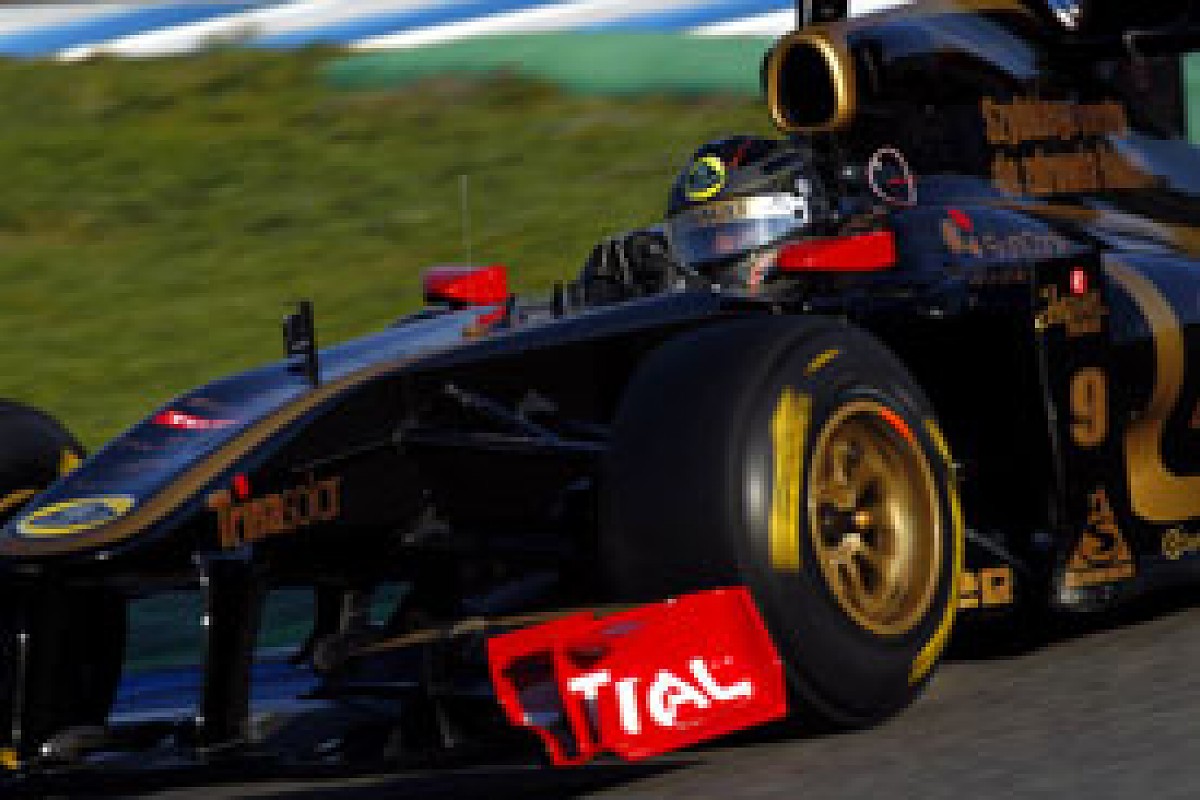 © LAT
There was only one story that mattered at Jerez today - Nick Heidfeld and Renault.
Team boss Eric Boullier had been very honest with us on Thursday when he declared that Heidfeld was here to be evaluated for the seat vacated by Robert Kubica. He even hinted at what he expected to see from the German if he was to earn the drive.
Shortly after that, Heidfeld spoke to the media as well, and he couldn't have appeared less bothered by the pressure being put on him. He then got in the car two days later and maintained that mentality throughout.
In short, his performance was exactly what Renault would have been hoping for.
He wasn't happy with the car in the morning and a few small technical glitches meant he didn't get much running in the first few hours. But there were no signs of drama, no concerns that the clock was ticking. Nick left the mechanics to it and grabbed an early lunch.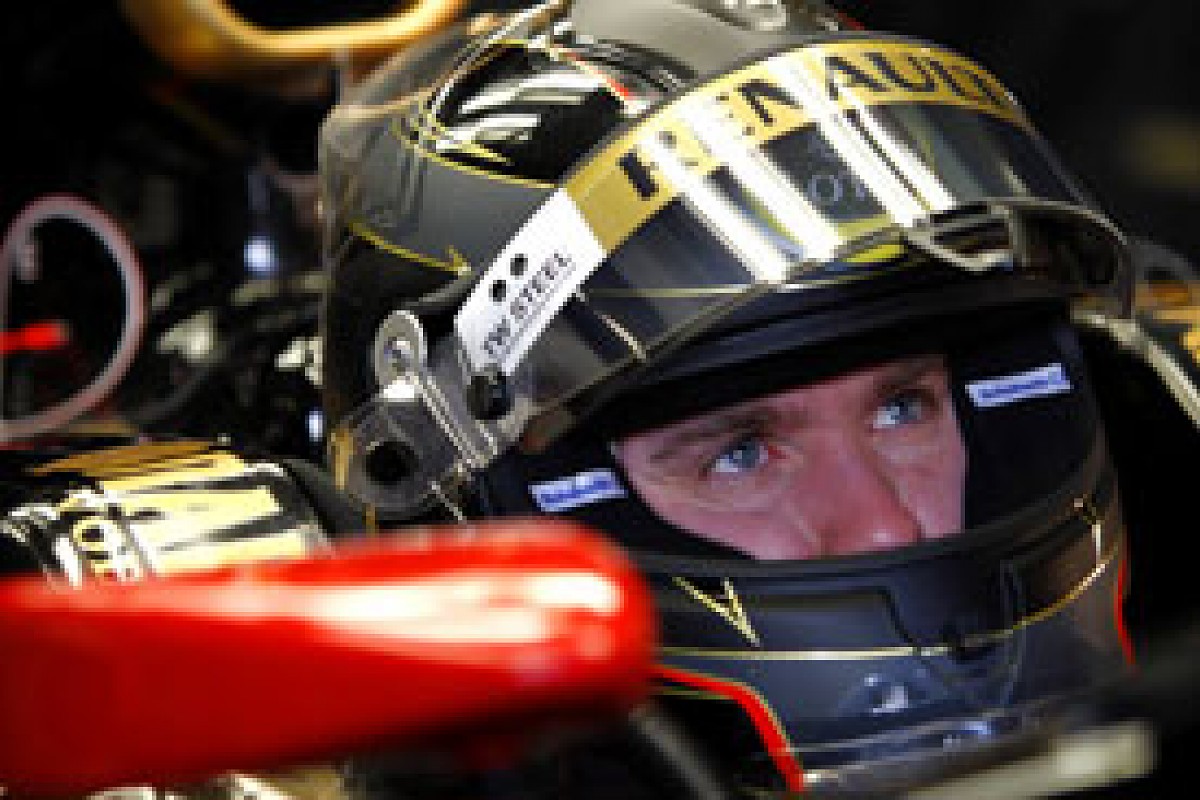 © LAT
He got more running in the afternoon and again ticked all the boxes. He said he would push as soon as he felt comfortable, and the transition between his tricky first couple of runs into a solid afternoon programme was seamless.
Once he hit the track, there wasn't a single hairy moment. Whereas a less experienced driver might have started to panic and look to make up for lost time, Heidfeld just got on with the job. Renault didn't quite finish its programme for the day, but again, that wasn't a worry as far as the driver was concerned.
The fact that he went fastest was pretty irrelevant. By the end of the day, Heidfeld was ticking the ultimate box for the team - his feedback was already at the point where he could work with the team on directions for development.
His demeanour when he spoke to the media 90 minutes after getting out of the car couldn't have been more upbeat. When talking about the potential of the car he was already referring to himself and the team with the royal 'we' - usually a sign of a man fully initiated in his surroundings.
Heidfeld knows he did the job and then some. Now, like us, he is just waiting for Renault to confirm the inevitable.
• Jerez testing: Day three image gallery.
Jerez test: Friday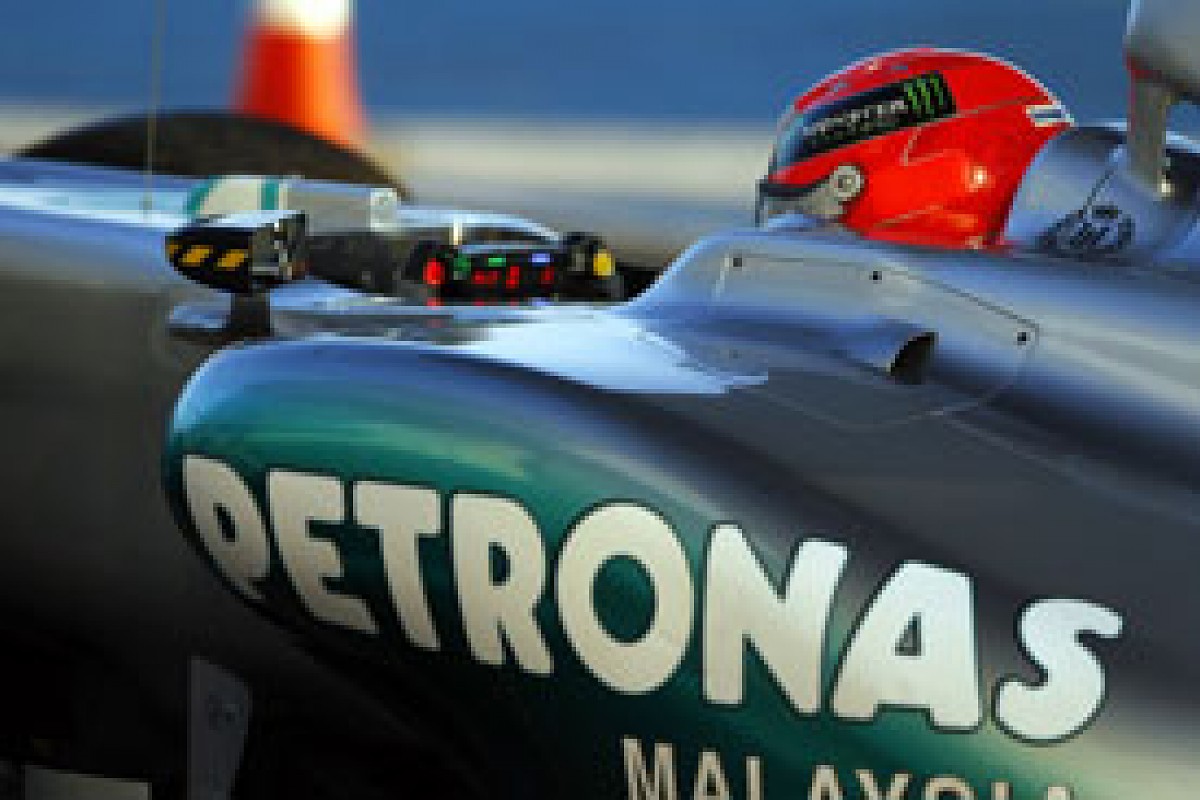 © LAT
Michael Schumacher must have seen it coming, but that didn't mean he was about to play ball. After Nico Rosberg left everyone under the impression that Mercedes has a serious amount of work on its hands between now and the start of the season, the seven-time world champion jumped in the car and put it at the top of the timesheet.

With plenty of talk since last week's test at Valencia suggesting Mercedes is in trouble, it was inevitable that someone had to push Schumacher at the end of today to find out the story behind this dramatic change in fortune.

First off, he admitted to running the super soft tyre. That, combined with the fact that Mercedes quickly switched back to long runs after just two shorter 10-lap stints (both of which yielded headline times), prompted the inevitable question, asked by yours truly.

"Michael, was the plan this morning to show the car's pace to prove all the critics wrong?"

The smile disappeared. The corners of his mouth moved inwards. The steely eyes that we saw so little of last year were back. I was careful not to suggest it was an out-and-out glory run, but in his mind I'd crossed a line. How dare somebody accuse the seven-time world champion of resorting to such tactics?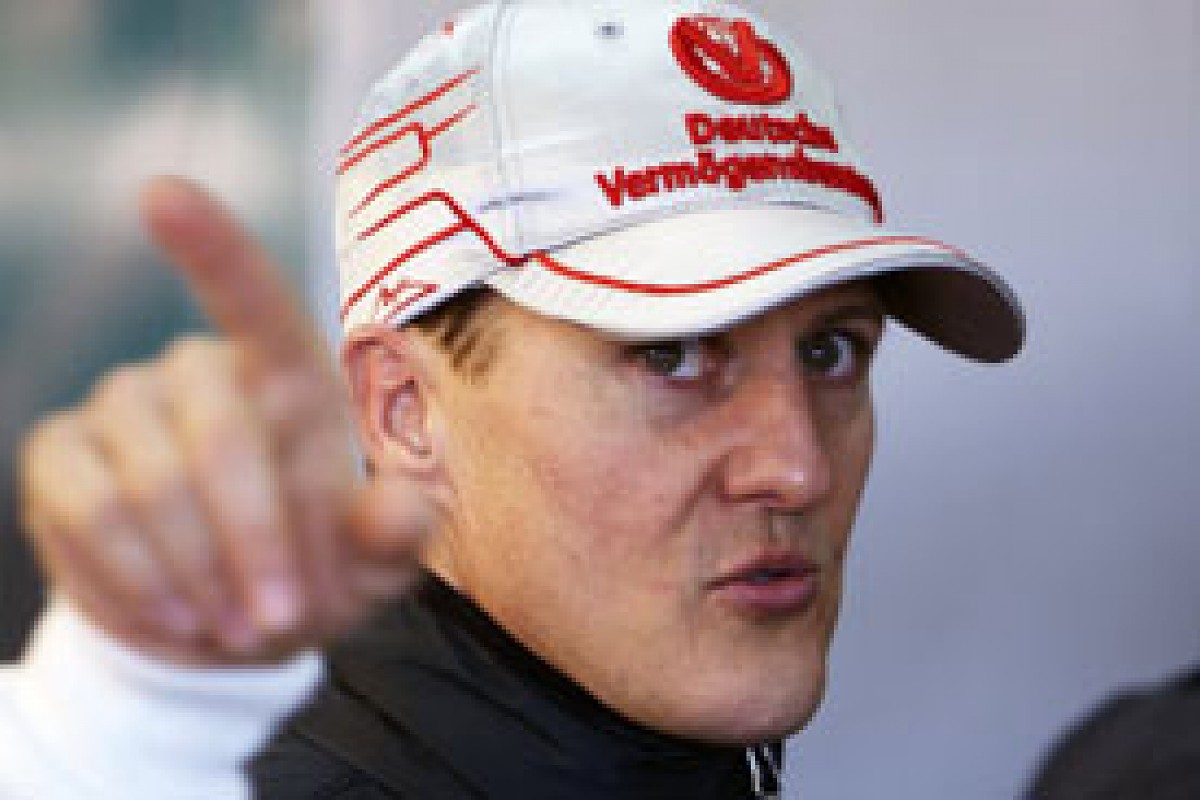 © LAT
Glory run or not, the question was there to be asked. Yes, teams run a variety of programmes each day, but the two shorter runs took place quickly and early, and that was it. That's not a lot of work before switching to runs nearly twice as long...
But Schumacher was having none of it. He asked if I considered a 10-lap run to be short, and my response was "reasonably so". With that he turned away to conclude the media session, simply telling me "you may interpret it how you want".
Much like testing itself, Michael Schumacher is hard to read. But trying to draw conclusions from our crossing of swords is just as intriguing as working out which team has got it right for the season ahead.
Why did he react that way? Was the mere suggestion of such a run a dent to his pride? Or did we strike a nerve by pointing out that the MGP W02 rather dramatically went from nowhere to P1 overnight?
It's unlikely we'll get a definitive answer until the cars line up on the grid Bahrain.
• Jerez testing: Day two image gallery.
Jerez test: Thursday
There is always a worry during modern-day winter testing that the middle tests can feel a little bit flat.
The test season opens with the excitement of new cars and closes with the final chance to see who is quick and who is in for a year of struggles. But what about tests two and three?
Fortunately, there was lots going on at Jerez today. There was plenty of talk at Renault, naturally, and plenty of speculation over new parts arriving on cars.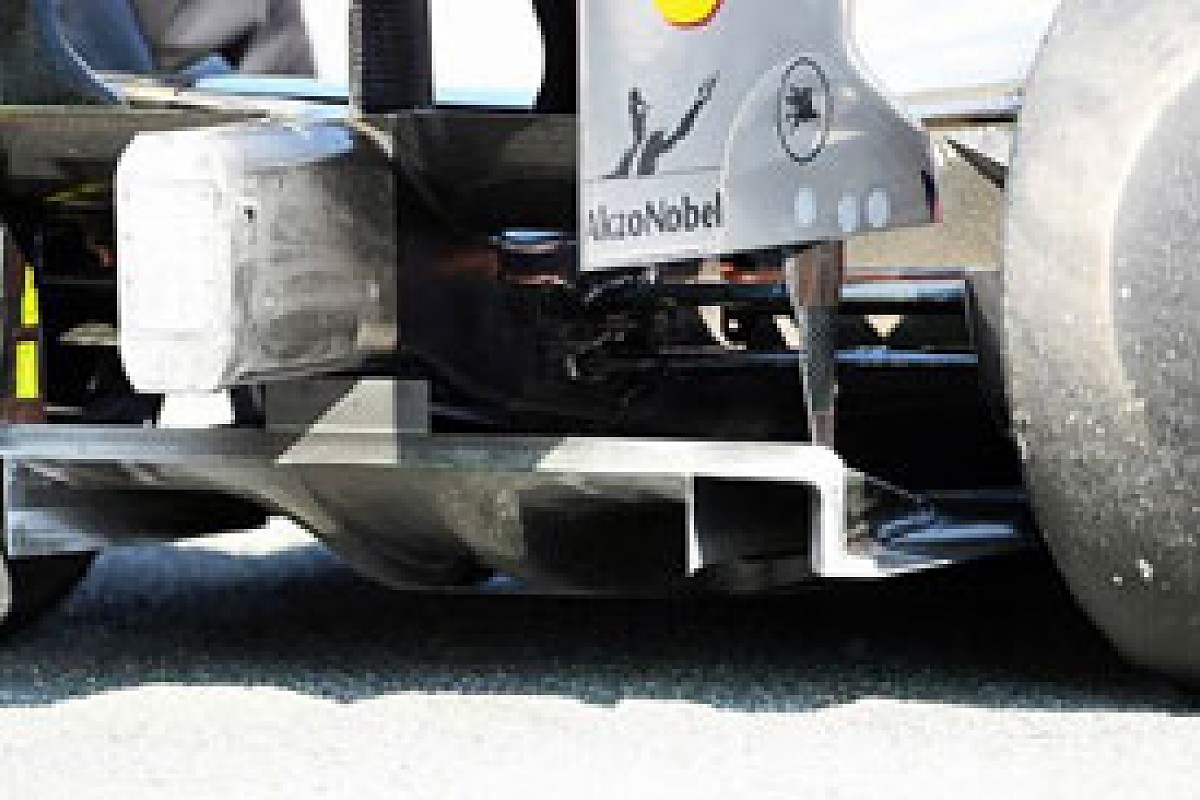 McLaren MP4-26 © Sutton
McLaren set itself up to be at the centre of this when it unveiled a car with several fake parts in Berlin last week. We were told to expect something radical, and we got it... we think.
The guess work surrounding the McLaren went on all day, with people at the track and even some away from it repeatedly claiming they'd worked it out. Something's clearly going on around the 'tea-tray' area, but there was added confusion thanks to some openings in and underneath the sidepods, and what looked like an exhaust at the back of the car.
This is all part of the fun of testing, and the immediacy of coverage that fans get these days means it can often take a while for the absolute truth to trickle through. So far I'd say there is no definitive answer on the McLaren, but the fun and games will continue tomorrow - and plenty of photographers have already been briefed on what to look out for.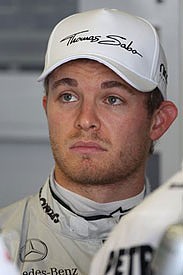 Nico Rosberg © Sutton
But if hiding from snappers is all McLaren has to worry about, then it can close up shop tonight pretty happy. The same can't really be said for Mercedes.
Charged with going to Nico Rosberg's media session, I was curious to find out how his day had gone. He was certainly talkative when asked a couple of easier questions, but when attention turned to the car's apparent lack of performance, his answers became very short.
It might not have come across in his quotes, but there was a very downbeat German standing in front of us. The big Mercedes update is coming so late that it might not arrive until the first race, which suggests that it hasn't been in the pipeline for very long.
• Jerez testing: Day one image gallery.