This time last year Lotus Racing was scratching around just to get the first car completed and ready for testing, which was a remarkable achievement in itself given the time constraints.
This year, things are very different. Mike Gascoyne and his crew have had time to build the car they want, and despite having taken on the extra challenge of changing engine and gearbox supplier, the renamed Team Lotus have made it to the first test of the year in Valencia.
There are niggling, time consuming problems, but the T128 runs, and it clearly represents a huge step forward for the Norfolk outfit.
The car itself had been launched online a couple of days earlier, and its initial departure from the pit garage goes without any fanfare or photo opportunity. Nevertheless just seeing his new baby in action is a huge relief for team principal Tony Fernandes after a stressful winter of legal argument. However, the presence of the Lotus Renault GP trucks a little up the Valencia paddock were a reminder that this story is far from over.
"There's been so much going on off the track, it's nice to get back on the track," says Fernandes as we sit in the motorhome an hour or so after the T128 made its bow. "For me the best thing was Heikki's comment after his installation lap, which was 'Really fantastic, well done to everyone, this is a completely different feeling.' It kind of puts it into perspective.
"Really we had to build another car - all the other teams are using bits off their old cars. We've scrapped it! There was also the worry of, 'Is it going to be a dog?' So Heikki's comments were a high for me. The second high was actually putting this stuff on," he adds, tugging at his black jacket, adorned with the familiar 'CABC' Team Lotus logo. "It felt good, and the spirit in the team is fantastic, there's a really nice buzz about it. So it's good to be back on the track."
So what about that black kit - is it the stuff intended to go with the subsequently dropped black and gold livery? Tony grins.
"That's the truth. If Gerard Lopez wants to say he was first, well, we ordered the kit! It was ordered, we were going to go black and gold. They [Lotus Renault] came out, I thought about it, and it was, 'This does look a lot like a cigarette,' with all the issues that came with it. I don''t need another controversy.
"But we're going to use this kit for the office. We have to justify it somehow! That's the real reason [for the lack of ceremony], we want to re-launch in green and it's probably only going to be ready by Bahrain. Plus I was happy to keep it low key, let the car do the talking on the track, and let the case finish."
Ah, the case. Inevitably it dominates any conversation with folk from either side of the Lotus divide. But let's leave that until later, and talk first about the car and prospects for 2011. The T128 was always going to represent a massive step, not least because when work started on the T127 was by the group put together by Mike Gascoyne in Cologne, the team didn't even exist.
This year they've been able to do things properly, and the car is visibly a much more aggressive design.
"That was my instruction to Mike, let's not pussyfoot around," says Fernandes. "Let's not do anything silly that might screw us up for the whole season, but let's go for it. He did it, and I think the team in Hingham are incredibly motivated. It's amazing what motivation can do. It's more than I expected. It looks great, it looks like an F1 car, right?
"Renault and Red Bull have been fantastic partners as well. They've contributed to what hopefully is a good car. It was really important to me to be here for the test, with the new car. I didn't want to have the old car or an intermediate car etc, we've got to get into it. Hopefully by Barcelona we'll have some good testing."
With perfect timing, Kovalainen returns to the motorhome after his initial laps and debrief. He has a big smile on his face.
"Compared to the feeling I had last year after the installation at Jerez it's totally different," says the Finn. "Last year after Jerez I didn't know how to put it nicely. 'We have a little bit of work to do in every area!' Now the whole concept feels good."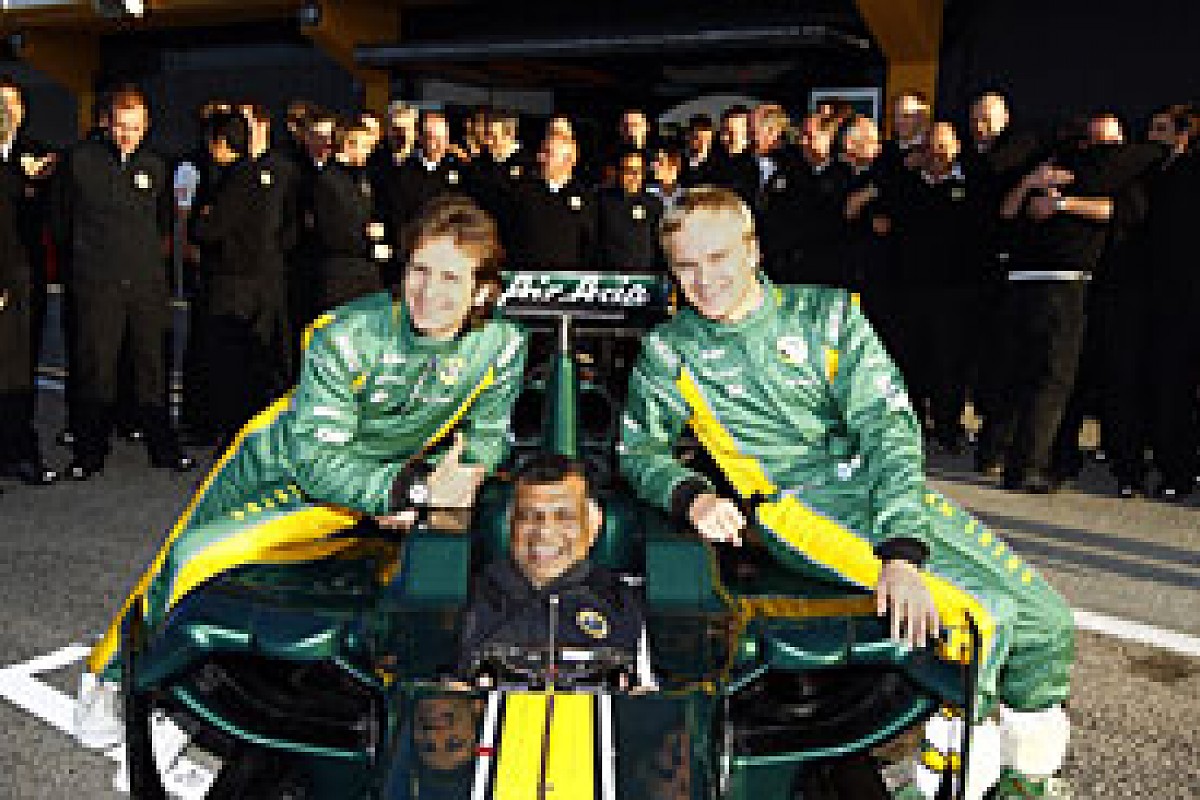 The team has high hopes for the T128 © LAT
There's a bit of banter between driver and boss before the Finn departs. Fernandes admits that while the car has to be a step forward, it is not going to propel the team to the sharp end of the grid: "We need to improve every year. I don't think we'll be challenging at the front, I don't think we're going to be challenging Renault. We were two seconds behind and we've got to make that time up. We've got two good drivers, who are motivated. Of course I've seen some pretty bravado statements from my guys, and my guys don't usually do that!
"But yeah, we've got to move up, otherwise, why are we here? As to how fast we move up, there are so many different things in this year's rules, new tyres, the wings, and they'll all have KERS apart from the new teams. So wait and see. But I think we have made a step forward. Really the big step forward will be next year, because the boys can use a lot of this car and so on."
Like HRT and Virgin, Lotus will not have KERS this year, although there are conflicting opinions about how easy or hard it will be to upgrade the T128 mid-year, should it be deemed necessary.
Fernandes says he wanted to make life easier for the team given the challenges it already faced - Lotus is after all the only team changing engine and gearbox supplier for 2011. Isn't he worried that even if the car is quick enough to challenge the likes of STR or Sauber, lack of KERS may make the difference in races?
"We spent a long time looking at it," says Fernandes. "You get 0.2s/0.3s. To me as long as we know where we are - and if we had KERS we'd be have that much more... But I'm not a person that's going to stretch the organisation and have it all collapse. KERS would have been just too much for us. We're building a brand new car with 8000 pieces, and then you shove on KERS. I'm not stupid so I made a decision early on to say no KERS. Aggressive, really fancy stuff - but no KERS.
"We'll see throughout the season, if we can do it, we'll do it. This isn't a one-year project or a three-year project, it's something I want to build, and you've got to build it properly with the right structure. I made the decision on Renault and Red Bull. There were many people saying let's stay with Cosworth.
"But now they all came to me and said, 'It's so great, no hydraulic issues, the engine starts when it's supposed to start!' The guys are now focussing on racing as opposed to fixing lots of issues. If I put KERS on them, it's another thing. So let them stabilise that, build it up, and next year we'll do it."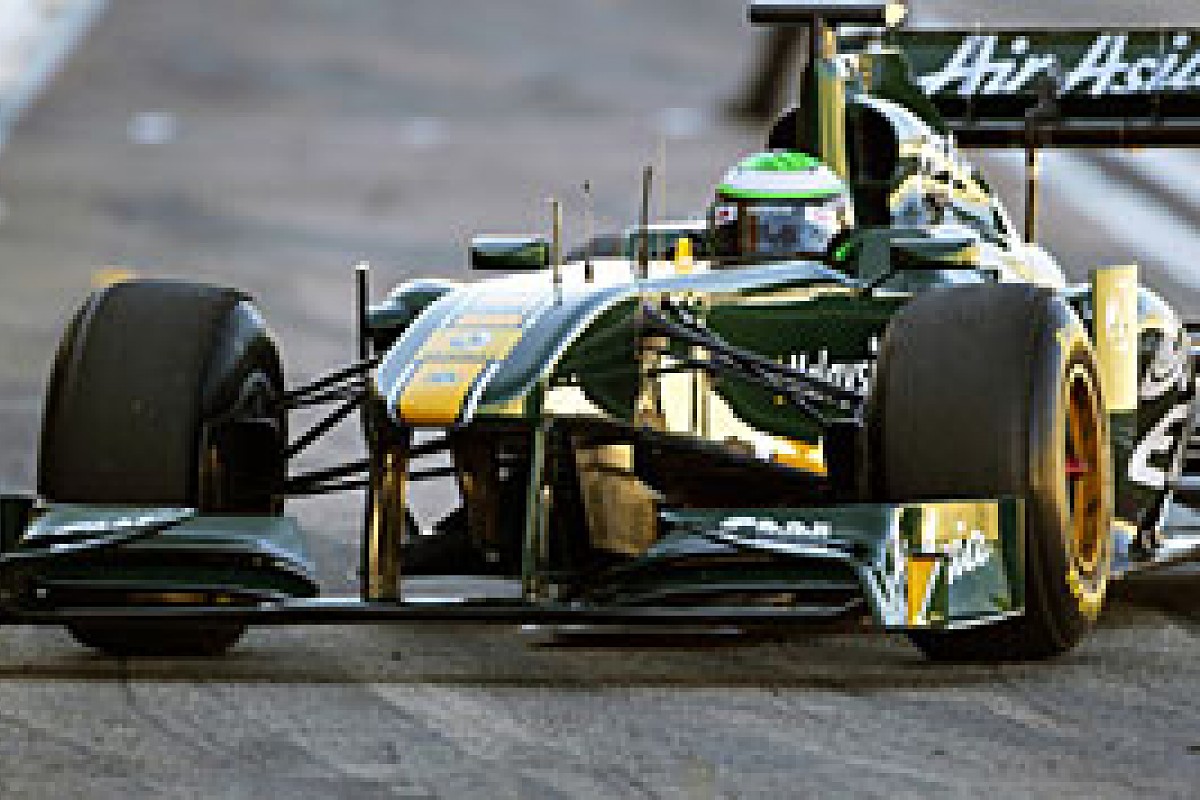 Both drivers have been positive with their feedback © LAT
It was the gearbox that inspired the change from Cosworth to Renault. The team was not unhappy with the British engine, but wanted to go in a new direction with its gearbox and hydraulic systems, and to do that it had to get a different engine. Initially the plan was to take a complete package from Renault, which given how things have subsequently panned out, would have been a little awkward.
The engine is not really an issue. It comes from France, and with its works team sold, Renault the manufacturer is at pains to point out that it is now an independent supplier, with three customers.
But the gearbox? There was a very real chance that a deal could have been signed with Enstone just before Dany Bahar and Group Lotus came on the scene. However, a little bird tipped off Fernandes that it might not be a wise plan, so at Monza he fronted up at the Red Bull Energy Station and asked to see Christian Horner.
"Can you imagine if we were getting a gearbox from Enstone?," Fernandes smiles. "Mike [Gascoyne] wanted to get a Renault gearbox, but I said something's not right there. That night he rang me up and to his credit said, 'You're right, let's go Red Bull.' I didn't know about Bahar and Lopez, I had no clue. I had a little bit of a sixth sense.
"I went to Christian Horner and said, 'I'm going to get a Renault engine, I trust you, we can do lots of things together.' That was it."
The T128 thus has the 2009 RB5 gearbox. That car was a race winner in its own right you may remember, and although it sounds a little outdated it is a better choice for this season because last year's was tailored for the now banned double diffuser, and was actually heavier than the one Lotus has acquired.
There's an added dimension to the arrangement in that Dany Bahar did not leave his job at Red Bull on good terms, so for Dietrich Mateschitz to be so visibly supporting Team Lotus is not without extra resonance.
Inevitably the conversation steers towards the legal situation.
"I'm very happy that Justice Smith said bring it forward," says Fernandes. "And it's good that he took a wider role, and saw that there's lot of damages, and lots of uncertainties. So I applaud the English justice system for bringing it forward. "We brought that case forward in the first place. We want it as soon as tomorrow, so it's very good. It's put a lot of pressure on the lawyers, who were happily ambling away preparing the case. Now they've got a few weeks to do it."
Although Fernandes hasn't said much publicly about the situation recently, he's been a little wound up by comments made by Lopez at Valencia just a couple of days earlier. So now he's happy to talk.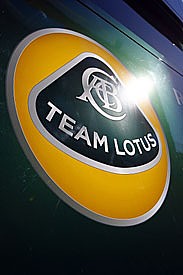 The row over the Lotus name rumbles on © LAT
"I think I'm disappointed with it. I think it's become very personal. I've never made it personal. What have I done wrong? I was offered a chance to restart Lotus, Proton agreed, they gave me a five-year deal. I did it in good faith, I spent our own money. We spent £80m building this team. We had it unceremoniously terminated for some T-shirt violations, which we are challenging, and we were smart enough to go and buy Team Lotus. If you want the name then you've got to pay for it. The offer we received from Proton..."
When things began to kick off Fernandes says he was willing to broker a deal with Group Lotus, on the basis that he could see that a fight would be disastrous for the brand. He didn't want to be seen as the bad guy.
"They offered me £6m - to give them the name and everything - and we'd spent £80m. I only did it [talked] reluctantly because I didn't want all this mess. But at the end of the day I think I'll do a better job with the brand. I never wanted to give it up, I put my heart and soul into this, but for the sake of the brand, I said, 'That's fine and we'll talk.'
"But it would bankrupt the team and I don't want to do that. We'd lose our FOM money, we'd get a pittance from Proton, and what do we do? We didn't do anything wrong, Proton gave us a five-year licence. Just because Dany Bahar decided he wanted to do his own thing."
To clarify, Fernandes was offered £6m not for the team as a going concern - ie the whole £80m investment - but to give up any claim on the name. Nevertheless, a change of constructor name would have cost FOM income from last year, and more importantly it would have hit potential future earnings, which go up massively once you've finished in the top 10 twice. And clearly sponsors had committed on the basis of the Lotus name.
"The FOM money is a large part of it. And rebranding all of this isn't free," he says, pointing at the motorhome. "The damage cause to our sponsorship is not small. And we brought it back. If you became the Lotus team now, there is more value than this time last year. We built all that value.
"We've got 250 jobs here. We put our own money in, we created a good team, we had a five-year licence, and even then I was still saying for the brand's sake, OK. But if I'd taken that deal, we would have gone bankrupt, which is nuts. So we're going to carry on."
The court case is in essence about two things - the cancellation of the five-year agreement with Group Lotus, and the true worth of the Team Lotus company and name, which Fernandes acquired from David Hunt last summer.
"I didn't set that up, I didn't set up the structure," he says. "When you sell something, you sell something. I didn't create Group Lotus and Team Lotus, it was Colin Chapman. And Clive [Chapman] sold it to Peter Collins. When you sell something, you sell it. If you wanted to keep the name then don't sell it. Group Lotus could have bought it from David Hunt. Why didn't they?
"It was a willing buyer, a willing seller, and we bought it. The Chapmans could have bought it back, Group Lotus could have bought it back. Let's say Dany Bahar had a house, he sold it to you, and suddenly he said, 'Sorry I lived there for 30 years, so it's my house...'"
Inevitably, the Bahar name figures strongly in any conversation about the current situation.
"There were no problems with Proton until Dany Bahar came along, and you can quote me on that," says Tony. "There were no problems. But that's the deck of cards I've been dealt.
"Dany Bahar came in just as I was about to get it, and he was doing whatever to stop it. But Proton said, 'No, we don't have money to go into F1, it [Lotus Racing] is a great way of doing it.'
"He always wanted to buy Sauber, and be in control. He talked about Renault as well. And I said number one I didn't want to buy a team, because I wanted to create something with our culture, etc etc, then he agreed and said 'OK we'll support it.' But from Day One he did everything to stop it.
"I've respected the Chapmans, I've done everything properly. I didn't want to call it Team Lotus, but what choice did I have? Group Lotus took away Lotus Racing. I'm not going to get into what's bullshit and what's not. Let the courts decide."