Barcelona test two: Day five - 12 March
The chequered flag has finally been waved to end pre-season testing for the 2011 Formula 1 championship. For the teams it is now back to the factory, build two race cars with all of the latest development components, sort out about 25 tonnes of car spares, tools and equipment, get it all packed up and to the airport by Thursday night in readiness for shipping to Australia.
Ferrari packs up and prepares to head home - if only briefly © sutton-images.com
When the team personnel leave next Sunday or Monday I am sure there will be a fairly extensive amount of hand baggage and with that excess baggage charges.
I have been known to try to convince an airline that the gearbox I had in my hand luggage should go on the plane with me, they didn't agree and it had to be put into the baggage hold. But then they smelt oil and I was called over the tannoy system and taken down into the luggage area at Heathrow to open the box and show them what it contained. After that, no problems other than having seen the baggage area of a major airport and how it operated I lived in amazement that I ever saw any of my checked-in baggage again.
What can we assess from testing? Not a lot really, it's all very confusing and it will only unfold when the chips are down in Australia. The big teams Red Bull, Ferrari, McLaren, Mercedes and Renault will I would assume, as normal, rise to the top of the pile and this is mainly due to the fact that they have the biggest budgets, best equipment, can employ the top people and the most people.
Whereas the other teams, which are by no means small, don't have the luxury of as many staff so the personnel that came back from testing this week in Barcelona will be straight into the factory to do their day job and they will also be the people that will be on the flight to Australia next Sunday night. I can assure you, it is a tough life and unfortunately for these people at this time of year home life does have to come second.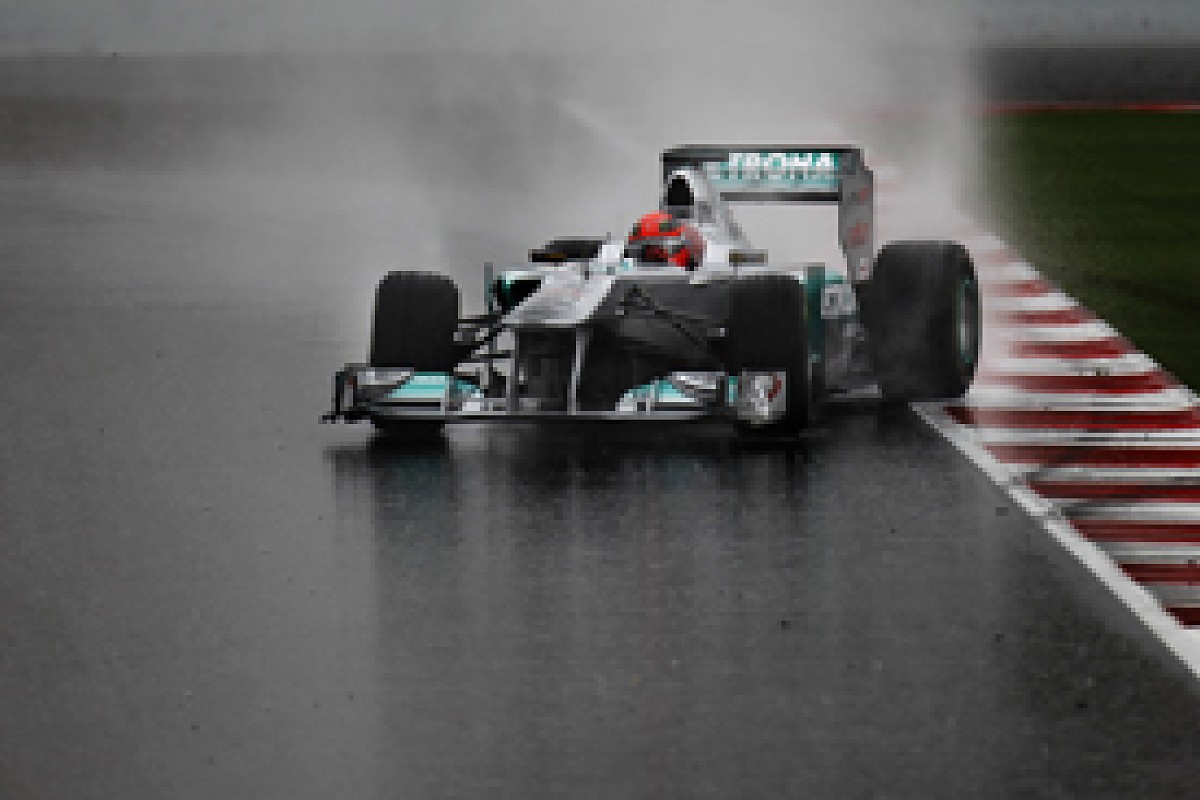 Schumacher gets used to Pirelli wets in entertaining style © LAT
Day five of the test at Barcelona turned out to be a bit of a damp squib with torrential rain from first thing in the morning until late in the afternoon. Lap times were meaningless in these conditions but it did allow Pirelli to see how its wet tyres worked in pretty adverse track conditions and as we have seen in the past, Malaysia, second race of the year, can be very wet.
It is difficult to reflect on things in motor racing when we have seen the destruction which has happened in Japan and my thoughts are with the millions of people who have suffered through this horrendous devastation. I am not about to justify motorsport or any other form of sport when things like this are happening all around the world but hopefully it does, for a short while, offer a brief release to the many people who enjoy their sport, whatever it may be.
• Barcelona testing image gallery.
Barcelona test two: Days three and four - March 10-11
Mercedes has finally introduced the revamped package it will use in Australia, and I have to say I am impressed.
Michael Schumacher on the fourth day of testing with a 1m21.2s, albeit on a qualifying run, around Barcelona is a very impressive time and to back that up Nico Rosberg had a short run at the end of the day again on low fuel and did a 1m21.7s.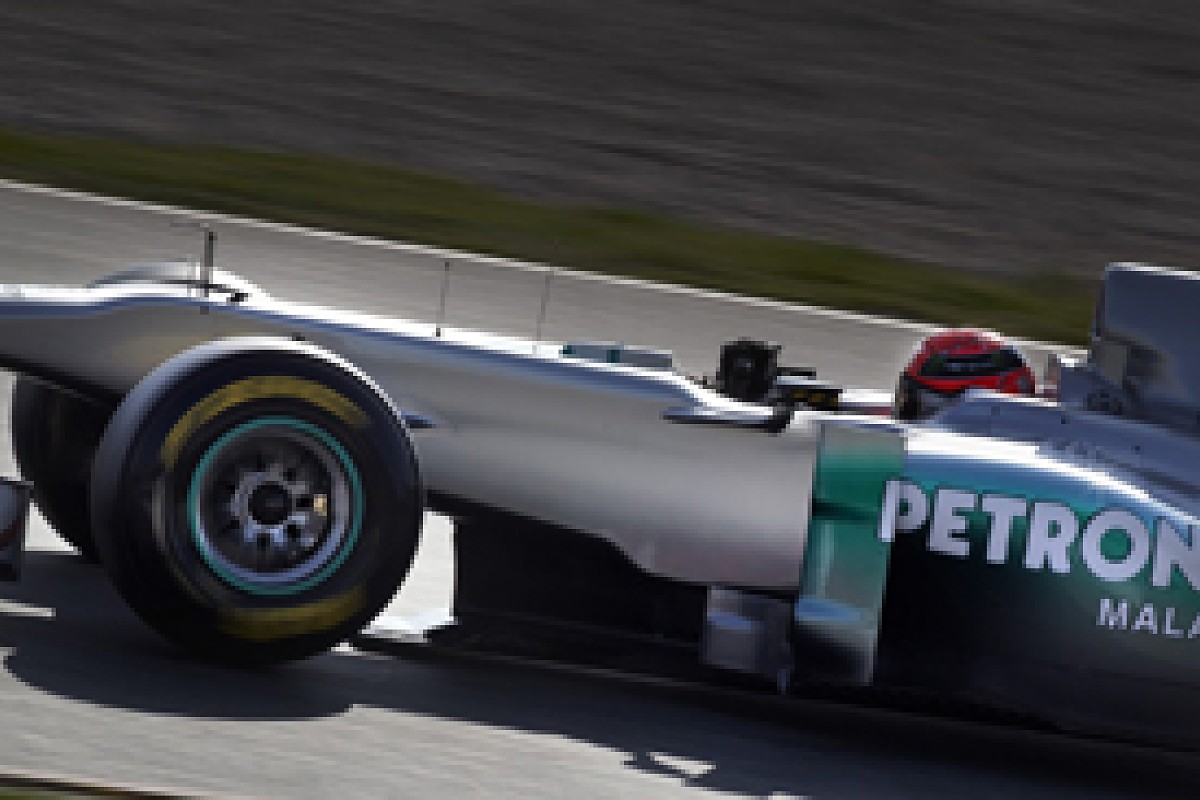 Schumacher and Mercedes had a breakthrough day © LAT
So the big question now is, is the seven times world champion Michael Schumacher back and does he have the tools to show his real talent as we saw so many times in the Ferrari? I think we will have to wait over the first two or three races to see if this is real.
But from my point of view I hope it is, as from the first day he drove a Formula 1 car with a short test on the South circuit at Silverstone in the Jordan 191 prior to his race debut in Spa it was clear he was someone with exceptional talent. He proved it by going on to win seven world championships it would be sad to see his return end up being a non-event.
I said earlier in the week we would probably see nearly everyone lower the fuel loads and go for a time before this test is over. However, with the combination of soft tyres, KERS and the drag reducing rear wing package it is still difficult to know where everyone stands. Still, from what I can see we are looking at a very competitive season and from race to race there will be different people at the front, followed by the midfield bunch which is as close as I have seen for many years.
It looks as though Lotus has really found quite a lot of pace relative to last year. Heikki Kovalainen's 1m23.4s from today is 2.2 seconds off the fastest time of the day and in reality last year at the end of the season Lotus would have been 4.5s away so it's a real turnaround for the team. It is not using KERS yet so there is still some potential left to come.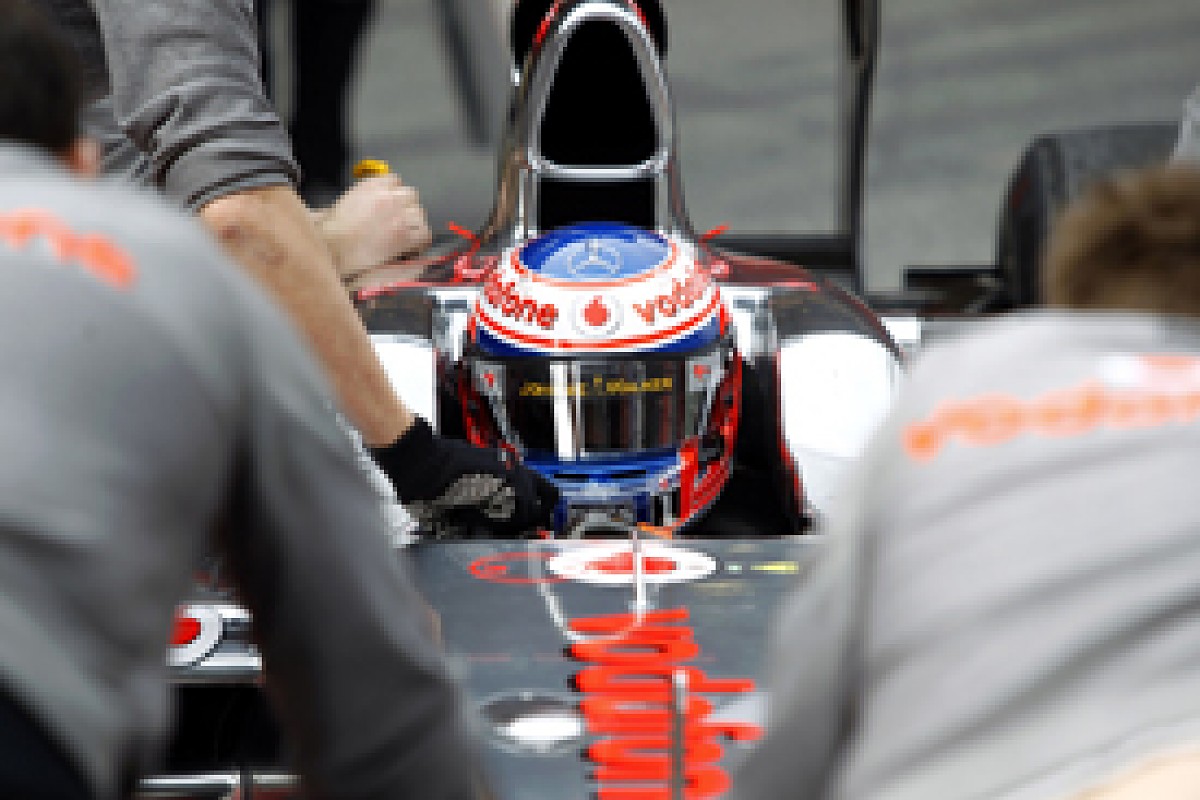 McLaren had another difficult day © LAT
With Mercedes having found a reasonable step in performance, McLaren is now the team that is dragging its feet. It doesn't really seem to have the pace and the reliability is very poor to say the least. I am sure it will take a step forward for Australia but it has been spending most of its time and energy trying to get to the point where it should have started this year's testing. A few teams are staying on for tomorrow so perhaps McLaren will turn things around as Mercedes did today.
I can't wait for the season to get up and running as there are so many questions to be answered. Saturday in Australia will show us who has the fastest car and Sunday will show us who can manage their tyres the best. I can assure you that the latter will be no easy task and we will see a very eventful race.
Barcelona test two: Day two - March 9
Last year Red Bull never really showed its hand until qualifying in Bahrain but this year it is definitely showing during testing that it is the team the rest need to be gunning for.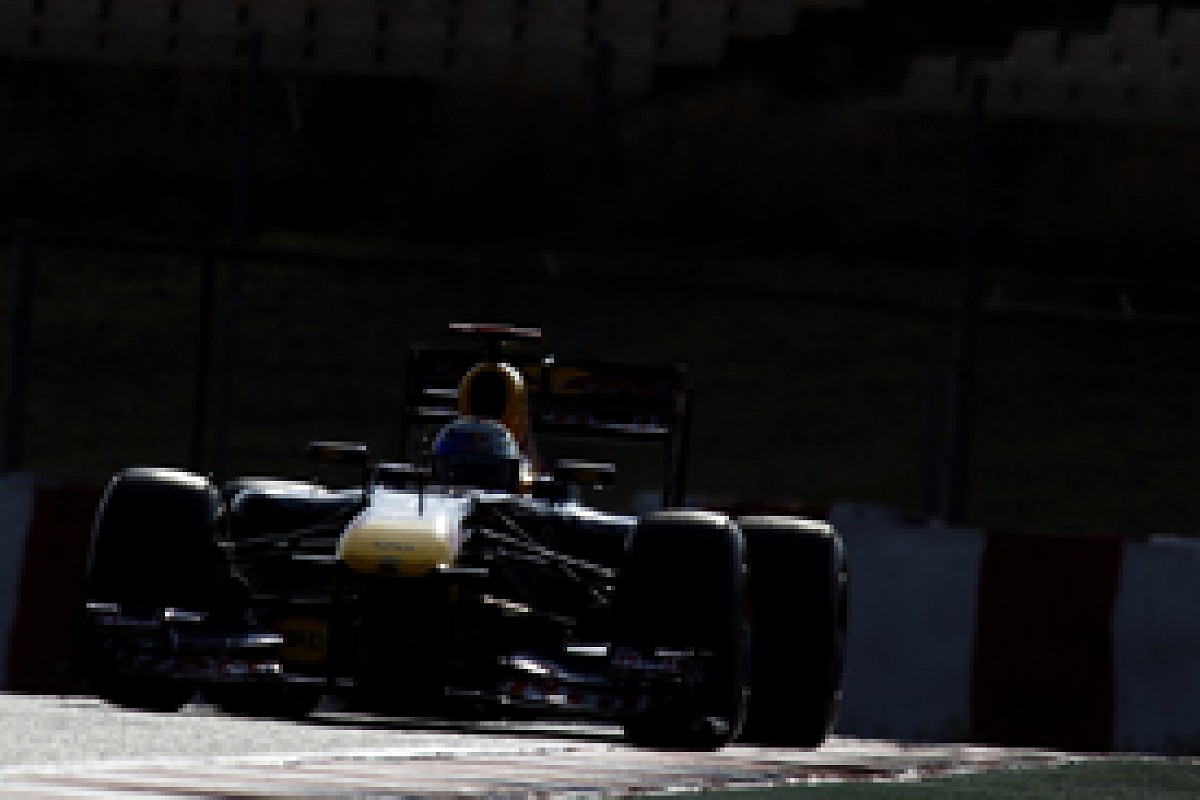 Red Bull has been flying all week © LAT
I would not have expected Ferrari to let Red Bull steal the limelight quite as much as it is doing - I thought Ferrari would have retaliated to Sebastian Vettel's 1m21.8s with a semi-low-fuel run of its own. But Ferrari is either feeling very confident that it can do it when necessary or it just doesn't have the pace right now to be compared to Red Bull.
I am not really sure if Renault has actually joined the frontrunning bunch but its performance does look positive and consistent. As for McLaren, it is struggling a bit with actual performance but more importantly reliability is not very good so with these two problems it really does have a lot of work to do before it will join Red Bull and Ferrari at the front - if it can at all.
I have talked a lot about the top teams but I think it is time to look at what were the midfield runners from last season. From day to day it changes quite a bit and it's quite difficult to get a picture, but I think that Toro Rosso has really stepped up its performance and having Daniel Riccardo standing in the sidelines waiting for a seat will definitely keep STR's drivers on their toes.
I think next up is a battle between Sauber and Williams, and I think the edge will go to Williams mainly because of Rubens Barrichello's experience. That really leaves Force India and if it is not careful it may be a little vulnerable to an attack from Lotus. I would expect that Virgin and HRT will be bringing up the rear.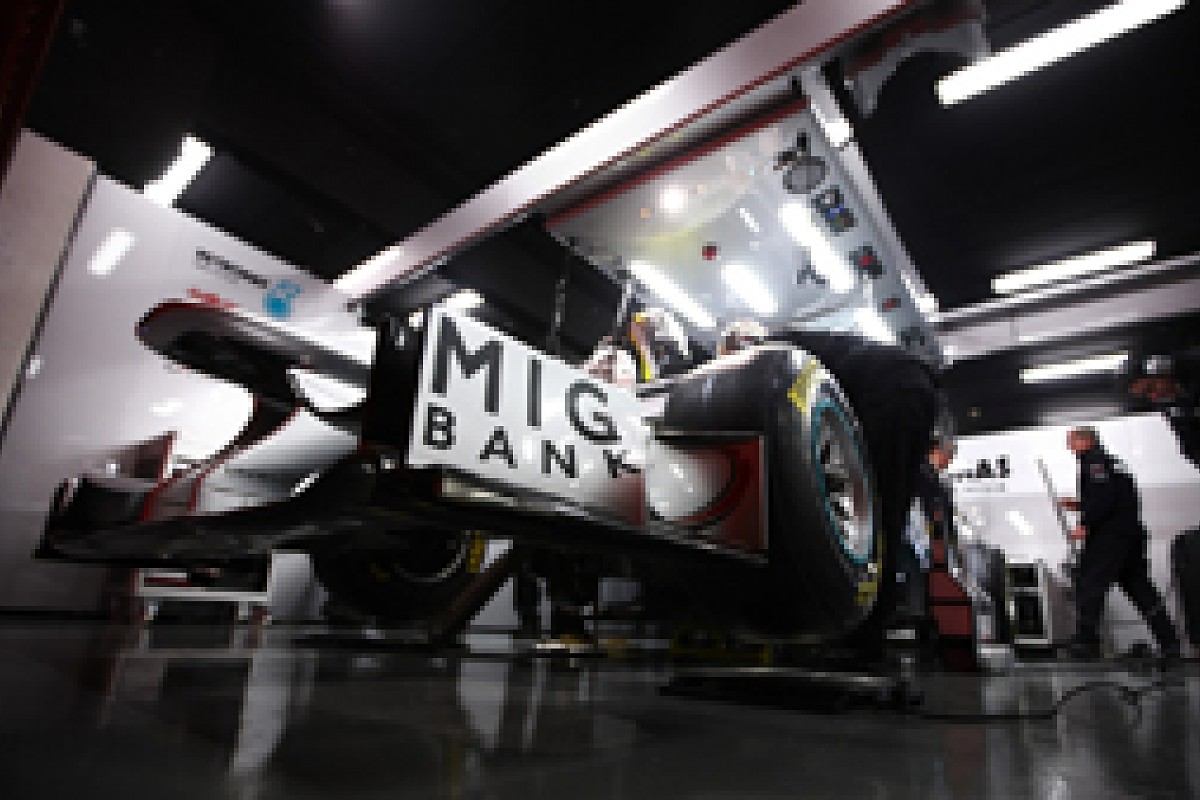 The jury is still out on the updated Mercedes © LAT
You notice that in there I have said nothing about Mercedes. After the first day of its four-day test I didn't see anything that would mean that it would have stepped forward.
These cars work as a package and if Mercedes has got an update kit it should get it on the car and try to optimise it as opposed to playing around with one bit at a time. For example, when you alter the airflow coming off the front wing it alters how the aerodynamic surfaces coming along behind will react and if you have created an update kit that all works together then trying each individual component separately means that you either lack confidence in the changes or that the step you are expecting is too small to be meaningful. Or it might just mean Mercedes hasn't got the bits ready. If this is the problem then it is very lucky Bahrain was cancelled...
Let's see what happens tomorrow.
Barcelona test two: Day one - March 8
The final pre-season test is now underway at Barcelona. The teams that are struggling will have been handed a lifeline with the cancellation of Bahrain, while the teams that had their act together from the start of testing will feel a bit cheated. But the extra time will mean that they can also package together some of their development programme and get it on the car, so the end result will probably be more or less the same as if Bahrain had been the first race.
Among the top teams the last test showed that McLaren and Mercedes were lacking in performance relative to Red Bull and Ferrari, so for them this test is vitally important to show that their update packages give them the performance that they will require to be competitive when they get to Australia.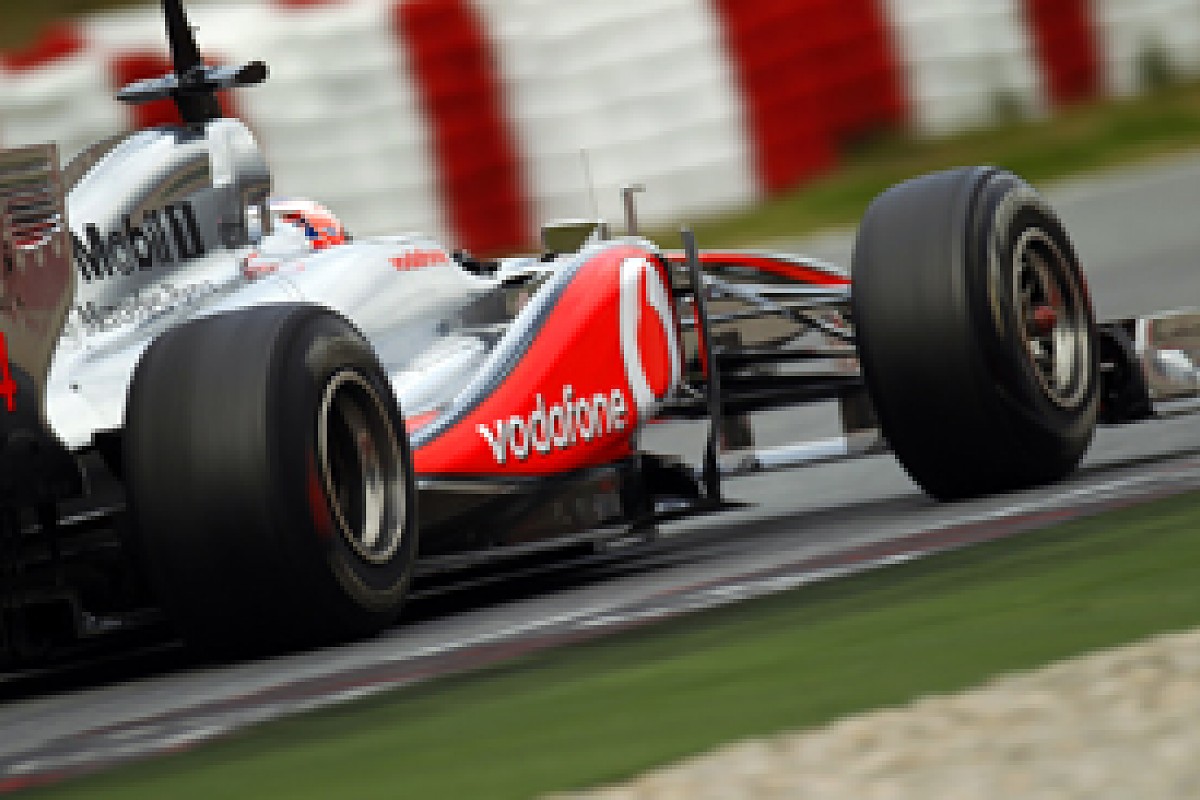 It's crunch time for McLaren © LAT
There will be no hanging around at this test - they will really just have to show their hand. They have both been getting a bit of a hammering in the press and the only way to stop that is with performance. I know this is only a test but the reality of it is that it is a vital to show that they have the package to take the fight to what I think are the two top teams, Red Bull and Ferrari (not necessarily in that order).
With this test being a five-day event and teams only allowed to do four days of that five, it will get a little bit confusing as to who is where.
But one thing that seems to differ with the Pirelli tyres to the Bridgestones is that the track surface does not seem to rubber in. With the Bridgestones the track would always get faster until it rained, which then washed away the rubber. With the Pirellis over the last tests the track conditions seem very stable and times from the first to last day seem very consistent.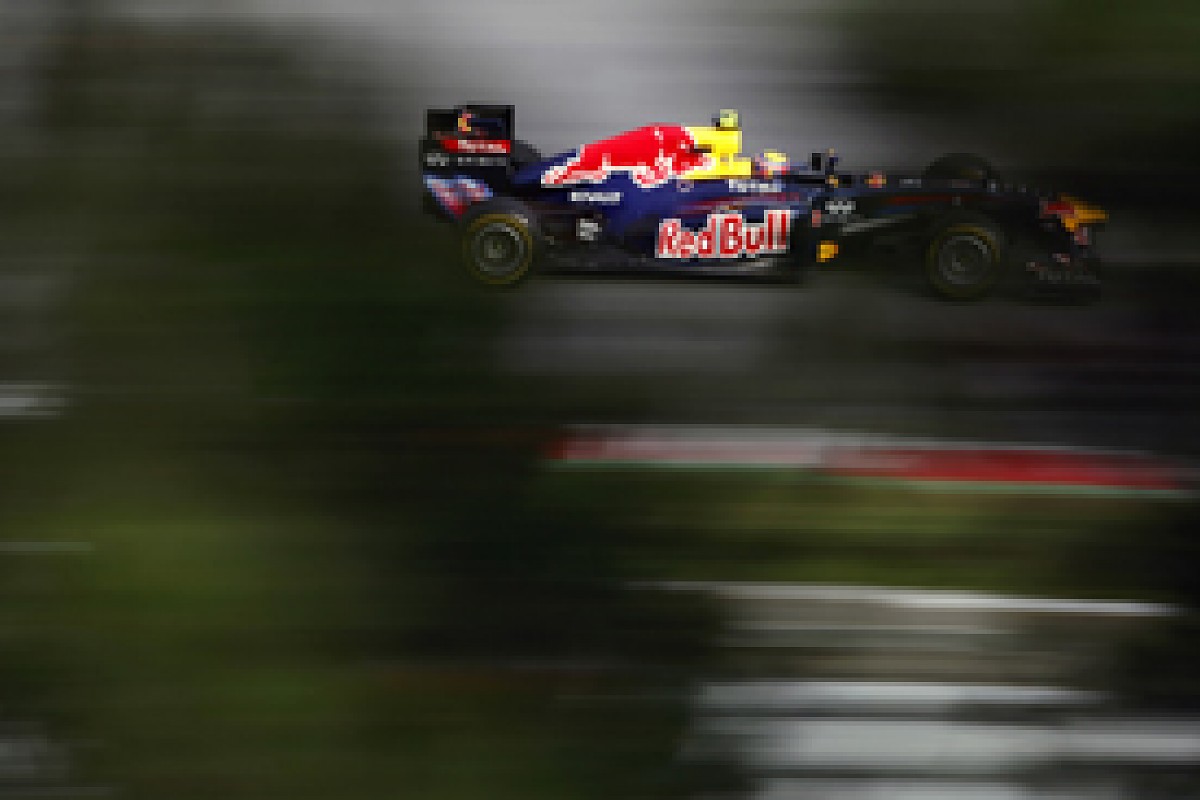 Red Bull looks ominously fast © LAT
As for today's test, Red Bull was fastest with a 1m22.5s. I would think this time was done with 25 to 30 kilogrammes of fuel in the car and I would expect that on a really low fuel run a mid-1m21s would be possible.
Jenson Button in the McLaren did show some promise being second fastest with a 22.9 but from what I can hear, the car still is not doing what they want from it and if that 22.9 was an attempt at quietening down the press with a low-fuel run then they still have a long way to go.
Things will settle down as the days unfold and I will try to keep you informed with any little snippets I may hear through the grapevine.
Barcelona testing: Day four - February 21
I thought that by the end of Barcelona I'd have an idea of who is quickest and who isn't. And the answer is, I don't. With the variety of tyre compounds and differences in fuel loads, it's almost impossible to predict who really is at the top.
I was expecting one of the top teams to slip in a high 1m21s, but that didn't happen. Massa was the only guy to have a bit of a go on the last day, ending up fastest with a 1m22.6s.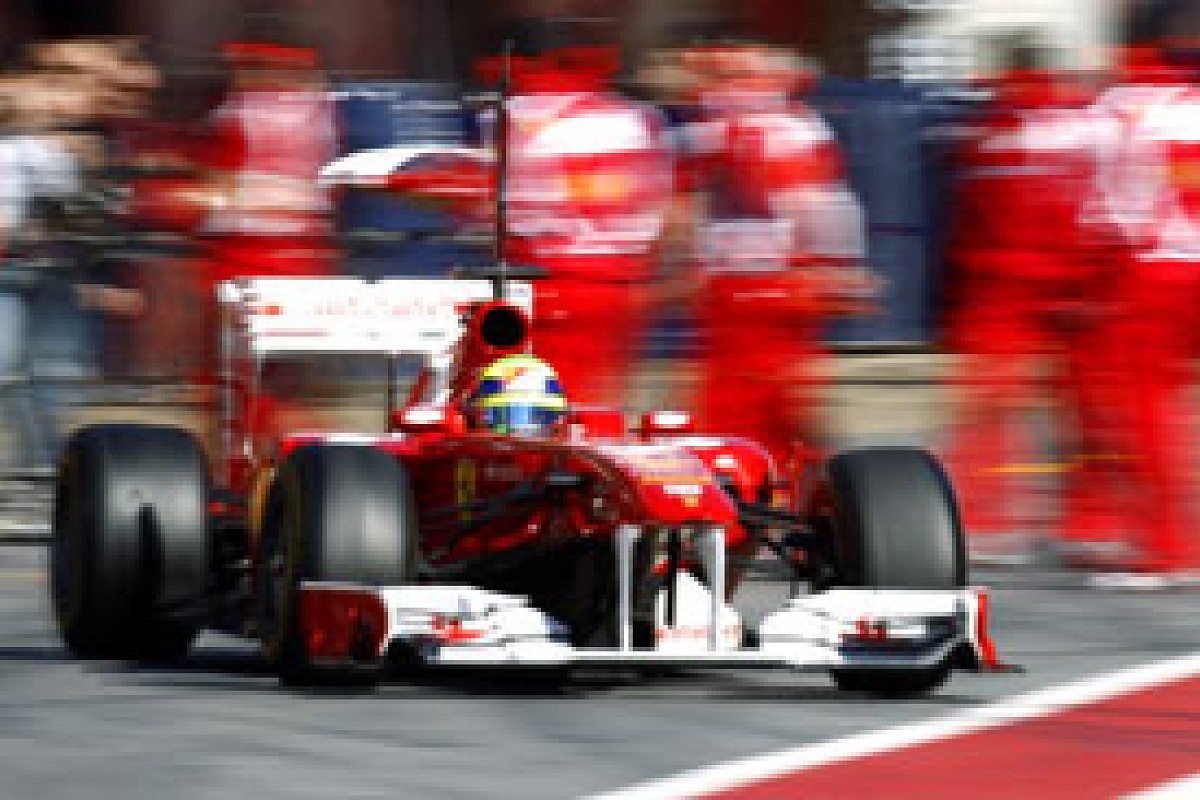 Felipe Massa © LAT
But if you look at the times from all four days, there are a lot of teams with their two drivers sitting side by side. Red Bull third and fourth, Toro Rosso sixth and seventh, Williams 11th and 12th, Sauber 14th and 15th, Lotus 18th and 19th and Virgin 20th and 21st.
I think this shows the car characteristics required by each of these pairings is very similar, which means the development direction is much easier to implement because both drivers will benefit. Whereas, if you look at Rosberg second fastest and Schumacher 23rd, this might just show that either they are on a very different test programme or that the same car does not suit both drivers. Mercedes has a big update kit coming for Australia and now have an extra couple of weeks to optimise it.
I am a bit surprised that nearly all teams are still having some reliability issues. It's always very difficult to rectify these problems quickly but, with the resources some of these teams have, they really should be starting to get on top of their problems.
Over longer runs, it's just as difficult to make an assumption of who is quick and who is not because the harder you push the higher the degradation of the tyres. From that I would expect the clever drivers to only drive as quickly as necessary to maintain the tyre performance for as long as possible. I think the chances of a run away victory for any driver will be a thing of the past.
It's a bit disappointing that Bahrain has been cancelled, but under the circumstances I think it's the right thing to do. The Bahrain test has also been cancelled and the teams will stay in Europe for another test at Barcelona. For some, this will be a big relief as they were against the wall to get enough parts ready for Bahrain, so that extra couple of weeks will be most welcome.
I think this year, from what I have seen so far, will be just as competitive - or even more competitive than last year. I don't think Red Bull have quite as much of an advantage as they had in 2010 but, during last year's testing they didn't appear at the top of the timesheet very often either. But when the chips were down at the first race is when they turned up and showed everyone the true potential of their car.
• Barcelona testing image gallery.
Barcelona testing: Day three - February 20, part two
We're finally seeing some cars run with relatively light fuel and put in competitive laptimes. Nico Rosberg's fastest time today, a 1m23.168s, was set on a pretty light load, although he did three laps, and that shows about where they are. They are going to need to find a bit of time. I'm sure if the top teams and drivers go for times, we'd see them in the low 1m22s or even the 1m21s. The more professional the team is, the less likely they are to show their true hand - they just need to know where they are rather than tell anyone else.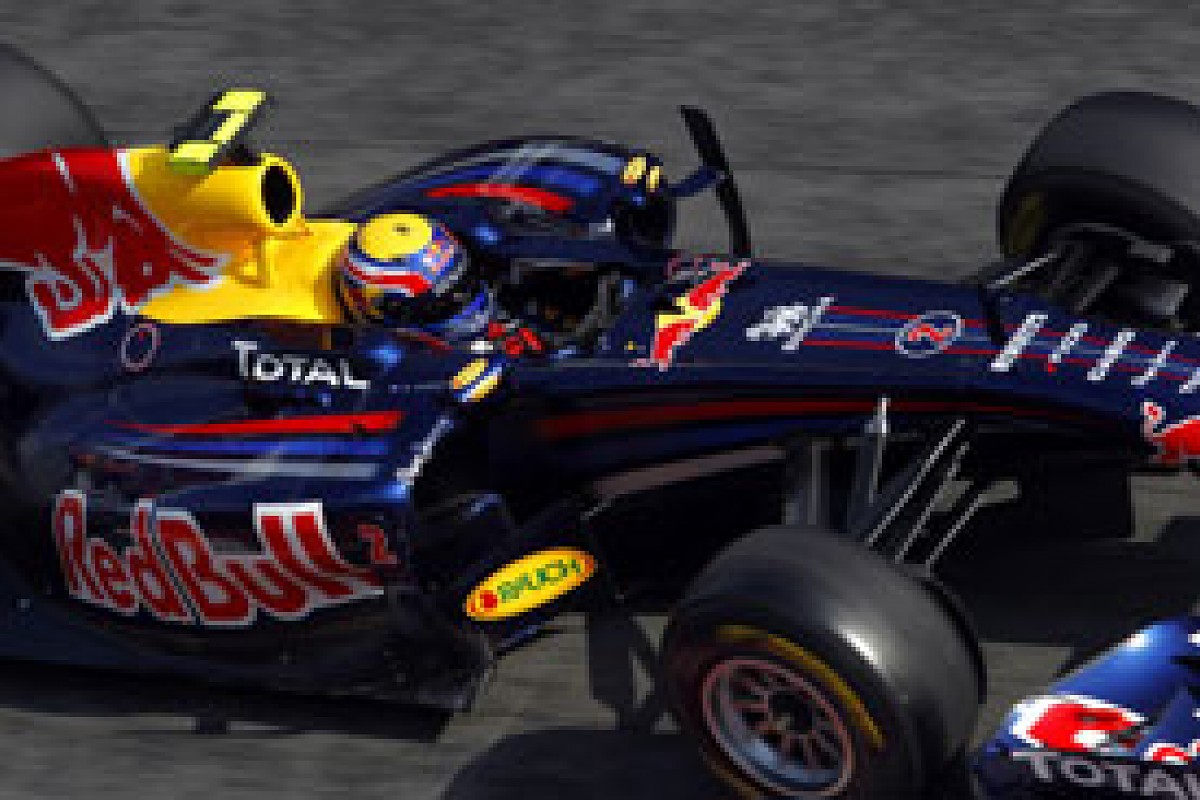 Mark Webber © LAT
Although a lot of teams attempted race runs, Mark Webber was the only guy that did what you would call an organised race run, with a simulated grid in the pit lane. Although fairly consistent, the run wasn't that fast overall. It's always a bit confusing, but we know he definitely started on a full tank, with just tyre changes in the pit stops.
As for the others, Jarno Trulli ended up sixth fastest on a 1m25.454s. That's a good start for Lotus. Despite having a few reliability problems, they do seem to be a step ahead of last year. Speaking to Jarno after he got out, he was pretty happy that he felt connected to the car, as opposed to last year when there was a disconnect and he couldn't drag the laptime out of it. It's a good omen if the driver feels he can use the car - especially if it's Jarno who is very particular on having a car how he likes it. They also have a development package to come for the first race.
Lewis Hamilton had one of McLaren's first really productive days, completing 93 laps and ending up third. In moving away from its complicated exhaust to a more standard one, the team has taken away some of the complexities aerodynamically and that has allowed it to try to get the best out of the set-up. We'll have to see tomorrow whether or not McLaren goes back to the more complicated exhaust system, and whether it's an advantage - sometimes the complication can outweigh the advantage.
From what I've seen today, it's going to be a tight, exciting season and, unlike last year, there will be no black and white (or rather red and blue) winner!
• Barcelona testing image gallery.
Barcelona testing: Day three - February 20, part one
This morning's running was a bit of a waste of time as the track started the day damp. It took a very long time to dry up and although it was slick-tyre weather as the chequered flag fell for lunch, it was nowhere near as fast as yesterday. Lewis Hamilton ended up fastest on a 1m28.053s, but you can't draw any conclusions from that because of the conditions.
It was an eventful day for a few people. Pastor Maldonado was the first to visit the gravel trap at Turn 5. Braking for the downhill left-hander is difficult because the inside front wheel gets light and locks easily. He didn't sustain any damage.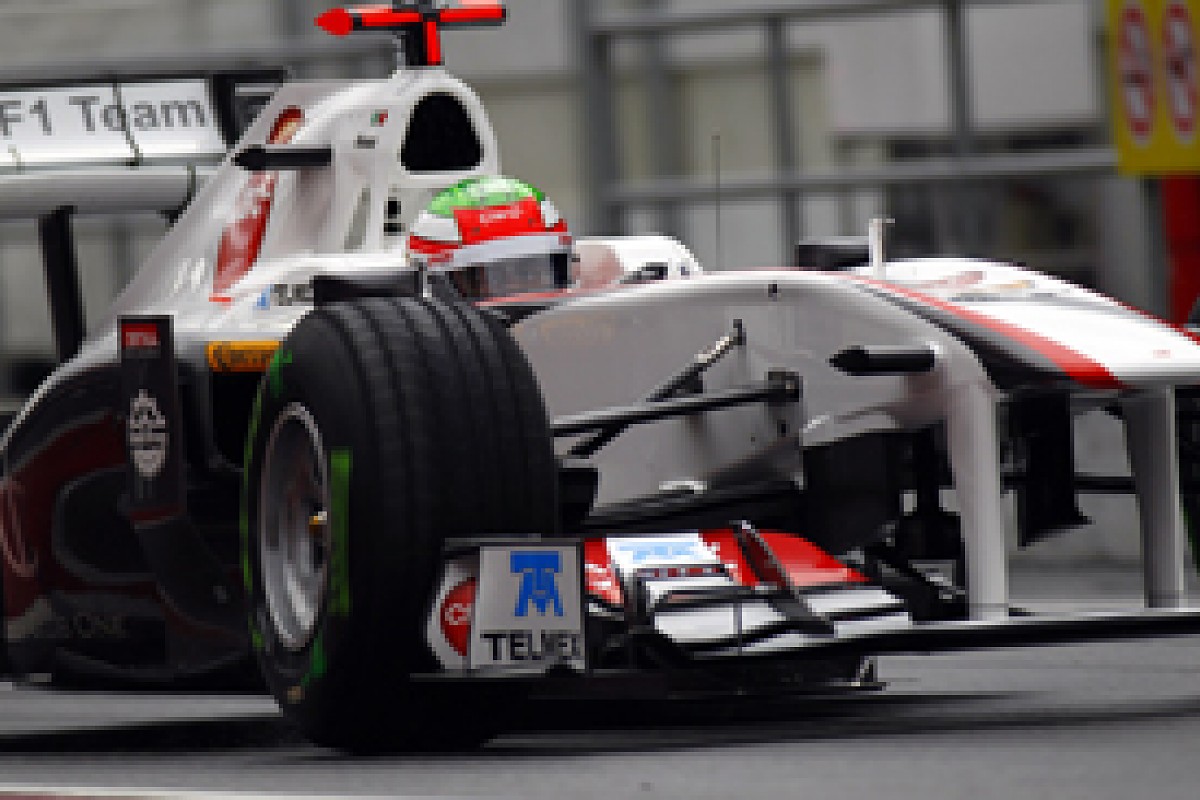 Sergio Perez was soon out again after his spin © LAT
His old GP2 rival Sergio Perez was the next to end up in the gravel. Again, he didn't sustain any damage. Both of these guys are new to Formula 1 and we can give them the benefit of the doubt in these difficult conditions. Perhaps they need to back off a little in the damp and wait for the conditions to get good enough to really learn something.
There is nothing more annoying for a team like Williams or Sauber than losing valuable track time because an inexperienced driver gets over-excited and fires it into the hedge when on a reliability run.
The exception to the above is Felipe Massa, who has all the experience in the world and has managed to put the Ferrari into the gravel twice today. It's probably time for his engineer, Rob Smedley, to give him a slapping and get him to settle down a bit because it's so important to work through the test programme and not have the mechanics pulling gravel out of the car.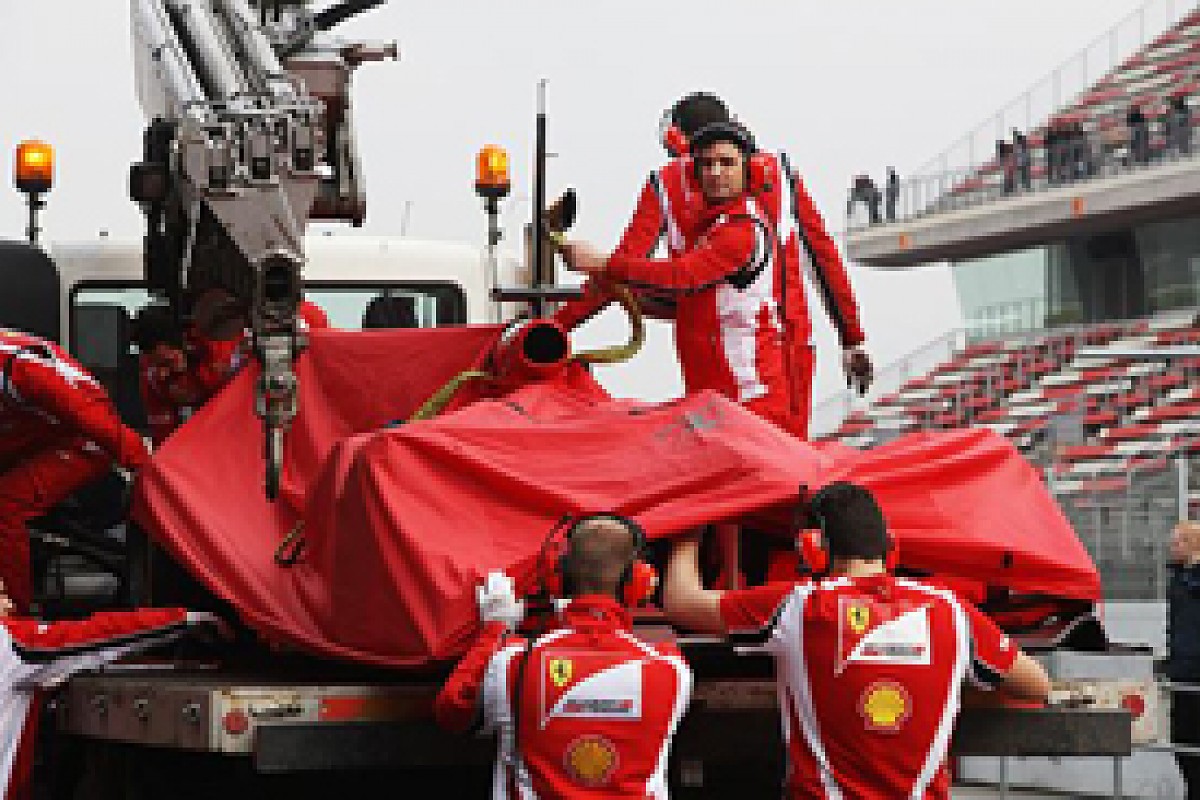 Felipe Massa's Ferrari is brought back to the pits © sutton-images.com
Rob worked for me at Jordan and he's very good at driver motivation and putting his arm around the shoulder to get them up there. But some drivers react to the other direction of a kick up the arse! With the mistakes we've seen Massa make consistently over the past year, the arm around the shoulder technique isn't working. Time to put on the steel toe-capped boots.
If you lost valuable track time during testing, you carry that deficit all the way through the season. It will be detrimental to Massa's relationship with the team because priority will be given to Fernando Alonso very quickly if these mistakes keep happening.
Hopefully the afternoon will be more productive and we'll have some interesting runs to look at in the next few hours.
Barcelona testing: Day two - February 19, part two
I spent a fair amount of this afternoon out on the circuit to see how the cars look and how consistent they are. There are some very interesting features that crop up.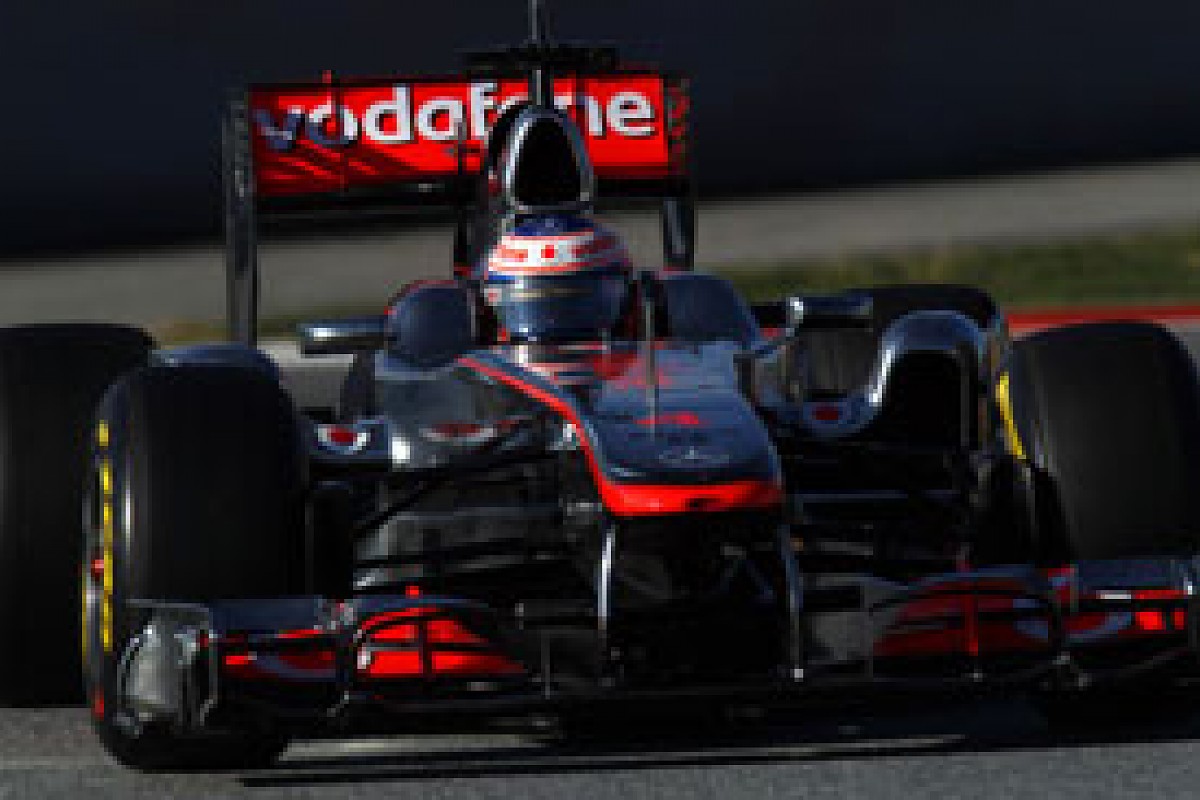 Jenson Button © LAT
The McLaren just doesn't look like it has got the grip. They are complaining about the tyres, but the tyres are the same for everybody - and the FIA has controlled the weight distribution so everyone is making the same use of the tyres. So it's largely down to aerodynamic balance, especially on entry, to dictates how you use them. It's very easy to accelerate the degradation of the rear tyres if the car is nervous on corner entry.
Turn 3, a long, fast right-hander here at Barcelona, is a difficult corner for the balance of the car because you are accelerating all the way through it. Normally, the car understeers a lot there and the McLaren certainly didn't lack that. It seems that they have a lot of work to do before they have a car that's capable of challenging at the front.
The Ferrari, in general, looks like a very well-settled car that doesn't do anything too dramatic and works well with the driver. We might get a better indication of where they are tomorrow because Felipe Massa is in and he generally drives the wheels off it, whereas Fernando Alonso works very closely to a programme and you can never be sure exactly what he is doing.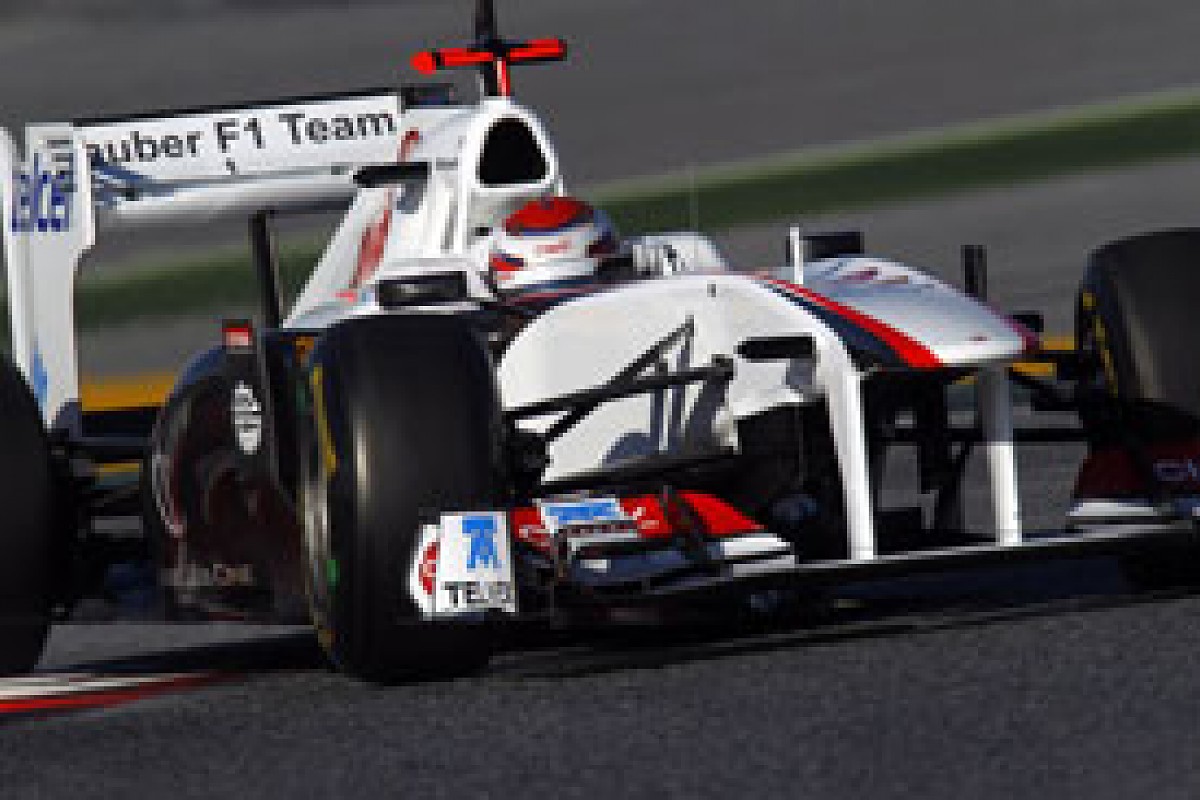 Kamui Kobayashi © LAT
Kamui Kobayashi in the Sauber definitely doesn't lack commitment. The car looks reasonable and hangs on pretty well, but he's right on the limit. It would be no surprise to see him spear off the road at some point - he had one very wide moment getting onto the rubber marbles at the exit of Turn 3 that I'm sure got his pulse rate up.
Nick Heidfeld again looks impressive in the Renault. It looks like it has got good grip. I think the exhaust system exiting at the front of the sidepod does make it quite difficult to drive and get the consistency on and off the throttle.
Rubens Barrichello seemed happy with Williams' day and did a lot of laps. As a team, they feel their performance is reasonable - and they have a major aerodynamic update kit for the first race, which they feel will move them a good step forward.
Red Bull attempted a race distance today, but had various car problems which interrupted it as well as a red flag, so it's very difficult to draw conclusions from the laps today. But the car is definitely quick and, as you'd expect with Adrian Newey packaging it, needs a little honing to reach the chequered flag.
More fun tomorrow and I will keep you up to date as it unfolds.
• Barcelona testing image gallery.
Barcelona testing: Day two - February 19, part one
This morning, it started fresh, sunny and cold which is ideal for testing because the track stays pretty consistent in those conditions. Given that teams complain about not having much running, it was surprising to see so many going out relatively late.
It was a surprise to see Lotus, with all of its statements about being competitive with two top-line drivers, wasting valuable track time running Ricardo Teixeira - who has shown no form in the junior categories, rather than maximising Heikki Kovalainen's track time.
Perhaps the cash register sitting at the front of the garage instead of a laptop showing car data gives you a hint as to the motivation behind that move?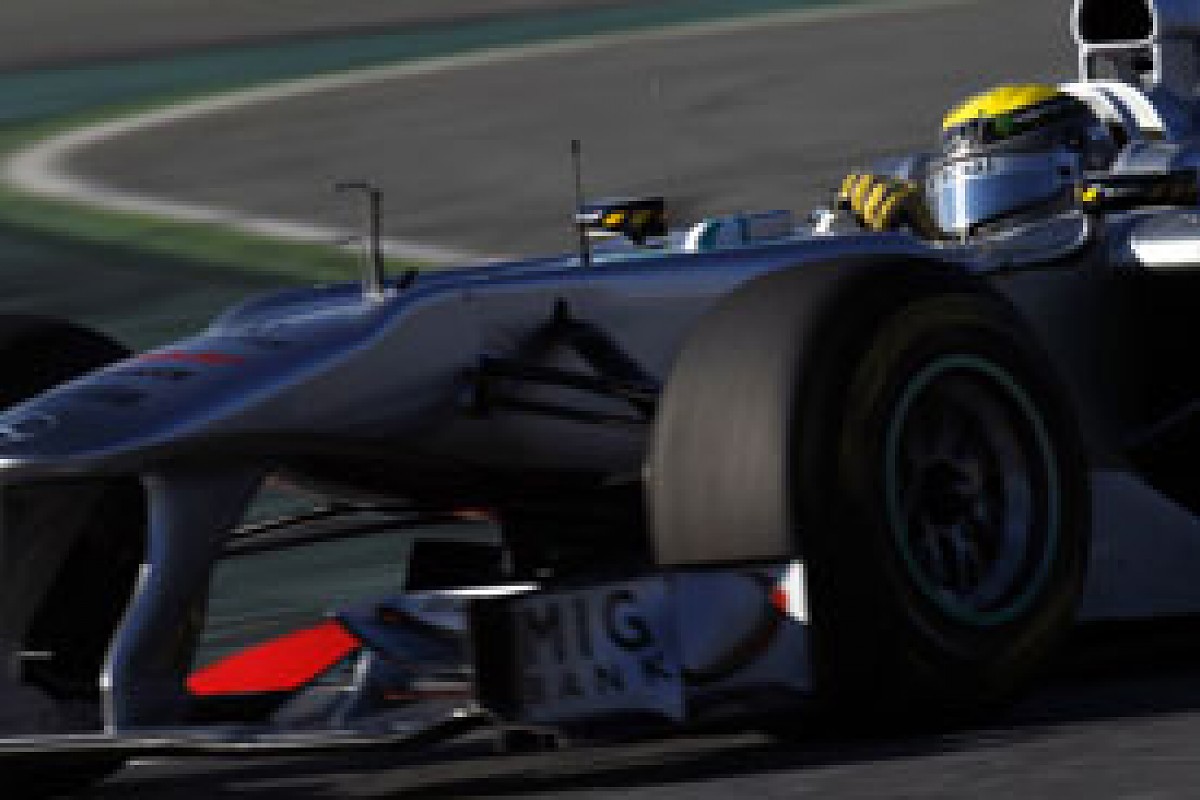 Nico Rosberg © LAT
Looking at the morning's running, Mercedes keeps switching between its original front wing and the version with slots cut into the main plane.
They are obviously struggling to make a decision on it because, as I've said before, it's not just about sticking one component, such as a three-element wing, on a car. It's about making the rest of the car work with the air flow regime created by that change.
As far as everybody else is concerned, there have been lots of practice starts at the end of the pit lane and I've been keeping an eye on them. Some of them were good, some of them poor, but the interesting one is Renault - with its forward sidepod exhaust exit which creates a huge amount of vibration when you are standing beside the car. I wonder if this would cause any structural problems, because the car will be feeling the vibrations.
Sebastian Vettel did a qualifying run before lunch and is currently on a race run, so I'll be following that closely and bring you some analysis tonight.
Barcelona testing: Day one - February 18
The first day of the Barcelona test was a strange one, with the damp conditions in the morning ensuring that no meaningful running was done until the afternoon.
Then, taking a look at some of the longer runs completed by the likes of Fernando Alonso, Michael Schumacher, Kamui Kobayashi and Jenson Button, produces some interesting numbers.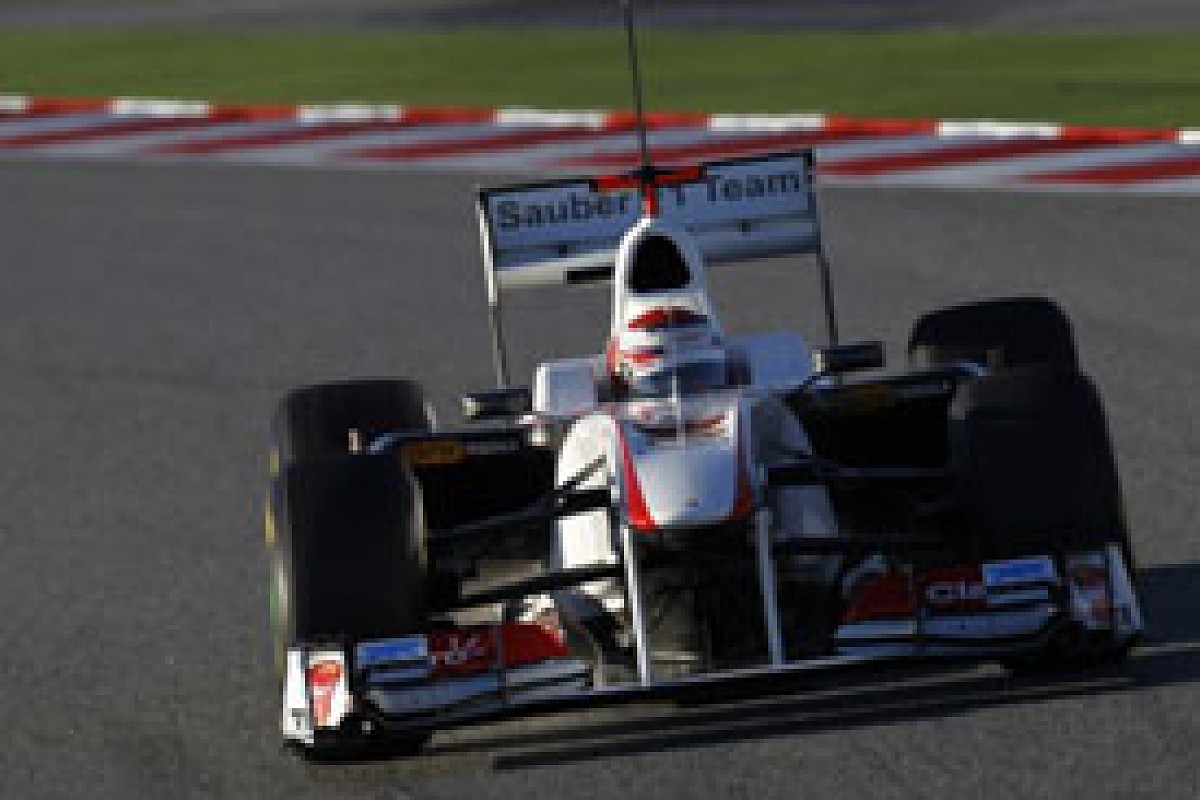 Kamui Kobayashi © LAT
Based on the data, it looks like the combination of Kobayashi and the Sauber is the kindest to its tyres, as the long runs showed relatively little drop-off compared to the others. Both Button and Alonso were not far away from this drop-off, but Schumacher in the Mercedes seemed to suffer the most.
As the tyres are the same for everyone, it's the performance of the car itself that dictates the differences in degradation. If the car oversteers on corner entry, it eats the rear tyres and this gets progressively worse as the stint goes on. The main objective in testing is to get a car that makes the best use of all four tyres consistently, and this is an area that Mercedes badly needs to focus on.
Barcelona is the most relevant circuit to get a picture of the competitive level of each car because it is such a heavily aero-dependent track. It changes as it rubbers in, notably the long, fast right-hander at Turn 3 which starts off as a real tyre-shredder. If it doesn't rain again, the track will get faster and we will get a much clearer picture on Sunday and Monday.
Today, Vettel was fastest on a 1m24.374s. Last year, in the first session of the weekend, Lewis Hamilton was fastest on a 1m21.1s, so I would expect the circuit to improve by a good second. With the loss of downforce through the ban on the double diffuser and the switch to Pirelli tyres, if teams can get anywhere near the 21s it will be a spectacular effort.
• Barcelona testing: Day one image gallery.
Jerez testing: Day four - February 13
As the sun set on Jerez it was still very difficult to predict who's hot and who's not. To get any idea of how the tyres are standing up to their work load, every team will be running with a reasonable fuel load on longer runs.
At the start of a typical GP, cars are carrying around 150kg of fuel, which is very tough on the tyres. If I was trying to make sense of where my car was, I'd be running around 100kg of fuel and doing something like 25-lap stints - this is a typical mid-race load and is fairly representivative of what actually happens in a GP.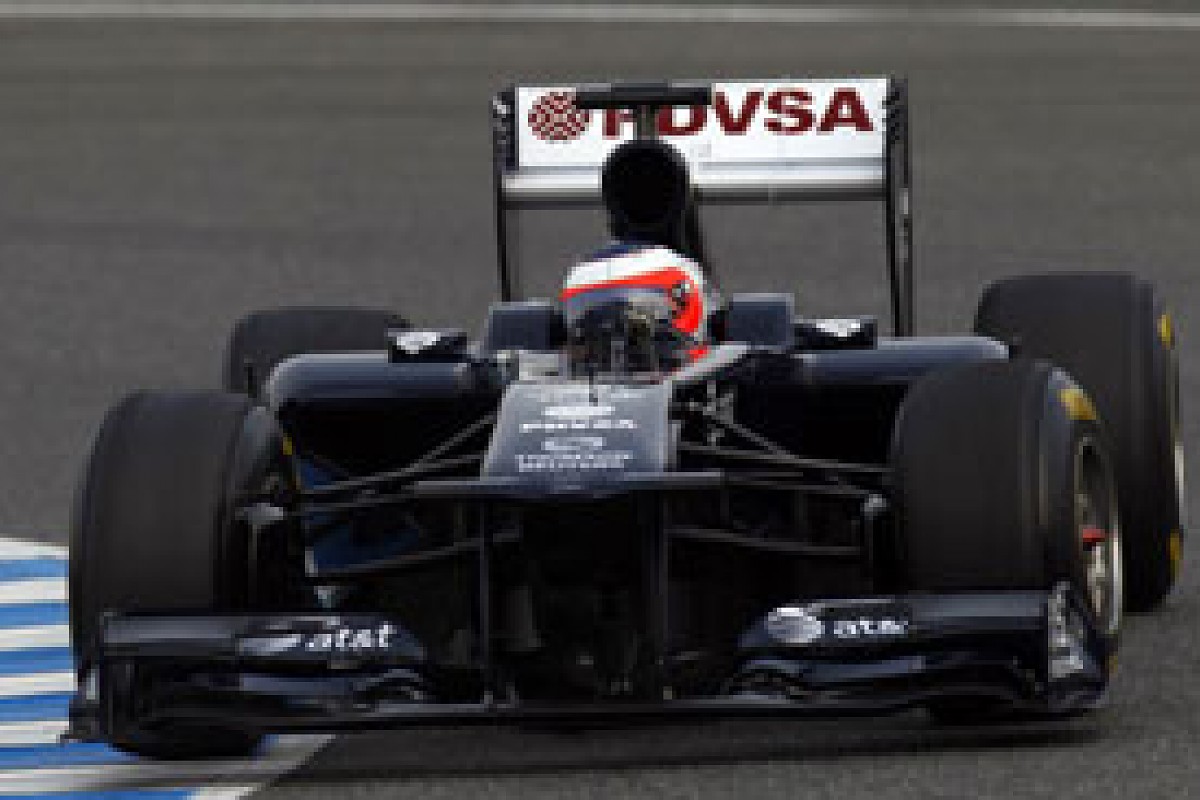 Rubens Barrichello © LAT
With this variation in fuel load being used by the teams at different times of the day, it makes any sort of calculation very difficult. However, you can take a couple of rounded up assumptions to try to see some light at the end of the tunnel. Around Jerez the car uses 2.5kg of fuel per lap and 10kg extra weight makes the car slower by 0.4s per lap.
Using the above assumptions, if you take Barrichello in his Williams - who set the fastest time of the week today with a 1m19.832s - at the beginning of an eight-lap run. To do this he needed around 20kg of fuel on board.
Later in the day he did a 1m26.8s at the beginning of a 25-lap run. The difference in laptime is so dramatic that he must have gone from 20kg of fuel to something like 160kg. This means he would be 5.6s slower per lap, which is not far adrift of the calculations. He would also have been looking after the tyres a little better than he was on his shorter runs.
After 16 laps of this 25-lap run, his times started to increase and he was in the 1m29s when he called it a day. Jerez is quite hard on the tyres but with this sort of drop-off we can look forward to multi-pitstop races this year. Working that backwards, if he was to go for a qualifying run with only three laps of fuel on board, he could probably do a 1m19.3s.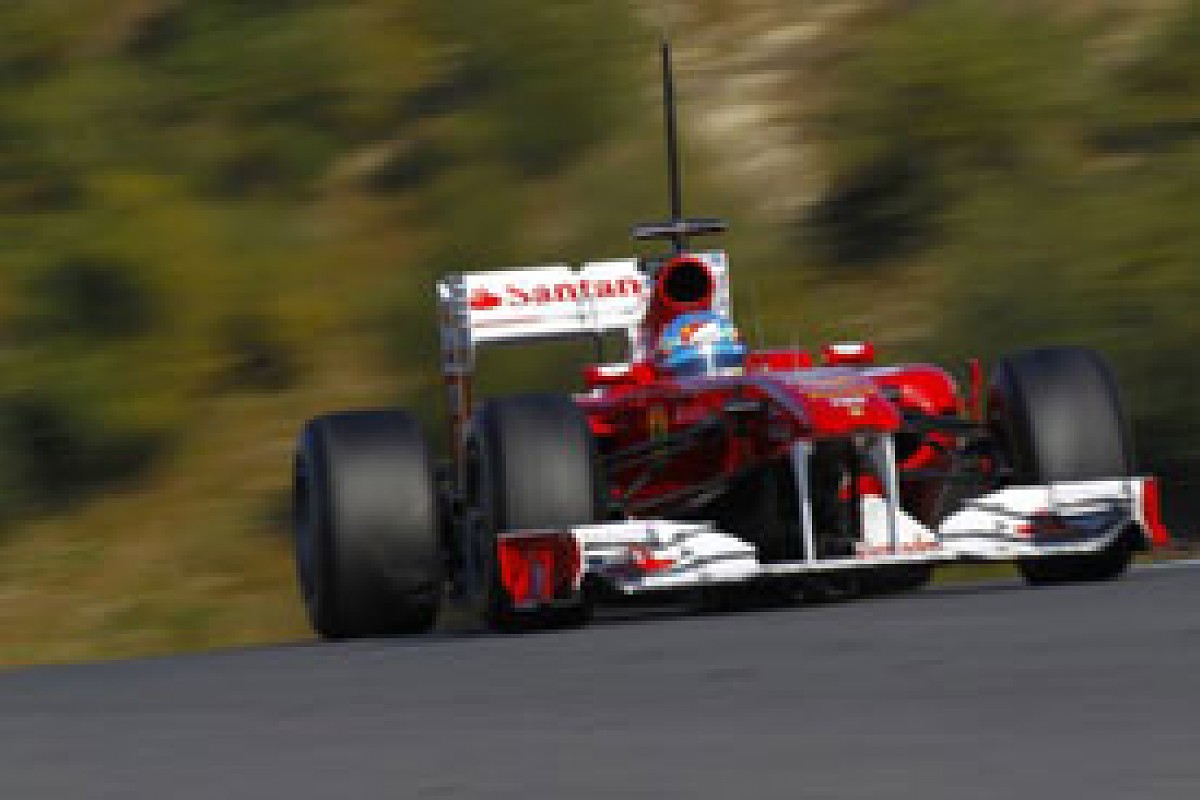 Fernando Alonso © LAT
As you can see, a small difference in fuel load can make a big difference to laptime, so it is difficult to assess who is quick and who is not. All I can say is Fernando Alonso did 115 laps and Sebastian Vettel 90. I'm sure these teams were focusing mainly on tyres, as opposed to going for any fast laptimes.
It has always been important to qualify at the front, but for 2011 things might change just a little bit if the tyre drop-off is as dramatic as it looks. We could get multiple pitstops, with different cars using the tyres in different ways - and race strategy would become the prime factor.
As we used to say, Saturday is for glory and Sunday is for points. We all know points make prizes and in Formula 1 that's a huge cheque from Bernie Ecclestone, so I'm sure the real challengers are still concentrating on getting those points at the end of Sunday afternoons.
I'm off to Barcelona next weekend to smell the fumes in person, so hopefully I will be able to get a better feeling of what is happening for the upcoming season. Barcelona is, in reality, the first of the real tracks, where teams actually race, so the times are more meaningful. As the season gets closer, I'm sure everyone will be getting more tempted to fire in that qualifying lap just to see where they really stand.
Jerez testing: Day two - February 11
At the end of day two at Jerez, the teams are starting to get in some very serious laps - Schumacher, Massa and Webber all doing in excess of 100. But it's still very difficult to get a picture of who is where as far as performance is concerned. With Pirelli having all four compounds present, it skews the laptimes because from the super soft, which basically lasts one lap, through to the hard, which is much more consistent, there is a difference of about two seconds. With fuel load also effecting the outcome - on a circuit where 10kg of fuel is equivalent to about 0.3s - some teams running the adjustable rear wing and some KERS, it is very easy to see why the times can be somewhat confusing.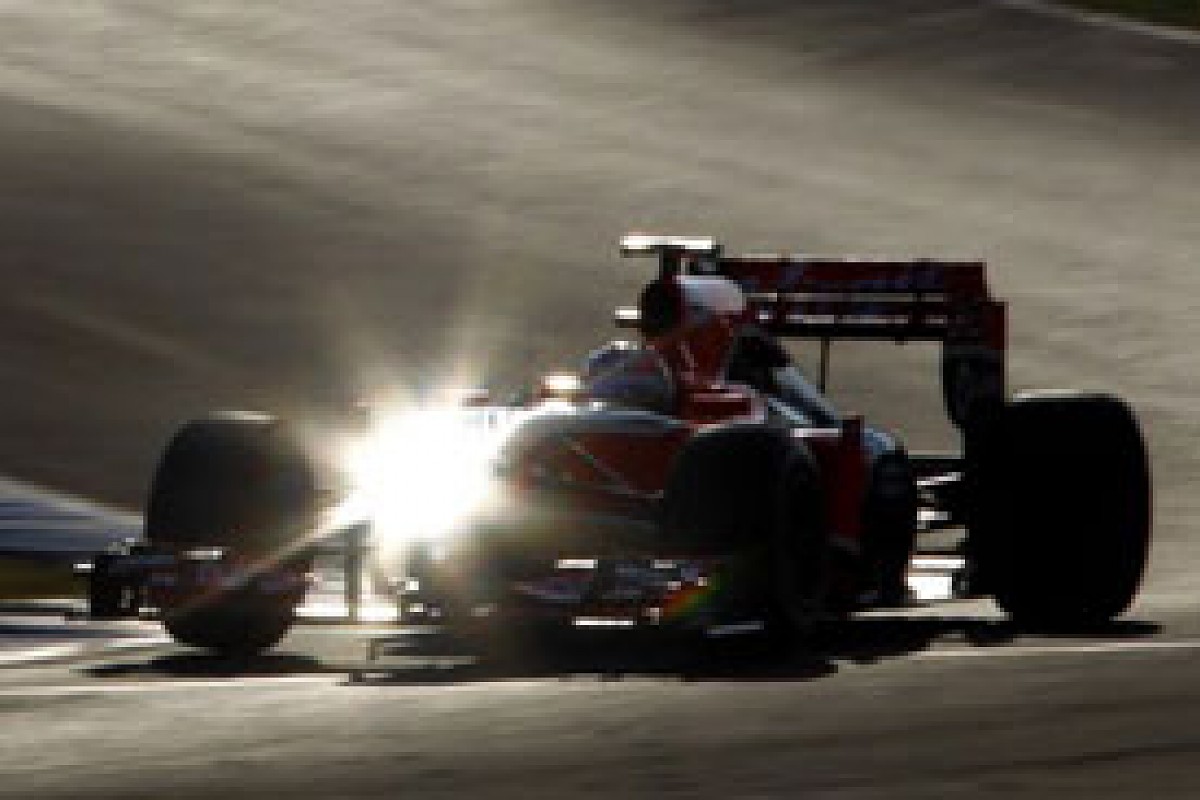 Timo Glock © Sutton
The consistency from Ferrari, Red Bull and McLaren shows they are working pretty hard on minimising tyre degradation. Michael Schumacher being fastest today shows Mercedes is going in the right direction to achieve a single-lap time, however they may have to work a bit harder to get the consistency required for a race distance.
Nico Rosberg was quite disappointed yesterday, but I think he needs to be stronger - and take the ups and downs as they come - because if it was that easy, everybody would be doing it.
I was quite impressed by Timo Glock's time today, even if he was on a relatively low fuel load. I don't think Schumacher was on too heavy a load, so to be only 1.8 seconds behind Mercedes, I'm sure they're feeling pretty good in the Virgin garage tonight.
It always disrupts tests when you have a bit of an off with a new car, because no matter how big a team you are you never have enough spare parts to cater for accident damage. With Sergio Perez in the Sauber and Pastor Maldonado in the Williams both having reasonable-sized incidents today, it will definitely set their test programmes backwards.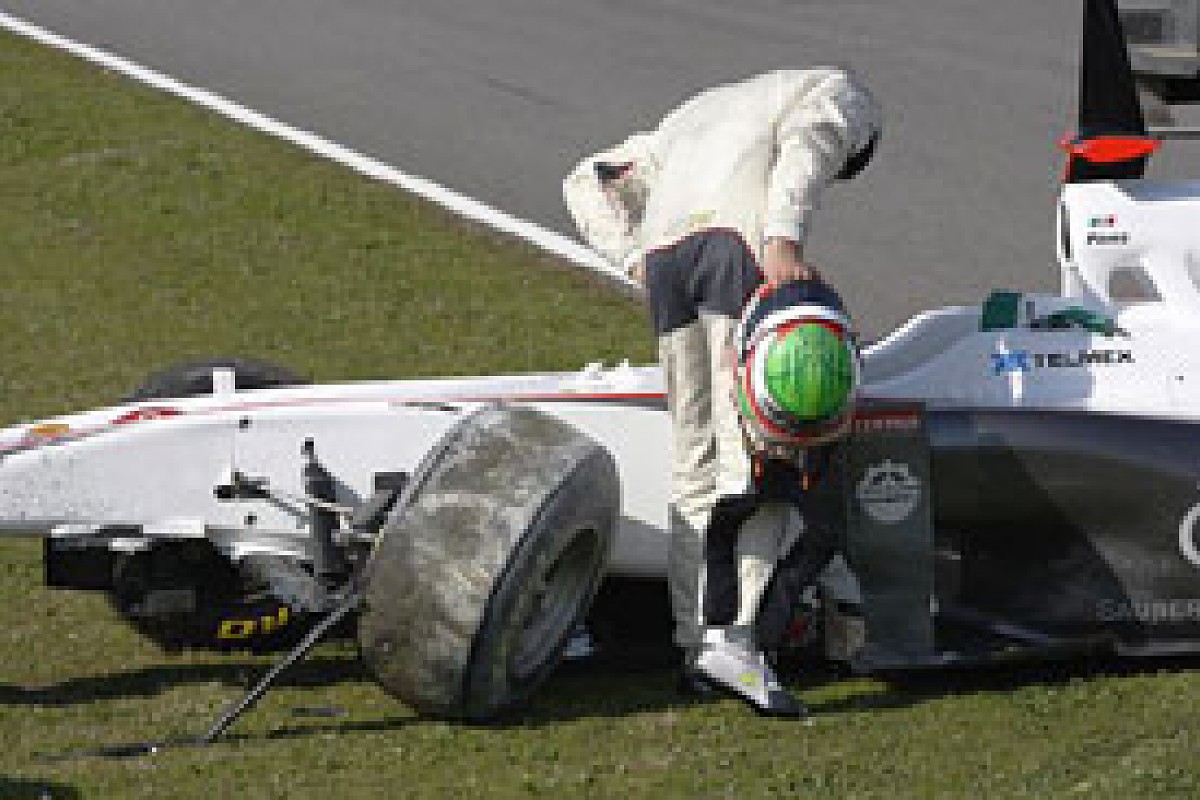 Sergio Perez © Sutton
Catching up with all the bits you need just to keep running and react to the development direction that the test is pointing you in becomes a major task. If you have too many of the current parts and you need to change something, it is a huge waste of money. And if you don't have enough of them, having a whole team of people sitting at Jerez twiddling their thumbs waiting on parts is again a very expensive way of achieving nothing.
Saturday and Sunday will start to consolidate who is who, as far as performance is concerned - and I have no doubt that most teams will have tried a soft tyre, low fuel run before the sun goes down on Jerez on Sunday night.
• Jerez testing: Day two image gallery.
Force India reveal: February 8
It's 20 years on since Jordan Grand Prix was launched and the Jordan 191 was rolled out of the Silverstone workshops. Today we saw Force India's 2011 challenger which is the team that has grown out of the remnants of Jordan. There have been a few different owners along the way but it is great to see someone like Vijay Mallya with the commitment and determination pushing for success in Formula 1.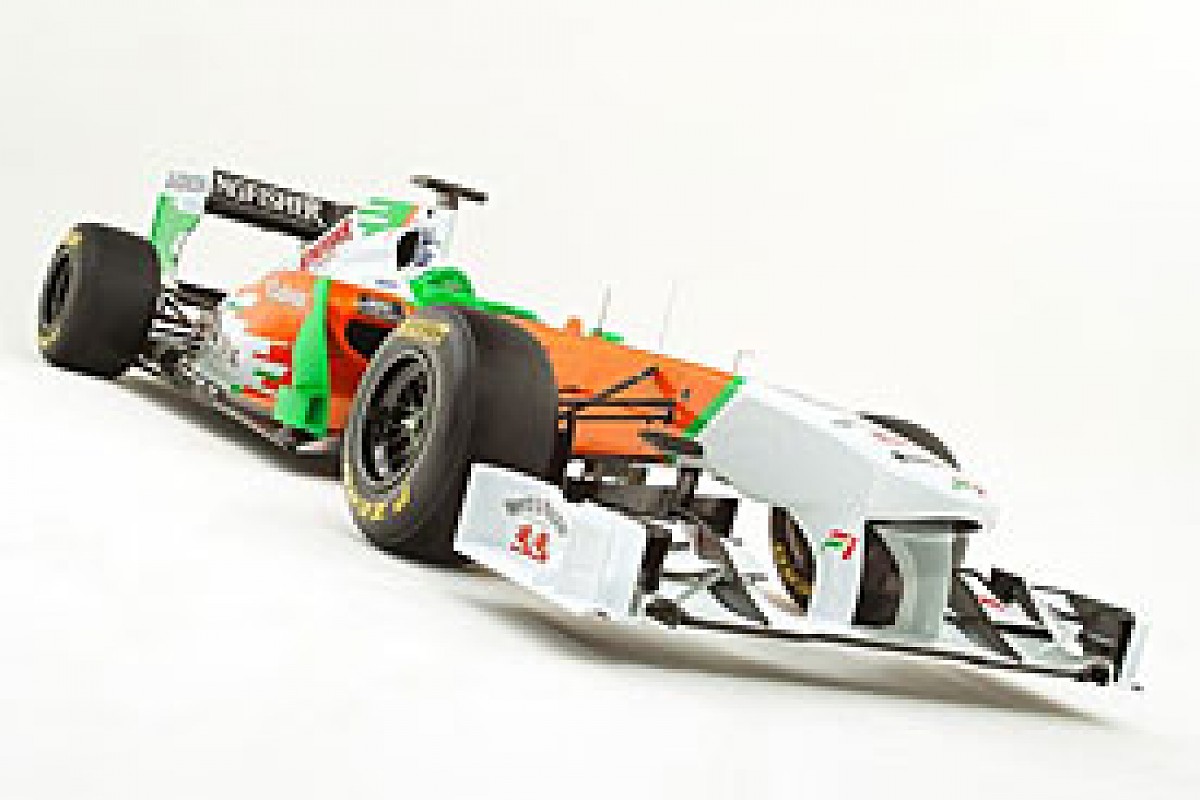 Force India VJM04
The new VJM04 is a neat looking piece of kit. It has all the right attributes and as the team said in its press release, there are plenty of new parts to come before the car's first race in Bahrain. There is also a very aggressive development plan for the season.
From what I have seen today I think this will be necessary if it is to achieve its goal of finishing fifth in the championship.

Adrian Sutil, as we know, is a very experienced and competent F1 driver but he does seem a little like a magnet for accidents. Paul di Resta has achieved success in every formula he has driven in, but it will take him time to adapt to life in F1 as a race driver. To achieve fifth in the championship these guys need to be scoring reasonable points in every race and that is no mean feat when you look at the competition around them.

We also saw a sneak preview of what the HRT car should look like. I am sure that having had the winter to redesign and repackage the car, between them Geoff Willis and Paul White will have moved it forward a reasonable amount.
It would be nice to see them do a good job because while it is easy to criticise the underdog, I can assure you HRT is working as hard as the teams at the front just to survive.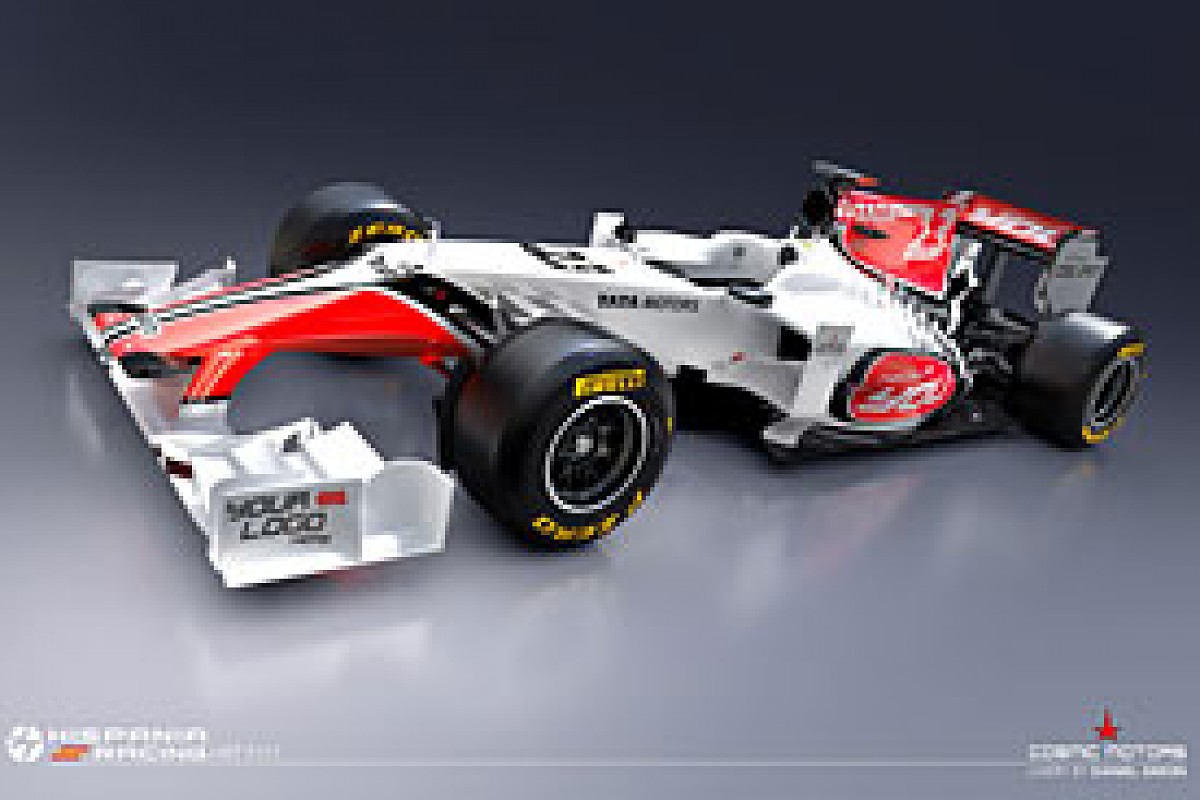 HRT F111
I was actually thinking the other day that out of the 10 teams the technical directors of four of them are all people that more-or-less started their F1 career under my guidance. Andrew Green (Force India) and Mark Smith (Team Lotus) both started with me in the early days of Jordan and the three of us were responsible for the Jordan 191.
Sam Michael (Williams) and James Key (Sauber) came to Jordan a bit later but they served their apprenticeship with me. I feel quite proud of all of these guys, they set out on a journey and achieved their goals and I wish them all the success they deserve. If I was starting a team tomorrow these four would be on the top of my list to call and check on their availability.

It's also great news to hear that Robert Kubica is improving by the minute. I don't think we will ever know the severity of his injuries, but I really do hope he can come back and drive in F1 again. He is a talent that will be sorely missed this year.

That's it for now but I will be back online as testing continues on over the next couple of weeks.
• Force India VJM04 launch image gallery.
• HRT F111 launch image gallery.

Virgin launch: February 7
Virgin released its new car today and it is, as far as I am aware, fully CFD [Computational Fluid Dynamics] researched. The MVR-02 looks to me to be a step forward to last year's car, however, compared to front-running teams it's still relatively simple.
It is very difficult to optimise and detail the aerodynamic package using only CFD. It's great for understanding the flow regime around various components, but when you go to a wind tunnel quite a few development directions are found more by luck than judgement.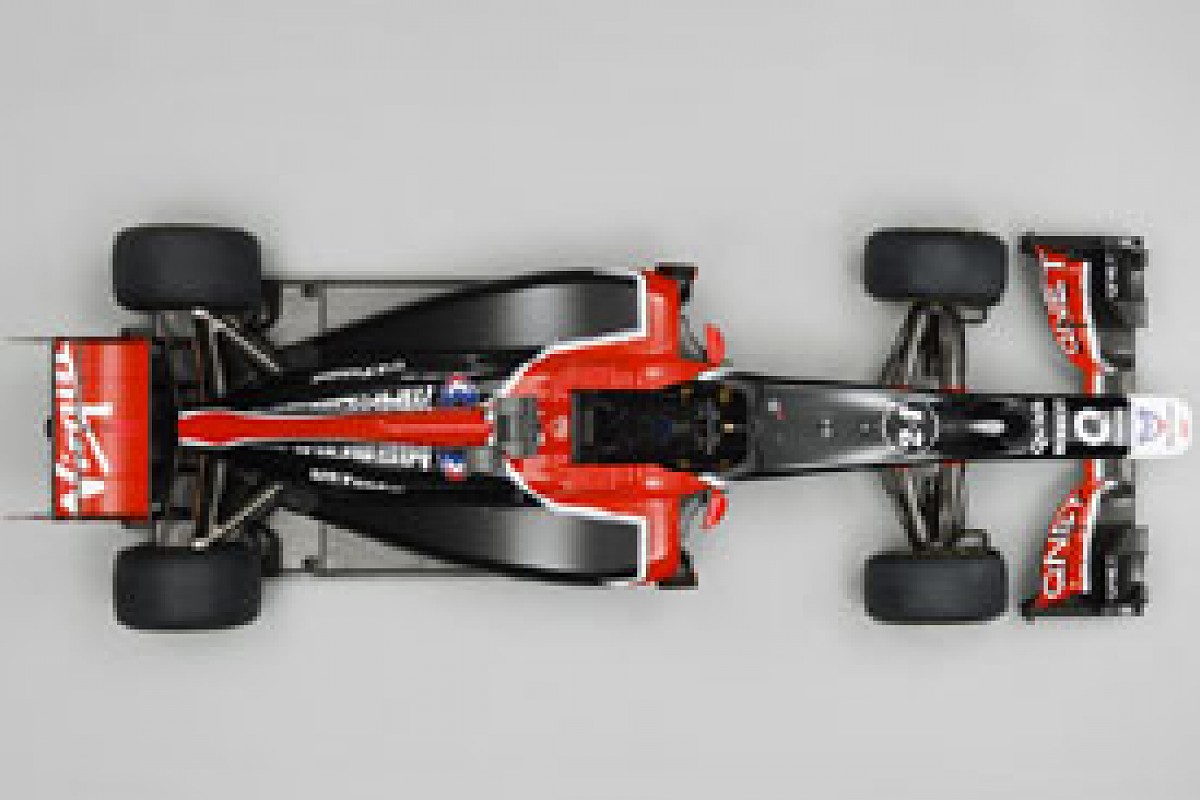 Virgin MVR-02 © LAT
Having the availability of a wind tunnel, just to experiment a bit with add-ons like small Gurney flaps here and there, or different trim lines to components, really does assist with the direction required to optimise the design. Then you can use CFD to understand it a little more to enhance the package.

The future for CFD is bright, and I think that in five years it will be a really strong tool. But for right now I think a 50/50 balance between wind tunnel and CFD would lead to a more sophisticated Formula 1 car.
But Virgin's launch faded into insignificance when I heard of Robert Kubica's accident. We are a bit isolated in Formula 1, as there have been so many safety changes to both cars and circuits since Ayrton Senna and Roland Ratzenberger's deaths at Imola in 1994.
Looking at Kubica's accident, it really could have happened to anybody - even in a road car - if the end of a barrier is not protected. Having the talent and opportunity to compete at the top level of F1 should be enough for any human being, but it's great to see drivers involved in other sports. Everyone has to live their life to the full, and for Robert rallying is his hobby as riding bicycles is for Mark Webber - and we all know he suffered the consequences of his comparatively tame hobby with a broken leg just prior to the start of a season.

We are hearing now that he has been able to move the fingers of the hand which was partially severed, and doctors say there seems to be circulation as his hand is warm. A lot of people in the pitlane - drivers, engineers, mechanics and the media all think a lot of Robert, so I wish him well and a speedy recovery. But with the injuries he received, I would expect him to be out for at least the first half of the season.
Also, well done to the medical team who performed an amazing operation to achieve what they have in such a short space of time.
• Virgin MVR-02 launch image gallery.
McLaren launch: February 4
For a team with the professionalism of McLaren, to have to go to Berlin to finish building their MP4-26 seems a bit disorganised. But, it said, it wanted the maximum time possible for research and development and I suppose assembling the car in front of the press certainly gave them that!
As with Renault and it's exhausts, Williams and it's gearbox, Toro Rosso with it's very undercut sidepod-to-floor intersection, it's nice to see that McLaren has also gone out on a limb and built something that looks a bit different. Will it work? Only time will tell.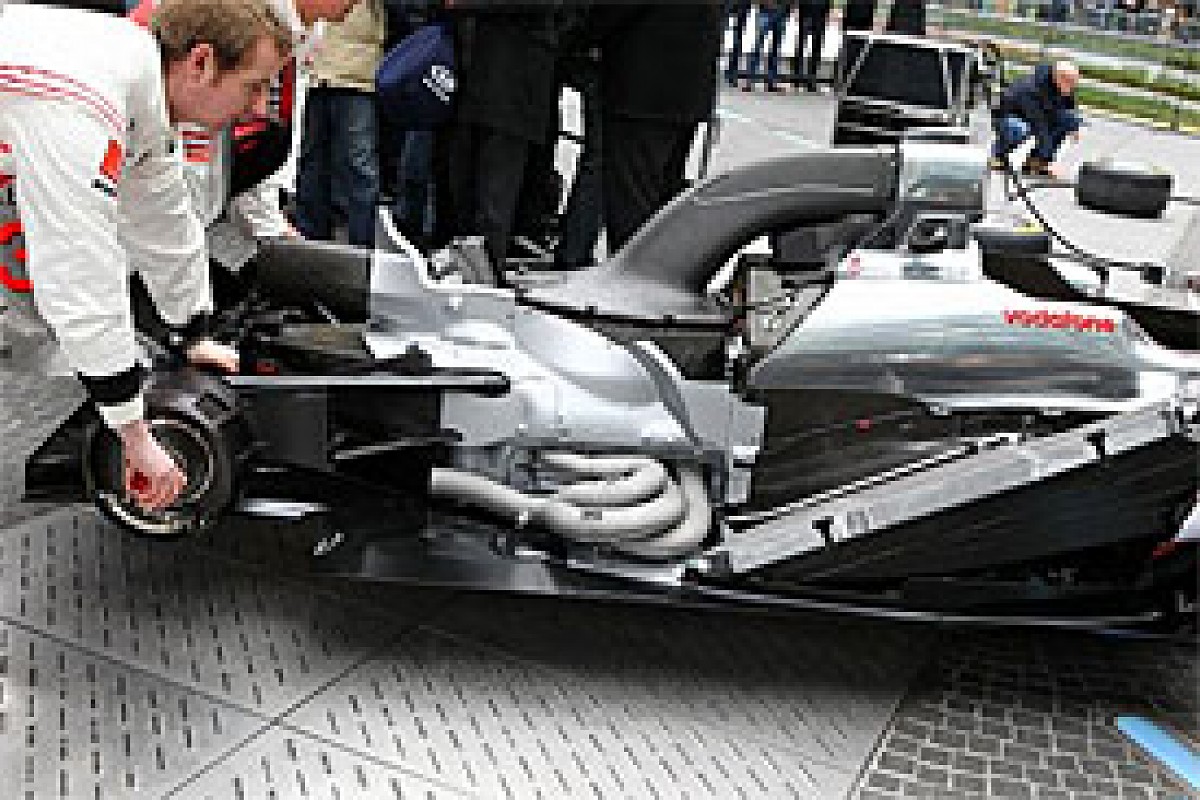 McLaren MP4-26 © Sutton
I have never, in my time in Formula 1 seen McLaren reveal as much of a new car at a press launch as it did today. There definitely must be something in the water around the Woking area, normally it is all hush hush and covered up until the car gets to the first race, but this time McLaren has revealed the underwear before the car has turned a wheel.
Well done Martin Whitmarsh for a very bullish approach.

The sidepod arrangement looks a bit like the Benetton B195 and the Ferrari F310 from the mid-1990s. We definitely haven't seen anything like this for quite a few years. There are some other quite interesting features on the car which make it all a bit different, but it does have a very standard exhaust system.
McLaren MP4-26
I am sure we will see changes taking place in this area because other teams have already found some interesting solutions to make more use of the high energy exhaust gases.

In other news, Lotus stayed on at Valencia and got in some positive running. Jarno Trulli and Heikki Kovalainen managed times in the high 1m15s, but at least they got in 90 odd laps. The team has got over their power steering problems. Now it can go on to Jerez and work on suspension set ups and check out that the aerodynamic package is working as predicted in the wind tunnel.

With the new Virgin set to be unveiled on Monday and the Force India on February 10, 11 of the 12 teams will go to Jerez with a new car. So we will get a better picture of who is who, hopefully we will also get some longer race simulation runs to compare who is making best use of the tyres.
With Hispania being the final team to introduce their car, which we are expecting just after qualifying at the first race in Bahrain, that will be our lot for 2011 and it will be down to which team has the best development plan post the first European-ish race in Turkey.

Catch up with you Monday after the Virgin release.
• McLaren MP4-26 launch image gallery.
Valencia testing: Day three - February 3
If you take the overall times for the three days at Valencia, just looking at the 2011 cars, it is:
1m13.144s Kubica
1m13.307s Alonso
1m13.614s Vettel
1m13.936s Webber
1m14.017s Massa
1m14.299s Maldonado
1m14.458s Perez
1m14.537s Schumacher
1m14.645s Rosberg
1m14.801s Buemi
1m15.621s Kobayashi
1m16.023s Barrichello
1m16.351s Petrov
1m16.474s Alguersuari
1m20.649s Kovalainen

It's always difficult to compare times on different days due to variable conditions, fuel loads, programmes etc. Valencia, being a very short circuit, means the laptime deficit for carrying fuel is about 0.25s per 10kg. But we still have to look at the times and try to form some sort of a picture.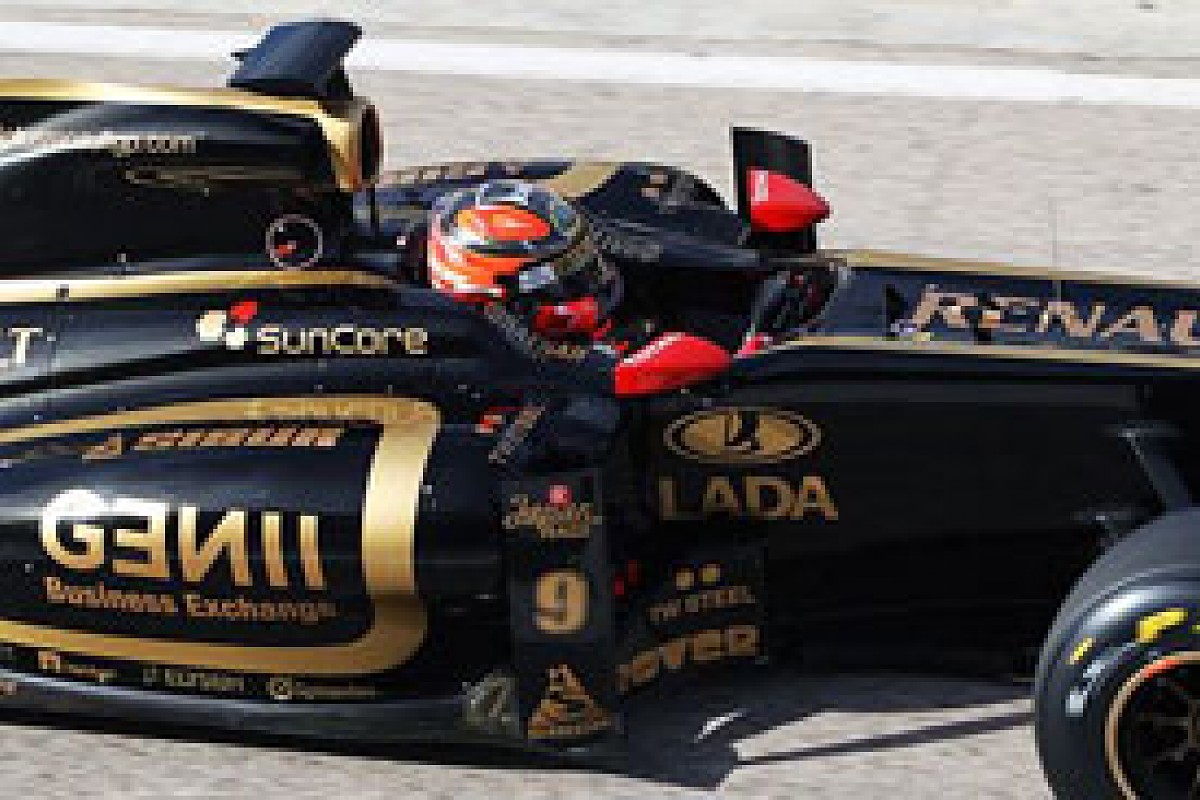 Robert Kubica, Renault R31 © Sutton
The Renault, Ferrari and Red Bull seem to be up there - nice to see a team like Renault, that has gone out on a limb with the exhaust system, making good use of belief in a concept.
Further down, when you get two drivers doing more or less the same times in the same team - like Schumacher and Rosberg - it has to ring some bells. If you take Schumacher's time today, 1.4s slower than Kubica equates to approximately 60kg of fuel. I really don't think any team would be running its car consistently with that much difference, as it would destroy the tyres and they'd get no real information on what the car was doing.
Inevitably when someone goes quick with an innovation, rivals will head back to their factories to evaluate the potential of the concept. That distracts attention from the package they've created, and changing direction at this late stage can mean standing still. If you stand still in F1, you go backwards. Renault has done exactly what it wanted - done the fastest lap with its new concept, confused the living daylights out of the rest, and sent them off for a week of head scratching.
Next up is the Jerez, where we'll get another couple of 2011 cars - and I think probably a better picture than Valencia, which is a bit of a one-off track requiring a different set-up to most other places.
• Valencia testing: image gallery.
Valencia testing: Day two - February 2
As testing in Valencia continues apace so today we saw Fernando Alonso's Ferrari on top of the pile with a time of 1m13.307s. That's 0.4s faster than Sebastian Vettel went yesterday and 0.3s quicker than the world champion could manage today too.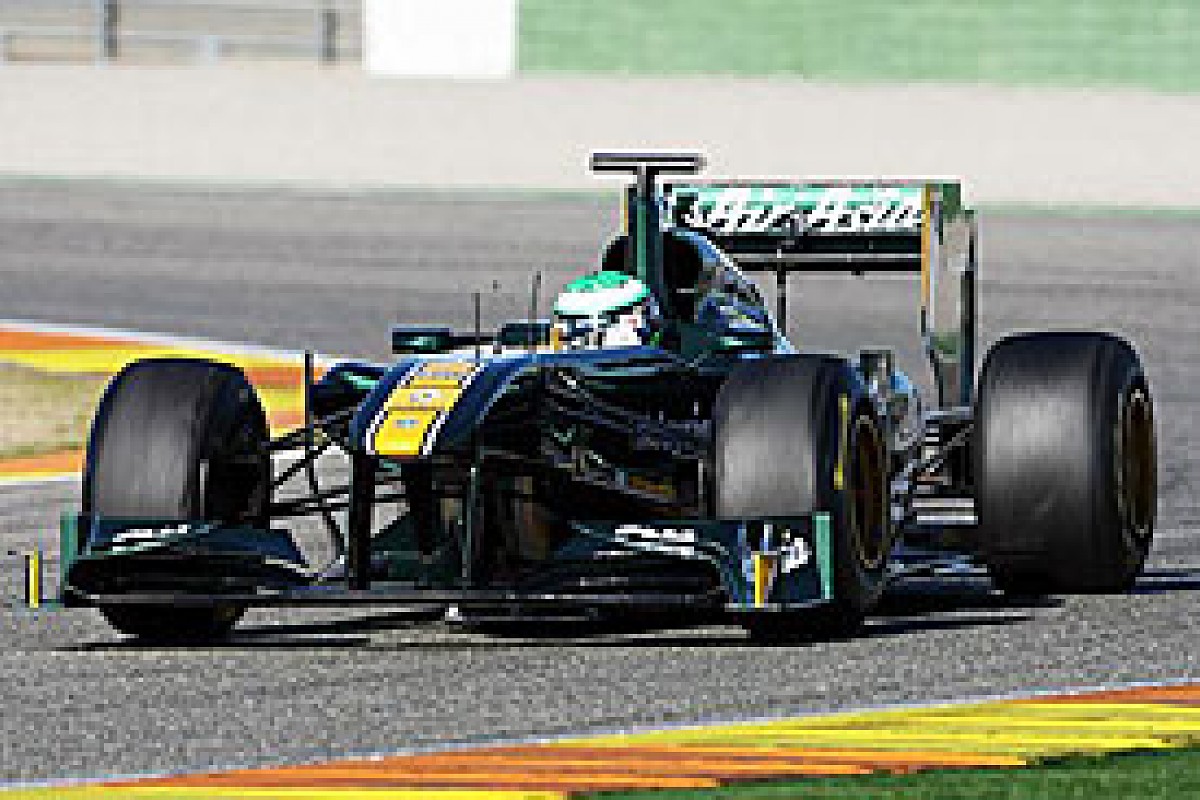 Heikki Kovalainen tries the new Lotus T128 © Sutton
But all I think Vettel's time shows is that Red Bull is running the car to get the information it needs with a fairly stable fuel load, I don't think we can read too much into the times just yet. There were 11 different drivers driving eight different 2011 chassis - that's a fairly good turn-out for this test and I think by the end of Thursday night we will probably see a bit of a picture begin to unfold.

Lotus joined the fray today with Heikki Kovalainen driving. The team had a few issues and it only managed to complete 15 laps and at the end of the day the T128 was 7s off the pace. That's no big problem though, we will have to wait to see when the team gets it running but, from what I hear, Kovalainen was raving about how good the car felt compared to last year's! I hope his comments are justified as I think everyone would like to see the Lotus name do well.
But, as I said in this blog yesterday that is actually what drivers are paid to do. It was the first public airing of the Lotus's fin-style roll over bar, similar to that which Mercedes used last year, and it will be interesting to see what the reaction of the teams is to the concept.
I was led to believe that there was an agreement that although fully complying with the regulations as they are written, it was unanimously accepted that if the car turned over in the gravel trap it was not as effective as the more conventional design.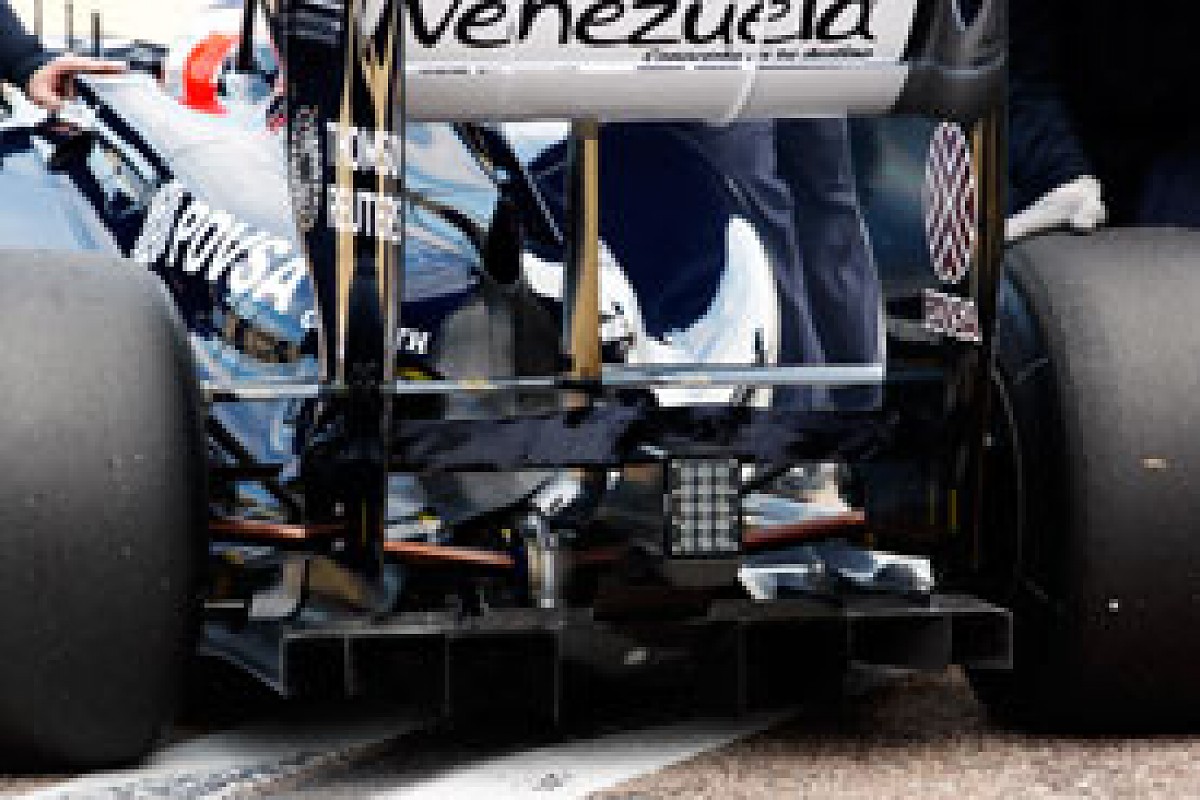 The Williams FW33 rear-end © Sutton
One of the interesting features on the new Williams FW33 is the height of the differential. This picture taken in the pit lane shows the angle of the drive shafts, and when the aerodynamic forces are on the car, the rear ride height will reduce by about another 50mm. So you can just imagine what the angle will be like then and how much work the drive shaft joints will have to do at that angle.

So what's all this testing about, well obviously everyone wants to test their cars and check for any reliability issues. The more miles that you can do the better, but it is vitally important to actually strip and inspect the cars periodically to see if anything is going wrong because if you keep running until something breaks or destroys itself then it is usually too late to identify where the problem began.
On the way to doing this the teams will also be trying various different set ups on the cars to see how they effect tyre degradation of which I am reliably informed there seems to be quite a few problems.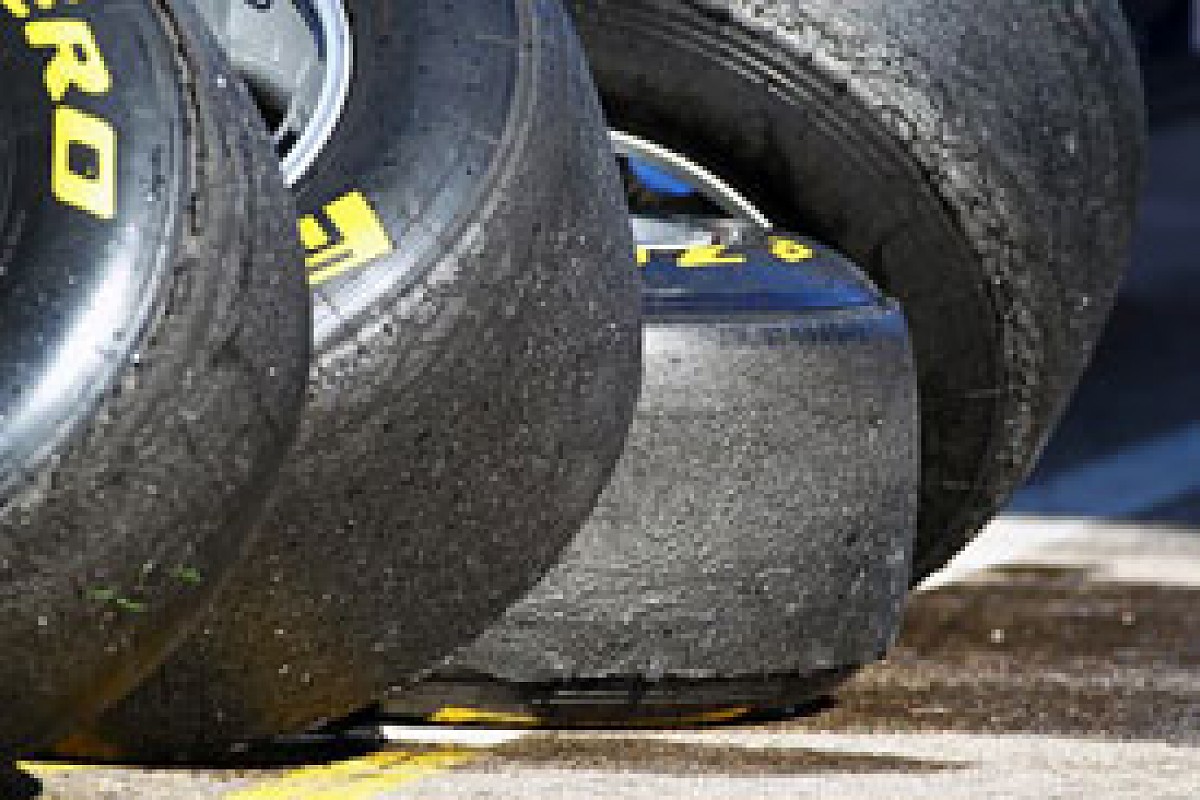 Degradation has been high on the Pirelli tyres © Sutton
It is always very, very difficult to recognise a car's characteristics if at the same time the tyres are also changing their characteristics by graining etc. Making the decision whether the car is responsible for the tyres degrading or whether it is just an inherent tyre problem again, is always a very difficult. Either way, by the end of this test the team who can identify the problems, instigate the developments that will help this problem and get the parts manufactured as required before the season starts that has an advantage.

Amidst all this the goal posts will be moving as Pirelli learns more and more about the tyre requirements and changes its tyre construction and compounds. But there will come a time when Pirelli will have to build the tyres required for the first races. So really, to allow for manufacturing and shipping, the cut-off point for that must be very, very soon.
• Lotus T128 launch image gallery.
• Valencia testing: image gallery.
Valencia testing: Day one - February 1
If it was anything like when I was closely involved, most of the technical directors will have had a sleepless night before their baby ran for the first time today. I have never had a baby but, for me, seeing the car you have been visualising for the last six months take to the track for the first time must be similar.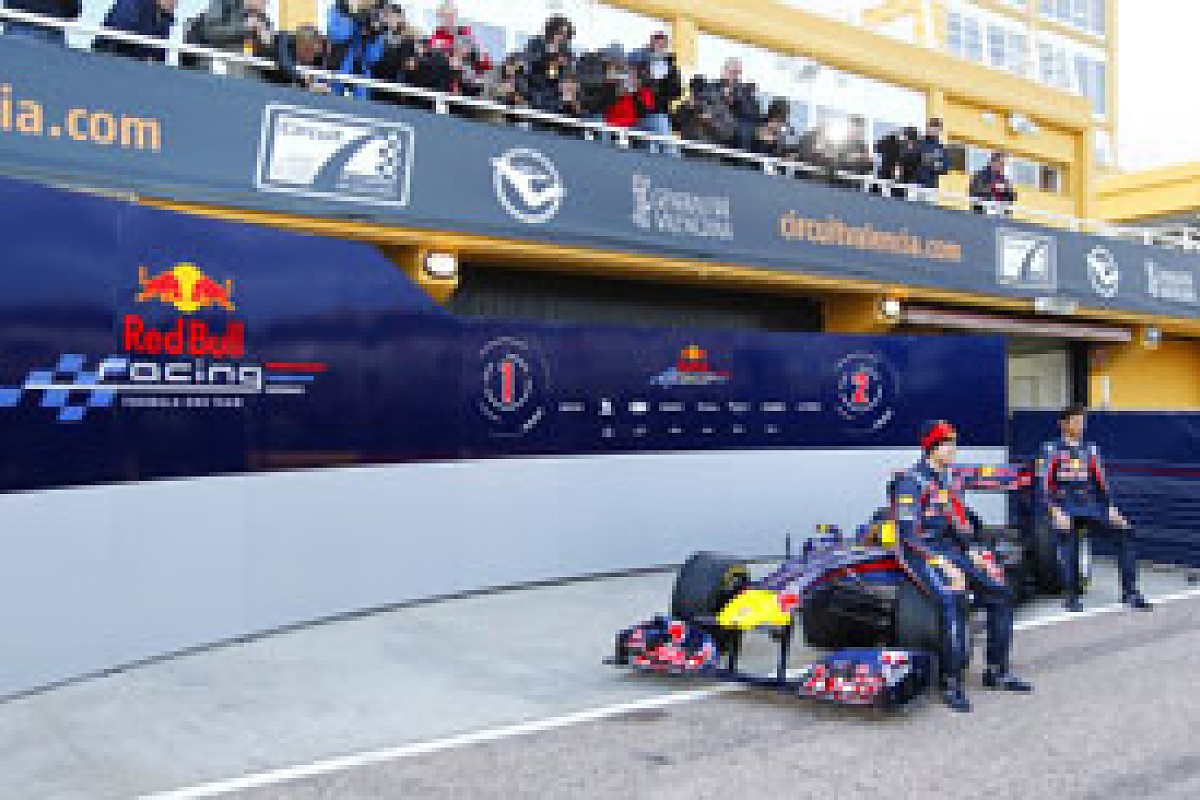 Red Bull RB7 launch © LAT
Taking a quick overview of the new cars introduced today, nothing really startling stands out. Yes there are differences, but in reality the regulations are so restrictive to most innovations that, other than small details, the cars look very similar. It is the third year of this regulation package and most teams have a good understanding of what is possible.
Having said that, we will see big performance differences between teams - because the small details can give you an advantage. It's not just about taking what you think is best from each car and putting it all together. Every device is developed to work in the flow of the components around it, so if you take a Red Bull barge board and test it on a Sauber, the results will be worse than the standard Sauber component. If Ferrari was to build what it might class as a Red Bull clone, the wind tunnel results would probably be worse than its own car - because the smallest detail can really bring aerodynamic components alive. That is why endless hours are spent in the wind tunnel and with CFD to optimise every trim line, curve or surface.
The one team that has gone out on a limb is Renault. It has done something strange - sorry, let's call it innovative - with its exhaust system. By exiting it at the front of the sidepod, in the undercut area, it's trying to increase the air velocity in this area - similar to what the bargeboards do.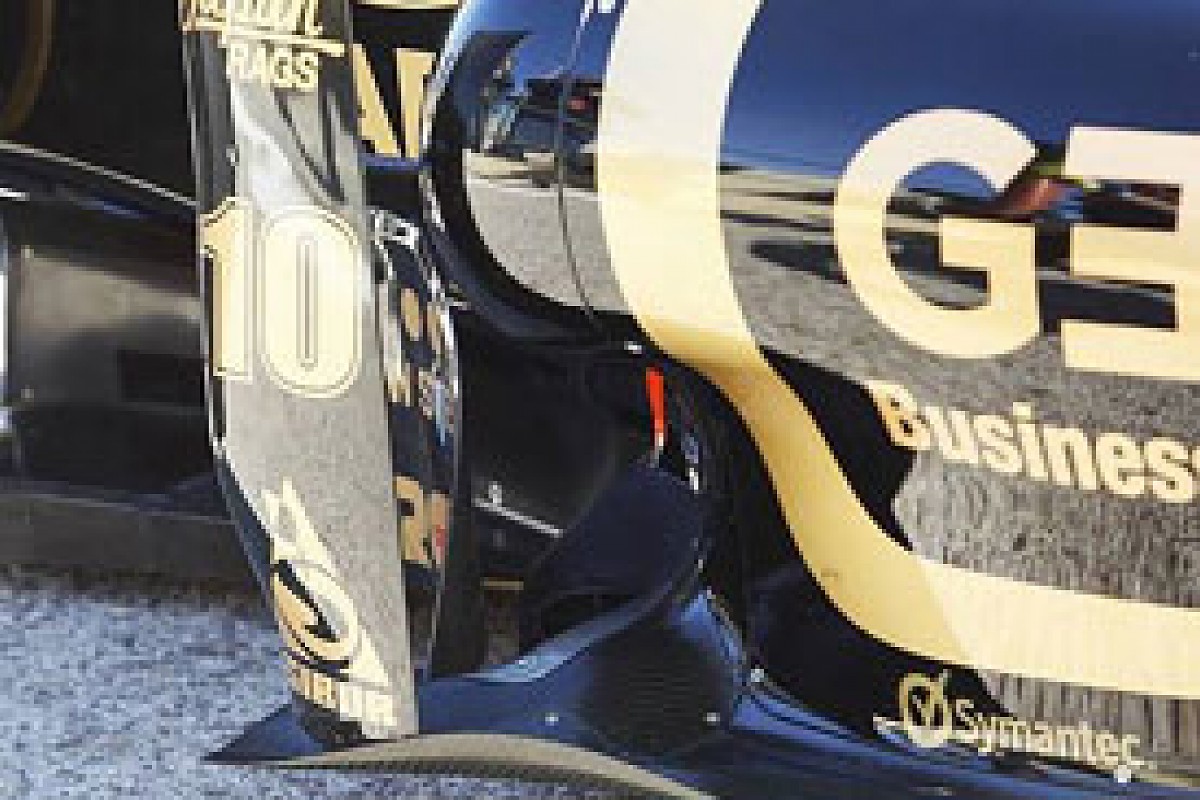 Renault R31 exhaust © Sutton
This helps scavenge the mass air out from underneath the front of the chassis, which in turn helps the front wing to work more efficiently. The problem is that with this length of tailpipe you lose a reasonable amount of top-end power. So I think there is more to it, in that it has the tailpipe blowing into a larger pipe. If this can be made to work, it would probably bring all the positives to the table but no real negatives, other than packaging.
Red Bull has picked up where it finished 2010. A 1m13.769s around Valencia is a pretty quick time on the first day of a test - and Red Bull is not into showboating. To complete 93 laps with a new car straight out of the box, I think everyone in Milton Keynes should get a pat on the back and an extra can of Red Bull to help them through the sleepless nights that are coming up.
As for the others, it is always difficult to know until a couple of days into a test when teams have got over any teething problems. But it's just as difficult to drive a fast car slowly as it is to make a slow car fast. With Alonso in the Ferrari 0.8 seconds slower than Vettel, and the rest well behind that, the midnight oil will be burning brightly in Valencia and there will be a lot of pondering over data tonight.
• Red Bull RB7 launch image gallery.
• Mercedes MGP W02 launch image gallery.
• Toro Rosso STR6 launch image gallery.
• Valencia testing: image gallery.
Sauber and Renault launches, Valencia - January 31
There must be a lot of weary red-eyed mechanics rushing around various factories as the Formula 1 teams unveil their 2011 championship contenders. It's always a difficult time for these guys. Once you set a launch date you have to try to get there, and some parts just don't arrive on time. So the last few hours are always very hectic. I am sure some of the cars we have seen pictures of are not actually ready to run.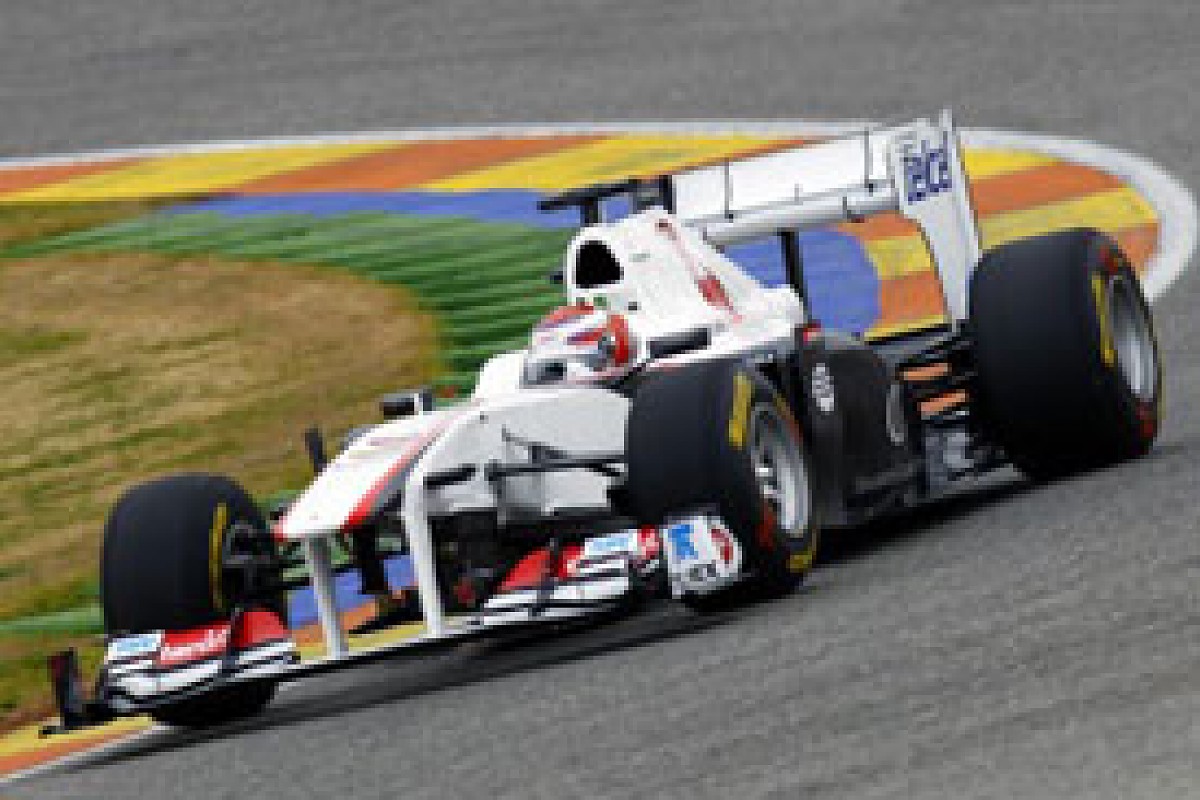 Sauber C30 © LAT
The Sauber C30 looks very neat and tidy. Ex-Jordan employee and new technical director James Key will make a difference to this team this year. He is a very clever guy and has a good all-round grounding in F1. Or at least I hope so, as he used to work for me!
With Peter Sauber having re-taken ownership of the team from BMW, it has a fantastic facility in Hinwil with all the equipment required to do a first class job.
Using the Ferrari engine and transmission package will also enable Sauber to run the Ferrari KERS unit and this is a major percentage of the car that will allow it, as a small team, to really focus on getting the best out of the rest of the car as far as aerodynamic development is concerned.
The car itself is traditional in design and has a high nose and an intricate front wing. I like the roll over bar area as it is heavily undercut between the engine air intake and the driver's headrest. This allows the airflow off the top of the helmet not to affect the engine air flow.
Sauber has a very similar rear suspension lay out to Ferrari, which is not surprising as it uses the same gearbox. The C30 also retains the pushrod operated spring and damper unit - nothing wrong with this but in moving the rockers forward it requires huge angles on the pushrod. This would worry me a little as it really does change the load path and increase the loads in the linkage.
It looks as if Renault has really tried to push the boundaries. It has been very aggressive with the packaging of its R31. The black car looks good, but I must say it's very difficult to see the detail. They have a pullrod rear suspension similar to last year's Red Bull, which lowers the centre of gravity and minimises the aerodynamic blockage to the rear of the car.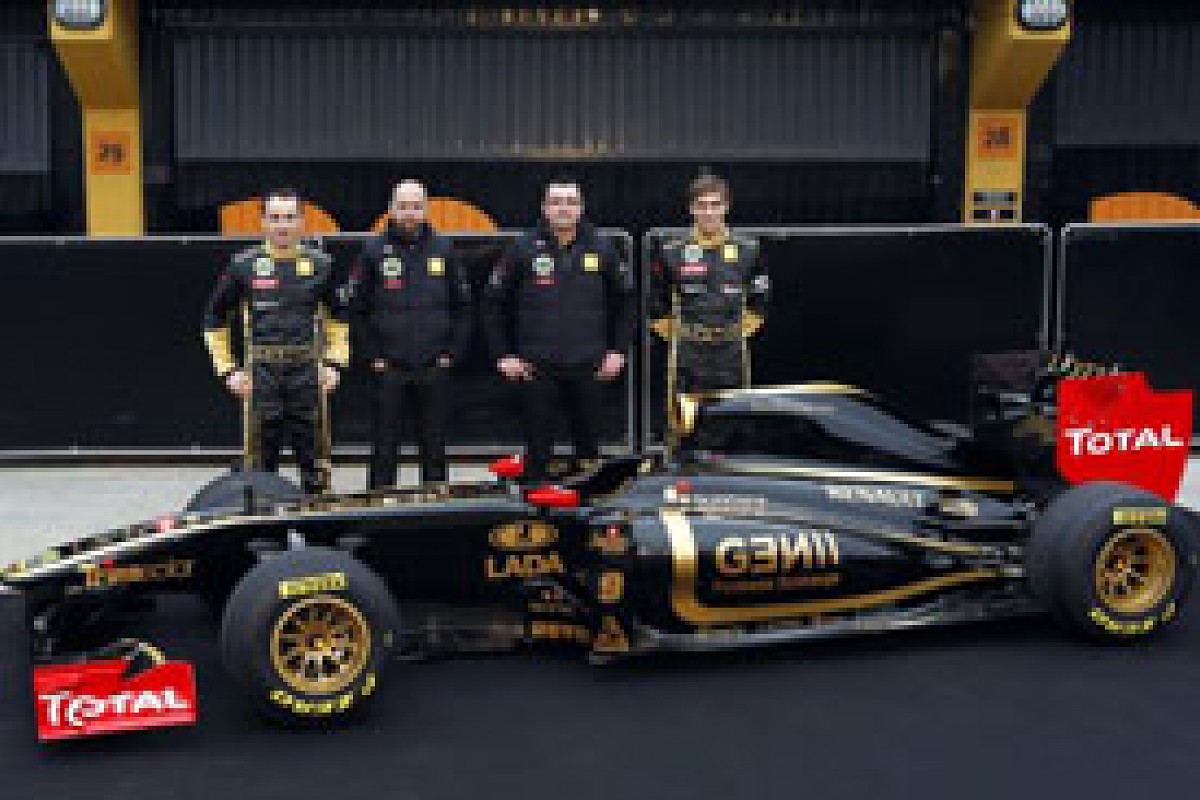 Renault R31 © LAT
The front wing is very intricate and I felt that during 2010 they probably had the best understanding of what it was trying to achieve with its front wing and endplate package. Looking at the new car, it seems Renault has been able to carry this understanding through to 2011.
The sidepods sweep dramatically down at the rear in the coke bottle area and it does look as if it has found somewhere new to exit the exhaust pipes. I think either time will tell if this idea works or, if it bursts into flames the first time it's driven down the pitlane, that will give us a clue...
Mercedes has given us a quick front view of its 2011 car and I really hope for Michael Schumacher's sake that the front wing is only on there to make it look good. I am not a great believer of a two-element front wing. When it runs this close to the ground and the inevitable air separation happens on corner entry while braking, the amount of front downforce lost is much more than with a three element front wing.
Schumacher needs all the front grip he can get on corner entry as that's the way he drives the car, and I really don't see this front wing suiting his style.
As for Lotus, from the pictures it released, it looks as if it's conducting testing in private in an underground car park in Norfolk! I think it should put a few hay bales around the support pillars before they get too serious about going for a laptime!
Seriously, getting on to the car, the roll over bar structure has adopted the 2010 Mercedes-style fin, albeit that it is a bit of a thicker section. I did believe that there was a plan to outlaw that type of system because of concerns over cars landing upside down and the fin digging in. It will be interesting to see what the outcome of this is, and I suppose in reality the question is: when is a fin a fin, or when is it a roll over bar?
Will bring you more on this one as it unfolds plus an opinion on the development direction they have taken when we see a few more detailed pictures.
• Sauber C30 launch image gallery
• Renault R31 launch image gallery
The benefits of pre season testing time - January 31

Not long now until we see a glut of new cars arrive on the scene, Monday-through-to-Thursday seems to be the time most teams have picked to get their cars up and running.
This means that most of the teams will effectively miss the first test in Valencia which in itself is no big deal as a lot of them will probably use their old cars to get some groundwork in on Pirelli's tyres and the new adjustable rear wing assembly. But when I was closely involved in the design of F1 cars I always felt you had to get the wheels turning with a shakedown in early January to give you ample time to recognise any problems that may be inherent in the design of the car.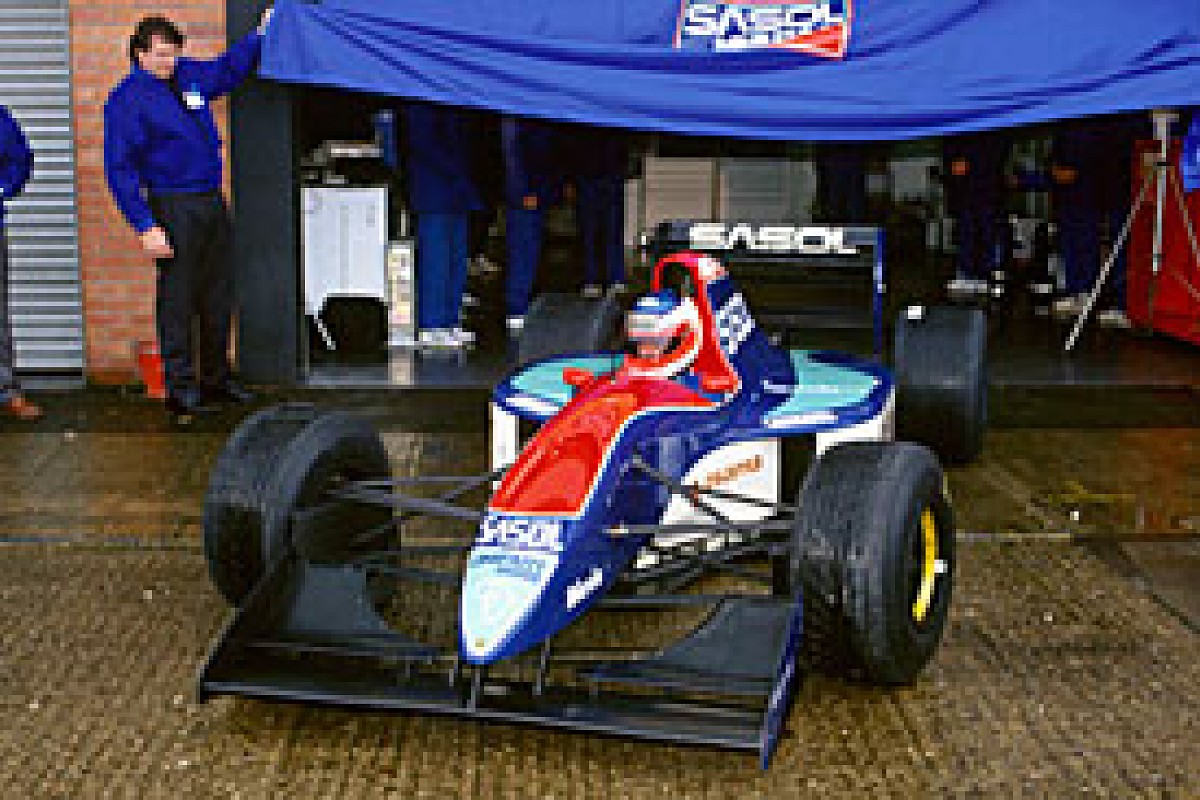 Gary Anderson watches Rubens Barrichello roll out the Jordan 193 in January of 1993 © LAT
For example if there was a design detail problem on the hydraulic manifold to get a replacement one machined could take up to a month it is such a complicated piece of kit. You don't really need any problems like this or suddenly your pre-season testing programme can really suffer.

As an example of this, one season with Jordan we had a hydraulic manifold problem. Because of those time restraints to get a new one manufactured it ended up that we sent the existing manifold to my dentist to get some very, very detailed work done down through a 3mm diameter hole!
The dentist was the only person I could think of with the equipment small enough to achieve this, luckily he took on this job as a challenge and we went from being able to do about 10 laps before we had a problem with the manifold to being able to finish races. Thank you Dave the Dentist.

It is also very difficult to really be confident that the cars aerodynamic characteristics, which would have been predicted from the wind tunnel research or CFD are the same as what you see on the track.
The transient aerodynamics of the car are so much more important than the steady state and by that I mean as you enter a corner, on the brakes then turn in, changing the steering angle alters the aerodynamic flow around the front of the car and can really have a major effect on stability.
Lots of downforce is obviously important but it is really the aerodynamic stability that gives the driver the confidence to push the car to the limit. The driver does not want to get bitten too many times by a quirky airflow separation problem - it won't be long before he stays away from the limit just to allow a margin of safety.

As far as mechanical reliability is concerned, most of the teams have test rigs which can twist, bend, break and run all the car components to within an inch of their life, but there is nothing to match the environment created when an F1 car is being run on the track at the limit. Everything is just working that bit harder because of the influence of the temperatures created by the engine, exhausts and brakes etc. The effect this has on the wiring loom or fluid piping, if something simple like a tie wrap - which is just a plastic component that holds wiring in place - melts can be catastrophic. Because of the exhaust temperature the wiring can get to close to high temperature components and suddenly you have a failure.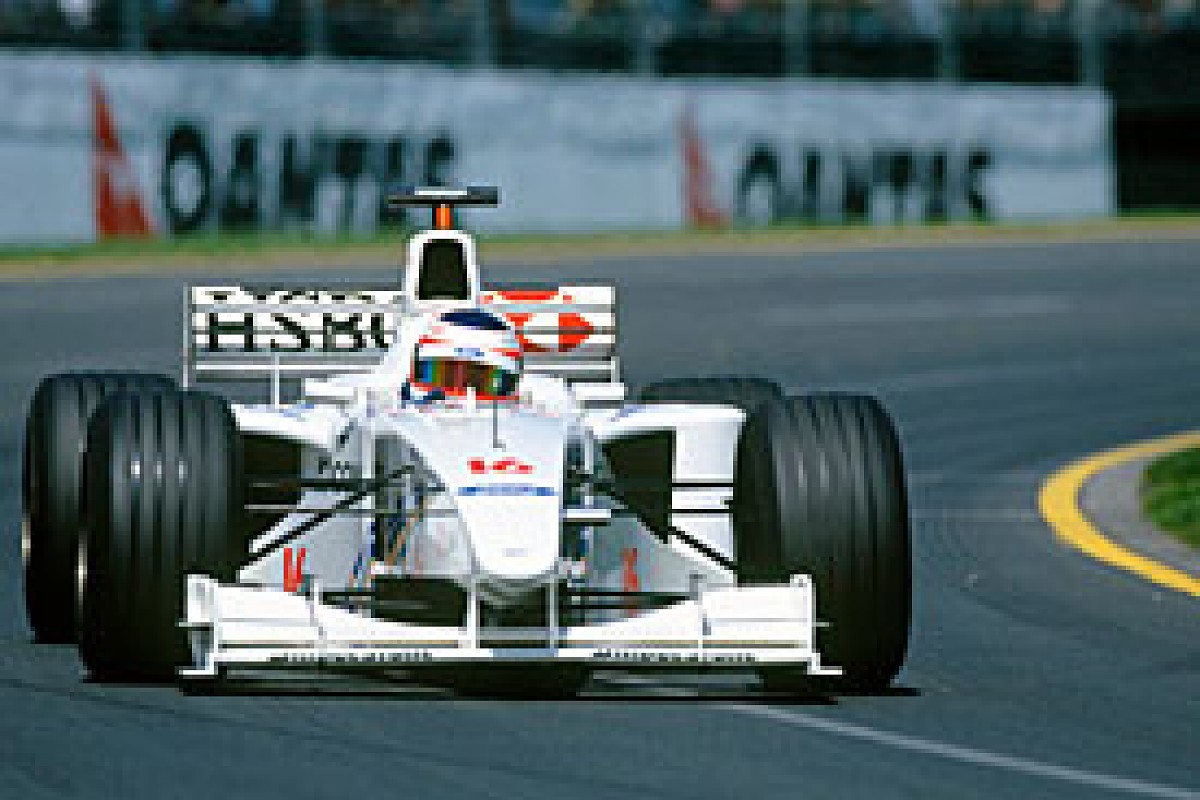 Australia 1999; everything was fine until the start of the race... © LAT
I actually suffered through having to watch two Stewart SF3 cars sitting on the grid at the first race in Australia in 1999 as both of them started to smoke then burst into flames. We had done many grid simulations with no problems, but a change of supplier for a carbon engine component resulted in the use of an inferior material which could not stand the temperature from the exhausts. Unfortunately these components were only fitted to the race engines. That sort of simple thing can lead to a bad day in the office.

I really feel for some teams when I see this sort of thing happening to them and the less testing time you have the more it will.
Thoughts on 2011's new challenges - January 30
By now Ferrari will probably have done the fastest ever lap around Fiorano with its new F150 and I am sure it will be a quick car and even a championship contender.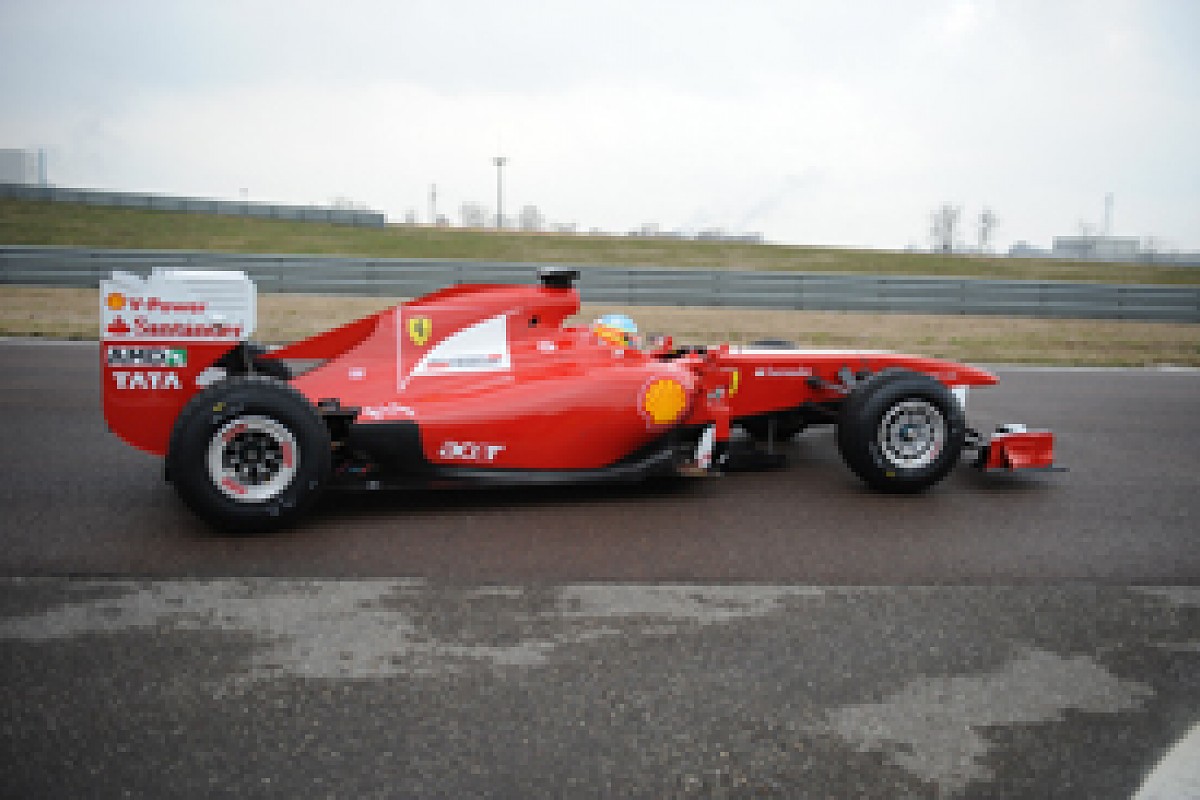 Fernando Alonso shakes down the F150
However, looking deeper into the technical regulation changes it is going to be down to a lot more than just the pure speed of any given vehicle. The reintroduction of KERS is going to favour the team which has most money - it really is a huge spend to keep on top of this with personnel and equipment. Although it's seen as a positive energy-efficient step for Formula 1, it is sad to see that it doesn't replace any of the energy that is created using fossil fuels, it is just on top.
A team that has KERS and the adjustable rear wing all working efficiently could be looking at a speed increase at a typical circuit of something like 20km/h. As we saw with Mark Webber and his Red Bull aerobatics when he tripped over Heikki Kovalainen's Lotus at Valencia, it doesn't take a huge speed differential between two cars to cause what could potentially be a dramatic accident. This combined with the fact that the driver is now going to spend a lot of his time fiddling with steering wheel buttons to optimise the use of these potential overtaking facilities could definitely result in a major safety issue.
The change from Bridgestone to Pirelli tyres is not only about trying to understand the characteristics of the tyre stiffness and getting your vehicle dynamics and suspension geometries to work in harmony with the tyres characteristics. It is also about how the tyre profile will alter under high lateral forces, and how this, combined with differing steering lock, will affect the air flow spilling off the tyre - especially the front tyre as this air flow management is vital to the performance of the underfloor.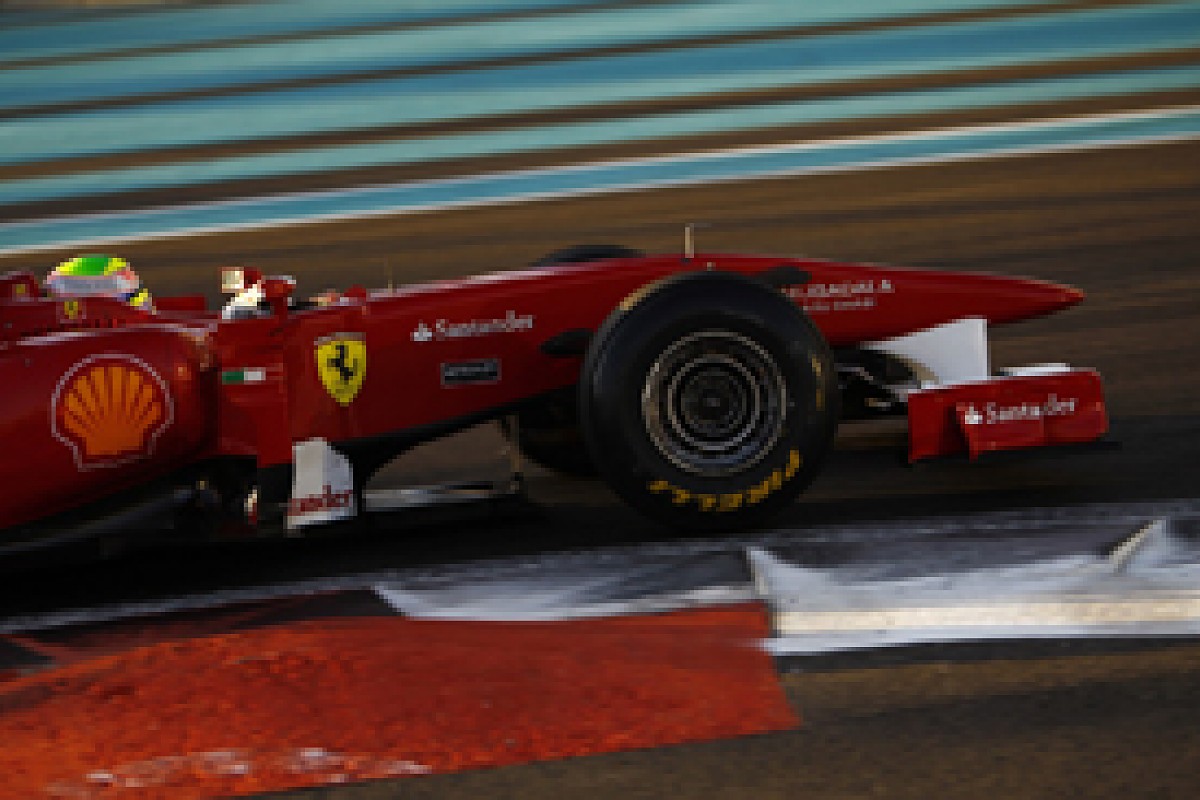 Getting to grips with the Pirellis could be key to 2011 © LAT
Bridgestone had windtunnel model sized rubber tyres for the teams to use and I am sure Pirelli will end up doing the same. But in the meantime some teams will understand tyre profiles better than others and could end up with a big advantage in this area.
As a comparison you just have to go back to when Renault changed from Michelin tyres to Bridgestone. After two very successful seasons Renault lost its way and put it down to the change in tyre profile. I never really bought into this completely and I am sure there were many other reasons for the drop off, but the tyre profile probably was part of it.
Ferrari launch - January 28
We might still be in the midst of those long, dark nights and short days of January, but for the Formula 1 teams it has been a winter of long days and very short nights to get their 2011 cars designed, researched, manufactured and assembled in time.
The first car uncovered is the Ferrari F150. It's certainly RED, but is it BULLish enough to be a contender for honours in the up-coming season? After the team dropped the ball at the final round in Abu Dhabi last season, the Italian media and indeed the Italian population are going to accept nothing less than Ferrari winning the drivers' and constructors' world championships in 2011. If not, there will be heads on the chopping block.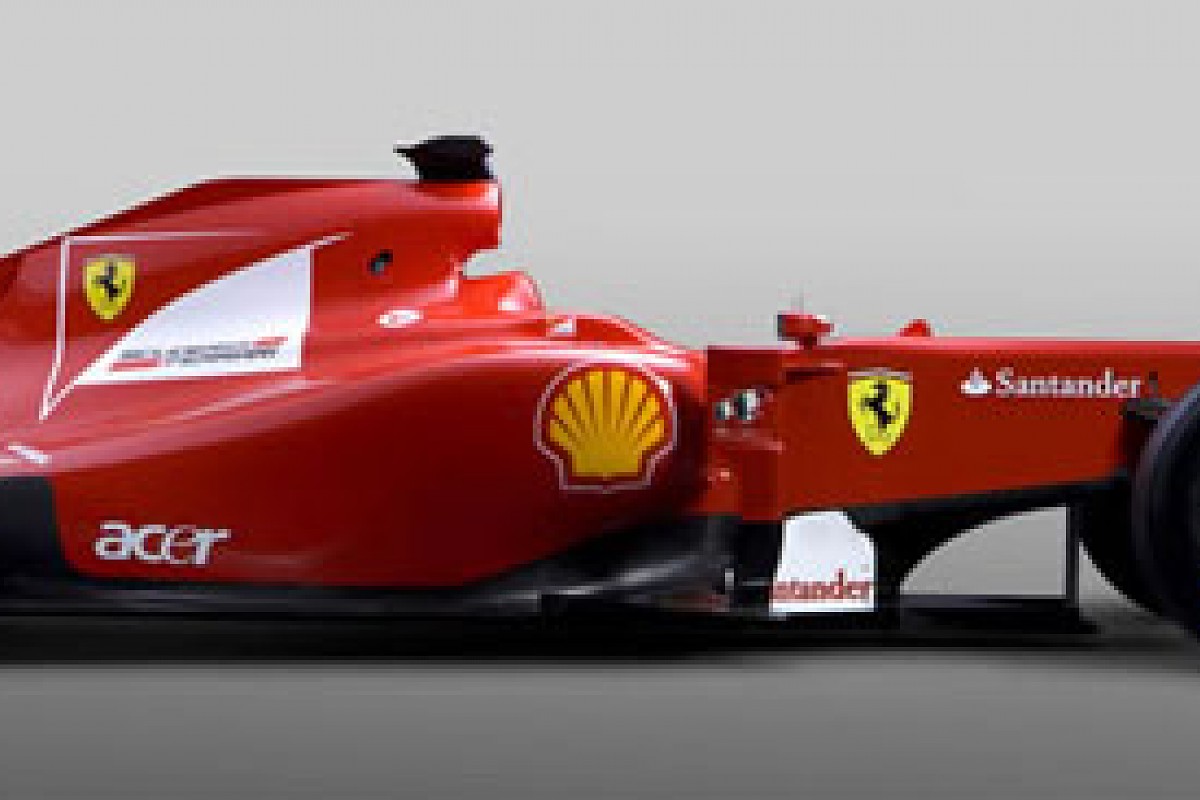 With ex-McLaren man Pat Fry now heading up the race engineering side of the team, Ferrari has brought in a wealth of experience and he should be a positive influence. But, as we all know, F1 is not a one man band - it is about a team of three to six hundred people all working together as one unit, and that so often is where Ferrari seems to trip up.
As for the car itself, my first impression is that I am a little surprised that the 'press release' launch version is not more aggressive. By saying that I am not being critical of the team's efforts, but if you look at the front wing for example - the most important aerodynamic component on a current F1 car - it is more-or-less the same as the 2010 version. I expected a wing that would be more complex in the outer areas of the wing sections - these are critical to airflow separation problems. Perhaps this will appear in the weeks of pre-season testing...
The F150 has a higher nose to allow better airflow to the leading edge of the underfloor which allows the barge boards to improve their performance by increasing the airflow velocity in this area.
As for the sidepods; again they are neat and tidy but the undercut section on the leading edge, and through the side of the car, is very benign. And, as they sweep in at the rear to what is called the coke bottle area they are not very aggressive, in my opinion Ferrari hasn't pushed the limits far enough.
The rear wing has the variable rear flap to allow the slot gap to be opened up from a minimum of around 14mm to a maximum of 50mm to help overtaking on the straights.
Personally, if I was involved in the rule making I would have gone about this the other way around and had a minimum slot gap of 50mm and allowed the driver to close the gap - which would give more downforce. The driver could then do this in the braking area or in a corner complex and actually overtake another car in an area where we would like to see overtaking. That still requires driving skill.
The rear suspension is push rod-operated, I think many people including myself expected a Red Bull-esqe pull rod suspension system but Ferrari has stuck with what it had previously.
I suppose the thinking is that with the double diffuser now banned this area is not so critical, but in my opinion it is now more important to get every last nanosecond of performance from every component. Remember at the beginning of 2009 Red Bull had a pull rod rear suspension before the double diffuser was declared legal and it was the only team with a normal diffuser capable of being competitive at the first race.
The diffuser on the Ferrari is a simple component using the maximum area allowed in the regulations, but I am sure this area will be the subject of lots of development.
The return of the KERS system has meant a compromise on the fuel tank location. The KERS components are very heavy, so it is important to mount them as low as possible so they are packaged under the fuel tank which is just behind the driver.
Well that's enough of a rant from me about the new Ferrari, and as we all know it is not just what we can see on the surface that dictates whether a car is quick. But I believe Ferrari has a lot of development to do if it is to make its fans happy by the end of 2011.
• Ferrari F150 launch image gallery