The 2010 season was a tough one for Timo Glock at Virgin, just as it was for his former Toyota team-mate Jarno Trulli and Heikki Kovalainen at Lotus. All three switched from teams with whom they could challenge for poles and wins to scratching around at the back of the field. Their only opposition was each other and - on occasion - fellow new boys Hispania.
All three knew that going to a new team would be hard, but all three soon admitted that it had been a lot harder than they had expected.
"I'm not here to fight for last position," said Glock a few races from the end of the year. "If this doesn't turn around, I have to think about what I'm doing in the future."
In the end all three drivers stayed put, and thus hope to reap the benefits of last year's hard graft. Glock's formal confirmation at Virgin didn't come until well after the end of the season, and while he always had a contractual commitment to the team, he admits that things were not clear cut.
"In the end I had a contract with the team, but on the other hand some teams were talking to me," he says. "With the difficulties we had you start thinking about if there's an option to do something else. That came out of a bit of disappointment about the year.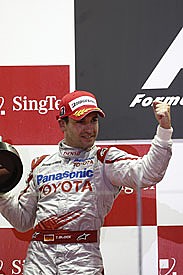 Timo Glock celebrates second place for Toyota in 2009 © LAT
"But we had a good sit down together in the last couple of races. John Booth and [CEO] Graeme Lowdon and myself spent quite a lot of time together, talking about the next year. They had some quite positive things, which I think calmed the situation down a little bit, and made life a bit easier for everyone. So in the end there was no real discussion.
"The team is moving in the right direction and we've got some good sponsors on board. Marussia is a big partner now. I think they are quite straightforward and they want some success in the future, and that's good. That's what the team needs, and in the end we have to find out how quickly we can move up."
Still, it's going to be a long way from where Glock was with Toyota. In 2009 he took a second place in Singapore and a third in Malaysia, and was in the points at virtually every race he contested. Then at the end of the year the Japanese manufacturer threw everything away. It's hard not to look back at what might have been.
"I think we would have been in a position to consistently fight for the top five in 2010, that's my feeling. The car looked very good when I saw it in Cologne. The question is whether the whole package was strong enough, and I think the weak point was still the engine. That was for me a bit of a question mark on how quick we would have been. But aero wise, it looked quite strong.
"It was a shame. We worked hard in 2008, and I think we had a very good baseline in 2009. That's how every team moves up. Every team has a good solid year and that's a proper baseline to develop something really strong for the following year."
The lingering uncertainty over Toyota's future made life hard for Glock in the latter part of 2009. While he obviously knew about the withdrawal before the decision was made public, there was clearly a period where the management knew what was going to happen, but the drivers hadn't been told officially. That didn't help when it came to looking elsewhere, and in the end it was some weeks after the season that he opted for Virgin.
"It was a difficult part of the year, when we didn't know what was happening. It was quite difficult to really make the right decision. But that's how it is. I made my decision and other people made their decisions, and we cannot change it any more. But at this time it was quite difficult to make the right move."
Going with an ambitious new team seemed like a great idea. But Glock and rookie team-mate Lucas di Grassi soon found themselves struggling with reliability issues that compromised testing and reduced their running on race weekends. Then there was the embarrassing fuel capacity saga.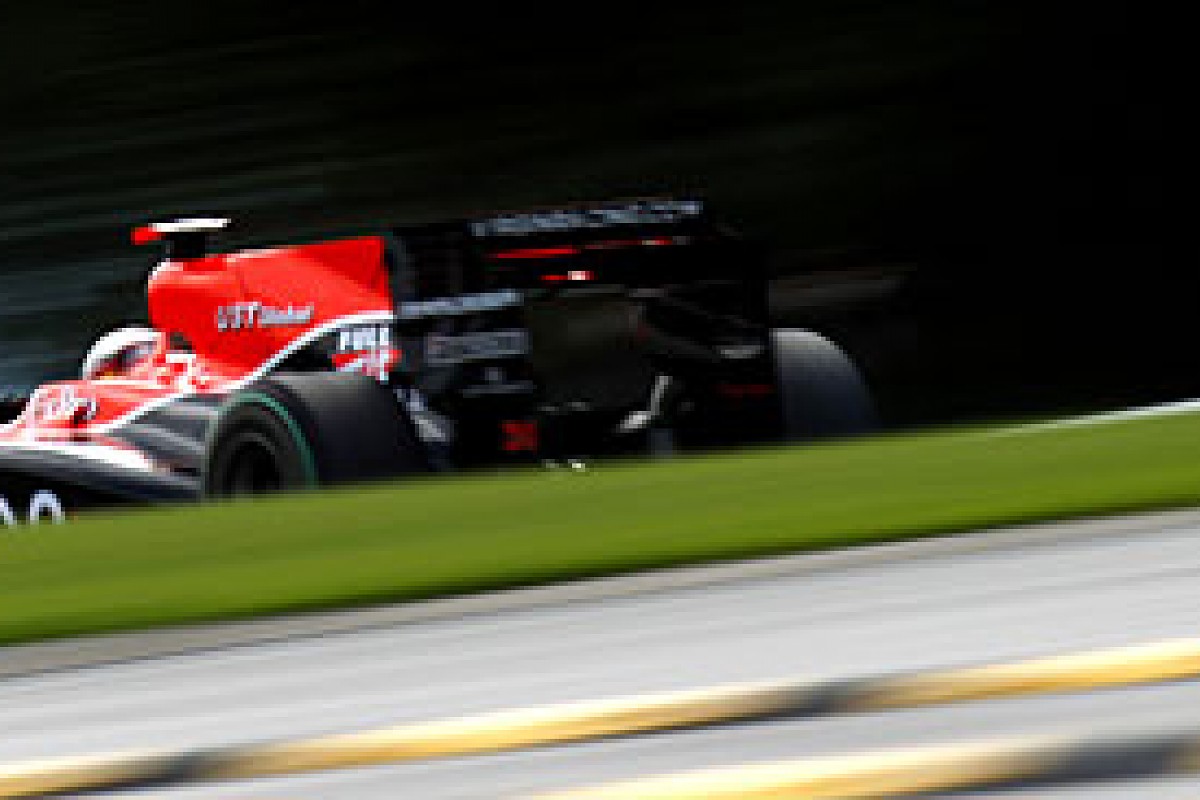 "It was quite a lot harder in the end. I didn't expect that we would have so many technical problems in the team, and so many ups and downs. Especially at the beginning of the year we made quite a positive step in the right direction in terms of reliability and all that stuff, but in general I'm quite disappointed about the speed we had.
"It improved, it got better, but I didn't expect that we'd be that far off. In general we just made our life quite difficult with all the problems we had in the beginning with the fuel tank and all that stuff, which was not good and not how it should be. More negatives than positives in the end.
"It was definitely a good experience for me to build a team up. It was good fun. But if you stop every time because of technical problems, and then with some decisions I was a bit disappointed with how the team reacted to it. That's how it is. One has to learn out of it and make the right decisions for the future. That's important, otherwise I think it's difficult to make a real step forward."
The frustration was that while there was improvement, the team was shooting at a moving target. In fact just maintaining the gap was an achievement in itself.
"That's the hardest part. It shows that we developed the car as well, because the gap kept the same. But in general it is a bit frustrating to not really catch up, because we should really have been able to put more downforce on the car, but we were not really able to do it.
"At the beginning when I saw the gap I said 'OK, with all the problems we have, this is let's say, normal.' But I expected bigger steps and more steps like the one we did in Silverstone, because to work only in CFD is a chance to develop quickly, but we didn't achieve what some people tried to do at the beginning of the year."
On the plus side Glock did at least have the ongoing battle with the Lotus Racing guys to provide some motivation.
"I had to see that fight where I could get the best out of myself, because it was the only reference," he says. "It is disappointing when you fight only against one team. In the races where you get lapped once or two times it's not what you as a driver want. You look more in the mirrors and have to watch out for blue flags, and stuff like this. It's not what I want really to do.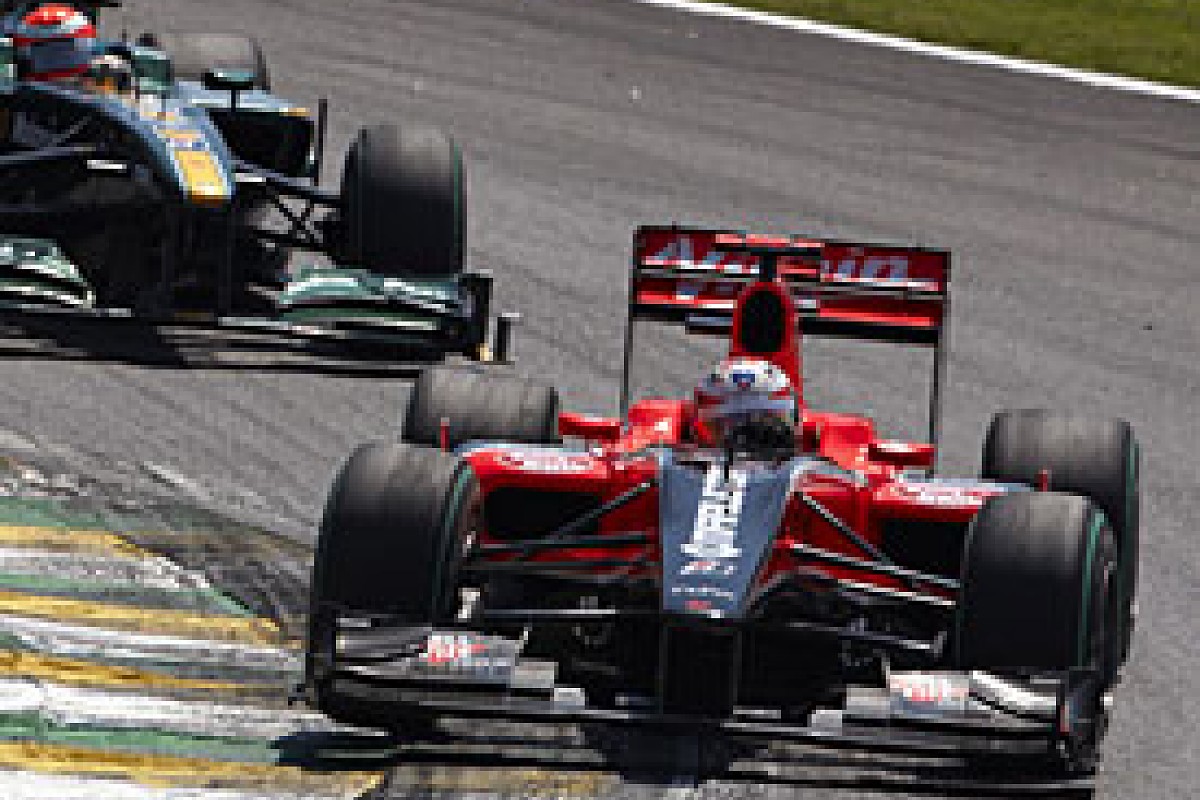 Glock found most of 2010 was time spent battling at the back with old team-mate Jarno Trulli © LAT
"Jarno was my team-mate before at Toyota, and we had some good fights. It was good fun. Those two guys were at least a benchmark. If they were not there it would be difficult for me to show my potential, and that's at least quite positive.
"Highlights were Q2 in Malaysia, and outqualifying Lotus in Hungary, where we definitely had the car to do it, and there was quite a good job from my side. Q2 in Spa was good. In slicks on the first shot I was 10th, so it was quite positive. Monza was good as well, a good race, I stayed in front of Heikki. So there were a couple of good indications where it showed that we were slowly on the right path."
Drivers often admit that they can learn as much from a difficult season as a good one.
"It does help you to learn a bit," says Glock. "That was quite positive for me. You just keep on working as hard as possible, just concentrate on what you can do, that's the only thing you can take out of a year like that.
"But it was difficult as well to have a good result with Toyota, because we had a lot of ups and downs. It is the same way frustrating if you don't reach the top 10 in qualifying as when you are fighting for P18 or P19. If you are P11 instead of P8 you're pissed off as well! It doesn't matter in what category you fight, it's disappointing every time you cannot reach the maximum you can get out of the package."
Timo is happy with the way things have progressed over the winter. Given that the team was put together in such a hurry it was only logical the management had a good, long look at how to improve the way things worked.
"The team has made a lot of changes in terms of the structure, people moving around, putting them in different positions, which I think has helped quite a lot already," he says. "We're much better, much stronger, than the same time last year. But in the end you need a car which is quick to move forward, and that's what we have to prove this year.
"You can't gain three seconds over the winter, that's not possible, and we have to be realistic about what we have, and the budget we have. We have to try and find a way to move closer to Toro Rosso and all these guys and try to stay with Lotus, or whatever the team is called now! That has to be the target."
However, even catching Toro Rosso is a big ask. Glock has an open mind as to which which teams Virgin has a realistic chance of competing with.
"First of all it's difficult to say what team is in what position. You also have to see the financial side of it. A lot of midfield teams, like Sauber and maybe Force India, you never know where they are, you never know how the budget situation is. Williams had a very good baseline in the 2010 car, but the question is how much money do they have to really develop strongly? But in the end for us to move forward we must be first of all to be reliable and finish every race, and catch up to the midfield teams."
This year there are a number of technical changes which are a challenge even for the major teams to get right, such as the movable rear wing. Intriguingly Virgin has opted not to use KERS, a decision that makes life easier in some respects, but could prove costly on the track.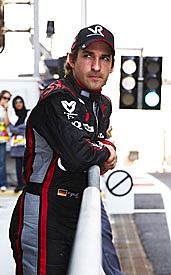 Timo Glock is hoping for big strides from Virgin in 2011 © LAT
"The KERS system is coming back, which we will not have," says Glock. "It's a question mark how much of a disadvantage this is compared to the others, but our target is making the car reliable over the first tests and to be ready for the first races. Like it was like last year, the decision on where you are in the championship at the end will for us be made in the first couple of races, because that's the point when teams could have problems with KERS systems and all that kind of stuff, so that's where we have to be strong.
"Maybe the others have a bit of a disadvantage with the weight, although the car has to be heavier, so it makes life easier for them. And the weight distribution is all in one window for everyone. But the situation is like this, so we have to get on with it and concentrate on our job and get the best out of the car."
The other big change is the switch to Pirelli tyres for everyone. The years of accumulated knowledge that other more experienced teams had about Bridgestone rubber now mean nothing, as Virgin has spent as much time with the Italian tyres as Ferrari or McLaren or anyone else.
"It could be a bit of a help. They were quite good for us in Abu Dhabi at the test, quite positive. But in general in the end everyone will be quite quickly on top of the tyre and understanding it and see what is going on."
Its anyone's guess as to how much genuine progress Virgin and Lotus have made over the winter, but Glock remains confident that there has been a step, and more importantly, that the team will also keep moving forward during the season.
"I think that if we just don't make the same mistakes as last year, we will automatically make a step forward," he says. "In the end you have to have the speed, so the question is what can Nick Wirth and his design team do, and how strongly they can develop? I'm still quite positive about CFD. It's a tool like a wind tunnel, but in the end it's more efficient. I think if you have the right people behind it and you are pushing as hard as possible then you can move quite quickly forward.
"Last year we lost more than two months of proper development because of the problems we had, with the hydraulics, gearbox, fuel tank. It just costs you development time. And setting up a new team as well, there's so much stuff to do. This year we will be more focussed on development. It will make life easier for Nick and his design crew, and it should give us a positive direction."