Felipe Massa is facing a crucial season in 2011 following his below-par performance last year, but the Brazilian is determined to show he is more than Ferrari's second driver.
Here he talks about the disappointments of 2010 and what he is hoping for in the upcoming season.
Q. This year the KERS is coming back, and so the car is going to change. Did this have an impact on your physical training, and are you going to tackle this change?
Felipe Massa during Ferrari's Wrooom event © Sutton
Felipe Massa: Well, surely the KERS is a major change as against the 2010 season. It is true that we have used the KERS in 2009, and each kilogram was important in 2009. Especially in 2009 - it was more important than it's going to be in 2011. At the beginning of the championship we were really at the limit of weight, so one kilogram was extremely important.
Luckily, perhaps, I am the lightest driver in Formula 1. If I'm not the lightest, let's say, I'm almost among the lightest ones. And so this is going to be important for me, because I do not have to, you know, stop eating, or to train... But I do not have to train, let's say, with a focus on not having to increase my weight. So, okay, I'm always careful, of course, and I want to lose a bit, but not what much heavier drivers - heavier than me - have to do. They have to work more on it than me.
Q. Can you talk to us about last year a little bit? You had great difficulty after Germany, in terms of motivation. Can you talk through how that is for a driver, how important it is to have the confidence of the team behind you, and the effect it had on you?
FM: Well, I don't think really my motivation was completely different after Germany. I think, you know, it was a difficult season from the first race, not after Germany, and I was struggling a lot, as I said, during the whole season. Especially on the tyres, you know. More on the qualifying compared to the race, and I think that was the biggest problem, was the biggest issue. Especially because the tyres was very different, especially the front tyres was very different from 2009, whatever, the year before, to 2010.
And especially, for my driver style it was very difficult to make the front tyres work. That was the most difficult for me of everything in the car. And then it was not easy to go to the (limit). I am comfortable to drive, you know. I don't think it was really after Germany, it was the whole season. Now it's completely different, and so this season is a new car, there are many things different on the car, and I also liked the Pirelli tyres from the first time I tried. Definitely I tried with the old car, you know, and it might be different with the new car, but anyway I think it was a good feeling straight away. So I think that's also very positive for the new season, and I feel very motivated, my motivation is very, very high.
Q. You've got an awful lot of buttons on your steering wheel, and now you're going to get some more, because you've got KERS, you've got the movable rear wing, all sorts of things. Are there too many buttons? Has Formula 1 become too gimmicky, trying to improve the show with overtaking? The other question is, with the movable rear wing, when you're in front, you won't be able to use it to defend yourself against someone using it from behind. How do you feel about these issues?
FM: Well, it's true that we have so many things to do on the steering wheel, and it's also true that we still need to drive the car. For sure, we can do it. But it's not very, for the driver point of view it's not really fantastic, you know, because you know, everywhere you go you have three, four buttons you need to press. Especially now with the KERS, you need to pay attention because we don't use the KERS just in one place on the track, you use in three different places, and then you need to switch off otherwise you lose everything you have, you know. So and then you have the wing, which will be a new system for us, you know.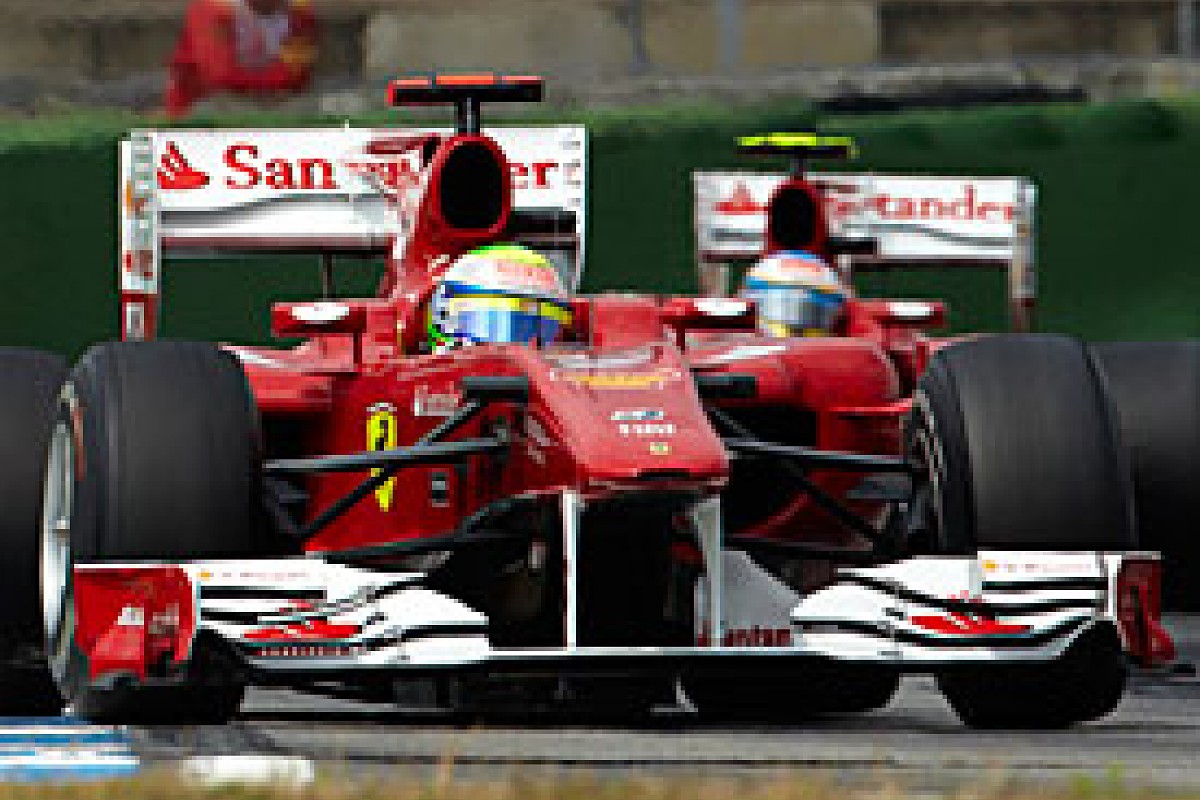 Felipe Massa leads Fernando Alonso, Germany, 2010 © LAT
Anyways, to have everything we have in the car, which is a lot - you know, the brake, the buttons, the many things you need to do in the steering wheel, to make the car to, to change some settings in the car, even during the lap. So for sure it is a lot. Is a little bit too much, definitely, from the driver point of view, but is like that and we need to adapt very quickly, you know, to how we need to use the buttons, to... We are working on the steering wheel for this season since the middle of last year, you know, to prepare the right position for the buttons, to be more automatic, you know. Because otherwise, something is, you're taking too much time to press one button because it is not in the position you want.
This can be not very good for the driver, you know. But anyway, we know how is Formula 1, and since the beginning it is always getting more and more buttons, more and more things, you know, to do. And also we have the new wing, the new rear wing, which is still not 100% clear, you know, how it is going to be. During the session, the practice, the qualifying, is the same for everybody, use where you want.
But in the race, not. In the race, we don't know yet exactly how it's going to be exactly. For example, you can imagine the car in front, you are in front and then you have maybe three cars behind you. Maybe you go on the straight and you cannot use the wings (to defend from drivers) who, I don't know, it depends on the traffic, are maybe 10 or 15 kilometres slower. And then maybe you have three cars catching you and then you can go from first to fourth. And then everybody is using it, the next lap you're going to use.
But anyway, we don't know exactly how it's going to be. So we need to go to the tracks, we need to think about it, exactly how it's going to be. When I say 'we', it is drivers. And also the FIA, because it will be a completely new system, you know, that I hope is perfect, I hope it works exactly like everybody wants. Otherwise, it is not really a good idea.
Q. Do you feel this year is a really important season for your future in Ferrari?
FM: No. I mean, I feel that every year you start from zero, every year. You know, you have a lot of pressure, winning or not winning. So, Ferrari was always like that, since my first year, so I feel that definitely the most important thing is the result. You don't drive just to drive the car, you drive to have the result, and that is the most important thing in my mind. It is important to do 100% what you can do.
Then if you win the championship it is not just because of, you know, the way you drive. It is because of many things. You know, we are going to have 20 races as well. We know that one race can be enough, that one point can be enough. So, but anyway - we start from zero, and I feel also very confident that I can be there in the front, fighting for many pole positions, for many victories as well.
Q. In 2009, Ferrari had a good KERS and it used it throughout the season. Renault used it not always. Do you think you have better experiences against Fernando in the use of this device could be an advantage for you, and second question - you listed again the difficulties that you had last year. Do you believe that with a bit more determination, a little bit more calm, getting higher motivation, you could have perhaps achieved some extra results for 2010?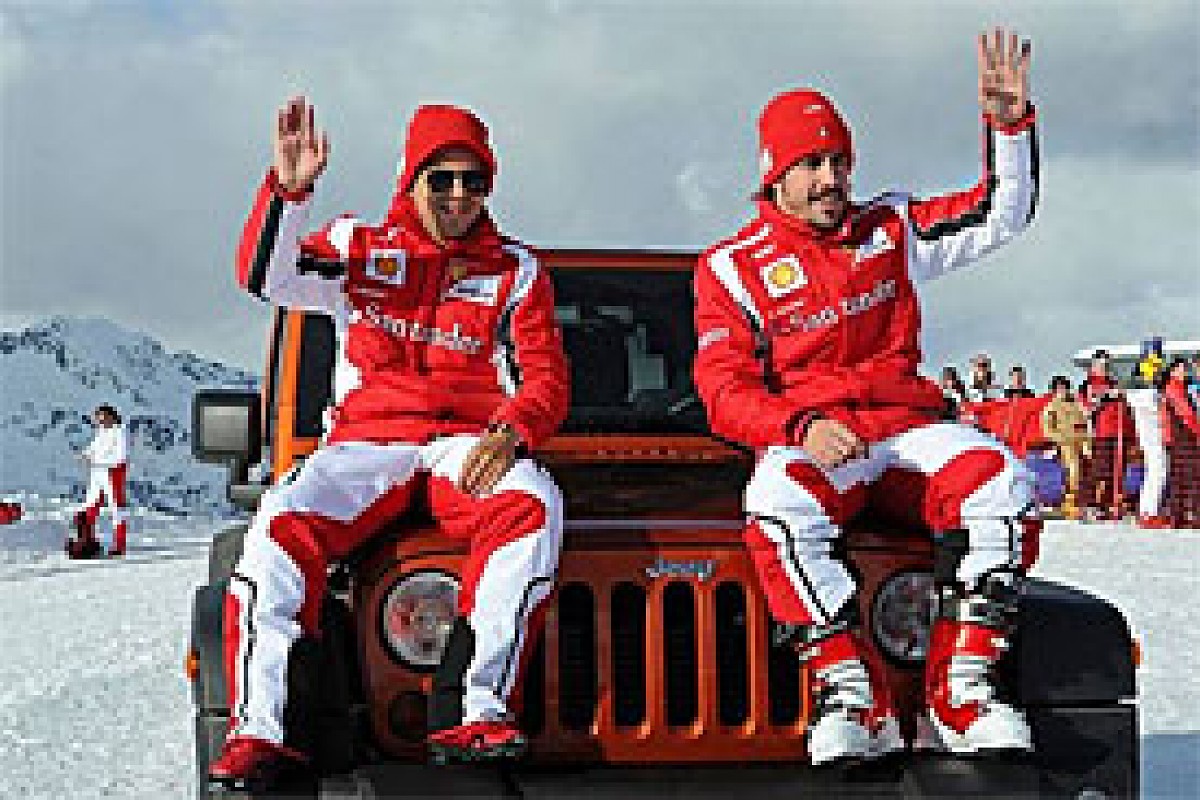 Massa and Alonso © Sutton
FM: No, surely not. It would not have gone different because the motivation was there. As mentioned, I had some problems throughout the season, and some things did not work out as I wanted them to work out. As for the KERS, I do not think that it is going to be anything new for Fernando, because he did have the KERS in 2009. Okay, in another team, but as for how to use it, it was, I imagine, more or less the same.
So, okay, he used it a bit less, perhaps, but once you use it for a few races you know how you have to use it. So I don't think that this is going to be something totally new for him. And I only used it for half the championship and then I did not race any more, so I think that I can still recall how to use it in the correct way.
Q. Was it in some ways easier for you to race with Michael and Kimi compared to Fernando? And how would you compare these three team-mates you've had at Ferrari?
FM: Well, it was a little bit easier, because the tyres were working like I want. Not because of the drivers, you know, for sure. If you compare Michael with Kimi and with Fernando, all are good drivers, you know, very competitive, with good experience as well. So... But anyway, nothing was really different on this side, it was just because I was not comfortable inside the car. That was the only difficulty.
Q. You spoke about your specific problems with the tyres. Now more in general, the 2011 car - in which areas has been focused to gain more load in front? Which changes have been made to the car?
FM: Many things have been approached, there are many possibilities of developing a car. No, it's not that simple, because the famous (double deck) diffuser gave a lot of load to the car. So by removing this diffuser we have lost a lot of load on the car. Surely by working on the development of the new car then one finds some ways to recover some load. Maybe not the same that you had before, but you can recover...
Let's say, developing a new car, a different car, you can work on the slide and on the car by measures to maintain the load, the downforce. Then there is also the KERS this year, on which we have to work. And there is still, you know, the design of a new car. And we know how many things change from one year to another. So all this is in, comes in to the development of a new car on which we're going to have also new tyres.
And so there are many things to do so as to be as perfect possible, and of course it's not going to be easy. But we've not even done one lap on the car yet, so we do not know yet. But the idea which went into the design of this car is, let's say, seen positively in the heads of all the technicians, all designers, and in the heads of is drivers.
Q. Felipe, if it doesn't rain in Bahrain and you don't have any rain in the Spanish tests, the chances are you could drive on the Pirelli wet tyres for the first time in Australia or in Malaysia. How do you feel about that? Is that really what Formula 1 is all about?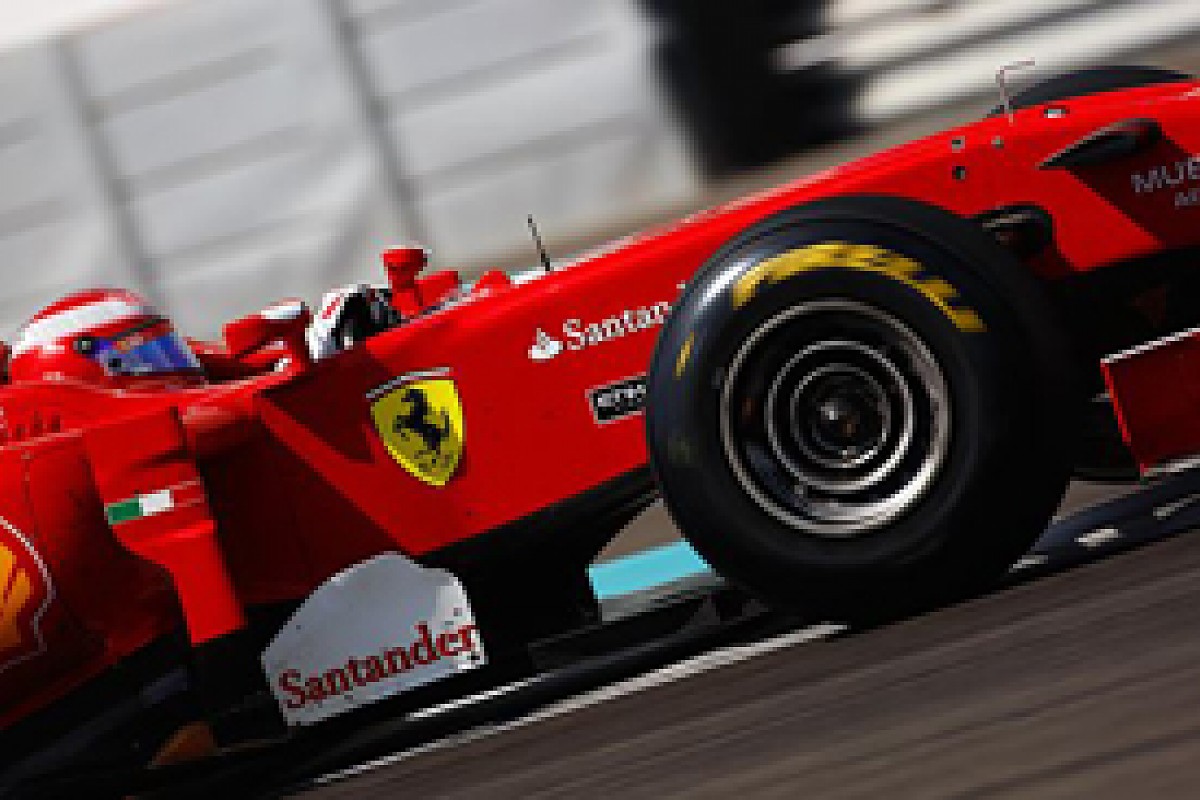 Massa will be hoping Pirelli's tyres suit him better © Sutton
FM: Well, I think it will rain in one of these tests, to be honest. Having experienced how is the winter, you know, here in Europe, I think we're going to see maybe at least one day of the wet track. Bahrain I'm sure it will not rain, in Bahrain. But anyway, I think Pirelli is a big company, so I expect they know how to develop tyres for the dry but also tyres for the wet. A part of this, they will not bring the tyres for the first time, you know, in the middle of the race, in the middle of the tests.
Now, for the rain I think they did some laps already with the rain tyres, and they have drivers which have the experience to say the tyres are working, the tyres is okay or doesn't work, you know. Even if they have the old car, old Toyota car. So maybe it will be different, you know, to drive in the rain with the Pirelli rain tyres, to how it was on Bridgestone rain tyres. Maybe it will be a little bit different. But I don't think it will be really something completely strange or impossible to drive. I believe Pirelli can do the rain tyre like it has to be done.
Q. Now what I'm thinking is what has happened in Hockenheim, now these team orders are allowed. I want to know your personal opinion about this issue in general, without thinking about what happened between you and Fernando. These team orders - are they positive in your opinion, or they should be prohibited?
FM: I think that it's important that things should be clear. Then, there are also rules, and we have to respect the rules. But we are a team. I did not have the year that I wanted in 2010, and hence this is what in the end was most important. As for the rules, the rules are the rules. We know exactly how early it works now, and we have to run thinking about this.
As mentioned there are two championships, the Constructors' Championship and the drivers' championship. I'm a driver, and I want to win both championships, for the team but also for myself. So of course I'm going to do the maximum to be able to win the highest number of races from the start to the end of the championship.
Q. What caused your problems with the tyres last year? What was the reason you had these problems?
FM: Well, in the... From 2009 to 2010 the Bridgestone changed a lot the front tyres, and they took away a lot of grip from the front tyres. Some 30 percent less power in the front. For my driving style, I always like a car with a good front, you know? Even sometimes a little bit oversteer, but anyway, a good front. Especially sometimes at the end of the braking and the entry of the corners. In 2010 I was struggling a lot with the end of the brake and the entry of the corners because I did not have the right grip on the front.
Plus, the tyres last year was too hard. So how many races we saw a guy using the soft tyres and doing, I don't know, 85, 90% of the race on the soft tyres? Which was not right. The tyre was too hard and the front was too weak. That was the most... That was the biggest problem I had. For sure, the Pirelli tyres are definitely a lot stronger on the front compared to Bridgestone. On the lap time it is not important which tyre is quicker or slower, that is not important. But from the driver point of view that is important.
I really don't think the Pirelli was a lot different to the Bridgestone in terms of driving, because the Bridgestone in 2002 and 2009 was more alive in this direction, a stronger front. And the Pirellis have the stronger front. They're more or less similar to what it was the Bridgestone before. But anyway, I prefer much more that.
Q. Felipe, both you and Fernando were talking about Michael and saying that he's still strong. Do you not think that age slows you down?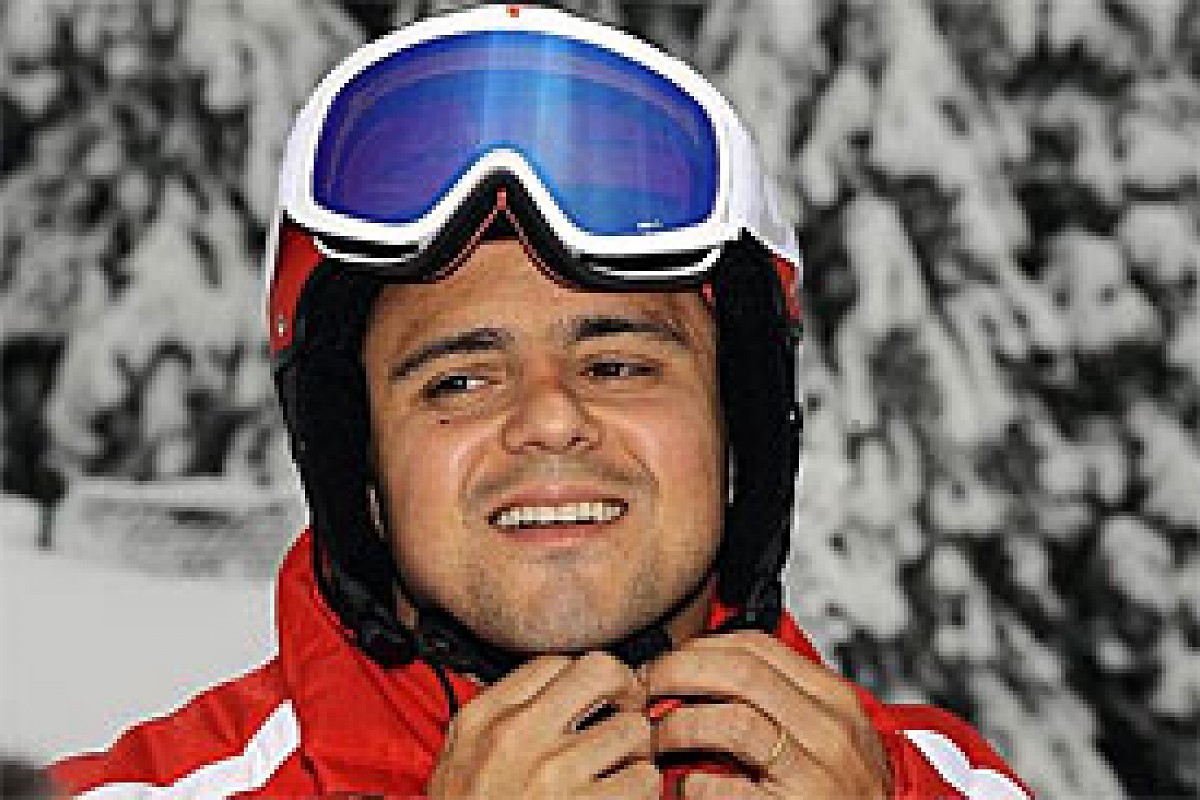 Massa remains positive for 2011 © Sutton
FM: I don't know. For the moment I'm 29, so it's difficult for me to say. Maybe you know more than me - what do you think?
Q. The answer's yes!
FM: Okay, so... Maybe in 10 years I can be more clear to you, you know.
Q. Michael (Schumacher) had a difficult season, you know him well. Your comments?
FM: But I still believe he's an incredible driver, I still believe. But he had a difficult season, especially when a driver like him who has won seven times has a difficult season, for you guys, you know, it becomes much more than for us, for example.
Q. In your opinion, on the changes that have taken place within the team, there is a new organisation, there have been some changes in the strategic department, so to say. In our interview, Stefano had made us understand that something could have changed also in your team, so I'm speaking about your technicians, your engineers. Is everything still confirmed in your team?
FM: There was nothing, there was no need to change anything in my team, so I was sure at the end of the championship that my team would have remained the same. As for the change, in terms of the organisation, the way of approaching strategies and so forth, there are going to be some changes. And I do hope that these changes are going to result positive. I do hope, you know, also that this is going to result positive in terms of strategies. We have seen that perhaps in one race we did not do what we wanted, what should have been done.
So I hope it's going to be positive, this change. I don't know Pat, he has been with us for practically one year, he has plenty of experience, and I'm sure that he knows what he has to do. And we have the new man coming from Red Bull. Okay, we've never worked with him, but I do hope that he can give us some positive indications about strategies. But apart from this, we have to work also again, I repeat, on the car. We want to have a good car. And on all those other issues which might help us in terms of strategy so as to be, to remain in front.