Not too long ago changes to Formula 1's sporting and technical regulations came so thickly and rapidly, and, crucially, at such short notice that one team insider at the time described long-term planning in F1 as nothing other than 'knowing which airport to head for next...'.
However, the outcome of the latest World Motor Sport Council meet, held in the run-up to the FIA's annual prize-giving gala in Monaco, has made abundantly clear that this philosophy has been consigned to the massive skips found in the back alleys which bound motoring's governing body's premises on the place de la Concorde, 75008, Paris.
FIA headquarters © Sutton
Included in the FIA subsequent 1477-word media release are 426 which pertain specifically to F1's future regulations, covering the period 2011 to 2013. It must, though, be admitted that little hard detail was provided, although no media release can be expected to be comprehensive, particularly when the subject is one as complex as Formula 1.
But if criticism is to be levelled, rather the contents be too light on substance than heavy, for definitive (2011) regulations appeared on the FIA website just three days later.
Still, a 400-word section on F1 is pretty meaty, particularly when compared to the efforts of the previous regime, and the paragraphs provided sufficient compass to genuinely excite F1 fans about the sport's future, for it seems the current WMSC members are intent on clarifying much of what had previously been left hanging while providing the statutory 24 months' notice period for major changes.
Regular readers of this column will know of battles that raged between the governing body and certain engine suppliers - believed to be Ferrari and Mercedes - over a replacement formula for the sport's current engine regulations, which expire at end-2012.
There had been proposals to extend the lifespan of the present (frozen) 2,4l V8 power units for anything up to five years on cost (and product compatibility) grounds, which was, of course, in diametric opposition to the 'green' direction foreseen by the FIA for F1.
The dispute threatened to rumble on beyond the 31 December 2010 cut-off (to provide the statutory 24 months' notice required for major changes), meaning at least another year of the 'old faithfuls' while falling outside the natural window for a total revamp of the sport's technology - the end of the current Concorde Agreement (end-2012).
Fortunately sanity prevailed, although, it has been said, not without some extremely determined cajoling from the very top, which at one stage is believed to have included a recommendation that the naysayers seriously reconsider their collective futures in F1 (entries are at the FIA's discretion...).
Thus the sport can now plan for the 750 bhp 1,6l four cylinder engines featuring 'extensive energy management and energy recovery systems' - for which read compound turbocharging and high output KERS units, although the terms were not specifically mentioned - which were previously exclusively outlined here - plus see below.
Expect a complete set of amended technical regulations for 2013 - covering engines (in greater details), transmission, aerodynamic, tyres (ultra-low profile) and chassis/dynamics - after the equivalent meeting in 12 months' time, although further details are expected to dribble out during the course of the upcoming season.
Thus the teams will have at least 12 months to prepare for the most sweeping technical changes in at least three decades. The time frame may not be 'long-term' in the accepted sense of the word, but it surely is a vast improvement on what was.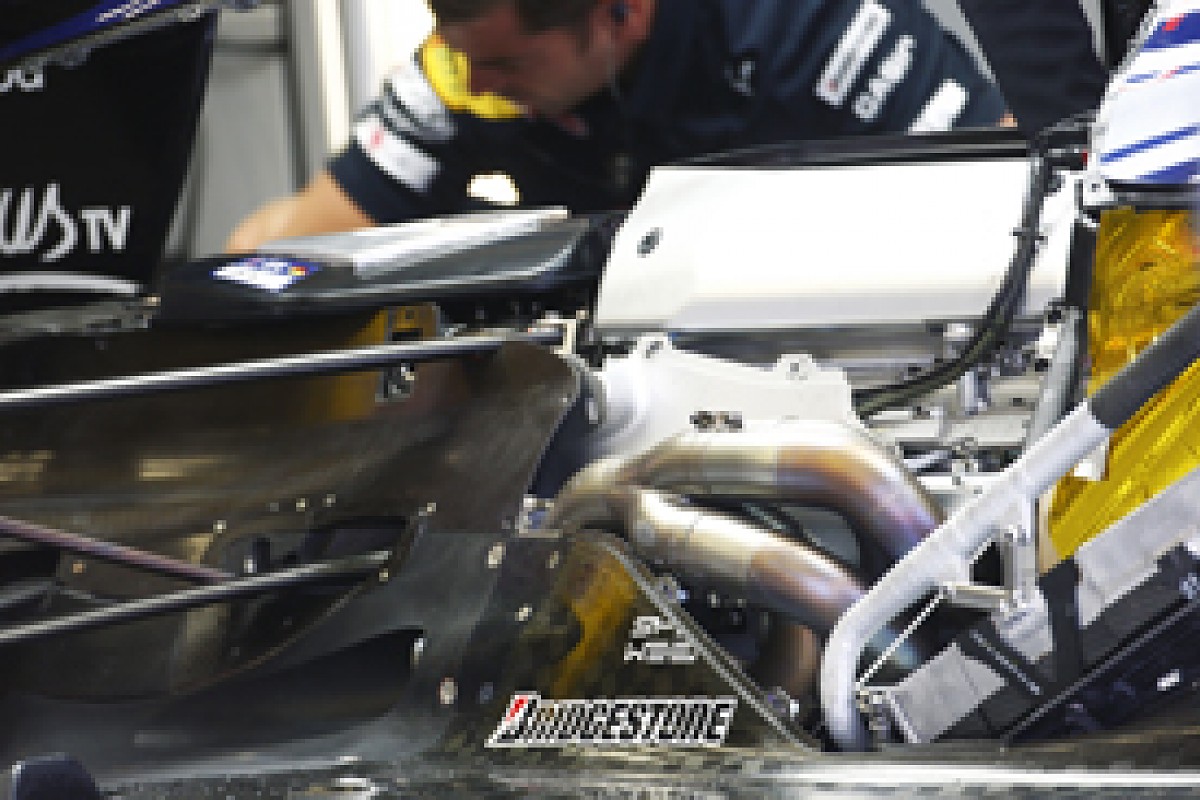 F1 engines are set for an overhaul © Sutton
Then, various changes have been made to the 2012 regulations, more particularly to fuel formulation (addition of biomass compounds, provided the supplier is able to genuinely demonstrate an intention of developing bio compounds for commercial use), suspension uprights (geometric/structural ), driver-pit radios (opening transmissions to broadcasters), plus improved driver protection.
Nothing major or earth-shattering, which is as it should be considering the swingeing changes expected the following year, but, saliently, all the above can be incorporated into the 2013 regulations.
Much has been written about the 2011 technical regulations, most recently here, so no major surprises there, save for the introduction of intermediate wet weather compounds (eminently sensible) and more stringent crash tests (ditto). Then there are amendments to the list of penalties the stewards may apply in the event of transgressions (ranging from drive-throughs and 10-second stop-and-gos through [unquantified] time penalties, grid slot drops and reprimands all the way to exclusion from the event and suspension from the next grand prix). Pitlane procedures, too, have been revised.
However, published were two amendments which did raise a few eyebrows, more, though, for their political ramification than direct sport implications, for with their approval last Friday the WMSC has made clear that any hangovers from the past are just that - past.
Scrapped is the contentious chestnut forbidding team orders, namely Article 39.1, introduced as a knee-jerk reaction by a Max Mosley-controlled WMSC to the public outcry over Ferrari's reshuffle of first and second places in the 2002 Austrian Grand Prix.
At the time then-Ferrari sporting boss Jean Todt (now FIA president) was unrepentant, and many in the paddock pondered his reaction after the Italian team - under different management - repeated the tactic in Germany six months ago.
Since then Mosley, who backed Todt's presidency to the ... er ... max in the run up to last year's elections, had been extremely vocal about the latest incident, opining on numerous occasions that Ferrari and its drivers should have faced severe punishment. Scrapping the article entirely implies the WMSC has little regard for the opinions of Mosley and Co...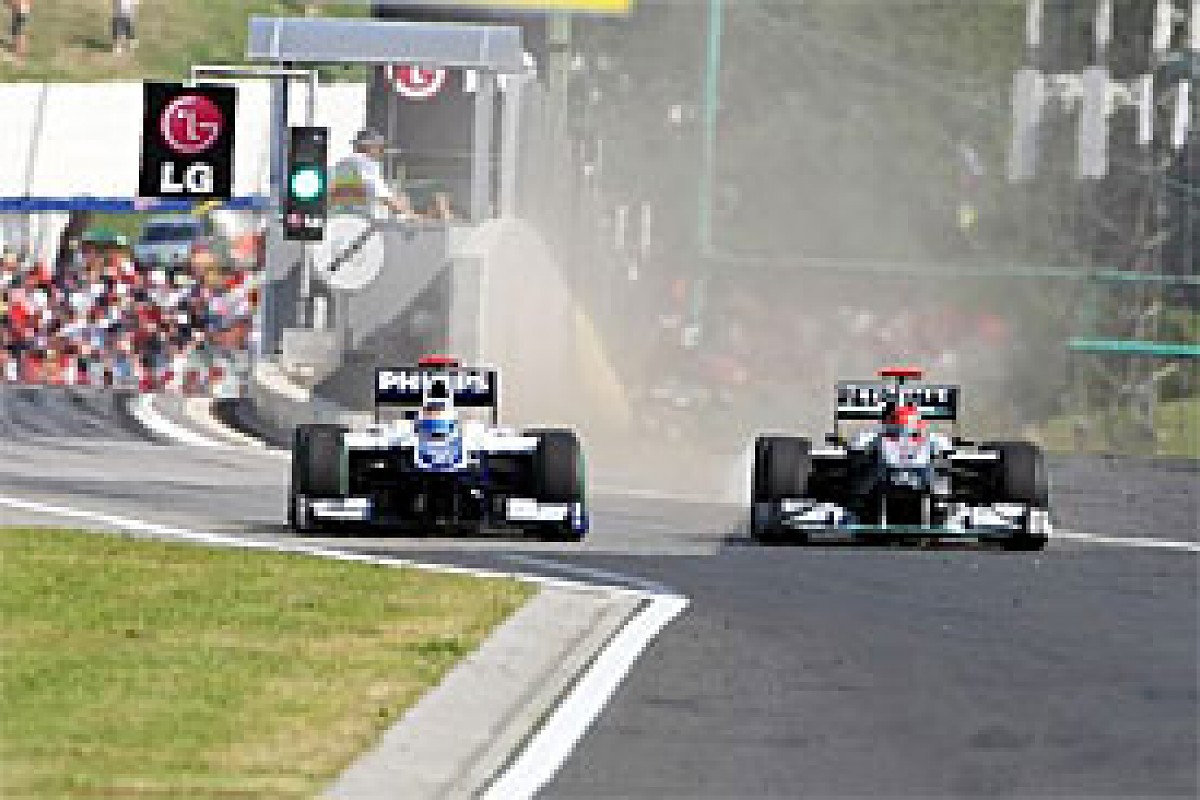 Rubens Barrichello, Michael Schumacher, Hungarian GP © Sutton
Then there is the issue of 'driving and driver conduct', which at first reading many took to refer to 'hooning' by drivers on public roads. But, no, a peek at the sporting regulations shows additions to Article 20 of the Sporting Regulations, with the first being 'Manoeuvres liable to hinder other drivers, such as more than one change of direction to defend a position, deliberate crowding of a car beyond the edge of the track or any other abnormal change of direction, are not permitted' - a clear reference to Michael Schumacher's somewhat dastardly manoeuvres on Rubens Barrichello in Hungary.
Where once the WMSC could stand accused of condoning any antic, marginal or otherwise, by Schumacher - regularly referred to by Todt during their Ferrari tenure as being 'like a son', and still an FIA safety ambassador - the current WMSC clearly puts sporting discipline first.
Finally, hidden away at the end of the FIA's WMSC release was a paragraph headed 'Manufacturers Commission', referring to a body consisting of various senior executives representing car companies, who met twice during 2010 with the FIA with a view to 'developing a new strategic partnership between both parties'.
Nothing new here - the 'old' FIA had various such commissions, including one headed up by Mosley in the late eighties, and the more recent, extremely short-lived FOMAC, which had all the teeth of a poodle - but one gets the distinct feeling that this mancom is here to stay, and, critically, play a meaningful role in broadening the appeal of motorsport in general (and F1 in particular) amongst its various players, including fans, motor manufacturers, sponsors and the media.
According to the release, "Working Groups have been formed and meetings held between the FIA, automobile manufacturers and key automotive stakeholders, including partners in technology, tyres and fuel. The FIA's new roadmap for motor sport is addressing the introduction of hybrid, turbo- charging and fuel injection technology into its Championships and international series, as well as the introduction of zero emission technologies." (Refer 2013 regulations above...)
The bulletin continues: "Working in collaboration with these stakeholders, the FIA is continuing to drive more sustainable and road relevant technologies into motor sport and encouraging greater convergence between the sport, road cars and road safety."
Not too long ago the FIA and its WMSC stood accused of doing everything in their (considerable) powers to exclude motor manufacturers from motorsport in general and F1 in particular - as Honda, BMW, Toyota and others can attest.
Now, though, they are being encouraged to return, with a FOTA source confirming that VW/Audi/Porsche are still mightily interested in joining F1 when the new regulations come into force, and that a further candidate is actively sniffing about the sport.
In which case F1 can look forward to at least 13 teams in 2013, even if one or two of the current teams fall by the wayside for whatever reason. For F1 Christmas certainly came early this year.