The fascinating dynamic of 2010 was team-mate rivalry within a world championship battle that promised a four-way team scrap and did actually deliver a three-way fight. It meant that, barring Robert Kubica and Nico Rosberg, practically all the drivers you suspect might have a championship in them, were racing at the front.
The perception and the facts are often different things. If someone asked me about relative team-mate pace in 2010, I'd have said that Sebastian Vettel and Mark Webber were closest, Lewis Hamilton had a similar qualifying advantage over Jenson Button as Fernando Alonso did over Felipe Massa, and that Michael Schumacher had the biggest deficit, about four tenths from Nico Rosberg.
But, when you take into consideration the times from all the qualifying sessions, Vettel is 0.15s up on Webber, Hamilton just 0.16s ahead of Button, Schumacher is in fact just over a quarter of a second shy of Rosberg, and Massa - with a deficit of more than three tenths - was furthest from his team-mate.
Sebastian Vettel and Mark Webber © Sutton
Vettel vs Webber
At Red Bull, after Vettel's early season misfortunes with spark plugs and brakes, Webber was able to seize an advantage with two superb wins from pole in Spain and Monte Carlo. It took Vettel until the end of the year to overhaul him. The intensity of the fight was heightened by Turkey and Silverstone.
Webber had shown this type of pace before but mighty efforts to scrape into the points in below-par Jaguars don't generate headlines. Ask Adrian Newey if there was anything about RB6 that was better suited to Mark and he says: "Nothing obvious I don't think. I guess the car was a bit less nervous on corner entry and that's primarily down to the weaker front tyre, so possibly that helped Mark's side more than Sebastian's. But I think Mark, after his cycling accident at the end of '08, must have put on a very brave face through the first half of '09. He can't have been properly up to speed."
The Silverstone front wing episode, Newey thinks, caused a rumpus entirely disproportionate to the reality: "Frankly, I wanted to see it raced to start to find out about it. Dare I say, the media managed to make a frenzy over it which perhaps one or two of our team members acquiesced in...
"Which car it went on, I wasn't bothered. We went with championship position but it could just as easily have been the toss of a coin. And I don't think at Silverstone we ever actually proved a laptime difference to be honest. We felt we would need it for Hungary and so we wanted to find out more about it."
Part of Webber's dominant Barcelona performance had included going through Turn 9 flat in qualifying, which brought a broad smile to Newey's face. When Webber won again in Monaco, Vettel's face told the story. Immediately after, Vettel changed chassis and the team announced they had found a 'problem' with his previous race car. What was it?
"Something was upsetting the feeling Sebastian had for the car, it was confusing his senses slightly if you like," Newey says, "I'm afraid I can't tell you what it was, but it was easily repaired."
Vettel's season-ending performances, under pressure, were tremendous and fully deserving of the championship. And it was good that letting them both go at it to the end did not cost Red Bull the right to put #1 on its car in 2011.
"There are obviously pluses and minuses to having such competitive drivers," Newey says. "The positive is that if you've got two drivers capable of pushing each other, they do exactly that. They are able to learn and develop from each other. People try to big the rivalry up but they were pretty professional."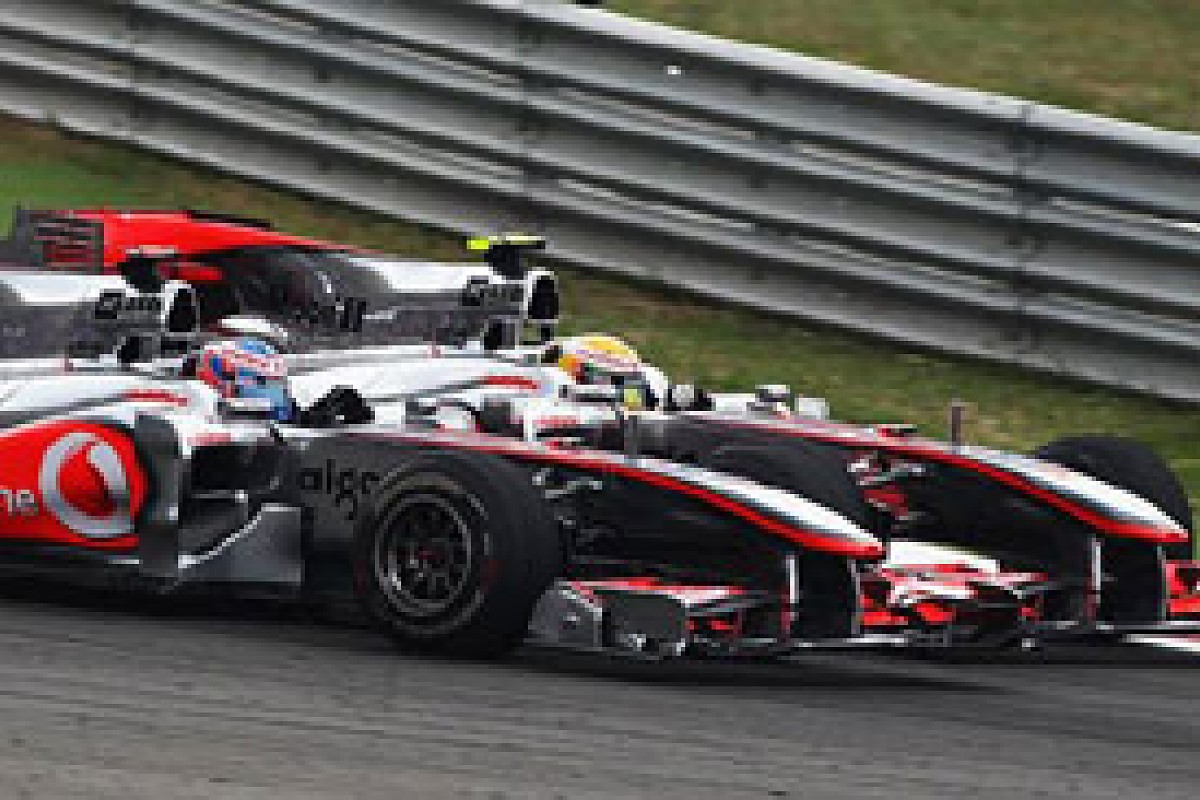 Lewis Hamilton and Jenson Button © Sutton
Hamilton vs Button
At McLaren, they were positively delighted with their new driver pairing and the pre-season belief that two world champions into one team do not go, was proven wrong.
"They've been good for each other, they really have," says McLaren's Tim Goss. "Jenson coming along has helped Lewis a whole lot. I think Lewis thought he was going to have an easy ride of it early on, then he was out-qualified several times, Jenson picked up the early wins where he didn't and it made him raise his game."
There was also a feeling that Hamilton's exciting, spectacular style and Button's smooth, Prost-like approach might lead the team down different development paths, but it wasn't the case.
"No, it was particularly good actually, whereas in previous years it's been quite problematic," Goss says. "Kimi [Raikkonen] and [Juan Pablo] Montoya was a nightmare. We ended up going different routes on wings and even front suspension, but these two, their preferences and set-ups are surprisingly similar.
"Lewis does use the brakes very hard and prefers a different brake material to Jenson and that's about it. Other than that, it's subtleties of set-up but as far as the specification of the car is concerned - wings, suspension, everything else, they have run the same stuff all year. They have different driving styles but not so wildly different that we have to go in different directions."
"The biggest difference we saw," adds Paddy Lowe, "was Monza, where we had two packages developed in parallel and even before the race we couldn't distinguish which would be better. It's slightly to do with individual driving styles and their approach to qualifying and the race, which is different. And it was a shame we didn't really see which was right!
"It was actually tremendous for the team to have two top deliverers doing it through different styles. It gives you a much broader and richer data set on the strengths and weaknesses of the car. It's really great when you see how they can each arrive at a good race result via a different route.
"Every driver has a bad day and if the guy on the other side of the garage is a good reference, then your performance is underwritten somehow. Whereas if only one driver is strong and he's having a bad day, then you're in a bit of trouble."
It was good for McLaren that it worked out, three years on from the mauling they took when they tried to pair Hamilton and Alonso in 2007. What was different?
"Better be careful what I say here," Lowe smiles. "They are both really nice blokes. They are great individuals, both very competitive but in a good-natured way, with good humour as well. There's bound to be a bit of push and shove because each wants to win and we saw a bit of that in Turkey, but that was resolved through good humour. They just like racing and a bit of aggro was almost good fun.
"You can have other situations where that turns into hatred. But the bottom line is that they both respect each other and realise that the other isn't there to shaft them or do devious things behind the scenes."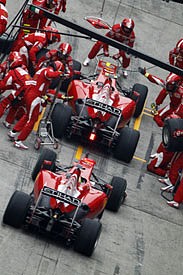 Fernando Alonso and Felipe Massa © LAT
Alonso vs Massa
At Ferrari, it was clear where the priority lay. Alonso was not impressed when he was held up by his team-mate in Australia and there was no way in hell he was being stacked behind Felipe in the pits in China. That pit entry move told you all you needed to know about the dynamic there.
Ferrari wanted a leader - another Schumacher - and clearly believed that Raikkonen was not the man. Hence the decision to sign Alonso a year early.
Probably, there was a doubt about whether Massa would be the same after his Hungarian injury. Certainly it took very little time for Alonso to settle, it just seemed that Ferrari didn't quite know how to tell Felipe that Fernando was de facto number one.
"The arrival of Fernando was very positive," technical chief Aldo Costa says. "He came with his big experience - a two-time champion with big teams. Immediately he was positive and it took him very little time to settle. It was like he was here for 10 years, black and white, like a switch. As soon as we started working with him there were no issues at all, he was the most positive bloke in the team, always pushing, always optimistic, a real asset - in the car and outside the car.
"In terms of driving style Fernando and Felipe are quite different but in terms of overall performance direction - like new components - they were in line. They require a slightly different mechanical set-up. Fernando is a bit more aggressive and Felipe a bit smoother but, in general, for development they were the same."
Despite Luca di Montezemolo's proclamations that Alonso knew it was all about the team when he joined Ferrari, the team has always operated in such a way that it gets behind its quicker driver. That might explain why it always gets a bit fraught early season - but as far as Alonso was concerned, he hadn't gone to Maranello for another McLaren. At Woking he was learning about Bridgestones at the same time as taking on a talent like Hamilton with first rate preparation, so perhaps he wasn't as surprised as everyone else that he had a tough ride. Here and now though, he knew he was quicker than Massa.
What was surprising was that we got as far as Hockenheim, when the muck finally hit the fan, without Ferrari having managed the situation internally. From that point on, inevitably Massa's relationship with the team was compromised. He had more problems with tyre warm-up than Alonso this year and, with the weaker front Bridgestone and Costa's observations about their respective styles, perhaps it was no surprise. The rubber can have such a dramatic effect on performance. Felipe must be hoping that the Pirellis solve his problems. If not, he will be the supporting cast once again. And if they do? It's unlikely that he can ultimately handle Alonso, but he'll try. Early on, at any rate.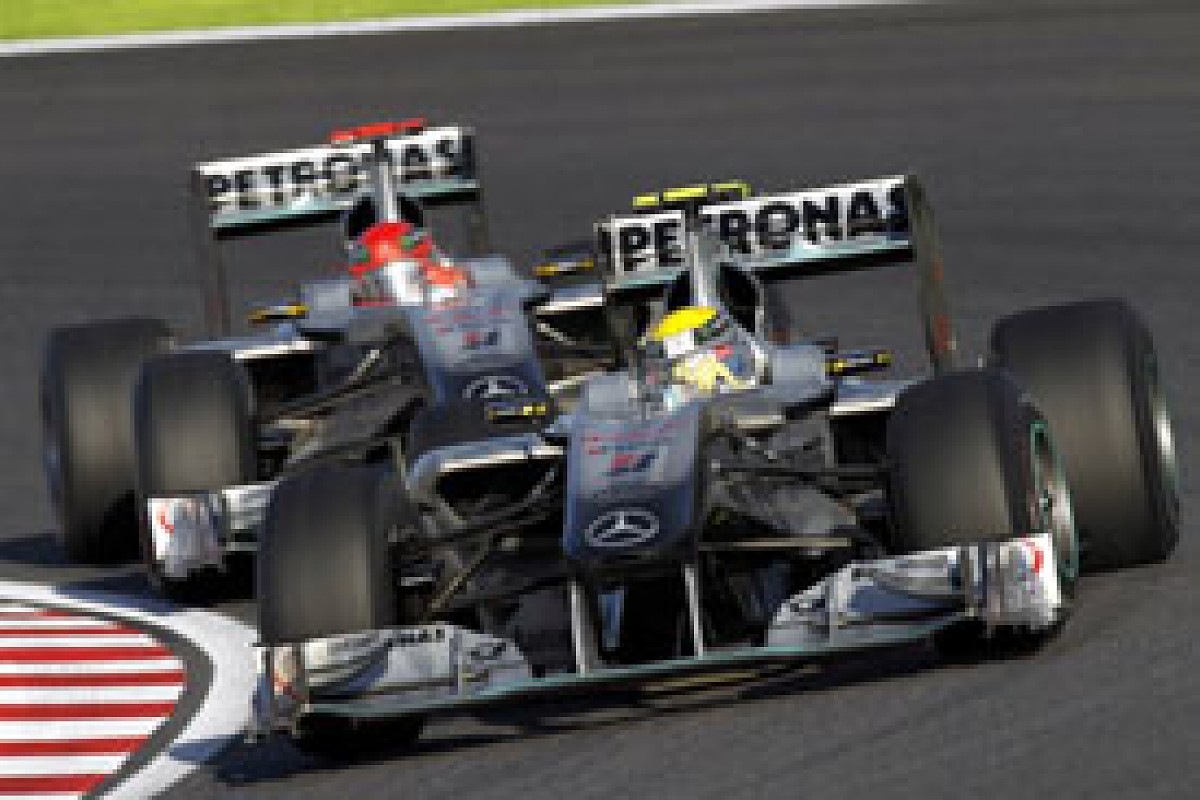 Nico Rosberg and Michael Schumacher © LAT
Schumacher vs Rosberg
Another man praying on the Pirellis, that they give him a front end, is of course Michael Schumacher. Alain Prost has recently come out and said that he thinks only Schumacher could have got as close as he did to Nico Rosberg after a three year lay-off. Maybe Prost knows best of what he speaks, having had a sabbatical in 1992 and returned to win the championship the following year. This year's Mercedes was certainly no '93 Williams but, reasonably or not, most were a bit surprised by Michael's trials and tribulations and his deficit to Nico.
"It was a little bit surprising," Ross Brawn says. "What we saw in the first few races wasn't a surprise because Nico is very strong and Michael was gradually getting into that gap and I think at Barcelona was quicker, so we thought we're there now. But then it seemed to fall back and that was a surprise. I think Nico responded and he did a fabulous job setting a really good standard for Michael to try and match."
Does Brawn think the weaker front Bridgestones were the whole story?
"You can argue that drivers should cope with whatever they've got and Michael, through a whole range of different situations at Ferrari with different engineers and groups, was always very strong, so this has been a bit of surprise.
"You can see the areas where Michael is not as quick as Nico and it's predominantly in slow and medium speed stuff. Monza for instance, Nico was able to ride the kerbs with more confidence than Michael and so it's a slightly peculiar deficit. It's not high speed stuff, where bravery, reactions and car control are the factors, because in those areas they were very well matched. It was in the technique of low to medium speed. I'm hopeful that with different tyres, different cars, a winter of reflecting about it and testing, we'll have two strong drivers next year."
We've seen tyre characteristics change the relative performance of drivers, even within the same team, most notably between Kubica and Nick Heidfeld at BMW, and who's to say it won't happen again. Something you learn over time is never to try and second guess Formula 1.