A bizarre weekend. The inaugural Dallas Grand Prix had many modern F1 ingredients: an unsatisfactory track, a threatened boycott of the race by the drivers, a row about passes, a press conference at which a lot of drivers came across like petulant brats. And all of this in temperatures of more than a hundred degrees.
On Sunday morning the condition of the track surface was nothing less than a disgrace, a blend of crumbling tarmacadam and soft concrete. The warm-up was postponed, then cancelled altogether. The race finally got under way a little late, with no one knowing quite what to expect.
What we got was an enthralling race, run on what amounted to a glorified rallycross track. So treacherous was the surface that no fewer than 14 drivers ended their day after a brush - or worse - with the wall.
But throughout the afternoon there were four or five cars always in contention for victory, which went eventually to the Williams-Honda of Keke Rosberg. The former world champion was always near the front. He kept fresh, helped in part by an air-conditioned skull cap (exclusive to the Williams team in Dallas), and he made no important error. It was Keke at his best.

The first half of the race was led by pole position man Nigel Mansell, but the Lotus driver had to stop for tyres after clipping a wall, and eventually finished sixth in a state of complete exhaustion, having tried to push his scuppered car over the line.
There was a wonderful drive by René Arnoux, the Ferrari man storming through to second after being forced to start at the tail of the field. Elio de Angelis again figured prominently, taking an eventual third, ahead of Jacques Laffite in the second Williams. Fifth, to the delight of most people, was the underrated Piercarlo Ghinzani at the wheel of the lone Osella.
Among those who fell foul of the concrete slabs were Derek Warwick (on the point of taking the lead), Patrick Tambay, Nelson Piquet and, unbelievably, the McLaren pair of Alain Prost and Niki Lauda, who lost first and fourth places respectively with but a few minutes to the flag - mistakes which could prove costly come October...
Qualifying
In broad terms, the drivers were split into two camps at Dallas: there were those who disliked the new circuit, and those who loathed it.
All the existing rules of thumb went out the window last weekend. "You have seen circuit?" asked an Italian colleague, as I checked in on Wednesday evening. "Incredible...like Francorchamps in the middle of a town!"
"Ees fast," he went on. "For sure, there will be trouble here..."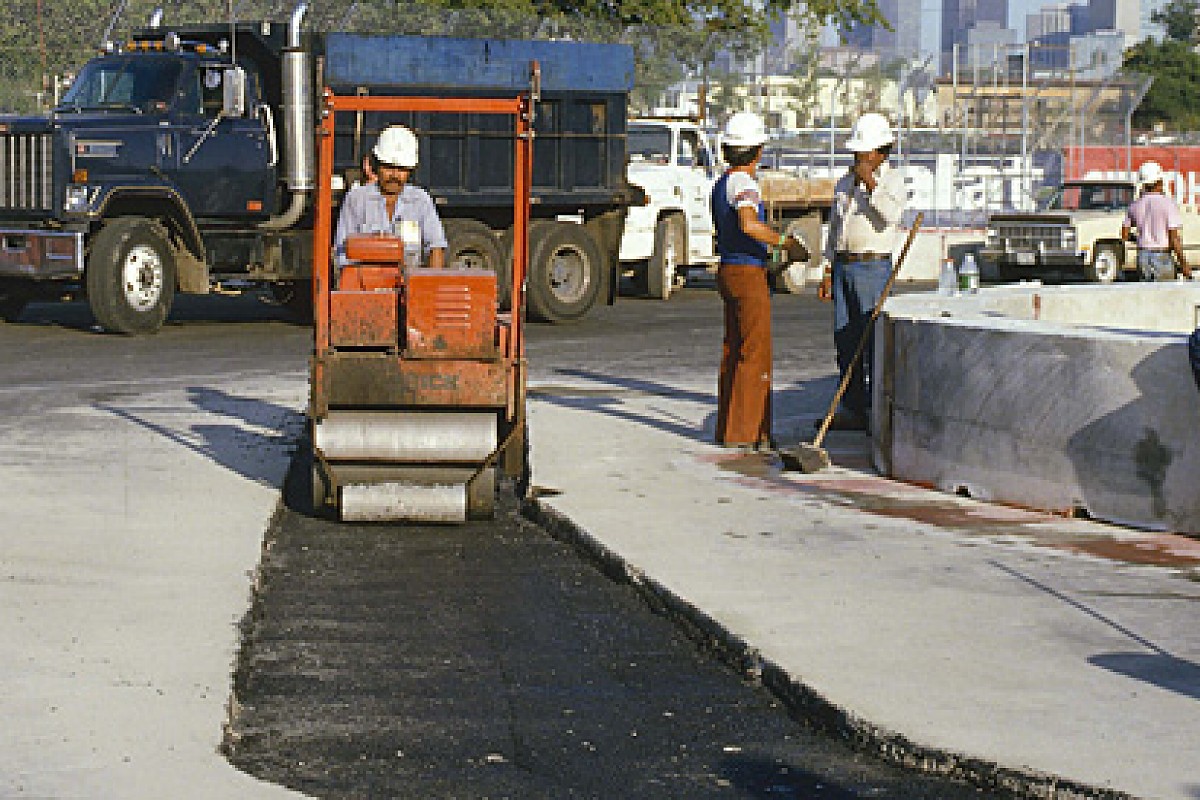 And, for sure, there was trouble. Of every conceivable hue. There was no need, even at that point, to speculate about the weather. Mid-evening on Wednesday the temperature was 94. Whatever else, then, driver fatigue was going to be a problem.
Thursday morning. This being a track new to everyone, an extra unofficial practice session was scheduled for nine o'clock. But in the State Fair Park engines were silent. There was - you guessed! - a dispute. Bernie wanted the usual FOCA credential system to apply, whereby the team personnel come and go on the authority of their regular season-long passes. But the organisers (strongly rumoured not to be getting along with each other, let alone the visitors!) said no.
Threats flew back and forth, but finally the matter was settled by lawyers and insurance men. FOCA passes were kosher in Dallas, after all. And while this was under negotiation, track workers used the time to clear away water and debris from part of the circuit, this legacy of a fierce thunder storm during the night.
And the circuit itself. Ah yes. Most of the drivers had toured it the previous day in a selection of road cars...
"Hold it there, boy!" Michele Alboreto looked up from the driving seat of his Ferrari 308GTB to behold a large Texas State Trooper. How could he possibly have transgressed? "You were goin' 30 at least," said the Lone Star fuzz. Michele, confused, swallowed hard. "There's a limit of 20 right here..."
Clearly this was going to be no ordinary grand prix weekend.
Even at walking pace you could judge without difficulty that, for a 'street circuit' (a somewhat artificial phrase in this case), the Dallas Grand Prix circuit was extremely quick. In the fashion of Long Beach and Las Vegas, it was mapped out by concrete blocks which effectively render every corner, viewed from cockpit level, blind.
That was one problem. Another was the run-off areas, definitely not in the Texan tradition of 'biggest and best'. For the most part, they were grossly inadequate, bearing in mind approach speeds.
And then there was the track surface, breaking up badly by Friday afternoon. And the bumps, described by Keke Rosberg as "disgustingly bad - the worst I've ever seen anywhere." And the fact that here would be a race which would not run the allotted distance inside the two-hour mark. And all of this in a temperature of well over 100 degrees. Even more than the first Vegas race, the drivers looked to Sunday with dread.

Yet again we recalled the wisdom of the FISA rule which decreed that no circuit could stage a world championship race without first running a lesser event as proof of competence to do the job. And yet again we could only regret that the almighty dollar had allowed it to be, shall we say, waived.
"The only thing good here," said a disbelieving Alain Prost, "is that suddenly Detroit is not so bad. Maybe they find us another place soon, so that Dallas seems okay..."
"This is not racing," he murmured. "It's just a gamble. For a quick lap, you have to be out at the right time, when there are no wrecks on the track; you have to miss all the walls, of course; you have to stay exactly on a line avoiding where the surface is breaking up; and you have to have luck - be out at the right moment.
"By that, I mean that you must be out when there is some grip in the track. You can't judge that - you can't see the difference in the track. You just know that suddenly you have less grip. My car was good on Friday morning, bad on Friday afternoon. And I've made absolutely no changes to it. I'm just going into the debriefing session now, and I don't know what to tell them."
A gamble, then, and such a thing offended the Professor's meticulous approach to his work.
Perhaps the most telling fact of Friday was that Niki Lauda crashed - twice! Whose fault? "Lauda's," he shrugged, after the second skirmish with the wall. "I got on the bumps, car went light, sideways..."
None of the usual rules applied, therefore. The men at Goodyear, Michelin and Pirelli packed away their qualifying tyres before the first timed session, already knowing them to be useless in this place. "Qualifiers?" laughed Patrick Tambay. "Forget it. Four corners, maybe five corners, finished." And Alboreto concurred: "Half a lap, no more. Even soft race tyres don't give you many laps..."
Another potential hazard - and a major one - was of stranded and broken cars by the trackside, this a perennial problem with temporary circuits. The best solution is to position cranes at frequent intervals around the course, as at Monte Carlo, where they have the business of removing wrecks honed to a fine degree. But there were no cranes at Dallas.
That being the case, you must resort to the use of trucks on the track (and I well remember the sight of Niki Lauda's McLaren all but going beneath one at Long Beach two years ago). For this system to work at all, you need slots in the concrete through which the hobbled cars can be removed. There were few such at Dallas.
Wrecks, therefore, tended to remain by the trackside - and this at a place where the racing line, thanks to the crumbling surface, was diminishing all the time. As at Detroit, a shunt meant a temporary halt to the proceedings, and very early in the first timed session the black flags were out.

Martin Brundle had been genuinely optimistic about his chances at Dallas. Second at Detroit, after all, and now here was another circuit, he felt, where the Tyrrell could shine. He was out as soon as possible on Friday afternoon, seeking a clear lap to make the most of the car's agility. And it was on his first flying lap, sadly, that he hit the wall at Turn 8.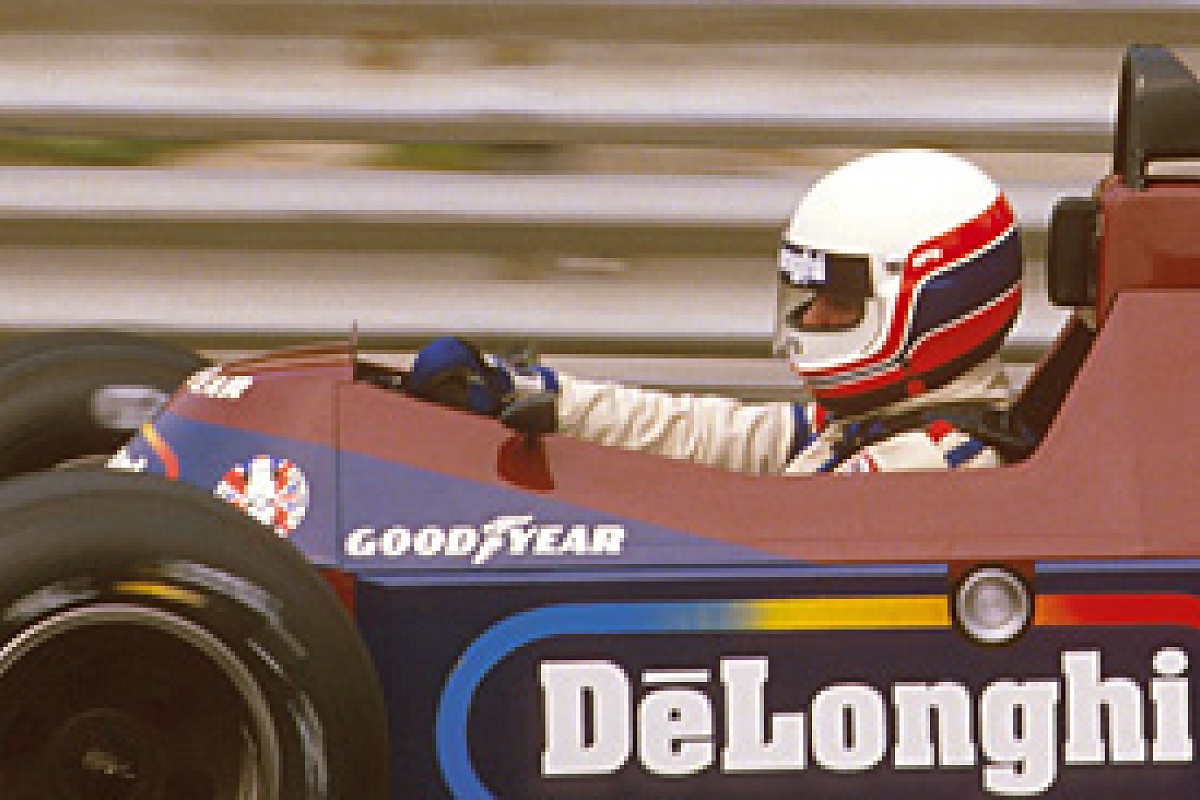 Martin Brundle badly injured his feet in Dallas © LAT
On a TV monitor screen the accident seemed not too bad. The Tyrrell was against the concrete, clearly with some damage to the right front. But Martin was out of the cockpit, sitting on the roll bar, apparently unhurt. One merely wondered why he stayed there so long, why it was taking so much time to clear the scene. Only later did we learn that he had sustained fractures to both feet - and this in an accident outwardly innocuous by comparison with that horror at Monaco. The Tyrrell was, in fact, a write-off, and the unfortunate Brundle will be out for many weeks.
"I don't know what happened," said Martin. "I wasn't going for a time on that lap. The car twitched suddenly, as if a tyre had punctured, hit the wall on the left, and then followed the line of the wall. That threw me eventually across the road into the opposite wall - and that's what did the damage. Just before the British Grand Prix too..."
Two of his fellow-countrymen, however, were facing the Dallas weekend in fine shape. Mansell and Warwick spent little time in condemning the place.
"It's not bad," Derek had commented after the first exploratory session, in which he set the fastest time. "In lots of ways it's quite challenging, in fact - but bloody dangerous. There's no getting away from that."
Nigel, too, was under no illusions: "This is the toughest place I've ever been to, without a doubt. For the first time in my grand prix career I've got blisters on my hand. It's an uncomfortable circuit to drive on, certainly, because of all the bumps - and it's very quick for this type of track. But we've got to make the best of it, haven't we?"
The Englishmen are undoubtedly among the toughest of the current grand prix drivers, and both figured very strongly at Dallas from the outset. Warwick was fastest during Thursday's exploratory hour, followed by Mansell, and everyone's prediction was that the track would be quicker by far the following day.
Sure enough, on Friday morning, this proved to be the case. As more rubber went down, the circuit became more grippy, and Lauda's best on Friday morning was almost two seconds inside Warwick's previous mark. But that time of Niki's - 1m36.317s - was to stand as the fastest of the weekend. True enough, there was more rubber down in the afternoon, but the temperature was up still further - and the track surface began to break up.
In these circumstances Mansell's lap in 1m37.041s made him fastest in the qualifying session, and further deterioration in the surface made it, remarkably, unnecessary for him to go out in the final hour on Saturday.
"I was surprised, really, because I wasn't really going for it on two or three corners due to the state of the track. There was no question of using qualifiers, so I used Goodyear DDs - not a qualifying tyre, but not a realistic race tyre, either. I really thought the circuit would be quicker again on Saturday, but in the morning it certainly wasn't, so we decided to sit the last session out, rather than risk damaging them when we were in such a good position."
It was an all black front row. Joining Mansell, although half a second slower, was Lotus team mate Elio de Angelis, whose practice days were rather more eventful. No one could recall seeing Nigel's car so much as kiss the wall anywhere, but Elio gave it a couple of sizeable smacks, damaging a rear corner of his 95T in each of the morning sessions.
The Italian positively hated the new circuit: "For me, it's crazy to be racing at a place like this or Detroit. I like nothing about it. For sure, though, it will be different in one way. Here we have to drive like at Le Mans, an endurance race, where you must pace yourself. After eight or 10 laps it is difficult to breath properly. Two hours...well, I think you must find a rhythm and keep it. Heat, track surface, damaged cars...no, I don't look forward to the race. Not at all."
The conditions of Friday afternoon appeared definitely to suit Goodyear more than Michelin (the very reverse of the morning session), and Warwick was disappointed to be down in sixth place. But Saturday morning, which caused most drivers to say that the track was slower, left Derek feeling that an improvement might be on: "It's there, I think, if I really go for it in the first few minutes..."
He was as good as his word. In conditions undoubtedly worse than those of Friday, the Renault flew round in 1m 37.708s, two full seconds faster than anyone else managed. And it was enough to vault him up to third.
"Yes, conditions were pretty bad, but the time was there if you were prepared to put the effort in, and I think I did that. Later on I went again, but it was a waste of time. I couldn't get myself up to that pitch again.
"I think we're going to be all right in the race - or as all right as any other team, and maybe better than most. We've no temperature problems, and the cars have run very reliably this weekend. Plus, although I don't enjoy heat like this, I seem to be suffering from it less than a lot of other drivers."
The two Englishmen, then. You looked at them, and wondered how they sustained the heat and the battering so much better than most of their warmer clime rivals. A favourite to win the race? Most people's money was on one of these two.
No one was more impressed with Warwick's final session performance than Patrick Tambay: "He did a fantastic lap, really. I think he got the set-up just right, and he made the most of it. An incredible time..."
The Frenchman was down in 10th spot, and reckoned he should have been higher. "I'm not as sharp as I should be - certainly not like I was at this stage of last season, but it's getting better. Because of the leg, you know, I haven't been able to do much exercise in the past few weeks, which is not good."
Was there still pain in the leg? "No, not at all. It's fine now. If not, I would have found out here... Tomorrow, I think, will be a race of attrition, or survival - keeping off the marbles, staying away from the walls, conserving some strength for the last stage of the race. Mechanically, I think we're looking fine."
An example here of the peculiar demands of Dallas. On Saturday Tambay suggested that the Renaults would probably run with their rear under bodywork. "We'll lose downforce, sure, but the important thing is to find something you can comfortably drive for two hours..."
René Arnoux hated everything about the circuit, and made his feelings clear from the outset. "It's even worse than Detroit. These people should come to Monaco to see how a street race should be organised. As it is, this is not a race at all."
The Ferraris did not look good, it must be said, bucking terribly over the ruts and bumps, and it says much for Arnoux's courage that he qualified the C4 in fourth place, with Alboreto a clear second slower, ninth. All the red cars were equipped with Marelli-Weber electronic injection, and soon there will be major changes. For Brands Hatch we may see Arnoux and Alboreto in C4Bs, with extensively revised bodywork, including new sidepods and rear aerodynamics, as well as push-rod front suspension.
Perhaps the loudest words of condemnation for the track came from the McLaren drivers. On Saturday afternoon, indeed, it was strongly rumoured that Lauda and Prost were trying to organise a boycott of the race, although the mind boggles at the thought of the legal problems to which such a move would have led.
Niki, as we have said, damaged both his own and the spare McLaren on Friday, the second accident coming at the spot most feared by the bulk of the drivers: the end of the pit straight and the entry to the fast right-hander. This caused the afternoon session to be briefly halted. For all that, he qualified fifth, ahead of his team mate on a grid for the first time this year.
Prost's sense of order and logic was thwarted by the vagaries of the Texas State Fair Park, and he was not at all pleased with seventh fastest time. "A gamble, here," he kept muttering. "A lottery. The guy who will win, I think, will be the guy whose car handles the bumps best - because he will be in better physical condition in the second half of the race. But it's not racing, no way."
"I think," McLaren designer John Barnard offered, "that this sort of race degrades grand prix racing." And Mauro Forghieri was more forthright even that that. "Crazy? Crazy is nothing to describe this track. I worry very much for the drivers on Sunday, really..."
One of those who suffered most was Ayrton Senna, a superb sixth fastest in the Toleman-Hart, but unable to sustain much of a pace for more than a few laps. The Brazilian's race stamina has already let him down at Kyalami and Montreal this year, after all.
In terms of pace and courage, however, he was magnificent at Dallas, a front runner throughout. To help him cope with the heat, his mechanics filled up his overalls with ice cubes during practice, and if you think that sounds distinctly unpleasant you weren't in Dallas last weekend...
On Saturday morning he had another novel experience: "I didn't tighten my helmet strap enough in the pits, and when I went out the helmet slipped over my eyes the first time I braked hard! In those circumstances, I preferred to go down the escape road..."
Johnny Cecotto went better than of late, qualifying his Toleman 15th.
Unfortunately, though, he hit the chicane wall hard on Saturday morning, ruining the car's front suspension pick-up points, and putting himself in the spare for the race. Like Lotus, Toleman took no part in the final timed session.
Keke Rosberg was, as ever, heroic in the Williams-Honda. "No," he beamed, "the car's no better, thank you, although we have different front uprights again this weekend.
"I don't think," he went on, changing the subject, "that this circuit is as bad as Detroit - not for me, anyway. It seems ridiculously bumpy, but maybe our car feels them more than some of the others. Because of that, driving here is not a pleasure, but the track is slower than I expected and I'm not too worried about the safety aspect."
The brilliant Finn actually recorded the second fastest time on Saturday afternoon: "But," commented Frank Williams, "there's good and bad news. He did a brilliant time - but then he hit the wall. And the chassis is beyond repair, I'm afraid..."
Still, Keke qualified eighth overall, which well pleased his team, who now accept that their man has been working with loaves and fishes all season long. Jacques Laffite, by contrast, was not about to chance his arm, and finished up a poor 25th.
On row six, believe it or not, were both Brabham-BMWs. And half a second faster than Nelson Piquet, believe it or not, was Corrado Fabi. "I think," suggested the young Italian brightly, "that I get more confident with the car now..."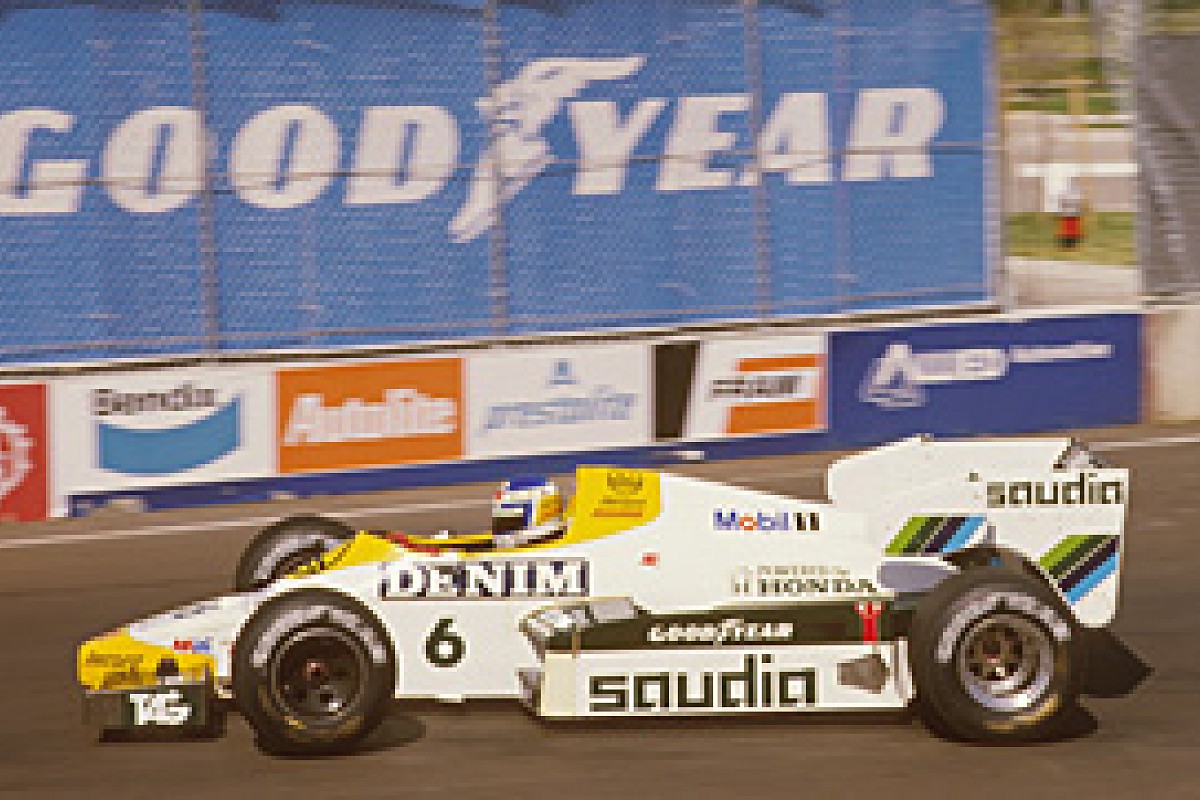 Keke Rosberg only qualified eighth © LAT
From the beginning of practice, Corrado was among the quick men, although the BT53s were not truly on the pace at Dallas. On Friday they appeared with new, larger, front oil radiators, and bulbous, ugly front bodywork, which seemed most untypical of Gordon Murray's elegant pen (and apparently offended the aesthetic sensibilities of the team owner!).
By Saturday, though, these were gone, replaced by the smaller units used in Montreal and Detroit, together with another small oil radiator mounted on the side of the chassis, just inside the front of the left sidepod. The large nosecone of the previous day had apparently created an aerodynamic imbalance, causing too much understeer.
Right behind the Brabham pair was another BMW-engined car, the ATS D7 of Manfred Winkelhock, and then came Eddie Cheever, once again much the faster of the Alfa Romeo drivers. "We haven't gone as quick as the front guys, I know," he commented, "but I feel really good about the race. We've calculated that the race won't go much more than 55 laps or so inside the two hours - so this time we're even going to fill the tanks right up. Imagine that!" Eddie, another super-fit specimen, was quietly confident of his stamina for the race.
The Detroit excesses of Andrea de Cesaris mean that there was no spare Ligier in Dallas, and, doubtless driving with this in mind, the spirited Italian contented himself with but one wall skirmish in practice. This time the Ligier star was Francois Hesnault, who seemed perpetually to be lacking a nose cone, and damaged his JS23's front suspension with a spin on Friday afternoon. Both of Guy's cars survived qualifying, however, with Andrea 16th, his team mate 19th.
Behind De Cesaris was the surviving Tyrrell of Stefan Bellof, as ever going at his work with vim and vigour, although a little chastened by his team-mate's sad fortunes. The German preceded Piercarlo Ghinzani's Osella-Alfa, which proved considerably quicker than the persistently disappointing Arrows A7.
This time we finally saw both of Jack Oliver's men in the BMW-powered cars (there being no Cosworth ones left!), but neither Thierry Boutsen (20th) nor Marc Surer (22nd) was very satisfied with their tail-happy devices.
Spirit were back with Hart power again at Dallas, and Huub Rothengatter qualified it 23rd, despite leaving the car's left rear corner on the wall during the Friday morning session. That, however, was repairable, which was more than could be said for Philippe Alliot's RAM-Hart, which the brave Frenchman comprehensively wrecked in the afternoon. With no spare car available, Alliot was out for the weekend. Team-mate Jonathan Palmer qualified last, his chances of improving in the last hour disappearing when the car's engine cut out, Jonathan having to abandon it out on the circuit.
And that, once more, brought practice to a halt...
Race
Sunday morning. Up early, for the warm-up is scheduled for seven, four hours before the start of the race. Down for breakfast. "Take your time," says a French colleague. "I've just heard - the warm-up is delayed until nine. And," he says, "There may not be a race..."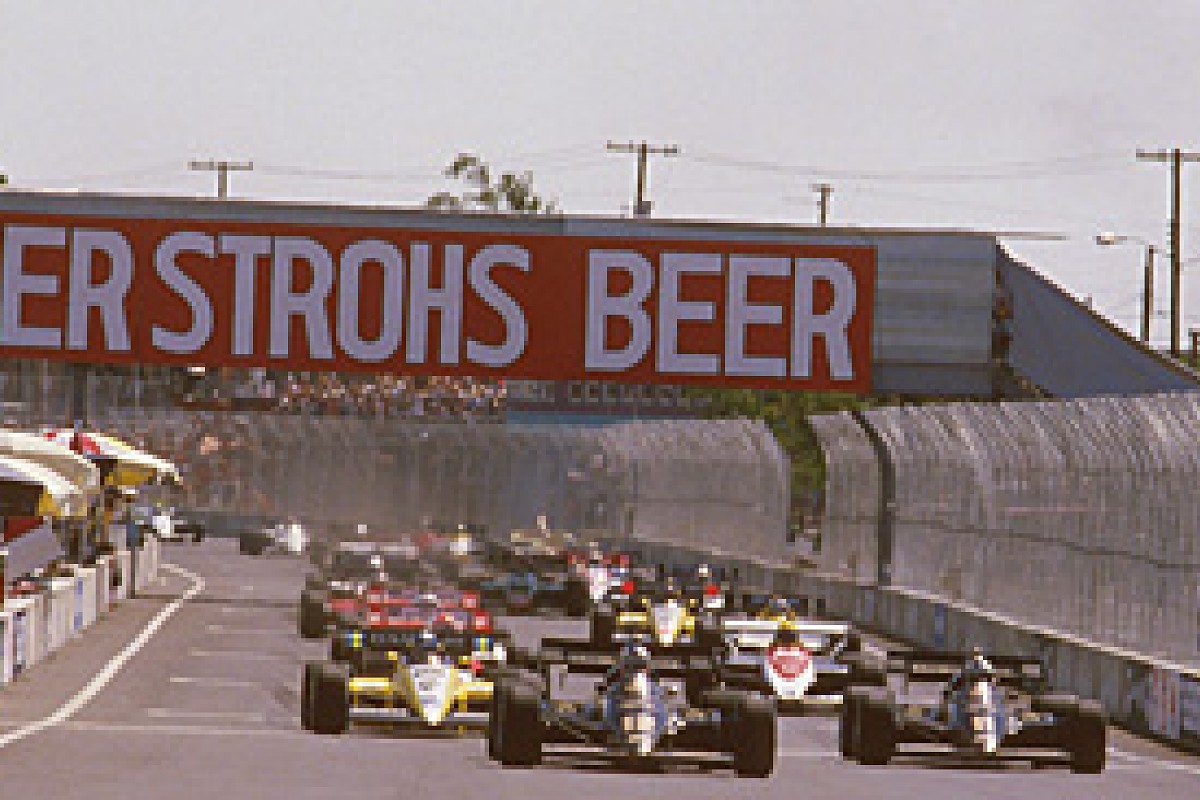 After final qualifying, I had heard that Lauda and Prost were speaking in terms of a driver's boycott, the idea gaining favour with some, very definitely not with others. I had watched the opening laps of something masquerading as a CanAm race, but increasing drowsiness set in, and I went back to the hotel.

Insignificant it may have been as a race, but the CanAm fiasco was to have a potentially disastrous effect on the serious business of the weekend. After this selection of vintage machines had droned around for 50 laps, the track was in pieces. Whole sections needed resurfacing, and the decision was taken to do the job with an epoxy concrete compound, similar to that used at Detroit a couple of weeks ago.
There were, however, two crucial differences: whereas the compound had taken but an hour to cure in Detroit, the very much higher temperatures of Dallas meant that much more time was required. Even more to the point was that this time a bad batch of the stuff was mistakenly used...Thus, on Sunday morning much of the track was in a deplorable state, in no way truly suitable for the running of a Formula 1 race.
Nine thirty. Pit lane was in a state of some frenzy, with anxious faces everywhere. Driver conferred with driver, team manager with organiser, and Bernie, it seemed, was being consulted by everyone. There was talk of cancelling the race, postponing it by a day, reducing its distance, stopping it early. Every permutation of the crisis was discussed.

From the pit, drivers set out on inspection tours, returning with glum faces, derisive gestures. "No," said Lauda, "we are not sure to race - or, at least, I'm not." Prost went along with that, and Ron Dennis said that he was leaving the decision entirely to his drivers.
"It's really quite incredible," remarked Jean Sage. "I went round the circuit at 9.30 - and there are places where you can lift the concrete with your fingers..."
But there were, Saints Be Praised, occasional moments of levity. Jacques Laffite, ever the voice of sanity in this frequently absurd little world, made his feelings clear about such an early start to the day by arriving at the track in pyjamas! And many drivers forgot themselves and their problems as members of the Dallas cast arrived to take their places in one of the hospitality suites.
"Where's Rhonda with my water?" asked Derek Warwick. "She's ...er...down there," I replied, "Taking pictures of JR..."
Eventually someone somewhere made a firm decision. The race would be officially shortened by 10 laps. No big deal there, since it had been apparent from the first day of practice that 78 laps of this circuit - even in prime condition - would not fit into two hours. The warm-up had already gone by the board. No, there would be three laps of acclimatisation, and then the race would start at eleven o'clock, on time.
And so we had this curious atmosphere in the pits, the good-natured carnival of Bobby and Sue-Ellen and the folks of Southfork, and our dour drivers facing a grim time. The crowd, it seemed, was huge, and the temperature was edging once more into three figures. A marathon was apparently in prospect, but some drivers spoke of the race being stopped ahead of time. No way, they said, can the surface last for two hours.
"What a joke, huh?" said Rosberg. "You know, after two laps a race can be stopped, with half points awarded. So maybe they stop it after three. Everyone on qualifiers, with full boost...
"I've never driven on anything like this," he continued. "I got here this morning for the seven o'clock warm-up, took a look at the track and went back to the hotel."
"Is there a feeling among the drivers," asked an American, with a keen grasp of the situation, "that you don't want to run?"
"We don't want to break bones," came the reply. "I don't know what the feeling is among the drivers, but everybody worries about pain.
"What do you do about this situation? Whatever we do is wrong. To race is crazy, but then you have to remember you got 28 countries waiting for TV and 80,000 people around the track here. That has to be the reason we say we'll race.
"At the end of the day it's all s**t, right? And there's no point in blaming anyone here in Dallas. We shouldn't be here in the first place - because FISA should never have waived that rule about new circuits having to hold a meeting before running a grand prix. If they'd had a CanAm race here three months ago, we wouldn't be in this trouble now.
"Things like this just degrade grand prix racing, let's be honest. But we have to bite the bullet, don't we? I also think that doing the race will be the best way to show the decision makers what kind of idiots they are. The Dallas people are organising their first grand prix, and the whole world is full of grand prix experts, who should have been here to offer their help. All that experience has been wasted. This guy who's Clerk of the Course, the SCCA guy...every time he shows up he says 'we know better' and every time it's a disaster...
"And where the hell are the people from FISA, our wonderful; governing body? They're not here because it's too hot for them..."
Bitter, but resigned, was Keke. Always the supreme realist. Of course there was going to be a race. The presence of TV cameras guaranteed that. All the threats, protests, boycotts were, as they say over there, just jive.

They did their three warm-up laps, and formed up on the grid finally, 10 minutes late.
I was watching at the exit of the first corner, and it is fair to say that most of our group anticipated all sorts of carnage on the opening lap. "Whatever they say, whatever their protest," murmured John Watson, "show them a green light, and they'll go for it. Nothing changes..."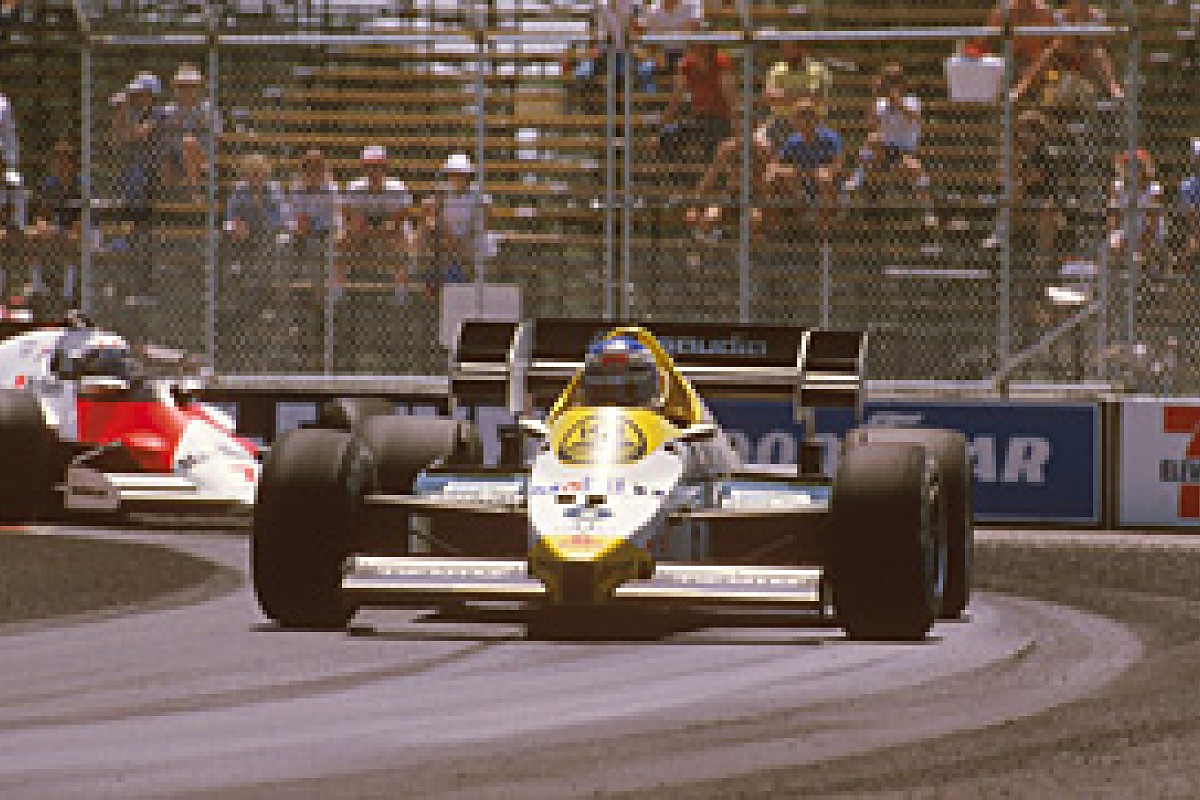 Rosberg threads his way through the marbles, hunted by Prost © LAT
He was right. There was no pussyfooting. Out of the turn Mansell's black Lotus burst into view, followed by de Angelis's sister car and the Renault of Warwick. Alongside Derek on the grid should have been Arnoux, but the Ferrari had refused to fire up on time, René taking the final parade lap at the tail of the field - and starting the race from there. It was the beginning of perhaps the greatest drive of the man's career.
At the end of the first lap Mansell had inched away a little from de Angelis, with Warwick third, then Senna. The Brazilian had probably the best-handling car in the race, and looked a strong contender, stamina providing, but he tossed away his chances on the second lap by clouting a wall and spinning. That meant a pit stop for new tyres and a drop to 21st place. Fifteen minutes later he made the same mistaken at the same place - Turn 6 - and that meant another tyre stop.
Ayrton would eventually retire with a broken driveshaft with 20 laps left, and he would drive without seat belts for most of the way. The positioning of the crutch belts in his race car apparently causes a circulation problem, making his legs numb. To ease the discomfort, therefore, he preferred to take a chance, allowing that he was taking it easy as a consequence. Considering his lap times, the Toleman was potentially the quickest car in the race, and a golden opportunity was lost.
It was hardly a day Senna will recall with pride.
Out in front Mansell was charging - but so also was Warwick. While Nigel moved away steadily, Derek haunted de Angelis, and by the end of lap four the Renault was second, Elio's Lotus back to third. Then we had Lauda, Rosberg, Prost, Alboreto, Tambay and Piquet. Gone already was Hesnault's Ligier, damaged by contact with the Cecotto Toleman, which limped to the pits for a tyre change. In the furnace conditions the Toleman mechanics will have uttered one or two very rude words in the first few minutes. And the work was all for nothing, Johnny's car clouting the concrete a while later.
Once into second place, Warwick swiftly closed on Mansell so that, at the 10-lap mark, a change of lead seemed imminent. But we saw no more of the Renault. Derek had tried to put a move on Nigel, slid sideways and into a tyre barrier, a grey tyre barrier, incidentally, since it appears that black tyres offended on aesthetic grounds the wife of the race's co-founder...
This was a blow to the race, for the prospect of a Mansell-Warwick battle had been stimulating. Already the State Fair Park was taking on the aspect of a Formula 1 graveyard, for Cheever's Alfa and Bellof's Tyrell were also in the wall by this stage. It was the story of the afternoon, a combination of stricken wrecks and crumbling surface reducing parts of the circuit to little more than an obstacle course.

The pressure on Mansell was relieved only temporarily by Warwick's mishap.
Lauda had purloined de Angelis's second place a few laps before, but now the Italian had it back and was giving every sign of wanting to be first. For two or three laps, the two black cars circulated as one, and we remembered Montreal. Team spirit is, shall we say, less highly developed at Lotus than in other teams. Everyone likes to see his cars running one-two, but in the pits Peter Warr must have shivered a little, despite the wilting temperature...
Lap 15: Mansell, de Angelis, Rosberg, Lauda, Prost, Tambay, Piquet, de Cesaris and...Arnoux! The latter was performing with a ragged, dramatic, brilliance, all his competitive juices stirred by the injustice of starting from the back. He may have passionately hated this circuit, but now he confronted it with all the courage in the world. The Ferrari bounced and slithered its way round, perilously close to the walls, pitching over the bumps, exhaust note machine-gunning against the rev limiter. René was driving like an angry man. His progress had been halted for a few laps by a private scrap between Fabi, Ghinzani and Boutsen, but eventually he forced a way through, then dealing swiftly with team-mate Alboreto, whose heart was not truly in this race.
New retirements during this period: Patrese and de Cesaris, both in the wall.
My view of this race was indeed sanitised, for the track surface through turns one and two was not - beyond its undulations - causing any problems at all, and in my sight no one spun, no one touched a wall. All the drama was later in the lap where, in places, the drivers were obliged to queue into orderly single file. Hence the slow pace: Mansell's laps in the lead were requiring 10-12 seconds more than his pole time.
On lap 19 it was de Angelis's turn to make a mistake, and Keke came by in second place, where he stayed for many laps. At this point Rosberg and the Lotuses had moved away slightly into a race of their own, but behind the McLarens still looked menacing. And Prost, having driven the early laps quietly, had now taken Lauda for fourth - with Tambay closing on both of them. At this rate, it was not too much to contemplate a six-car battle for the lead.
Patrick, though would not be part of it, stumbling on the marbles on lap 26. The second Renault was into the wall, right rear corner torn away. Gérard Larrousse was not amused with his drivers on Sunday, which seems a trifle high-handed in light of the number of times they have recently been let down by his cars.

Lap 29: Mansell, Rosberg, de Angelis, Prost in a single swarm, the canny Lauda holding a watching brief at a discreet distance. Alain was now on the move, having put aside his personal feelings about the track. While closing on de Angelis the Frenchman had glanced a wall, but the McLaren seemed unaffected, and he pressed on. "See what I mean?" grinned Wattie. "About showing a green light to a racing driver...?" I could.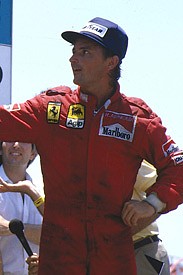 Rene Arnoux drove one of his greatest races © LAT
The man suffering most out there was undoubtedly Rothengatter, for the Spirit-Hart had a fuel leak, and the Dutchman was being gradually skinned by a bath of gasoline. He thought to go on as long as possible, he said, because there might well be points for anyone still running at the end - whenever that might be. Eventually, though, the fuel system quit altogether.
Huub climbed from the cockpit, went to a spectator area, there requesting cups of water - for pouring over his nether regions. Undignified, he agreed, but more than welcome.
On lap 30 Prost's McLaren eased its way past de Angelis for third, and three laps later the Frenchman had also displaced Rosberg. Lauda still ran fifth, in touch, and then came Piquet, being swiftly caught by the meteoric Arnoux. From his 25th start position Laffite had moved up to eighth after a struggle with Ghinzani's Osella - which unfortunately had to come in for tyres after 31 laps.
Perhaps not surprisingly, the wheel change did not proceed very smoothly, one of the nuts jamming. As well as that, Piercarlo was completely spent, lolling about. Italians have a pragmatic approach to such problems. Seeing his driver's distress, one of the crew hurled a bucket of water into the cockpit, which appeared to have the desired effect. Ghinzani perked up, put the car into gear and moved off.
A mistake by Prost on lap 35 put Rosberg back into second place, and a lap later the Williams-Honda was in front, having scraped past Mansell. Next time around Nigel was back in fifth place, and on lap 39 he was in the pits for tyres, after a light skim with the wall. He rejoined, but the zest was gone, another possible victory lost. In these new circumstances he began to look like a very tired racing driver, a little wayward off line.
Rosberg one, Prost two. And Keke, leading a grand prix again, did his best to make a break, pulling out the lead to more than five seconds at the 40-lap mark. Thereafter, though, the McLaren quickly closed, and at the end of lap 49 Prost again led. And so easily did the Frenchman pull away that the issue appeared to be settled.
Fifty laps: Prost, Rosberg, Lauda, the quite astonishing Arnoux, de Angelis, Alboreto, Mansell, Laffite, Boutsen and Fabi. Three laps earlier Piquet's race had ended in a tyre barrier, the world champion hampered by a sticking throttle from the start.
Whatever the peculiar circumstances responsible, it had been a fabulous race, but now at last all seemed resolved. Except that Arnoux continued to drive as if on a qualifying lap. On lap 51 he took the Ferrari past Lauda for third place, the V6 cackling and spitting with fuel vaporisation problems, but still going like the hammers.
The big surprise came on lap 57: no Prost. Unbelievably Alain had nudged a wall again, and nine certain points were gone. It was a very crestfallen man who walked back to speak to Ron Dennis, and very shortly afterwards they were joined by Lauda. He, too, had clipped concrete. He, too, was out.
So that left us, once again, with Rosberg in the lead, followed by Arnoux. For a few laps René pared off a couple of tenths here and there, but he could make no serious impression on the Williams, and wisely settled back for a supremely honourable second place.
The final laps were reeled off, and the two-hour mark came up. After 67 laps Keke was given the chequered flag after a fantastic drive. You only had to watch how the Lotuses and McLarens handled the bumps to know that the Williams-Honda did not truly belong in there with them.
"Fabulous!" said Watson. "I think the pace suited Keke today - it would have been hard for him to stay with that bunch if the track had been in first-class condition. But it wasn't, and he made the most of it. God, he's tough isn't he? That was brilliant performance..."
While most people went off to lick their wounds afterwards, Rosberg, Arnoux and de Angelis got up on the platform, taking the limelight even from the Dallas cast. Keke, however, had harsh words for Mansell: "The way he was driving today was unacceptable in grand Prix racing," he announced to the assembled populace. "A lot of the blocking moves were idiotic...": Etc, etc.
It was, I thought, unfortunate that Rosberg should use the PA system for his remarks. Preferable by far would have been to discuss the matter in private.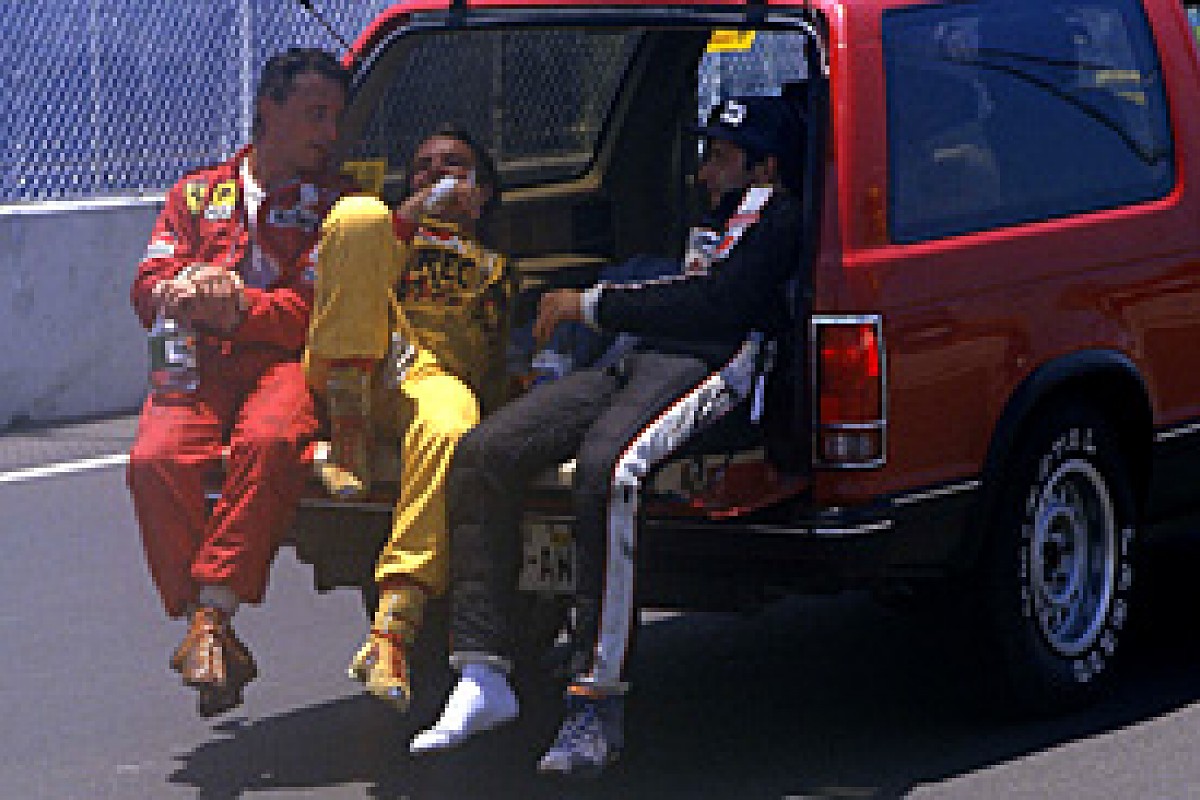 The podium finishers recover from the heat © LAT
As it was, Nigel will have heard little of Keke's comments. Damaged gear linkage, perhaps the legacy of one touch too many with the wall, left him unable to select any ratio at all. And thus, from the last corner, Mansell - already exhausted - began to push the stricken Lotus to the line. It was gallant, but futile, and eventually he collapsed. In the dying seconds of the race he lost fifth place to the rejuvenated Ghinzani.
And that was perhaps the nicest scene of all. In the midst of all the superstars, glitter and wealth, the tiny Osella team tearfully celebrated. That, together with Rosberg's unflagging courage and style, and Arnoux's remarkable determination and guts, is the memory of Dallas 1984. Not forgetting the heat, of course.