On September 28, 1990, Martin Donnelly survived a horrific accident during qualifying for the Spanish Grand Prix at Jerez. Those that saw the images of him lying in the track, still strapped to his seat, will not forget it.
Now, 20 years on, Donnelly talked to AUTOSPORT to reflect on his career to that point, his recovery from the crash and his ongoing involvement in motorsport in the decades since.
Q. First let's go back to earlier in your career. How did you first get your break in Formula 1?
Martin Donnelly: Eddie Jordan was my manager. He ran very successful Formula 3 and F3000 teams and he could always get a foot in the door and make things happen.
It's ironic how things turn out; back in 1989 Jean Alesi and me were with Jordan in F3000. I had done a four-day tyre test at Silverstone two weeks before the British Grand Prix, in a Lotus with the Judd engine. It was myself and Satoru Nakajima. That was my first time experiencing qualifying tyres. At the end I did a run that I think would have been P6 or P8 on the grid, and I remember the AUTOSPORT cover at the time was 'Is Donnelly the next Mansell?' That gave me a lot of push.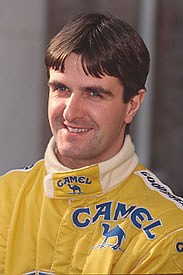 Martin Donnelly © LAT
Then the next weekend Derek Warwick was karting, had a crash and went under a Ford Transit or something. He hurt his back, or his ribs, and wasn't up to racing for Arrows at Paul Ricard. Eddie was straight on the phone to Jackie Oliver saying 'I've got the man for you, look in this week's AUTOSPORT, he went to a test and blew your guys away, he's the next big thing'... and I got the deal. It came with EJ's standard six-year management deal at 15 per cent.
At the time, Alesi was my team-mate at Jordan and he was leading F3000. If anything, Jean should have had the opportunity. And he was asking 'how come Martin is getting that drive?'.
The same week, Tyrrell landed the Camel sponsorship deal, but one of the drivers, Michele Alboreto, was Marlboro-backed. Ken needed Michele to take the Marlboro logos off his overalls, for Camel, and Michele refused. So he couldn't drive. Eddie hears about it and is straight on the phone to Ken: 'I've got the man for you, Alesi is even quicker than Donnelly, he's going to win F3000, you've got to take him, he's the next big thing'. So EJ got Jean in the door as well. That weekend I think there were three of us making our debuts at Paul Ricard, Alesi, myself and Eric Bernard.
I qualified 14th, Eric was 15th and Jean 16th. Then there was Mauricio Gugelmin's crash at the first corner and a restart. One of the mechanics spotted a nick in my front wishbone so I was pushed off the grid and had to start in Eddie Cheever's spare, which was set up for him and all on the nose to drive. Jean went on to finish that race in the points and had a race-by-race deal with Ken after that and was on his way to stardom. He soon had a contract on the table with Williams, but somewhere in that winter Ferrari came knocking. For a driver with Sicilian heritage, it was always going to be Ferrari - though in hindsight the Williams was the car to have.
Anyway, that outing led to me being signed up by Lotus for the 1990 season. It was flattering and times were great for me. It was a tough season but I had some seventh and eighth places and on the morning of my accident at Jerez, I had three F1 contracts on the table. Lotus had an option on my services that they'd agreed to take up that morning, there was also Tyrrell and I was the first driver to be offered an F1 contract by Eddie Jordan.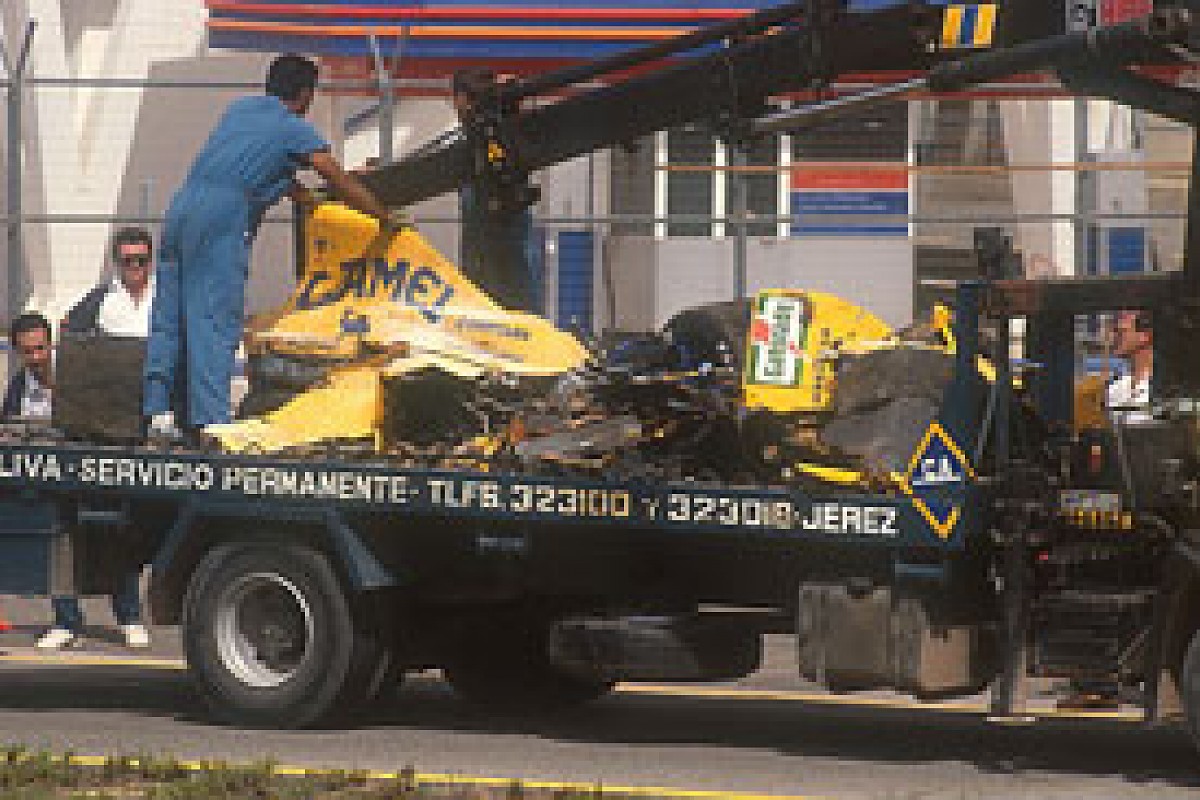 The remains of Donnelly's Lotus at Jerez © LAT
Q. And then the crash?
MD: It was hard to take. At the time, when you're lying in hospital all you know is you've had a crash, you don't appreciate how ill you actually are.
The first thing people don't realise is that the broken bones aren't the biggest worry. In time, bones would fix. My problem was the massive trauma that my body had gone through made it just shut down. I was in intensive care with tubes everywhere, I had injections to freeze every muscle in my body, the next day - after being flown back to London - the whole thing just closed down - kidneys, lungs... I was given the last rites twice. I was kept in a coma for seven weeks to try to keep the trauma away from my brain, and then on kidney dialysis every day for a month.
A doctor came round every day to take my blood, I wasn't speaking and they thought I might have brain damage because of a lack of oxygen. It turned out if he hadn't got to me in the next 60 seconds I'd have asphyxiated.
Derek Warwick came to see me in intensive care, and he'd been warned that I wouldn't be the guy he knew. Now he's a pretty tough bloke and I'm sure he's seen a lot of things, but he pulled back the curtains, collapsed on the floor and got a bit sick.
I just wish someone had taken some pictures while I was lying in the bed so I could appreciate how ill I was. People say my body was nearly see through, with the outline of the seatbelts gauged in. I was down to 54kg total body weight at one point.
It wasn't until I wanted to go home for three days at Christmas that I realised how hospitalised I had become. I had to have 24-hour care and I didn't like relying on other people. The crash was at the end of September and I decided that I'd be leaving hospital on Valentines Day.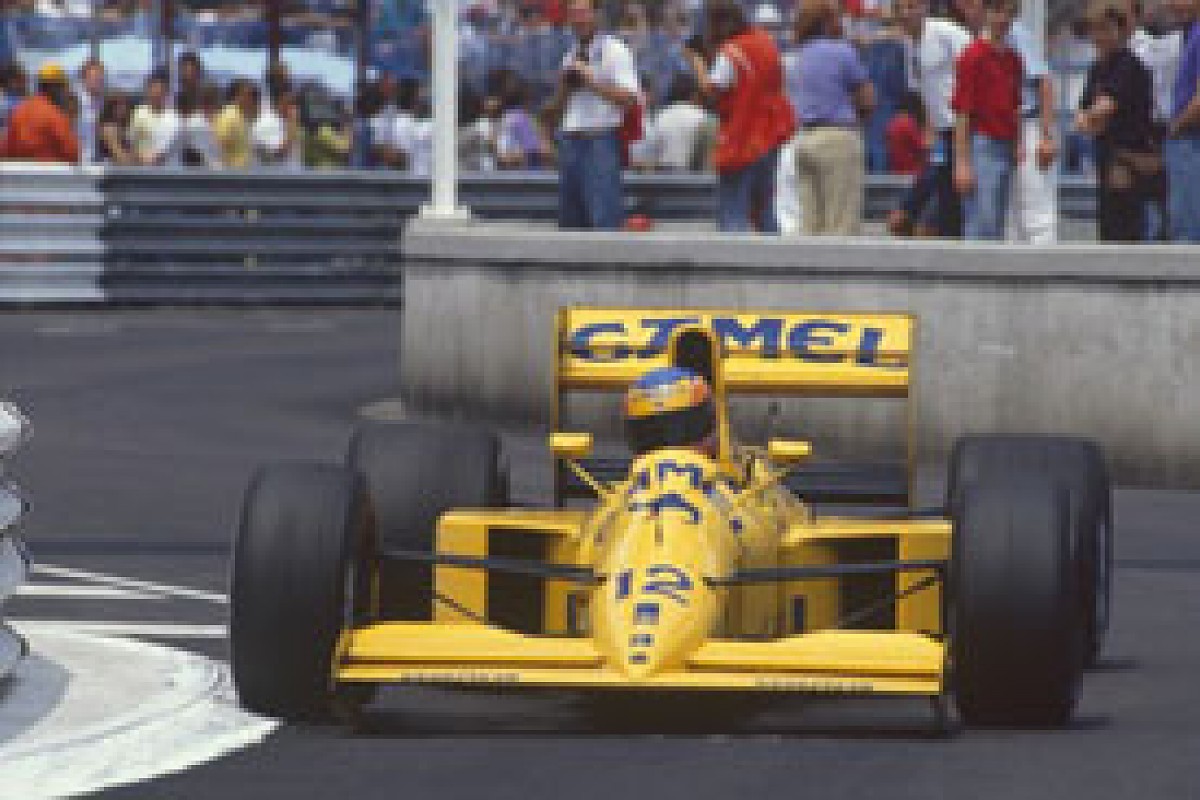 © LAT
Through naivety I knew of the guy in Austria who got Niki Lauda back to racing in six weeks after his crash, and Gerhard Berger too after his fire, and I decided he could get me back too. I got there in a wheelchair, had the pins in my legs out early and I was in casts. After two days the physio nurse chained the wheelchair up and forced me to use crutches. I could barely stand, I didn't have the strength to hold myself up. I had therapy for 12 hours a day and gradually pulled myself back up. Then I couldn't do any more because there was a problem - muscle had got fixed to my femur so I had to have another operation. I was naïve, I didn't realise the extent of it.
I was told my days as a professional driver were finished. That was the hardest part to take, especially after bone grafts, the hours of physio, all the time in hospital... for someone to say that's the end.
But I did drive again. In February 1993 I drove the Jordan at Silverstone. The world's press was there for my first time back in a car. I didn't have any worries about driving the car, my fear was that I would stall in the pits because I didn't have any feeling in my leg. After a couple of laps the engine blew, which was a shame, but it felt natural to be back in a car. That was my way of responding to being told I wouldn't do it again.
Q. How long did your recovery take, in total?
MD: To be honest, it's still going on. Even last year I had another major operation on my leg. You never really get to where you want to be. I just wanted enough flex to be able to play football with my children, or ride a bike with them. I've got another one coming up in the next six months.
The problem now is that the muscles and nerves aren't working. The muscle in my foot is wasting away and it curls my toes back. I've got to have my toes broken and pinned straight, and they need to grind away bone at the bottom of the foot where it's getting more exposed. It's an ongoing process.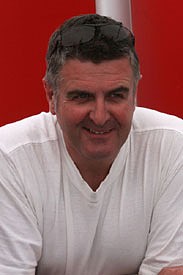 Martin Donnelly © LAT
Q. Do you look back with any bitterness, about what might have been if not for the crash?
MD: Early on, yes. There was bitterness and a large amount of frustration that I couldn't do anything to help myself. But eventually you learn to accept your situation.
But it's true that time is a healer. What really brought it to life for me was Ayrton Senna's death. He was a friend of mine and he was taken from us too early, through no fault of his own. He was a success, he'd done it all, he was a three-time world champion and a legend, but he had no family to leave it all with, he wasn't married, he didn't have kids. It makes you realise that there's a lot more to life than racing.
When you're in Formula 1, you're enclosed in a life where everything is done for you. You're not actually a part of the real world. Ask how many of the F1 drivers today pay their electricity bills. You have to get away from that environment, into the real world. That made me realise that I'm still here to talk about it and there are better men than me that aren't.
We had a party recently, 20 years on, and there were nice words from Damon Hill and Derek Warwick, saying things like I was a future world champion. I've got an extract from Damon's speech here about that day at Jerez:
"I was in the pits and suddenly the whole circuit went quiet, like it only does when there has been a serious accident. I ran to the corner and it looked like a war zone. All I could see was Martin lying like a crippled doll in the middle of the circuit. He was blue. Pierluigi Martini had parked his car across the track so nobody could hit Martin. I was screaming at the marshals to get Sid Watkins. I'd never seen such a twisted body, I thought he was dead. Normally, Sid was very gentle, taking a driver's helmet off slowly and methodically - but not this time. He ripped the helmet off, cut open the overalls and started beating the s**t out of him to bring him back to life. That will stay with me for the rest of my life. I left the circuit that day thinking Martin had died."
Who knows what would have been? You'd do yourself some mental damage if you sat down and gave it serious thought. If I had millions, or world championships, would I actually be any happier in life? I don't think so. I'm still here. I've achieved the things in life I wanted to achieve. I've got a fantastic wife in Julie, three fantastic kids, Stefan, Charlotte and Owen. They're all in good health and doing well in life. As long as I can put food on the table, see that they get an education and see them forward in life. I can't complain.
I've been very fortunate to be able to stay in Norfolk, where we've made our home. I've driven for teams, I set up my own team and ran many guys, like Jason Plato, Mario Haberfeld - the best guy I even ran was Luciano Burti. I've done a little bit of racing again, I worked with Jonathan Lewis at Comtec, I did my own thing with a track academy.
Q. And you're still involved in the motorsport today, managing a young Spanish driver?
MD: Yes, Ramon Pineiro. He's a determined young man, he's got a lot of support on board by himself, but I'm trying to help him.
His father got in touch with Jonathan Lewis while he was doing Formula BMW because it wasn't going to plan. Jonathan got me on board to try to help him. Ramon reminds me a lot of myself in my early years. I started without any management as a naïve kid, I liked the powerful cars - the more power, the faster I went.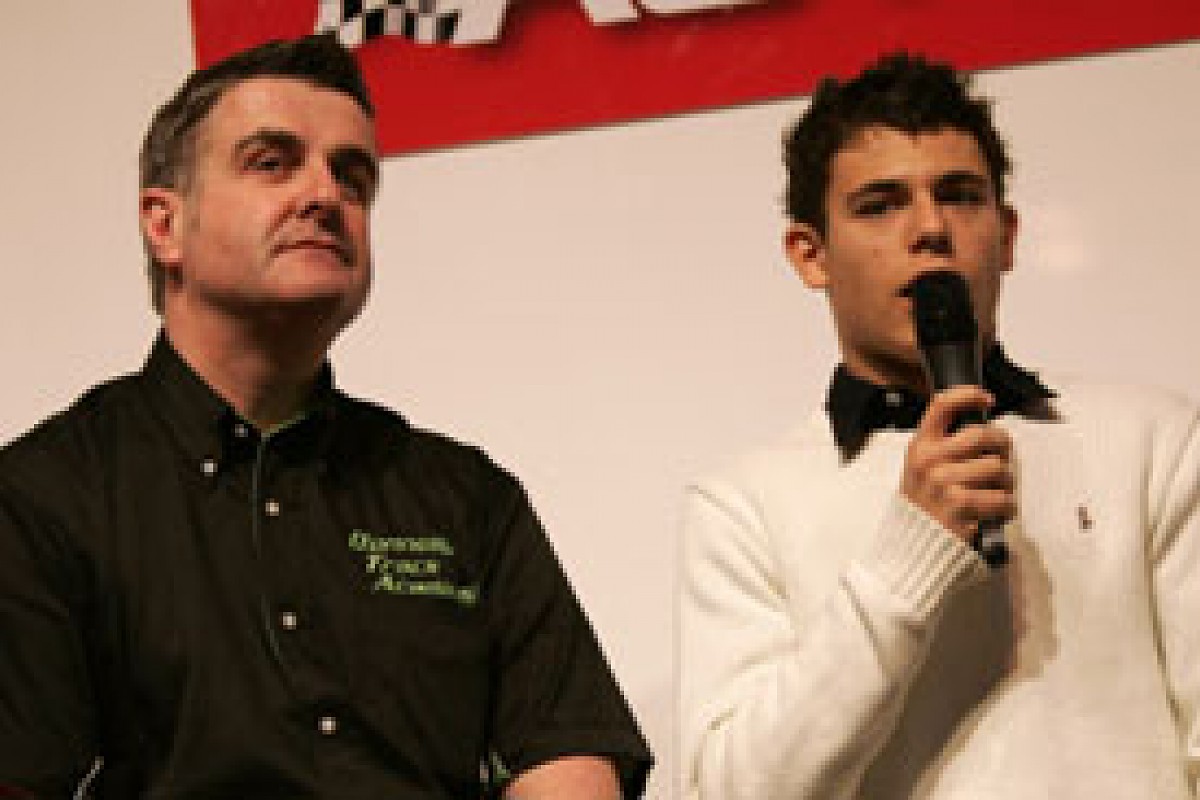 Donnelly with Ramon Pineiro © LAT
He'd got some backing from Caja Madrid, a Spanish bank, but unfortunately for him there was a revolt within the company and the president left. By the time the new president sorted things out it was too late for his season.
But Ramon went to a sports conference in Barcelona, on his own. He asked me to go with him but I had another commitment, so he had to do it alone. But he went there, gave a presentation to these companies and one guy that saw it happened to know the new president of Caja Madrid and recommended to him that he take Ramon on. Now he was a three-year contract with backing from them. He's aiming to do F2 next season and then who knows after that.
It's nice for me to be able to stay involved in motorsport in ways like this, and he's a nice lad. If I can help him take two steps forward instead of one back, that's great.