After the best part of four years, the waiting is almost over. There are two distinct attitudes towards the release of the first Formula 1 game since February 2007. There are those who are just delighted that the pinnacle of the sport is again represented in the games market. And then there are the apprehensive types - those who are desperate for this game to do Formula 1 justice, but have been let down in the past.
The majority of the AUTOSPORT office probably falls into the latter category. So when two of us went to Codemasters last week to try the game, we knew we'd be looking at it from a slightly different perspective to the majority.
Fortunately, the Codemasters team is full of genuine F1 enthusiasts who are as keen as the avid fans of the sport to get this right. There's even some with experience from the fantastic Geoff Crammond 'Grand Prix' series that dominated the genre through the 1990s.
When you add ex-F1 driver and gaming-mad Anthony Davidson to that team, it's a pretty good mix. The current BBC Radio 5 Live commentator is striving for perfection with the game, to the point that he's still picking up on slight nuances that can be improved for the 2011 version.
But enough of that. Let's get onto F1 2010.
The simulation debate
It's easy for Formula 1 fans to demand that a game about their sport must be a full on simulation. But in reality, it's far more important for the game to be playable. If you spend all of your time on track tip-toeing round, trying not to spin, you don't get to enjoy everything else about competing in a grand prix.
As one member of the game's coding team put it: "We know Formula 1 cars are hard to drive, but if we accurately simulated that in the game then only 30 people would be able to play it. This game is meant to make you feel like a Formula 1 driver, and F1 drivers don't find these cars impossible to drive."
It's a fair point. And anyone can pick F1 2010 up and get the hang of it relatively easily - which, we must all understand, is key to this being a commercial success. So Codemasters has ticked that box.
For the rest of us, it's the next step that matters. If you're capable with most racing games, then you'll get to within one-two seconds of the pace very quickly. But, just as in real life, it's finding those final tenths of a second that really does take work. Once you are up to a pace it will take time to find those last fractions of a second.
Davidson has pushed hard to get the effect of downforce right, so cars do behave differently at low speed in comparison to high speed corners. And thanks to his input, the cars have a consistency that inspires confidence, allowing the driver to gradually work up to the edge. So while it's easy to reach a certain level, the best drivers out there will still reap the most rewards. Even against the AI cars you'll find yourself dealing in tenths of a second, just as it should be.
This is possible with or without driver aids. When switched on they don't take over too much control, so it's still the player driving the car. And when they are off, the car doesn't suddenly lose all of its performance. So many games before have made brakes too easy to lock, wheels too easy to spin, and cars too difficult to keep in a straight line. Formula 1 cars have incredible performance, and that shouldn't all be lost because you've turned the driver aids off.
The racing
Davidson says that he pushed hard to make the cars consistent to drive so that online racing would be a rewarding experience. But a lot of work has gone into the experience of racing with 23 other computer-controlled (AI) cars as well.
The developers were keen to make sure that they don't send the player into a race against a field of cars that drive around on the racing line together like a bunch of robots.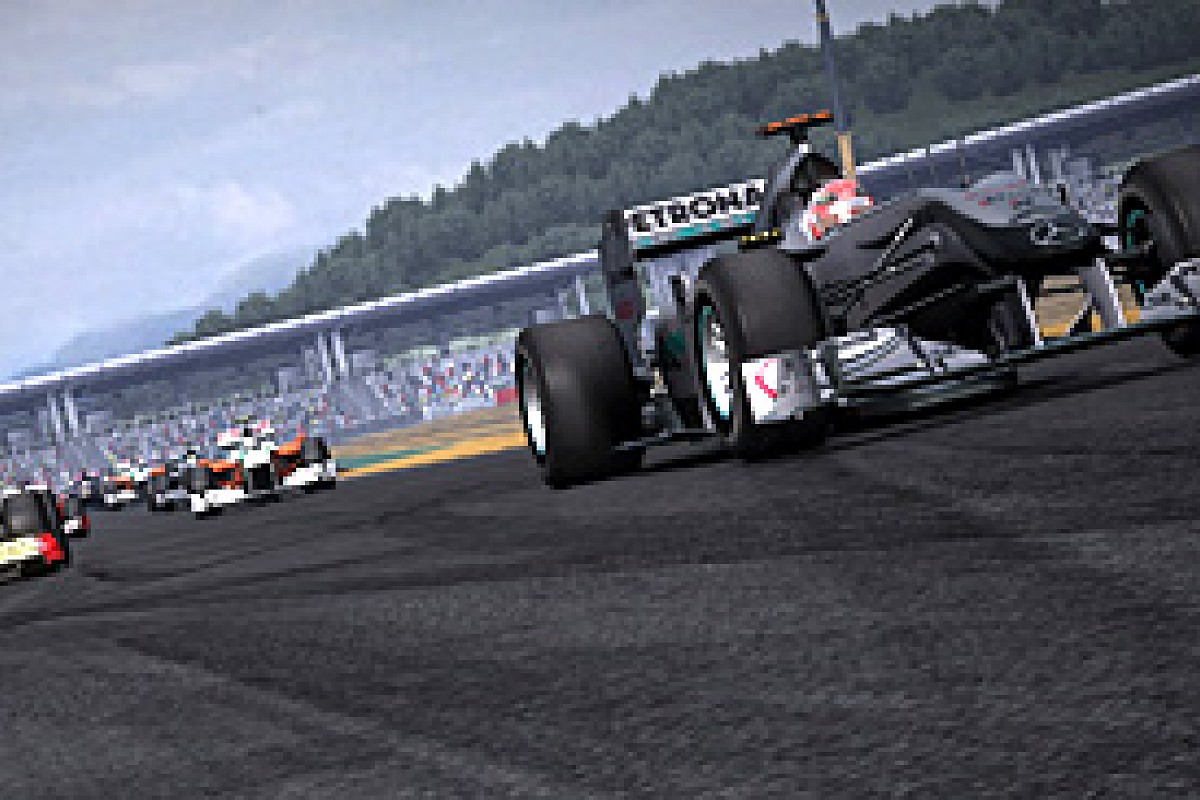 Codemasters' new F1 2010 racing game
With help from Davidson, they've worked on giving the AI drivers varying characteristics. For example, some are better at defending than others, some are better in the wet. And the AI cars are far more ruthless than in most games. If you move over on one before you have the right to squeeze him, he'll leave his car in there.
And if you poke your nose down the inside when you're not properly alongside, your rival will still turn in. They won't be jumping out of your way whenever you apply some pressure.
Accidents
Getting collisions and damage right in F1 games is never easy. And this is definitely one of the areas where Codemasters are keen to point out that there is much more to come in the future. For now, the most impressive damage model is on the front wings of the car. They break up differently depending on the angle and the severity of the impact, and there is additional damage such as wheels and suspension pieces coming off.
The collisions are impressive. Side-to-side impacts have been softened to make the racing more enjoyable, but when cars tag each other properly it is likely that at least one of them will spin. Usually, the car behind is more susceptible to damage, which was a deliberate decision so that players who get hit don't have their races ruined when it's not their fault.
Watch out for accidents happening away from you on the track too. The AI cars do trip each other up even when the player's car isn't involved, so if you're running at the back you could come across other incidents and flying pieces of bodywork. In some part, this makes up for there being no mechanical failures in the game (this year), as there will still be retirements and mixed up results during a season.
The detail
With the help of Davidson, the game is full of details that would pass most observers of the sport by. That includes little moments such as your driver taking a hand off of the steering wheel when you change your front wing angle or engine revs during a race.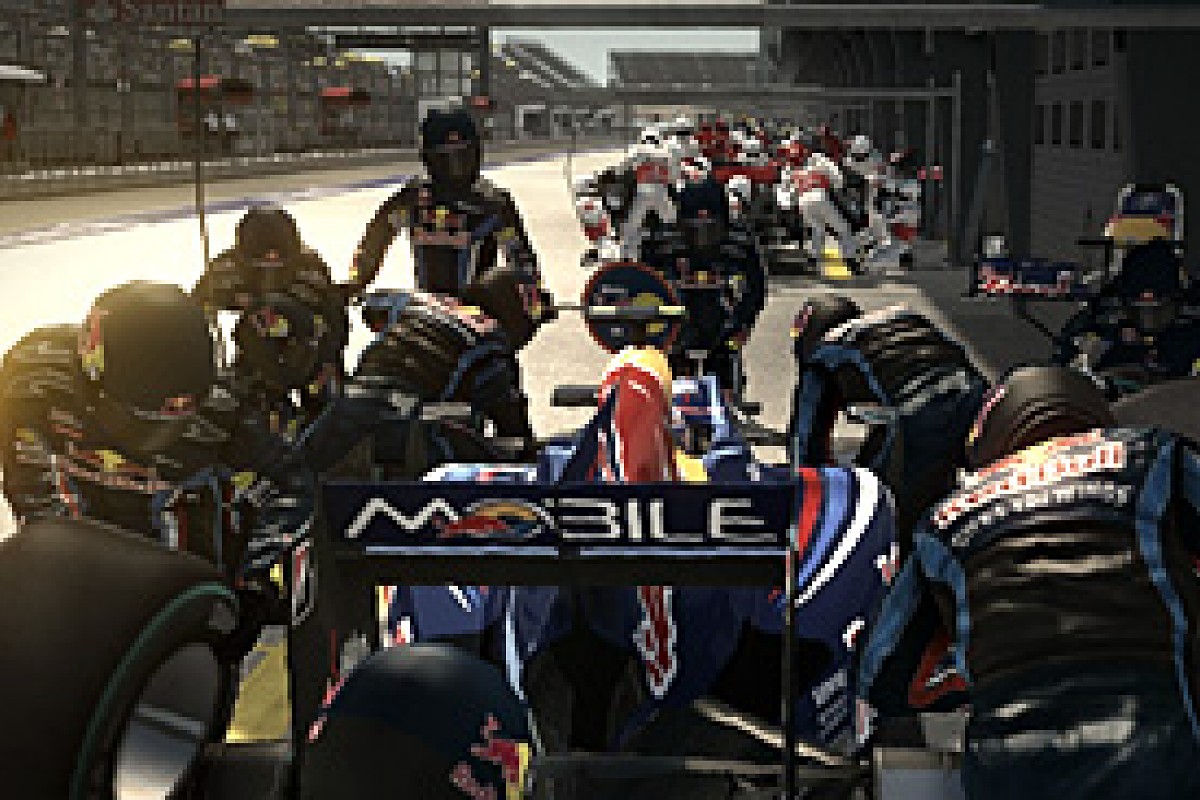 Pitstops look fantastic in the new game
The adjustable front wing comes in handy in races with changeable weather, and it can also be used to compensate for any minor damage. As for the engine revs, your race engineer will keep you informed of the condition of the engine. And if you're in a battle for position and your motor is in good health, the engineer is sometimes generous enough to let you turn the wick up.
In general, the engineer is pretty useful during a race. Some of his phrases are a little annoying ("Come on, get in his slipstream and pass him"), but there is plenty of useful information as well. He has over 6000 phrases, while according to the developers the number of separate phrases from your agent and interviewers are also in the thousands - you might even recognise some of the voices if you are a keen Radio 5 Live listener.
Davidson has helped the team work on the differences between the good and bad cars as well. For example, any Karun Chandhok or Bruno Senna wannabes will not only have to put up with a car that is slower in a straight line, but the HRT will be more nervous in corners or over kerbs, and it even has a slower gearshift.
Even the fastest guys in the Codemasters offices say that they can't win in the worst cars on the hardest difficulty.
The verdict
Players with a steering wheel and pedals set-up for their computer of choice should be blown away by this game. The handling on the wheel is phenomenal, to the point that even hot-lapping on your own is great fun. In this respect, Codemasters has nailed it.
The sensations are obviously not quite as impressive with a normal controller, which took a bit of time to get used to. The developers have to take some of the sensitivity out of the controls to make the car behave smoothly, and that means that you don't quite have the pointy-ness you need in the corners. It's not as impressive as with the wheel, but it's still pretty good.
This game is the result of a mighty effort from those involved. Considering that they've had to build the project from scratch, the amount of precision they've achieved already is highly impressive. This is a damn good start, and there is plenty more to come.