Talk to an F1 physio and they will tell you that one of the biggest challenges is fitting optimum training around the constant travel and changing time zones of grand prix racing. The winter off-season is often seen as an opportunity to advance physical fitness levels, as is the summer 'break.'
An Olympic distance triathlon (1500m swim, 40km bike ride and 10k run) might sound like a poor second to lounging on a swimming pool bar stool with a beer, but not if you're an F1 driver. A week apart, Jenson Button and Nico Rosberg have both acquitted themselves well in triathlons, and with amazingly similar outcomes.
Jenson Button during the London triathlon © Sutton
Button competed in his second consecutive London Triathlon and recorded 2h14m15s while still feeling the after effects of tonsillitis. It was, he said, about seven minutes slower than his 2009 time when he'd been in rude health.
The fact that Rosberg was about to contest his first triathlon got around the media centre in Hungary but Nico was not about to tell anyone where or when. In fact, he completed an amateur category of yesterday's world championship round Dextro Energy Triathlon in the Austrian alpine town of Kitzbuhel, which ski aficionados will recognise as the home of the Hahnenkamm downhill. He completed it in 2h07m23s.
Say 'Keke Rosberg' and what images spring to mind? Chances are, there's a mental picture of a Williams at lurid angles winning brilliantly at Monaco in 1983 or, perhaps, a compact, 'tached, macho guy (or as macho as you can look in a canary yellow racing suit) stubbing out a stogie before lapping Silverstone at 160mph.
It's fair to say that Nico, dubbed 'Britney' by certain factions of the F1 paddock, has a different image from his father although they certainly share the pragmatic gene. Talking to him about training while he was at Williams, he explained how the cardio work necessary for an F1 driver could be accomplished by a fast walk on a treadmill inclined at 15%, "which allows you to read at the same time, which you can't do if you're running..."
It sounded like a soft option but Nico couldn't believe the calorie burn, which was on a par with running, and if you try it, it bears him out. I couldn't tell you if he still does it, but judging by the splits from his triathlon, he's not doing a lot wrong!
In Canada, a wet-suited Button gets in a bit of triathlon practice by swimming the Olympic rowing basin - left over from the '76 Olympics - beside the paddock, and Rosberg is no slouch in the water either, completing his 1500m swim in 24m43s.
On the bike, Rosberg managed the 25-mile ride in 1h02m47s and then followed straight up with a 10k run in 36m58s. Obviously, Nico's incline walking has not detracted from his ability to run. His 10k time translates to 5m57s mile pace, which many a decent club runner would be proud of, without the swim or the cycle! It's impressive.
"It was hard, but a great event," Rosberg said. "It's a new passion for me."
It's easy to see why F1 drivers are naturally strong at triathlon, given the cardio conditioning necessary to cope with the demands of a grand prix. The resting pulse rate of a GP driver will typically be around 40 (as against 60-70 for the average adult) and Heikki Kovalainen told me this year that during the course of a 90-minute race his heart rate averages 170-175bpm.
I was talking to him specifically about his shunt at Barcelona's Turn 9 last year when, coincidentally, he'd been wearing a heart monitor.
"Actually," he said, "my heart stopped for a few moments immediately following the crash. That was pretty hard core! I have the data on my lap top. Then it came back at the rate it had been before, around 170bpm, before falling normally. The 170bpm is actually around 20bpm more than if I train hard physically - the difference being adrenaline - and it also climbs at the start and during a pitstop."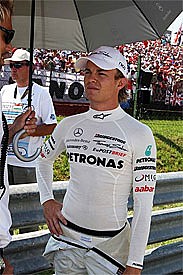 Nico Rosberg © LAT
Without the cardio conditioning, the physical demands of a race would be too stressful, leading to fatigue and loss of concentration. Red Bull physio Roger Cleary explains that core strength is also important in coping with the G-loadings and allowing a driver to be 'connected.' Triathlon coaches stress its importance as well, explaining that proficiency in the three events alone, is not enough.
Given the competitive nature of F1, you can see this triathlon bug catching on, maybe even extending to a team challenge in the off-season? And, as impressive as the efforts of Jenson and Nico clearly are, how long before someone gets serious and goes for the Ultra (Iron Man) distance?
This is serious masochism. It involves a 3.8km swim, followed by a 112 mile bike ride, followed by a full marathon. I'm serious!
Earlier this year, Britain's Chrissie Wellington pulverised the world record with 8h19m13s at the Challenge Roth event in Germany, beating her nearest challenger, Australian Rebekah Keat, by almost half an hour as well as finishing just 25 minutes behind the world record holding man.
Apparently, for an amateur of either sex anything under nine hours is pretty special - which seems to be stating the bleeding obvious - give me nine days and I might have a go myself!
Judging from regular exploits in his fund-raising Tasmanian Challenge - errant Nissan Patrols notwithstanding - this would seem to have Mark Webber's name written all over it. Anyone up for it? Jenson? Nico?