According to The Sunday Times, Eddie Irvine is now worth an astonishing £80million - not bad for a chap who financed his Formula Ford racing days by selling potatoes and second-hand Ford Fiestas. Eddie himself dismisses that estimate as pure fiction, and the paper's suggestion that he's lost a third of his fortune during the current recession would imply that they don't know him very well. But if anyone could ride that wave of misfortune and still come out ahead, it's Eddie Irvine.
Since leaving Formula 1 at the end of 2002, he's been very adept at making his money work for him. As well as property interests in the USA and elsewhere, he's involved in shipping, software and newsprint. And while there are no plans to don a suit and take on an office job, he's rarely off his mobile phone.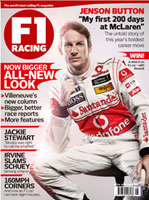 He's added a new line to his CV this year, too - that of F1 pundit for talkSPORT Radio, and can now share his colourful views with the nation.
Irvine also works hard at enjoying himself. He travels between his various bases - a low boredom threshold means he rarely stays still for long - and, inevitably, he's surrounded by beautiful girls.