Exactly two years on from events which fuelled the need for a teams' alliance, the Formula One Teams' Associations seems busier than ever before, with three major initiatives being announced within a fortnight.
It was, of course, at Silverstone in 2008 that the embattled FIA president Max Mosley - then engrossed in the aftermath of revelations about his personal life - chucked the gauntlet at teams: unless they agreed a set of technical regulations in double-quick time, the FIA would go ahead and impose its own plans.
A fan asks a question during the FOTA forum © LAT
With the 1998-2007 Concorde Agreement having expired six months previously and the prevailing acrimony ensuring no replacement would be agreed for over 18 months, the Formula One Commission existed in name only for Mosley steadfastly refused to have meetings called. Thus the teams were between an Armco and the pit wall, with seemingly no way out - unless they took matters into their own hands.
The result was FOTA, and for the next 14 months the teams' alliance worked towards a Concorde replacement and suitable regulatory framework, all of which fell into place after they threatened a breakaway series - one which would give fans a louder 'voice', while considerably improving their access to the sport.
All this has been adequately covered in the past, most recently here, but the issue at stake is that many wondered whether the signing of the Concorde Agreement would effectively be FOTA's last act, for, with Mosley gone within three months of the document's signing, the teams had no common 'enemy', and thus little need to remain together. Equally, FOTA could maintain peace by preparing for war...
There was, though, a third option, namely for FOTA to work together for the good of Formula 1, be it through campaigning for improved regulations, enhanced deals for spectators and/or worldwide TV audiences, and easier (cheaper) access for fans. Then, with various motor industry sectors involved - manufacturers, engine suppliers, tyre corporations, fuel and oil conglomerates, and brake/component companies - FOTA's members, as primary beneficiaries of their patronage, have a duty towards such suppliers, amongst all stakeholders, to ensure they receive the optimum benefits from the sport.
F1 has responsibility towards society as a whole, for the sport does not (and cannot) operate in a vacuum, and here the sport can (and does) make massive contributions to humanity, with contributions to road safety standards being just one example, and fund-raising efforts and charity work by teams and drivers yet another.
However, since that fateful weekend in Silverstone in June last year when the breakaway series was announced - with simultaneous hopes of lower ticket prices and vastly improved spectacles - fans have urged FOTA to deliver. True, the breakaway series did not come to pass (through the sanity which ultimately prevailed), so FOTA could well argue the demands away, but the fact remains that the enormous groundswell of fan support provided FOTA with the courage to press ahead with their plans. Thus FOTA owes them something...
The results of a first FOTA fan survey - conducted early last year - provided the teams with a feel for the breadth and depth of their core markets, arguably for the first time ever, as previously the teams and F1's fans had been greatly divided by their common love for the sport.
However, understanding of core markets is one thing. The fact is that is that hardcore fans are generally hooked, supporting their chosen sport (or teams or drivers) through thick and thin - as conclusively proven over seasons past. However, for F1 to grow, it needs to cultivate additional support from all countries, cultures and creeds.
While the sport's eastward migration has no doubt aided this quest, it has equally been counter-productive. It is a peculiar truism of F1 that the larger the superstadiums within which it performs, the sparser the crowds. Therefore the challenge is not (only) to expand to venues new, but to ensure that such markets are compatible with the sport's future direction(s), and here F1 has not been overly successful, as proven by Malaysia, Turkey and China. One holds one's breath for Korea and India, for these circuits are said to have massive crowed capacities designed into them...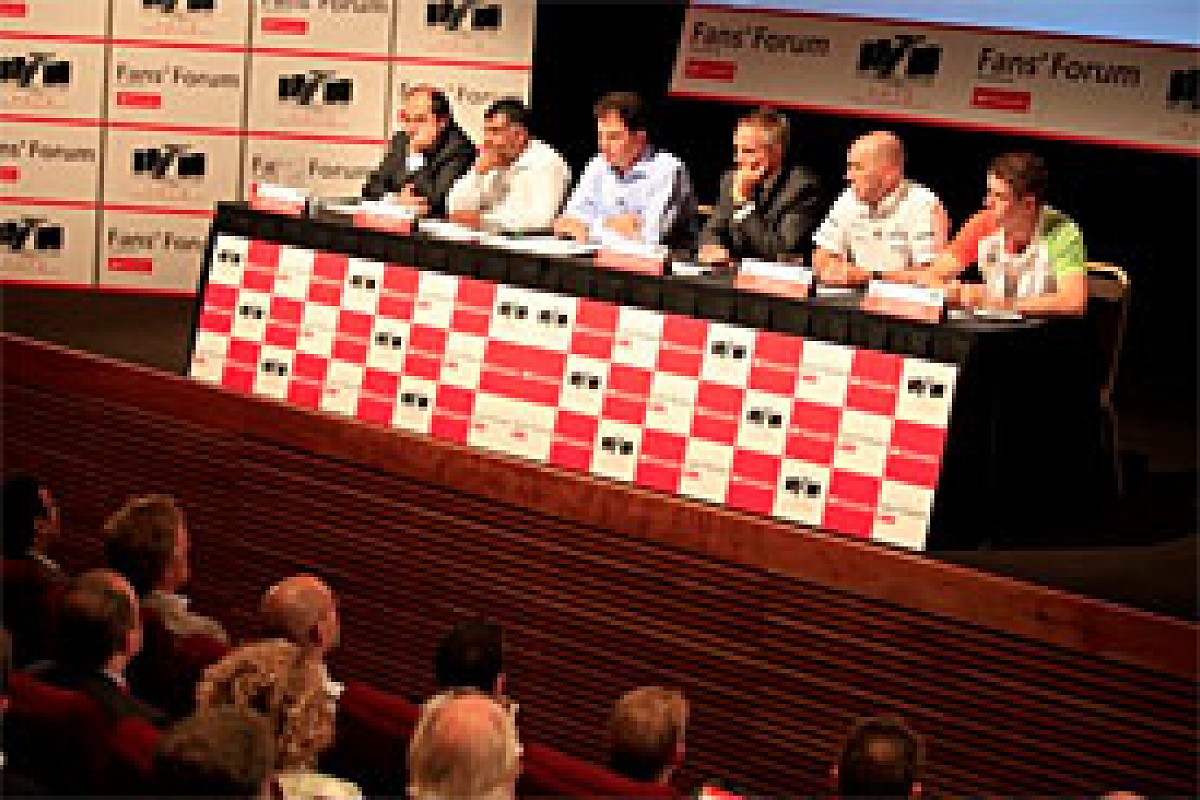 The FOTA Fans' Forum © LAT
Thus early last month FOTA made available the results of a follow-up survey conducted earlier this year in conjunction with AUTOSPORT's sister publication F1 Racing, and F1's global partner LG Electronics. Comparisons between the two surveys are illuminating, for they show that, while the classification of interest amongst fans with moderate interest remained the same at 44%, the 'avid' and 'infrequent' categories rose and dropped by one percent respectively. A small shift, but a telling one.
The distribution of fans was equally interesting, for despite the sport claiming its future lay in Asia and North America, its present is very much in the EMEA (Europe, Middle East and Africa), with 61% of respondents hailing from that region. Just 27% and 12% reside in the Asia Pacific and Americas regions. Here is betting the vast majority of the EMEA fans are domiciled in the same region as are the teams, the FIA and Bernie Ecclestone, and not Africa or the Middle East...
Although Ecclestone has kicked against HD TV for three years now, the facts are that 65% of fans expressed 'interest' in the technology, while just 22% have interest in mobile phone apps (applications). The jury is split 50/50 on the attractions of watching F1 online. On that basis 3D has no chance...
While the full list of results is too lengthy to run through here, two interesting statistics emerged: 58% of the weighted sample to not programme video recorders in the event of inconvenient timing of races, while 18% considered the performance of Force India in Belgium (Giancarlo Fisichella harrying Kimi Raikkonen's Ferrari for the lead for 44 laps) the highpoint of the season. Just 4.3% considered dusk at Yas Marina on race day to be memorable...
The outcome of the survey led FOTA to organise organize a Fans' Forum on 1 July giving the sport's followers the opportunity of asking questions and offering points of view on key talking points.
As the event was underway at time of writing, no comments can yet be passed. An attendee has, though, promised to comment from a fan's perspective, so watch this space.
However, the event marked the first-ever structured opportunity for fans to voice opinions to a panel of F1 'heavies'. True, no drivers of real stature were present - Force India's Paul di Resta represented the cockpit jockeys, although, to be fair, the Scot does have extensive DTM experience, and no series cares more for its fans more than does DTM. However, luminaries such as Martin Whitmarsh (FOTA chairman and McLaren team principal) and Lotus boss Tony Fernandes, plus others from Jock Clear (race engineer, Mercedes) and Luca Colajanni, Ferrari's Media Manager, also made the trip to London.
No earth-shattering changes are expected to emanate from the forum, but the fact that such an event has at all been convened is a step in the right direction, for one would have been unthinkable just two years ago. Somehow one could not imagine fans' forum being conducted during the McLaren and Ferrari heydays of Ron Dennis and Jean Todt respectively.
All it needs now is for FOTA to come to the realisation that not all fans are British, or indeed live in London. The body could do well to arrange similar events ahead of other grands prix across the world. They may wish, for example, to enquire Chinese or Turks why they refuse to pitch for their own races. If any can be persuaded to attend forums, that is...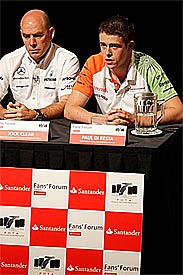 Paul di Resta during the FOTA forum © LAT
Drivers would also do their own standing some good by attending, for the age-old chestnut of testing, testing and even more testing no longer holds true, and possibly FOTA and the Grand Prix Drivers' Association could agree on rosters for such activities. After all, who better to address fans in their own languages than drivers themselves?
However, such fan surveys and forums are introspective, and the F1 of the future needs to be outward looking. No longer can the sport exist in a world of its own - as the credit crisis proved conclusively - while its various 'Gates', whether public-private matters, spying or race-fixing, have certainly provided its many critics with big-bore ammunition. Add in that F1 is viewed in many quarters as nothing other than a gaudy display of wanton excess which burns vast amounts of fossil fuel and dumps zillions of tons of CO2 in the atmosphere along the way, and it is clear the sport has major reputational and perception problems.
Thus FOTA commissioned the British company Trucost to assess F1's environmental impacts with a view to initiating action plans to reduce the sport's CO2 levels. Greenhouse emissions data was collected from McLaren, Renault and Force India in order to arrive at the emissions profiles of small, medium and large teams, using team purchase ledgers, the Resource Restriction Agreement and readily available production data.
In order to forecast emissions for 2010-2012, the teams provided additional key drivers such as the number of flyaway and European races, testing projections, F1 headcounts, aerodynamic and CFD activity, expenditure on raw materials and parts.
The following elements were studied:
Direct Emissions
F1 vehicles (racing and testing)
F1 trucks and motor homes
Company vehicles, vans and light trucks
Fuel use from operations (manufacturing, offices, trackside)
Other
Indirect Emissions - through purchased electricity
Wind tunnels
High performance computing, CFD
Manufacturing
Offices
Other indirect emissions
Travel (racing, testing, other) and all freight
All expenditure on raw materials, externally manufactured parts
The data was extrapolated to arrive at F1's total emissions during 2009 and provide projections for the following three seasons. Thus quantifiable action plans can be formulated by team in order to reduce F1's future emissions. A reduction of 12.4% (2012 over 2009) has been targeted, while future production and racing technologies should significantly reduce that figure, particularly as the sport is pushing to introduce increasingly 'green' performance technologies from 2013 onwards.
The Trucost investigation revealed some interesting numbers. For example, the authors calculated that F1 currently generates 215 000 tons of greenhouse gasses per annum, of which just 0.3% is generated by fuel used by cars during racing or testing. A further 6% is burnt up through business travel (flights/freight), while a whopping 50% is generated during the manufacture of parts, with wind tunnels and CFD being responsible for a further 25%. Seems a strong case can be made for freezing of components and regulations.
That said, F1 can never be as green as cycle racing, nor would legions of fans wish it to be. However, if the sport has aspirations of being accepted as a responsible citizen it is obvious it needs to pay due heed to the demands and requirements of the world at large and its fans. The (three) latest FOTA initiatives have been designed to achieve precisely that, and, are, says a source, simply the first in a series of wide-ranging actions for the future.