Three weeks before the opening qualifying session of the year, two race cars are in bits, slowly collecting dust in an Italian factory. They sit forlornly as Dallara engineers scurry around working on other projects; nothing has been done on the cars for the past month as the financial tap has dried up.
But after a midnight rendezvous, telephone calls to Bernie Ecclestone, the arrival of an experienced F1 troubleshooter and the investment of a well-known Spanish family, work once again commences on the cars. Just one week later, they are freighted on a 3,000-mile trip to Bahrain where they will both qualify for the opening grand prix of the year.
This is the incredible story of how Hispania Racing was created just three weeks before the 2010 season began.
Out of the ashes of the Campos F1 team, the new HRT cars - piloted by Bruno Senna and Karun Chandhok - arrived in Sakhir and were fired-up for the very first time in the pitlane. And despite the critics, this plucky, back-of-the-grid team have proved what is possible thanks to an injection of cash, steely determination, technical experience and sheer bloody hard work. Oh, and a distinct lack of kip...

Bruno Senna: I went to Dallara at the end of December and there were two monocoques and some bodywork and they were stress-testing parts. Plenty of the work was being done, but when it got close to the end of January and the middle
of February things started to get pretty bad and I started to have doubts about the whole project. It didn't look like we were going to Bahrain.
Karun Chandhok: I first started talking to Adrian Campos in Valencia last year but, at that time, I was talking to lots of teams, including Renault. Then I spoke to Adrian in January, but things were starting to look iffy for him.
Fortunately for me, I have a good contact base in the industry - I have 1,600 numbers in my mobile and obviously Bernie was a great source of information. Sometimes he'd say, 'Sit tight, don't talk to anybody for a week, just keep quiet, let things play out.' Other times he'd say, 'Okay you need to call so-and-so.' He helped us in terms of advice. Then I was told to speak to Colin Kolles...
Colin Kolles: I had done work with Zoran Stefanovic at Stefan GP but was asked to get involved with this project and so I arranged a meeting with [original Campos investors] the Carabante family. At the end of the first week of February, I said that we needed to meet. Immediately.
So they flew to Munich and we met at 11pm for a four-hour meeting. They had been dragged into a situation where they were not happy any more and they had to make a decision. Should they stop and lose the money already invested? Or should they continue in a different way? And I knew it would be a success as I had the full support from the most important person in F1...
Bruno Senna: I was speaking to people from the team and hearing all sorts of rumours and then finally I was in London when I got the call and found out that the new structure of the team was in place.
Kolles: The first thing I did was to telephone a man called Boris Bermes who looks after my operations in Germany. I told him that we were going to do Formula 1 now and that we had just three weeks. He said, 'Okay.' When Super Aguri finished, I bought their infrastructure: equipment, freight transportation - so this was a huge advantage for us.
Chandhok: I signed a contract with Colin in the middle of February and I went to Dallara in Italy for a seat fitting and that's where I met the team. This was a week before the announcement in Murcia, Spain. The first thing Colin did was to get Dallara revived as the financial difficulties meant they had lost three or four weeks of work. There's no one better than Colin for troubleshooting and when things are in a mess, he doesn't mince his words - he just gets on with it.
Geoff Willis (technical director): I got a call from Colin, went down to Dallara for a day and immediately saw the size of the challenge. I went to talk to Ben Agathangelou [chief aerodynamicist] and look at the windtunnel model. They had a single chassis in the build shop and were putting the rockers in it and fettling it, but there was pretty much nothing else apart from a little bit of untrimmed bodywork.
So we talked about what had been done, which parts had been crash-tested and signed-off, and we looked at the design philosophy of the car. We had to cut corners and obviously it's easier to build a car from scratch if you've got all the parts on the shelf. A normal car build is a ten to 14 day job and we had one week because the deadline for freight going to Bahrain was the Friday afternoon of that week. Most nights finished at 2am and we were back in at 7am the following morning.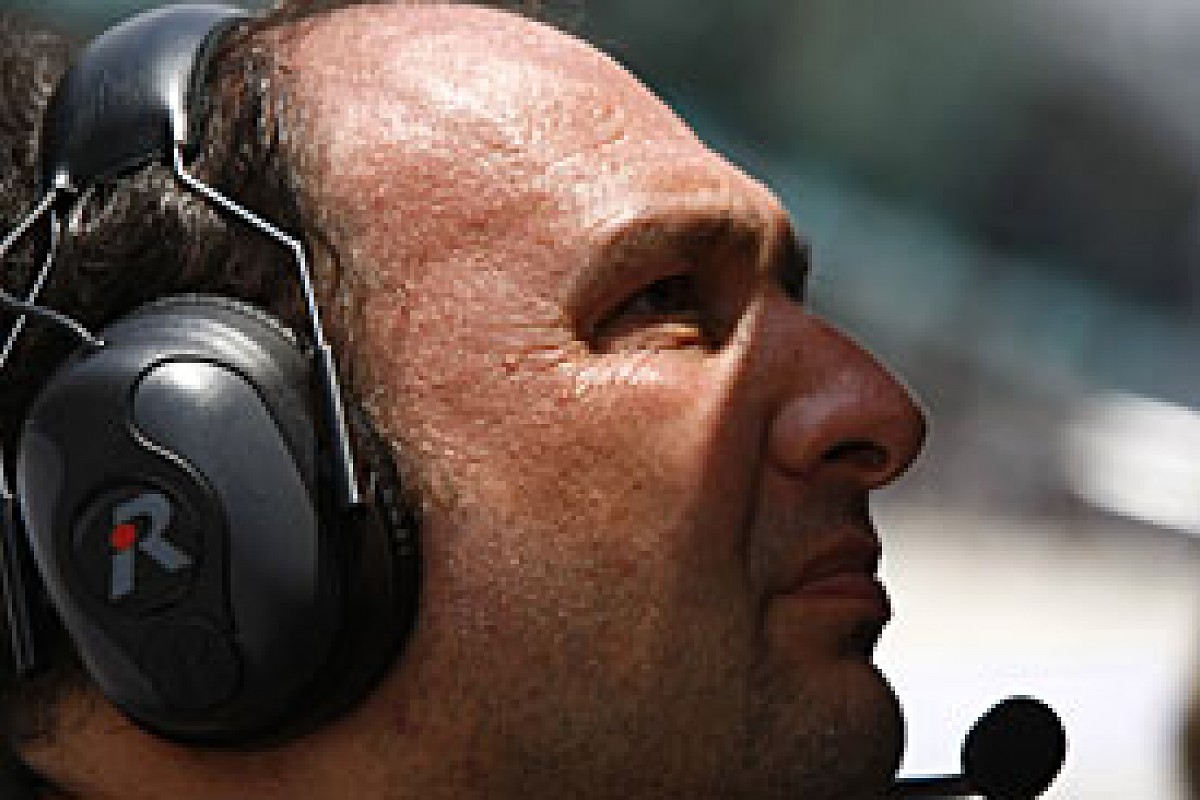 HRT team principal Colin Kolles © LAT
Kolles: Payment had stopped with a lot of suppliers so I had to speak to them,
re-negotiate and get everything sorted. We renamed the team HRT (Hispania Racing Team) and managed to get a show car to Murcia on Thursday. I knew the strength
and infrastructure of the people I had and I never doubted we would get to Bahrain. Never. I expected everyone to deliver.
Willis: People who Colin had got together started to arrive from various places and we got together with the assembly mechanics from Dallara and started working on where to put wiring looms and hydraulic lines, where to support them and where to put bracket lines. We had to check brakelines and install brakes, pedals and steering columns. So we just made the freight deadline and got the cars shipped to Bahrain.
Senna: That week was quite tense as I didn't realise that the car had never been put together before Bahrain, and we arrived at the track for the first time with a group of people who didn't know the car - some of them still arriving on the Monday morning before the race. And communication was sometimes difficult, as we had Spanish, German, Italian and English people working together with different levels of experience.
Chandhok: The mechanics were in good spirits as everyone was just happy to have made it to Bahrain. So for the guys it was a relief to get there, but for them to work 40 hours straight was ridiculous. It's not pleasant. I have to say it's good to have Bruno in the other car as he's a mate of mine and he's going through the same situation so we can talk things over.
Willis: The first time one of the cars was ever fired up was on the Thursday in Bahrain. There wasn't so much of a cheer - it was more along the lines of 'that's done, that's ticked off and now we have to check the gearbox works'. Then some new bits for the hydraulic system and a few more loom bits turned up.
Kolles: I've had quite a few tough weeks in my career and this was tough because there was no sleep. We had 70 people working day and night, not sleeping, but I never thought about failure. We had this willpower and determination to succeed.
Senna: There was a lot of pressure leaving the pits for the first time, because we
didn't know if things were going to work or if the car would catch on fire or if the hydraulics or gearbox would fail. But I could go full power and the car changed gears. Nothing was perfect, but it was working. I didn't have many problems with the car - okay we didn't have any performance, but our objective was to do miles and learn about the car in the first race.
Chandhok: I knew Friday practice would be tight because my wiring loom turned up a day later than Bruno's. Then finally, on the Friday night, they got the car fired up and the shift checked and in the morning it was okay. I got changed into my overalls and got into the garage. But then ten minutes before the start of Saturday practice we couldn't find the gears as we lost hydraulic pressure. And that's when I couldn't believe it - I thought it was a joke. It came up on the dash and I thought it was a piss take.
Willis: The problems on Karun's car were related to the gearbox and hydraulics
- we had to unwind an awful lot of the car. We had to change quite a lot of internals and we had to change the differential on both cars on the Friday night. The main issue with Bahrain on Friday was that we didn't have time. Realistically, we were only ever going to build one car and that only became obvious towards the end of the week when it was a combination of not having enough parts and not having enough people to throw at it. Then it became easier to say, let's get one car absolutely finished and when we get the problems sorted on that, we can deal with them and not have to do them twice on the other car.
Chandhok: Even ten minutes before qualifying we found ourselves in trouble because there was another hydraulic failure and the car was on high stands. I climbed in and I could feel them putting the floor on the car underneath my arse when qualifying had started.
They dropped it on the floor and off I went. I tried to get out of everyone's way but, in doing so, I got so much pick-up on the tyres, the car felt like shit!
Willis: The sort of systems that can catch you out on the car are often the hydraulic and electrical systems and I think suppliers Xtrac underestimated how refined the solutions of the major F1 teams are. It's very easy to trap a hydraulic line between the engine and the floor and it's not a nice installation because it hasn't been properly designed and you have to find a way around it.
Senna: I knew during the first race that I had to pay attention in my mirrors as the fastest cars came along. But I'm optimistic.

I know there's a lot to be done and time is not our friend, but I'm trying to persuade people to help us get some testing time. The current teams have nothing to lose from letting the new teams test - in fact they can gain as we won't be losing parts, breaking down on the track or going slow and so the race gets better for them. It's going to take some work for us to be competitive with them.
Chandhok: What was nice was to get a lot of messages from some of the other teams, saying, 'Glad to see you here.' Ian Morgan at Red Bull and Tony Fernandes and Mike Gascoyne at Lotus all sent me messages and emails, Jenson's engineer Jakob Andreasen, Ferrari boss Stefano Domenicali, Renault owner Gerard López and Nick Fry at Mercedes all sent us messages of goodwill.
Willis: In Bahrain, the priority was to make the car safe, then the next step is reliability and then after that you can work on performance. But actually, because performance takes longer to achieve, you have to almost start that first - so when we're five to eight weeks further down the road we should be in better position. We need to work on the suspension and there's a lot of weight saving to be done. There's quite a lot of detailed refinement needed to get everything to fit, ensure the drivers are comfortable and get a grip on quality control. Then there's the trade-off between how much we work on this car and how much we do on the 2011 car.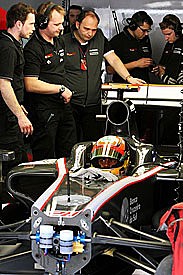 Karun Chandhok's car is worked on in the pits © Sutton
Chandhok: The first four races are just about getting mileage. I think from Barcelona onwards you can start to judge us. There are lots of plans for the long-term future and there's the potential for Hispania to be in a good place by 2011. We have to be patient at the moment. But when you talk about people at one end of the pitlane chasing the last few tenths - we're chasing the last three seconds! We need to do 20 laps in a row before we talk about diff-maps and diff-locks.
Kolles: I never thought about failure - that word is not in my vocabulary. And I never, ever doubted we would have made Bahrain.
This is how I'm wired, I always do the maximum not to fail. I did this in school, I did this in university and out of this pressure not to fail I became the best in my studies. I'm not here just to be in Formula 1, but I have a very clear target. First, I rescued the team; second, I must stabilise it; and third I have to improve it. I don't need superstars to make this happen - we make the superstars as we go along. And remember: if anyone gets in my way, they soon get out of it.
Follow F1 Racing's features editor James Roberts on Twitter.
This feature is taken from the May issue of F1 Racing magazine which is on sale now