Despite John Watson's reputation for scything through a grand prix field, chances are you would have got attractive odds on him last Saturday evening. Yes, we knew about Detroit, about Vegas, about Rio just a fortnight before. But how was he going to come through from 22nd on the grid at Long Beach in a car that, in practice, he described as "impossible?". Why, he and team-mate Niki Lauda barely made the race.
And yet, those McLarens came through, often running at a speed they had not managed for a single lap during practice. It was a Michelin race in the sense that those with the French radials found no serious problem in going the distance on a single set. It was not like that for the Goodyear and Pirelli runners.
The quest of Watson and Lauda was aided too, by an accident at one-third distance, when Patrick Tambay's leading Ferrari - which had started from pole - was struck a rude blow by Keke Rosberg's Williams. The Frenchman was eliminated on the spot and immediately afterwards the world champion was himself punted into retirement by Jean-Pierre Jarier's on-form Ligier. So three leading lights were gone within a minute.
All that left Jacques Laffite's Williams in first place, with Riccardo Patrese's Brabham giving chase. But Laffite was already in tyre trouble, and Patrese went down the escape road trying to take the lead. It was as if a Watson victory was pre-ordained. Smooth as you like, he and Niki moved through, overtaking those ahead who didn't eliminate themselves. It was a beautifully orchestrated demonstration of how to win a motor race from behind. All that sound and fury in qualifying had signified nothing.
Third, after two tyre changes, was Rene Arnoux's Ferrari, the little Frenchman putting in a typically hard and fast drive, particularly in the closing stages. Unable to match Tambay in practice, he had nonetheless started from the front row. Laffite, who deserved better, took fourth place, followed in by Marc Surer's Arrows (in the points for the second consecutive race) and Johnny Cecotto's Theodore, driven with pace and tremendous maturity by the Venezuelan F1 newcomer.
Another man who should have featured in any shoot-out at the front was Michele Alboreto, who ran with the leaders until Jarier went for a piece of road already occupied by the Tyrrell driver.
It was also the return to grand prix racing of Alan Jones, who did enough with the Arrows to convince everyone that his 18-month absence has cost him nothing. When he is fit and in a well-sponsored car, he will be a front runner again.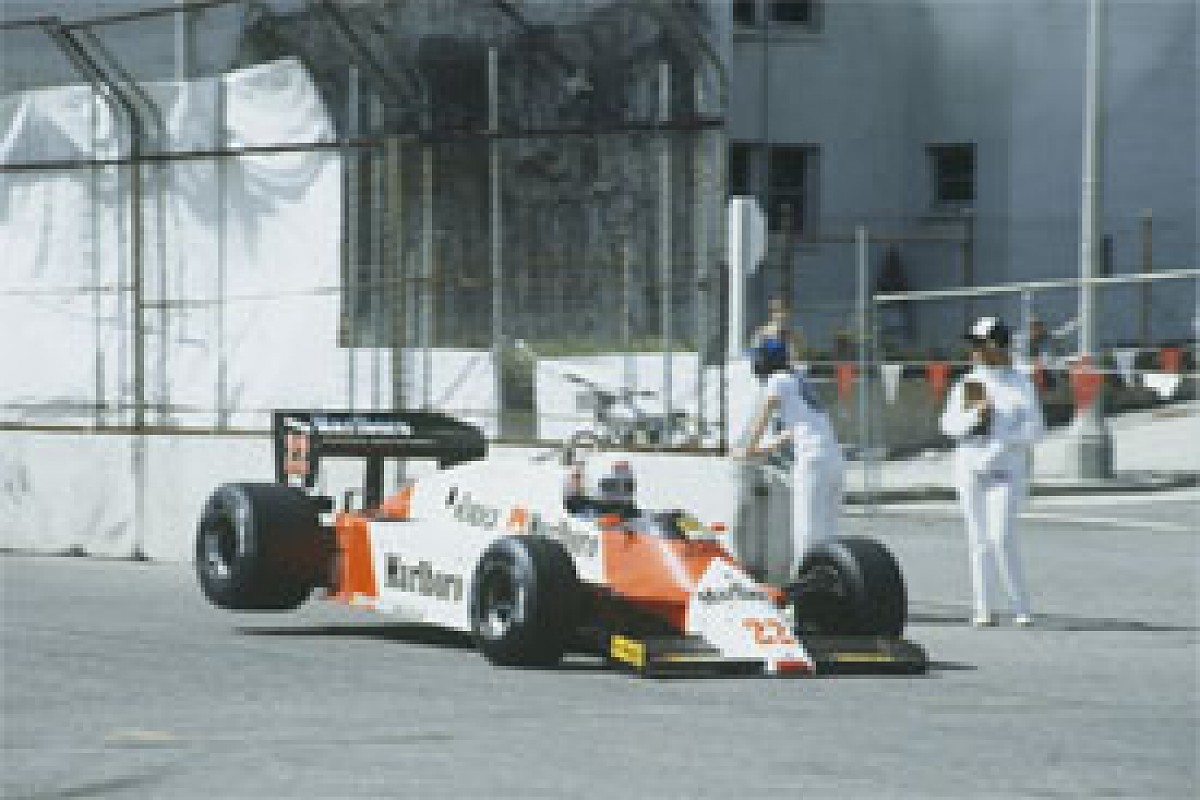 Andrea de Cesaris, Alfa Romeo 183T © LAT
Entry and practice
On Friday, the subject of bumps dominated conversation in the paddock. Four of them to be precise: the two on the re-routed circuit and the pair on Alan Jones's left leg. Yes, the Australian did indeed make his return to racing, but more of that later. Of more immediate concern to the other 27 drivers was a severe ripple towards the end of the new back straight. At even cantering speeds the high technology of Formula 1 was rendered ridiculous by a simple dip in the road.
From their early exploratory laps, drivers returned with horror stories and eyes like boiled-eggs. "It's unbelievable," commented Derek Warwick. "I only did a few slow laps, nowhere near the pace and the car just flew into the air - I mean, flew into the air! I don't know how high it was, but it felt like six feet."
The sequence of the bumps was such that the cars' front wheels would leave the ground, then slam down just as the rears took off. "Perhaps," remarked an extremely relaxed Patrick Tambay, "it would be better if they filled in the approach to the first bump [This in true Clouseau tongue] so that we could take off and clear the second one completely - like a ski jump."
"No, to be serious," he continued, munching at his plate of chilli, "I think they have to do something about it. In practice I guess we can all live with it, but the race would be a different matter. I doubt if there is a car here which could survive more than about 12 laps over there with full tanks. I think you would have a lot of suspension breakages and maybe several accidents, and I don't think you want to go off there..."
This was a reference to another of the drivers' complaints of the revised track. In response to a good deal of local pressure, the old start/finish area on Ocean Boulevard was no more. No longer did the cars have to catapult dramatically up Pine Avenue and jink sideways towards Linden. Instead, a very slow and bumpy section over the old motor home area led onto the new Seaside Way, a 150mph blast with a very tight right-hander at the end. In days gone by, this followed the slow Linden Avenue section and was approached with no great pace, but now the run-off area was wholly inadequate for fifth gear approach speeds.
"If anything goes wrong for someone at that point," said an angry Jacques Laffite, "we will have a repeat of Clay Regazzoni's accident. That was only three years ago. Incredible how people forget."
The controversial bumps were situated at the beginning of the braking area for this corner and they certainly made for exciting, if slightly chilling, spectating on the first day. It was fascinating to see how different drivers reacted to the unexpected hazard, some accepting that this was the way of it, keeping their foot hard down into the air, others being more circumspect and lifting off long before it.
Curiously enough, it was this latter group which appeared to suffer most. If you hit the bumps comparatively slowly, the car seemed to flop over, sometimes attaining a remarkable height. "But that's only logical," suggested Warwick. "We don't have that much downforce with the new cars, but what there is increases with a lot of speed - just as in the ground effect days."
Derek was uncharacteristically furious that first day. After only a handful of warm-up laps he brought the Toleman slowly into the pits. "The top wishbone at the right rear broke," he said grimly. "The other side was just about to go as well. I've told the team that I won't drive again unless something is done about the track and I mean it. When I stopped, we called Bruno Giacomelli in and his suspension was also bent."
Thus the Toleman team sat out the first session, Derek and others spectating at the controversial 'Beechers Brook' section. "See what I mean?" he grimaced, as Rene Arnoux vaulted his Ferrari past at some unimaginable speed. "Bloody crazy, isn't it?"
Now there are those who believe that the job of a racing team is to prepare a car capable of coping with a circuit, and those who maintain that the track should accommodate the grand prix car of the day. Broadly, I stand by the first lobby, but I cannot doubt that suspension breakages would have resulted from frequent subjection to this kind of battering. In a perfect world, grand prix cars would have suspension worthy of the name and would be able to cope with bad bumps, such as those we used to have at the Nurburgring, for example. The cars of 1983 may be softer than the absurd devices of last year, but rattle-traps they remain.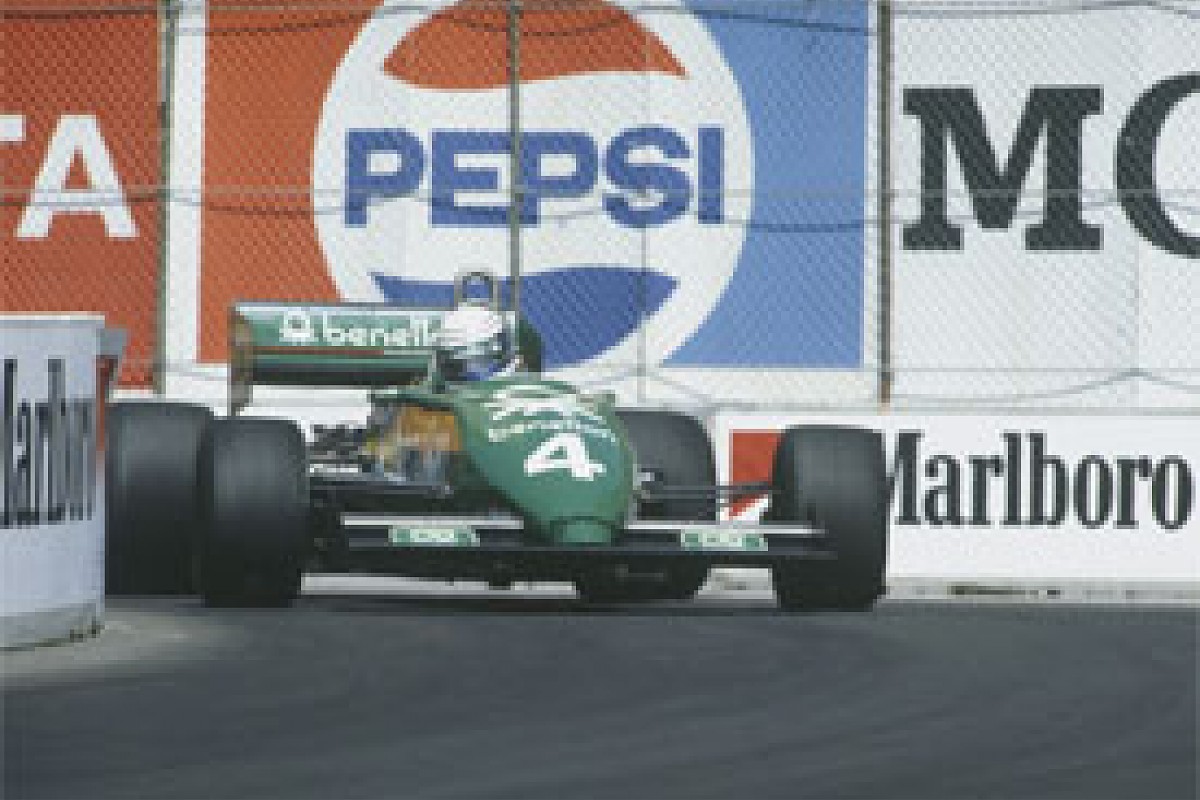 Danny Sullivan, Tyrrell 011 Ford © LAT
Most drivers complained vociferously of the bumps, but their case - on other than pure safety grounds - was undeniably weakened by the fact that the Tyrrells, and to a lesser extent, the Ligiers found no particular problems through the troublesome section. Michele Alboreto and Danny Sullivan simply floated through, their wheels barely leaving the ground, and Ken Tyrrell was anything but pleased at the announcement that flattening-out work would be done in time for Saturday. His cars would cope with it, he argued and those that couldn't... well that's their problem. He didn't like the mile-long straight at Ricard because he didn't have a turbo, so how about inserting a chicane in the middle of it?
Under the supervision of Derek Ongaro, a remarkable piece of work was carried out on Friday night. A considerable piece of tarmac was dug up, replaced by quick-setting concrete and planed-off and the problem was all but solved, cars going through with a slight skip and nothing more. Everyone was impressed, apart from the Tyrrell team.
So that sorted one lot of bumps. The other will remain for a while yet. "Feel that," Jones said, pointing to the two pins that currently resident inside his skin. "I've been told that I can't have them removed until the end of the year, unfortunately. It's a bit of a nuisance at present but it's not causing me that much pain - nothing I can't handle anyway."
Few of us really expected the Australian would make his comeback at Long Beach. Out of a grand prix car for 18 months, limping noticeably, self-admitting he was overweight. Alan nevertheless elected to return to after a test day at Willow Springs, which frankly staggered the Arrows team. "It's amazing when you think about it," said Jackie Oliver. "He's been away all that time, he's been injured recently, he didn't know the car at all and barely knew the circuit. Yet he did 40 quick laps or so and was virtually as quick as the Renaults.
"My biggest problem," Alan remarked, is that the car wasn't built for me and the steering wheel and gear lever are far too close, almost to the point of giving me cramp. Changing into fifth is really awkward and I'm more scared of doing in a dog-ring than anything, to be honest."
He was clearly delighted to be back. "I really didn't like the cars the way they were when I quit, you know, it doesn't seem a lot slower than I remember - just a hell of a lot more comfortable." And the Arrows? "Well, it's got more understeer than I like at the moment, but basically it feels a pretty nice little car at the moment. I'd like to do some work on it. At present it understeers through and when you put the power on it goes into what Patrick Neve used to call vicious oversteer." In no time at all Jones looked like the man of old and bearing in mind his difficulties, did astonishingly well to qualify 13th, four places ahead of team-mate Marc Surer. It was good to see him back.
The front of the grid though was a surprise, for it was all red. After their disappointing debut in Brazil, the Ferrari 126CBs of Tambay and Arnoux were a revelation though the Californian streets. In Rio after all, the overriding problem was lack of traction - and where does traction count for more than out of the slow corners of Long Beach?
From the beginning, however, the red cars were right up there. On Friday, before the bump was removed - Arnoux scorched around a full second and a half quicker than anyone else. This was the gutsy little man at this best, really scratching in dodgy circumstances. Tambay, troubled by a misfire in both his own and the spare Ferrari, did not match his team-mate on this occasion, but that said all would be well on Saturday. There is a change in Patrick this year. All the charm and humour remains, but beneath is a new serenity and confidence. Those who predicted that he would be psyched-out by the presence of Arnoux - and there were many - had to reconsider.
The following day he was as good as his word. Ten minutes into the final session he was back in the pits with the pole secure. One set of qualifiers, four laps, 0.8s clear of Arnoux.
"Goodyear have a fantastic qualifier here and I know I could have gone quicker," he said. "With these tyres your second lap is always your best but I felt I drove my third one better in terms of braking later and so on. By then though, the grip was not so good. We think we have a good race tyre too, so now it's all up to me."
Was Arnoux his biggest rival for the race? "No, my biggest rival is me. Seriously, I believe that. I'm starting where I want to start and now I must do the same job on race day."
Patrick Tambay, Ferrari 126C2B © LAT
Those sentimentalists among us thought how appropriate it was that Ferrari #27 should start the Long Beach Grand Prix from pole. Gilles was always splendid here and one felt he would have been proud of his pal's performance.
It was, in many ways, a very curious grid, proving yet again that a fortnight is an awfully long time in grand prix racing. Decidedly off the pace were Brabham and McLaren, the hotshots of Rio, and this was basically a question of tyres. The Michelin qualifier could not look at the Goodyear qualifier. Somewhat more surprisingly, the Michelin qualifier could not look at the Michelin race tyre.
The French company had a new tyre for Long Beach, the 419, and teams thus contracted found it a quicker proposition than the pure Q-tyre. Problem was, it was in relatively short supply.
During practice Laffite admitted that one of the biggest problems of switching from Ligier to Williams was coming to terms with the switch from Michelin to Goodyear, of finding yourself with a qualifier three seconds quicker than a race tyre. "It's not easy to convince yourself that a simple tyre change will make such a change to the car capabilities. With Michelins it was never like that," he said.
Messrs Nelson Piquet, Riccardo Patrese, John Watson and Niki Lauda would have been very happy to face such a problem. Of the quartet, Riccardo came out best, qualifying 12th. Nelson's similar car, cantering to victory in Brazil, was 20th and the McLarens of John and Niki were 22nd and 23rd respectively. On paper, it was all rather embarrassing, but at least the quartet had a good idea of their race potential. They had after all qualified on a race tyre.
Their common place was gross understeer. Lauda said he had never felt so frustrated and helpless. "Yesterday we raised the ride height to try to deal with the jump and today we lowered it again. That should have got rid of the understeer but it made no difference. Waste of time."
Poor qualifying times and scintillating race performances have almost become an accepted part of the McLaren liaison, however and there was every reason to expect good warm-up times and a carve through then field, particularly by Watson. On Saturday evening though, that was all theory and speculation. The bald fact was that Lauda, quite dominant here a year ago, had barely made the race.
Williams, by contrast, were sitting very pretty indeed. Not quite able to match the Ferraris. Keke Rosberg nevertheless put in a stormer of a lap to get within a couple of tenths of Arnoux and Jack Lafferty, citizen of Stoke Poges (yes, really) delighted Frank and his boys by slotting his FW08C into fourth.
"In Rio I was slow because I was slow," he smiled with his customary disarming honesty. "But now I am a lot more confident." In an effort to improve his English, Jacques spent much of the winter in California. To any true son of Albion, that seems to be about as logical as attending a Clash concert to cure a headache, but it appears to have worked well enough and he is now chattier than ever.
Neither Williams driver was especially happy after the first day, when the cars understeered too much particularly for the world champion's taste. Rosberg also lost time when his car halted out on the circuit with a failed sparkbox connection. Overnight changes to the car restored his grin however, and on Saturday his exuberance made for splendid viewing.
Hallelujah! Shout it from the rooftops, grand prix cars are good to watch again. Out of the turns came the likes of Keke in power-on opposite slides. For some years now you listened to find out who was quick, went by the engine note, the sound of hard and early acceleration. Your eyes could tell you little, for a brute downforce was in charge. But at Long Beach, I am happy to tell you; an early or over-enthusiastic dab at the throttle flicked the tail out of line in a most satisfactory manner. It may have been slower. It did not look that way.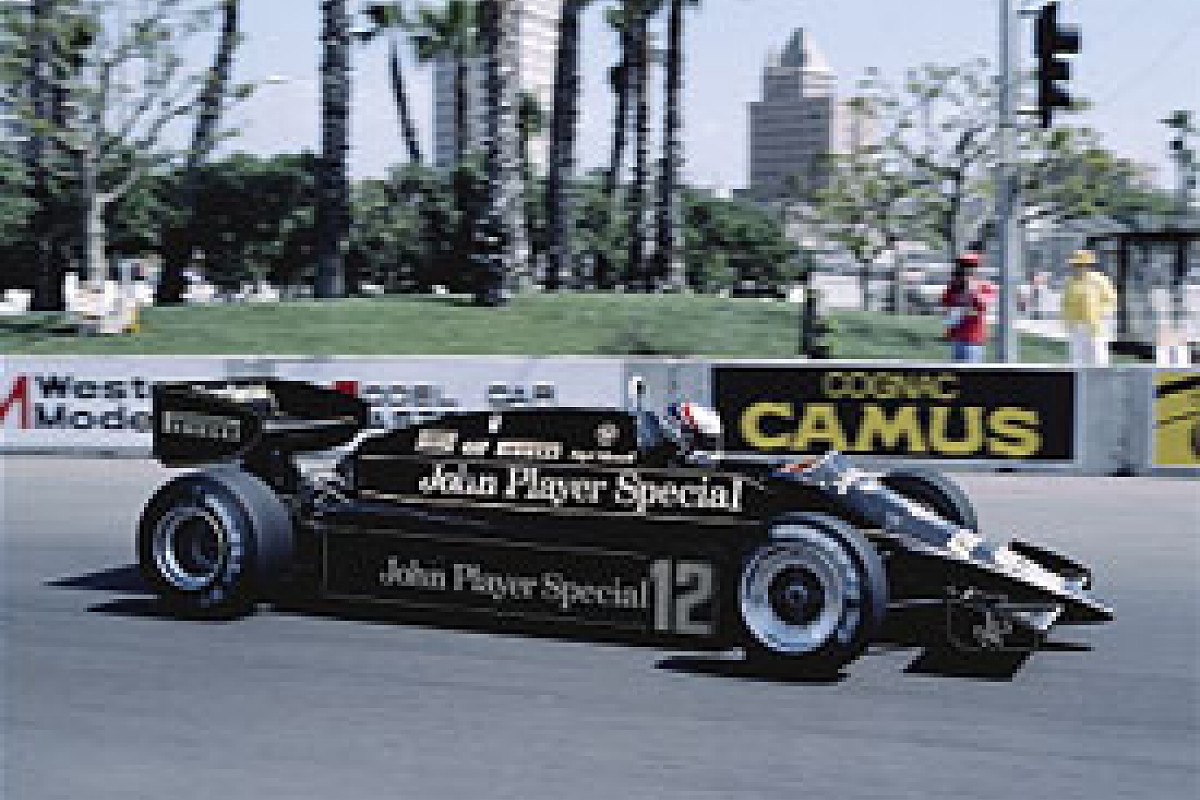 Nigel Mansell, Lotus 92 Ford © LAT
There was little in the way of high jinks to be found in the Lotus camp on Friday. In comparison with most of their rivals, this year's black and gold machines look big and cumbersone and Elio de Angelis found his Renault-powered car an enormous handful through the tight confines of the revised track. Most of the Pirelli runners were very pleased with their Q-tyres, but very critical of the race rubber. On qualifiers, De Angelis was able to get the most of his horsepower to the ground and finished up an extremely brave fifth on the grid. But he held out for little hope in the race; "Understeer is incredible."
Elio did, however, have Renault horsepower to console him. Nigel Mansell found his Cosworth-powered 'active suspension' 92 almost undriveable over the very rough service and its behaviour over the famous bump was terrifying "I don't think it was designed to cope with this sort of thing," grimaced Nigel. "It goes over the bump, lands on one front wheel, which sends out messages to the other wheels and the thing just sort of hops down the road. Not very pleasant, I can tell you." Fourteenth on the grid was a poor reward for his courage.
Toleman, of course, effectively lost the whole of the first day, their cars completely incapable of coping with the bump. Had it not been smoothed out, indeed, the team would have withdrawn. But Warwick shook everyone by setting the second best time on Saturday morning and was optimistic of a front row starting position.
"I made a mistake," he said later. "After using my first set of qualifiers, I asked for a change to the car - I'm not saying what - and that cost 500rpm." For all that, he was in sixth place, while Giacomelli, whose engine was mysteriously losing boost pressure, was 15th.
It is more likely the Tyrrells of Alboreto and Sullivan, seventh and 10th, would have been higher had the bump remained, for they rode it like no others, lilting over where the others jumped. The Italian was fastest of all in the first timed session, looking deft and confident. A minor shunt on Saturday morning lightly damaged the rear of the car but otherwise he was a happy man. Sullivan, an American in America, surprised a lot of people with his performance, even if the driving lacked the fluency of his team-mate's. The crowd applauded his every move.
The Theodore's impressive Rio showing was maintained at Long Beach. Roberto Guerrero, surely a future world champion, qualifying an inspired eighth. "I can't understand it," he grinned. "For sure, the others must be in real trouble because the car feels like we should be in 20th or somewhere. Power understeer everywhere, just touch the throttle and you go straight on. Still, I can't complain, can I?"
Johnny Cecotto shook everyone by setting the sixth best time in the first qualifying session but he clipped the wall quite hard the following morning and failed to improve in the afternoon. Sixth became 18th, but he still came out of practice ahead of his luckless team-mate. Roberto's second session times were wiped from the slate when the rear bodywork of his car was found to be too wide - by a centimetre. He would start 19th.
Renault did not have a happy time. Disappointed with the performance of the RE30Cs in Rio, they decided to rush a new RE40 out to California for Alain Prost. The car is undeniably more nimble, but Prost's efforts were thwarted not only by the Michelin's Q-tyre problem but also by an untraceable and erratic misfire. "One lap the engine is perfect, the next, 'opeless," he unsmilingly commented. "All the testing we have done with the car and there has been no problem at all. The mechanics will change the engine tonight."
Eddie Cheever's older car looked anything but agile on this piece of concrete Scalextric. He improved his time significantly on Saturday, but then lost control over the bumps of the new section, hitting the wall hard enough to damage the monocoque. For race day he would take over the car driven by Prost in Brazil, starting 16th.
Twelve months ago Andrea de Cesaris took pole at Long Beach, but this time the Alfas never looked like front-runners. Both drivers made contact with the wall during practice and Andrea's final session ended with him limping back to the pits, a turbocharger well ablaze. He ended up 19th, two slots ahead of Mauro Baldi.
The Ligier of Jean-Pierre Jarier did impress, however, qualifying 11th on its Michelin race rubber which promised good things for Sunday. Raul Boesel suffered from the scarcity of 419 tyres and had to use an ex-Jarier set to get his car into the race, 26th and last behind Manfred Winkelhock's wayward ATS- BMW and Eliseo Salazar's March. The only non-qualifiers were the Osellas of Corrado Fabi and Piercarlo Ghinzani.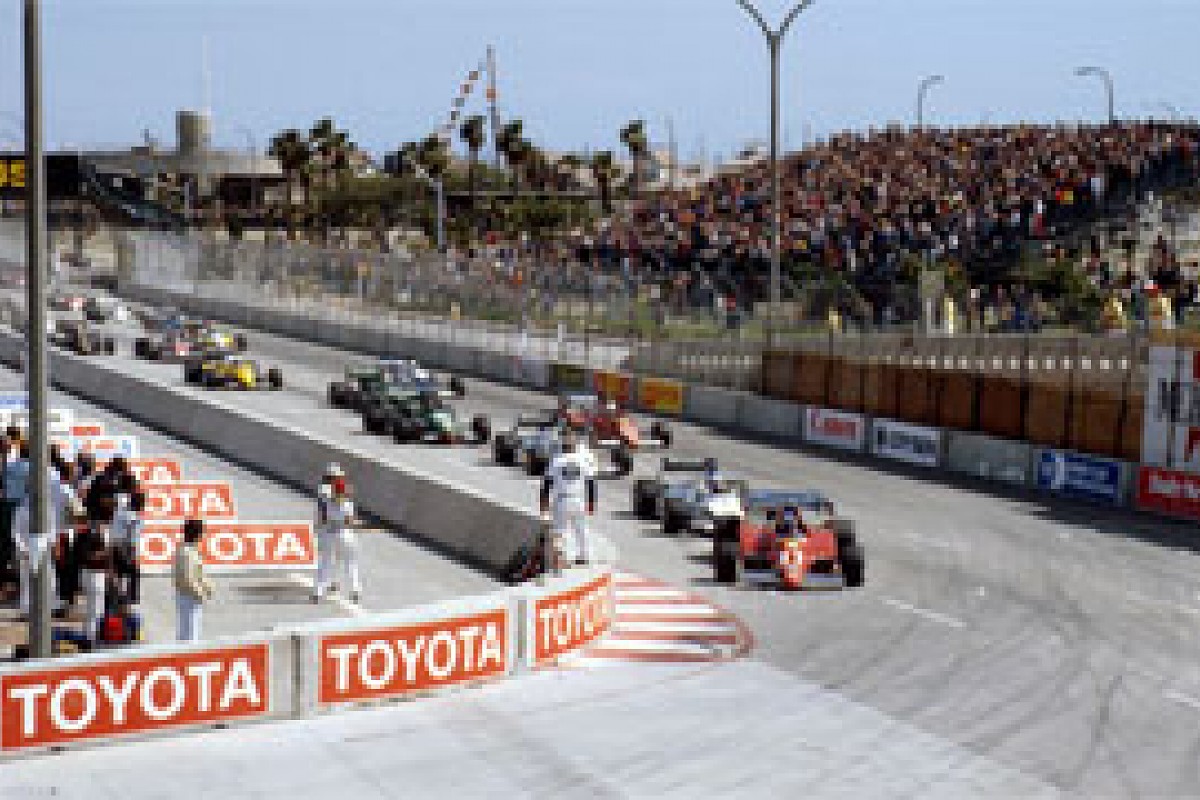 The start of the 1983 US Grand Prix © LAT
Race
It was with a sigh of relief that the grand prix driver drew his curtains on Sunday morning. Certainly there were more clouds than in the recent past, but there was no immediate sign of the rain threatened by most of the forecasters. The track had already attracted enough unfavourable comment and the prospect of plunging into a wet race on it - after wholly dry conditions in practice - was relished by no-one.
There was little drama in the morning warm-up, save that Prost was dismayed to find that his new RE40, new engine and all, still had that unfathomable misfire. Rosberg's Williams set the best time of the half-hour, with Surer's Arrows a surprising second and Arnoux's Ferrari third. Then came Jarier, Piquet, Jones and Cheever. Was this to be the day the McLaren's Houdini act failed to come off? Certainly no-one took too much notice of John and Niki as the cars went on their parade lap.
Watson, however, had taken a decision, which was to prove crucial. "We were talking about tyres after the warm-up and decided to prepare - as much as we could - for every eventuality. Niki went for the 419s, which we'd used in qualifying and I was quite happy not to run those. I went for the 405s, which I used at Long Beach last year and also at Detroit. I've always found that it seems to work very well on street circuits and that was the only reason for my choice."
In the immediate going, however, John had no part to play. Starting 22nd, he came by at the end of the first lap in 20th place. Up ahead, much had already happened. At the green Tambay got away beautifully, but Rosberg's Williams gave Arnoux's Ferrari a sizeable clout as they went away from the line. Keke followed Patrick into the right hander at the end of Shoreline Drive and was clearly in a particularly determined mood, looking to put a pass on the Ferrari driver before he had settled in. Unbelievably, the world champion had a complete spin on that opening lap, somehow collecting himself without dropping more than one place to team-mate Laffite.
By the end of the second lap, Rosberg was back in second spot but by now Tambay's smoothly driven Ferrari was more than three seconds up the road. Within a couple of laps, though, it was obvious that Patrick was not going to be able to drive away into the sunset. Closer and closer came the Williams pair and they were right with the red car by lap seven. At the same time it was equally obvious that getting by Patrick would be a very difficult matter, for the Frenchman, mindful of his tyres, was dictating the pace coolly. Even with the aggressive Rosberg snapping at him, Patrick looked unflustered and neat.
Winkelhock departed the race in dramatic fashion on lap three. As he braked at the end of Shoreline Drive, the ATS snapped out of control and veered into the wall, leaving black tyre smudges for a considerable distance before halting. Manfred, thankfully, was completely unharmed.
By lap eight the pack was closing up nicely: Tambay, Rosberg, Laffite, Alboreto, Arnoux, Patrese, Jarier. After these ran Cheever, much more of a force than practice suggested. Prost had made a strong start with the RE40, but now the misfire was back while Alain began to fall away. The next retirement was the luckless Warwick after 11 laps. At the end of the new straight, immediately beyond Beechers, the Toleman went out of control.
"I'd been short of grip from the start," he remarked later. "But the balance of the car was actually quite good. In fact I set my best race lap immediately before I went off. I felt this slight vibration through the car and instantly thought it was the tyres turning on the rims. But it wasn't that. I'm sure the tread simply delaminated and came away from the carcass. It gave me a big fright, I'll tell you and I thought 'this one is going to hurt' but fortunately the car went in backwards and very little damage was done."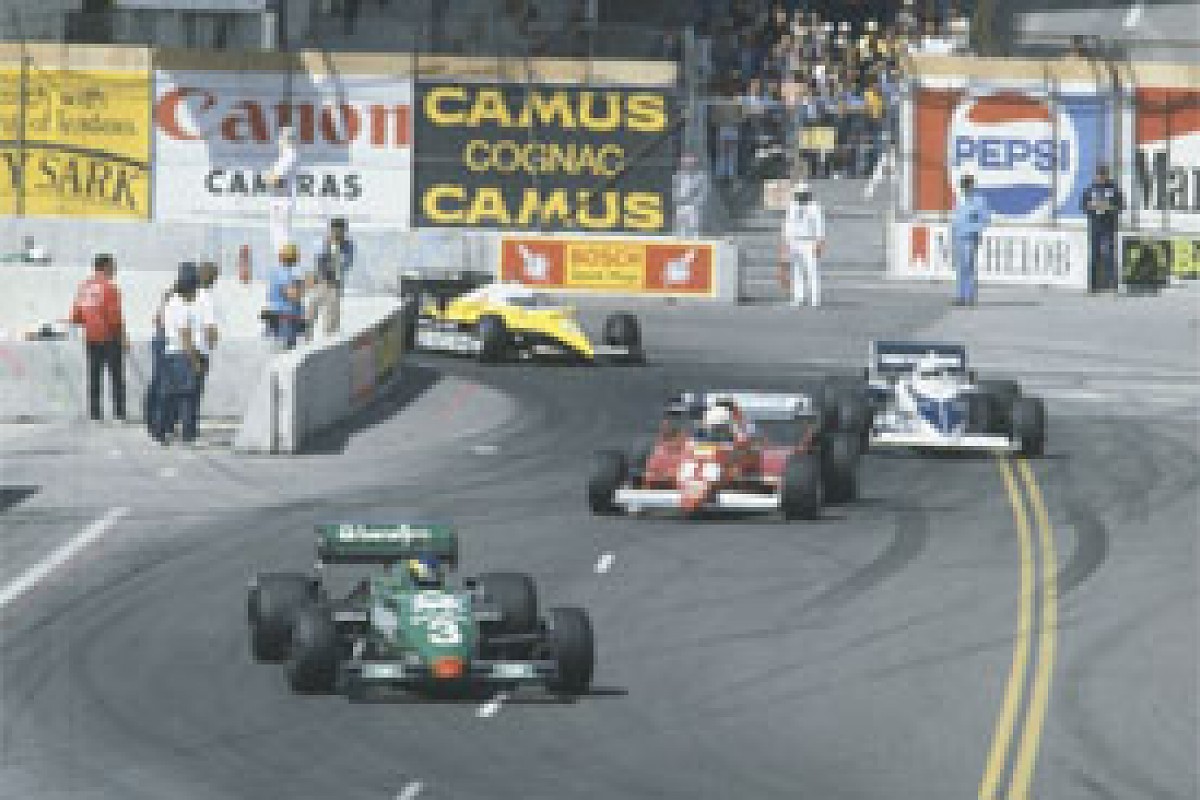 Michele Alboreto, Tyrrell 011 Ford; Rene Arnoux, Ferrari 126C2B; Riccardo Patrese, Brabham BT52 BMW; Eddie Cheever, Renault RE30C © LAT
By lap 14, a quartet - Tambay, Rosberg, Laffite and Alboreto - had broken clear slightly, with Patrese, Cheever, Jarier and Arnoux following up. Still the McLarens had made little significant progress: Lauda was 14th, Watson 16th. Prost came in to have his misfire investigated, which was unfortunate for Cheever, who arrived at the Renault pit a few seconds later and was asked to proceed back to the race track and return when they were a little less busy. This message was conveyed by a single urgent gesture and Eddie was down four places.
The scrap at the front was becoming even more hectic and by lap 23 Patrese and Jarier had latched onto the leading four. Sadly JPJ misjudged an overtaking manoeuvre on Alboreto, sending the Tyrrell to the pits. Riccardo seemed to be getting along very easily and his progress was menacing. Team-mate Piquet, by contrast, was having a miserable time towards the back of the field, hampered by a sticking throttle, the last thing one needs at a place like Long Beach.
Jones had made good progress, moving the Arrows up to eighth by one-third distance, but suddenly the white car headed for the pits. "I glanced a wall and bent a steering arm, came in to have it changed and then found that the new one wasn't quite in alignment. After another stop it was fine - a bit understeery, but not bad - and I started to go a bit and enjoy myself. Towards the end of the race though, these pins under my skin began to get really uncomfortable - like having something sharp in your pocket digging into you - so I figured I'd stop before I did something drastic. When you're in the points, you don't notice anything like pain, but I was back in 14th this time." It produced no tangible result, but Alan's return to F1 was a notable one.
Lap 26 brought major change. At Turn 11, a hairpin, Keke chanced everything on a run down the inside of the Ferrari. Onlookers reckoned that the Williams was not quite close enough to make a move and Tambay was certainly not expecting it, for he took his normal line for the corner and was hit by a desperately braking Rosberg. The Ferrari went briefly into the air and came to rest across the track with the engine dead. Patrick could only raise his arms and curse. At the very next turn, it was Keke's turn to be punted, this time by Jarier, who had slotted quickly through the previous melee. The Williams retired on the spot and the Ligier stopped soon after Shoreline Drive, a great patch of black Goodyear on its nosecone. The whole complexion of the race had changed within a few seconds.
Laffite now left, with Patrese not very far behind. There was a huge gap to Surer, the impressive Sullivan and - wait for it - the McLarens of Lauda and Watson.
Behind Niki and John was Arnoux's Ferrari, which had made one stop for new Goodyears. Would Laffite's Williams suffer the same fate?
The McLaren pair quickly dealt with Surer and there was the same inexonerable quality about them, which we have seen so often before. They were 20s behind the leading pair but closing, closing. At the same time Patrese began to put real pressure on Laffite and there seemed little Jacques could do. Already his tyres were starting to go away.
Lap 32: Watson past Lauda. Zap! It was a typical Watson move, clean and incisive. Niki did little to accommodate his team-mate but was given no alternative but to cede the corner. Into the right-hander at the end of Shoreline, Wattie had third place and immediately began to catch Patrese at over a second a lap.
The Italian now began to work seriously on Laffite. By lap 42 he was right with him, but now the incredible McLarens were only 5s adrift. On the 43rd lap the Brabham went for the lead at the end of Shoreline but Patrese missed his braking and went straight on down the escape road. There he still managed to keep the BMW from stalling, but when he rejoined Watson and Lauda had gone through and it took them only a couple of laps to pass Laffite whose tyres were most definitely ailing.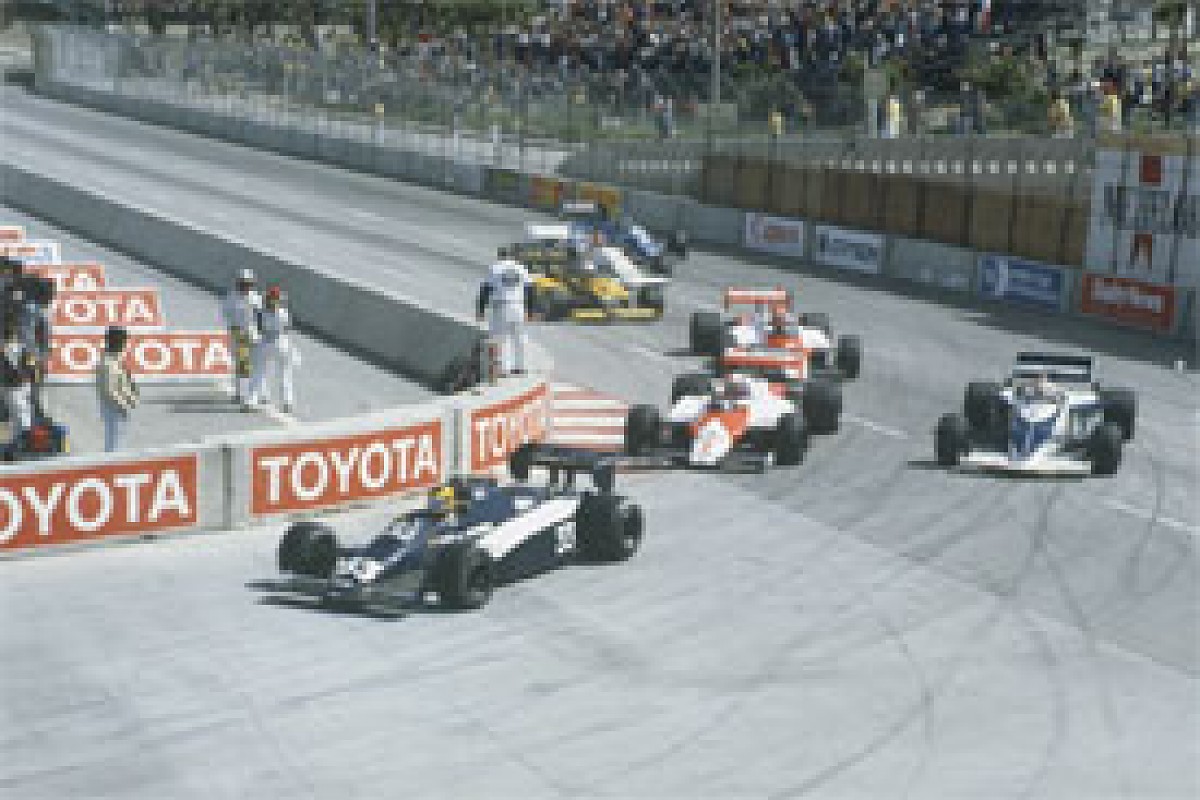 Robert Guerrero, Theodore N183 Ford; John Watson McLaren MP4-1C Ford; Nelson Piquet, Brabham BT52 BMW; Niki Lauda, McLaren MP4-1C Ford; Manfred Winkelhock, ATS D6 BMW; Eliseo Salazar, RAM 01 Ford; Jean-Pierre Jarier, Ligier JS21 Ford © LAT
So now the McLarens, 22nd and 23rd on the grid, were first and second in the race, their performances merely serving to underline the folly of qualifying tyres. For some time now, practice has scarcely been worth attending for it has remarkably little to do with the race. Yes, I know I'm shouting to deaf ears... For the record, John and Niki were at this time lapping almost 2s quicker than they had managed in 'qualifying'. Explain that if you can, John can't.
As the red and white cars began to make the race their own, Arnoux brought the Ferrari in for another tyre change, afterwards beginning a real charge. He rejoined in ninth place and put on a fierce display of forceful driving, very nearly equalling Lauda's fastest lap as he did so. Thirty laps of sustained charging took him up to third place by the end.
Briefly, just briefly, we wondered about the possibilities of a race to the finish between Watson and Lauda, but it was quickly apparent that Niki had settled for second. "He told me he had cramp in his right leg," said Watson. "And I believe him. If there's no excuse to make, Niki doesn't make it." John's lead soon grew considerably and at the flag he was 28s to the good. Behind Lauda came Arnoux, the plucky Laffite, the gutsy Surer and the altogether remarkable Cecotto, who delighted Mo Nunn by scoring a world championship point in only his second drive.
"It seems to me," I said to John afterwards," that the only thing left to you to do is to fail to qualify, get in as first reserve and win."
"I can't explain it to you," he replied. "Believe me, I would if I could. We still had too much understeer, but the grip was good all through, better that at any time in practice. This wasn't like Detroit, though. There I felt from the beginning that I was going to win, even though I stated way back. I didn't feel that here. I'm delighted of course but I'm also baffled. Believe me, I'd rather start from near the front."
This final Long Beach Grand Prix was a memorable race from many points of view, an event ultimately decided by tyre contracts. With Goodyear you had had your glory during qualifying; for success in the race you needed Michelin.
Laffite, Surer, Cecotto and Sullivan all made the finish on their original Goodyears, but all were hobbled in the late stages and the Pirelli runners fared even worse, De Angelis changing tyres twice before deciding that the handling of the Lotus-Renault on race tyres was not to his taste. Mansell, by contrast, gamely plugged on to the finish, but not before he had stopped three times for tyres.
As ever at Long Beach the attrition rate was high, 14 cars failing to make it through. A gearbox bearing ended Guerrero's disappointing Sunday: Giacomelli's race was ended by a flat battery and Baldi's Alfa hit a wall very hard after throttle stuck open. It was the worsening of this same problem, which eliminated Piquet, but unluckiest of all was Patrese whose Brabham-BMW suffered a broken turbo with only four laps left. The Italian had been in contention for most of the afternoon and had third place locked up. Unluckiest of all, did I say? Patrick Tambay would probably take odds with that opinion.