As the old saying goes, if you've got a $5 head, get a $5 lid. Flippancy aside, it's improved helmet safety that saved Felipe Massa from a serious brain injury - or worse - in Hungarian Grand Prix qualifying last year.
The technology that goes into the modern-day 'skid lid' costs quite a bit more than $5, but when you see how it stands up to a huge impact like Massa's, you realise it's worth every penny of the asking price.
Since mid-way through 2004, drivers in Formula 1 have upgraded to a new FIA standard (8860-2004) that mandates carbonfibre shells, as opposed to traditional, and lighter, fibreglass composite construction. This costs about three-times as much to produce, but as Arai's F1 service technician Peter Burger points out, it's a small price to pay for improving your chances of survival.
"In Massa's accident, the advantage of carbonfibre over fibreglass was clear," he says. "It can withstand a bigger impact. With a regular helmet, the spring would have cut much deeper into his head."
Helmet manufacturers are quick to react to such an accident. Arai's latest F1-spec GP-6RC, for example, features an additional carbon strip across the forehead, and the visor screws have been moved further back to try and avoid the visor being ripped away, as happened in the Massa incident.
Schuberth, which manufactured the helmet Massa was wearing, reacted by changing a plastic component around the visor screw to titanium. It's a constant learning process, with both the helmet manufacturers and the FIA doing their utmost to improve the safety level.
"The problem is the drivers always say they want the helmet to be lighter, but what they should be saying is that they want it safer," says Burger, who admits Arai's F1 lid is over 100 grammes heavier than Schuberth and Bell rivals.
How many can you identify? © LAT
"You have to think why we make it heavier, and I think that's because we are unbeatable on safety."
And 14 of the current 24 drivers on the grand prix grid appear to agree.
Witnessing the shock-absorption tests that helmets are put through to pass both the FIA and Snell standard tests is remarkable. Huge spikes and anvils are dropped from a great height, generating massive g-loads, yet every time you retrieve the helmet from the testing machine its inside is intact, no matter how smashed or battered the surface might appear after multiple impacts.
The key to this is not only the hard exterior but the softer polystyrene inner shell, which soaks up the impact's energy so that it's not transmitted directly to the skull and brain. Of course, there remains the scope for an impact that is not survivable, as tragically proved by Henry Surtees last summer. Again, data from that accident has been relayed into the system.
Visors are subjected to 500km/h ballistics tests, but perhaps the most impressive is the flame resistance properties of both helmet and visor. The internal temperature must not exceed 70C despite a direct propane flame being applied at 790C.
While the integrity of the designs are exponentially stronger than ever, the inner linings are just as important to drivers to ensure their comfort over a grand prix distance. High-speed straights tend to lend themselves to an amusingly-labelled phenomenon 'helmet suck', where lift is created underneath the chin. Splitters are now used, placed underneath the visor opening, to combat this.
And if you don't believe helmets can contribute to quicker lap times, how about this anecdote from Burger: "Heikki Kovalainen had complained that his helmet was feeling loose at the front on the straights, so I changed everything I could to try to make it better for him. We went to the next Barcelona test and he was so happy with it that he suggested removing the small windscreen from the front of the cockpit - they found two-tenths of a second after that! Don't ever underestimate the fit of a helmet."
The grand prix stars get their garishly-painted lids for free (as well as Burger's expert attention as part of the service), but there's something reassuring about knowing you can buy off-the-shelf what Lewis Hamilton wears while strapped into his McLaren every other Sunday. And if it's good enough for Lewis...
Learning from the big incidents
Rubens Barrichello - Imola 1994
On the blackest weekend for Formula 1 in decades, Rubens Barrichello's practice shunt at the final chicane left him with a broken nose. His seatbelts stretched so much in the impact that the front of his helmet struck the cockpit side, enough to crack the front of his helmet.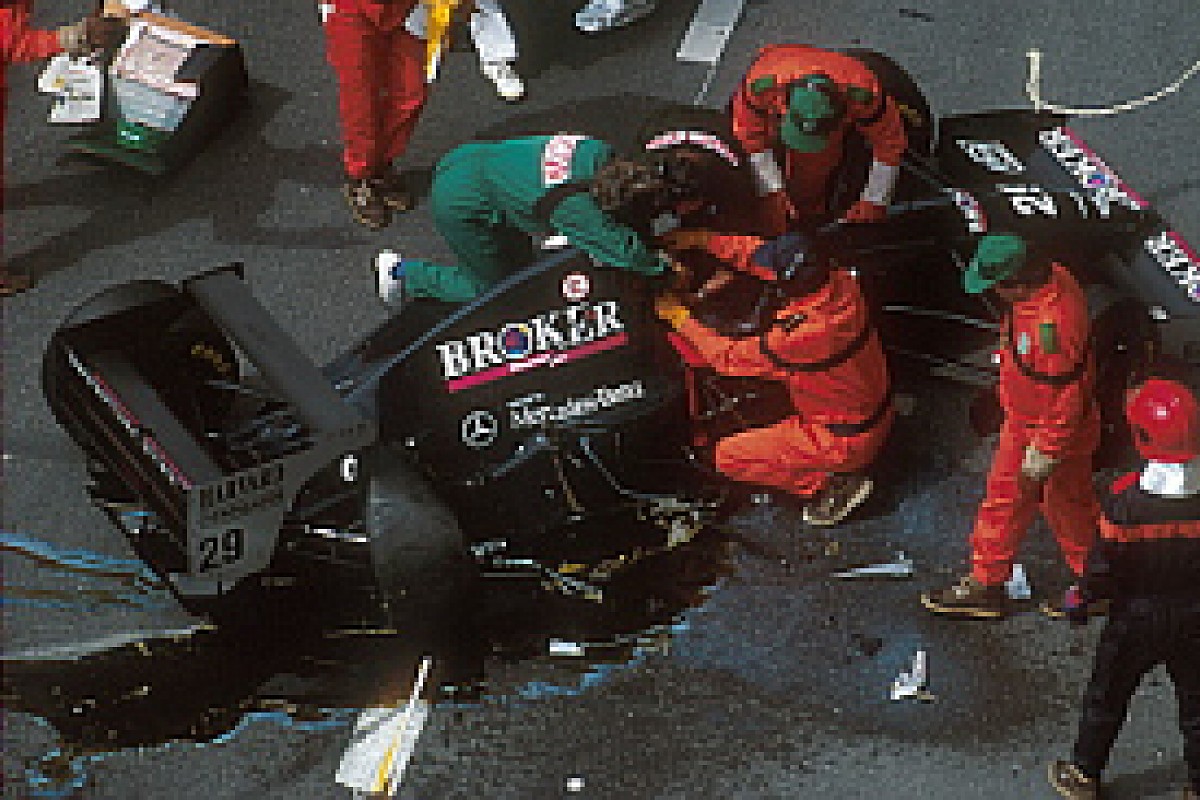 Karl Wendlinger, Monaco 1994 © LAT
Karl Wendlinger - Monaco 1994
Suffered serious brain injury when the low cockpit sides of his Sauber allowed the side of his helmet to hit the barriers in a practice crash, but investigation also revealed that the pit-to-car radio system contributed as foam had been removed from the inner shell to accommodate it.
Jos Verstappen - Hockenheim 1994
No impact here, but a huge flash refuelling fire in the pitlane. Despite burned sponsor logos, and some discolouration of the lining at the back of his helmet, its heat-resistance properties were proved.
Luciano Burti - Spa 2001
Head-on impact with the tyre wall caused his helmet to split open across the chin section. Investigation proved that a hole drilled for his drinks tube had weakened that part of the helmet. Drinks tubes are now situated inside the helmet and holes drilled in carbon lids must be homologated.
Heikki Kovalainen - Barcelona 2008
Heavy accident during Spanish GP, which ripped off the front of the chassis, also caused cracks in the chin-section of his helmet as the tyrewall rode-up over the cockpit area. That area has been strengthened in subsequent designs.