After all of the turmoil caused by BMW's withdrawal last winter, it appears that the German manufacturer might have left the Sauber outfit it took over at the end of 2005 with a nice parting gift.
The C29 may not look pretty, but it has enabled the team, which is now back under the ownership of its founder Peter Sauber, to pick up where it left off five years ago, by getting on with an efficient if not astounding pre-season test programme.
On the surface, it almost looks as if the BMW era never happened. Yes, by a bizarre twist the team will compete this year as 'BMW Sauber-Ferrari', but it is an independent again, and with its drivers quietly nestled in 11th and 12th overall by the end of last week's test at Barcelona, it seems that normal midfield service has been resumed.
But there might just be more to it.
After all, it's easy to forget that this car is essentially the result of BMW's enormous efforts that also got the team back on the pace during 2009. So with a bit of a look at the pace of each car over its race simulations, and by gauging the mood in the camp, there's a strong feeling that Sauber won't just slot straight back into the midfield.
"The mood is positive because we had to develop this car in conditions of uncertainty," says the team's technical director Willy Rampf, who is preparing to step aside when James Key joins from Force India next month. "I don't think the teams are far apart, and with the performance we could show we are happy."
The main strength of this year's Sauber appears to be its ability to be so kind on its tyres.
As we prepare for a season during which tyre wear once again becomes the deciding factor in race strategies, Rampf is aware of what a powerful weapon the C29 will become as races develop on a Sunday afternoon.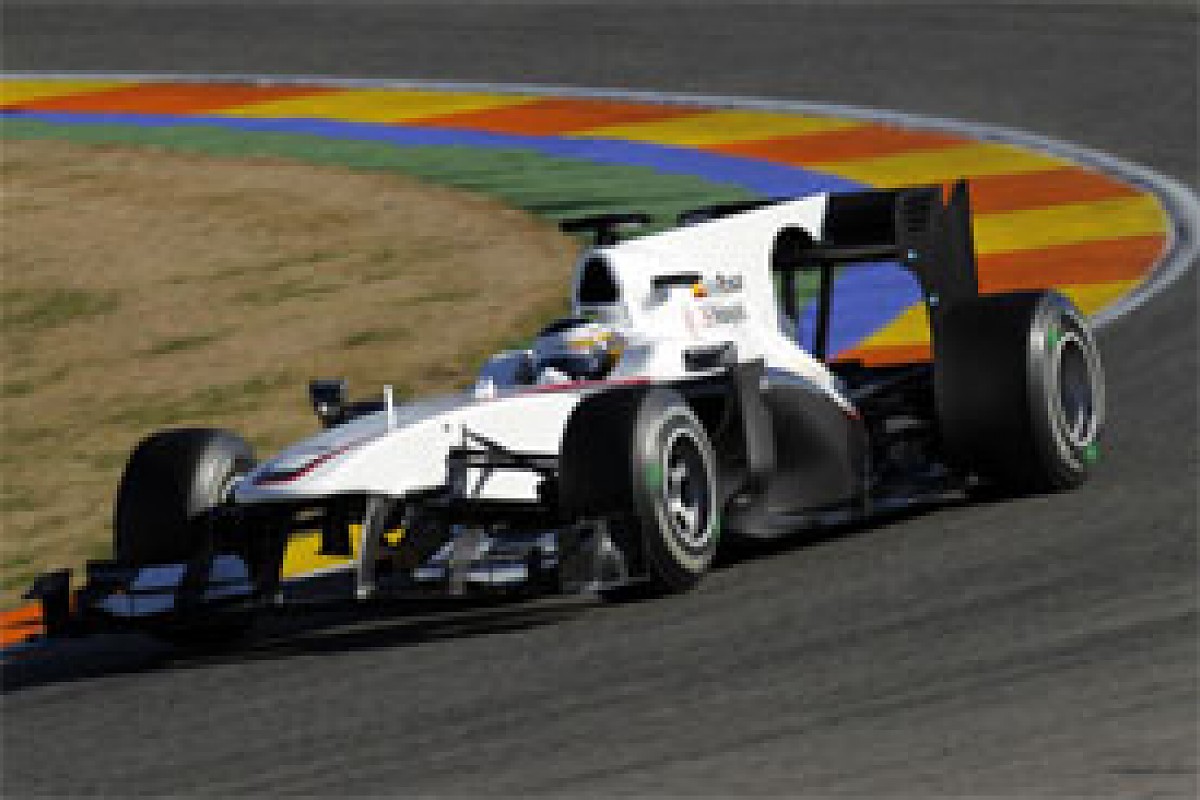 Pedro de la Rosa tests the BMW Sauber at Valencia © LAT
"The car doesn't have any stability problems, and its performance and balance on high fuel loads is a strong point," he says. "We will build on this - it's a very good thing. Our car is not too heavy on its tyres, so we can do reasonable long stints without killing them.
"That will help keep the strategies more flexible, if you're not forced to stop by tyre wear."
The performance of Pedro de la Rosa and Kamui Kobayashi in testing has prompted Bridgestone to suggest that Sauber could be one of the only teams to get away with using the softer tyre in Q3 on a Saturday, without compromising its first stint of the race.
It all points towards a very positive picture, more like the one BMW was painting when it achieved its goal of winning a race in 2008. That suggests that the team is picking up where it left off at the end of that season, but Rampf believes the reborn outfit is merely continuing the recovery from its disastrous start to last year.
"In 2008 we had a very competitive car, and we had a lot of resources," he says. "But I think what we see now is a continuation of the work done at the end of 2009. We put a lot of effort in with updates for Valencia and Singapore, which were meant to give us a good baseline car to build on for this year. I think we were able to build on those gains that we made."
It sounds simple - a manufacturer pulls out, leaving behind a heavily developed car that the independent team then just has to put on the track. But as Rampf points out, just getting to a stage where Sauber was ready to show up for winter testing was a mammoth task, and that's before you take into account the frantic pace of development in F1.
"It has been very difficult to get everything onto the track," he says. "We have less people, less windtunnel hours, less budget available to make parts.
"Everybody has had to focus on the components - how much do they bring, how much do they cost? We cannot do everything. Overall it has worked out quite well, because all of the components we have brought are on the car now.
"We also had to change the engine and gearbox [after the switch from BMW to Ferrari power], so it was quite a lot of extra effort. The gearbox includes suspension attachments, so the first concept we had, we had to change. That cost us some time."
Rampf almost breathes a sigh of relief when he explains that every development that has been put on the car since testing started has added performance, thereby justifying the initial expense in getting new parts ready in such a hurry.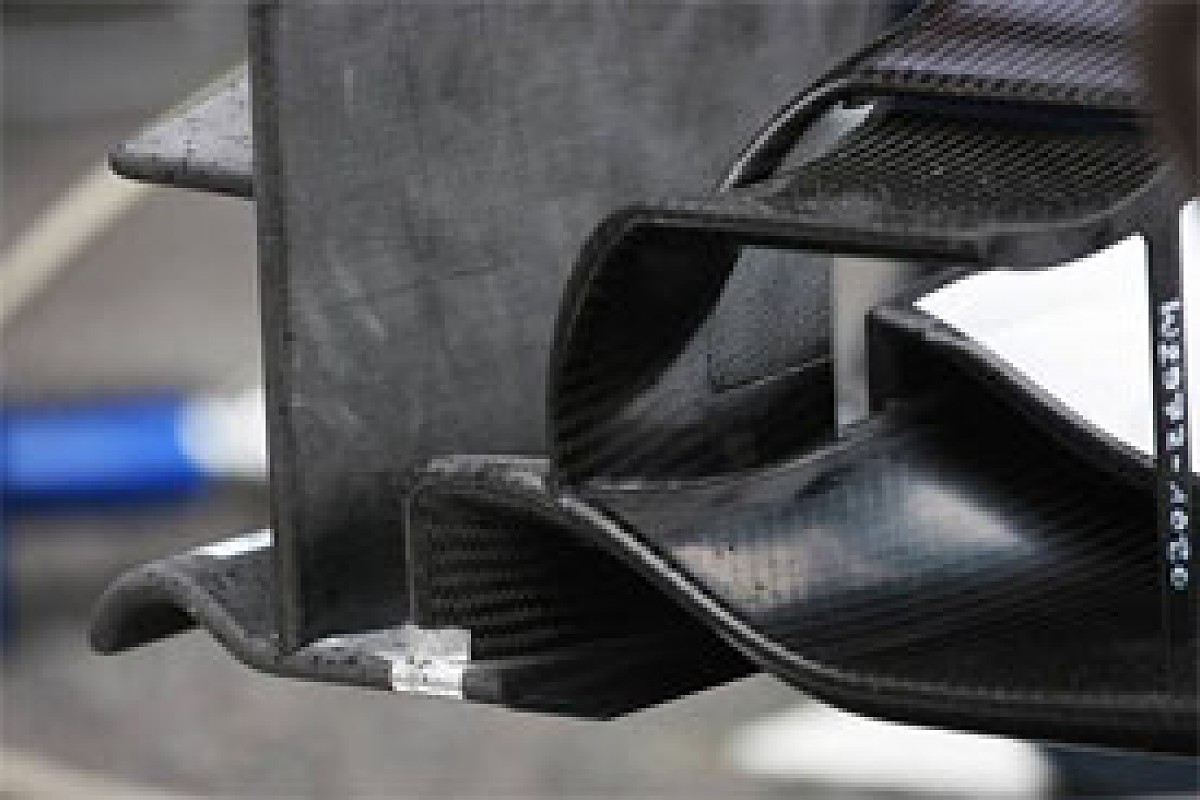 Aerodynamic detail on the front wing of the BMW Sauber © Sutton
"We were able to bring new parts from the windtunnel and tune the car accordingly," he adds. "We have developed well with a combination of aero parts and mechanical setup. We did not bring five things and have to scrap four of them, the correlation with the windtunnel has been very good."
As with every team on the grid, Sauber has focused heavily on reliability in this year's condensed testing programme. The results look relatively positive on that front, with Rampf suggesting that the mechanical gremlins that crept in at Barcelona were purely down to the team running parts beyond their recommended mileage.
He's also been very impressed with de la Rosa, who got the nod to be the team's experienced hand over Nick Heidfeld.
"Pedro is very precise, very good and very consistent," he says. "He can do the same performance any time. He filters out tyre performance, so he knows when he's losing time because of tyre wear and not aero performance. He's very good to work with."
It's easy to draw parallels with Sauber's plight over the winter and that of Brawn GP from this time last year. While it hasn't all been quite so last-minute, a white sponsorless car turning up at testing can't help but beg the question of can this team pull off a similar surprise? Unfortunately, Rampf pours flames on those suggestions.
"I don't see it happening," he says. "There's no huge invention, or different concepts like last year. There are no teams going in drastic directions, no double diffusers, no KERS. Brawn did a very good job last year, but here we have limitation with the budget. We have defined what we have for Bahrain, so we can go back to the windtunnel and see what else we can add to it."
How measured. How very Sauber.