God, I wish I could get into the mind of Michael Schumacher. Know what he's thinking. Really thinking.
Every year, as take-off time for the first race nears, you get into an argument with yourself. You prepare to see your wife and children one week in two. When you get back, things have been going on in their life you know nothing of. It's hard not to feel like a bit-part player. Hers is the main role and you turn up as an audience every now and then. Thank God for Her...
Michael Schumacher testing at Barcelona © Sutton
And why? For sport. A glorious irrelevance. Something that doesn't matter. In your 20s and even 30s, it's, forgive me, 'cool'. But by the time the next flip of the decadometer will reveal the big '5-0' you start to feel a mite uncomfortable. Life's halftime oranges have long since been discarded, the pitch is heavier and it's still all about sport. You get the odd oblique, questioning look now and again. Have you not grown up yet, got a proper job? 'You still doing that?' When you nod, it's like admitting you still go to bed with a favourite teddy or a comfort blanket.
But then the plane touches down and it's fantastic. Fast-moving, intense, intriguing, serious, humourful even. How can anyone say it doesn't matter? And what really matters anyway? Really matters. Why are we here? What's it all about? Okay, that's enough. Let's not go there. You do have a purpose; it's to tell a story - give a bit of insight into something that, for millions, is a bit of escapism every fortnight. You're blessed. So do it. Enjoy it. Don't feel angsty. Then go and have a beer.
If you've any lingering concerns, ask yourself this: what the hell else are you going to do? You've got to pay the mortgage, be the provider. Of course you have. So don't be daft. Get on with it. But just don't pose that hypothetical teaser - what if you won the Euro lottery millions? Well it's obvious. That would be it. You wouldn't go anymore. Well, would you? Of course not. Well, maybe one more season...
A long time ago, I heard Schumacher asked about the benefits of fame and fortune. Security, he said. Independence. Knowing that when he stopped he wouldn't have to look for a job, worry about his family. He wasn't that keen on the rest of it though. The inability to go to a restaurant and sit down without whispering, pointing and pieces of paper shoved under his nose. Having to deal with the same questions from us lot every five minutes.
I interviewed him at Magny Cours in 1998 - before he'd won the first of his five titles with Ferrari in other words. We were only about five minutes in when his mobile rang. It was Corinna, on the beach somewhere with daughter Gina-Marie, who was a year old and only just walking. He motioned me to switch off the tape recorder. A bit unnecessary given that the average geordie's grasp of German extends about as far as Auf Wiedersehen, Pet. I did as I was bid, a bit hacked off that he seemingly didn't trust me not to print his private phone conversation.
"A wish you were here call?" I asked, when we resumed.
"Yep," he said, "and sorry about that..." as if he'd read my thoughts. Already, he admitted, he could find testing a bind. Not all testing he added hastily, distinguishing between performance testing and the reliability stuff.
I came away with the impression he might not be around too long. He'd win a championship for Ferrari then be on his bike, off to enjoy his millions. This was the man who, sat in a chopper traversing the Oxfordshire countryside in his Benetton days, was impressed by a country pile and its beautiful surrounding parklands. The story goes that he wanted to know whether he might be able to buy it. It was Blenheim Palace...
His reference points, then, are different. But how wrong could I be? Damon Hill arrived in F1 a tiny bit later than Michael although, probably significantly, a decade older. Hill always says that one of the most amazing things about Schumacher was his endurance - the ability to show the same frightening commitment to staying at the top, year after year after year.
If you try to think of a comparable sportsman, only one springs to mind - Steve Redgrave. Redgrave won his first Olympic gold in LA in 1984. He followed up with successes in Seoul, Barcelona, Atlanta and then Sydney in 2000. By then he was 38 and still performing in what is a highly physical arena.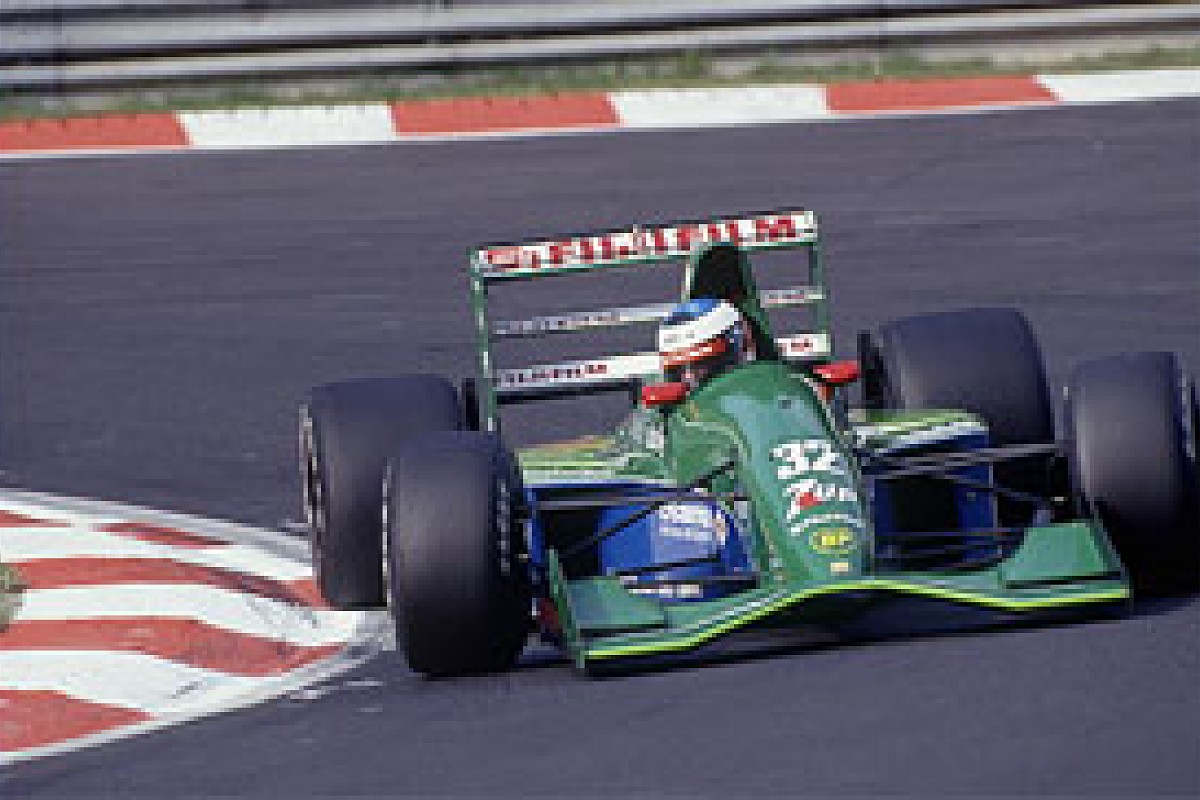 Michael Schumacher makes his debut in the Jordan 191 Ford at the 1991 Belgian Grand Prix © LAT
Michael arrived in F1 in '91, at the same age (22) at which Redgrave won his first gold. Michael's Sydney, therefore, would have been 2007, fittingly enough the first year of his retirement. But this, in the pressure cooker environment that is F1, with an eight-month 'Olympic Games' - every year.
So how much 'security' does he need? With his bank balance I'm sure he could now buy Buckingham Palace if he wanted, and use Bleinheim as the holiday home. More likely, he's the ultimate proof that sport can be cruel to its winners as well as its losers.
As someone who has a healthy appreciation for the effort needed to perform at the top level of any sport, I hesitate to label someone like Paula Radcliffe a 'loser'. But sport is full of stories like hers. Fabulous, yes, but wracked by the inability to claim the top prize. So distraught in Athens by her inability to take the marathon gold that it was almost as if she'd suffered bereavement. Similar story in Beijing. You know she'll chase it again in London, by which time, fittingly enough, she'll be the same age as Redgrave was in Sydney. Somehow though, you just don't have the same confidence in the outcome.
Radcliffe has always had her injuries, her frailties and you can't help wonder if some of them might be mental as well as physical. She can win the commercial ones, and does, but that's not quite the same as the Olympics.
But with men like Redgrave and Schumacher, the mental strength has been beyond reproach. You know, and they know, that they were better prepared and more committed than anyone else. End of story. Winning was one thing but it wasn't enough. They had to have more. Keep experiencing it.
But then what? Sport gives them everything they've got but, it can be as cruel to them as it is to the losers. Suddenly it's not there anymore. The frantic, all-enveloping life they had, disappears. They have to join the real world, and they don't know what it is.
A bit down in the dumps once, I walked into a WH Smiths to buy some in-flight reading material. Nothing interested me, so I walked out empty-handed. It was just my mood and it passed, but it was not a nice feeling. Did Michael get to the point where the whole world was his empty canvas but he couldn't find his paint brush? So he went back to what he knew.
Maybe. There was some uncharacteristic indecision coming from Barcelona this weekend. I don't think we can be competitive early on, he said initially. Then he wasn't quite so sure after he'd looked at the data. And what does he think when he looks around him and sees Lewis Hamilton in a McLaren, Jenson Button in a McLaren, Fernando Alonso in a Ferrari, Sebastian Vettel in a Red Bull?
It's a bit like Redgrave coming back to row against four Matt Pinsents. I'd love to know what Michael's really thinking. I should know, of course. If he's like Redgrave, and he is, he'll be thinking: I'm that bit better than you lot. You only doubt him because he's pushing those boundaries further than is reasonable.
But that's what men like him do. Hell, he'll probably win the championship.