Mercedes has every right to feel pretty pleased with itself as 2009 draws to a close. Not only has it powered the last two cars to win the world championship, but now it has its own team as well.
The takeover of the Brawn team came less than a year after Mercedes motorsport boss Norbert Haug was informed that Honda was pulling out of Formula 1, leaving the team headed by Ross Brawn desperately searching for a replacement power unit as the ex-Ferrari man tried to save it.
What followed was a dream story, as the team that had been on the brink of shutdown just weeks before the season went on to win both the drivers' and constructors' championships, before promptly handing itself over to another manufacturer to safeguard its long-term future.
The success of Brawn drew attention to Mercedes, as the German engine was given plenty of the credit for the team's startling form while Jenson Button dominated the early stages of the season. That was particularly satisfying for Haug, who'd witnessed the Stuttgart engines take plenty of flak during the past.
"An engine is like a doctor, you only get mentioned when you fail," he says, speaking before the Brawn takeover had been confirmed. "This is something that is difficult for the guys that build the engines, but this year there was a little bit of a change. Our engine is praised, everybody thinks it is the benchmark and that is very pleasing for all of our guys and myself."
But as the year went on, it wasn't just the performance of the Brawn that highlighted the strength of the Mercedes. Lewis Hamilton and McLaren were back to winning ways by mid-season, and even Force India got in on the act, with particularly eye-opening performances on the high-speed layouts of Spa and Monza.
That prompted plenty of discussion from rival teams and engine manufacturers that Mercedes had somehow engineered itself an unfair advantage during a freeze on engine development. That, unsurprisingly, doesn't sit well with Haug.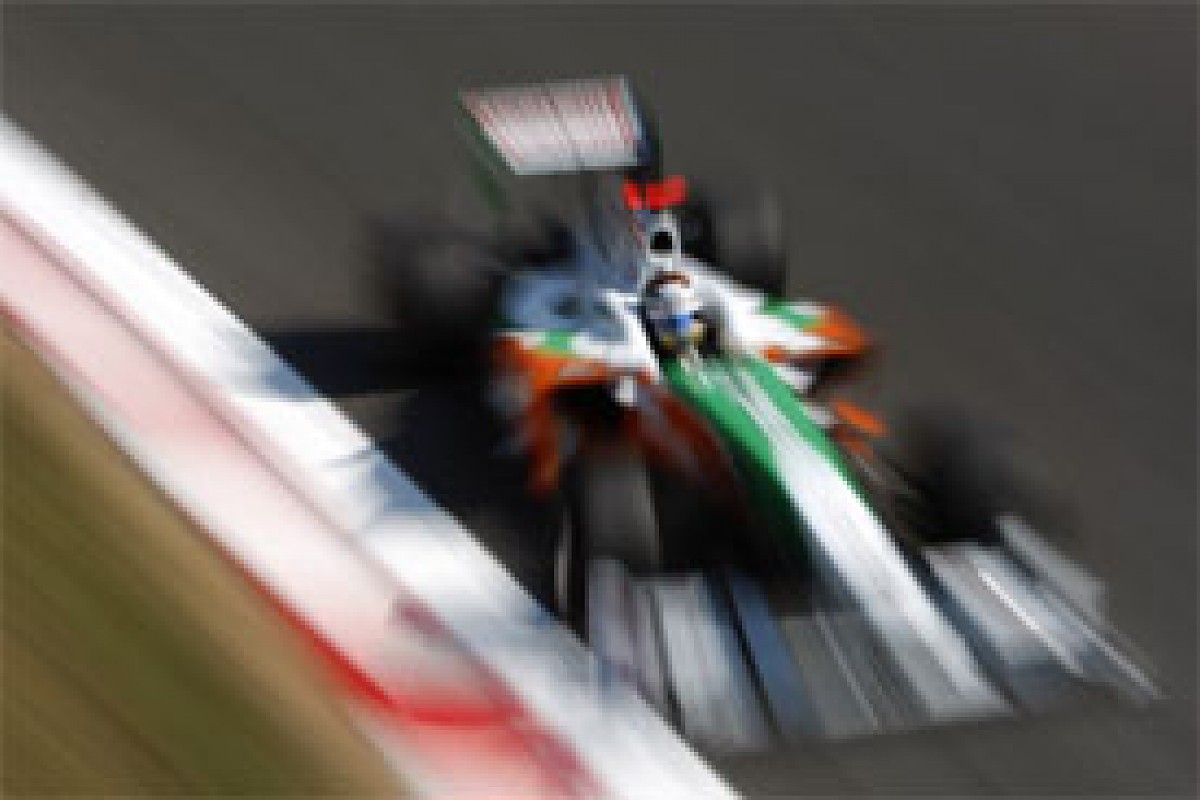 Adrian Sutil rushes through the Parabolica at Monza © LAT
"It's an absolute disgrace," he says. "Our engine is good, but not as dominant as it has been described. Races like Spa and Monza are the perfect reward for the hard work everybody puts in. When people claim there is something else going on, or that our engines have got stronger through the year, it's just not correct.
"When there is an engine freeze, your processes are important to make sure you have the quality. You can make gains definitely in fuel and lubricants, and anything that is outside of the engine itself. The most important point is the usability of the engine. How lean can you run it, how well can you bring the temperatures up, can you save a lap of fuel?
"Everybody had a very small opportunity for re-tuning which was allowed. I'm not sure everybody did the same job, but that's the name of the game. We are so limited already with engines. We cannot equalise chassis, can we? This is the sense of sport. When I was at school, if I got a grade C in my mathematics class, and the guy next to me got an A, I couldn't go and ask him to drop down to a C next time to make us closer."
Of course, that last comment hints at the claims from rivals that the Mercedes should be de-tuned over the winter. At the moment, that's not an idea that the German manufacturer will entertain for the 2010 season.
"This is not an option for us," he says dismissively. "This agreement was founded one year ago, what should have changed in that time? There is not a big margin like people say. And if there is a small difference, then it is up to the chassis to compensate.
"It's the oldest story in motor racing. In the DTM, maybe the Audi engine is further ahead of Mercedes than we are in Formula 1, who knows? But I would feel ashamed if I needed to ask a competitor to change things to make us equal."
The general feeling in Mercedes is that by the end of the season its engines were powering three teams with fundamentally good cars, which led to people drawing conclusions that it was all about the lump sitting behind the drivers.
"If we had been in a chassis that was not capable of winning a race, then nobody would talk about us," Haug adds. "I'm sure our teams would not do too badly with an engine from our competitors."
He has a point here, as prior to the Mercedes customer programme, which only started this year, the manufacturer had only powered one team. From 1995-2008 that was McLaren, and there would have been very few headline-performances from Mercedes-powered cars in the first half of this year if only Lewis Hamilton and Heikki Kovalainen had been flying the flag for the three-pointed star.
The success of supplying multiple teams for the first time is obviously a proud achievement for Mercedes. So why didn't it happen earlier?
Ross Brawn, Rubens Barrichello, Jenson Button, Norbert Haug, and Nick Fry celebrate their world championship successes at Interlagos © LAT
"I don't think we were ready before this year," says Haug. "If we were going to have a customer project we wanted it to be first class, and in 2004/5 we were not first class. Then in 2006 we were struggling in the beginning with the V8, but we built it up and we worked hard. This didn't come as a present.
"I think it would have been wrong to try a customer programme in 2007 because of capacity required, but maybe we could have in 2008. The number of engines used to be bigger. Even if we supply four teams next year (which now seems unlikely), we would still build less than half the number of engines we used to for just one team."
Mercedes will undoubtedly be the centre of plenty of attention again in 2010. But regardless of how its return to team ownership for the first time since the 1950s goes, it can always look back on 2009 fondly, for what Haug will always recall as the "fairytale" campaign.