After a year of testing in solitude, Toyota's F1 team finally faced the competition at Spain, for the pre-2002 testing. Karl Ludvigsen believes they have reasons to sigh with relief. There are also other reasons to be worried...
Some of our readers have interpreted Ove Andersson's remarks about the first Toyota test results as indicating that he's worried about the team's prospects. I'll bet he is! One of the world's biggest auto makers has entrusted him with the job of organising the effort to put Toyota on the world's grand prix circuits in a way that won't cause embarrassment. Toyota would also like success, I'm certain. But above all it won't want to be mortified the way Jaguar was during its first year on the tracks.
Mika Salo testing ahead of the 2002 season © LAT
Frankly, if I were Ove, I would be breathing a sigh of relief. The new Toyota TF102 is at least on the same planet as the rest of the runners. It could easily have been so wildly off the pace that the 107 per cent cut-off point for qualifying lap times would be a menacing hurdle for the Japanese team. That doesn't seem likely. Neither do the drivers seem lacking. Both Mika Salo and Allan McNish have a great deal to prove and seem willing to go to the limit to get the job done for Toyota.
A lot of folks have already reflected on what Toyota is trying to achieve, but it won't hurt to recap the position. Toyota is committed to building a team from scratch to design and manufacture a complete grand prix car. Only a very few passenger-car makers have attempted this in recent memory, and of those only one has been successful.
Renault was successful. Racing its own cars from 1977 through 1985, building both the cars and the engines itself, it scored a total of 15 victories. Yet all success is relative. Though it came close, Renault won neither a drivers' championship nor a manufacturers' championship. In 1983 it was vice-champion in both categories, Alain Prost missing the top spot by only two points. By supplying only the engines Renault did better subsequently. Now in 2002 Renault will once again have full responsibility for both cars and engines, building on the sound base of Benetton.
Another who tried it was Honda. From 1964 through 1968 that doughty Japanese pioneer built its own cars and engines. By the way, its 1.5-litre V12 cars of 1964-65 combined the engine and transaxle in a single housing - something many are claiming will be done this year by Ferrari "for the first time." For its trouble Honda was far from challenging for any championships and ended up with only two wins, the second with a car using a British-built chassis.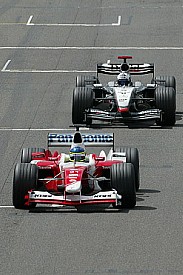 Cristiano da Matta leading Kimi Raikkonen in the 2003 British Grand Prix © LAT
No wins at all was the lot of Alfa Romeo. This once-great company, provider of the mount for the first two world champion drivers, put its virtually unbeaten reputation at risk by building its own engines and cars from 1979 through 1985. The result was catastrophic. All Alfa had to show for it was two pole positions and one fastest lap. Its best year was the same as Renault's - 1983 - when it had two podiums for Andrea de Cesaris and totted up a total of 18 points. The unmatched Alfa Romeo reputation of the 1950s was irrevocably impaired.
That's it, really, for major car makers risking their reputations in Formula 1 racing in recent years. I wouldn't put Lamborghini in that category, but they did indeed have a go in 1991 with their engines and the Lambo chassis from the same stable. I think they started six races and the results were nil. That was so short-lived that it didn't have a chance to damage their reputation as sports-car makers! I recommended to Lamborghini that it should use its Lambo chassis and engines as the basis for a spectacular concept car to add some lustre to the brand and also to extract at least some value from the effort. Was that a good idea or what? They haven't done it - so far.
So Toyota is next in the barrel. At this point I should remind you of Ludvigsen's three rules of motor racing, as follows:
1. You can be fast
2. You can finish
3. You can look good
So far, Toyota is saying that it has the durability and that finishing is important. I agree. That takes care of number two. Number one is probably not likely in the short term, but number three is do-able. The team can be well turned out and the car can look the part. Two out of three ain't bad. In my book that will count for a valid programme.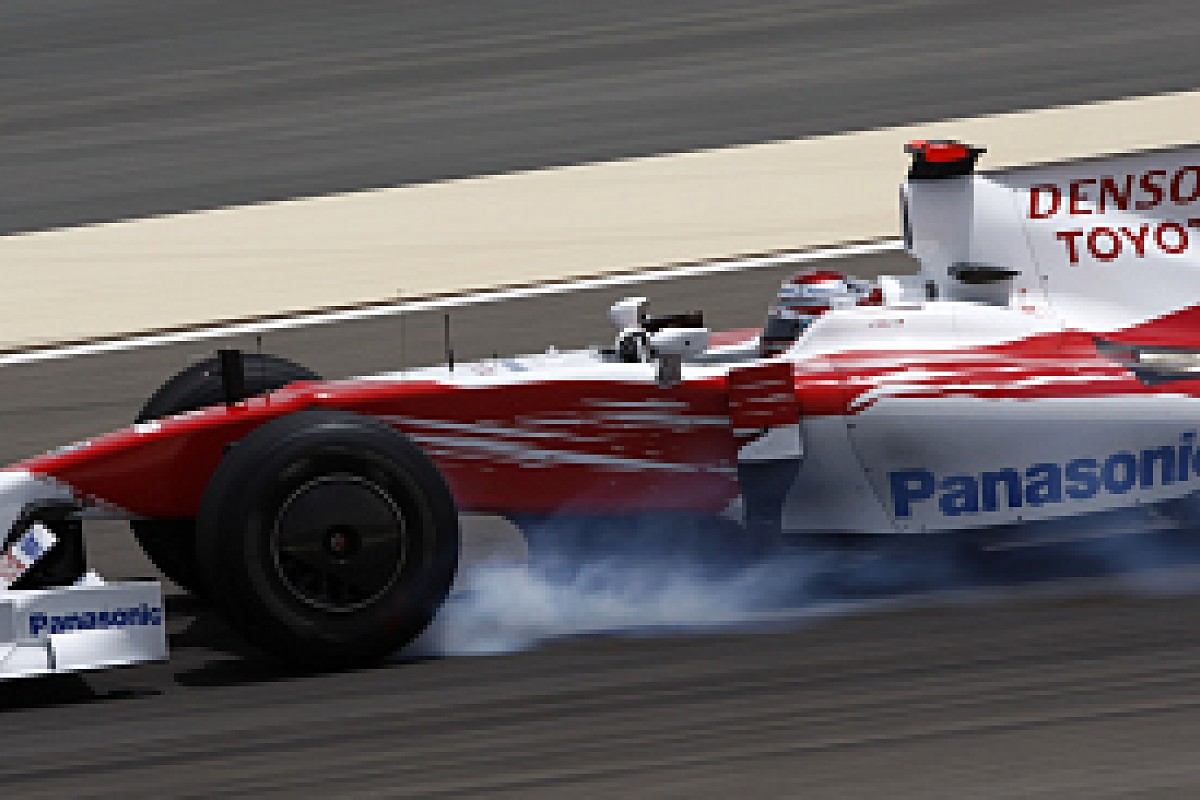 Jarno Trulli took pole for the 2009 Bahrain Grand Prix © LAT
Only one thing worries me: Toyota never won Le Mans.
As long ago as 1992 Toyota was second at Le Mans. In 1993 it was fourth, and in 1994 it was second again. In 1998 it placed ninth at Le Mans and in 1999 it was second once more. Then Toyota gave up. Instead of pressing on to win the race in which it had invested so much time, energy and money, it quit. This is not a good sign. This suggests to me that Toyota was racing at Le Mans because it thought that it was a good thing to do from a public relations standpoint, not because it thought that winning was important.
Toyota, welcome to Formula 1. Here, winning is important.