June 14 1936. Rain has drenched the awesome 23km Nurburgring Nordschleife as 14 roaring grand prix cars from Auto Union, Mercedes Benz and Alfa Romeo line up to take the start of the Eifelrennen. They are piloted by some of the greatest drivers that the world has seen. None of them, not Tazio Nuvolari, not Hermann Lang, not Achille Varzi, not Manfred von Brauchitsch, know that the 26-year-old sitting in the number 18 Auto Union Type C is about to turn in one of the great drives at grand prix level. Nor do they know that 19 months later, Bernd Rosemeyer, who would have celebrated his 100th birthday today, will lie dying alongside a stretch of autobahn between Frankfurt and Darmstadt in Germany after a doomed speed record attempt. Not that it would have come as a complete surprise.
Rosemeyer packed more success into a fleeting three-season career - that included 10 major race wins and the 1936 European Championship - than most could achieve in three decades. Rudolf Caracciola, ironically the man whose record Rosemeyer was gunning for when he was killed in January 1938, put it best. "Bernd did not know fear," he said. "We actually feared for him in every race. I never thought a long life was on the cards for him."
What happened at the Nurburging on that Summer day in 1936 summed up exactly why Caracciola, and many of his contemporaries, felt that way.
Rosemeyer's speed, his ability to attack from the off with no regard for his own safety, was well known, but he was still an unproven hot-shoe. Yes, he had given 'Ringmeister' Caracciola a fright in the previous year's race, but he had also made more than his fair share of mistakes. It was on June 14 that the true extent of Rosemeyer's remarkable talent revealed itself for all to see.
At the start, Caracciola and Nuvolari were immediately to the fore. But once the former had dropped out with an engine problem, it was the Italian who led thanks to the demands of the circuit and the conditions, which masked the deficiencies of his Scuderia Ferrari-run Alfa Romeo 12C-36. But Rosemeyer was closing in and passed the red car at the start of the seventh lap.
Impressive, but Rosemeyer's drive only gained mythical quality after he took the lead. Fog then set in, shrouding whole sections of the circuit in a near-impenetrable haze. Nuvolari continued at a tremendous pace, but even the great Italian had to back off significantly in the knowledge that the most fleeting of misjudgements on a near-invisible track could mean catastrophe.
Yet Rosemeyer barely missed a beat.
Putting his Auto Union at incredible angles, he was, astonishingly, able to lap well over half-a-minute faster than the Alfa Romeo driver, who is still regarded as the greatest ever by some. Relying on his knowledge of the track, which Rosemeyer was very familiar with from his pre-grand prix career in motorcycle racing, he defeated Nuvolari by over two minutes. It earned him the admiration of the great Mantuan... and one Adolf Hitler, who was at the Nurburgring that day.
Many put Rosmeyer's charge down to his incredible eyesight, although his total lack of fear - some might say good sense - surely played its part.
The Autocar's race report, which ran in the 19 June 1936 issue, captured the awe that Rosemeyer's performance had inspired.
"Rosemeyer appears suddenly out of the mist and screams by at extraordinary speed, changing down for the invisible Sudecke just as he vanishes into the white cloud," it reads. "Then Nuvolari, not quite so fast. It must be a drive of amazing peril, groping through the clouds in the mountains."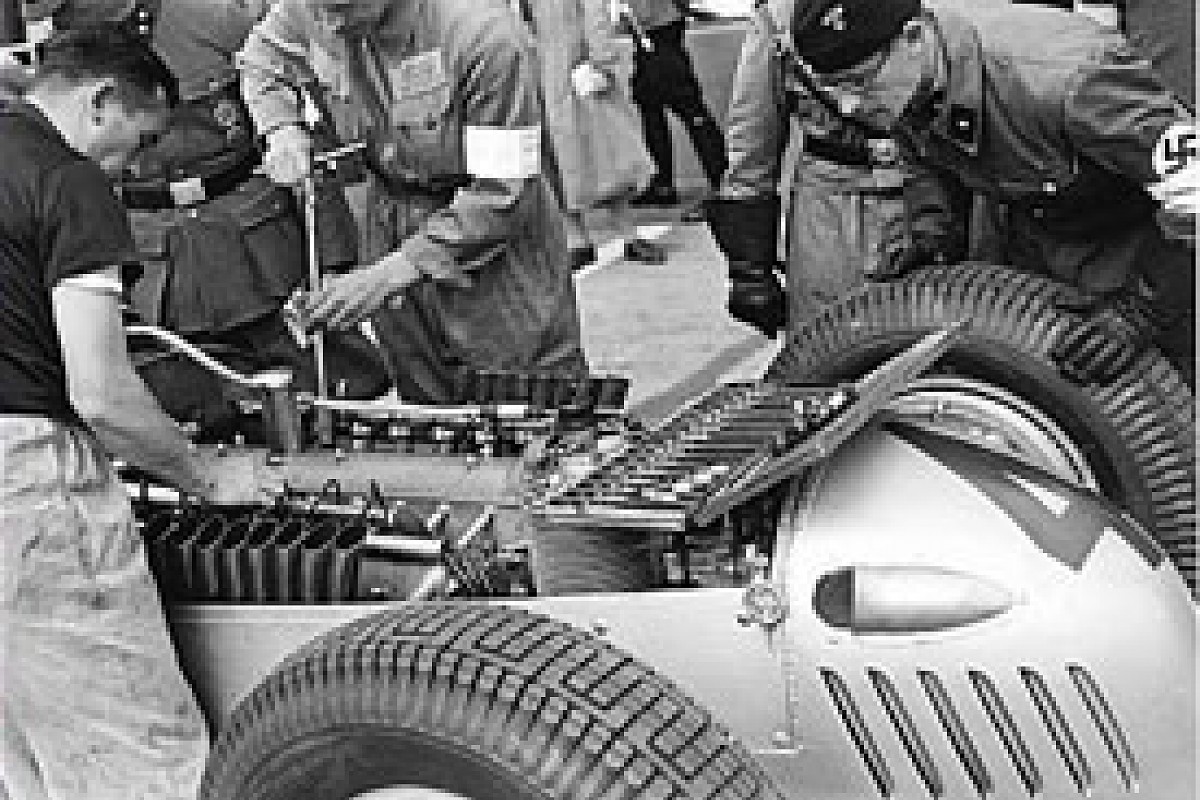 Auto Union detail © LAT
It was physics-defying stuff, every bit as astonishing as Juan Manuel Fangio's famous charge at the same track to win the German Grand Prix in 1957, or Jackie Stewart's masterful wet win there 11 years later. It was the kind of once in a generation devil-may-care flamboyance that would make Gilles Villeneuve one of the most beloved drivers in grand prix history almost four decades later. Nuvolari had tried, and failed, to match Rosemeyer and was astonished by the German's unholy pace. No surprise then that in Caracciolas mind, Rosemeyer was not long for this world.
But it was exactly that ability to operate at the ragged edge, where mere mortals feared to tread, that made the Rosemeyer legend. Those qualities were in evidence from the start of his four-wheeled career, when he was invited to take part in one of Auto Union's regular driver assessment tests at the Nurburgring in October 1934. Then, Rosemeyer was an accomplished motorbike racer with a string of victories first in grasstrack and later road racing.
When first let loose behind the wheel of an Auto Union, he attacked. Totally unfazed by his wilder moments, he showed the qualities that would make him a great and soon found himself part of Auto Union's driver roster for 1935 alongside the likes of Hans Stuck and team leader Varzi.
As a junior driver, he was not guaranteed a car for the major races, but relentlessly badgered the management in his irrepressible style until he was allowed to make his debut in the Avusrennen in May 1935. Driving a streamline-bodied Auto Union "Speedlimousine" on the dauntingly fast Berlin autobahn circuit, it was his first experience of car racing. And it was a brief taste.
After battling with the Mercedes of Luigi Fagioli early on, he retired after just three laps in the first heat. His second start, in an Auto Union Type B in the 1935 Eifelrennen, gave him his first real chance to shine. And he seized the opportunity with a virtuoso performance. He caught and passed Caracciola's Mercedes with three laps remaining, holding off the ringmeister for several laps before losing out by just 1.9 seconds after an early gearchange in the closing stages (although some reports suggest that it was because he was struggling for engine power).
Rosemeyer had marked his card.
For the rest of 1935, Rosemeyer's maximum attack style was much in evidence. Back at the Nurburgring for the German Grand Prix, he finished fourth after a sixth-lap off forced a pit-stop, which was followed by a stunning second in the Coppa Acerbo at the awesome Pescara road course after surviving a ditch-jumping off. Less dramatic outings in the Swiss, Italian (despite having to take over Paul Pietsch's car) and Spanish Grands Prix, where he finished fifth despite a stone smashing his windscreen, followed. It all suggested that he had at least curbed some of his more extreme moments of exuberance. That set the scene for the first victory of his career in the Czech Grand Prix (although the race did not go under that name) at the Masaryk circuit in Brno.
Team-mates Stuck (hit in the face by a bird and relieved by Paul Pietsch) and Varzi (drivetrain problem) both had spells in the lead before faltering, but it was Rosemeyer who emerged with victory. It was a landmark day for the 25-year-old professionally and personally. After the race, he met renowned aviator Elly Beinhorn, who would become his wife despite the determined Rosemeyer not making anything like the impression on her that she made on him!
With Rosemeyer now experienced enough to understand that the grand prix cars of the day would not always stand up to driving at 100 percent for a grand prix distance, the stage was set for his greatest season. It started badly with a crash in the Monaco Grand Prix, the first race that counted towards the European Championship. This was followed by fruitless and occasionally firey outings in the African Tripoli and Tunis grands prix and a bloodied fifth at Montjuich Park after a practice crash. But from there, it was Rosemeyer's season and the turning point was that famous victory in the fog-hit Eifelrennen.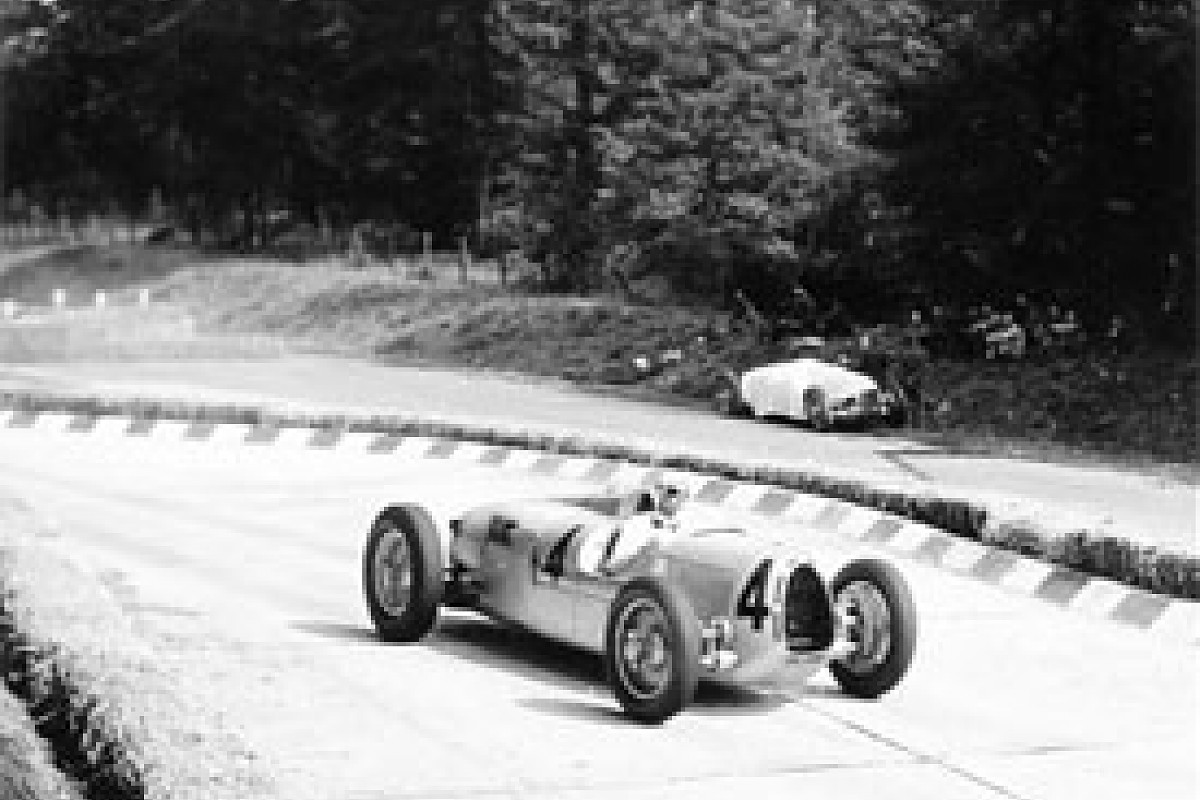 Bernd Rosemeyer, Auto Union C, 1936 Italian Grand Prix at Monza © LAT
The victory floodgates had been well and truly opened. After a second place to Nuvolari's Alfa in the second tier Hungarian Grand Prix after fading in the closing stages, possibly as an after-effect of illness, Rosemeyer returned to the Nurburgring to win the German Grand Prix following his marriage to Elly. Motor Sport magazine's editorial in the August 1936 issue captured perfectly the feeling that Rosemeyer was leading the new generation of rising stars.
"A lesson to be learned from the German Grand Prix last month is that a new generation of young drivers is at last giving a definite challenge to the 'old brigade'," it said. "It was a stirring sight to see Bernd Rosemeyer and Hermann Lang, the youngest drivers of the Auto Union and Mercedes-Benz teams, out in the front... It looks as though only Nuvolari, that evergreen genius, will be able to resist the challenge of youth, thereby earning himself, without qualification, the position of the greatest driver in the history of motorsport."
Not that Nuvolari was able to do anything about the winning streak that Rosemeyer was enjoying. Further wins in the Swiss and Italian Grands Prix meant that he had won three out of the four "points" races, earning him the 1936 European Championship in only his third season of racing. Although the curious AIACR-run series was not regarded with quite the same reverie as the modern world championship, he was unquestionably that season's star driver after winning four of the biggest races of the year ranged against the cream of 1930s driving talent. Not to mention the Coppa Acerbo in which Auto Union was unopposed by Mercedes.
In just two years, Rosemeyer had reached the top of the motor racing world and established a legacy that endures to this day. And he had become the biggest star in German racing. Leading automotive magazine The Motor's gloriously-named nom de plume "Grand Vitesse" offered a snapshot of his popularity and his approach to racing in an article that run in the June 22, 1937 issue.
"The young man who has supplanted all others as the idol of the German racing enthusiasts is Bernd Rosemeyer, the slight little driver with the wide grin and fair hair. He gives you a shock when you see him first, because he is so small and slim. Rosemeyer has a boyish temperament, all laughter and smiles, even when racing.
"Nothing worries him. Crashes, catching fire, running off the road all come alike with a shrug and a grin and 'isn't it all great fun'.
"He has no nerves and puts his foot hard down with tremendous zeal and the greatest delight... He is mobbed wherever he goes and takes it all with huge amusement and good temper and he is so obviously delighted when he has a win that all beholders must laugh with him and clap with the rest."
In short, his on track enthusiasm was matched with off-track ebullience that made him a genuine superstar. That's why Hitler's Germany, as it did with many of Rosemeyer's rivals, seized upon him as an example of Ayrian superiority with Heinrich Himmler appointing him an (effectively honorary) SS officer, with several promotions following big victories.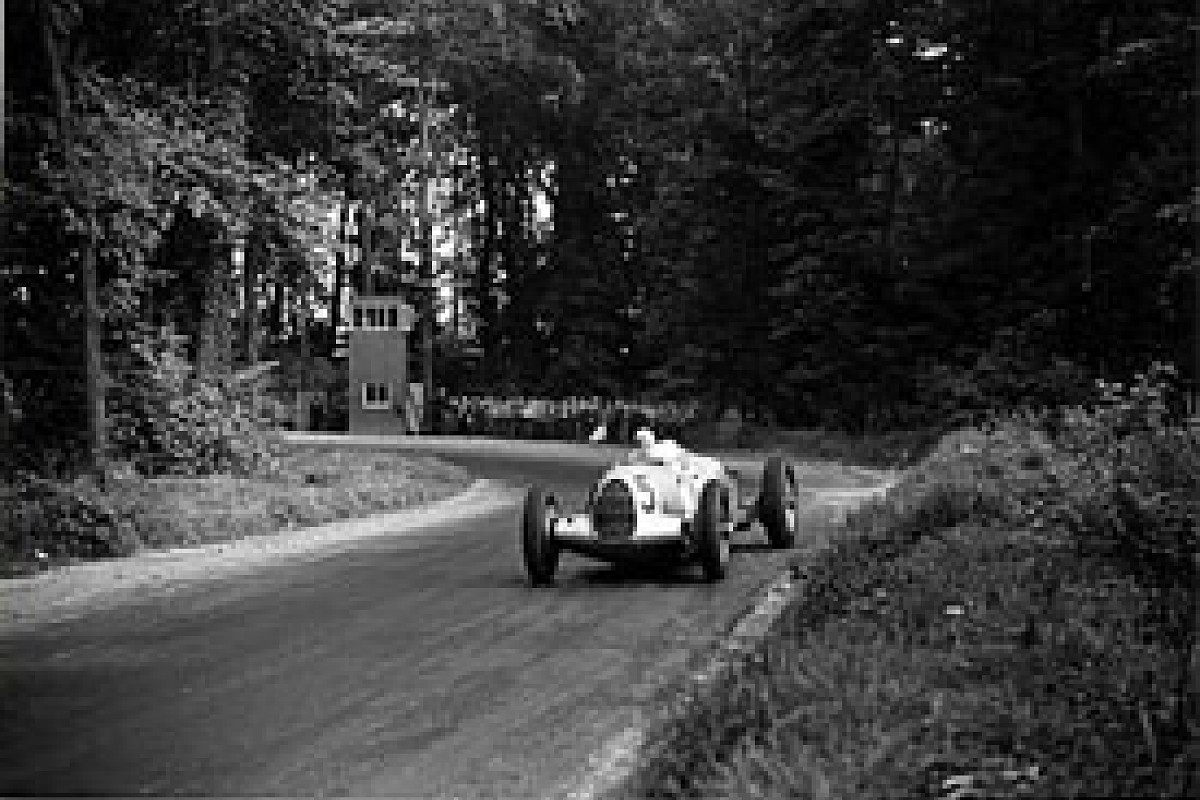 Bernd Rosemeyer, Auto Union C, 1937 Donington Grand Prix © LAT
Such big wins were harder to come by in Rosemeyer's final season. In 1937, the Mercedes W125 more often than not had the legs of the Auto Union, which Rosemeyer threw around furiously with all of his trademark flamboyance. He won the Eifelrennen at the Nurburgring for a second consecutive year after blitzing Caracciola, and added another win in the Coppa Acerbo despite losing a wheel shortly after clipping a stone.
He also took the chance to impress American fans, participating in the Vanderbilt Cup at Long Island in July. Although that race did not have the depth of opposition, especially after Caracciola suffered an engine failure and Nuvolari's Alfa Romeo expired, Rosemeyer faced a serious challenge from Mercedes rising star Dick Seaman, who he had to catch and pass after a fuel and tyre stop.
There were also some frustrating races. The season started with a near-miss in Tripoli, where Rosemeyer only lost out to Lang's Mercedes after having to make an extra pitstop. Later that month, he starred in the Avusrennen, a race that ran to Formula Libre regulations with frightening average speeds. After finishing just six-tenths behind Caracciola in his heat, driving a streamlined Auto Union, he ended up fourth in the final after pitting to check an oil pressure problem.
It was a similar story in the championship races, although the fact that Rosemeyer skipped the Belgian Grand prix in favour of driving in the Vanderbilt Cup the week before proves that that title was not so important a target. At the Nurburgring for the German Grand Prix, Rosemeyer led before clipping a bank and losing time returning to the pits for a new tyre. He then mounted a hay-bale before recovering to a third, although it would surely have been second had he had a few more miles to reel in Manfred von Brauchitsch.
His Monaco Grand Prix - never a happy hunting ground for Rosemeyer - lasted only 19 laps before a steering problem forced him out. He took over Stuck's Auto Union and claimed fourth, a distant three laps behind von Brauchitsch.
In the Swiss Grand Prix at Bremgarten - which marked Nuvolari's first outing for Auto Union after forsaking Alfa Romeo - Rosemeyer plunged into a muddy field after going off from third place while desperately trying to keep Lang's Mercedes behind. Having been helped back onto the track by spectators, he showed admirable sportsmanship by returning to the pits and admitting that he should be disqualified for receiving outside assistance.
Then came the Italian Grand Prix at Monza, where he was again the best-placed Auto Union, albeit in a distant third, while in the Czech Grand Prix in September he was desperately trying to stay in contention for victory when he damaged his car after thumping a kerb (although he did eventually finish third after taking over Hermann Muller's car).
But the season ended on a high note as Rosemeyer's 10th and final big-time race win came on October 2, 1937 in the Donington Grand Prix. Auto Union and Mercedes had been tempted to the parkland circuit in England by the efforts of Tom Craner, the man behind the track, with a total of seven Silver Arrows taking up the challenge. Although the Mercedes-Benz appeared to have the edge, Rosemeyer was at his virtuoso best as he chased down von Brauchitsch, matching his lap record, before being handed a lead that he would not lose when the pace-setting Mercedes suffered a high-speed blowout.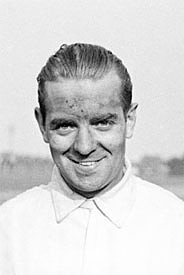 Bernd Rosemeyer © LAT
That was to be Rosemeyer's last race. On January 28, 1938, at the age of 29, Rosemeyer hit the autobahn driving the Auto Union Stromlinienwagen speed record car in a bid to break Caracciola's record mark of 268mph. Braving strengthening winds, Rosemeyer began his second run, but while travelling at a speed more than 250mph, a crosswind is believed to have pitched the car into a somersault. It claimed the young hero's life.
After three seasons of car racing, one of the grand prix racing's brightest lights had been mercilessly extinguished in the pursuit of speed.
With 10 major wins, a championship title and plenty of stunning drives in his brief career, Rosemeyer stands comparison with the best of them. Although he competed in the pre-world championship era that is often criminally overlooked, by any standards he has to be considered an all-time great. Had he survived that run on the Autobahn, he would undoubtedly have taken a swathe of victories in the next two years.
Writing Rosemeyer's obituary in The Autocar (February 4 1938), John Dugdale summed up the impact the German had made since bursting onto the season with the second place at the Nurburging in 1935.
"Since then, Rosemeyer had become an established ace," wrote Dugdale. "A great popular figure in Germany, with his name spoken by every child with bated breath as a veritable demon of speed. I have seen his boyish daring and excitability turn to a nervous energy so strong that he would hardly pose for a photograph, hardly stand still or appear to concentrate... At least he passes on at the height of a colourful career, honoured by the world."
Had Rosemeyer survived the war, perhaps he would have been able to join fellow pre-war leading lights such as Giuseppe Farina, Fagioli, Caracciola, Stuck, Chiron, Count Felice Trossi and, for a few years, Nuvolari in returning to racing.
And, who knows, as he was three years younger than Farina who won the 1950 world championship and was still able to win races at that level in 1953, perhaps he would have gone down in history as Germany's first world champion. His death surely robbed the world of some great victories, perhaps even greater charges than the 1936 Eifelrennen. It also denied us the chance to see him take on new team-mate Nuvolari, who joined Auto Union full-time in 1938, as it was only Rosemeyer and the Italian who truly mastered the vagaries of the rear-engined Auto Union. It would have been a monumental battle.
But that's by the by. During his meteoric three-year career, Rosemeyer earned the respect and awe of his contemporaries. His achievements rightfully gave him a place among the racing gods. Even now, 71 years after his violent end, that's why Rosemeyer's name still lives on.
Happy hundredth birthday, Bernd.