Queueing for the Ryanair budget special to Charleroi, the woman behind sounded confident: "This one should be good for Jenson because it's not a Red Bull track," she told her other half.
Mark Hughes and I glanced at each other and smiled quietly. Conventional wisdom as we headed for the Belgian Ardennes was of course that the Red Bulls would be very quick and the two big questions were just how much McLaren's recent improvement would translate on a circuit with fast corners, and whether Brawn's tyre warm-up problems would continue when temperatures were significantly lower than Valencia.
Jarno Trulli, Giancarlo Fisichella, and Nick Heidfeld in the qualifying press conference © LAT
A couple of days later, bewildered along with everyone else, we were left perusing a grid with Fisichella's Force India on pole, Trulli's Toyota on the front row and Heidfeld's BMW third - amid perfectly consistent weather conditions. Vettel and Webber were eighth and ninth with the Red Bulls.
"Looks like she was right," Mark said. It hadn't been good for Button though - he was 14th with Barrichello fourth in the sister Brawn. The only aspect vaguely predictable was that poor Luca Badoer, now universally known as 'Lookhow Badyouare', was last.
Anthony Davidson was persona non grata in the press room. He reckoned Jenson was a good bet for pole and, as he took his leave to assist David Croft in the Radio Five Live commentary box, people around me were busy opening Internet betting accounts to have a flutter at very good odds on the strength of the last three races.
The truth is, nobody really understood Spa. There was no shortage of conspiracy theories. "It's simple," someone said, "The team on pole has allegedly got some unpaid bills, the team that's second is not certain to carry on in F1 and the team that's third is for sale - so obviously they've all got the special comeback tyres that were meant for Schuey!" It got a laugh, and set a few wondering...
Down in the paddock, a man wearing the colours of one of the manufacturers unexpectedly at the sharp end said: "I think it just proves nobody's got a bloody clue. It's wankers' weekend, isn't it?"
Lewis Hamilton, after his dominant win at the Hungaroring and close second in Valencia, was starting 12th with McLaren team-mate Kovalainen 15th. What did Lewis think?
"I have no idea..." he said with a shrug.
Heikki was a little more illuminating: "On Friday, the high-speed corners didn't look to be as big a problem as we expected but then in Saturday practice we were losing out compared to other teams and knew it was going to be tough.
"The car balance was not too bad but we couldn't carry the speed some of the guys did. I think one of the reasons is the downforce configuration and the aerodynamic efficiency. Other teams seem to have a better efficiency because we were a bit slow in the second sector, where you need downforce. But we were also slow in a straight line and couldn't afford to take any more downforce away from the car.
"To be honest it was a similar problem to the beginning of the year, but to a lesser extent. The gap is less than it was but this type of medium downforce configuration is no good for us. I think it's all just down to the aerodynamic characteristics of the cars."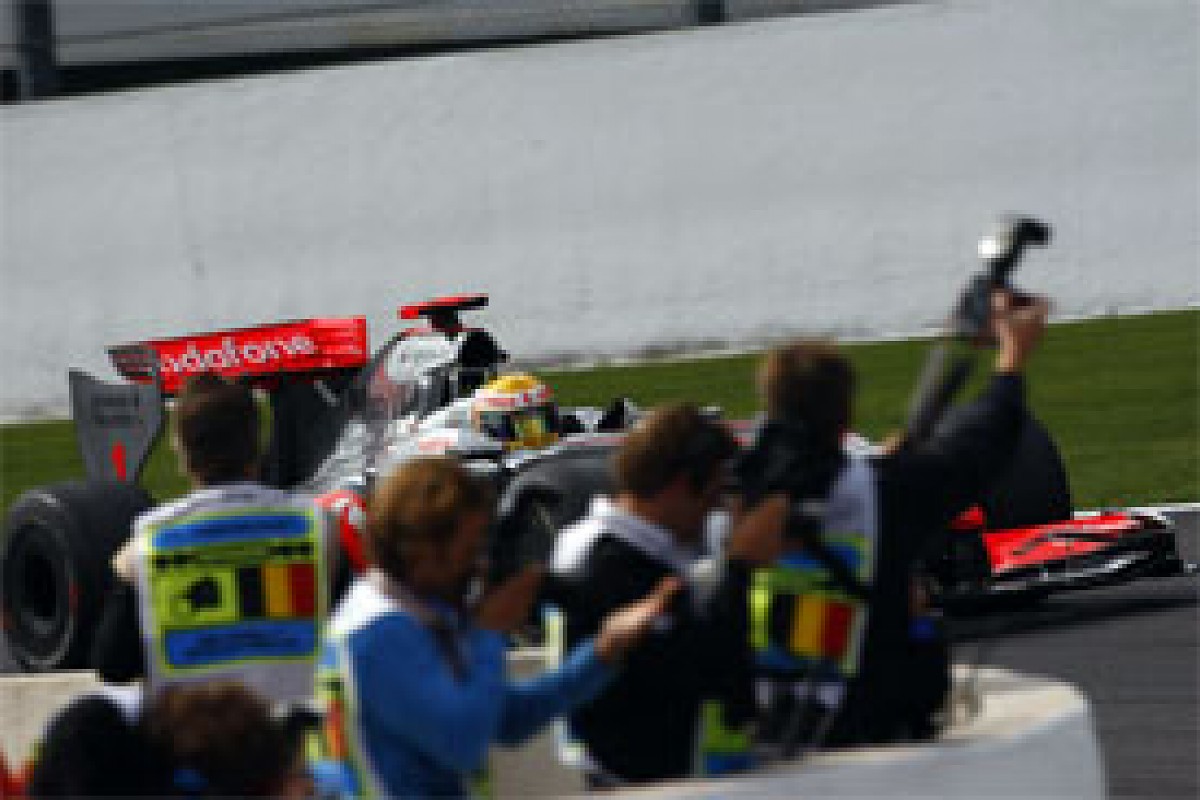 Lewis Hamilton, McLaren MP4/24 © LAT
Lewis was not even sure that KERS would convey a great advantage: "Our straightline speed is not competitive enough to be comfortable about overtaking," he said on Saturday, "The points has got to be our target but it's going to be difficult."
On Sunday he got no further than Les Combes on the first lap before becoming an innocent victim. Heikki, though, got his head down and delivered a fine one-stopping sixth place - as good as you were going to get from the McLaren last weekend.
Martin Whitmarsh didn't have any answers either, especially to the conundrum of why Vijay Mallya was sat there on pole position with the same engine.
"They have a good engine and gearbox, they've been working hard and they look impressive. They are running a lower level of downforce than we are and inevitably you go away and say why didn't we push harder and run a lower level of downforce, but they've done a good job. I don't have any suspicions. Maybe I'm too naive but I don't subscribe to any conspiracies flying around. It does look convenient for those teams and it's great for F1, but not so great for teams like us."
Fisichella's explanation was straightforward enough. The upgrade that Force India took to Valencia, he reckoned, was worth six tenths. But Spa's layout showcased the car's aero efficiency whereas Valencia did not, and they have always been quick in a straight line. There had been a bit of understeer on Friday but they'd dialled that out overnight and as soon as they put the car down on a track he loves on Saturday morning, Fisi thought it was fantastic. He was fuelled light, yes, but not stupidly light. In fact, fuel-adjusted, only Trulli, Vettel and Heidfeld were quicker.
Down at Red Bull, Mark Webber was as bewildered as anyone, pre-race.
"It's like a Formula Ford grid, isn't it," he said. "No one's got a clue. I think we're all lost. What's the accumulation of ages at the front here? Maybe I need to be older!"
It was said in jest but an interesting point. Webber had celebrated his 33rd birthday on Thursday but the four at the front - Fisichella, Trulli, Heidfeld and Barrichello - were all F1's elder statesmen, its most experienced drivers.
That wasn't lost on Ross Brawn either.
"I think using the tyres was key," Ross said. "I mean the whole approach and getting them to work in difficult circumstances. Perhaps it's no accident that four of the oldest, most experienced drivers in F1 are at the front."
When the fuel weights came out a couple of hours later, Vettel was fuelled up more heavily than most of the two-stoppers but Webber had less on board and was behind his team-mate.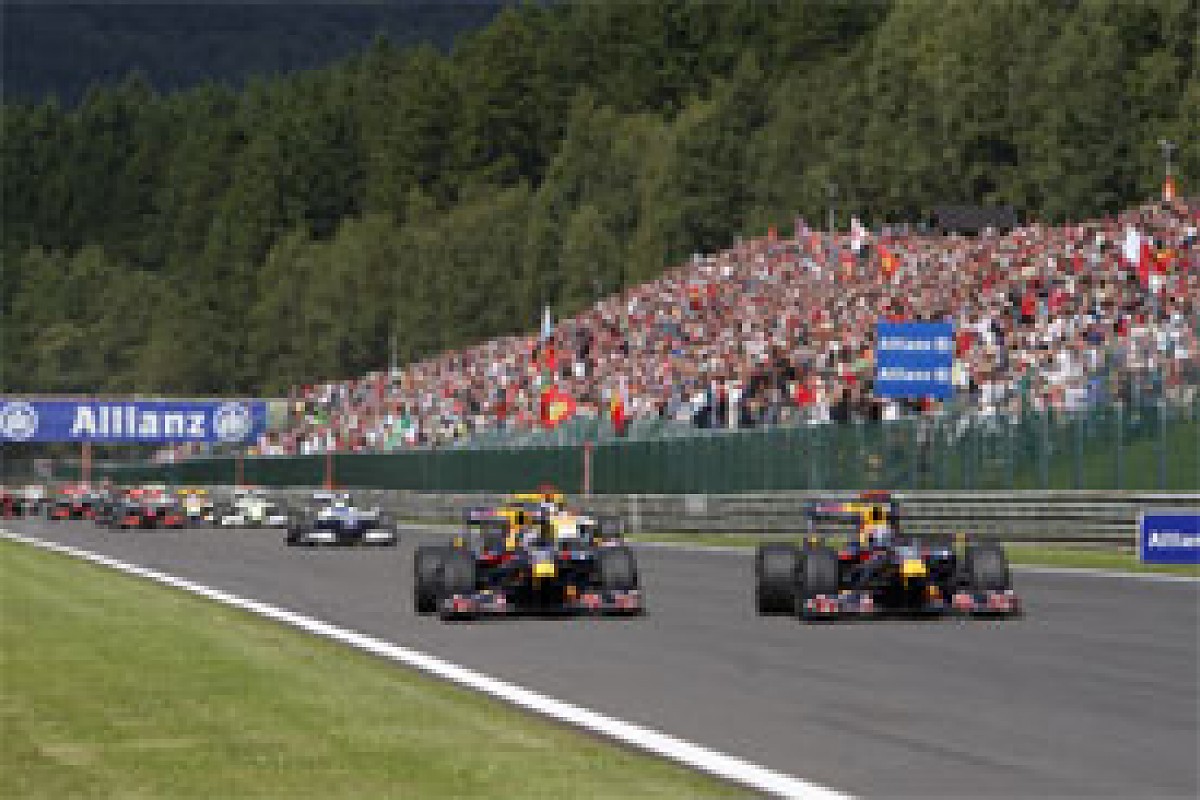 Sebastian Vettel and Mark Webber duel in their Red Bull RB5s on the opening lap © LAT
"Yep," he said. "We're not there by design. We expected to be on the front row and we're not. Okay, I had a new engine in the morning and the first time I drove the car today was in qualifying, which is not ideal, but no excuses."
With Fisichella and Trulli having used the option tyre in Q3 and Heidfeld the prime, did Webber agree it had all been about tyre useage?
"It must be - hitting the sweet spot and understanding what they need at the crucial time. I didn't run this morning and we thought the option was the way to go. It's ballsy to do the tyre test in Q3 because you can't even do two runs on a long lap at Spa. You can't do justice to the prime doing one timed lap, you probably need to do two, and if you are doing two timed runs you can't do another timed lap on the option because in 10 minutes you haven't got time. So yeah, high maintenance...
"It's disappointing. Friday went well for us, we had a lot of fuel and we were quick, but today we weren't. When I saw the Q1 and Q2 times, I thought, f***! How are these guys doing these times? You know, I started off behind the Force India and I thought, you know, I'll get a bit of a tow, but..."
So less than ideal preparation for Webber and a slight mistake that had cost Vettel time meant that Red Bull were up against it on a track where they'd been highly fancied. What did Webber expect from ninth?
"Action at La Source then tuck my balls up my arse for Eau Rouge and see what else we can do from there..."
Webber does remind you of a bloke from a different age. No embroidery, just tells it as it is. Just like another Aussie, Frank Gardner, who sadly passed away last weekend.
"He was an absolute legend," Webber remembered, "a real Australian. A spade was a spade, no bullshit. He was a sensational character and a very consistent individual. I cherished the times I had with him. He had some great advice for me. He said to me one day, 'you don't earn any money in hospital, make sure you know when to stop and enjoy the work you've done'.
"Frank was very non-PC too. He once reminded me about the Japanese going all green: 'They don't mention how many dolphins they're harpooning every year, do they?' he said. That was Frank. He loved his marine life and his dolphins, and he was pissed off that they killed so many of them. A great bloke."
As good as his word on Sunday, Webber was up to fifth place early on and looking good to make ground on Button - third or fourth was on - until an unsafe release from his first stop caused Heidfeld to jam on the anchors in the pitlane and wrecked Mark's race.
At Brawn, Barrichello is still making noises about challenging for the championship and it was obvious from the reaction to his Valencia win that there is still an awful lot of support for him. The team likes the feedback his experience gives them and think it's as good as anyone's in the pitlane. It helped him salvage fourth on the grid out of a tricky situation.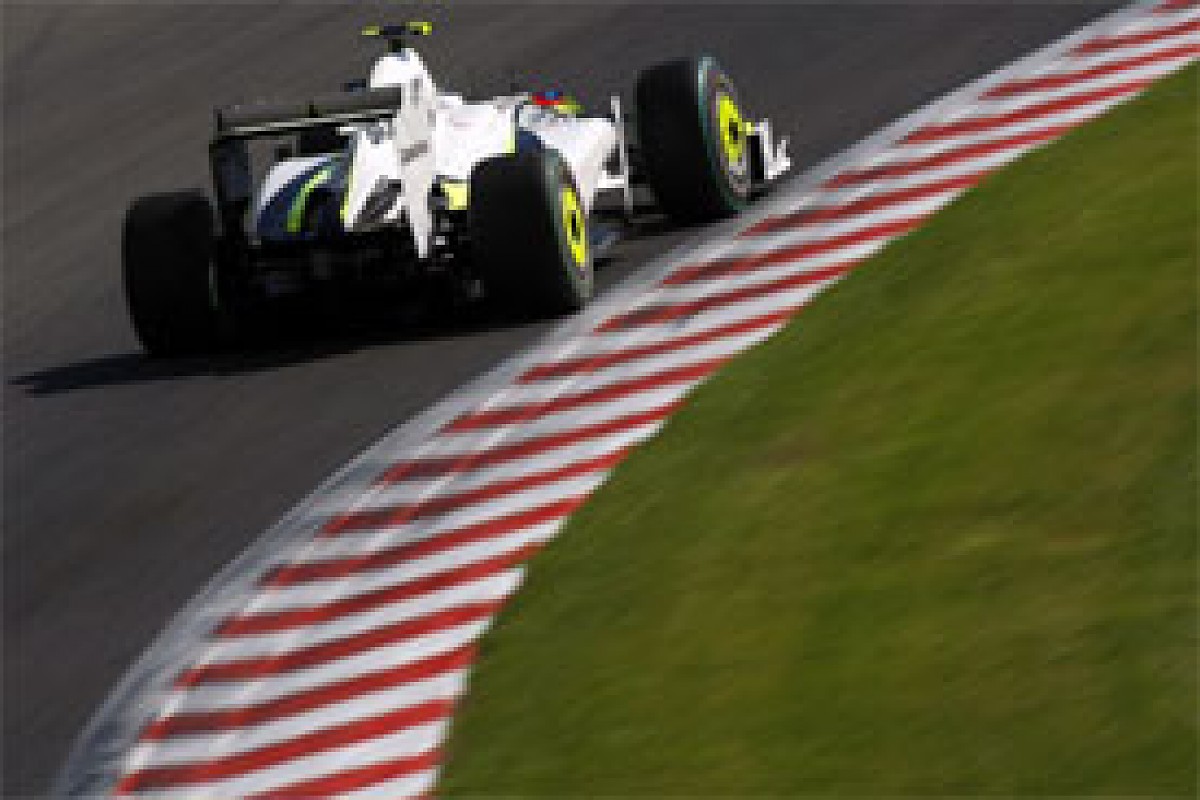 Rubens Barrichello, Brawn BGP 001 © LAT
The team's tyre temperature curse was back again. Not as bad as it might have been, and they didn't look too bad with fuel on a longer run, but qualifying was a bit of a struggle.
Ross explained why Jenson was finding it tougher than Rubens: "He's inherently quieter on the tyres - quite a smooth, gentle driver which normally is a benefit but when we are on the edge of getting the tyres to work he struggles more. We're lacking front tyre temperature.
"The rear temperature is easy to get because you can use the throttle to generate it. But until we get the front tyres to work we can't use the rears properly and so for qualifying you are trying to make some compensations and it didn't really work out that well. So we are back a little bit to the problems we had a couple of races ago.
"It's just difficult to get the fronts hot enough without damaging the rears and a number of teams felt that. We qualified both cars on the option tyre and I'm not sure that was the right decision. What was proving difficult was to get the fronts and rears to come in at the same time and I think with the prime tyre there was more tolerance to achieve that. We may have been better, certainly with Jenson, just taking the prime, running it a bit longer and letting everything settle down.
"The teams that are not suffering with that tyre problem have gone forward so although there have been no dramatic car changes between Valencia and here, you've got this very mixed up grid. But, in the middle period of the race, when Rubens will almost certainly be on the hard tyre, he should be very strong."
He was, but by then he'd had a software glitch at the start and been left dead last, from where a recovery drive into the points was another good effort. Button, taken out by Grosjean on lap one, spent the rest of the afternoon anxiously watching to see if he would get out of jail once again. He did and he didn't. Vettel showed clearly that the Red Bull had more race pace than anything else but could only manage a fast-closing third. He was six points closer to Jenson but if the weekend had gone to plan, it would have been 10.
Trulli, some peoples' post-qualifying favourite, was taken out of contention by a first corner tangle with Heidfeld that required a new front wing, which left it a straight fight between Fisichella and Raikkonen.
You had to feel sorry for Fisi. He knew Raikkonen, with his KERS button, was an early lap danger, but from sixth place the Ferrari shouldn't have been able to get close enough. Fisi did it perfectly down to La Source, getting away well and taking a wide optimum line into the hairpin, guaranteeing himself a decent exit and a good run through Eau Rouge. He was gone, the Force India was quicker than the Ferrari - you didn't expect to find yourself writing that but it was true - and on a circuit he loves, that should have been it.
But then came the Safety Car. Raikkonen, forced wide at La Source by the Heidfeld/Trulli squabble, had driven a great opening lap and was up to second, which ensured he was tucked right under the Force India's wing when the restart came. Fisichella was dead meat.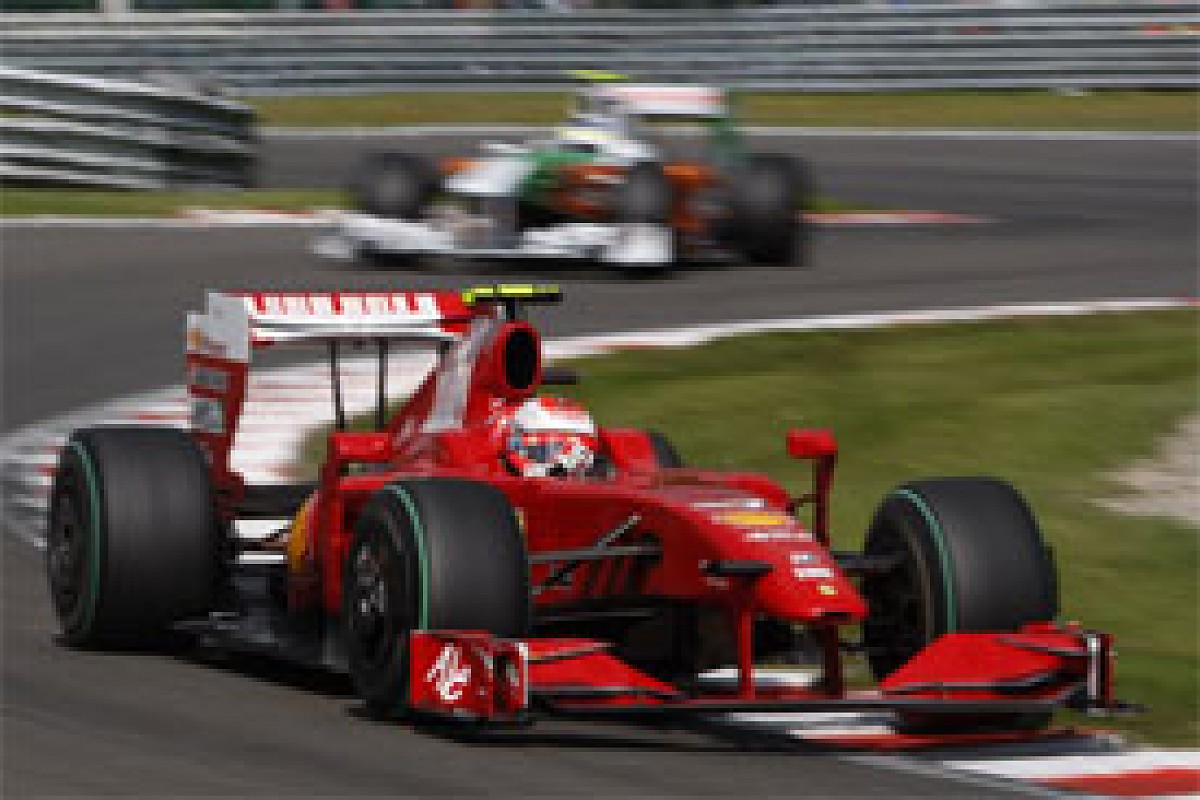 Kimi Raikkonen (Ferrari F60) leads Giancarlo Fisichella (Force India VJM02) © LAT
Kimi, always great at Spa, was unlikely to make a mistake and even though the Force India's potential was higher, especially in sector two where the downforce was most effective, Fisi was never going to pass a KERS-assisted Ferrari.
You knew that the Force India went to the grid about six kilos lighter than the Ferrari and so you expected Fisichella to make his first stop a couple of laps before Raikkonen, making it unlikely that he was ever going to pass the Ferrari at the stops either. Surprisingly though, they came in on the same lap.
"We need to understand that and continue working in that direction because we know fuel economy is important and will be potentially even more important next year," Ferrari's Stefano Domenicali admitted.
Part of the explanation was that Fisichella had gone into fuel conservation mode when the safety car was out, while Kimi was more aggressively trying to keep heat in the tyres by accelerating and braking. The Mercedes is probably naturally more frugal than the Ferrari as well, but it was surprising that it made two laps difference in the first stint. It opened up the possibility that Fisi might run a lap or two longer to the second stop, thereby opening a window to jump Kimi, but it didn't happen and they both made their final stops on the same lap again.
Fisichella was smiling but clearly frustrated: "Second place and eight points is a great result for Force India but I could have won today. I was quicker than Kimi and without that Safety Car..."
Where it mattered, into Les Combes at the top of the hill, and on the run to the final corner, Kimi could press his KERS button so that Giancarlo could never take a run at him. And of course, with Badoer outpaced again there is every chance that in the run-up to Monza, Fisichella will get a call from Maranello. His manager, Enrico Zanarini, had not had a call by last Sunday night, he said, but emphasised that his mobile was on 24/7.
It's a slightly bizarre situation. It is any Italian driver's dream to race a Ferrari, especially at Monza, but if the call comes Fisi will know that there is every chance that at Monza, where aero efficiency is all, even more so than at Spa, his Force India might actually be the better bet. But I'm sure that wouldn't stop him joining the Prancing Horse.
"If there's any logic that's what they'll do," said a man close to the machinations. "And Liuzzi will drive the Force India because he's got a contract for the next two years."
Leaving Belgium then, both championships are closer and, looking ahead, Ross Brawn concluded: "We are going to strive to find solutions but it depends on the weather and the tracks too. At Monza you don't tend to suffer with low tyre temperature whatever the conditions. There will be tracks with different ambients where it's not going to make a huge difference. Suzuka could be difficult but we don't expect problems in Brazil or Abu Dhabi. But we will be vulnerable at some places and we have to try to find more solutions."
A strange one all round.