We're only four races into the new season and already a few drivers are beginning to feel the heat. Nelson Piquet, Sebastian Bourdais and Kazuki Nakajima, all in their second seasons, are under pressure from very strong team-mates.
The man with the toughest job is undoubtedly Piquet, whose reputation takes a battering from Fernando Alonso every weekend. Inevitably there are suggestions that he won't survive the season - which brings up the question of who might replace him.
Ordinarily of course that role would fall to Renault's third driver, but this year's ban on testing means that Romain Grosjean is not exactly ideally placed to slip into the seat. In a normal season, he'd been driving every other week, putting extra pressure on Piquet and giving team boss Flavio Briatore some justification to make a change, should Nelson's form fail to improve.
Instead, the 23-year-old has to content himself with hanging around at races with headphones on, picking up what he can by attending meetings. When you look at how many miles Heikki Kovalainen did in the same job just three years ago, you can't help but feel a little sorry for the guy.
"On the one hand yes, it's a little bit frustrating," he admits. "But on the other, being with Fernando and Nelson is very interesting. I know a bit more about how F1 is working. I have been to every briefing and debriefing, and on the pit wall.
"For sure my aim is to drive, but the second side of the thing is that I learn a lot, like the way it works with the engineers, the way the weekend goes with the meetings and the testing, the information that they want from the drivers, what they don't care about, what they look at and what they don't look at."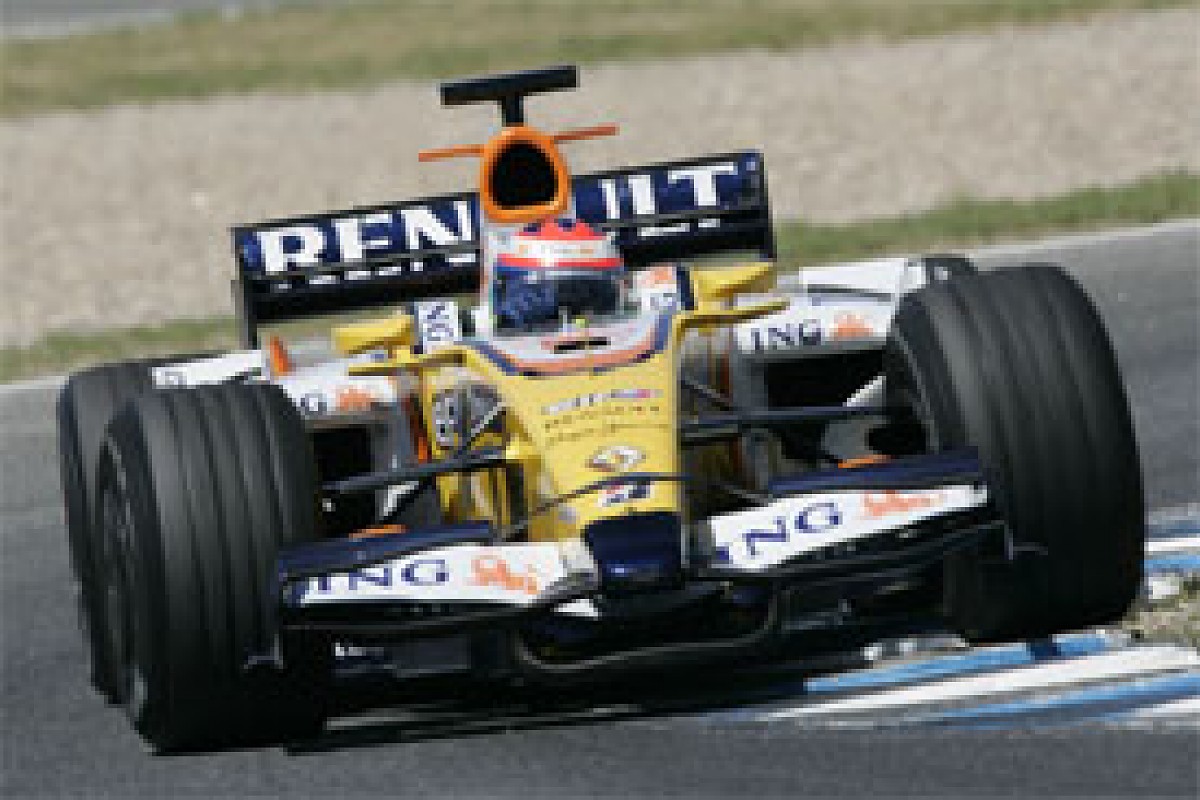 Romain Grosjean testing the Renault R27 at Jerez © LAT
Grosjean did three days of testing last year, but to date his only running in the R29 was a straightline test in Spain. If he does have to step in - and unforeseen circumstances sometimes do occur - he won't have an easy task.
"I've never driven the car, so if I have to start at a grand prix, it will be tough. You never know. Sometimes it can go so well in the first weekend that everybody says 'this is fantastic', and sometimes it can go very bad. But if you have the chance, just take it. If I have it, I won't be ready. But for sure the best way is to do GP2.
"To be honest at the moment I'm more focusing on GP2, which is of course the key of the season. We'll see later about F1."
Grosjean's GP2 season kicks off at Barcelona this weekend. This is his fourth year on the Renault Driver Development programme and it's his second in GP2. Briatore and RDD set tough targets for their drivers and there's no question that their man is expected to win the title this year. He's got no problem with that.
"It's what I want to do! If the first year is to learn, then the second year is to win. It always works until today, so I want to continue the theory.
"I think it will be a tough championship anyway. There's never a guarantee, if you win the championship normally the opportunities will come. Nothing is written but if I do a good job this year, maybe I have a chance to do my dream."
If he does make it to an F1 race seat, Switzerland will be able to lay claim to two grand prix drivers. Although Romain Grosjean races as a Frenchman, he was born and raised in Switzerland and holds dual nationality.
"My mother is French, my father is Swiss. I've had both nationalities since 1992 I think, quite a long time ago. I live in Switzerland and I grew up in Switzerland, but for the racing side I always had help from France. Renault is French, I've been sponsored from France and almost nothing from Switzerland. So the choice was quite clear to say, as France always helped me I will drive for France."
So was it difficult to get started in a country with such limited motor racing heritage?
"To be honest, I live maybe 500 metres from the border, very close to France! It's true that we don't have a lot of history [in Switzerland], but now with Sebastien Buemi and me...
"Swiss people don't like racing so much. I don't know why. For sure the media is a bit more interested now there is a Swiss driver and the possibility of a second, even if I drive under a French licence."
He inherited his interest from his father, who raced for fun.
"He drove a little bit, so I went with him to some tracks. He was 40, it was like a hobby more or less. He was doing F3 in Switzerland and some prototypes as well.
"So I fell in love with motorsport and he bought me a kart. It all started like this. At the beginning he said 'ok, just for fun', so I did three years of karting without racing, and then I asked to do racing. At this point he said as soon as you get better marks at school - because I was rubbish at school - we will start. He kept his promise and I could start."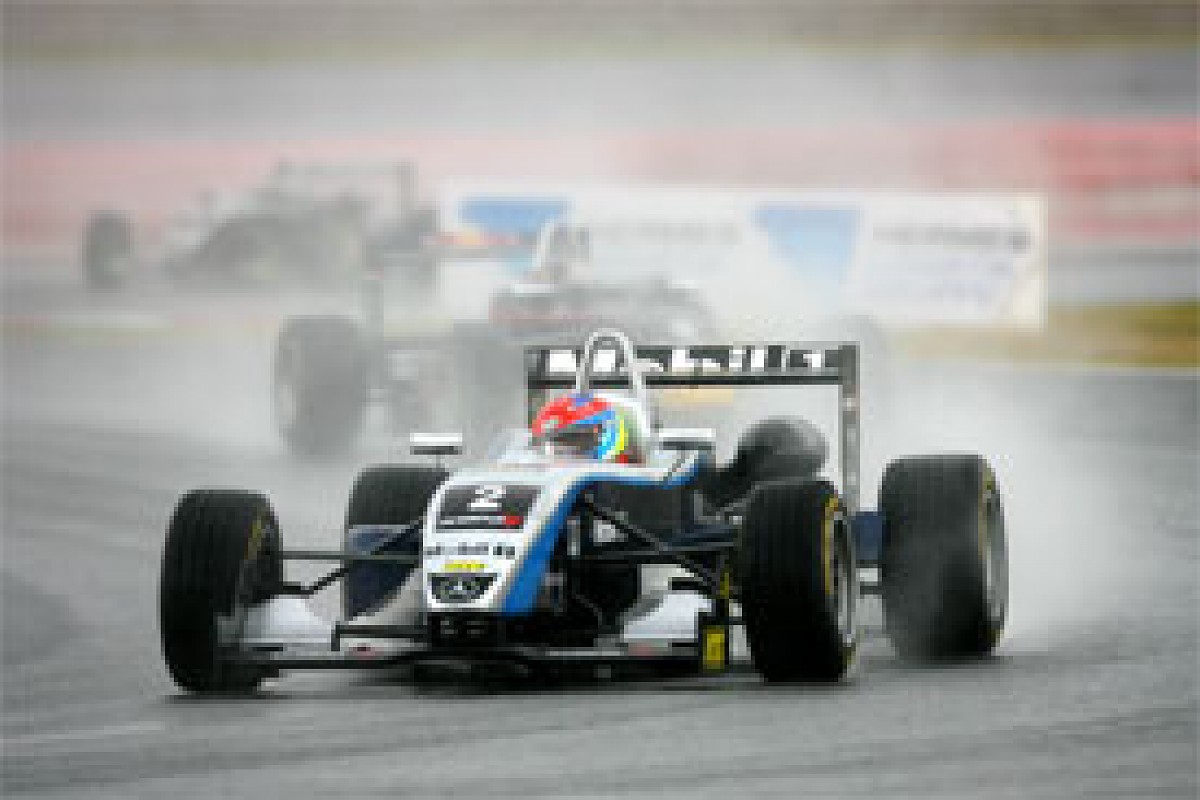 Romain Grosjean in the 2007 F3 Euroseries race at Barcelona © XPB
Grosjean progressed quickly and the inevitable move into cars followed. He won the French Formula Renault title in 2005, but his career might have ground to a halt there had RDD not spotted his potential, signed him up and bankrolled his first F3 season in 2006.
"Renault was the best help of my career. When I signed with them it was the only chance. Without them I would have stopped."
The following year, he followed up his national Renault title by winning the F3 Euro Series crown with ASM (now ART) - so in terms of championship wins, he followed a similar path to Lewis Hamilton. He even stepped into Hamilton's ART GP2 seat a year after the Englishman left it - had he won the title last year, he would have even more precisely duplicated his CV.
Grosjean won the inaugural GP2 Asia Series, but managed only fourth in the main championship. However, he was beaten only by drivers with prior experience and finished just two points off runner-up Bruno Senna.
"Asia was perfect, but then people were expecting a bit too much from the main story. It was a new car, a lot of new things for me. The car was being developed and unfortunately I was a bit alone.
"If you look at the season it wasn't so bad. I was a bit unlucky sometimes, I did some rookie mistakes. But for example at Magny-Cours if the gearbox didn't break, I would have won. In Valencia if Filippi didn't push me out, I would have won as well. It was at least 12 points in Magny-Cours and six in Valencia, which is 18 points, and that would put me forward a lot in the championship.
"I did some mistakes and I was a bit unlucky sometimes, so for sure I would have loved to have done better, because I love perfection - which isn't possible to reach. But on the other hand, for a first year, the season wasn't bad at all."
For this season he's moved from a comfortable Franco-centric home at ART to the Barwa Addax squad, winner of last year's teams' title.
"There were many reasons, but it was a good opportunity with Barwa. It's not a bad choice. Ok, ART and me would have loved to continue, but on the other hand the possibility was not there. We had a lot of discussions with ART and Barwa, and in the end Barwa was the choice of the [Renault] management.
"It's interesting, it's changed a lot from what I'm used to. But we've had some good improvements and good learning with the team, so I'm really looking forward to Barcelona. The team is very professional and I enjoy working with them. I feel that we can do something good."
Although GP2 rival Lucas di Grassi was the official Renault test driver last year, the team found time to give Romain a decent evaluation. Until Piquet was re-confirmed, there remained a possibility that he might even get the race seat this year.
"I did three full days. I learned a lot, especially working with a lot of people, which at the beginning is a bit difficult. In GP2 you have one engineer and you do everything with him. When you step up to F1, there's a lot. So it was learning about this and learning about F1 driving.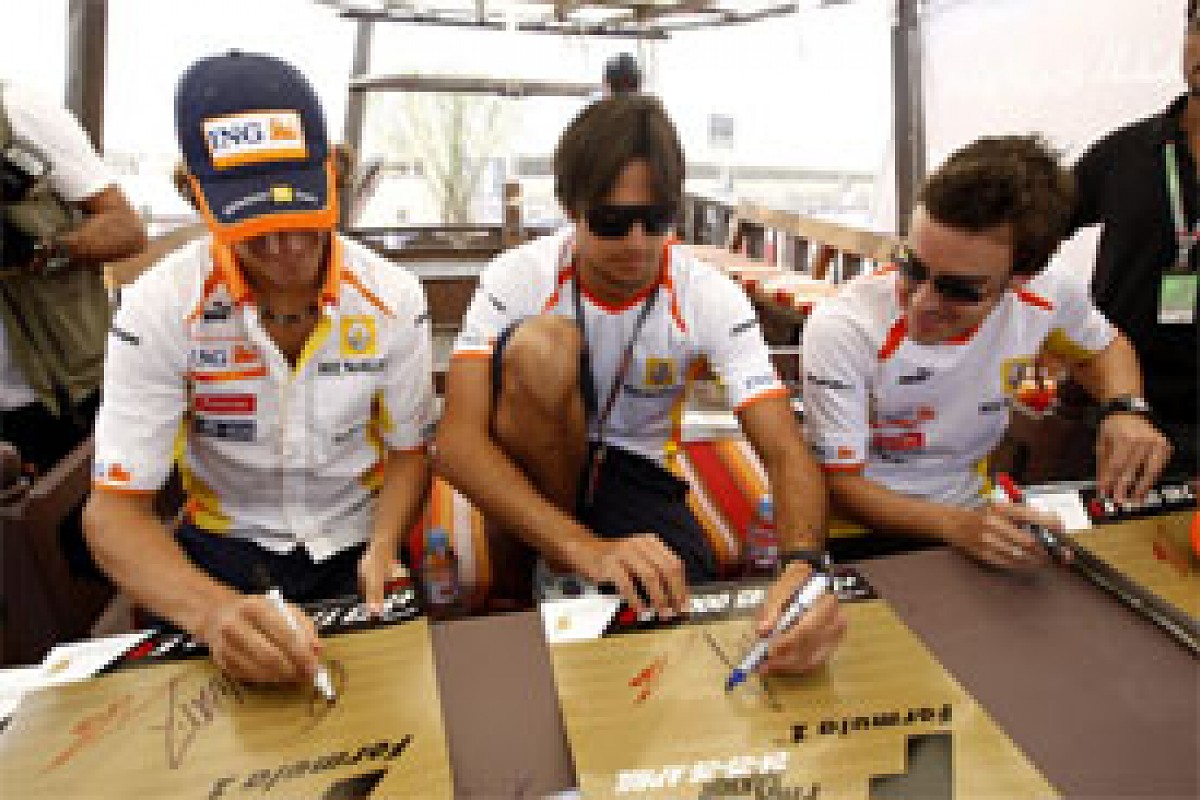 Romain Grosjean, Nelsinho Piquet, and Fernando Alonso © LAT
"It was quite soon clear that they would keep the same drivers. I think there was still a little bit of opportunity, but they chose to keep working in the same way with the team, which is fully understandable. For me it gives me a little bit more time to be ready for F1 and do another year of GP2."
As noted earlier, with no testing he can do little else but try to win the GP2 title and stake a claim for a race seat in 2010. With new teams coming in, Briatore might just be able to place him elsewhere if he doesn't have a slot at Enstone.
"I began to watch F1 I was maybe six or eight years old, then the dream came. But the real possibility to step up to F1 came last year maybe, when I was in GP2. It's something really important for every driver - every driver wants to go to F1. But there are only 20 places, so it's difficult. But it's something very important in my life.
"My main choice will be Renault. They've trusted me since 2006 and I trust them. It will be the first choice for sure. But if there is no space at Renault and maybe I have another chance somewhere else, and the management says 'yes ok, we go', I'll go with pleasure. But for sure my dream is to be with Renault, a French driver in a French car."
There might not be any testing for him to do this year, but Romain won't be wasting his time between races because he has a job to go to. Since January 2007, he's worked at Banque Baring Brothers in Geneva. After taking most of April off to follow the F1 trail, he was back in the office immediately after Bahrain. He's no ordinary racing driver, that's for sure.
"I still work at the bank in Geneva. It's something that interests me more and more, especially with the times we are living in now. I am an account manager assistant. For sure it's something different, but at the moment it fits me quite well.
"If it becomes too hard, because I travel a lot and I have to wake up at 7am, I'll stop. But at the moment it's still ok, so I keep going with that. It's quite good to know a little bit more about this, and for the future if I earn some money it's always good to have some knowledge."