PRACTICE 1 - Friday am
After an extremely quiet start to the session on the dusty track, Lewis Hamilton underlined McLaren's improvement by topping morning practice for the second grand prix in a row.
The BMWs used super-soft tyres to go second and third, which would prove to be that team's high point of the weekend by a long way. Nico Rosberg and Jenson Button completed the top five.
PRACTICE 2 - Friday pm
Nico Rosberg, Williams FW31 Toyota © LAT
It wouldn't be a 2009 grand prix weekend without Rosberg heading a practice session, and he got back in the habit on Friday afternoon.
Fernando Alonso languished in last place for much of the 90 minutes then vaulted up to second right at the end, leaving him perplexed as to exactly where Renault stood. His team-mate's tribulations continued though, as a heavy trip over a kerb broke Nelson Piquet's front wing.
Jarno Trulli and the Red Bull pair took third to fifth, with Button back in sixth this time.
PRACTICE 3 - Saturday
Glock and Toyota showed a glimpse of what was to come later in the afternoon when the German moved to the top of the times in final practice. The Toyota driver's session, however, was not without trouble, as he was forced to stop with an electronics glitch just moments after setting the quickest time.
Massa gave Ferrari something to smile about after finishing in second behind Glock, with Rosberg settling for third position in the Williams. Hamilton also had a strong hour and wound up in fourth in a session which saw little incident except for Glock's problems and Kovalainen suffering a throttle sensor issue.
The only other man affected by problems was Sebastien Bourdais, whose Toro Rosso suffered a technical issue that hindered the Frenchman and he managed just six laps ahead of the grid-deciding session.
QUALIFYING
1. Jarno Trulli - Toyota
Despite playing down the advantage of having tested at Sakhir during the winter, it was evident right from the start of the weekend that Toyota was in good form for the weekend. And Trulli made good use of his strong car to clinch his first pole since the 2005 US Grand Prix. Despite being five kilos heavier than Glock, the Italian put in a superb lap and finished nearly three tenths ahead of the German.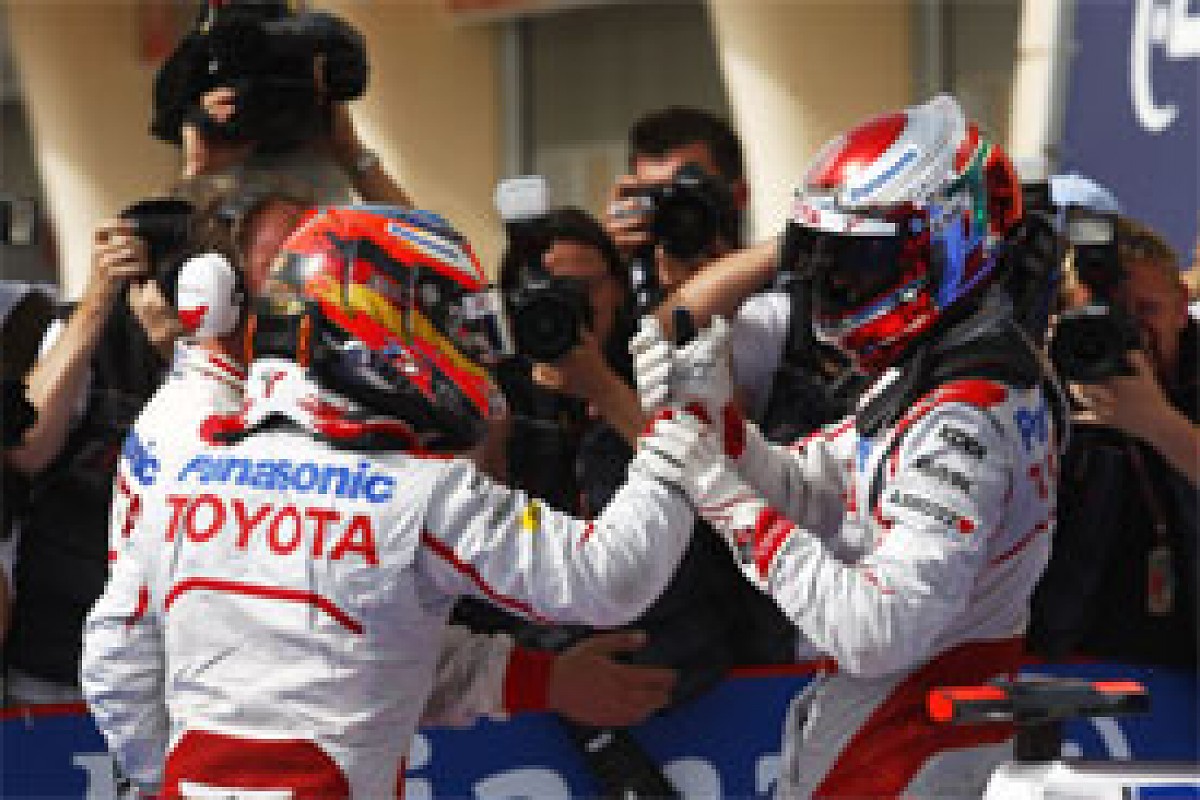 Timo Glock and Jarno Trulli © LAT
2. Timo Glock - Toyota
Even before Trulli had completed his lap, Glock knew that pole position was to go to his team-mate, a qualifying specialist. Despite that, the German driver managed to complete a dream day for Toyota, securing the first front row lock-out for the Japanese squad.
3. Sebastian Vettel - Red Bull-Renault
The heaviest of the cars in the top seven, Chinese GP winner Vettel had to settle for a place outside the first row, but was nonetheless in a strong position for the race. The Red Bull driver admitted the Toyotas were unreachable in qualifying, but then again they were significantly lighter too. Vettel was the only driver who had an unused set of soft tyres at the end of the day.
4. Jenson Button - Brawn-Mercedes
Button admitted at the start of the weekend that his rivals had already caught up with his Brawn car following its dominant start to the season. That, added to balance issues when the car was running light on fuel, made for a difficult qualifying for the Briton, who had to be content with a place on the second row. Despite that, Button was still confident his long-run pace would allow him to shine in the race.
5. Lewis Hamilton - McLaren-Mercedes
Despite not having any new updates in his car for the weekend, Hamilton showed McLaren was continuing to make progress towards the front. Granted, the circuit helped disguise the car's problems, but Hamilton was already speaking a possible podiums following a strong run on Saturday.
6. Rubens Barrichello - Brawn-Mercedes
Barrichello was one of many drivers hindered by traffic, the Brazilian unable to warm his tyres up properly ahead of his final run in Q3. That aside, he was never too close to the top of the times during the weekend, so sixth position seemed like a fair result for the Brawn driver.
7. Fernando Alonso - Renault
After his low-fuel run in Q3 in China, Alonso opted for a more realistic strategy in Bahrain, and that reflected in his qualifying position. The Spaniard, whose team had nothing new for the Sakhir race, admitted seventh was the position he was expecting.
8. Felipe Massa - Ferrari
Massa was slightly happier than on Friday after managing to return to the top ten, the Brazilian nonetheless conceding Ferrari was a still a long way from being competitive. Massa felt his car's handling had taken a turn for the worse compared to the morning's practice, and the Ferrari driver finished over a second behind Trulli.
9. Nico Rosberg - Williams-Toyota
Once again, Rosberg seemed to fail to convert his promising practice times into an outstanding qualifying performance. The Williams driver admitted he wasn't feeling comfortable with his car and reckoned he was lucky to be able to make it to Q3, where he opted to run with a heavy car to have a better shot at a point-scoring finish.
10. Kimi Raikkonen - Ferrari
With the heaviest car in the top ten, Raikkonen was not expecting to be able to achieve a better result. The Finn had already used all his soft tyres in Q1 and Q2, so there was little he could have done in the final session to achieve a better result. With that in mind, Ferrari opted to fuel Raikkonen up for the race.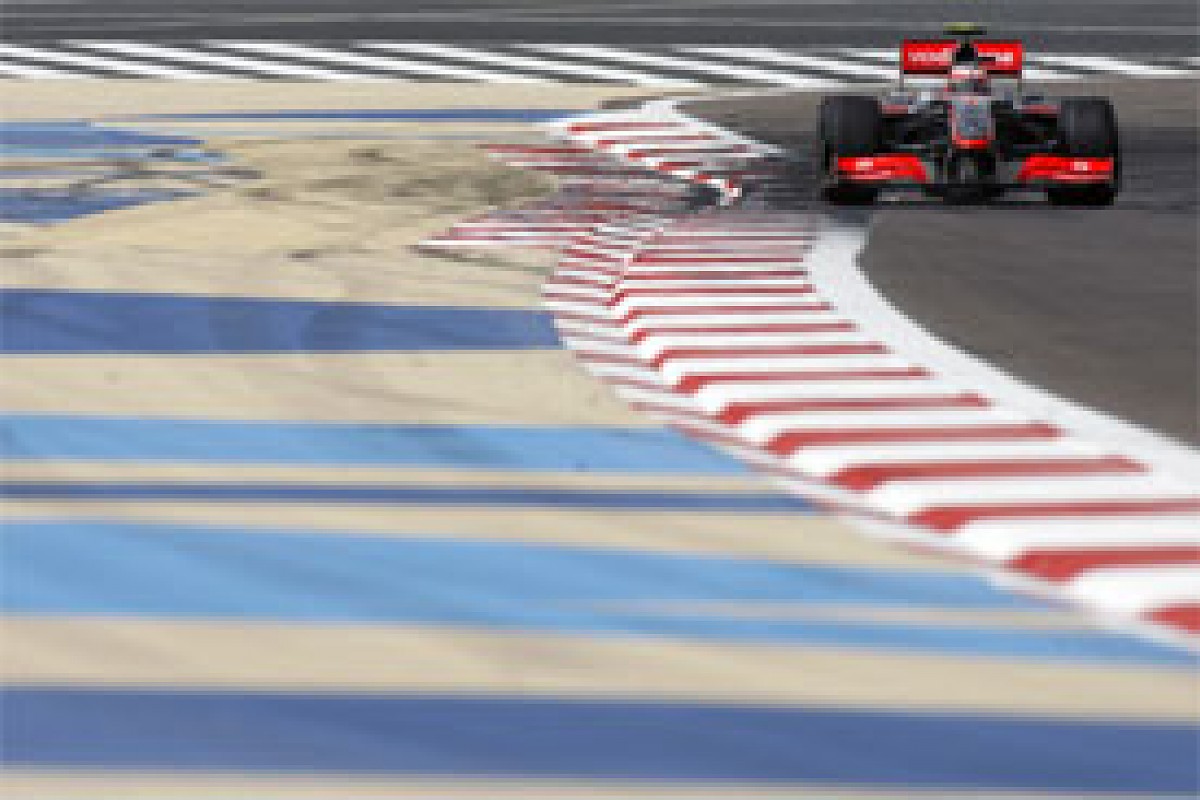 Heikki Kovalainen, McLaren MP4-24 Mercedes © LAT
11. Heikki Kovalainen McLaren-Mercedes
Kovalainen admitted he had no problems during qualifying, and said he was simply not quick enough to go into Q3. The McLaren driver missed the cut by a mere tenth, and was encouraged about the progress made by his team since the start of the season.
12. Kazuki Nakajima - Williams-Toyota
Again behind his team-mate Rosberg, Nakajima was at least happier to be able to run closer to the German's times. He was unable to explain where he was losing time to the leading Williams and the Japanese felt he should have made it to the final qualifying segment.
13. Robert Kubica - BMW-Sauber
BMW had a weekend to forget as the team continued to drift away from the sharp end of the field, with no significant updates introduced since the start of the season. Kubica was not surprised by his failure to move into Q3, especially as his radio wasn't working and after having a fire scare during the session.
14. Nick Heidfeld - BMW-Sauber
Like Kubica, there didn't seem to be much Heidfeld could do to achieve a better result in Bahrain. The German felt his car's balance was inconsistent and he struggled to extract the best from it. The team will be hoping the updates introduced in Spain will be big enough to take a significant leap ahead.
15. Nelson Piquet - Renault
The Brazilian got the updates team-mate Alonso had already used in China, and while it made things easier for him to move into Q2, Piquet was still too far from the Spaniard's pace - a full second separated the Renault duo in the second session, meaning his chances of a good result were heavily compromised on Saturday.
16. Adrian Sutil - Force India-Mercedes
Force India showed good progress at Sakhir thanks to the introduction of several updates which allowed Sutil to fight for a position closer to the midfield. The German driver came very close to making it to Q2, although in the end he ended up penalised for impeding Webber and dropped down to 19th position.
17. Sebastien Buemi - Toro Rosso-Ferrari
After a star performance in China, Buemi was disappointed with his showing in Bahrain, the Swiss feeling he could have easily made it to Q2. A mistake in his final run, however, left the Toro Rosso driver just over a tenth behind Piquet and so outside of the second session.
18. Giancarlo Fisichella Force India-Mercedes
The Italian, like team-mate Sutil, came close to making it to Q2, but in the end missed out too. Fisichella had problems with his car's handling when running with the soft tyres, and although the situation improved for qualifying, the Roman was still not fully comfortable with his car.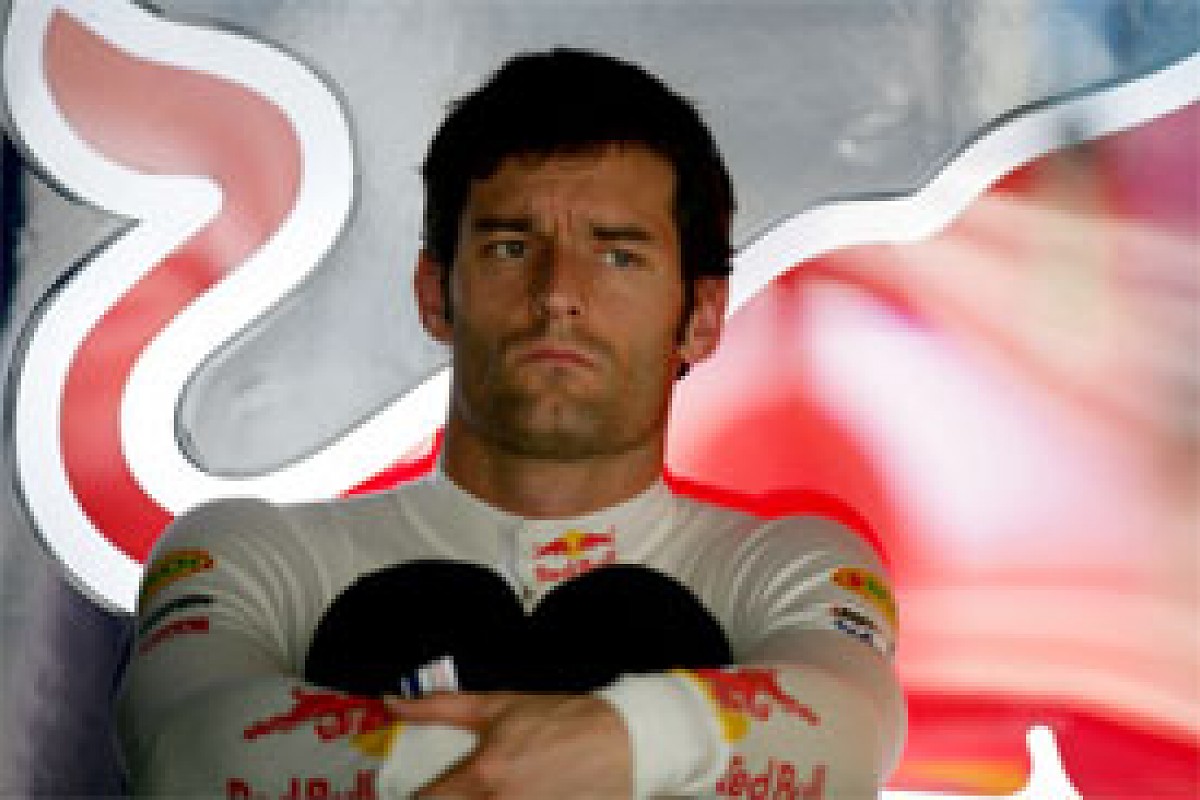 Mark Webber watches qualifying © LAT
19. Mark Webber - Red Bull-Renault
"Traffic. I had traffic on the last corner and therefore wasn't quick enough to go through." That's how Webber summed up his session. The Australia was slowed by traffic on his first flying run and then found Sutil on his line in the second attempt. The end result was a dismal 19th quickest time.
20. Sebastien Bourdais - Toro Rosso-Ferrari
The Toro Rosso driver arrived in qualifying having completed just six laps in final practice, something that obviously didn't help him. On his qualifying runs, Bourdais went from understeer to oversteer, eventually finishing at the bottom of the times, four tenths behind Buemi.
QUALIFYING RESULTS
Pos Driver       Team                      Q1        Q2        Q3      
 1. Trulli       Toyota                (B) 1:32.779  1:32.671  1:33.431  
 2. Glock        Toyota                (B) 1:33.165  1:32.613  1:33.712  
 3. Vettel       Red Bull-Renault      (B) 1:32.680  1:32.474  1:34.015  
 4. Button       Brawn-Mercedes        (B) 1:32.978  1:32.842  1:34.044  
 5. Hamilton     McLaren-Mercedes      (B) 1:32.851  1:32.877  1:34.196  
 6. Barrichello  Brawn-Mercedes        (B) 1:33.116  1:32.842  1:34.239  
 7. Alonso       Renault               (B) 1:33.627  1:32.860  1:34.578  
 8. Massa        Ferrari               (B) 1:33.297  1:33.014  1:34.818  
 9. Rosberg      Williams-Toyota       (B) 1:33.672  1:33.166  1:35.134 
10. Raikkonen    Ferrari               (B) 1:33.117  1:32.827  1:35.380 
11. Kovalainen   McLaren-Mercedes      (B) 1:33.479  1:33.242 
12. Nakajima     Williams-Toyota       (B) 1:33.221  1:33.348
13. Kubica       BMW-Sauber            (B) 1:33.495  1:33.487
14. Heidfeld     BMW-Sauber            (B) 1:33.377  1:33.562
15. Piquet       Renault               (B) 1:33.608  1:33.941
16. Sutil        Force India-Mercedes  (B) 1:33.722 
17. Buemi        Toro Rosso-Ferrari    (B) 1:33.753 
18. Fisichella   Force India-Mercedes  (B) 1:33.910 
19. Webber       Red Bull-Renault      (B) 1:34.038 
20. Bourdais     Toro Rosso-Ferrari    (B) 1:34.159


All Timing Unofficial

RACE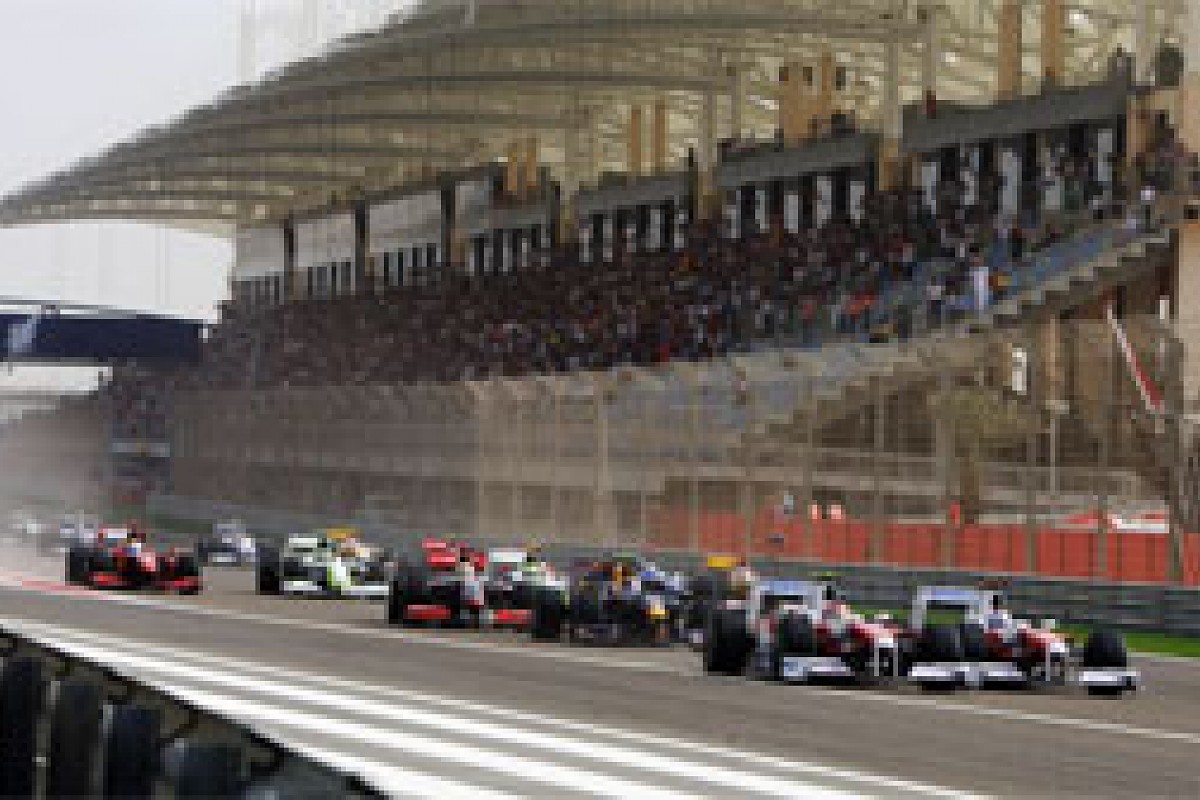 The start of the Bahrain Grand Prix © LAT
Jenson Button had a fair point when he remarked that his fourth place on the Bahrain grid was effectively fifth as he had Lewis Hamilton's KERS-shod McLaren breathing down his neck.
As the KERS cars got quicker, so their potential to throw a massive spanner in their rivals' works increased. Sure enough, when the lights went out at Sakhir, Hamilton hit what Sebastian Vettel described as "his magic button" and launched past the Brawn ahead and then overtook the Red Bull as well.
Crucially, as Vettel tried in vain to fend off Hamilton, Button was able to drive around his outside of the man, who might just become his main title rival, to take fourth place as they accelerated out of Turn 1.
It was Timo Glock rather than Jarno Trulli who led into that first corner, the Italian feeling some oil spillage from his car had caused it to falter. Glock then gained a bigger advantage as Trulli feel victim to Hamilton's 'turbo boost' and briefly lost second before fighting back through on the exit of Turn 4.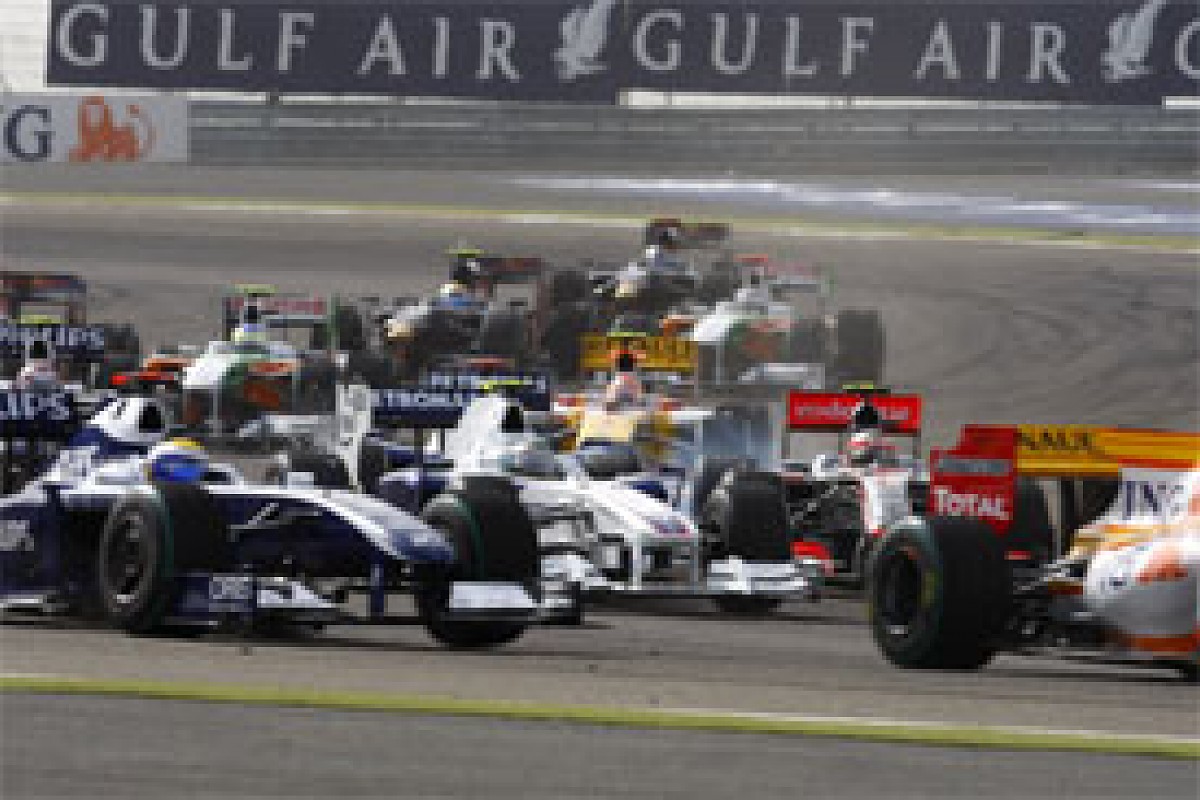 The BMW Saubers are pinched on the opening lap © LAT
This cost Hamilton a little momentum, and allowed Button to hound his countryman around the rest of the lap. Even the KERS advantage was no match for the superior speed the Brawn could carry through the final corner, and as they started lap two Button was drafting past Hamilton and into second. Button was probably justified in calling it "the best first lap of my career", and it effectively won him the race.
His team-mate Rubens Barrichello was having his own headaches with KERS cars, but eventually managed to shake Kimi off Raikkonen's Ferrari and move into fifth.
The first corner had seen a three-into-one sandwich featuring the Ferraris and Barrichello that left Felipe Massa with a broken front wing (prompting a "mamma mia!" from team boss Stefano Domenicali), and a similar incident involving the two BMWs and Heikki Kovalainen.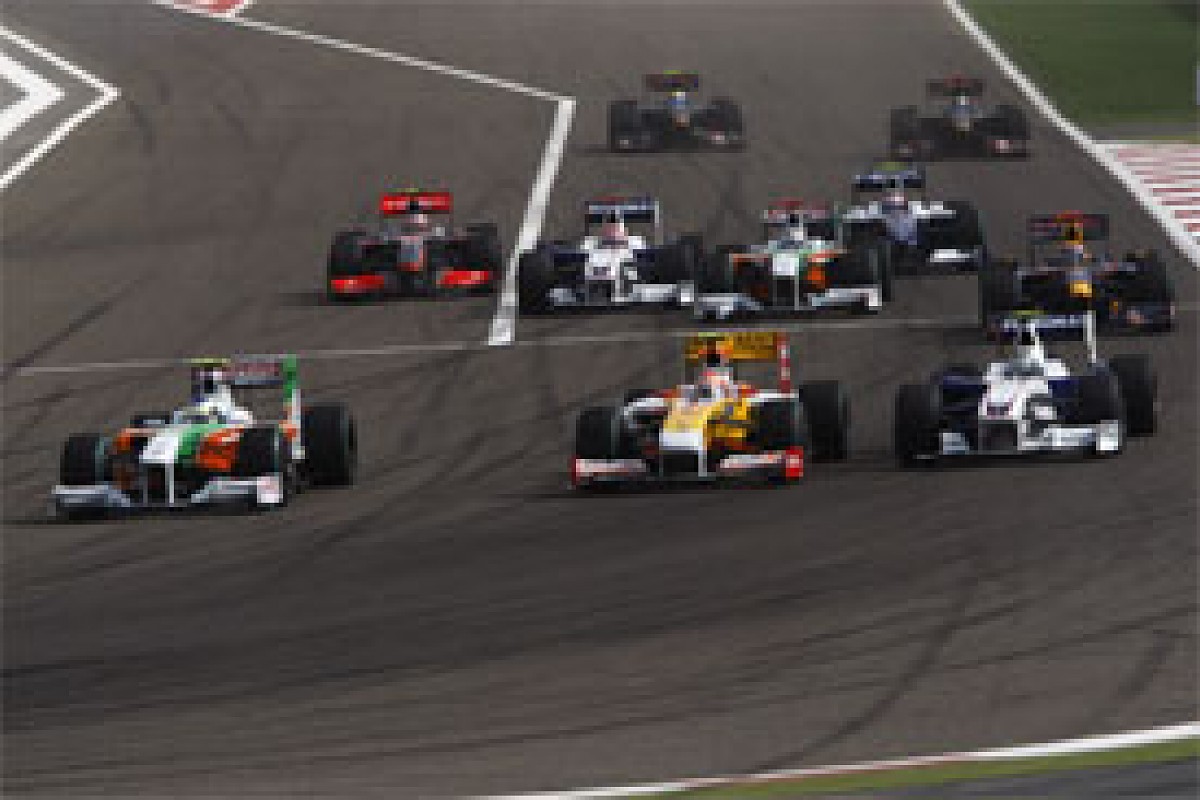 The damaged BMW Saubers cause mayhem in the field © LAT
As the ragtag midfield, now featuring cars with and without KERS, and cars with and without front wings, tried to tidy itself into some semblance of order, there was an outbreak of three and four abreast racing and wheel-banging that would have made even a young touring car driver wince. The end result was that Massa, Kazuki Nakajima and the BMWs all had to pit for new wings.
The main reason Button's first lap proved to be so important was that it was a lot more successful than Vettel's. The Shanghai winner did not manage to pounce on Hamilton as Button had done, and that consigned him to a first stint trapped behind an improving but still quite slow McLaren.
"You might have a chance immediately to pass someone but then when you follow a car your tyres just wear down," said Vettel. "You start to slide and then you never really come back."
But he still had the advantage of a bigger fuel load than all those around him, plus arguably a faster car in a straight fight.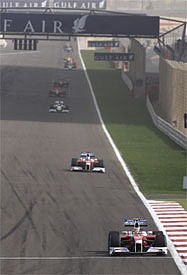 Toyota teammates Timo Glock and Jarno Trulli lead the field © LAT
He was certainly a lot heavier than the Toyotas, who came in for the first time on laps 11 (Glock) and 12 (Trulli). Glock had been leading his team-mate by 1.8s at the time, with Button 5s back, but emerged behind Nico Rosberg's heavier Williams. The traffic was not the biggest issue though, for Glock had changed to the medium tyres for his middle stint and simply could not make them work.
"It felt like it didn't get any heat in and I just lost everything in the second stint," he said.
Trulli fared better, but was still clearly on unfavourable rubber after his stop. He also lost time in a brilliant battle with the yet-to-pit Fernando Alonso, which saw the Renault use its KERS to draw alongside the Toyota, but then Alonso rely on his swashbuckling bravery rather than a boost button as he drove right around the outside of his sometime team-mate at Turn 4, banging wheels along the way.
That little dice did not quite slow Trulli enough for Vettel's needs. Once Hamilton pitted on lap 15, Vettel was able to go on a four-lap sprint which saw him easily clear the McLaren and Glock, but not quite manage to leap past Trulli. What had been a 14s gap before the Toyota's stop was now little more than a car's length, but it made little difference - for crucially Button had managed to jump Trulli during the three laps between their pitstops.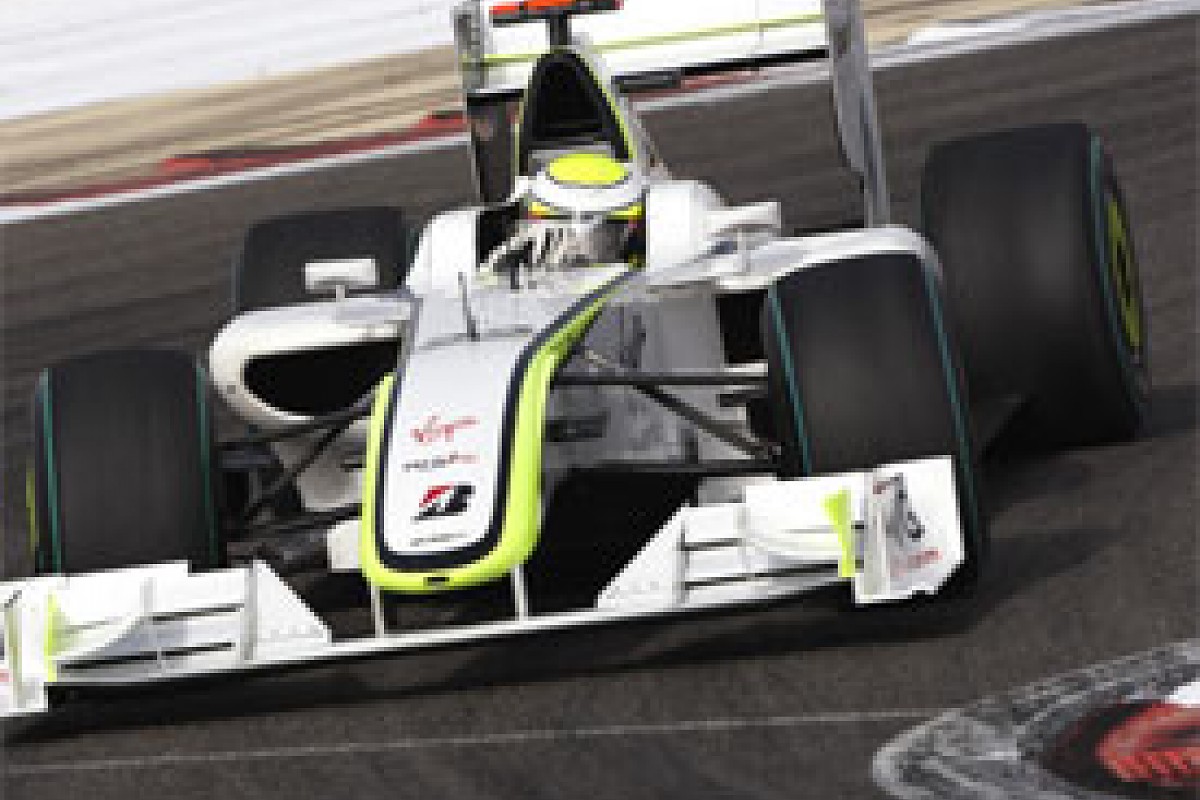 Jenson Button (Brawn) leads at Sakhir © LAT
That gave Button the lead, and having decided to save his medium tyres for the final stint, it was the championship leader's turn to make a break and run away, as Trulli's harder rubber saw him lap up to a second slower - to the trapped Vettel's frustration.
Had Trulli been on the same tyres as Button, Vettel would probably have been able to stay close enough to the leader to capitalise on the extra three laps of fuel he was carrying and if not pass Button in the pits, at least emerge on his tail. Had Vettel manage to follow Button past Hamilton, he would have passed Trulli - and maybe even Button too - at the first stops, such was his low-fuel pace.
Instead, while Vettel did finally manage to overcome Trulli at the final stops, he rejoined 11s behind Button, and had to focus more on resisting the resurgent Toyota - now on the soft tyres while Vettel had to cope with the medium Bridgestones - than trying to chase down the Brawn. Button's aggression on the opening lap was paying massive dividends an hour and a half later, and Vettel could only ruminate on how what probably should have been his first dry weather win - and a victory that would have catalysed a true title race - had escaped him.
But then pretty much everyone bar Button had an 'if only' to ponder after the race, with the exception of Hamilton, who was delighted with fourth place, having stayed solidly between the lead contenders and the rest of the field all afternoon.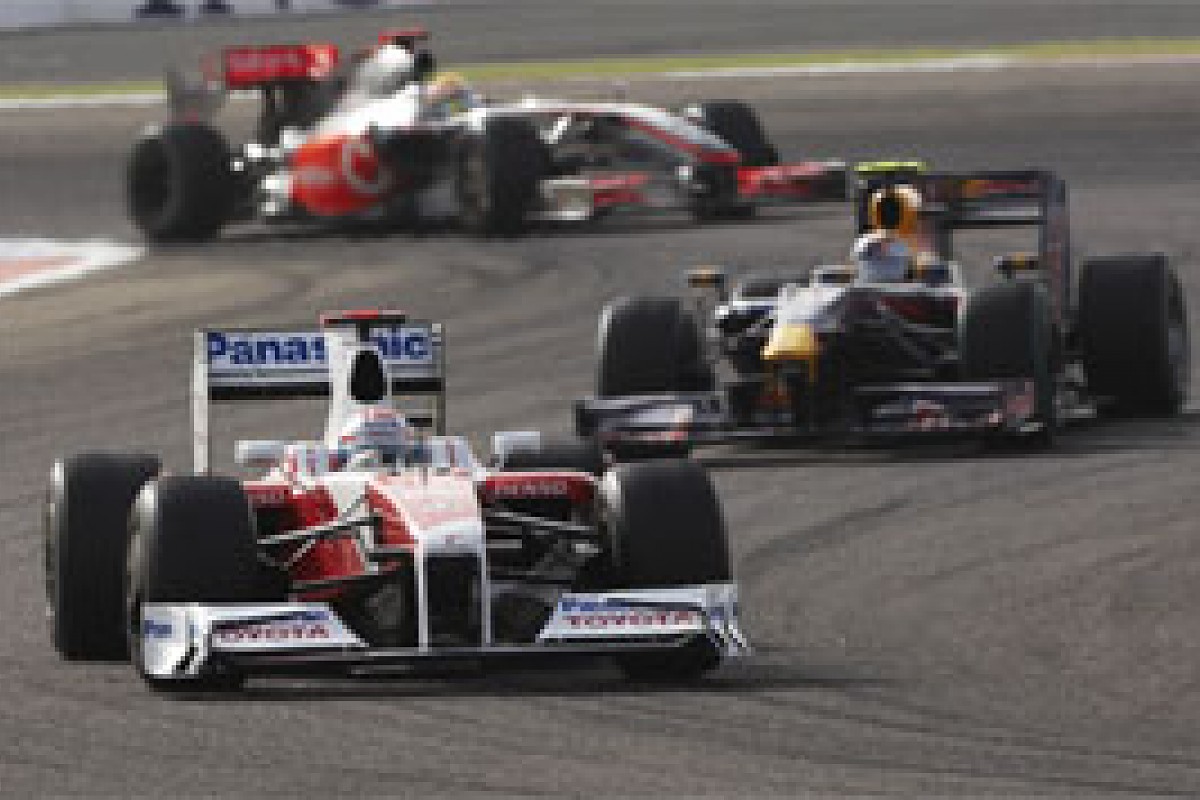 Jarno Trulli (Toyota) battles Sebastian Vettel (Red Bull) and Lewis Hamilton (McLaren) © LAT
Trulli had clearly hoped for more than third, while fifth-placed Barrichello finished yet another 'must win' race off the podium. He produced some excellent moves and stunning lap times while trying to make his three stop strategy work, but it was always a forlorn hope, largely thanks to the ground lost when trapped behind Nelson Piquet's Renault following his first stop. Clearly faster than his countryman in the corners, he could only wave a hand in frustration as the KERS-mounted Renault scampered away from him on every straight.
Ferrari celebrated the minor breakthrough of at least scoring as Raikkonen beat Glock to sixth. Long stints helped the Finn gain ground, and he might have beaten Barrichello too but for a wheel flange issue that slowed his final stop a touch.
Alonso fended off Rosberg for the last point, with Piquet earning some praise from his team at last having raced much better than of late and taken a sensible 10th.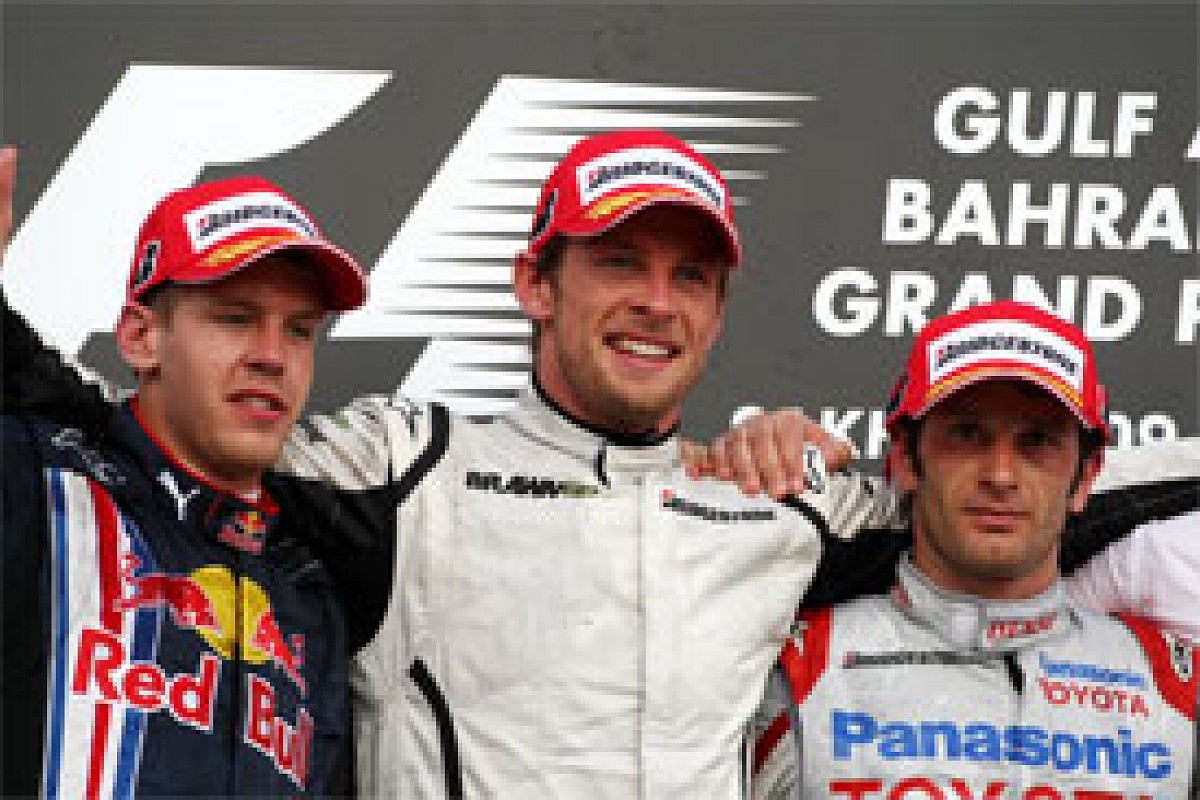 Sebastian Vettel, Jenson Button, and Jarno Trulli on the podium © XPB
Mark Webber also had a stint trapped behind Piquet, which rather stymied his aggressive fuel strategy and meant he got no higher than 11th, ahead of Kovalainen, who never recovered from tumbling down the order amid the first lap mayhem and then having to pit early to jettison his uncompetitive medium tyres.
He just beat the unusually happy Sebastien Bourdais, with double Bahrain winner Massa only making it back to 14th, in front of the Force Indias - which had run on the cusp of the top ten in one of the team's most genuinely competitive performances yet, but could not hold off what remain much faster cars.
At least Massa had the consolation of setting some excellent times while in clear air and seeing his team-mate finally get some points on the board for Ferrari. There was little solace for last year's polesitter Robert Kubica as BMW utterly failed to recover from the early wing damage. Kubica and Heidfeld finished at the tail of the field, with a late spin from the Pole exemplifying just how frustrating it was to tumble from the front to the back as Formula 1's new order starts to settle in for the long haul.
RACE RESULTS

The Bahrain Grand Prix
Bahrain International Circuit, Sakhir, Bahrain;
57 laps; 308.238km;
Weather: Sunny.

Classified:

Pos  Driver        Team                      Time
 1.  Button        Brawn GP-Mercedes     (B)  1h31:48.182
 2.  Vettel        Red Bull-Renault      (B)  +     7.187
 3.  Trulli        Toyota                (B)  +     9.170
 4.  Hamilton      McLaren-Mercedes      (B)  +    22.096
 5.  Barrichello   Brawn GP-Mercedes     (B)  +    37.779
 6.  Raikkonen     Ferrari               (B)  +    42.057
 7.  Glock         Toyota                (B)  +    42.880
 8.  Alonso        Renault               (B)  +    52.775
 9.  Rosberg       Williams-Toyota       (B)  +    58.198
10.  Piquet        Renault               (B)  +  1:05.149
11.  Webber        Red Bull-Renault      (B)  +  1:07.641
12.  Kovalainen    McLaren-Mercedes      (B)  +  1:17.824
13.  Bourdais      Toro Rosso-Ferrari    (B)  +  1:18.805
14.  Massa         Ferrari               (B)  +     1 lap
15.  Fisichella    Force India-Mercedes  (B)  +     1 lap
16.  Sutil         Force India-Mercedes  (B)  +     1 lap
17.  Buemi         Toro Rosso-Ferrari    (B)  +     1 lap
18.  Kubica        BMW Sauber            (B)  +     1 lap
19.  Heidfeld      BMW Sauber            (B)  +     1 lap


Fastest lap: Trulli, 1:34.556

Not classified/retirements:
Driver        Team                      On lap

Nakajima      Williams-Toyota       (B)    49

World Championship standings, round 4:                

Drivers:                    Constructors:             
 1.  Button        31        1.  Brawn GP-Mercedes      50
 2.  Barrichello   19        2.  Red Bull-Renault       27.5
 3.  Vettel        18        3.  Toyota                 26.5
 4.  Trulli        14.5      4.  McLaren-Mercedes       13
 5.  Glock         12        5.  Renault                 5
 6.  Webber         9.5      6.  Toro Rosso-Ferrari      4
 7.  Hamilton       9        7.  BMW Sauber              4
 8.  Alonso         5        8.  Williams-Toyota         3.5
 9.  Heidfeld       4        9.  Ferrari                 3
10.  Kovalainen     4       
11.  Rosberg        3.5       
12.  Buemi          3       
13.  Raikkonen      3       
14.  Bourdais       1       
       
All timing unofficial

Lap-by-lap as it happened on AUTOSPORT Live
TEAM BY TEAM
Ferrari
Points at last for Ferrari, although it could have been much better. Raikkonen and Massa both reach Q3 for the first time this year and start eighth and 10th. They then touch at the first corner while dicing with Barrichello, leaving Massa with a broken front wing.
Raikkonen escapes unscathed and later runs as high as second before taking a strong sixth place. Massa cannot make up much ground in the midfield, so ends the race in 14th but with the seventh-fastest race lap thanks to his strong pace on the rare occasions he had clear air.
McLaren-Mercedes
Hamilton tops first practice again and then claims his best grid position of the year so far with fifth place, having even been on the provisional front row for a while.
He uses KERS to charge to second at the start, and although he is gradually overcome by Trulli, Button (both on track) and Vettel (in the pits), he manages to get ahead of the fading Glock in the stops so takes an encouraging fourth.
Kovalainen has an electrical problem in final practice, qualifies 11th (still a season-best), then falls back in the race thanks to the first corner trouble and the decision to start on medium tyres. He can only recover to 12th.
BMW Sauber
The worst weekend of BMW's F1 programme so far starts in deceptively promising form as Kubica and Heidfeld take second and third in opening practice, thanks entirely to their late qualifying simulation.
They can only qualify 13th and 14th, with Kubica using KERS at the weekend for the first time and outqualifying his team-mate.
Unfortunately they then touch at the start while ganging up on Kovalainen and both sustain broken front wings. Communication problems hamper their efforts to get quick repairs, and the subsequent heavy fuel strategy gains them nothing. They finish 18th and 19th (last of the finishers), with Kubica in front despite a late spin.
Renault
Alonso takes second on Friday afternoon and then seventh on the grid, albeit with a fairly light fuel load. His team-mate Piquet declares this the weekend when his turnaround will commence, and gets off to a bad start by breaking a front wing on the kerbs in practice then going off the road in Q2 and only taking 15th on the grid.
But a much stronger race sees Piquet drive solidly for 10th, while Alonso finds he hasn't quite got the pace of those ahead but manages to resist Rosberg for the final point.
Toyota
Glock tops final practice then has an electrical failure moments later. But the problems are soon overcome and the speed is genuine - as Trulli and Glock secure their team's first ever front row sweep in qualifying.
Glock beats Trulli off the line and leaves the Italian to fend off Hamilton for second. They pull away from the field at first, but are both on short first stints and then try long middle stints on the less popular medium tyres.
This proves to be an unsuccessful strategy. Glock struggles particularly badly and can only finish seventh, but while Trulli loses the lead to Button, he is able to hold off Vettel for second until the final stops and still takes third.
Toro Rosso-Ferrari
Mistakes in qualifying leave Buemi 17th while team-mate Bourdais rues track time lost to mechanical problems as he lines up 20th.
Bourdais is pleased with his race pace as he comes through to 13th ahead of the delayed Massa, but Buemi drops to the back at the start and never really gets going, taking 17th.
Red Bull-Renault
After strong practice times from both drivers, Vettel shows awesome pace in Q2 and then takes third on the grid in a heavy car.
But Webber is hugely frustrated after being blocked by Sutil in Q1, leaving him 19th, although he gains one place when his aggressor is penalised.
Webber finds it hard to progress from there, spending too long stuck behind Piquet in his middle stint and only making it to 11th.
There's frustration of a different level for Vettel, who has the car and strategy to win but loses ground at the first corner and spends the first stint trapped behind Hamilton and the middle of the race staring at Trulli's rear wing. He passes the Toyota in the pits and finishes second - a great result but not what it could have been.
Williams-Toyota
Rosberg is fastest in second practice, but is otherwise not on the pace Williams had shown earlier in the year. He qualifies and finishes ninth, losing ground to the KERS cars off the line and not quite having the speed to beat Alonso to the last point.
Nakajima is 12th in qualifying, damages his car in a brush with Sutil amid the crazy first lap, and eventually retires with fluctuating oil pressure.
Force India-Ferrari
Sutil shows great practice pace again and qualifies a respectable 16th. But he blocks Webber badly on the way so is put back to 19th. Fisichella moves up a place to 17th thanks to his team-mate's penalty.
They split strategies, with Fisichella going for an early sprint then a long middle stint, and Sutil running long then having shorter stints later. That allows both to fight on the cusp of the top ten and get involved in some muscular racing with the delayed Massa, Webber and Kovalainen. But ultimately they are pushed back to 15th and 16th.
Brawn-Mercedes
Button fears the competition is moving ahead after ending up fourth on the grid, behind the heavier Vettel. But his brilliantly aggressive first lap gets him ahead of Hamilton and Vettel, and behind the lighter Toyotas.
That means when he gets ahead of Trulli and Glock in the pits - and Vettel gets caught behind the former - he is free to pull away for the rest of the race and take his third win in four GPs.
Barrichello struggles to warm his tyres in Q3 and starts sixth. He chooses an aggressive three stop strategy and charges hard, but time lost behind Piquet's slow but KERS-shod Renault proves costly and he only just beats Raikkonen to fifth.