Brawn GP makes history
After dominating qualifying with a front row sweep on Saturday, Brawn GP went on to post a one-two finish in Sunday's race.
This was only the third time in history that a team has finished first and second in its maiden race. The others were the 1950 British Grand Prix, when Alfa Romeo filled the podium with Nino Farina, Luigi Fagioli and Reg Parnell and the 1954 French Grand Prix when Mercedes scored a one-two with Juan Manuel Fangio and Karl Kling.
Button's comeback
Jenson Button on the podium at Melbourne © LAT
Jenson Button's second grand prix victory was the 200th for a Great British driver and came two years and seven months after his maiden win in the 2006 Hungarian Grand Prix.
Button led every lap, the first time a driver has led from start to finish since Lewis Hamilton in the 2007 Hungarian Grand Prix.
He was back on the podium after a drought of 35 races, his first since the 2006 Brazilian Grand Prix. The victory also ended Button's longest career streak of races without points, which began at the 2008 Turkish Grand Prix (14 races ago).
A grid of surprises
• Button scored his fourth career pole, the first since Melbourne in 2006. He had not qualified in the top 10 since the 2008 Bahrain GP and his last appearance on the front row was at Imola in 2006.
• Rubens Barrichello made his 31st front row start, his first since leaving Ferrari. It lifted him to 17th in the all-time list, alongside Niki Lauda and Kimi Raikkonen. His last front row start was for his home Brazilian Grand Prix in 2004.
• Heikki Kovalainen's 14th place was his worst qualifying spot since the Brazilian Grand Prix in 2007 and the first time he has missed a top 10 spot in a McLaren.
• Lewis Hamilton equalled his worst ever qualifying result with 15th place, the previous being at the the 2008 Italian Grand Prix. The only other time he has started outside the top 10 was in France in 2008 (due to the penalty for the pitlane incident in Canada). His grid penalty in Australia for a gearbox change meant that he started a race from the back of the grid for the first time.
• McLaren's 14th and 15th places was the worst qualifying performance for the team since the 2005 Japanese Grand Prix where Raikkonen and Juan Pablo Montoya were 17th and 18th after single-lap qualifying in mixed conditions. (Raikkonen went on to win that race).
Race notes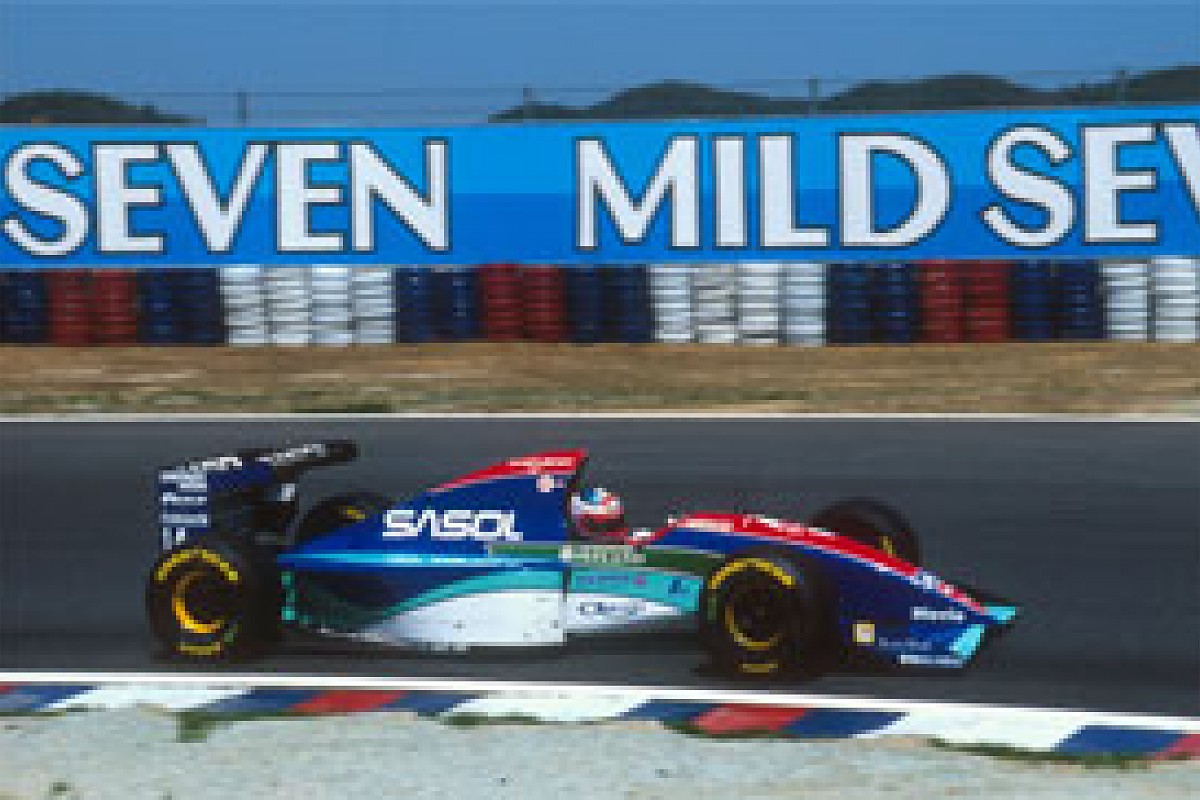 Rubens Barrichello (Jordan 194 Hart) took his first podium in the 1994 Pacific Grand Prix at Aida © LAT
• Barrichello claimed his first podium finish since the 2008 British Grand Prix and is now closing in on Riccardo Patrese's record of the longest time between first and last podiums. Patrese scored his 15 years and one month apart (Sweden 1978-Hungary 1993) and Barrichello now stands at 14 years, 11 months (Pacific 1994-Australia 2009). He will beat Patrese's record with any podium scored at, or after, this year's British Grand Prix. This was Barrichello's 63rd podium, taking him one clear of David Coulthard to fourth on the all-time list.
• Great Britain had two drivers on the podium for the first time since the 1999 Hungarian Grand Prix, where David Coulthard was second and Eddie Irvine third.
• Nico Rosberg set his second career fastest lap, three years after the first in Bahrain in 2006.
• Sebastian Buemi scored points on his grand prix debut, the first for a Swiss driver since Marc Surer in the 1985 Italian GP.
• Adrian Sutil scored the Force India team's best ever result with ninth place
• Both Ferraris retired with mechanical failures for the first time since last year's Australian Grand Prix, although in both cases Raikkonen covered enough laps to be classified.