I'm a bit of an anorak when it comes to cars - I enjoy the whole process of how they're built and what makes them tick - so it's been a fascinating few weeks in the Aston Martin Racing factory watching the guys get the stunning new LMP1 coupe ready for our test debut at Paul Ricard last weekend.
The first time I saw it in full trim and with bodywork wasn't until Saturday afternoon at Ricard. I shook down the 007 car, but that was just a systems check without any bodywork. My 009 car was only finished at 4.30pm on Friday afternoon and went straight onto the truck.
Darren Turner © LAT
The AMR drive in the Le Mans Series and at Le Mans is my first crack at LMP1 after several years winning for Aston in GT1, but one thing that I'm not expecting to change is the level of competition. The prototypes get all the coverage and people think that's where the racing is most intense and the driving talent is highest - but I certainly don't think that's the case.
I think the level of driving at the front in GT1 and GT2 is equal to LMP1, and the racing has been just as hard during my time in the Aston Martin DBR9, so I'm not expecting any surprises on that count in LMP1.
What has definitely changed is the performance of the cars. At this stage I'm just getting used to the higher cornering abilities of an LMP1 prototype, which took me a bit by surprise. I'd done a test in the Audi R8 in early 2004, but back then I was also jumping in and out of McLaren's Formula 1 car, so the Audi was actually a step down in performance.
That's a long time ago now, and I've got so accustomed to GT and touring cars, plus LMP1 has moved on massively since then. The R8 would probably be a few seconds off our car now.
LMP1 needs a different, more precise, driving style. You have to hustle the GT1 car around, whereas you need to be more refined with your driving in the prototypes.
For the first 20 laps I didn't really enjoy it because it was driving me, not me driving the car. One problem was that for the test I was using Harold Primat's seat - and he's a six-foot giant so I was rattling around like a rag doll. But by the second afternoon I was really starting to feel at home and a lot more confident.
It's basically straight into the Barcelona race weekend now - which is a little bit daunting. Every driver wants as much mileage as possible, but that's not been possible for us because the programme got the green light quite late so we're playing catch-up.
But the nice thing is that the car hit the track running pretty well. It wasn't like we were sitting in the garage waiting for little problems to be ironed out - we were out there getting the mileage in, so that was a good start from that side, at least for the 009 car.
Tomas Enge's accident in the 007 car put a bit of a dent in our preparations for Barcelona, because whereas the guys at the factory would have been making sure we're fully on top of things ready for the race, now they're working flat-out just to get 007 back on the road. But they'll get there.
Lola-Aston Martin testing at Paul Ricard © LAT
We're realistic about what Harold, Miguel Ramos and I should aim for in 009 this year. Miguel and I are basically new to LMP1, while Harold has to adjust from the Pescarolo he drove last year. The guys in the 007 have got a year under their belts, and they'll be going all-out from the start. Whereas for us, initially it's going to be a case of making sure we're all comfortable with the car and its handling, and then our confidence will grow.
'Keep it sensible' is the worst thing to say about racing, but if you can, you get results, and that's what we need to do. There's no point trying to be the heroes and be absolutely flat-out and end up taking too many risks with the traffic. We've got to do a solid job and let the race come to us. While the other guys go at it hammer and tongs, we'll pick up the pieces - at least while we're building our confidence with the car anyway.
Judging by what I found in the test, it's going to take a few laps at each circuit to find out what we can actually do. I've got all the data from the other car and the Aston-engined LMP1 that Charouz ran last year to have a look at. But there's nothing like going out there and putting it into practice yourself.
There weren't many LMP1 cars at the test and everyone was running to their own agenda, so it was hard to judge our pace. But compared to what Charouz did last year with the same engine, it was already bang on the same lap time without any chance to play with the set-up, so you have to say it's looking competitive. But how competitive? God knows...
After all those years in GT cars watching prototypes charging up behind me, I must admit I was surprised how quickly you gain on the traffic in an LMP1. But that's more down to the drivers than the cars. You can have a fantastic professional driving a GT1 car and the speed differential is not so noticeable. But then you have a gentleman driver who really is struggling, and you're on them so rapidly. That can catch you unaware.
It's going to take a bit of time to adapt to the closing speed, but it's all part of the skill of sportscars. Having had the chance to drive in pretty much every class I know everyone is on the limit - and that experience should make me a nicer prototype driver. You can't just chop someone up thinking 'it's okay, they're going a lot slower than me, they can just move out of the way'. It doesn't work like that.
Hopefully I'll be able to take that with me into the LMP1 class and cut through traffic without jeopardising anyone else's races. In drivers' briefings I've heard LMP1 drivers grizzling about the traffic, and you sit there as a GT driver thinking 'it's the same for us!' We had to race as hard as we could in GT1, knowing that they would be coming past, but trying not to slow ourselves down as well.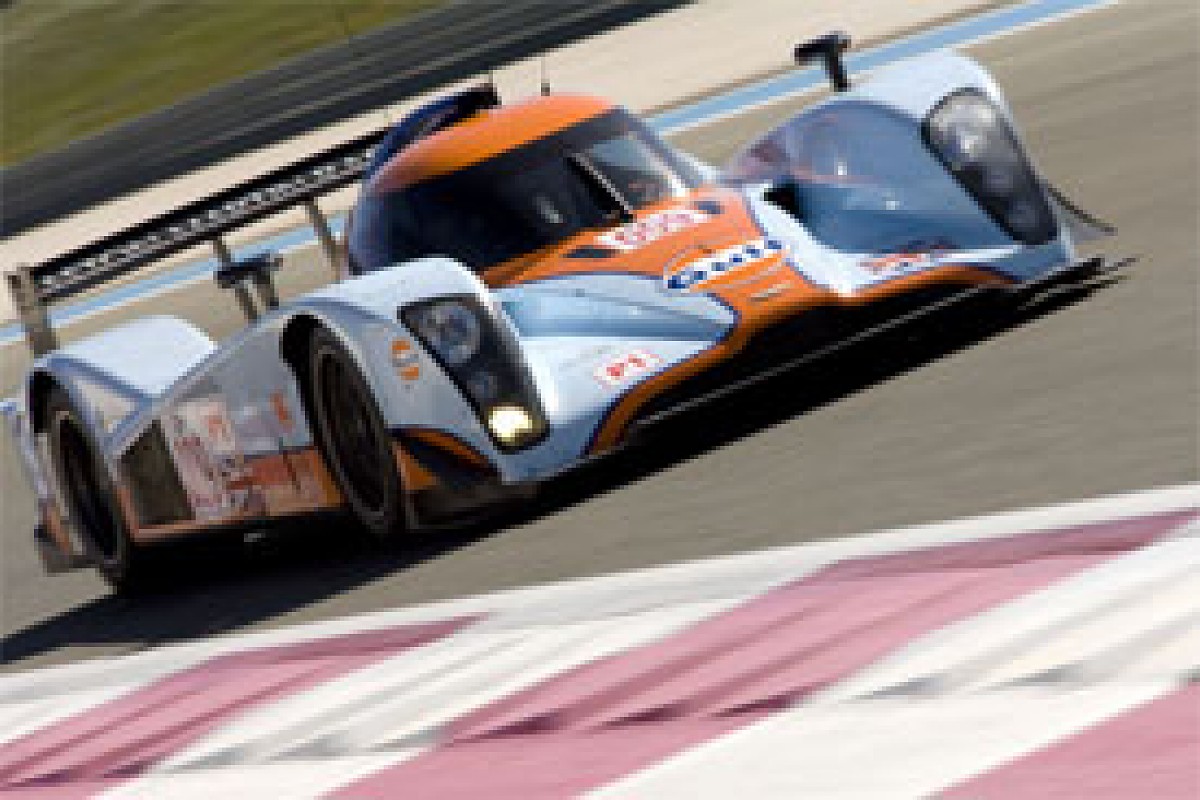 Darren Turner leading the BTCC field at Brands Hatch in 2008 © LAT
This year it looks like I'll be focused on sportscars after several seasons of hopping between GTs and British Touring Cars. I'm going to miss the BTCC. Although I didn't get the results I wanted, I enjoyed the cars and the championship, so hopefully one day I can go back there. Unfortunately times are hard in all industries at the moment, racing included, and there aren't many opportunities for professional drivers this year.
I can understand why Formula 1 drivers have to focus solely on their day job - with both the races and all the PR they have to do their schedules are really full. But I think if you've got an opportunity to go and race another car, then do it. We're meant to be there because we love driving!
That's why I did the Walter Hayes Trophy Formula Ford event last winter, I just wanted to drive the car. The day I stop being a professional driver certainly won't be the last day I race cars, that's for sure. I'll carry on and find some club championship that costs hardly anything and I'll do that whenever I feel the need to get out.
My long-term plan is to get a 1991 Van Diemen Formula Ford, run it myself and just do four or five club races a year with it - although that scheme might have to go on hold for a bit because every spare penny at the moment is going into building my house at the moment...
Sometimes you do need to step away and have a break, but right now whenever I have the chance I want to get another race in. I've always loved jumping from one car to another. My feeling is that if you're a good driver you'll adapt and get the most out of any car, like the guys in the 1950s and 60s did. The way the business is now, there aren't many all-rounders anymore, but I'll carry on being the Daley Thompson of motor racing!