It's just after six am in the restaurant of the Hotel Novotel Monte Carlo and there are perhaps half a dozen people tucking in to the breakfast buffet with its curiously-sugared scrambled eggs. One of them is Stephane Sarrazin, he's wide-eyed and alert, despite the lack of a dawning sun, and he's clearly too excited to eat properly.
For the 33-year-old Frenchman, it's an hour prior to the start of the Monte Carlo Rally, and the chance to realise another childhood dream.
Sarrazin stands out in modern motorsport purely because he is probably Europe's most successful active all-rounder. An individual who has more than competently bridged the gap between racing and rallying and is one of a handful of drivers to have competed at the top level of all disciplines of the sport.
Moreover, he is the only person to have contested world championship events against the most successful drivers in the history of Formula One (Michael Schumacher) and the World Rally Championship (Sebastien Loeb). And you can add to that list the greatest Le Mans 24 Hours racer of all time (Tom Kristensen) as well.
Sarrazin's enthusiasm for motorsport is delightful, and his cheery demeanour exudes a passion for driving that has charged an extraordinarily diverse career - one that has allowed him to fulfil more ambitions than most of his contemporaries, purely through making choices others dared not to.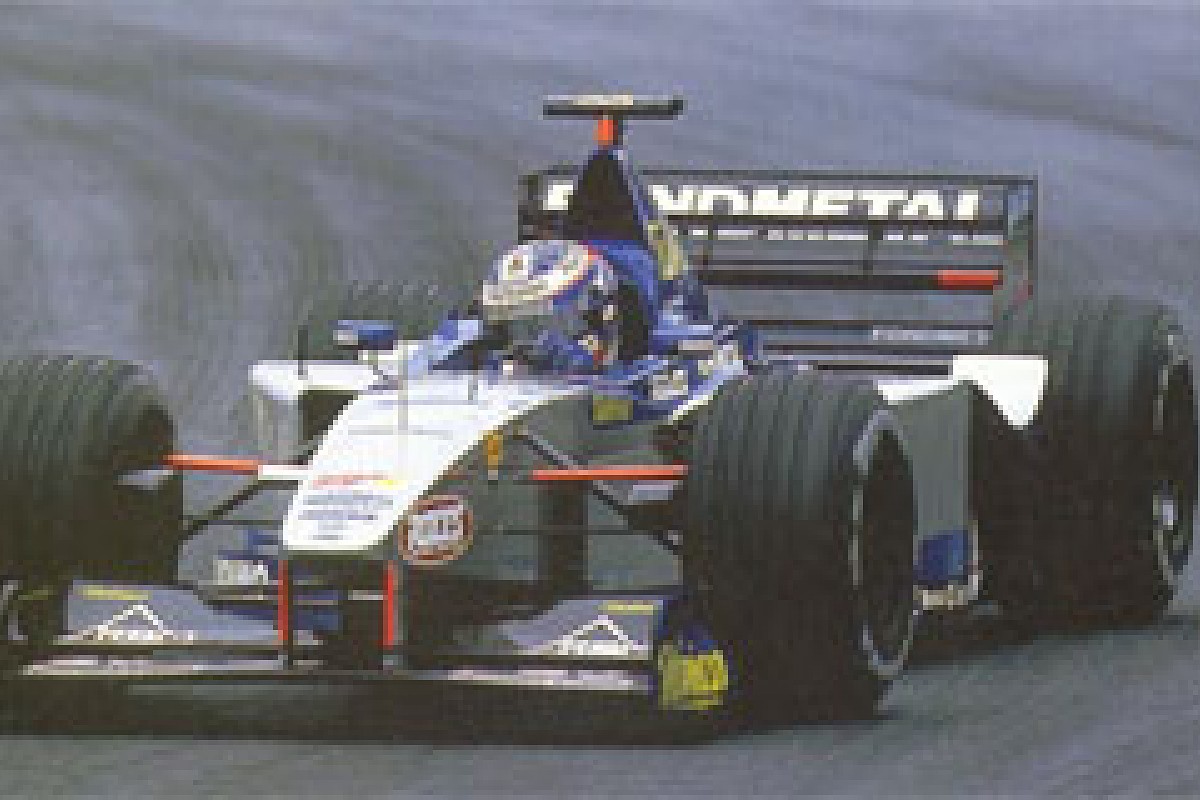 Stephane Sarrazin (Minardi M01 Ford) 1999 Grand Prix of Brazil © Rainer Nyberg/Forix
He savours every moment of his work, and you get the impression that Kimi Raikkonen would love to step into Stephane's shoes. After all, Sarrazin has worked his way into a unique situation where he can play in some of the fastest racing and rally cars without the intense scrutiny brought on by mega-celebrity and a schedule of marketing marathons. In other words, all of the fun and half the crap.
Asked which discipline he likes the most, racing or rallying, and Sarrazin sighs... he knows this question well. But his answer is not etched with boredom and delivered in monotone, rather it is thoughtful and considered: "I like both! Racing is amazing because you push 100 per cent of the time, you have big grip to work with, big power and it is very fast, which I like a lot.
"Rallying I like for a different reason," he explains. "You are never sure about the road, your pace notes or your level of grip, so the adrenaline is very high and that makes it exciting. You never know if you are fast enough, but on the track, you know immediately."
Inspired by the intelligence of the response, another obvious question slips out before it can be stopped. Having driven against legends of all forms of the sport, who really is the best?
"That's easy: Schumacher," says Sarrazin without hesitation. "I was very surprised by his motivation. Even though he was winning all the time, he was constantly training - he was very fit, as if it was his first year. He entered every grand prix to win it. Loeb also works a lot, he is not just rallying, he tests a lot and he works a lot on his pace notes.
"These people do not limit their parameters, they analyse everything. They just push all the time and they make sure everything around them puts them in the best position to be world champion."
Sometimes, though, no matter how hard you work, those chances are simply out of reach.
Sarrazin only ever got one opportunity at Formula One level. His sole grand prix appearance ended in a spectacular and smoky exit from the Brazilian GP at Interlagos in 1999 when he stood in for the injured Luca Badoer at Minardi.
It wasn't the break Stephane had hoped for, and he began a long period as an understudy test driving, first for Prost, and then Toyota in 2002. It was there, insiders suggest, that he proved more capable of translating the data into useful information than others in the team at that time.
But his face didn't fit at Cologne, and having already forged a solid reputation in single-seaters - he was a race-winner at International Formula 3000 level - like many others of his generation, he found a home in sportscars. First with Oreca's Mopar-Ford and then their ill-fated Dallara-Chrysler project before switching to Pescarolo.
But as his F1 aspirations subsided and then evaporated, Sarrazin looked for a new path to forge, and that's when he separated from the crowd, and tried something different from his peers.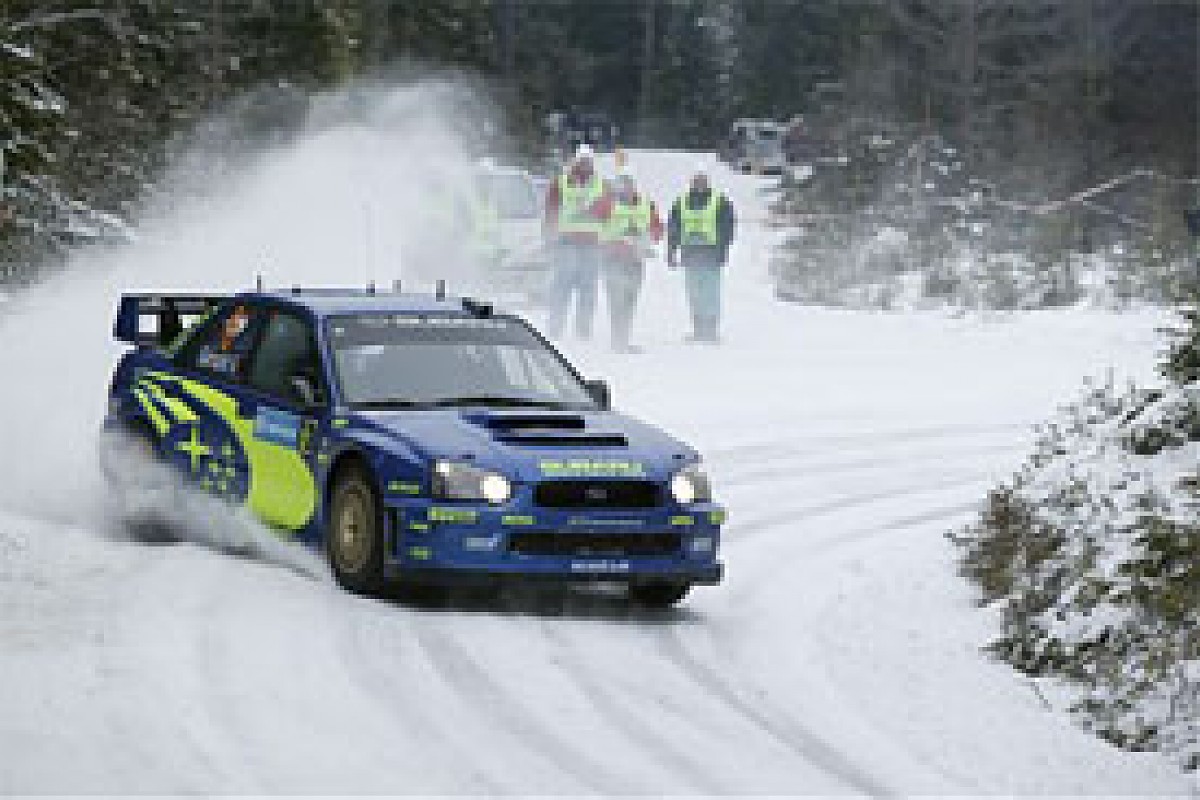 Subaru Impreza WRC on the 2005 Swedish Rally © LAT
It's not unusual for racing drivers to prove themselves fast in rally cars, and indeed vice versa, but to throw their lot in and switch codes takes huge conviction and is considered a potentially career-ending risk.
Regardless of this, and having previously dabbled with rallying a couple of times on the Rallye du Var, in 2004 Sarrazin contested the entire French Rally Championship in a year-old Subaru Impreza WRC, entered by French motorsport federation the FFSA. His gamble paid off big time.
Immediately he was fast, particularly (yet unsurprisingly) on asphalt. He won the title at his first attempt, taking three wins and five podiums, but it was Sarrazin's performance in three WRC outings that year that really fired the imagination.
Again on asphalt, and aided by the use of well-matched Michelin tyres, Sarrazin finished ninth on Rally Deutschland, sixth in Corsica and fourth in Catalunya - beating both the Pirelli-shod factory Subarus.

But how was this instant speed possible and just how did Sarrazin translate his race-car pace to the special stages of the Alps and the Rhein?

"You need to be confident in what you do, but also you need to have humility in each corner," he explains. "You must not become over-confident, and you must always ask questions of yourself.

"What I try to do is always improve myself, so that every time when I work with my engineers I try to understand the car that little bit better. I try to understand as best I can what I can get from the car and what must come from me."
His performances were certainly enough to convince Prodrive boss David Richards to put Stephane in a factory car for the following two seasons. But the best result he could achieve at a time when the Impreza had begun to descend from the peak of its powers was another fourth in Corsica in 2005, and in truth he never reached the same level on other surfaces as he did on sealed surfaces.
During this time, Sarrazin continued his circuit racing through the Prodrive connection, racing one of Aston Martin's DBR9s which he helped to third in the GT1 class at Le Mans in 2005 and fifth in 2006.
So when Peugeot announced its turbodiesel-powered, no-holds-barred assault on winning Le Mans outright, Sarrazin was perfectly placed to take advantage of his status as France's fastest all-rounder. And the kicker to the deal was the chance to help the manufacturer develop a competitive S2000-specification 207 - the very same machine put at his disposal for his third attempt at the Monte Carlo Rally.
Following his nervous breakfast, Sarrazin would start the rally well. Second on the opening stage at Tourette du Chateau St Antonin behind teammate and champion Nicolas Vouilloz, he goes fastest of all in SS2.

By the end of the first leg, Sarrazin is second overall and just 11.9sec off the overall lead. But then an off costs him five minutes on SS4 and his hopes of winning one of the biggest prizes in international rallying are dashed for another year.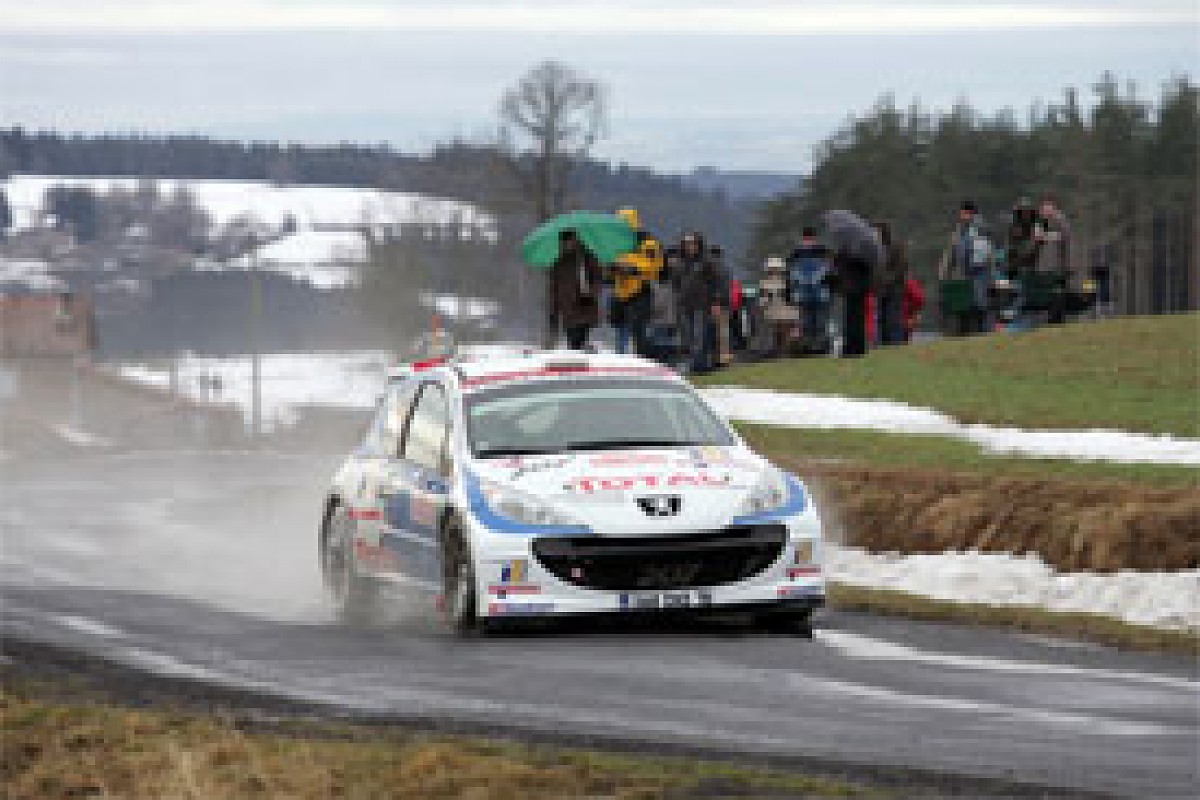 In a Peugeot 207 on the IRC Rallye Monte Carlo
Undeterred, he rips into the Alps stages with blistering pace. And, but for a second off, he could have run eventual winner and rising superstar Sebastien Ogier close for victory. Instead he is forced to settle for third place, marking out his first high-profile rallying podium in the process, having taken no fewer than five stage wins on the way.
Whether or not Sarrazin makes any more appearances in this year's Intercontinental Rally Challenge has not yet been decided, but one thing is for sure, there is still a very big job to do in prototypes.
And Sarrazin firmly believes doing one job has definitely helped his ability to do another: "Since I have been driving in rallying I think I have improved my racing, because when I slide the car on a race-track it is so easy compared to rallying.
"In rallying, you slide all the time between rocks, trees and holes in the ground. So you learn to expect it. I think racing helped me in rallying and rallying helped me in racing. For me doing both is just perfect.
"I'm pushing all the time to drive the rally car. I have done a lot of testing and they gave me this opportunity to see what I can do here. It's a small programme, but I hope it leads to more."
Over the past two years, unquestionably Sarrazin and the 908 HDi FAP have both achieved new levels of potential. Along with Pedro Lamy, Stephane won three races in 2007 and took his first major international title when he became the Le Mans Series champion. And, although his Peugeot stablemates Nicolas Minassian and Franck Montagny may disagree, Sarrazin was arguably the quickest of the French manufacturer's prototype driving squad in 2008, winning two more races and taking three pole positions.
Moreover, his remarkable 3:18.513 pole time at Le Mans was some eight seconds faster than his own mark from the previous year.
That Sarrazin was unable to translate that speed into the fulfilment of a lifelong dream left him with a barely-disguised and certainly unresolved anguish - mirrored by the entire Peugeot team last summer - following a humiliating defeat at the hands of Audi. You sense that winning Le Mans in 2009 is most important to him, if not only to delete the negative emotions of last year.
"We want to win Le Mans with Peugeot," says Sarrazin. "Since last year we have worked a lot on the reliability and to improve the car, the tyre changes with the mechanics. So I think we will be stronger this year but at Le Mans you never know if you are strong enough.
"Audi are so strong, they have won for the last 10 years, so all we can do is our best with the drivers, engineers and mechanics and we will see."
To win Le Mans, you don't just have to beat your competition, you have to triumph over the event. This is something Peugeot learned the hard way last year. As rain fell before dawn, the illusion of dominance faded to reveal an insurmountable traction control problem, giving Audi's Kristensen, Allan McNish and Rinaldo Capello an unforgivable, irresistible opportunity to pounce.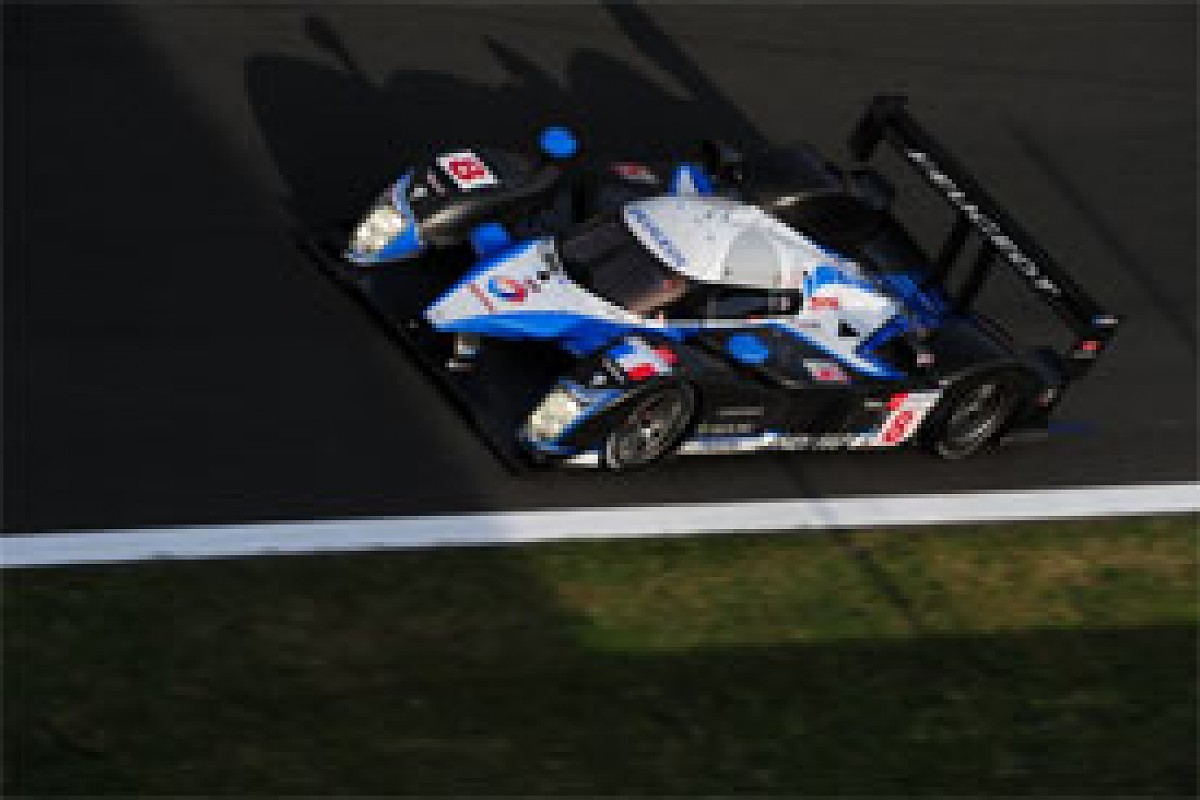 At the 2008 24 Hours of Le Mans in a Peugeot 908 © LAT
"Last year, we learned that Le Mans is never easy," explains Sarrazin. "Le Mans decides who will win, it's impossible to control the race. It is also difficult to race against Audi because their level is so high, so we need to improve ourselves and I need to improve myself as well. I need to be fitter, to be faster, and to learn to eradicate mistakes.
"We had a problem with the traction control in the wet at Le Mans. But afterwards we worked a lot on this and tested for miles in the wet. Now we are much better I think. Now we need to prove it in the race."
Peugeot will start this year's Le Mans 24 Hours as favourites. After all, the 908 is in its third year of development, and its two most likely rivals, Audi's R15 TDI and the recently announced Aston Martin project, are new cars.
But that doesn't mean they can slacken their efforts, and for this reason Sarrazin is hoping that when Peugeot announces its motorsport programme for the year, in Paris next week, the Sebring 12 Hours will be on the list.
"I hope we do it," he says. "It will be amazing. Sebring is one of the best races after Le Mans. The ambience is fantastic. The track is perfect for a driver, it is difficult, bumpy, the walls are close and it is very fast.
"Last year we were very fast. We had some problems with reliability but we expected that. We went there just to prepare for Le Mans, but this year I hope we go for the win."
In many ways, the 2009 race at La Sarthe is Sarrazin's big opportunity. That moment when he has 'pushed the limits of his parameters' to a point where he can genuinely mark his name in history alongside the greats.
If, finally, it all comes together this June, maybe he really can prove that he is not just international motorsport's jack of all trades, but the master of one.