Five constructors' titles in six seasons, plus drivers' crowns for Nigel Mansell, Alain Prost, Damon Hill and Jacques Villeneuve. If the Williams legend was established in the 1980s, it was in the following decade when the team branded its status as a Formula 1 'big beast'. Consistency was the key, mined from a powerful and long-lasting alliance with Renault's increasingly potent V10 engines, combined with a rich and fruitful collaboration between two of F1's greatest minds: Patrick Head and Adrian Newey.
The deep roots of that bountiful harvest were established during 1991. But ask Head today to reflect on the promise of that prelude season, and all he focuses on is the missed opportunity, the titles that were lost. Before Williams-Renault truly hit its stride there would be a stumble (or three), which was all the matured combination of Ayrton Senna and McLaren-Honda needed to delay an era-defining run of success.
"It was a year when Nigel [Mansell] in the FW14 should have won the championship, but early-season transmission problems, plus not applying team orders and letting Riccardo [Patrese] take points from Nigel, resulted in another title for Ayrton," is Head's typically blunt assessment.
It's accurate, of course, but doesn't reflect the nuances behind the outcome, some of which are entirely forgivable - and some of which remain less so.
The Renault alliance began in 1989, in the wake of the team's split from Honda, subsequent loss of title-winning form and the necessary band-aid of Judd V8 power in 1988. But it was the signing of Newey in the summer of 1990 that provided the spark Williams needed to get back to the sharp end.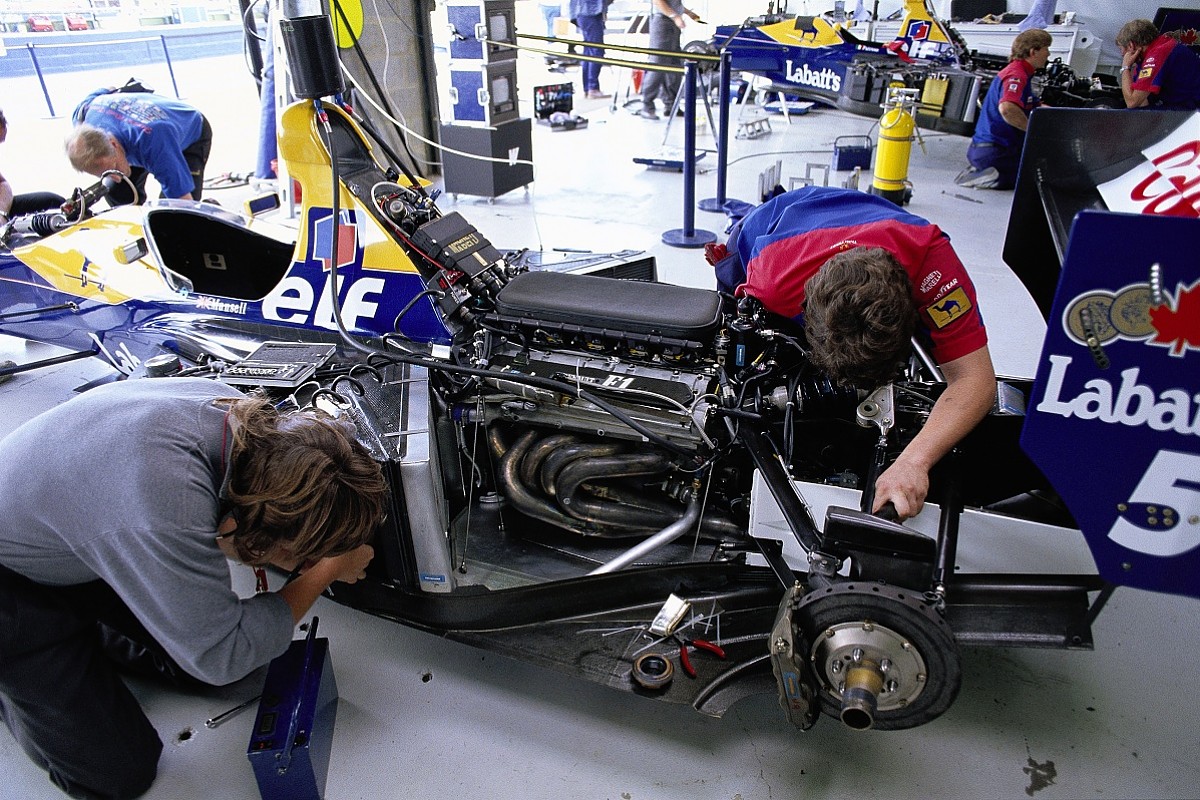 The aerodynamicist had made waves with his striking, shrink-wrapped March 881, but had fallen out of favour at a small team soon to be racked by financial ruin. By the 1990 French Grand Prix, he was at home watching on TV as Ivan Capelli gave Ferrari's Prost a serious fright in the CG901.
Then on the Monday after the British GP Newey started his new job at Williams - just not the one he had signed up for. Head, to his credit, immediately recognised the potential in his new recruit and wasted no time in promoting him from the R&D role he'd been earmarked for.
The transmission would prove a pivotal weakness early in 1991, following limited pre-season testing
"When Adrian arrived, having been sacked by Leyton House, it was clear that he should become chief designer, and I discussed with him what was needed for the engineering hardware of the car," says the battle-hardened technical director.
From the archive: Newey on 1991 F1 car design
In his autobiography How to Build a Car, Newey acknowledges the welcome shock he experienced of joining a team he describes as three times the size of March-run Leyton House, with resources and a technical capability to match. But from the start, he knew even his fierce ambition would struggle to penetrate the management shell created by Head and Frank Williams.
"It was a tight partnership," he wrote. "The team was run as Frank and Patrick's hobby shop, with the pair of them making decisions over lunch."
On the other hand, he relished working with the inspirational Head, admitting: "He was particularly good at forcing me to chase reliability, which in those days was not my forte."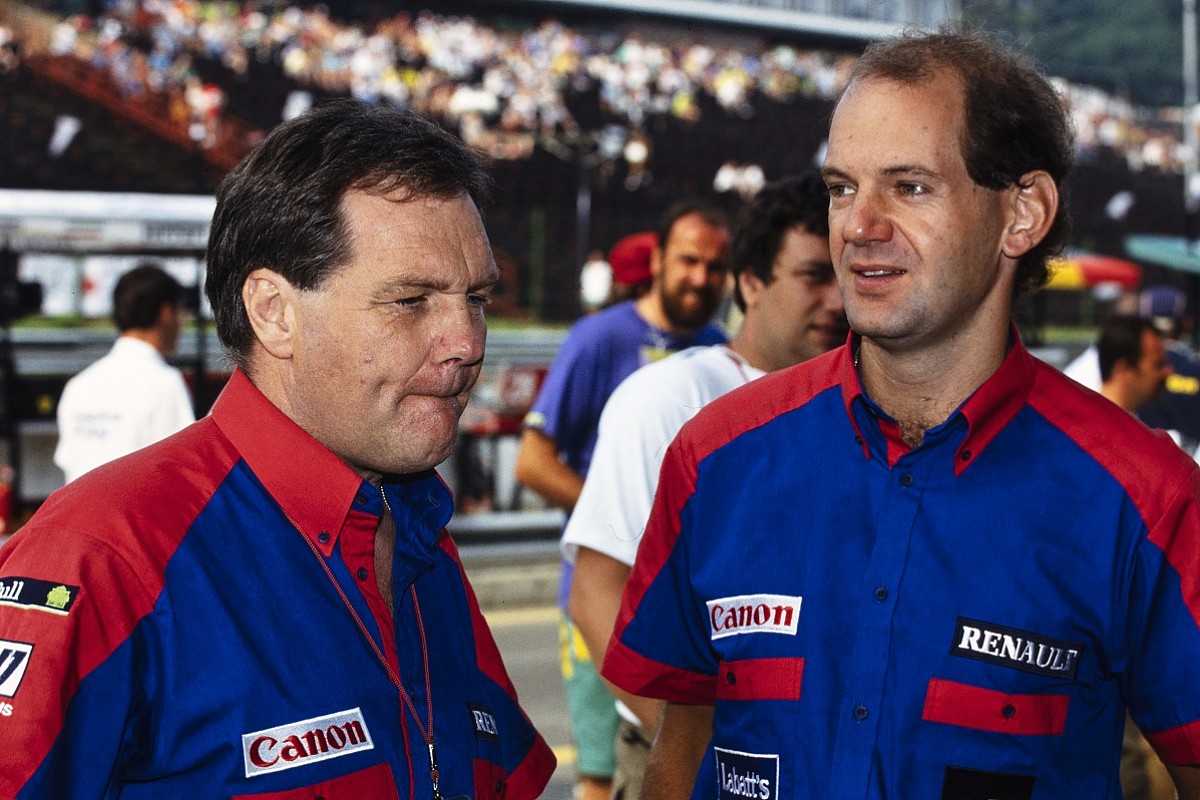 Newey's first job was to develop the current and underwhelming FW13B, gaining early "vindication" by Thierry Boutsen's canny victory at the Hungarian GP.
PLUS: How Hungary's tortoise and hare grand prix was won
But his attention soon turned to FW14. What followed was a direct evolution of his Leyton House designs, although Newey claims he worked from memory rather than official Leyton House IP. Look beyond the liveries and the family resemblance is obvious: the V-shaped chassis, small cockpit opening, the shape of the engine cover, the front wing and its endplates, which he now extended via a turning vane to the back edge of the front tyre, following a "eureka moment" on a rules loophole.
"The FW14 had limited windtunnel testing," states Head, "and was a development of the 1989 Leyton House, using the rear wing from the FW13, and a new front wing."
But in his book, Newey describes a twin-pronged programme, having judged the Williams quarter-scale facility in Didcot "old" and "slow" and preferring a new 40% tunnel at his alma mater, Southampton University. Using both required two sets of aero models, but then Newey never was shy of spending budget when chasing the elixir of downforce.
His biggest problem, as Newey indicated to Head early on, was the shape of the "bulky" Williams gearbox.
"On FW13, the transmission was a transverse, introduced first on the FW12 in 1988," Head says. "In 1989, Ferrari ran a semi-automatic where the gear selection was managed via a pneumatic or hydraulic-powered system, controlled via software. We tested a transmission with a hydraulic-powered, barrel-driven gear selection, controlled via command from the steering wheel.
"Adrian said the test transmission for our semi-auto was not the optimum shape for the aerodynamics, so we tested with the intermediate gearbox on the FW13B, and designed a new transmission, with semi-auto gear selection, but with a shape more suitable for the aerodynamic requirements. This transmission was referred to as TG3, for Transverse Gearbox 3."
How Head grappled with the problem and broke new ground for Williams against the clock impressed Newey. But the transmission would prove a pivotal weakness early in 1991, following limited pre-season testing. Senna, McLaren and the new Honda V12, a direct response to the rising Renault threat, won the first four races, and Mansell wouldn't put a score on the board until he finished second at the fourth round in Monaco. The Brazilian had 40 points, and Mansell just six.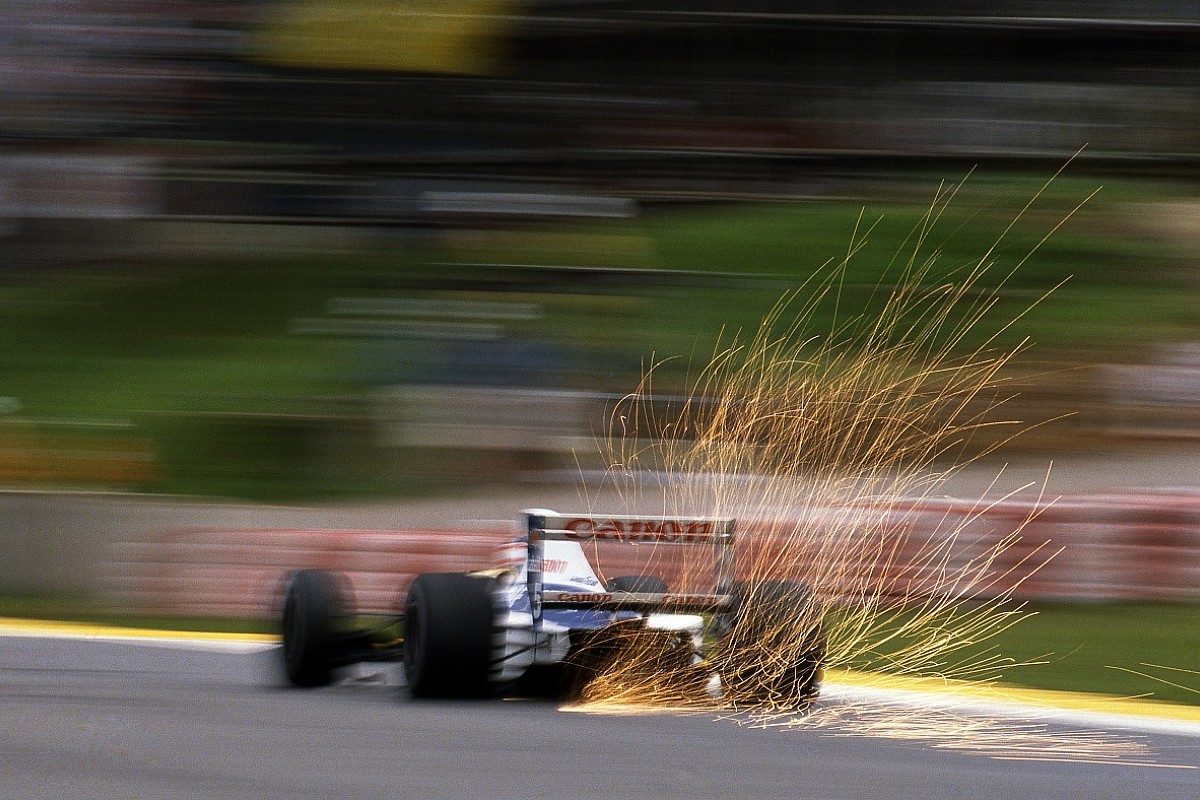 "The first races were blighted by transmission problems, all connected with gear selection," Head acknowledges. "We took far too long to discover the cause, which was due to a lack of positional control once the transmission was warm, very simply solved once the cause was identified by closing tolerances."
PLUS: How Senna won his greatest F1 title
"Patrick realised we hadn't got proper longitudinal support of the shafts," expanded Newey. "They were moving lengthwise, which meant you could end up with dogs engaging even though they weren't supposed to be."
As Mansell showboated by waving to the crowd at the hairpin, he initially neglected to change down and the engine dropped below 2000rpm
But this season was far from dead. The fifth round in Canada offered solid proof that form had swung towards Williams, as the FW14s locked out the front row and Mansell drove into the distance. Senna was already out and Nigel had a 60-second lead when he dropped one of the biggest clangers of his life on the last lap.
At first glance, it appeared the transmission frailty had struck again, but it was not so. As Mansell showboated by waving to the crowd at the hairpin, he initially neglected to change down and the engine dropped below 2000rpm.
"We ran a very small battery on the car, and the voltage had dropped below that necessary to run the engine," Head explains. "When Nigel pulled for a downshift, the engine stopped with the gearbox in neutral, there was no hydraulic pressure and no way of getting another gear. So it was not a gearbox problem per se. After that we ran a slightly larger battery."
Newey was distraught to lose what would have been 'his' first F1 win. But he didn't have long to wait, as Williams scored an impressive 1-2 at the Mexican GP, with Patrese heading Mansell, who was delayed with engine problems. But the Italian's performance was entirely in keeping with his form at this stage as he'd outqualified the Englishman in each of the first seven races. This was awkward.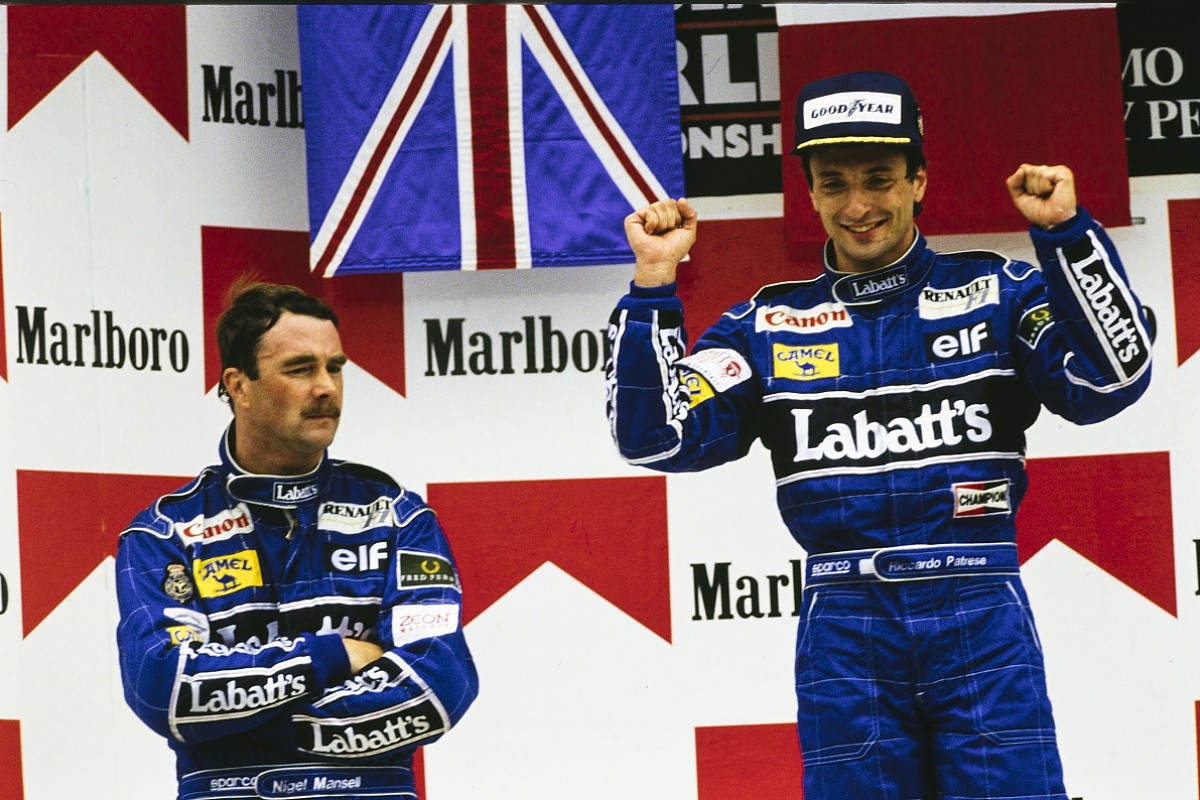 Mansell had returned to Williams after his two seasons at Ferrari with plenty to prove after a troubled 1990. He'd been far from first choice for Frank Williams, whose obsession to lure Senna was already active. Frank had also 'signed' man-of-the-moment Jean Alesi, only for the French-Sicilian to make the biggest mistake of his career by turning his back on Williams in favour of Ferrari.
PLUS: When F1's crazy horse joined the Prancing Horse
As Senna recommitted to McLaren, suddenly Frank needed Mansell - and Nigel needed his old team, if he really was to go back on his 'retirement', announced in a flounce after his Ferrari had let him down at Silverstone. Now here he was getting beaten by an unfancied, if solid, veteran team-mate.
It's notable that Head should indicate a lack of team orders as a reason why Mansell missed out on the 1991 title, at a team that often struggled with the concept. But on this occasion and so early in the season, Williams was surely faultless in allowing the natural order to develop. Patrese's tail was up and it was down to Mansell to find an answer. That he soon did, in emphatic fashion.
Mansell delivered a hat-trick of wins at Magny-Cours, Silverstone and Hockenheim as McLaren lost its mojo, leaving Senna in a blind fury after running out of fuel in consecutive GPs in Britain and Germany.
At the former, Mansell famously stopped on his victory lap to give his old nemesis a lift back to the pits. As Newey recalled, it left Nigel with a (presumably) light-hearted conundrum: "Did I just drive nicely, or accelerate and get rid of him?" he mused...
But never underestimate McLaren - at least back then. Mansell closed to within eight points of Senna after Hockenheim, but a new, more powerful Honda V12 gave the Brazilian the boost he needed for a much-needed win in Hungary, where Newey recalls McLaren personnel arriving with lots of new parts in bubblewrap.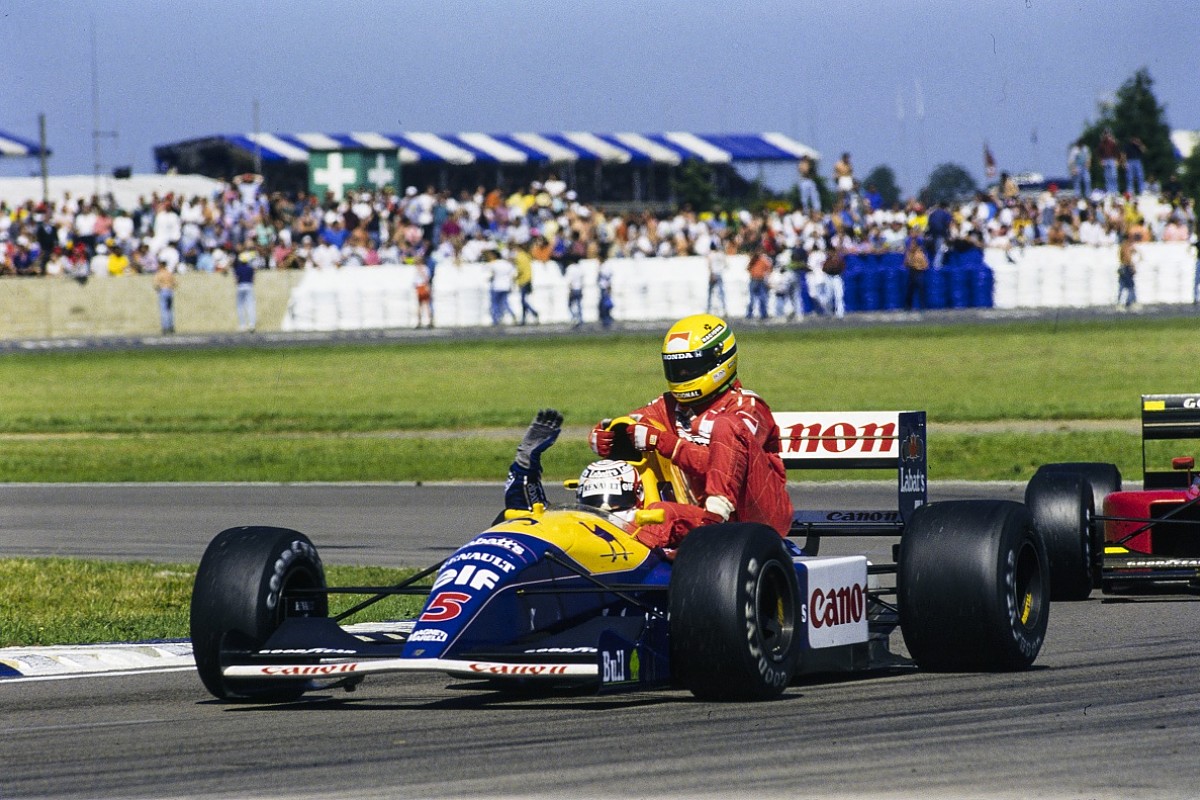 Senna won again at Spa, but only after Mansell had lost a seemingly comfortable win because of an engine control unit problem and Patrese suffered transmission gremlins - more dropped balls from Williams.
PLUS: The V12 experiment that yielded Senna's final F1 title
Even so, Mansell passed Senna to win well at Monza and now the points gap had closed once more, 77 playing 59. Then came Portugal, where the wheels really came off the title charge - or at least one of them did.
Patrese had the upper hand at Estoril, but Williams sensibly called team orders this time to gift Mansell the advantage, only for finger trouble at the pitstop to leave his right-rear Goodyear bouncing away as he accelerated. The Williams crew rectified the blunder, but outside their designated pitbox, leading automatically to disqualification. Patrese picked up a deserved win, but you could argue that second-placed Senna was the real winner.
Both team and driver had contrived to blow their hard-earned edge, and for Head it still rankles
Still, this increasingly remarkable duel was not yet over. Mansell hit back in Spain at the new Circuit de Catalunya, memorably racing wheel to wheel with Senna down the long main straight. The McLaren driver was strangely subdued that day on his way to fifth place.
But when it counted at Suzuka, it was Senna's nerve that held and Mansell's that faltered as the Williams lamely understeered into the gravel early in his chase for the lead. Had the title been lost right there? Or was it in the pitlane at Estoril? How about Mansell's faux pas in Montreal? Critics could also point to unreliability at Spa, or the string of early-season transmission troubles. The truth is, both team and driver had contrived to blow their hard-earned edge, and for Head it still rankles.
But the deficiencies and mistakes were about to be ironed out, and then some. Away from the races, test driver Damon Hill did the hard miles on clever new innovations focused solely on the following season.
"The car was little developed during 1991, as it was clearly faster than all the others," says Head. "Towards the end of the year we produced an active-ride version, FW14B, and took it to the last GP in Australia, where it practised but did not race.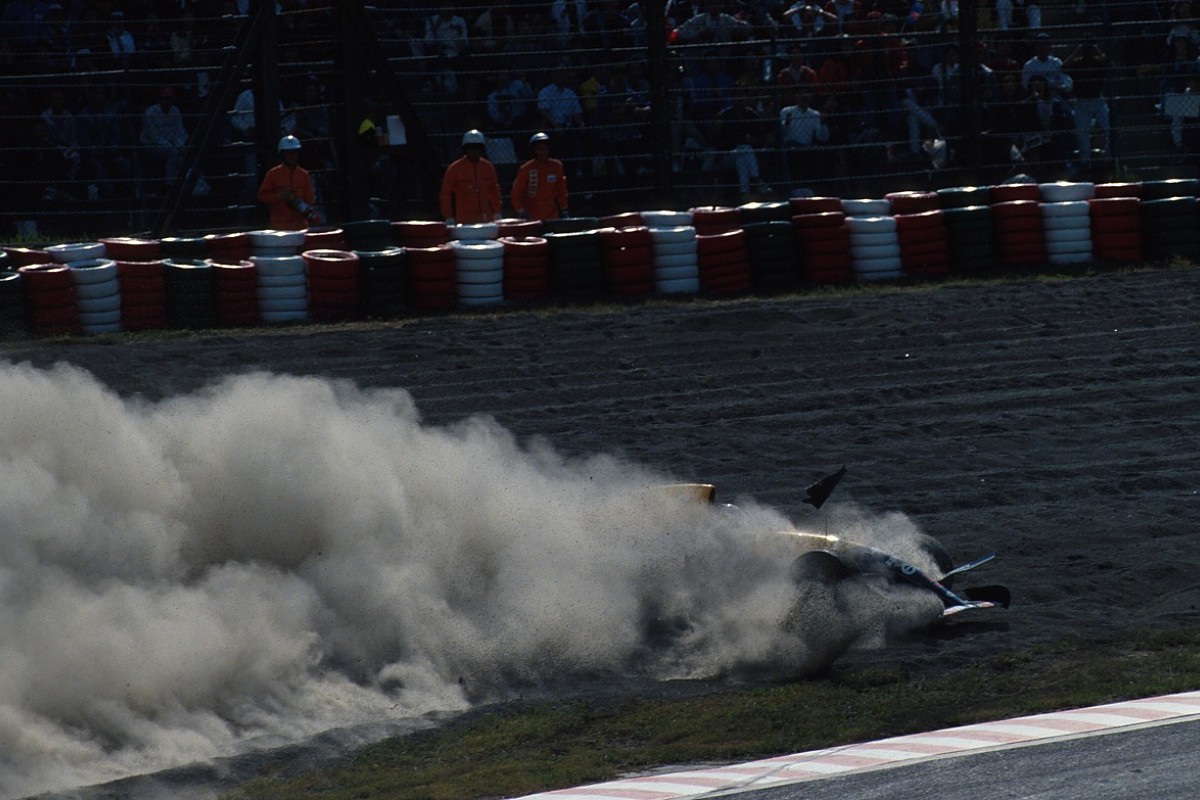 "We were concerned about being 'too clever by half' in 1992, racing a much more complicated car and losing another championship due to poor reliability. So we put much effort into ensuring that the system and the car was reliable, which it was - and the 1992 championship was secured."
As Newey put it: "Evolution is often the key once the spark of a good direction has been set."
The 1991 season achieved exactly that. Yes, Senna had won, but the score was all too clear for the world champion: he was now at the wrong team, in the wrong car.