World championship history documents an almost seamless span of McLaren dominance between 1984 and 1991, 
a period bookended - coincidentally - 
by McLaren drivers taking their third 
and final world titles: Niki Lauda in 1984, Ayrton Senna in 1991. In hindsight as well as in period, it's tempting to view such long-running excellence as virtually inevitable, a consequence of deep pockets furnishing top engineers and drivers with the best of everything.
As with the current pre-eminence of Mercedes, it's also easy to overlook how challenging it is for a team to maintain that peak. But by the middle of 1990 McLaren was an organisation which, if not in crisis, was painfully aware of how quickly its opposition was catching up, and how much work lay ahead to keep the intensely competitive Senna satisfied he had the best machinery on the grid.
Keeping Senna happy was one of several plates McLaren's designers, and engine partner Honda, had to spin. In 1988, despite Formula 1's impending reversion to naturally aspirated engines, Honda produced an all-new turbocharged 1.5-litre V6 which enabled Senna to secure his first world title after he and team-mate Alain Prost won 15 of the season's 16 races between them.
For the following year it conjured an unblown 3.5-litre V10 which carried McLaren to 10 wins from 16 events, though Prost pipped Senna to the title in rancorous circumstances then took the number-one plate to Ferrari.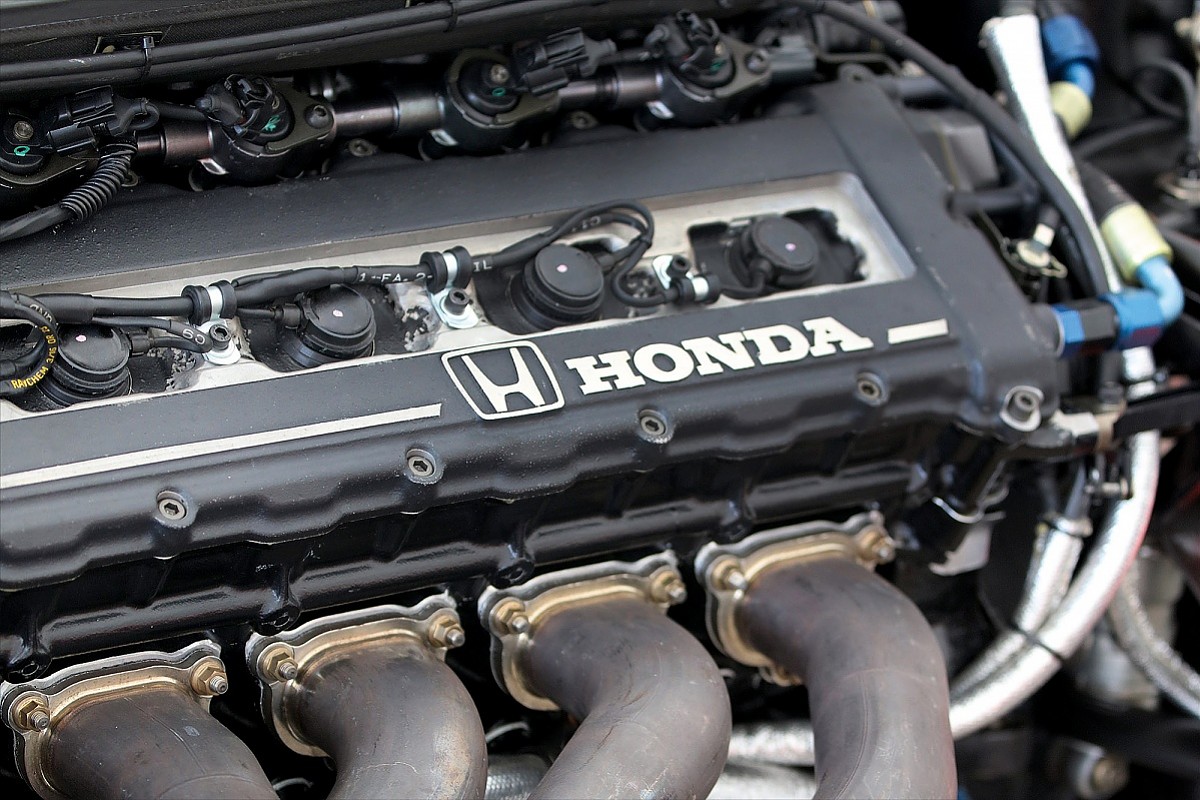 Since the mid-1980s it had indisputably been the case that a car bearing the distinctive Honda insignia on its engine cover enjoyed the most horsepower on the grid. Now, however, the margin was no longer as substantial as it once was. Ferrari won three races in 1989 with the radical 640 and might have won more but for that car's miserable early (un)reliability; and the mighty Williams, following an anonymous and anomalous 1988 season with Judd power, was returning to the front and notching up victories again with a new Renault V10.
There was a feeling too that after the svelte, low-line MP4/4, McLaren's follow-up - the MP4/5 - had succumbed to bloat and had grown reliant on barn-door wing profiles to generate downforce.
In other circumstances these might have been grounds for an all-new design, but that would have to wait. Key engineer Steve Nichols followed Prost to Ferrari and technical director Gordon Murray declared himself fed up with F1's increasingly prescriptive technical regulations. Fearful that if Murray were allowed to 'retire' another team might offer him a big enough salary to change his mind, McLaren boss Ron Dennis greenlit Murray's pet project, the F1 road car, to keep his boundless creativity suitably occupied.
When Senna first tested the MP4/6 at Estoril early in 1991, he emerged from the cockpit palpably unenthused
On top of all this, Honda signalled its intention to find more horsepower by adding two cylinders, dyno-testing a V12 as early as October 1989. The new engine would require a mule car for on-track evaluation, so prudence dictated McLaren contest 1990 with a B-spec of the MP4/5, while chief designer Neil Oatley worked in parallel on the C-spec mule car as well as the definitive home for the V12, the MP4/6.
But while the MP4/5B proved quick enough to win races, it was also a handful and required considerable debugging over the course of the 1990 season, partly because the real-world characteristics of its new, dramatically arched rear diffuser required experience to understand.
Mike Gascoyne, one of the aerodynamicists who worked on MP4/5B before moving to Tyrrell, subsequently claimed he cloned the diffuser design from photos of Mauricio Gugelmin's inverted Leyton House at the start of the 1989 French GP. A new floor and diffuser improved McLaren's car, as did further iterations of the Honda V10, to the extent that Senna questioned the wisdom of the V12 when he first sampled it in the MP4/5C mule car in June 1990.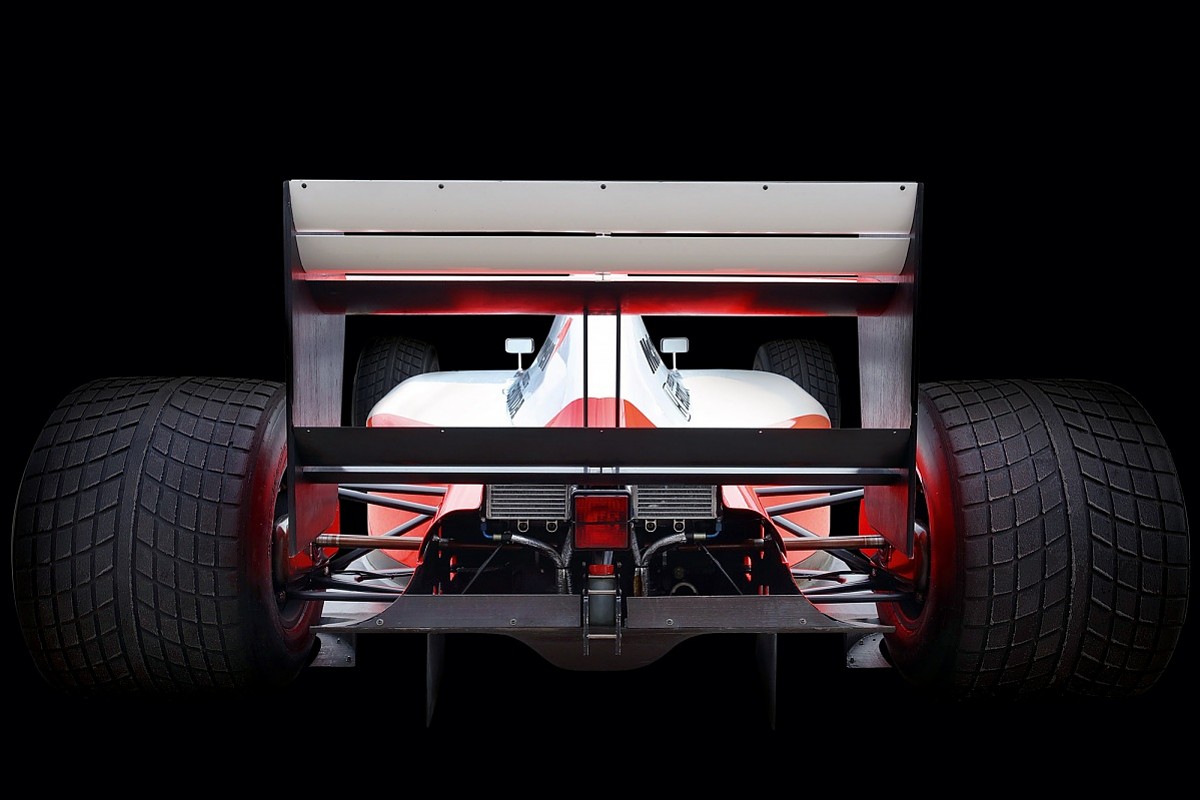 Nevertheless, McLaren pressed on with the V12 car. That summer, Oatley was joined by Ferrari refugee Henri Durand as head of aerodynamics. These were fraught months as Senna's behaviour became almost as irrational as it was when Prost was in situ, and competitive pressures drove him to the absurd lengths of taking Prost out at the start of the Japanese GP.
This provisionally tied up the world championship in Senna's favour but set him at loggerheads again with FISA, a body he believed institutionally biased in his ex-team-mate's favour under its controversial president, Jean-Marie Balestre.
Over the winter Senna headed to the beach, as was his wont, while McLaren completed work on MP4/6. The additional length of the V12 required a new monocoque and a larger fuel tank, for the new engine's theoretical extra grunt came at the price of increased thirst.
As with MP4/5, McLaren deployed a recently introduced high-modulus carbonfibre material which promised greater stiffness, which would be required because the car's overall length grew by 4cm. While the overall shape of the car, including the nose treatment and the sweep of the engine cover, was broadly similar, the cooling architecture had to change to suit the requirements of the V12, dictating a new sidepod profile and external ducting.
In tandem with suspension geometry changes, the springs and dampers at the front were now pushrod rather than pullroad-actuated, and packaged in a style similar to Ferrari's, lying almost horizontally along the nose. This enabled the low-line nose treatment to be retained while providing a roomier cockpit for the drivers, which was a priority since Gerhard Berger, Prost's replacement, found the MP4/5B's accommodation too cramped for his frame.
When Senna first tested the MP4/6 at Estoril early in 1991, he emerged from the cockpit palpably unenthused, telling reporters, "I don't know what they [Honda] have been doing. There is not enough progress and not enough power."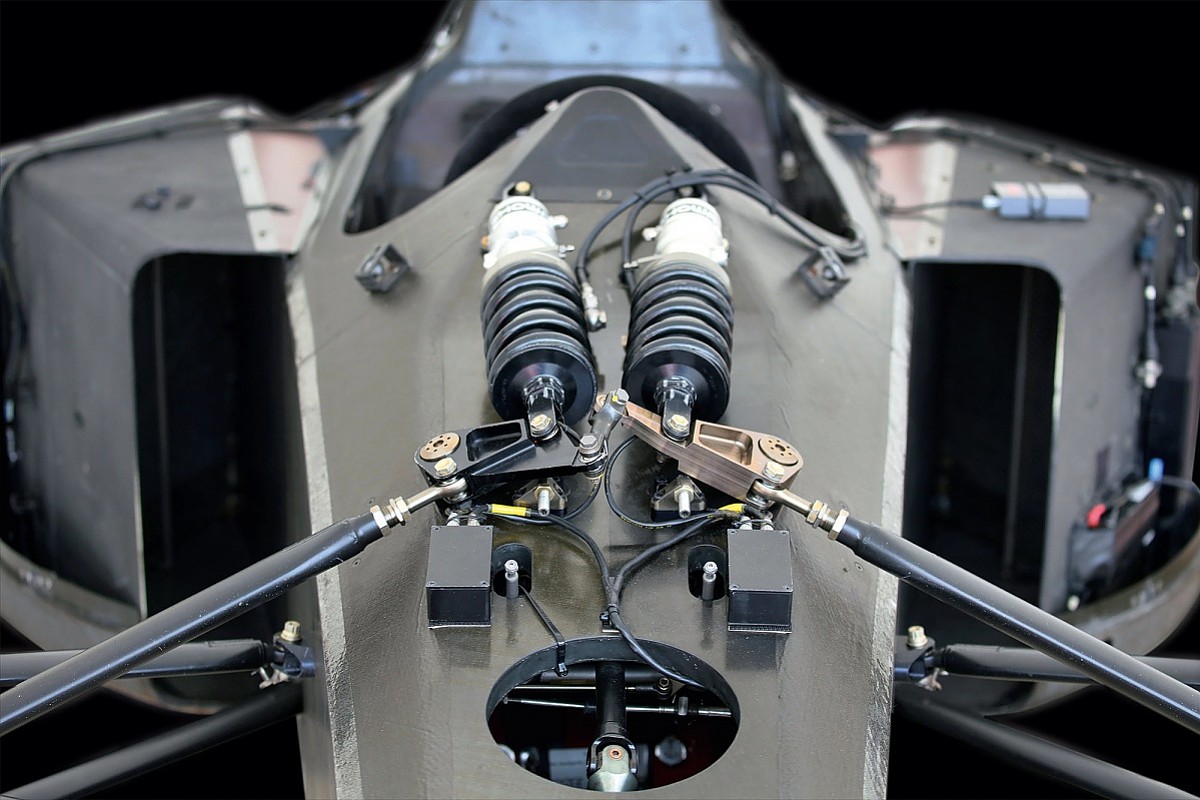 Although its overall displacement was virtually identical to the V10, and its cylinders were inclined at a narrower angle (62 rather than 72 degrees) the RA121 V12 occupied more real estate within the car and required larger, heavier radiators to cope with the increased heat rejection which came with a higher theoretical rev ceiling.
The block was 50mm longer at 670mm, on account of Honda reducing the diameter of the cylinders by just 2mm (from 92 to 90) while slashing the stroke from 52.5mm to 45.8mm. It's hardly surprising, then, that on initial acquaintance Senna's right foot detected what felt like a lack of grunt: short-stroke engines tend to have a user-unfriendly torque curve and an appetite for high revs.
The new RA121 was no heavier than its predecessor, at 150kg, on account of the V12's better resonance characteristics enabling Honda to delete the balance shaft required in the V10. But in testing, rivals performing acoustic analysis to determine how high the various engines were revving noted a curious anomaly: the RA121 appeared to be peaking at 13,000rpm, while its predecessor had reached 13,800 during 1990.
"Honda are working hard to improve the engine but the Williams chassis is much better than ours. If we don't get some new equipment then we're going to have trouble on our hands" Ayrton Senna
Honda appeared to be shielding its new engine from public failure by running it in a conservative state of tune. Scant wonder Senna was raging; it's unlikely the V12 was achieving the claimed 720bhp, while the final iteration of the V10 had been good for 690bhp.
Behind the scenes, Honda redesigned the engine to achieve a bore/stroke ratio of 86.5mm/49.6mm (according to engineering papers released after the company's withdrawal from F1), introduced during 1991 as the "Version 3" unit seen in the car photographed here.
While Ferrari's pace in testing was ominous, from the first race its 642 proved to be obligingly poor, such that the Scuderia introduced a new car mid-season - which was little better. But Williams now had a chassis designed with aerodynamic genius Adrian Newey's input allied to the new Renault RS3 V10 engine. The FW14 was the class of the field in 1991, but problems with the semi-automatic gearbox along with a handful of unfortunate on-track incidents cost Nigel Mansell and Riccardo Patrese dearly in the early races.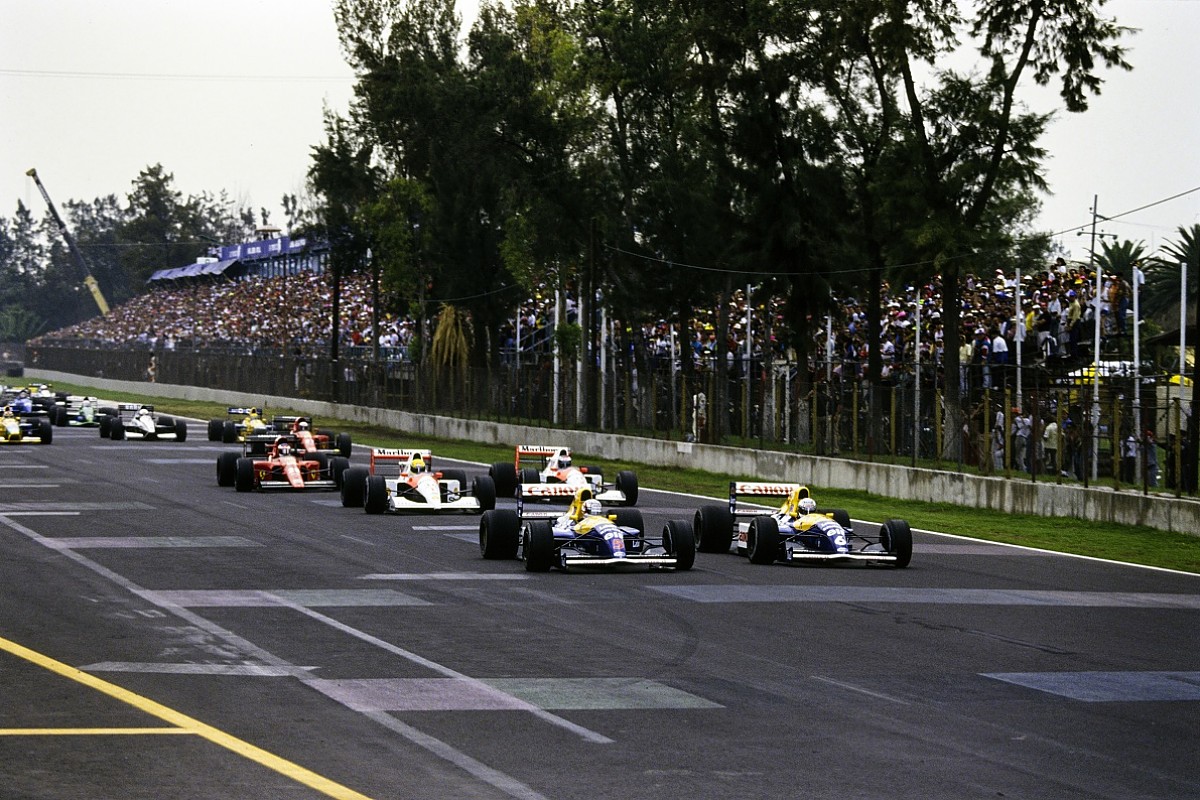 Senna was therefore able to bank victories in the first four races of the season, including his first on home soil in Brazil, where he lost most of his forward gear ratios and was so exhausted by the effort he had to be lifted from his car.
Mansell then threw away a winning position in race five, Canada, by waving to the crowd on the final lap and missing a downshift, stalling the engine. With 11 rounds to go Senna led the championship with 40 points while Mansell had scored seven - but the balance was about to change, and Senna knew it.
PLUS: How Senna won his greatest F1 title
"The Williams is now very quick indeed," Senna told reporters. "It's very hard for me to keep up the rhythm. Honda are working hard to improve the engine but the Williams chassis is much better than ours. If we don't get some new equipment then we're going to have trouble on our hands."
A revised induction mechanism introduced at Monaco had failed to address Senna's misgivings and, after parking his MP4/6 on its roof while trying to take the notorious Peraltada corner flat out during qualifying for the Mexican GP, he is said to have let rip at Honda's trackside engineering chief Akimasa Yasuoka: "You are losing me the world championship." Patrese annexed pole in his FW14 and headed a dominant Williams 1-2 in the race, while Senna finished more than 57 seconds adrift.
More potent fuel from Shell, and the introduction of the Version 3 engine at Silverstone, enabled the RA121 to deliver on its claimed power and pass the 14,000rpm threshold, but the new fuel suffered teething problems in the form of inaccurate cockpit read-outs which forced Senna to back off at Paul Ricard. He ran out of fuel at Silverstone and Hockenheim - on the last lap. All the while Mansell was gaining ground.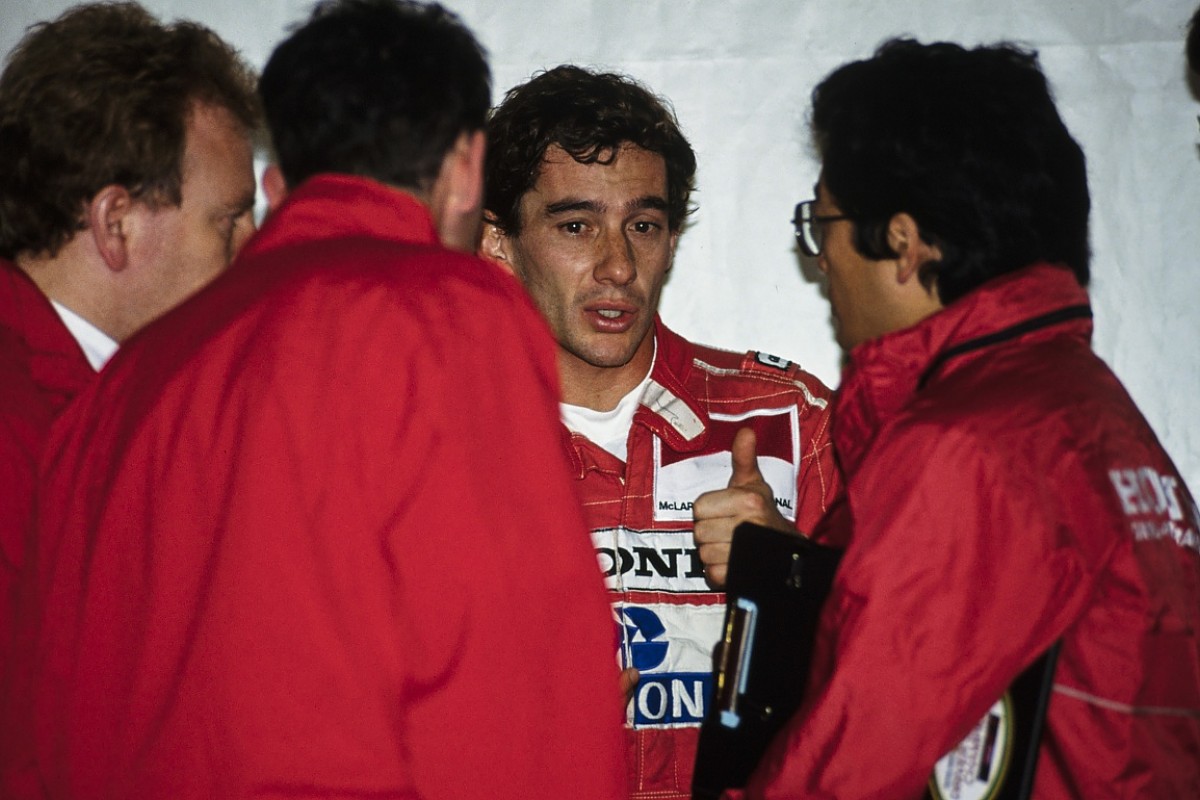 McLaren had also been chipping away at the perceived shortcomings of the chassis, introducing a variable ride-height system and revised suspension linkages. But this wasn't enough for Senna and in Hungary, despite the arrival of lighter cylinder heads, he gave his engineers the hairdryer treatment once again. He then set pole and won the race, which prompted him to issue an apology.
Appropriately, after Honda's labours, the drivers' title was settled on the engine supplier's home soil. It was the first world championship for a V12 engine - and it's likely to remain the only one
Senna won from pole again in Belgium, where Mansell retired, and although Mansell won in Italy Senna crossed the line second. That gave Senna an 11-point cushion, which increased when Mansell was disqualified in Portugal after a pitlane blunder by the Williams crew.
Despite winning in Spain, Mansell was running out of races to make up the deficit and, when he spun out of the Japanese Grand Prix, Senna had the championship so far in the bag he was able to donate victory in the race to Berger.
Appropriately, after Honda's labours, the drivers' title was settled on the engine supplier's home soil. It was the first world championship for a V12 engine (though Ferrari's flat-12 was essentially a flattened vee rather than a true 'boxer') and it's likely to remain the only one.
McLaren entered a B-spec of the MP4/6 in the opening rounds of 1992 but the active-suspension Williams FW14B was utterly out of reach, and V10s would now become de rigueur for over a decade.
Race record
Starts: 36
Wins: 8
Poles: 10
Fastest laps: 5
Podiums: 11
Constructors' championship points: 148
Specification
Chassis: Carbonfibre monocoque
Suspension: Double wishbones with inboard pushrod-actuated coil springs over dampers
Engine: Honda RA121E V12
Engine capacity: 3497cc 
Power: 720-760bhp @ 13500-14500rpm
Gearbox: McLaren six-speed manual
Tyres: Goodyear 
Weight: 575kg
Notable drivers: Ayrton Senna, Gerhard Berger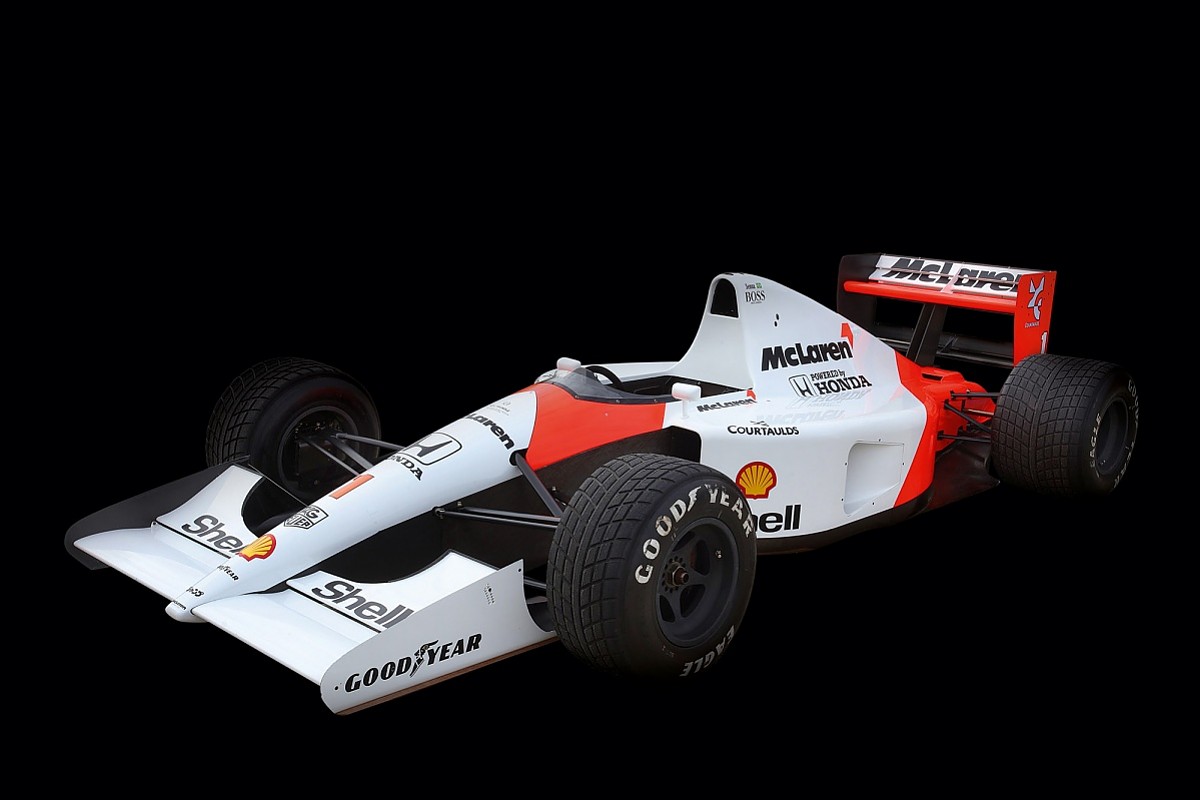 ---
This article first appeared in GP Racing magazine.
Subscribe to GP Racing today