Following Ferrari's title near-miss with Alain Prost in 1990, after Ayrton Senna's professional foul at Suzuka, star rookie Jean Alesi stepped up to the big time from Tyrrell to join fellow countryman Prost at the Scuderia for 1991. But instead of serving up further success, Ferrari dished out political disarray, technical disorder and tifosi disappointment.
The Senna/McLaren-Honda axis hit its heights that season and Ferrari refugee Nigel Mansell revelled in leading an ascendant, if fragile, Williams. At Ferrari, Prost went winless for the first time since his rookie F1 season and would be fired before the year was out. Alesi's rising star was clouded out of sight - although he would certainly have won at Spa-Francorchamps but for yet another engine failure.
But why was he even at Ferrari? In early 1990, Alesi signed a Williams contract for 1991 through to 1993. But there was one snag: the contract he'd signed had an option clause (on Williams's side) that ran to September. If Williams didn't make the deal public by then, it wouldn't happen.
Renault (which paid the drivers' salaries) was playing hardball with Sir Frank behind the scenes, tantalised by the prospect of snaring Senna away from McLaren. In turn, Williams and Renault passed the pain on to Alesi, as promises came and went about when their deal would be cemented.
Alesi became increasingly frantic as the summer wore on that his shot at the big time could be snatched away. "It was a very bad situation, it was very uncomfortable for me," he reflects today.
Despite his friend and advisor Eddie Jordan's help in the matter, Alesi had reached the end of his tether. Having begged Frank to "please make it happen" at the British Grand Prix, Ferrari's overtures became stronger, requiring a replacement for the supposedly 'retiring' Mansell. Ultimately, Alesi snapped, handed over his pile of contracts to Ferrari and said, "please sort out the situation for me".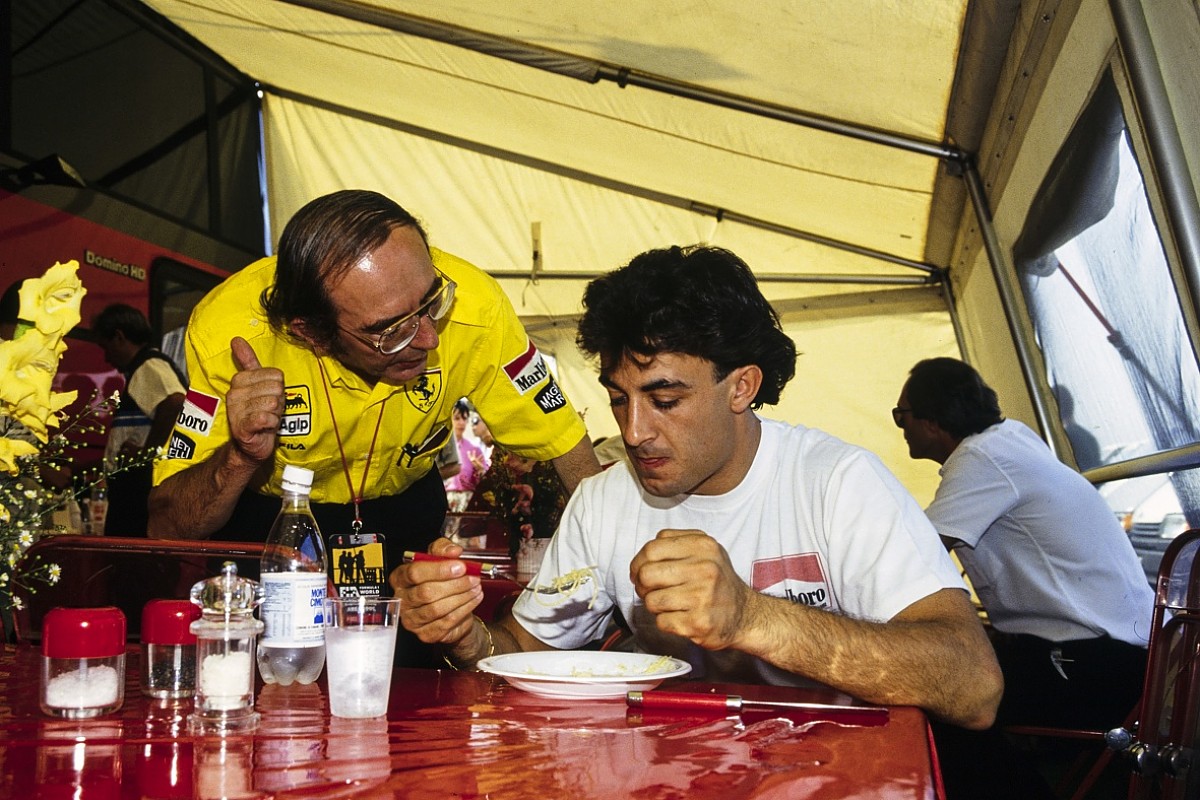 Ferrari team manager Cesare Fiorio got his man. It's unbelievable to think now, but Fiorio had gunned hard to sign Senna during the 1990 season to partner Prost for the following season (long before Suzukageddon) only to be thwarted by his president Piero Fusaro, who'd blurted the plan to Prost with predictable results...
Despite not even sitting in a Williams, a release fee for Alesi's contract was paid - Williams also famously received a 1990 Prost F1 car for its museum! - and the Frenchman would be in red not blue for 1991. In hindsight, it was not the best career move ever made, as Williams-Renault truly hit its stride in subsequent years. Instead, it gave Alesi something else he craved: it satisfied his racing soul.
"People often ask if I was correct to say no to a world champion team," he says. "First of all, I have no regrets over what happened. What I lived with Ferrari, the time I spent with them, it was magic.
"I felt like my position was like Gilles Villeneuve - I was always free to push. Nobody was waiting for my results, I was there to drive hard and deliver fun to all the fans" Jean Alesi
"I really believe what I'm saying: I think a driver is best remembered for keeping his fans happy. This means so much more to me than having more trophies in my living room at home. For sure, I lost a lot of great results with [not joining] Williams, but what I got instead was special and magic for me. I have zero regrets."
Despite the huge step from midfield minnows Tyrrell to the might of Ferrari, Alesi says the switch from Ockham to Maranello felt right.
"The difference between Tyrrell was night and day in terms of facilities," he says. "But the spirit within Tyrrell was just like Ferrari. From team bosses to mechanics, everyone was very passionate. Ken and Nora [Tyrrell], they were fantastic with me. The trust I felt from them meant everything to me, and I held it throughout my F1 career. They were a wonderful and beautiful couple who I will remember forever."
And what of the burden of expectation from the tifosi? Alesi simply laughs that off: "I was just having fun! Alain had all the pressure, so he was in charge of bringing the world championship back to Ferrari, not me.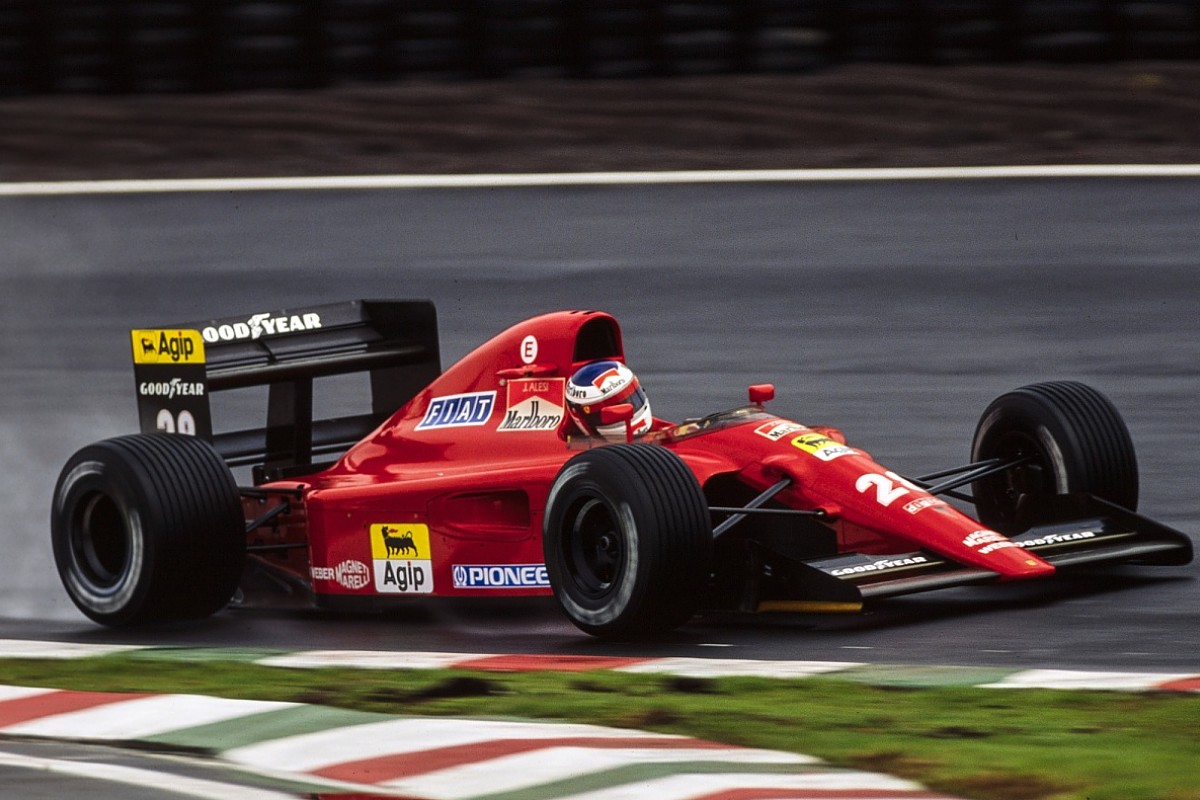 "For me, I felt like my position was like Gilles Villeneuve - I was always free to push. Nobody was waiting for my results, I was there to drive hard and deliver fun to all the fans. And they seemed delighted for me to be racing for Ferrari. And I was pleased to perform for them."
Ferrari entered the 1991 season with high hopes, and pre-season testing had gone well. Alesi topped the Friday times for the Phoenix street race season opener, but the streets on which he'd dazzled the year before in the nimble Tyrrell were not so well suited to his 642 chassis - which was only a small-stepped development of the 1990 car featuring a more powerful, yet less driveable, V12 engine.
PLUS: The spectacular peaks and troughs of Ferrari's cyclical history
"We spent a lot of time in Mugello, which Ferrari had bought, and we made a lot of the developments there," he says. "The main problem we had was the electronic diff. It was so complicated to set up. At Mugello, we knew exactly what to do, and the reliability was excellent. But when we arrived in Phoenix, the car was absolutely undriveable on the bumps and in the corners. We faced our first problems right there and reliability-wise it also turned into a bad season."
Before his gearbox broke, Alesi somehow set fastest lap in Phoenix, while Prost salvaged second position - which would stand as his best result of the season. Alesi adds: "The car was very unpredictable. We had very primitive sensors at the time, and the diff would lock in an unexpected manner, which made it very difficult to drive.
"After 1990, where Alain only lost the championship at Suzuka, we started 1991 with the same base car, same spec. We were supposed to be very competitive, but everyone was very, very disappointed by what happened."
One problem he didn't face was any issues from the other side of the garage. His relationship with Prost was quite the opposite of his compatriot's fractious partnership with Mansell. The plain fact that he wasn't Senna likely helped too...
"Maybe it was because we were from the same country, but Alain, for me, is the master," says Alesi. "All his racing life, he was the Professor. He was the only team-mate I ever had who didn't try to pull something tricky behind my back. He was absolutely open. At the time, I didn't really understand why, but now I realise his driving style, or if you tried to follow his set-ups, it was so different from what I wanted from the car.
"So, he had nothing to hide. If I followed what he was doing, with my driving style, I'd go in the wrong direction. He was a great team-mate though."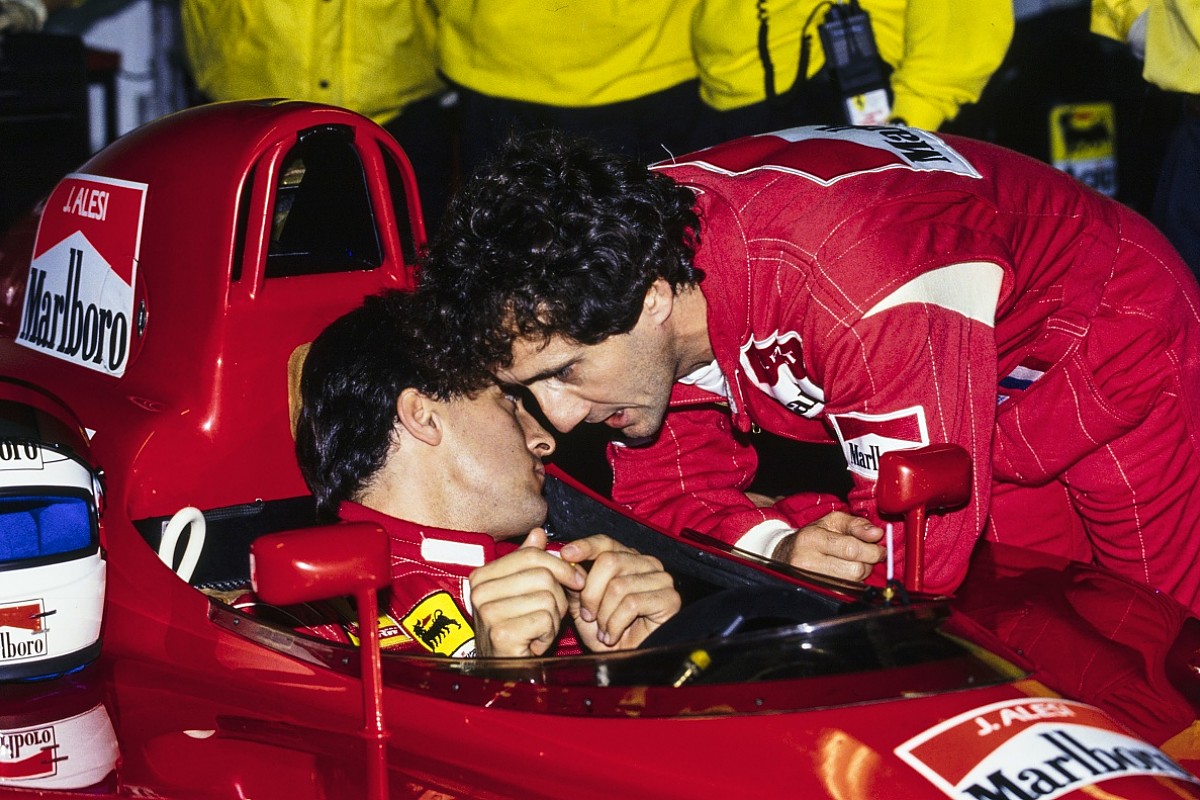 Alesi scored his first Ferrari podium on the streets of Monaco. However, even this didn't go according to plan, as he qualified down in ninth - his worst starting position of the season. Adding insult to injury, his fastest time was over a second slower than Stefano Modena in 'his' old Tyrrell, now fitted with a Mugen-Honda V10.
After chuckling at being reminded of this, he admits he was "shocked" by just how bad the Ferrari was around the streets of the principality, where he'd starred the year before in the Cosworth-powered, 'Stuka-winged' Tyrrell 019.
PLUS: The "completely mad" nose job that transformed F1 design
"It was a long car, a very lazy car, and my driving style was fighting as much as I can to fly around the streets, but the car was not responding as I wanted," he says. "The team said, 'forget about qualifying, just bring the car home' and somehow I managed to score a podium. But, honestly, I was so disappointed about the performance of the car."
"The steering was so very heavy, we had no power steering, and Alain really began to struggle with the car. And after no results, he exploded in Suzuka!" Jean Alesi
At least he didn't get lapped, unlike fifth-placed Prost who had suffered a long pitstop. The penny finally dropped at Maranello, so a new chassis - the 643 - was rushed out in time for the French Grand Prix. Jean-Claude Migeot - with whom Alesi had worked at Tyrrell - revamped the car's aerodynamics but it still lacked the potency of the McLaren and Williams.
"He added some downforce," confirms Alesi, "and it certainly didn't make the car any worse - but we were still well below the [development] rate of the other top teams. I had a very stiff front end on my car, and we introduced the Belleville packers, which solved some of the handling problems.
"But this did not help Alain, in fact it was creating some issues for him that led to him getting fired. The steering was so very heavy, we had no power steering, and Alain really began to struggle with the car. And after no results, he exploded in Suzuka!
"Alain already understood after three or four races that he had no chance of winning the championship. It was already too much for him, you know? But it still came as a shock for me when they told me he was fired."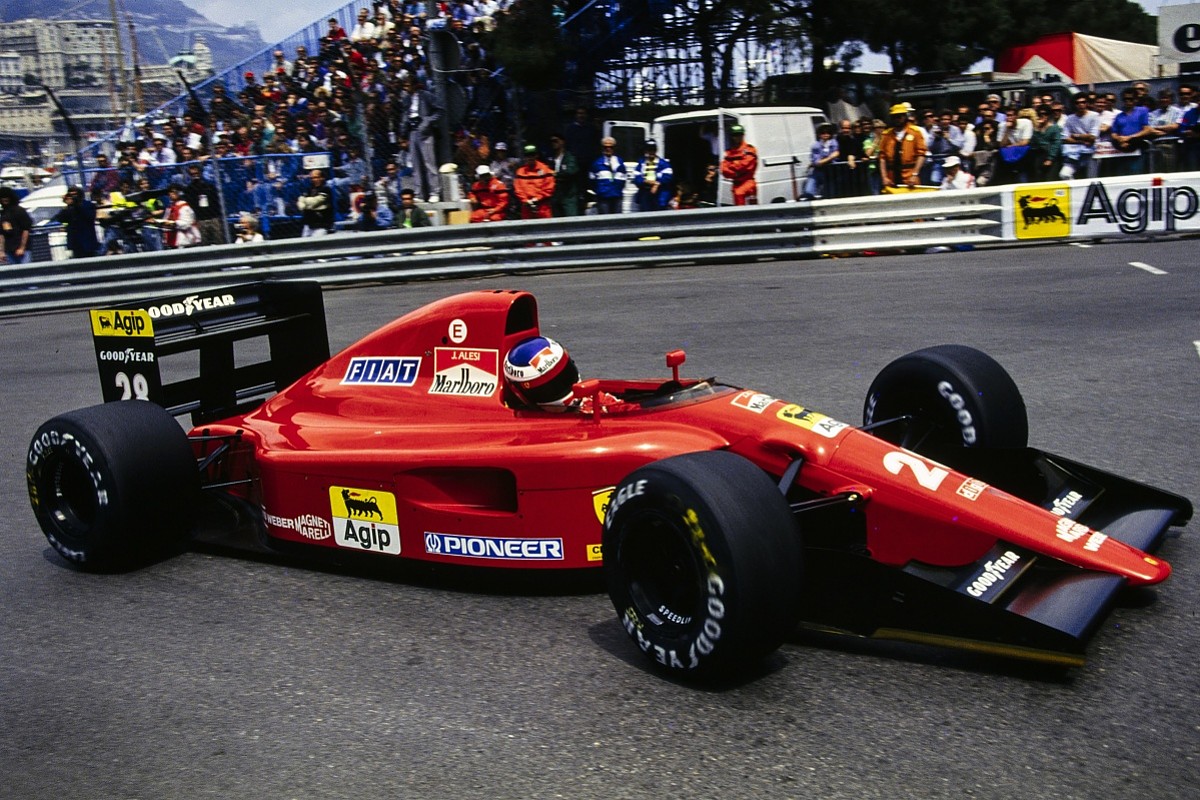 Already gone was Fiorio, who walked mid-season as Ferrari's political machine spiralled out of control.
"He [Fiorio] was absolutely amazing in the details and he had a huge passion to try and make the team win," opines Alesi. "But the politics inside Maranello were just so big, and when he was fired, he was just paying the price of decisions made by people at the top. It was just too much."
One added bonus of the mid-season updates allowed more strategic flexibility - the car loved Goodyear's hard B-compound tyres and could make them last for extremely long stints. It even opened the door to non-stop races, which appeared to be working out perfectly for Alesi in Belgium...
"That was supposed to be my first win in F1," he rues. "Before I blew up the engine, I was leading because I didn't stop [for tyres] because I was using the very stiff compound. Ayrton was behind me, but Mansell was already out of the race, I passed him just before he stopped. Senna was just racing for the points for second position [he was 11s behind Alesi when he inherited the lead with 14 laps remaining]. He was not trying to chase me down.
PLUS: How Senna won his greatest F1 title
"Suddenly my engine blew up. We had problems with the valves. We had seven gears, but we had to use maximum revs to get the best power from the engine. We'd only use six of the gears early on, the seventh was a kind of overdrive to keep the engine safe. But even that wasn't enough; we always had these valve problems."
Mechanical failures were a thorn in Alesi's side all season, accounting for six of his nine non-finishes, but he holds his hands up to many self-inflicted failures, too, such as in Mexico where he'd been battling hard with Senna and Mansell until spinning.
"I was just pushing as hard as I could," he says. "I was fighting with Nigel when I just made a mistake, lost the rear and it was a terrible situation. That was the worst part of myself when I was young."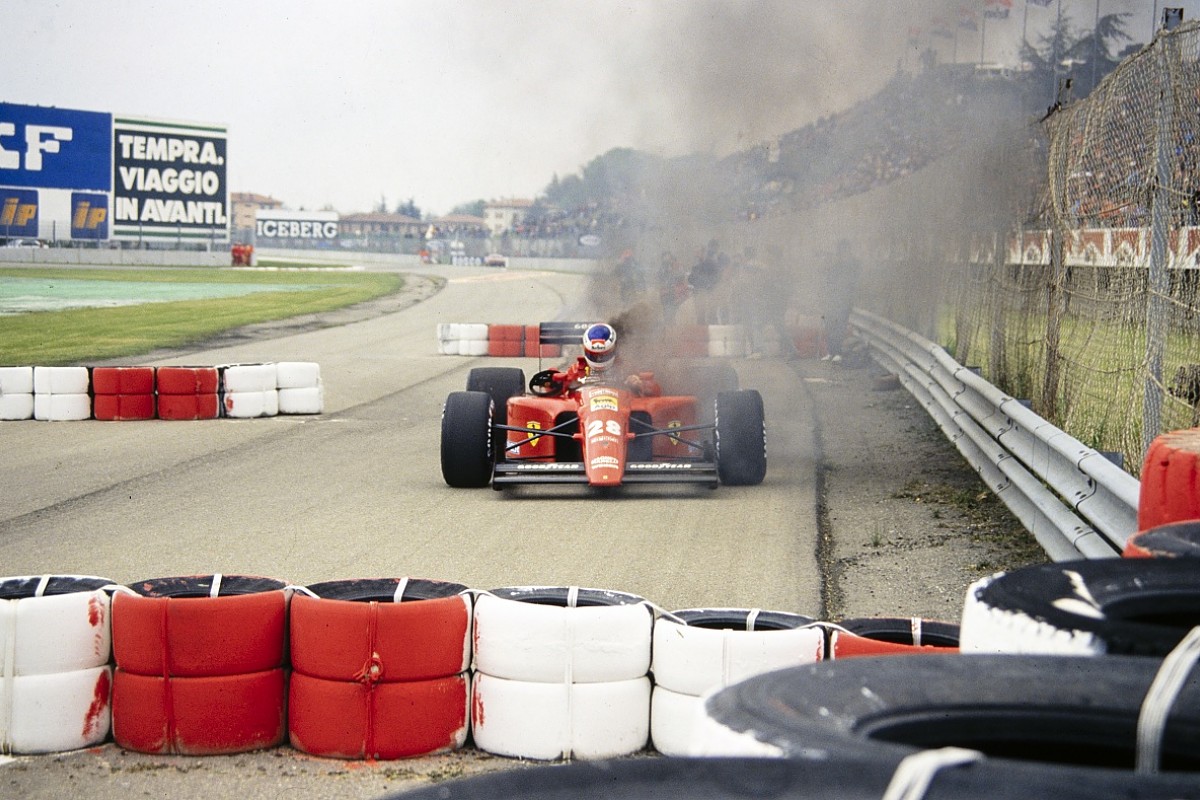 Alesi's other podiums arrived at Hockenheim and Estoril, the latter featuring a "totally mad" pitstop.
"We had no speed limit in the pits, and the speed we'd carry into the stops was very high," he recalls. "On this occasion, I almost lost the rear under braking, it was a huge moment for me, but I just managed to get into the pit station without hitting anyone!"
Another big missed opportunity was at Silverstone where, after dropping to ninth on the opening lap while avoiding the consequences of a clash between Gerhard Berger's McLaren and Riccardo Patrese's Williams at Copse, the #28 Ferrari surged up to third with a sequence of brilliant passing moves at Priory corner - lunging from way behind the likes of Roberto Moreno's Benetton, Prost and Berger.
"The respect I got, driving for Ferrari, from the fans was huge. Despite the lack of results, I hold this as a great souvenir - I had the best time of my life at Ferrari" Jean Alesi
"We were starting the races with 200-kilos of fuel, so the car was very heavy," he says. "Alain was always very careful in the opening 10 laps, but not me! I was pushing like every lap was my last. I think when he braked for that corner, it was the 120-metre point, and I was braking at 90 or something like that. I remember I had a lot of oversteer as I passed him, that was nice!"
However, this epic charge came to an ignominious end when he misjudged a lapping move on Aguri Suzuki, and slammed into the Larrousse, wrecking his car's nose and suspension. "Never mind!" he laughs. "Nobody remembers that today, only my passing moves..."
Another memorable pitlane moment came in Spain, where he was judged to have jumped the start. That in itself was a story...
"It all started in the drivers' briefing," he reveals. "[FISA president Jean-Marie] Balestre arrived and started to make his 'show'. He shouted: 'I will be on the pitwall and if I see a driver jumping the start, I will give him my own penalty.' Alain and Ayrton were always fighting over this in the briefings, and he'd grown tired of it.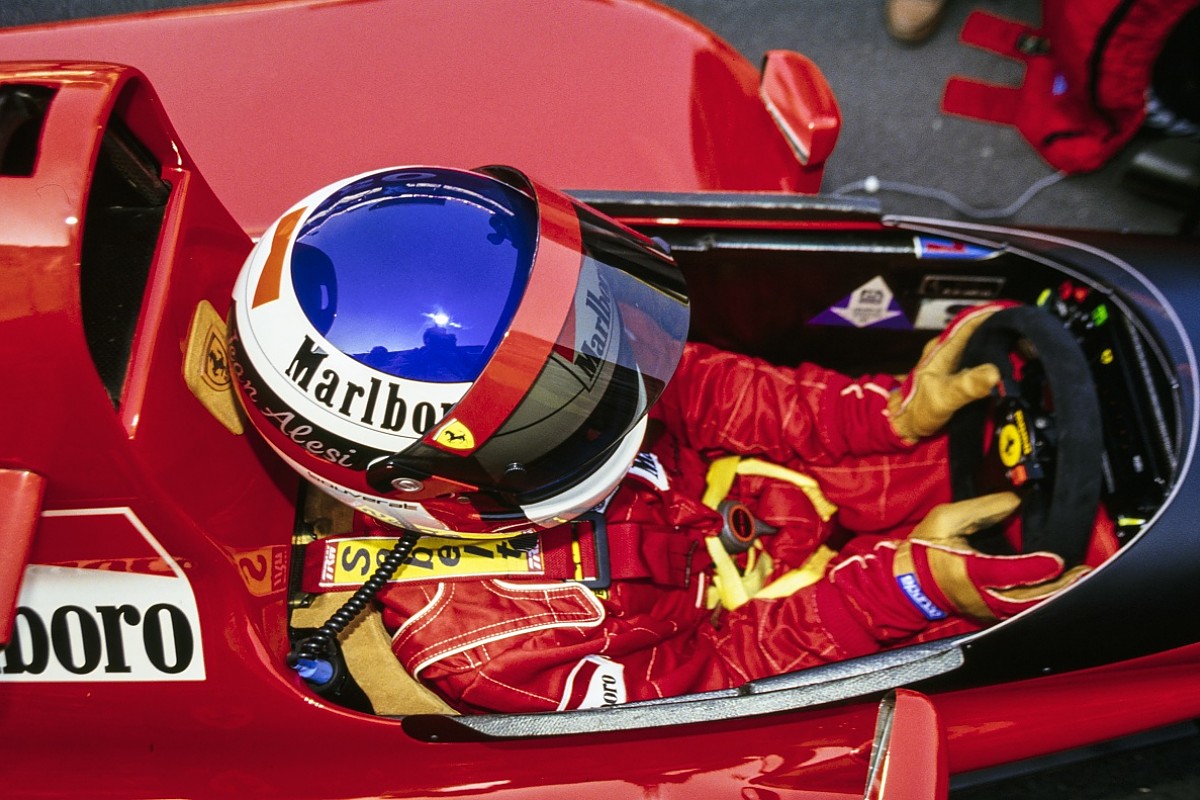 "The track was damp, but only light rain, and my [starting] position was under a bridge. So my car's rear wheels was on a dry patch. I made a huge, massive start and gained positions. Then they say 'penalty, penalty, penalty' over the radio, and I'm saying 'no, no, no, no!' Then I realised it was Balestre.
"So, the penalty box position was at the pit entry, so when they released me after 10 seconds, I made a racing start along the pitlane. First, second, third gear... and when I passed by the Minardi pit, I pulled seventh gear!" Look back the TV footage and, in the humid conditions, Alesi's car is producing visible vortices off the rear wing while still in the pitlane...
We'll never know if Alesi would have gone on to world championship success with Williams, but what we do understand is that he doesn't really care.
"Even with all our problems with the car, it was such a good time to be in F1, driving against Alain, Ayrton, Nigel, Nelson [Piquet], Gerhard... It was the best time, and I had as much passion as a fan of F1 as being a driver.
"The respect I got, driving for Ferrari, from the fans was huge. Despite the lack of results, I hold this as a great souvenir - I had the best time of my life at Ferrari."
And, to this day, he's never once had to pay a speeding fine in Italy.