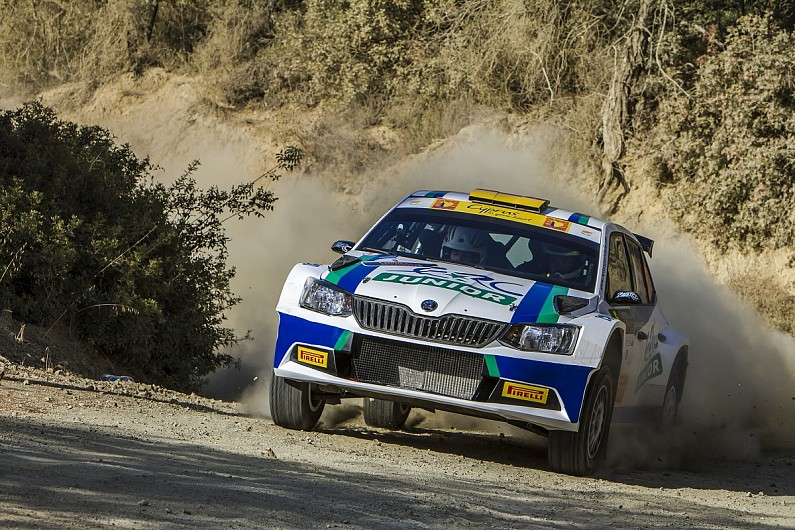 The European Rally Championship has added a new element to its Junior class for 2017, featuring a World Rally Championship prize drive.
The current Junior category for drivers under 27 in R2 class cars will continue, but it will be rebranded as ERC Junior U27.
A sister U28 class is being created featuring the R5 cars that fight for outright ERC victories, with drivers under 28 eligible. It will be contested over six rounds, with the best four scores counting.
The 2017 ERC Junior U28 champion gets a drive in a 2018 WRC round in a '16-specification World Rally Car.
The U27 prize remains €100,000 towards the driver's career development.
ERC co-ordinator Jean-Baptiste Ley said his series' revamped junior classes met emerging drivers' needs.
"It's clear there is a growing number of ERC Junior graduates and other young drivers looking to take the next step in rallying but without the financial means to run a full international campaign in an R5 car or lacking the experience required to achieve consistent success," he said.
"ERC Junior U28 will bridge this gap by providing a step up in performance for ERC Junior U27 graduates, albeit in a managed environment where they will come up against like-minded drivers with similar experience.
"And by providing a World Rally Championship prize drive to the ERC Junior U28 champion we're recognising the ambition of young drivers to reach the sport's top level."
Earlier this year the FIA considered backing ERC Junior as rallying's primary third-tier category below WRC and WRC2, as it pondered tidying up the cluttered career ladder.
It now appears that WRC3 will be given a reprieve instead.
ERC Junior's leading graduate so far is its inaugural champion from 2014 Stephane Lefebvre, who is now part of Citroen's WRC line-up.
CALENDAR CONFIRMS LOSS OF YPRES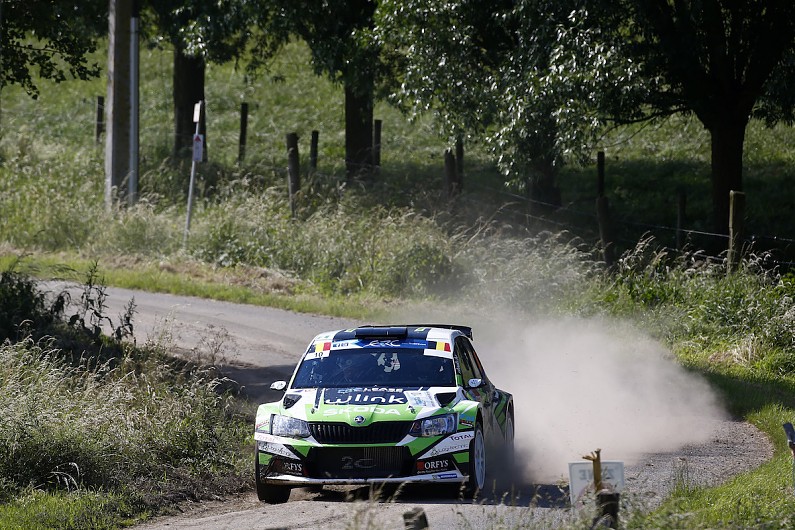 The ERC also announced its 2017 calendar this week.
The loss of former flagship Ypres was confirmed, while the Circuit of Ireland is also absent with the event shelved for 2017 and Estonia is not listed at present.
Ypres has joined the British Rally Championship calendar after the organisers lost faith in the ERC.

The addition of the Rome Capitale rally brings the ERC back to Italy for the first time since Sanremo was part of its calendar in 2013.
The Azores, Canary Islands, Acropolis, Cyprus, Polish event Rzeszow, Czech rally Zlin and the Liepaja event in Latvia keep their calendar places.
Latvia will stay as a gravel rally rather than a winter event, having been moved from February to September at short notice this year due to a lack of snow.
The calendar includes two gaps for yet-to-be-announced new events, one a gravel rally in southern Europe, the other a finale on asphalt in central Europe.
PROVISIONAL 2017 ERC CALENDAR
March 2-4: Azores (gravel)
March 31-April 2: TBA, southern Europe (gravel)
May 4-6: Canary Islands (asphalt)
June 2-4: Acropolis (gravel)
June 16-18: Cyprus (gravel)
August 3-5: Rzeszow (asphalt)
August 25-27: Zlin (asphalt)
September 15-17: Rome Capital (asphalt)
October 6-8: Liepaja (gravel)
November 3-5: TBA, central Europe (asphalt)