Take a look at the brands on the World Touring Car Cup grid and it's hard to miss the motorsport pedigree each brings - even when you narrow that down to tin-tops.
Alfa Romeo has its run of mid-1980s European Touring Car titles, the came/saw/conquered Alfa Corse British Touring Car season of '94 and successful European and World Touring Car programme of the mid-2000s, while Cupra can call on the WTCC dominance of parent company SEAT and its turbodiesel mastery.
Even Honda - which has never quite cracked the world stage - still has what are now long-standing and successful British and World Touring Car efforts in place.
But in the case of WTCR's newest arrival, that heritage is harder to spot, and you'd be forgiven for asking what affinity a brand that's less than three years old has with touring car racing.
Put simply, Lynk & Co has no individual history in this regard. Developed in conjunction with Volvo, it is the youngest of Chinese automotive giant Geely's brands and was set up in 2016 to cater for "the needs and preferences of the connected generation and challenging auto industry conventions" - think internet connectivity and alternative purchasing models.
Three Lynk & Co models have been released, with two more in the works, all of which are based on Volvo's Compact Modular Architect platform and also utilise the Volvo Engine Architecture family.
"If you look at it just from a technical context, it's a car developed jointly between China and Sweden," explains Alexander Murdzevski Schedvin, Geely Group Motorsport head.
"It's based on the small platform, initially launched and sold in China and growing quite rapidly, [with] a lot of new technology involved, in terms of owning, sharing and so on."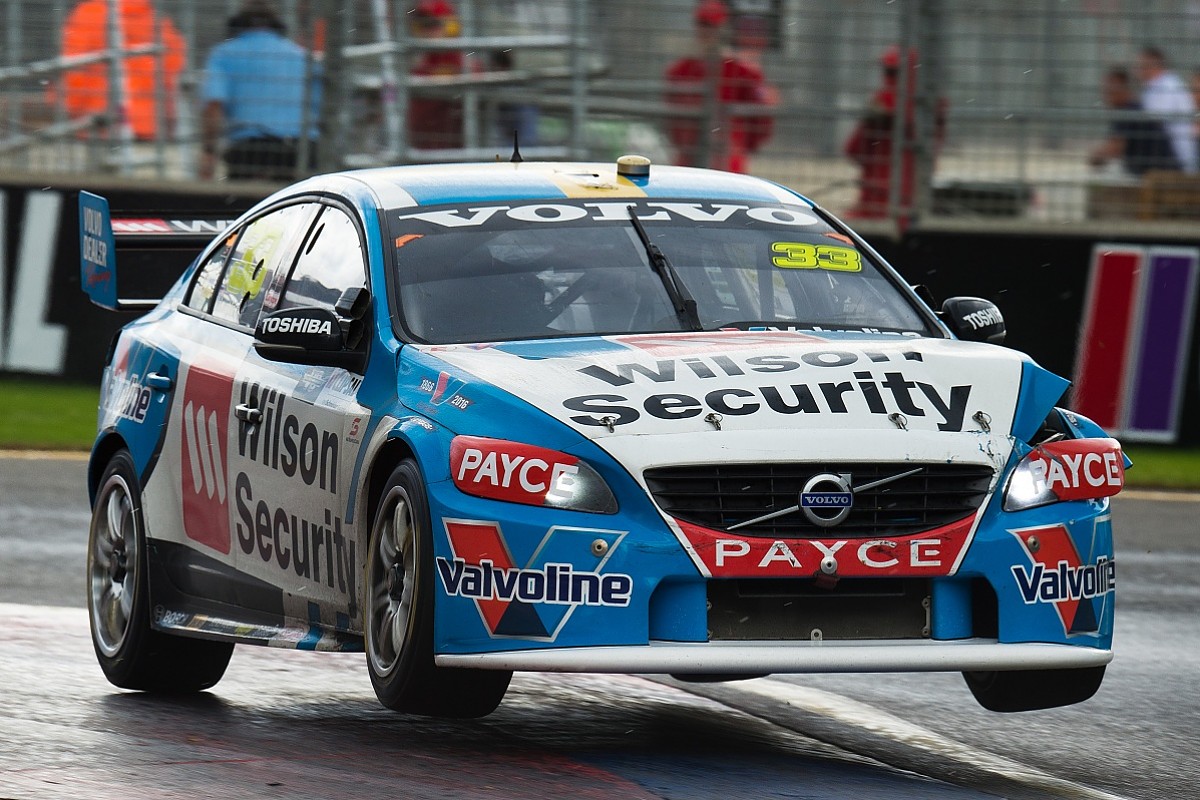 There are hints, then, about its racing pedigree, but it's Lynk & Co's 'pairing' with a revered World Touring Car force of recent years from which it's really inherited its stripes.
A loyal servant of Volvo, Cyan Racing was the Swedish brand's official motorsport partner from its inception in 1996 as Flash Engineering, and after it was bought by Christian Dahl from Swedish tin-top ace Jan 'Flash' Nilsson in 2005 and renamed Polestar Racing (then Cyan in 2015 when Volvo bought Polestar Performance).
While it found success predominantly at home, it was a multiple race winner in Australian Supercars through Garry Rogers Motorsport and, most recently with Volvo, won the final World Touring Car Championship drivers' and manufacturers' titles in its second year.
It's that very success, and the untimely demise of the WTCC, in which the Lynk & Co project has its roots. The category's switch to TCR regulations was a badly kept secret by the time of the 2017 season finale in Qatar, but it still caught Cyan short and with little alternative just two seasons into its planned five-year programme running Volvo's S60 TC1s.
"It's a big difference in what Cyan Racing is now compared to 18 months ago" Christian Dahl
No Geely brand was ready for the first WTCR season. There was no intention to build a TCR-spec car when Cyan and Volvo's domestic Scandinavian Touring Car Championship announced it would adopt the framework for 2017 and, even though Murdzevski Schedvin admitted the platform was attractive come the end of the title-winning 2017 campaign, a project had only just been given the green light at that point. That had an immediate consequence.
As Volvo's motorsport partner, Cyan's WTCC investment in areas such as aero and engine development was significant - it is thought to have spent around €15million in 2017. But not long after its triumph, downscaling was inevitable; even with the hope of a new programme, the end of the TC1 project came with a human cost.
"It was quite awkward because we won the championship early in December, then we had the Christmas party and a celebration party, and then before the new year we had to let a lot of staff go," says Dahl, who remains at the helm of the team.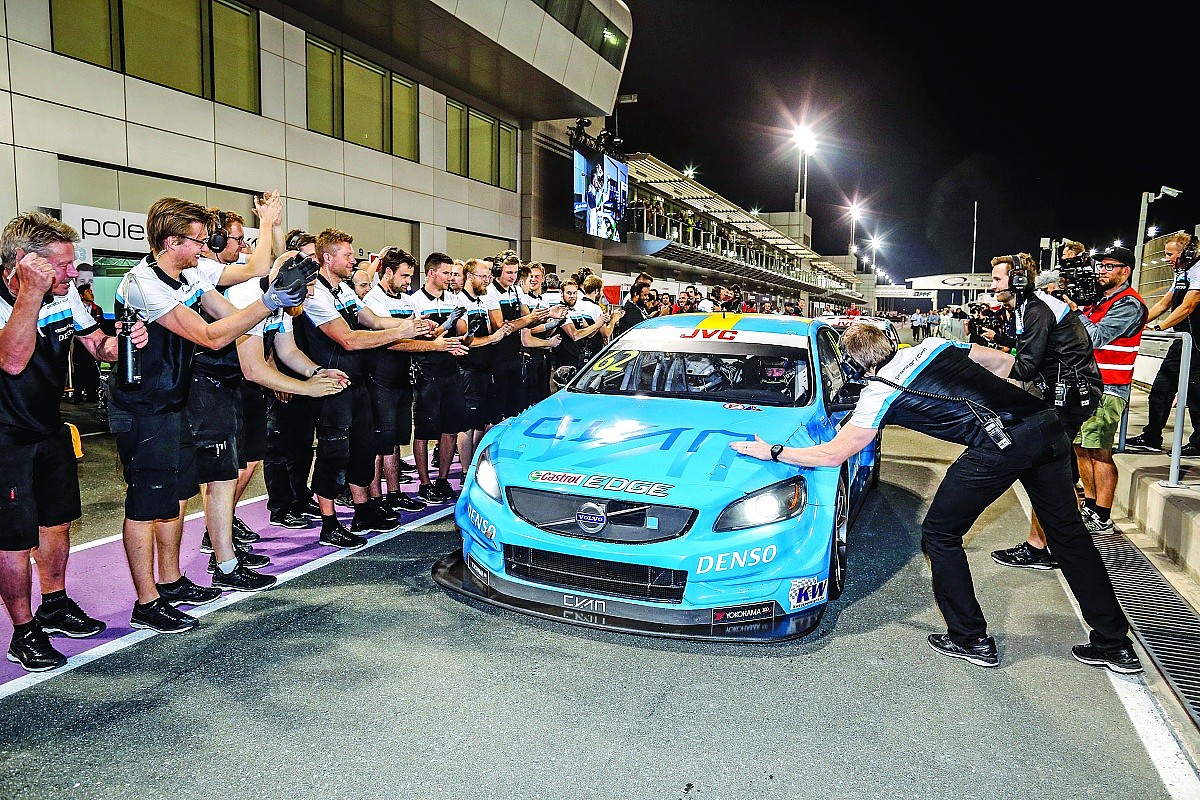 "It was 70 or 80 people that they had to let go because... we didn't know what to do. Running customer cars in TCR International [WTCR's predecessor] didn't need an aero department or an engine department.
"So the first redundancy period was immediately after the 2017 season ended basically, and then we tried to keep hold of as much staff as we could with other projects.
"But when the future was more clear with where WTCR was going, we actually had to let go of a few more people. It's a big difference in what Cyan Racing is now compared to 18 months ago."
Cyan did find a solution and entered the 2018 WTCR season with former S60 development driver and senior advisor Yvan Muller's YMR squad, but it was an "awkward" (there's that word again) year of campaigning Hyundai's i30 N - widely regarded as the best-developed car, but a million miles away from the familiarity of a Volvo.
Cyan was short on time to prepare, and its cars raced in a plain white livery, save for prominent 100-0-0-0 'branding'. Check that against a CMYK colour chart and see what you get.
But the team had kept a foot on the world stage while development of a TCR racer by Geely Group Motorsport, the de facto replacement for the Polestar brand through which Cyan previously ran Volvo's programmes, was underway.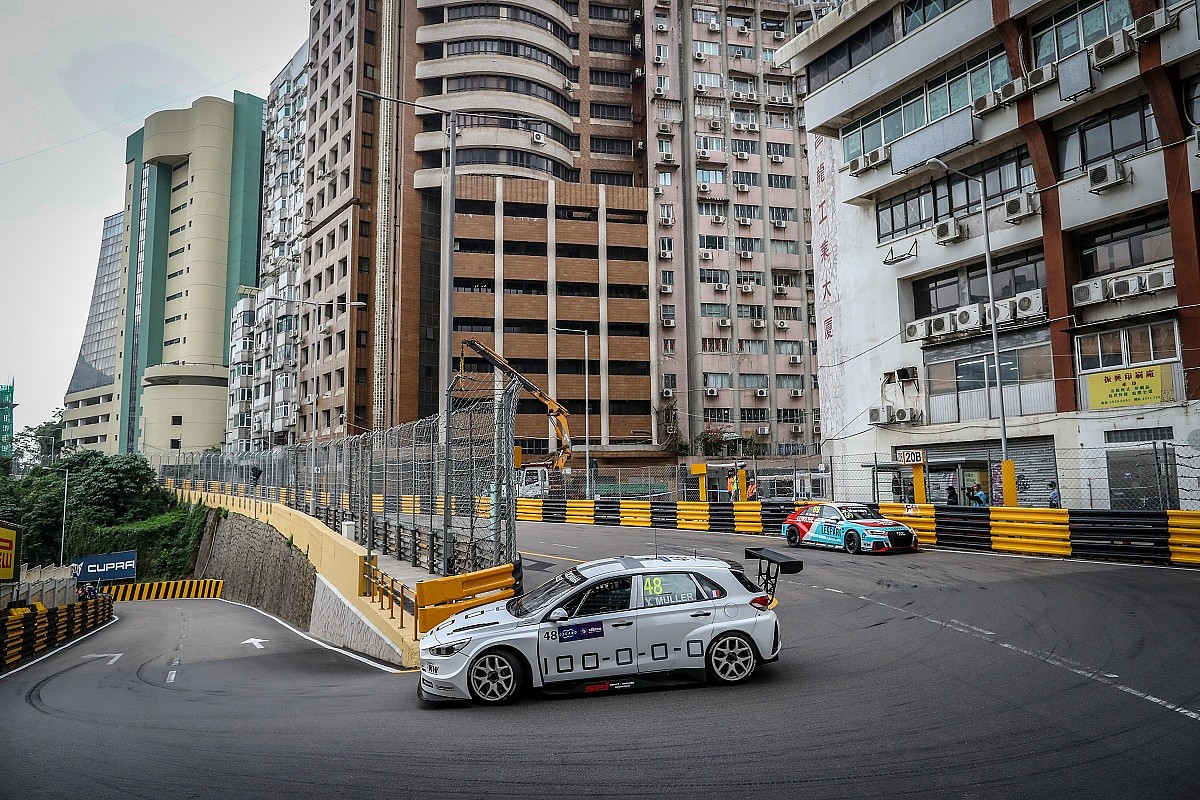 Cyan went about its business quietly - keeping its involvement in the YMR project hush-hush, even if there was a distinctly Swedish look to the French squad's garage - until a four-car customer racing programme for the 2019 WTCR season was announced in October.
For good measure, it would seal the inaugural teams' championship, beating the BRC squad that had helped Hyundai develop the i30 N.
If that's the 'how' behind the project, the 'why' of Lynk & Co is slightly more straightforward.
The car itself - the 03 model - is the smallest in Lynk & Co's range, but that's not saying much. It's most similar in appearance to an Audi A3 saloon but, as Dahl notes, "for TCR it's quite a big car"
Although the advent of Geely Group Motorsport, which was formally launched last March, brought more brands into play, the pool of suitable cars to pick from was only slightly wider than Volvo's limited offering.
"We knew there were going to be some changes to the regulations going forward, and we have a growing number of car models that actually fitted into the TCR build," says Murdzevski Schedvin, who had previously headed up the Polestar programme.
"So in November 2017 the project was greenlighted, and of course it was December 2017 when it was confirmed that [TCR] was going to be the regulation."
He continues: "When we knew we were going to do a C-segment vehicle in a sedan form, we knew from the Chinese market perspective that sporty attributes are quite important with this type of vehicle."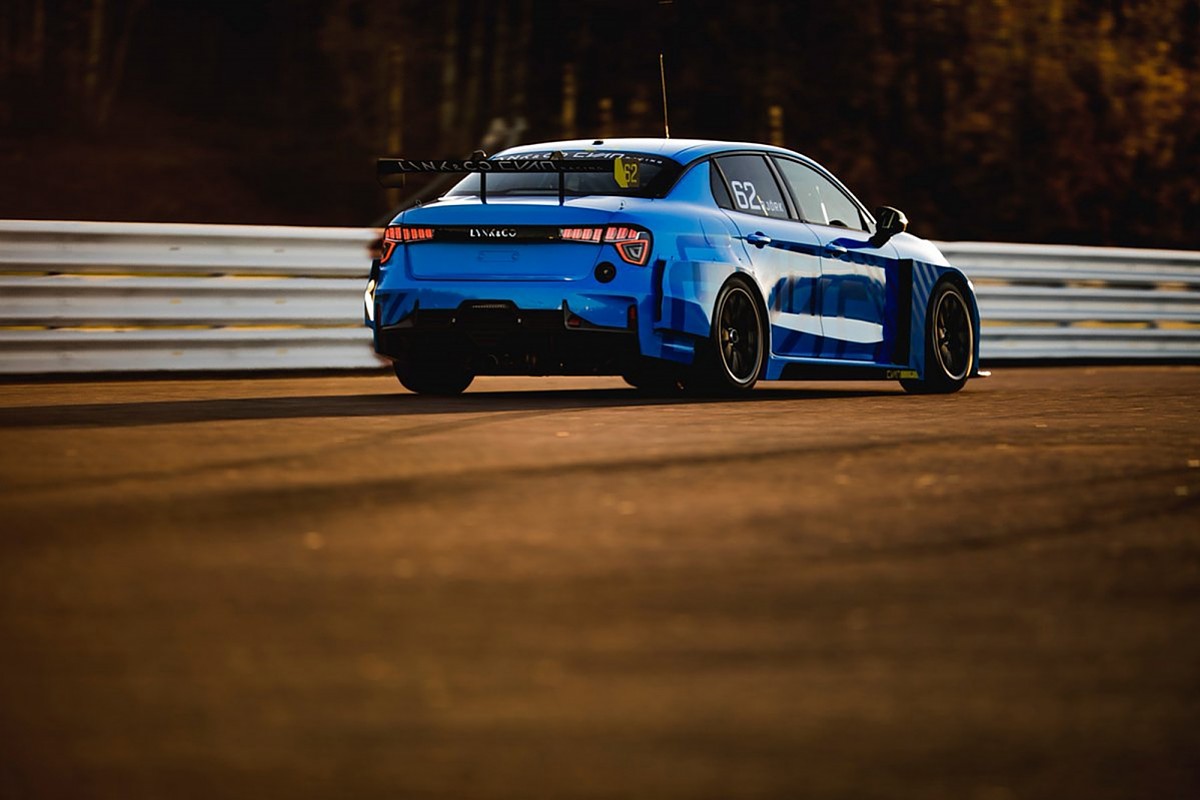 The car itself - the 03 model - is the smallest in Lynk & Co's range, but that's not saying much. It's most similar in appearance to an Audi A3 saloon but, as Dahl notes, "for TCR it's quite a big car".
The TCR-spec racer has a two-litre engine from the VEA group and a paddleshift-operated six-speed sequential gearbox, hitting the 1265kg standard minimum weight - making it a good 165kg heavier than the S60. Its design and construction were carried out by Geely, something else Cyan has found difficult to adapt to.
"It's really awkward the first time you don't see the [World Touring] car being built inside your own workshop," says Dahl. "It's a new phase in the history for us, but we've been there before - 2012-15 we ran [silhouette] cars in Sweden that we bought from a French supplier."
The tone from Dahl and Murdzevski Schedvin indicates an irritation about the end of the WTCC (Murdzevski Schedvin uses the word "bitter") and it's hard not to sympathise; there were certainly repercussions from the premature end of the Volvo programme.
But TCR offers new opportunities. The TC1 era brought with it design freedoms, but didn't leave much on the table budget-wise for anything else, and ultimately made its entrants susceptible to problematic situations like the one Cyan faced.
That's why Geely's success from a racing and business point of view doesn't hinge so much on whether the current WTCR agreement - which expires this year - is extended, because there's a wealth of domestic markets for the group to sell its homologated cars in (even if expansion is only planned in China and Asia at first).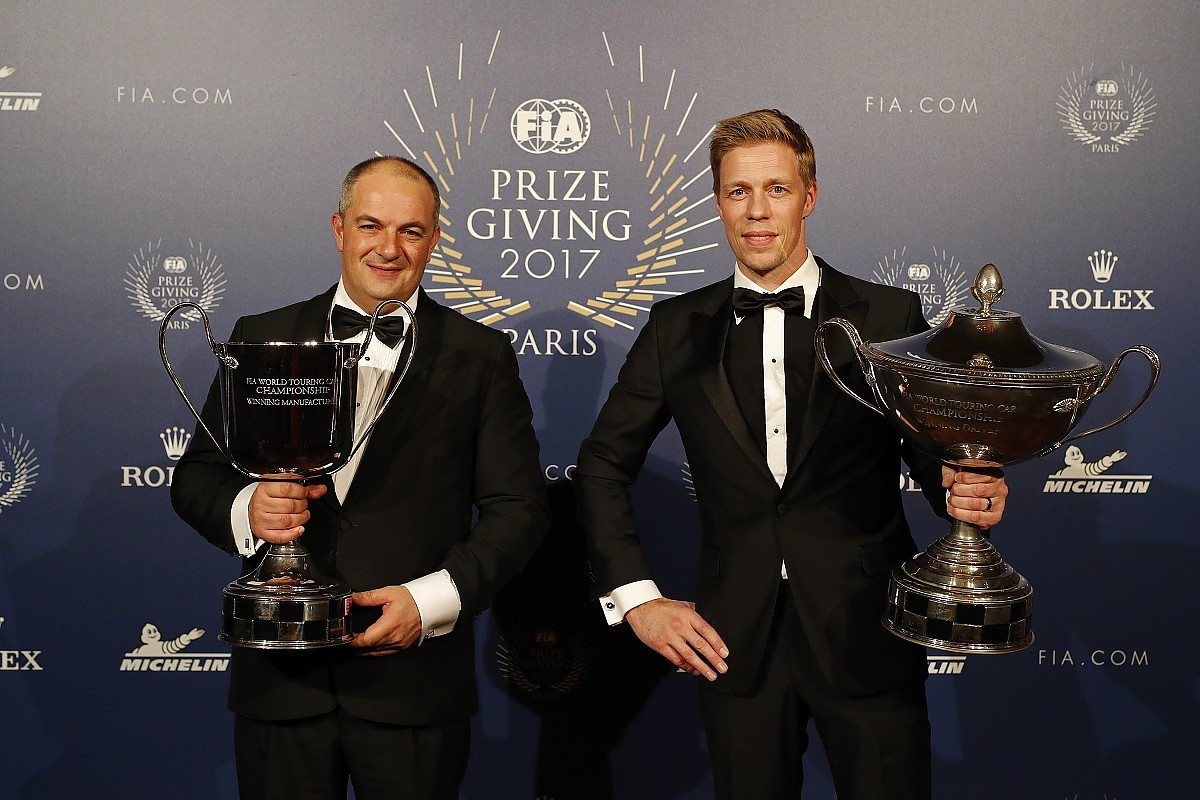 "The beauty of this regulation is that previously you were always subject to a continuation, because it was factory programmes in WTCC," says Murdzevski Schedvin.
"You tried to beat your competitors, you always make sure your competitors have a car that is sold for a few more years, that the regulation doesn't escalate, that they still remain [and] that they're not too unhappy coming second.
"In this case, if you have WTCR in 2020 or you don't, you still have a healthy number of 30 or 40 national championships running around everywhere. Of course, it's good to have WTCR, but we learned a little bit in the past from going all-in with a five-year programme and then it stops after two years, that was really bitter - although you were a happy champion in the end. It feels a little bit more like you spread your investment a little bit."
Cyan kept hold of long-serving team manager Fredrik Wahlen and ex-Red Bull F1 engineer and RML Chevrolet man Ron Hartvelt during its transitional year, while Geely has also snapped up the highly rated Duncan Laycock (formerly of RML and Honda's factory WTCC efforts) as technical director. So the personnel are also there to back up the pedigree.
Dahl doesn't try to hide the fact that Geely has poured plenty into this project either. Given how big a step Hyundai's i30 N was, the Chinese brand's preparation has understandably been similar - "because you can't enter a new championship and not pay what the best manufacturers are doing".
It seems unfathomable that Cyan and four incredibly capable drivers won't be competitive but, given that all seven 2018 brands won races, it's impossible to say where the Lynk & Co will fit in when it hits the grid - so it's probably right that expectations are tempered by both men.
But whether you see this as a new entity, or a successor in Volvo's lineage attempting to add to its record, it's clear Geely (and Cyan) means business.
Eight titles and 79 wins: meet the Cyan Racing drivers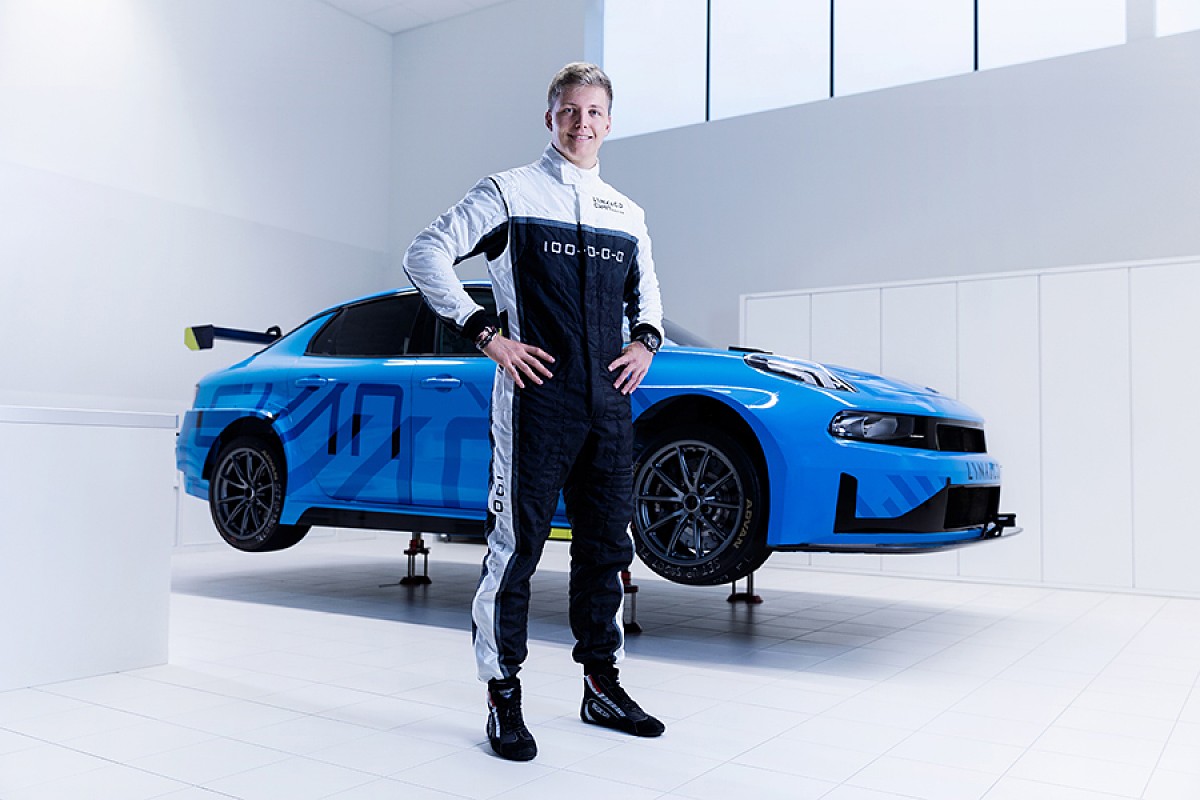 With a combined eight World Touring Car titles and 79 wins, Cyan Racing's quartet of WTCR drivers are certainly well-qualified. Cyan has run a Swedish driver each year since it joined the World Touring Car Championship in 2016 and this season is no different, as it will field '17 WTCC champion Thed Bjork once again.
The category's most successful driver, Yvan Muller, has also stayed on after coming out of retirement to race full-time in 2018, while his nephew Yann Ehrlacher gets a shot after an impressive campaign in a Honda Civic.
Completing the line-up is Andy Priaulx. The three-time WTCC title winner's experience is second to none, but this is his first World Touring Car season since 2010 and first in a front-wheel-drive car in far longer, so he's likely to be on the steepest learning curve, even if he hasn't been short of practice in the intervening years.
"[In the] first couple of tests we had a couple of teething problems and I was just trying to get my head around front-wheel drive again, and now I've reached a point where I feel like I'm driving well," says Priaulx.
"There's a bit of aero with these regulations, [and] I think the thing that's most appealing is they're all going to be pretty close."
TCR is far more basic than the TC1 era that preceded it, or the DTM machinery Priaulx raced in 2012 and 2013, but he feels there are similarities between the TCR-spec Lynk & Co 03 and other tin-top machines he has raced.
"Pretty similar," says Priaulx, when asked to compare the 03 with the S2000 and NGTC-spec BMWs he drove. "Both of those were rear-wheel drive. I think the one thing I've always said about rear-wheel drive is it can be a bit quicker, but it isn't necessarily easier to drive, because it tends to be right on the edge.
"Also, the tyre is designed for front-wheel drive, so you're always struggling for front grip whereas with the TCR, the tyre is designed for the car - so from that aspect it's a big transition for me."