The second round of the 30-race British Touring Car Championship this year is one that will live long in the memory.
The wet but drying conditions meant tyre choice was tricky on the Brands Hatch Indy circuit, and it was the slick-shod Power Maxed Racing Vauxhall Astra of Senna Proctor that threaded its way through the frontrunners on their worn-out wets.
He had started a lowly 27th on the grid, and only grabbed the top slot with two laps remaining, before holding off a queue of cars snapping at his heels. It was a sensational win for Proctor, and a first for Power Maxed Racing since it had reintroduced Vauxhall to the championship in 2017.
But despite that breakthrough, team patron Adam Weaver was slightly irked as he left the meeting. He knew the Astra had pace, and wanted a "genuine" win rather than one that could be described as fortunate.
Fast forward to the latter part of the season and the car has proven to be just that - a winner on genuine pace, with Josh Cook twice grabbing the top spot.
Bringing the Vauxhall name back to the BTCC was a huge deal for Weaver and PMR. Since the creation of the one-class category back in 1991, the Luton firm's cars have usually been at the forefront.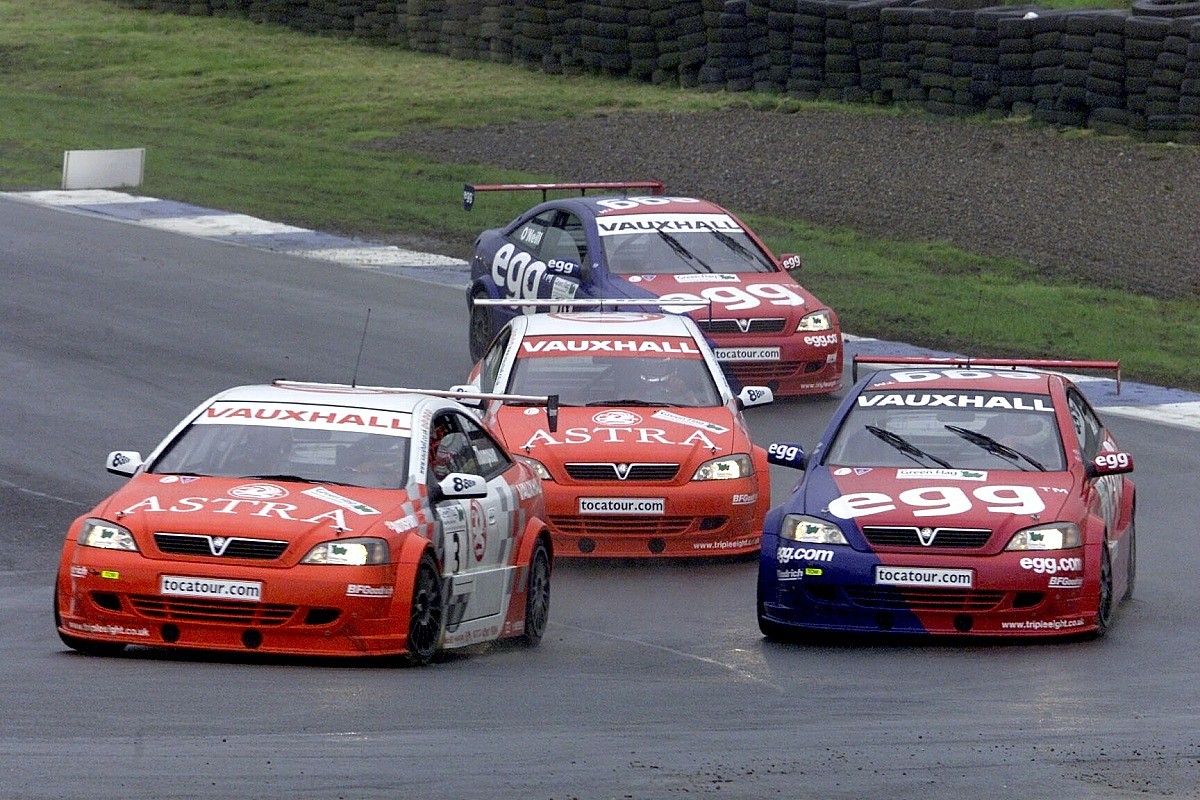 John Cleland took the title in 1995 at the height of the Super Touring era, but it was the Triple Eight Race Engineering-designed and built Astra Coupe that really mopped up, taking four straight titles from 2001 through to '04. Once Triple Eight created the Vauxhall Vectra for Fabrizio Giovanardi, there were two more titles. Vauxhall is the third most successful marque in the BTCC, behind only Ford and Honda.
But the way factory teams operate in the BTCC is changing. While some of the partnerships have proper old-school backing, such as Team Dynamics and Honda, there is a fresh wave of deals. Power Maxed is first among them, and its alliance with Vauxhall is a mutually beneficial one.
"We are one of the only teams that builds the entire car in-house" Martin Broadhurst
Power Maxed Racing is owned and operated by Weaver, whose Automotive Brands umbrella firm can help Vauxhall access business opportunities in exchange for factory blessing of the two Astras that the team built at the start of 2017. But that's not the only way in which Power Maxed is different from a number of other BTCC teams.
"Along with Team Dynamics, WSR and Motorbase Performance, we are one of the only teams that builds the entire car in-house," says technical director Martin Broadhurst, a former World Rally Championship engineer and Triple Eight Race Engineering employee.
Most teams farm out the chassis build to other experts - usually Willie Poole Motorsport, which is based near Coventry.
"The decision to do it all in-house was taken by Adam and I," continues Broadhurst.
"It means we have more control over what we do and we can implement any changes that we want. From an engineering point of view, it is an extremely helpful thing to do."
It is helpful in terms of preparing the cars between each meeting, too. If there is a multi-car accident in any rounds, many of the other cars that need big repairs have to go to Poole's workshop - which means there can be delays.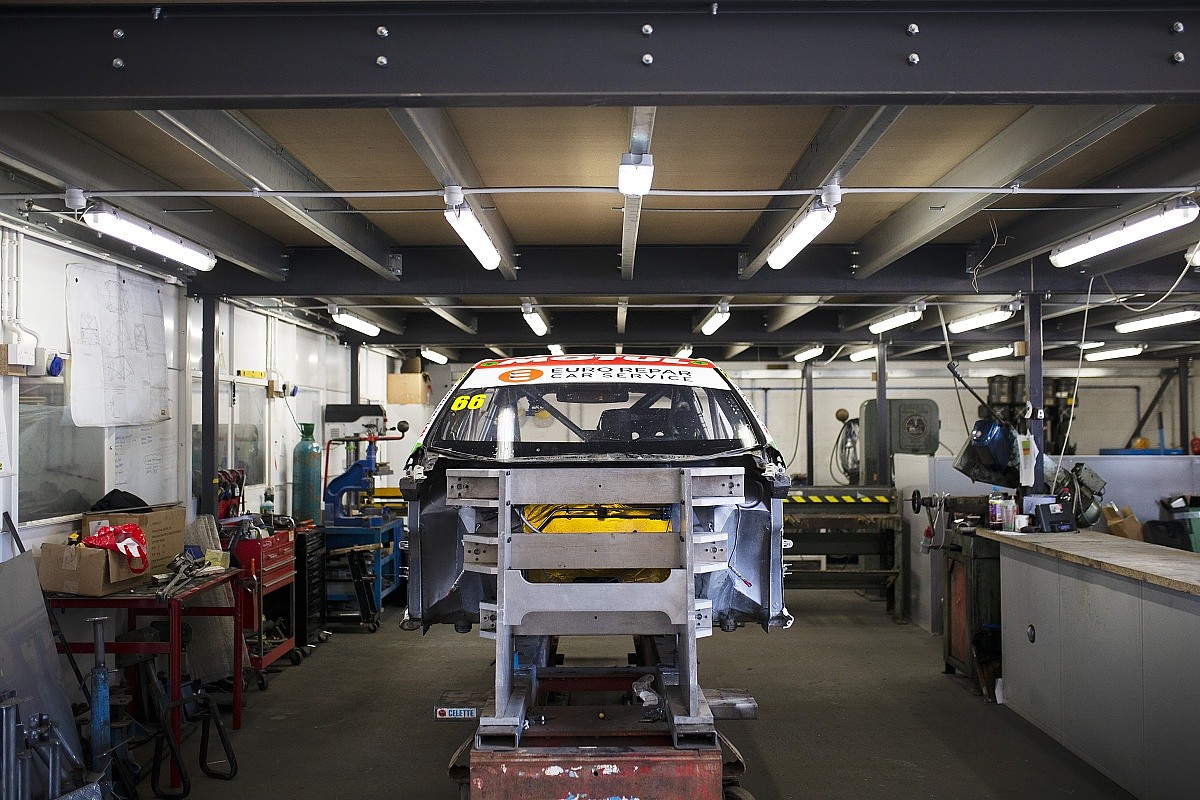 "We are able to react straight away, which is a bonus for us," says Broadhurst.
"It has taken a while to get everything we need in place, because we don't have the bundles of cash that would have been around in the old days of works deals. But I think when you look at what we have done, it has saved us money in the longer term."
The car was designed by Broadhurst himself, and he recruited Kevin Berry to help. Berry has long been associated with Colin Turkington and has worked with him at WSR and at Team BMR, but was between roles and helped Broadhurst with some of the design around the rollcage.
The team has 10 full-time employees - plus a raft of weekend warriors at race meetings - and the scale of the operation is expanding all the time. Back at HQ, Power Maxed Racing has a damper dyno room, sub-assembly room and its own jig to straighten the cars if needed, plus its own fabrication capabilities.
"We can't just go out and buy all the equipment we need straight away," says Broadhurst.
"Like the damper dyno, for example: we had to wait until we could afford it, buy it and then wait until we had paid for it until we could look at the next bit of equipment we needed. That is how we have grown over the last two seasons."
The team has some experience at the helm as well, with Juan Pablo Montoya's former Formula 3000 engineer Mick Cook working with Josh Cook (unrelated) and Rob Peacey engineering for Proctor - he was the man who made the call for Proctor to start that race at Brands Hatch on the slick tyres.
The crew is now firmly established, but the creation of a team from the ground-up, and the in-house build of two new cars, has been a roller coaster for all involved.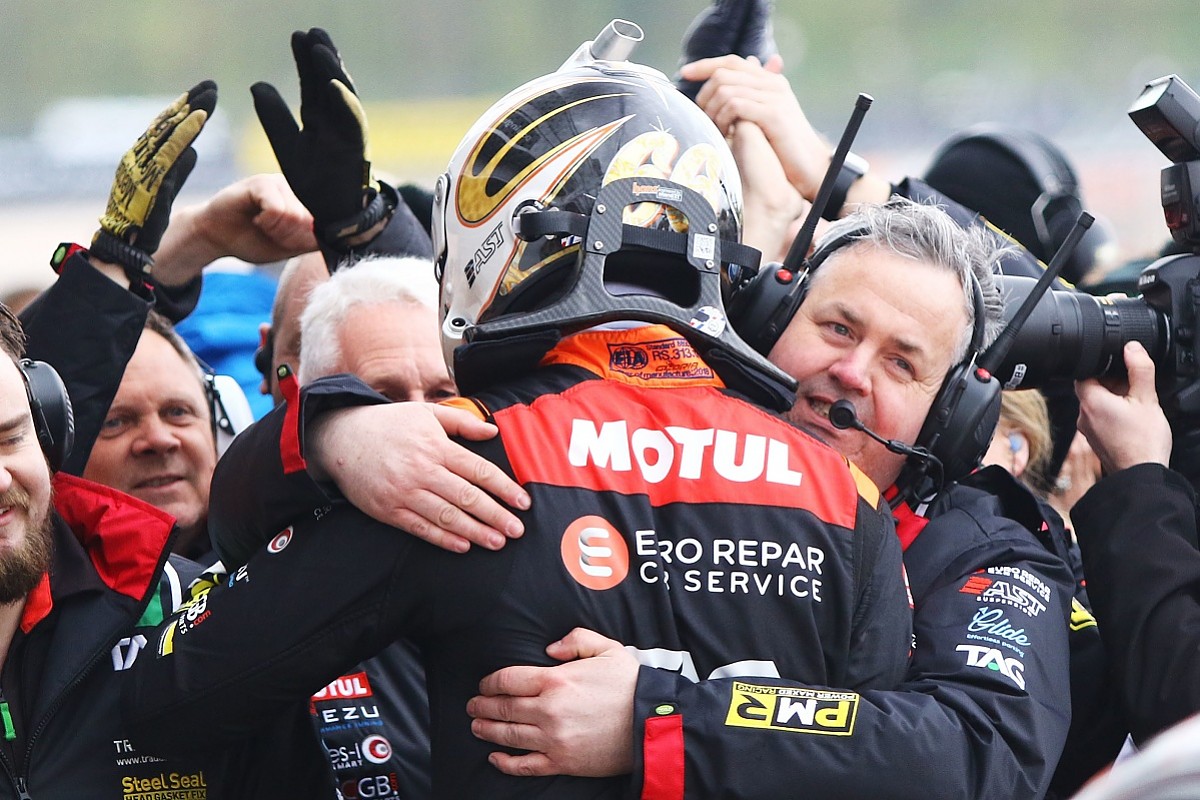 "I would say that the cash situation is the biggest challenge we have had to bring this whole thing together," says Broadhurst, who also acts as the team manager.
"It is a different landscape than when the works teams were in before - there is a misconception that there are massive deep pockets at the factory teams, but that isn't the case like it was when I was at Triple Eight Race Engineering. You just have to be careful about how and where you spend the money and use it wisely."
As well as the engineers and staff, the team has a computational fluid dynamics specialist among its number. In a championship that has mandated a number of controlled parts, any advantage that can be gained from the aerodynamics of the car is a benefit to any team.
"That is something we are going to start on now," says Broadhurst.
"There is a misconception that there are massive deep pockets at the factory teams, but that isn't the case" Martin Broadhurst
"We have concentrated on making other parts of the car work first, and we have been a bit behind with the aero stuff to be honest. It can be quite time consuming and you can spend lots of money trying to gain a few tenths of a second so it can be frustrating.
"But it is something we need to begin looking at more seriously and it is a job for us over the winter months."
Those are the steps that will take the programme forward, but those three wins this season - one for Proctor and two for Cook - mean that the campaign can be regarded as a success already.
The deal with Vauxhall means it is in the manufacturer-constructors' championship, and it is third and within touching distance of second-placed Honda. That is a strong achievement for a team that was essentially created just three-and-a-half short years ago.
"We are making progress and we are adding things to the team in the background," adds Broadhurst.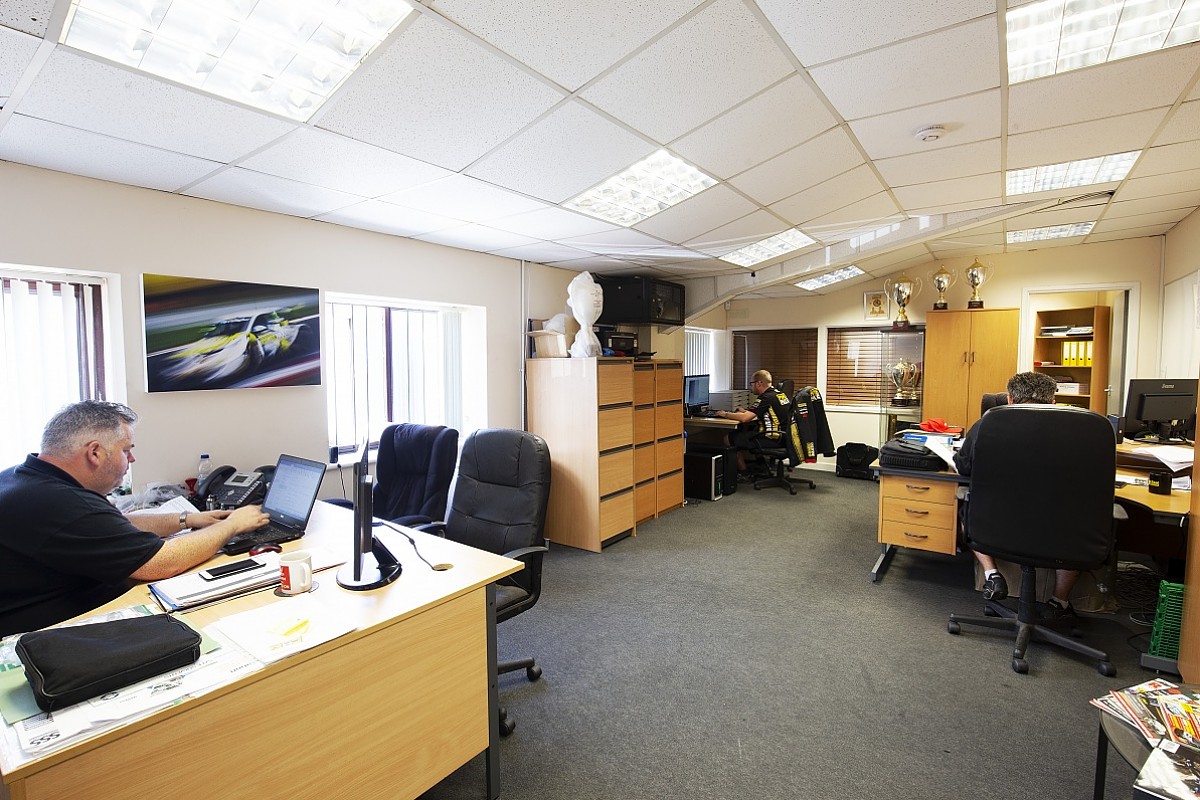 "It was important when we set up the team and created how we operated that we looked ahead. We are building something sustainable for the future: this isn't just for the here and now, this is something that we want to carry on for a long time.
"You can come into motorsport and throw all sorts of money at it - and lots of people have in the past - but you might not be successful. There are plenty of examples where people have tried to run before they can walk, and that means that lots of money can be wasted. That is not something we have done. We have had a plan in place and we are sticking to it."
The company has customer programmes, too. PMR has built three Polos for the Volkswagen Racing Cup that were sold to customers, and it also runs three machines in the category for racers - one Polo and two Golfs. That is only one hint to the fact that the business needs to stand on its own two feet if its ambitions for the long-term are to be achieved.
Running cars for customers is one part of the plan, as is the capability to take on engineering programmes and projects for other people. The specialist skills that are contained within the four walls of the Bidford-upon-Avon base could be applied to other areas.
"We want to get to a position where we are able to take in projects from other people - although it is not something we are pushing right now," explains Broadhurst.
"We aren't a massive team yet, and we are growing. We don't have the capacity to do too much extra work at the moment because we are busy with our own racing programmes. But in the future, this is an area where we can develop and create more income streams.
"We aren't quite McLaren yet, but I would like to think that we could be in a position to be a match for a firm like RML. That is the kind of operation we are aiming at and I honestly think we are getting there."
But that is for the future. Right now, Power Maxed Racing is in the middle of a title fight and Cook has a decent shot of at least finishing in the top three of the standings - if not better if things go his way in the last two meetings at Silverstone and Brands Hatch later this month.
The team will stick with the Astras for next season and, with the learning that has already been racked up by the team in its short life, expectations will only increase. Given the solid foundations laid down by the already, the intensity of that pressure is something it is perfectly placed to cope with.