In the late 1990s, our strategy team called me over to demonstrate a new tool that would put an end to ad hoc race calls. It basically ran thousands of simulated races and came up with the most likely outcome for the race. But the best bit was the user interface, the race trace. When asked what I thought of it my immediate reaction was: "When can I have it?"
I've been fortunate to work with some of the brightest minds in the sport. These people can look at the numbers on a timing screen, follow multiple cars and determine their pace and make good race strategy calls.
But when situations get noisy, stressful and complicated, why try and do that when there's this great visual interface you can use instead? So what's it all about?
Fundamentally the race trace is constructed by comparing all the lap times to a base or reference lap. If you are slower than this, your trace has a negative gradient and heads down. If you are faster than the reference then you have a positive gradient and you head up.
It's the way pace is captured that sets a race trace far above a traditional lap chart in terms of usefulness. It's easy to see who has better pace than you and to predict when they will become a direct threat. The pitstops are the vertical drops over one lap. The length of the drop captures the fuel-flow time and any pitstop mistakes. I've chosen four races that I'm familiar with to illustrate these points.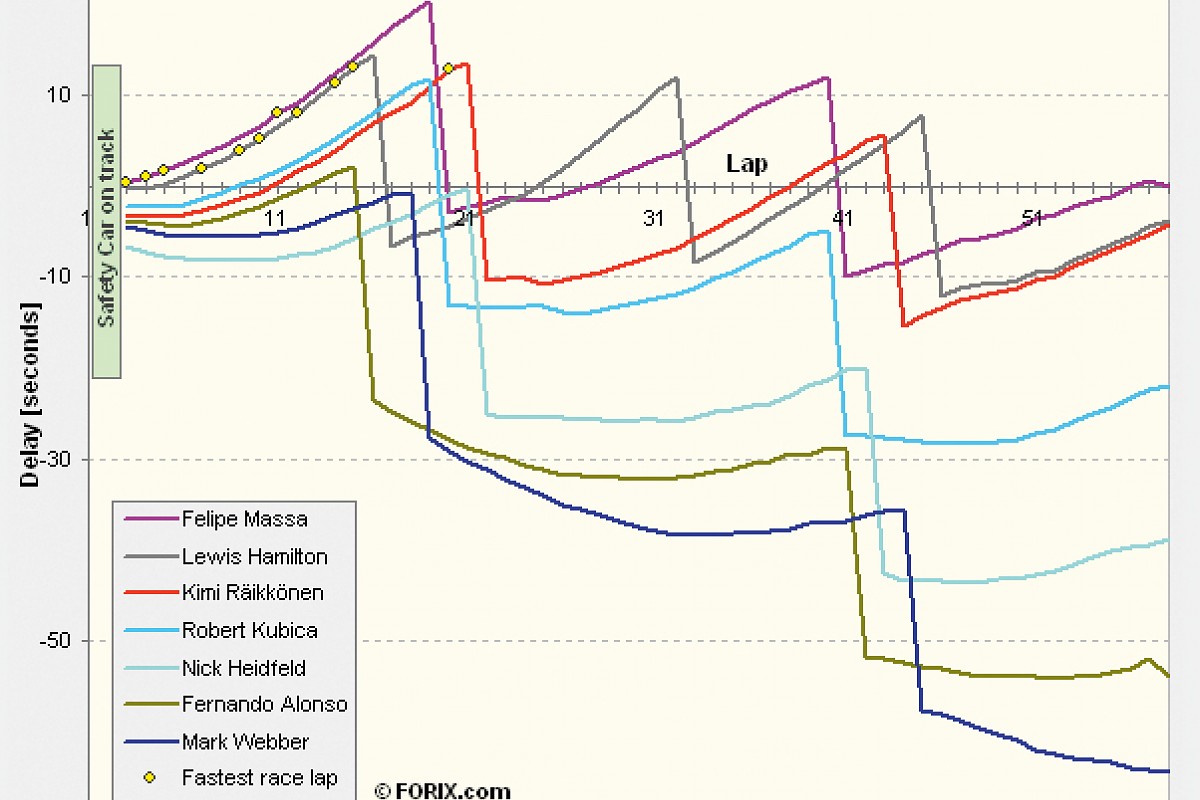 Trace 1 (above) is Turkey 2008. This is a good example of a two-stop versus a three-stop race. Felipe Massa, the eventual winner, is on a two-stop (as is the leading pack), whereas Lewis Hamilton follows Massa for 16 laps and converts to a three-stop.
Putting less fuel in Hamilton's car, because he is still carrying fuel for a two-stopper and because the next stint is shorter, allows a shorter pitstop relative to Massa. That's the vertical drop in the trace.
Lewis needed better pace after his first stop to clear Massa - this is visible from the race trace
But Lewis's pace for the three laps after the stop isn't good enough to pass Massa when he pits. He then spends the next three laps behind Massa, who is running slower due to a greater fuel load and is effectively backing Lewis up.
Then Hamilton passes Massa and pulls away. This is clear from the difference in the gradient of the two traces. After Hamilton's second stop, he falls behind Kimi Raikkonen and can't run at a three-stop pace. So, although he comes out ahead of Kimi after his third stop due to the shorter fuel-flow time, the McLaren is behind Massa.
Lewis needed better pace after his first stop to clear Massa rather than get held up and this would have enabled him to come out ahead of Kimi. Those six laps cost him the race win. This is visible from the race trace.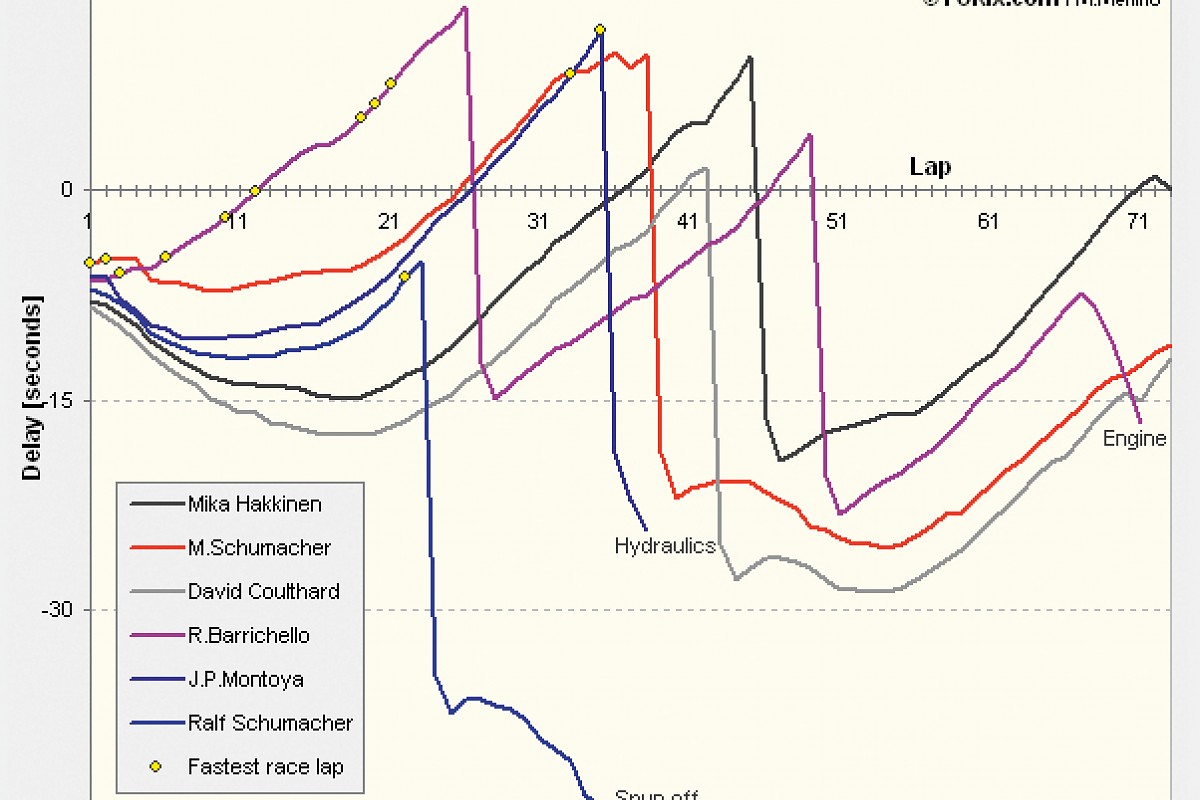 Trace 2 (above) is the 2001 United States GP at Indianapolis. I remember this race well because I had stepped in to race engineer Mika Hakkinen for two races: Indy and Suzuka.
It had been a difficult weekend, with an engine failure at the beginning of first practice followed by a crash in the warm-up and losing our front-row grid position due to a pit-exit-light infringement. Our plan is to run long and one-stop.
I tell Mika to bide his time and look after the rear tyres. As we go to the grid I'm really not sure whether we have enough tyre life to one-stop the race. Rubens Barrichello (Ferrari) is on a two-stop and hares away on a light fuel load. But it isn't enough.
Mika's mid-race pace is outstanding, setting his fastest lap just prior to pitting. This is impressive considering the tyres are worn to the canvas. He pits into the lead and waits for the challenge from Barrichello.
Hakkinen manages the gap and then Barrichello's engine fails. What does surprise me is the lack of challenge from Michael Schumacher. He clearly has some issue for the five laps before his pitstop and then, as he comes up behind Mika, his pace drops off again.
One thing to note is that after the final stops all the cars have the same fuel load within variations of engine fuel efficiency because they all have the same number of laps to do to the flag, so there aren't the pace variations you see in the early and middle stages of the race.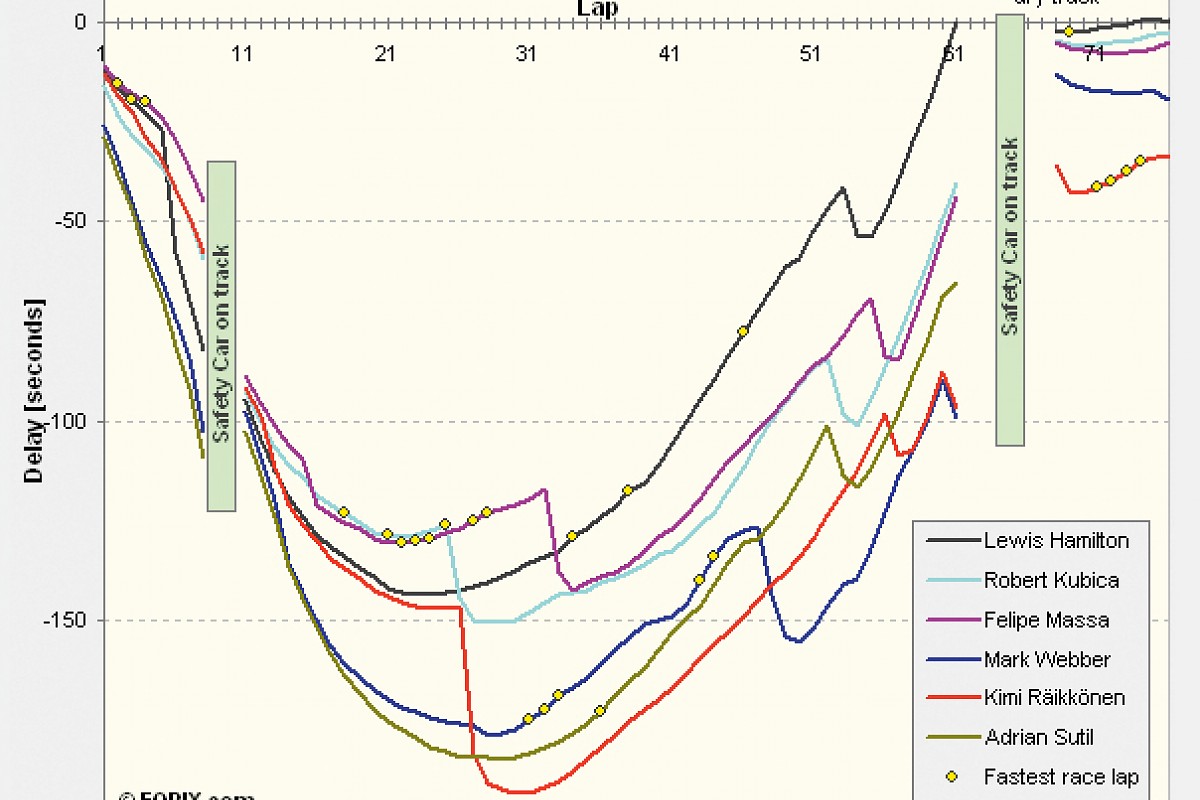 Trace 3 (above) is the 2008 Monaco GP. Hamilton makes a great start from the second row into second place, then on lap six he tags the barrier.
One of the advantages of having strategy software is you can produce what is known as a 'Bailout table'. This document is produced pre-race and then runs live during the race. The software runs thousands of simulated races and works out the best course of action to recover from an unscheduled pitstop. Quite simply it tells you when to make your next pitstop(s) and how much fuel to put in the car. All the engineer does is choose the tyres and any front-wing adjustment.
Shortly after Hamilton's pitstop there is a safety-car period. The race trace has no value at this point so the traces are converged or, as in this example, missing. After the safety car the gradient of the traces starts to flatten out, less negative, and then becomes positive.
The circuit is still wet and it's still intermediate-tyre territory, but the track is slowly drying and getting faster. People can be seen stopping for fresh inters, but Lewis is better positioned because his tyres, having run longer, are worn and better suited to the fast drying conditions, so his pace is excellent.
The software runs thousands of simulated races and works out the best course of action to recover from an unscheduled pitstop
However, on lap 44 the first car stops for slicks and then others follow. These guys have pitted super-early hoping to steal a march as the track dries. But there is a risk they may crash out and cause a safety car to be deployed. At which point Lewis, who still has to pit, would end up down the field behind those who have already fitted slicks because the pack closes up under the safety car and your lead is negated.
We leave it as long as we dare and finally bring him in on lap 54. Then within a few laps a safety car is deployed. Our worst fears are realised, but we have pitted just in time and Hamilton takes his first Monaco win.
Since refuelling has been stopped, there is less information in these traces and we've lost a great 'get out of jail' card. Now if you have to make an unscheduled pitstop your race is effectively over. With refuelling you got a second bite of the apple.
At least now variations in pace (the slope) are only due to tyre effect and inherent car performance as everyone has the same fuel load. Let's jump forward to the post-refuelling era to prove how these traces are still valuable in visualising a race.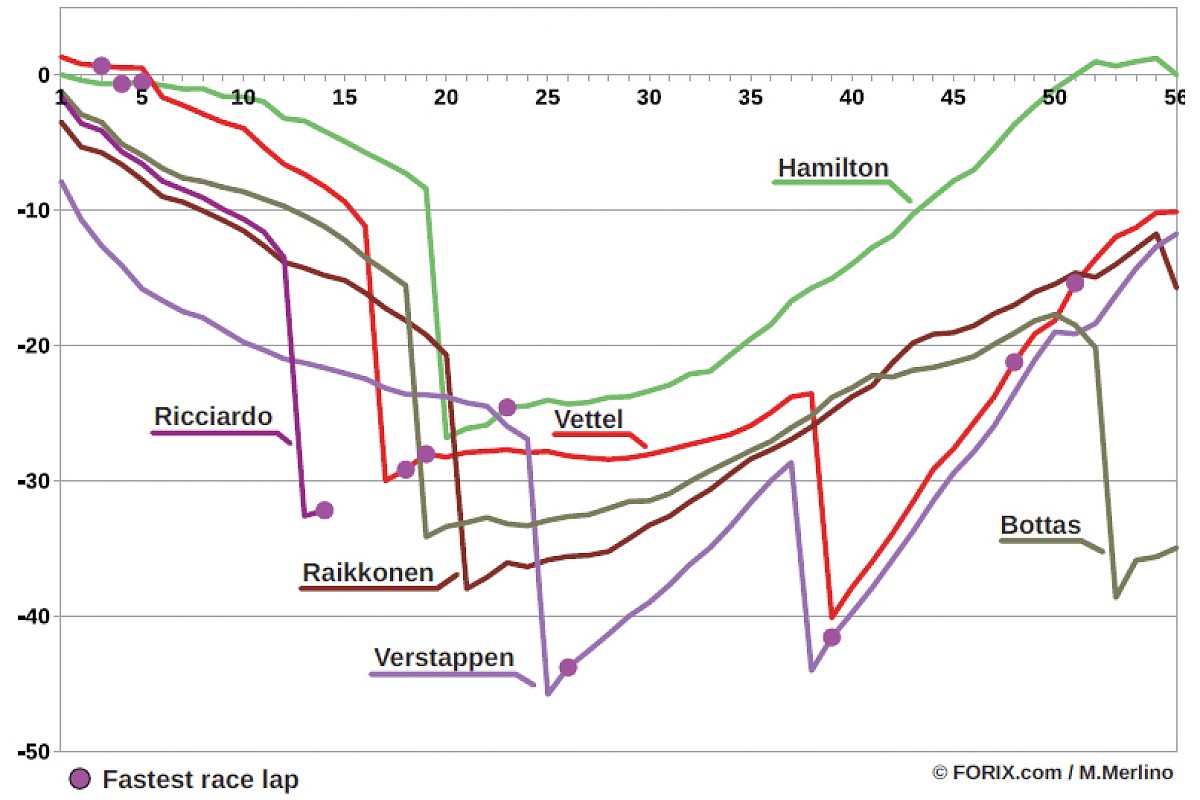 Trace 4 (above) is the 2017 US GP. Hamilton is on pole position and Vettel is second, but makes a superb start to pass Hamilton into Turn 1.
We see that Vettel can't pull away - his car isn't quick enough. On lap six Hamilton makes the pass and proceeds to pull away.
Clearly the frontrunners decide that this is a one-stop race, in which case you need to push the stop as late as possible. However, Vettel can see Lewis disappearing into the distance so Ferrari takes a chance and pits on lap 16 to try the undercut.
When Vettel rejoins, his pace is excellent, setting two fastest laps. Mercedes sees the threat and reacts, almost too late, but enough to keep Lewis ahead.
If we look to Valtteri Bottas, we can see how much his pace suffers as he defends from Daniel Ricciardo for the first seven laps before breaking away and running at Lewis's pace, albeit eight seconds adrift.
For some reason Vettel's pace later drops off and he sees Lewis disappearing into the distance again. At this point Ferrari rolls the dice and switches to a two-stop, presumably in the hope that Hamilton has to make a second stop. He doesn't and goes on to win.
What this illustrates is that wringing everything from strategy can't make up for a slow car. Only luck helps the slow.
I've been viewing race traces for so long now that I struggle to watch without one.