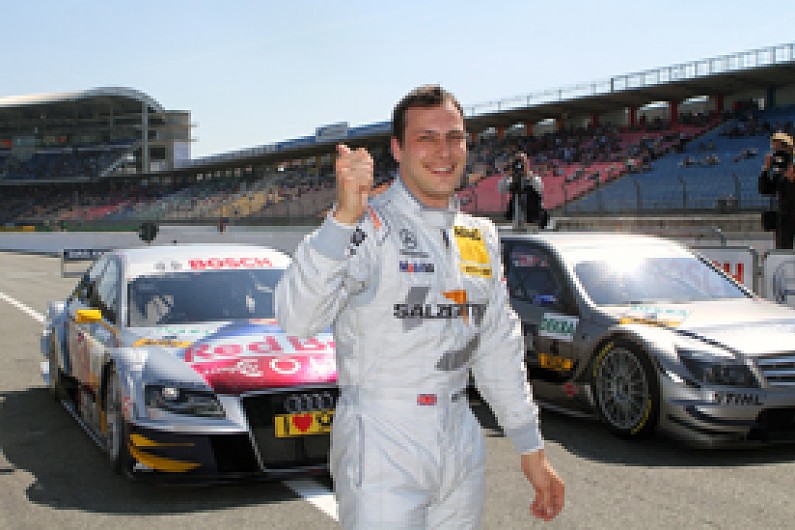 Gary Paffett will start from pole position for the DTM season opener at Hockenheim after narrowly beating Martin Tomczyk to the top spot in qualifying.
The 2005 champion edged the Audi driver by just 0.076 seconds in the four-way pole position shoot-out, as Mercedes bounced back after Audis had topped both free practice sessions this weekend.
Tomczyk was the only Audi driver to get through to Q4, as Bruno Spengler and the 2008-spec car of Jamie Green filled the second row of the grid.
Green had the honour of running last in the shoot-out after he was quickest in Q3, but he was unable to repeat his pace and had to settle for fourth on the grid.
Mattias Ekstrom, Paul di Resta, Oliver Jarvis and Q2 pace-setter Mike Rockenfeller completed the top eight, while reigning champion Timo Scheider was eliminated early in the proceedings and had to settle for ninth on the grid.
The German had already been in trouble earlier in the session when his Q1 lap was taken away because he went too wide at Turn 1. That meant that he had to go back out with two minutes remaining to avoid starting at the back of the grid.
Later on he was set to narrowly make it into Q3, but was knocked back to ninth by a late effort from his Abt team-mate Ekstrom.
David Coulthard will start his first DTM race from the back row of the grid in 17th place, the Scot admitting that his lap was the best he could manage.
Grid:

Pos  Driver             Car       Time
 1.  Gary Paffett       Mercedes  1m33.214s
 2.  Martin Tomczyk     Audi      1m33.290s
 3.  Bruno Spengler     Mercedes  1m33.319s
 4.  Jamie Green        Mercedes  1m33.389s
 5.  Mattias Ekstrom    Audi      1m32.924s
 6.  Paul di Resta      Mercedes  1m33.193s
 7.  Oliver Jarvis      Audi      1m33.296s
 8.  Mike Rockenfeller  Audi      1m33.670s
 9.  Timo Scheider      Audi      1m33.017s
10.  Maro Engel         Mercedes  1m33.160s
11.  Alexandre Premat   Audi      1m33.330s
12.  Markus Winkelhock  Audi      1m33.411s
13.  Miguel Molina      Audi      1m33.509s
14.  Franky Cheng       Mercedes  1m33.738s
15.  Susie Stoddart     Mercedes  1m34.118s
16.  Ralf Schumacher    Mercedes  1m34.361s
17.  David Coulthard    Mercedes  1m34.791s
18.  Katherine Legge    Audi      1m34.948s

Q1:

Pos  Driver             Car       Time       Gap
 1.  Martin Tomczyk     Audi      1m33.298s
 2.  Bruno Spengler     Mercedes  1m33.484s  + 0.186s
 3.  Jamie Green        Mercedes  1m33.530s  + 0.232s
 4.  Maro Engel         Mercedes  1m33.634s  + 0.336s
 5.  Timo Scheider      Audi      1m33.640s  + 0.342s
 6.  Gary Paffett       Mercedes  1m33.693s  + 0.395s
 7.  Alexandre Premat   Audi      1m33.733s  + 0.435s
 8.  Paul di Resta      Mercedes  1m33.869s  + 0.571s
 9.  Mattias Ekstrom    Audi      1m33.965s  + 0.667s
10.  Mike Rockenfeller  Audi      1m33.976s  + 0.678s
11.  Markus Winkelhock  Audi      1m34.032s  + 0.734s
12.  Miguel Molina      Audi      1m34.033s  + 0.735s
13.  Franky Cheng       Mercedes  1m34.107s  + 0.809s
14.  Oliver Jarvis      Audi      1m34.112s  + 0.814s
15.  Susie Stoddart     Mercedes  1m34.118s  + 0.820s
16.  Ralf Schumacher    Mercedes  1m34.361s  + 1.063s
17.  David Coulthard    Mercedes  1m34.791s  + 1.493s
18.  Katherine Legge    Audi      1m34.948s  + 1.650s

Q2:

Pos  Driver             Car       Time       Gap
 1.  Mike Rockenfeller  Audi      1m32.647s
 2.  Paul di Resta      Mercedes  1m32.708s  + 0.061s
 3.  Martin Tomczyk     Audi      1m32.748s  + 0.101s
 4.  Mattias Ekstrom    Audi      1m32.782s  + 0.135s
 5.  Gary Paffett       Mercedes  1m32.801s  + 0.154s
 6.  Bruno Spengler     Mercedes  1m32.813s  + 0.166s
 7.  Oliver Jarvis      Audi      1m32.916s  + 0.269s
 8.  Jamie Green        Mercedes  1m32.916s  + 0.269s
 9.  Timo Scheider      Audi      1m33.017s  + 0.370s
10.  Maro Engel         Mercedes  1m33.160s  + 0.513s
11.  Alexandre Premat   Audi      1m33.330s  + 0.683s
12.  Markus Winkelhock  Audi      1m33.411s  + 0.764s
13.  Miguel Molina      Audi      1m33.509s  + 0.862s
14.  Franky Cheng       Mercedes  1m33.738s  + 1.091s

Q3:

Pos  Driver             Car       Time       Gap
 1.  Jamie Green        Mercedes  1m32.724s
 2.  Gary Paffett       Mercedes  1m32.808s  + 0.084s
 3.  Martin Tomczyk     Audi      1m32.809s  + 0.085s
 4.  Bruno Spengler     Mercedes  1m32.845s  + 0.121s
 5.  Mattias Ekstrom    Audi      1m32.924s  + 0.200s
 6.  Paul di Resta      Mercedes  1m33.193s  + 0.469s
 7.  Oliver Jarvis      Audi      1m33.296s  + 0.572s
 8.  Mike Rockenfeller  Audi      1m33.670s  + 0.946s

Q4:

Pos  Driver             Car       Time       Gap
 1.  Gary Paffett       Mercedes  1m33.214s
 2.  Martin Tomczyk     Audi      1m33.290s  + 0.076s
 3.  Bruno Spengler     Mercedes  1m33.319s  + 0.105s
 4.  Jamie Green        Mercedes  1m33.389s  + 0.175s