Ex-Formula 1 driver Narain Karthikeyan won the 'Super GT x DTM Dream Race' finale at Fuji after a scrappy race in which BMW's Marco Wittmann finished second for the DTM.
Three safety cars interrupted the race and led to several DTM and Super GT runners varying their strategies between a conventional one-stop or an unorthodox two-stop effort.
But Karthikeyan was able to remain unscathed after holding off an early challenge from 2018 Super GT champion Naoki Yamamoto that came to a halt after polesitter Duval caused the first safety car following a puncture while running fourth.
Audi suffered several punctures during Thursday's testing, but its motorsport boss Dieter Gass said on Saturday the cause of the repeated failures was still unknown.
The safety car led DTM drivers Benoit Treluyer and Alex Zanardi to pit under the safety car, committing to a two-stop strategy and led off-sequence once the mandatory pitstop window had cycled through.
The pair then pitted from the front following a second safety car caused by Rene Rast suffering Audi's second puncture of the contest, releasing Karthikeyan, just before the race was turned on its head through multiple incidents.
The three Lexus runners of ex-McLaren F1 driver Heikki Kovalainen, Kazuya Oshima and Yuji Kunimoto collided at the Turn 13/14 complex, spraying debris and forcing evasive actions from drivers such as Rast in close attendance.
Moments before the third safety car was called, Audi's Loic Duval and Kamui Kobayashi's long-running battle over third came to a head as the pair clashed at Netz corner as the BMW driver proved aggressive throughout.
The resulting clear up forced a one-lap dash to the flag and Karthikeyan stormed clear as Wittmann - who steered clear of the chaos as the lead DTM runner and benefitted from Duval and Kobayashi's battle - followed behind.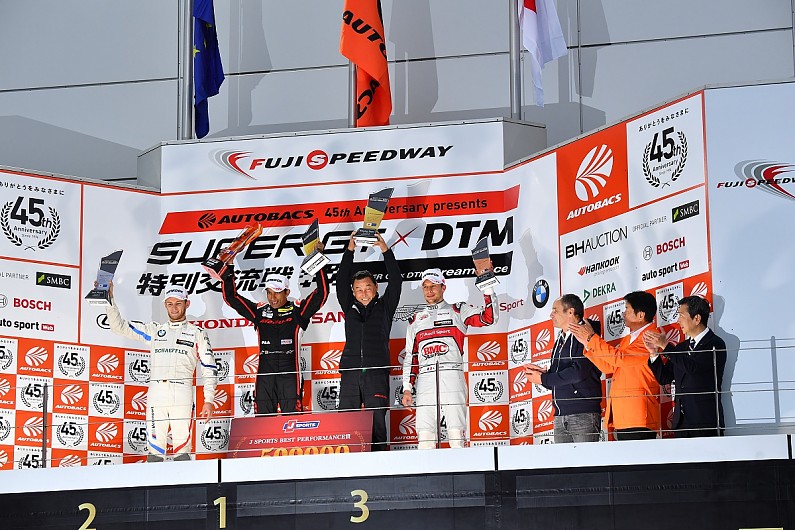 But through the final corners of the lap, Duval managed to force himself alongside Wittmann through Netz and ran wide at the final corner as Wittmann left little room.
Duval kept his foot planted and re-joined ahead of Wittmann for the run to the flag to cross the line second, but subsequently earned a one-second time penalty for his actions.
The penalty would only drop Duval to third place and meant the DTM sealed two of the three podium positions, despite running in disadvantageous dry conditions.
Yamamoto had looked set for a podium placing but gambled on a late pitstop for fresh rubber that had dropped him to last.
He rose through the order but the final safety car proved costly and he finished fourth.
Kobayashi finished fifth ahead of Daisuke Nakajima - who announced his retirement from Super GT after taking provisional pole position this morning.
Nakajima had repeatedly flashed his headlights of the Impul Nissan to show his displeasure at Koabayshi's defensive driving.
Mike Rockenfeller finished seventh ahead of the TOM'S Lexus of Ryo Hirakawa, with Rast (ninth) and Treluyer (10th) ensuring six of the seven DTM cars earned top 10 finishes.
Zanardi would finish 13th ahead of Kovalainen as 16 of the 22-car field made it to the flag.