Paul di Resta has defended his R-Motorsport Aston Martin squad's 'selfish' decision to skip next month's joint races between the DTM and SUPER GT to prioritise car development for 2020.
Audi - including its customer WRT - and BMW will take a combined seven cars to Fuji for November's 22-24 event due to the logistics and costs of the event.
R-Motorsport was expected to race at Fuji but it and Aston announced at September's Nurburgring round that the team would not take part.
Aston Martin's arrival through R-Motorsport for 2019 was partly due to the appeal of the DTM's internationalisation efforts and its Class One rules tie-up with the Japanese SUPER GT series, which sent cars to race at DTM's Hockenheim season finale.
Asked at Hockenheim whether R-Motorsport and Aston had made the right decision to skip Fuji, di Resta said: "Yeah. I guess, like everyone, I'm a big fan of the Japanese manufacturers and this SUPER GT collaboration.
"I've heard talks for years and years, and eventually it's happened. It's nice to see these cars on track with us and the names involved in it.
"If this championship wants to go to the next level it's vital it does that [tie-up] and finds a happy medium.
"For sure, costs need cutting and the entertainment on track is key.
"When you look at the size of the manufacturers that are Audi and BMW - the resource and development they've had for this generation of DTM - for us to be serious about going into the winter and get on top of this car to capitalise next year, the budget is a big part of it.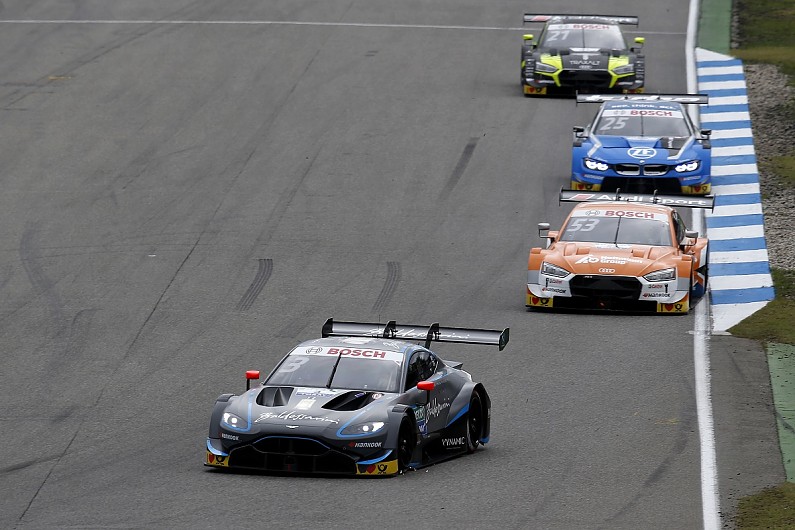 "Equally the time putting everything into that, I think the decision was taken selfishly in the sense that we need to perform here [in DTM], but looking at the back of that, the show will go on [at Fuji] which is the key.
"I know how important [it is to] R-Motorsport, and certainly Aston Martin wants this to happen because it was a big part of joining this championship - for this [collaboration] to happen."
DTM boss Gerhard Berger told Autosport at Hockenheim earlier this month that he expects R-Motorsport and Aston Martin to take part in any joint races next year.