R-Motorsport's Paul di Resta and Jake Dennis believe their Aston Martin team's double points finish in the DTM's Assen finale was its first "genuine" and "proper" result of 2019.
The abrasive surface at Assen and its flowing high-speed nature meant tyre management was crucial, with the majority of the field attempting to manage the first stint for a one-stop strategy.
While Audi and BMW had mixed success in doing so, with Rene Rast notably losing out on victory due to requiring a second stop, the four Aston Martin Vantages ran the longest first stint and used the new tyre to climb the field with Daniel Juncadella and di Resta finishing seventh and eighth respectively.
The result marked Aston Martin's first points finish without relying on a safety car or wet conditions.
"It was pure, genuine pace," Di Resta told Autsport.
"It was genuine, the way we approached the weekend and it was nice to see a little bit coming back.
"We are still far off in qualifying [due to an engine power defecit], there's no secret to that, but it's certainly lifted the team a little bit and small gains will mean big things ahead in the future."
Dennis told Autosport: "As a team, we are getting better, this is the first time we've had a good result without a safety car - so it's a proper result for us. We are making steps forward."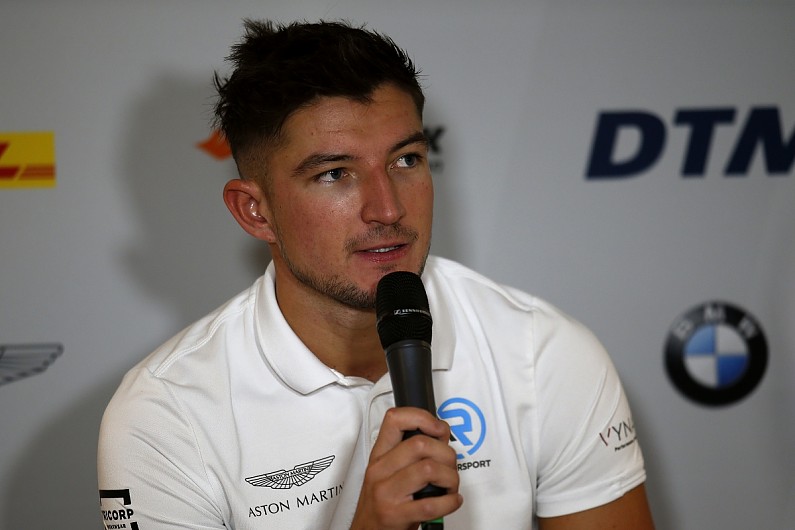 R-Motorsport parent company AF Racing's link-up with HWA, which previously oversaw Mercedes' DTM partnership, through the Vynamic partnership means the German brand has helped steer engine development.
While engine homologation means the Vantage will not claw back a deficit that has been between 5-10kph on the faster DTM circuits, the Aston's strength in tyre management was clear as early as pre-season testing.
"I think we've noticed that at the start of the year that the Aston was one of the better cars in testing for tyre deg and we've carried that on from the rest of the year," said Dennis.
"Here in FP1 and FP2, we realised that tyre deg was massive and the guys did a good strategy, obviously I didn't get to optimise it, I broke down just before it [with a brake problem]."
While some outfits did consider a two-stop strategy, R-Motorsport team principal Florian Kamelger confirmed his squad had only considered a one-stop run.
"It was the planned strategy before the race, with slight adjustments in one lap or down but that's normal," he told Autosport.
"We felt in the first stint we managed the tyres quite better than others because the tyres were still there or still in the window when we pitted.
"Again, that needs a lot of understanding on the drivers [part], a lot of experience, a lot of patience also not to push too hard, although others pulled away."