Audi's Nico Muller raced clear in a frenetic Misano DTM finale to win his first race of the 2019 season.
Muller started fourth on the grid and made a strong start, joining an all-Audi battle between polesitter Rene Rast, Robin Frijns and the WRT Audi of Jonathan Aberdein on the run to Turn 1.
Muller put two wheels on the grass when Frijns jinked to the left, but came out of the Turn 1 right-hander behind the race-leading Dutchman as Rast tried to recover from a poor getaway.
Rast's bad start was then compounded when the DTM championship leader tangled with Marco Wittmann and Aberdein, resulting in race one winner Wittmann being punted off at Turn 8 and retiring as a result.
Rast recovered and, by the 10th lap of 38, was back into the lead having dispatched Muller at the long Turn 8 bend before moving clear of Frijns as the Audi driver began to slip back.
Muller would also hassle Frijns, initially having a move at the high-speed Turn 11 kink rebuffed, before finally making an overtake for second stick through the final corners on lap 10.
But Rast's victory hopes took a huge dent when he picked up a puncture that forced him into the pits four laps later, allowing Muller past.
Muller then ran further than all but R-Motorsport Aston Martin driver Jake Dennis before making his stop.
The Audi driver returned to the track with a sizeable advantage and managed his car to the finish for victory.
Rast's puncture meant he was drawn into a battle for second place with Philipp Eng, who had made a rapid start to climb from ninth on the grid to sixth in the early laps and placed himself well to take advantage of the chaos around him.
BMW driver Eng made the crucial pass on Rast by darting to the inside of the Audi at the Turn 10 hairpin following their mandatory stops.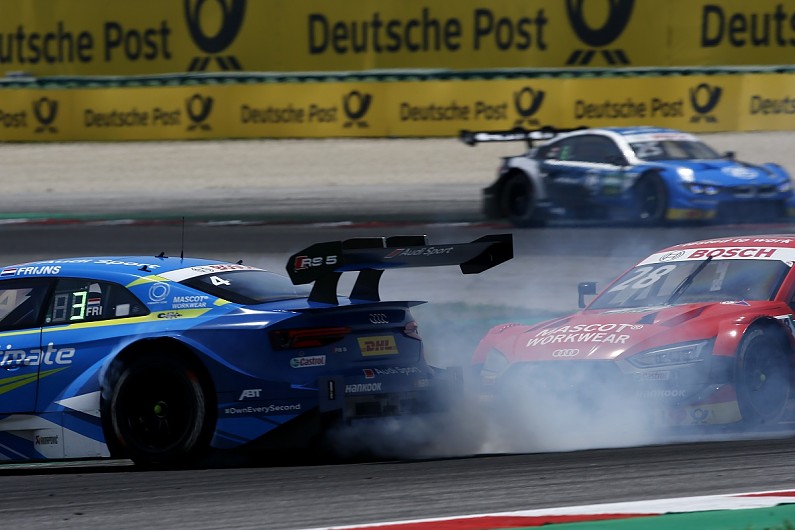 Frijns could only finish fourth after Audi team-mate Loic Duval pitched him into a spin that dropped him down to sixth.
That earned Duval a drivethrough penalty, which resigned him to 11th.
Pietro Fittipaldi, standing in for the unwell Jamie Green, recorded his best DTM finish by taking fifth.
Joel Eriksson was sixth for BMW after an intense duel with Aberdein that left the WRT driver in seventh.
Bruno Spengler duelled Andrea Dovizioso on the way to eighth, but the Ducati MotoGP rider finished down in 15th after a late spin when he carried too much speed over the Turn 16 kerb.
BMW's Sheldon van der Linde and Audi's Mike Rockenfeller rounded out the top 10.
Ferdinand Habsburg won the intra-team battle at R-Motorsport by finishing 12th ahead of Dennis, who was 13th after his extended first stint.
Daniel Juncadella finished ahead of Dovizioso in 14th, while Paul di Resta stopped at the Turn 13 escape road to retire early on.
Result - 38 laps
| Pos | Driver | Team | Car | Gap |
| --- | --- | --- | --- | --- |
| 1 | Nico Muller | Abt | Audi | 57m37.468s |
| 2 | Philipp Eng | RMR | BMW | 7.628s |
| 3 | Rene Rast | Rosberg | Audi | 16.804s |
| 4 | Robin Frijns | Abt | Audi | 20.072s |
| 5 | Pietro Fittipaldi | Rosberg | Audi | 20.430s |
| 6 | Joel Eriksson | RBM | BMW | 23.645s |
| 7 | Jonathan Aberdein | WRT | Audi | 24.813s |
| 8 | Bruno Spengler | RMG | BMW | 28.460s |
| 9 | Sheldon van der Linde | RBM | BMW | 29.003s |
| 10 | Mike Rockenfeller | Phoenix | Audi | 47.798s |
| 11 | Loic Duval | Phoenix | Audi | 47.902s |
| 12 | Ferdinand Habsburg | R-Motorsport | Aston Martin | 48.678s |
| 13 | Jake Dennis | R-Motorsport | Aston Martin | 51.588s |
| 14 | Daniel Juncadella | R-Motorsport | Aston Martin | 1m14.053s |
| 15 | Andrea Dovizioso | WRT | Audi | 1m16.392s |
| - | Timo Glock | RMR | BMW | Retirement |
| - | Paul Di Resta | R-Motorsport | Aston Martin | Retirement |
| - | Marco Wittmann | RMG | BMW | Retirement |
Drivers' standings
| Pos | Driver | Points |
| --- | --- | --- |
| 1 | Rene Rast | 93 |
| 2 | Philipp Eng | 83 |
| 3 | Nico Muller | 76 |
| 4 | Marco Wittmann | 68 |
| 5 | Mike Rockenfeller | 51 |
| 6 | Robin Frijns | 45 |
| 7 | Bruno Spengler | 40 |
| 8 | Loic Duval | 38 |
| 9 | Joel Eriksson | 28 |
| 10 | Jamie Green | 25 |
| 11 | Sheldon van der Linde | 25 |
| 12 | Timo Glock | 21 |
| 13 | Pietro Fittipaldi | 13 |
| 14 | Jonathan Aberdein | 13 |
| 15 | Paul Di Resta | 11 |
| 16 | Jake Dennis | 8 |
| 17 | Ferdinand Habsburg | 2 |
| 18 | Daniel Juncadella | 2 |
| 19 | Andrea Dovizioso | 0 |