R-Motorsport Aston Martin team principal Florian Kamelger says Misano race-winner Marco Wittmann demonstrated Ferdinand Habsburg's DTM inexperience, after the rookie fell down the order late on due to tyre wear.
Both Wittmann and Habsburg opted for a first-lap pitstop at Misano, despite the fact the high-speed circuit and hot conditions meant that tyre wear was a concern.
Joel Eriksson causing a safety car early on meant the two drivers effectively gained 50 seconds on their rivals who had yet to stop due to the long Misano pitlane.
But while Wittmann managed his tyres across 38 laps to record victory by 8.2s over Audi's Rene Rast, Habsburg plummeted from second to 14th in the final laps.
Kamelger praised Habsburg's performance considering Mugello's high-speed nature exposed Aston's current power weakness.
"It's [Aston Martin's race] a bit bittersweet as Ferdinand's pace was really promising, and it is important for him himself, that he could show in clean air he was very good in his pace," Kamelger told Autosport.
"Obviously, tyre management is something young drivers have to learn as well.
"Marco Wittmann has been here for quite some time and he could show the tyre management can be different [for a rookie to understand].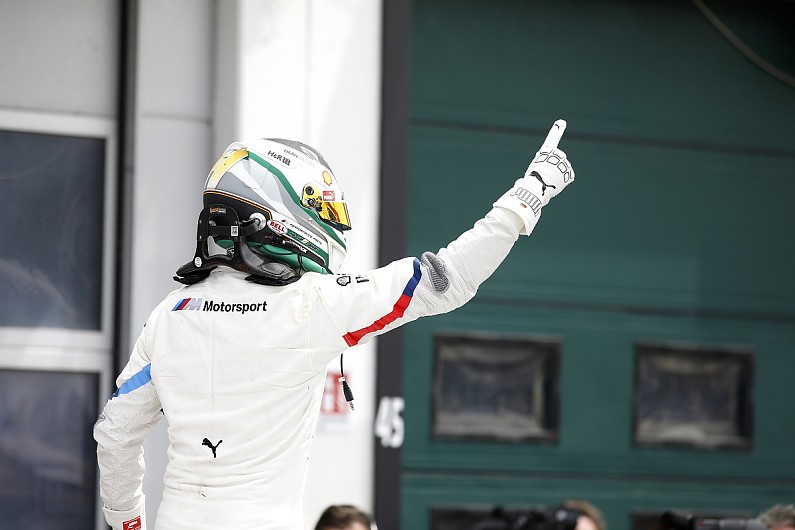 "Overall, this is the situation we are at at the moment. We can surprise, we can show we are good at strategy."
When Kamelger's comments were put to Habsburg by Autosport, the R-Motorsport driver said: "Certainly, there's no doubt about it [in terms of inexperience], but let's not forget the pace [BMW are] pulling per lap.
"It has a huge effect, I'm trying to scramble for points - how hard do I push, where to take risks.
"I have to [take] risks [with] the pushing I'm doing just to see maybe if the tyre stays on better than I would have predicted.
"If I just try to drive to what I think the limit is and I have tyre left and I'm still 14th at the end - then I've wasted a race."
Habsburg also pointed to the fact that the safety car led to the DTM adding an extra two laps to the race distance, which he believed cost him a chance at scoring points.
Wittmann added that starting 18th meant the first-lap pitstop made a strategic gamble an easy decision to make.
He then added: "We knew before the race that it would be a tricky one to run through all the race with the same tyres and we were unsure if we could make it, to be honest.
"With the safety car and the luck we had today, it helped us a lot.
"I would say the last five or six laps they were very tricky for me.
"I had a lot of vibrations in the car, I had no more tyres left, and the threat of a tyre puncture or failure was there at the end."