Paul di Resta says the development of the Aston Martin Vantage DTM that will make its series debut at Hockenheim this weekend was "like a wild guess but with experience".
The joint venture between long-time Mercedes partner HWA and AF Racing - the parent company of the R-Motorsport squad that will run the cars - behind the project has faced a race against time to prepare its challengers for the 2019 season.
R-Motorsport's first Vantage only made its on-track debut at Jerez in March, as part of an unofficial test the team conducted alongside Audi and BMW.
But a second car was also in action at last month's official pre-season test at Lausitz, and all four Astons have been completed in time for this weekend's season opener.
Di Resta, the 2010 DTM champion, told Autosport he is still astounded by the timeframe in which the cars have been designed and built, despite the outfit being able to rely on HWA's wealth of experience.
"I honestly haven't heard or seen... anybody that hears the number of days from when this programme was signed off to get a car on track, I don't think anybody has ever achieved it," said di Resta.
"I don't think anybody could achieve it, to be honest.
"It's even [things like] developing a car without even signing things off, when you've not even been in a windtunnel yet or sorted the aero.
"It's kind of like a wild guess but with experience.
"Yes, they have good baselines to reference, but I'm just thankful it did happen because more importantly it's saved a great championship because I think without them, it was kind of over."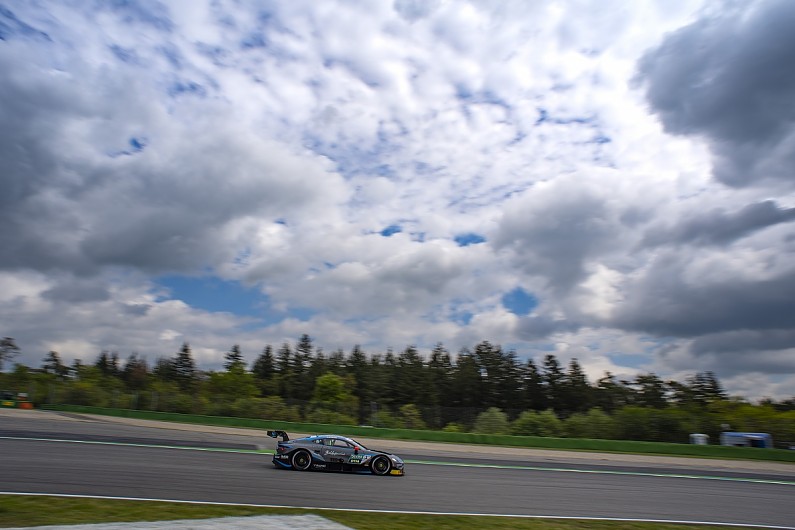 Di Resta will race alongside fellow Mercedes refugee Daniel Juncadella, plus rookies Jake Dennis and Ferdinand Habsburg.
Asked by Autosport if he had doubted the project would be ready, Dennis said: "I think there was a lot more doubt from the general public than what we had at the factory.
"We knew the guys could do it - it was just trying to get all the parts built, get all the parts on the car, and get it out for the rollout yesterday [Thursday at Hockenheim].
"I never really had any doubt, and I don't think anyone in the team did, but it's obviously a relief.
"It certainly wasn't easy, but we always had faith to produce four cars here and we've managed to do that, and hopefully we can get them running smoothly today as well."
R-Motorsport team principal Florian Kamelger said completing all four cars was "an amazing achievement".
The cars debuted in Friday's free practice session - the first of the DTM season - at Hockenheim, where Juncadella delivered the most number of laps in the session total.
However, his lap - the best of the Aston drivers - was 1.751s off the session best, in 14th.Di Resta finished the session second to last, 1.998s off the pace.