Audi has unveiled the new engine which will power its RS 5 DTM cars in 2019, in line with the new turbo engine regulations brought in for this season.
Dispensing with the old naturally-aspirated four-litre V8 engines at the end of last year, DTM's new engine formula requires the use of turbocharged two-litre inline-four engines - increasing the power output by approximately 100bhp.
The new internal combustion engine produced by Audi now generates in excess of 610bhp, weighing approximately 85kg - almost half as much as the previous generation of engines.
With the turbocharger, the engines are developed to be as efficient as possible, accommodating for a maximum fuel flow of 95kg per hour - raised by an extra 5kg per hour when push-to-pass is activated.
"It's based on the principle of extracting maximum power output from the available amount of fuel," said Ulrich Baretzky, the Head of Engine Development, "with high compression and very good efficiency - in production as well as in motorsport.
"In the DTM, the amount of fuel flowing to the engine is limited to 95 kilograms per hour.
"That may sound like a lot but, in view of more than 610 horsepower, it really isn't.
"An increase in vehicle performance can only be achieved through efficiency - the more efficient the engine is, the less fuel and thus weight has to be lugged around."
Audi's initial engine concept stems from as far back as 2008, having looked at basic concepts when the FIA's 'global race engine' was first mooted, before development increased in 2014 when plans to intertwine both DTM and Super GT were first considered.
Aiming to introduce a further degree of road-relevance into DTM, the move to inline-four engines is far more closely aligned with the most common powertrains used in consumer vehicles.
Most of Audi - and its sister manufacturers operating within the Volkswagen Group - products are equipped with four-cylinder engines, ensuring a greater incentive for development within the category - aided by the DTM's use of regular pump fuel.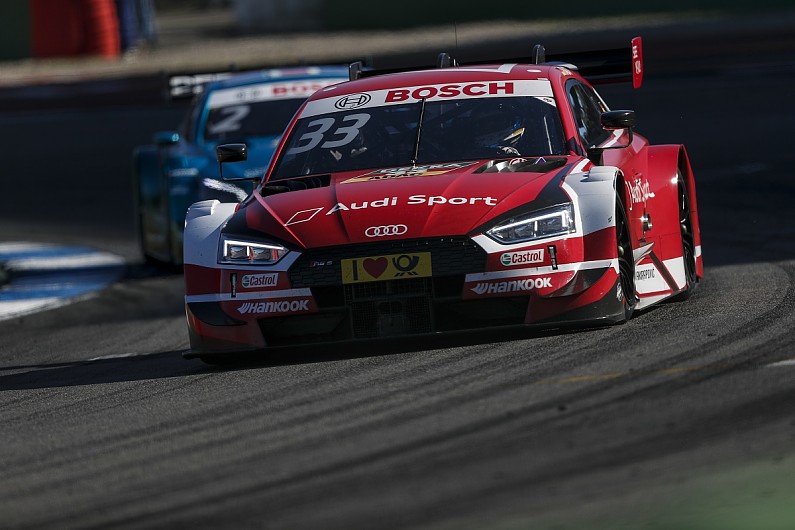 "Obviously, our colleagues in production have a few requirements that differ from ours," Baretzky continued.
"But efficiency also plays a major part there, just like weight does. With a weight of 85 kilograms the DTM engine is very light, a lot lighter than a production engine.
"We're pointing out a few approaches that will hopefully find their way into future road-going vehicles as well - like in the case of the first TFSI (direct injection) for Le Mans and the TDI."
"[For example,] weight and lightweight design, especially in the context of avoiding CO2 emissions, plus in terms of consumption.
"The specific consumption of the DTM engine is extremely low and now within ranges that used to be typical for diesel engines."
DTM engines are required to last an entire season, and Audi's new engine has been designed to cover up to 6,000 kilometres.
"As such, extensive dynamometer testing has been conducted to ensure that the powertrain is able to develop a high level of performance while remaining reliable.
"I think that we're in a range of some 1,000 hours," said Head of Powertrain Development Stefan Dreyer.
"Every engine subsequently runs on the dynamometer for another two to three hours before being installed in the car for racing. We run a break-in program, a performance check and various functional checks.
"A DTM engine has to last for a full season. This means that our specialists on the dyno must be one hundred percent sure that the engine they're going to deploy is really top-notch."
Eight RS 5 DTM cars will make next year's grid, as the Belgian WRT operation enters the category with two drivers, who have yet to be announced.